Movie Review: The Tower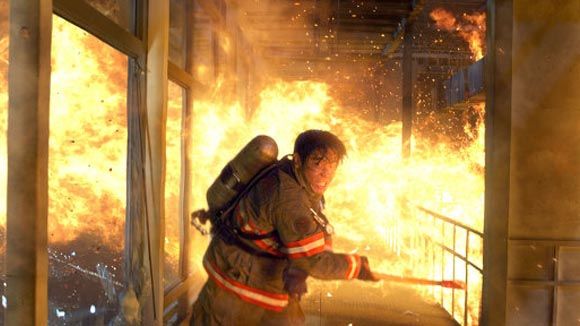 Disaster films have been around since at least the 1970s and, although Korea doesn't have a huge history of disaster films, it seems like ever since the Korean film industry has modernized and budgets have increased, Korea has been happy to take on the genre as well. This year we are being treated to The Flu, which is a Korean take on the disease outbreak disaster film, last seen done by Steven Soderbergh in 2011 with Contagion. Last year on Christmas, CJ Entertainment treated Korean audiences to The Tower, a film about a highrise in peril, inspired by 1974's The Towering Inferno.
Of course, no discussion of Korean disaster films should take place without mentioned Haeundae (also known as the creatively re-titled Tidal Wave in North America). A film that has been billed as Korea's first major disaster film, Haeundae was met with mixed critical and popular reviews, but great performance at the box office, no doubt bolstered by its star-laden cast and large scale visual effects. And perhaps encouraged by the performance of Haeundae, it was inevitable that we would see more Korean disaster films.
The Tower plays it especially safe, taking its idea from its highly successful American predecessor and similarly casting an array of high profile Korean stars, including one Sol Kyung-gu, who also helped lead Haeundae to massive box office success. And the film predictably did pretty well at the box office, breaking five million admissions.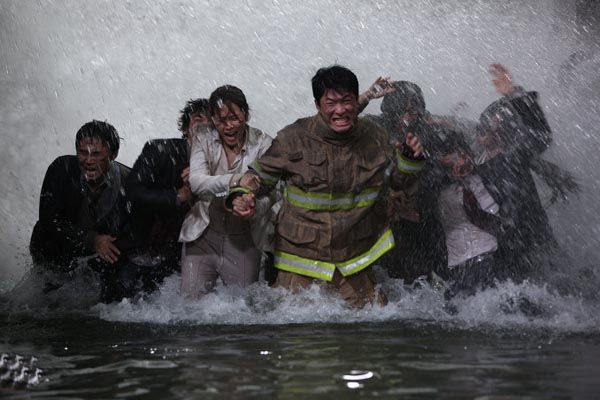 It accomplishes this with a enormous bevy of special effects and action in addition to the cast, as well as a big dose of melodrama. Unfortunately, this melodrama is played over a bunch of thin characterizations and several moments really draw out the film, making the film a chore to finish. Furthermore, the whole film is utterly predictable, especially when it comes to who will make it and who won't, so the film loses most of its tension pretty quickly.
But the film sets itself up pretty well. The titular tower is a luxury residential tower in Yeouido called Tower Sky, part of a pair joined by a sky bridge and houses the fabulously wealthy and powerful. Its CEO (Cha In-pyo) is planning a fantastic Christmas party for its residents and despite the dangerous updraft that is reported, he calls in some favors with some influential friends to get his flight of helicopters to the party.
The pressure is also felt by widower-father-building manager Lee Dae-ho (Kim Sang-kyung), who, when not busy dealing with faulty sprinkler systems and building maintenance problems, is clumsily trying to court the attractive event manager Seo Yoon-hee (Sohn Ye-jin). Meanwhile, across town, the fire department's Sergeant Oh Byung-man (Kim In-kwon) welcomes its newest recruit, Lee Seon-woo (Do Ji-han), as the department's workaholic hero, Captain Kang Young-ki (Sol Kyung-gu), finally takes a day off to spent with his oft-neglected wife.
And then, of course, we have the expected disaster and while the firefighters struggle to rescue Tower Sky's residents and put out the blaze, a small group of survivors, including Young-hee and Dae-ho's daughter, Ha-na (Jo Min-ah) are trapped on the restaurant floor with all exits engulfed in flames. Things unsurprisingly get worse.
The first half of the film is arguably its best. It spends just enough time to introduce its variety of characters and to set up the problem. The film even sets up a contrast between the haves and the have nots and actually manages to be quite exciting in the early moments of the destruction. This is largely because there is clearly a lot of money pumped into the special effects and it shows.
Fire crawls across ceilings, pillars of flame erupt from the side of the building, people leap out of the building on fire, floors cave in, glass shatters and it all looks quite convincing. There are enough explosions and fiery plumes to make Michael Bay weep tears of joy. And if the film only let up just briefly enough to breathe, The Tower might have become relatively enjoyably mindless fun, like Speed.
But this is a Korean film. And as a Korean film, it must have melodrama. So we get more than our fair share of slow moments where we spent time with the characters reacting. At first, it's a decent reprieve from the relentless action, but once we reach the final act of the film and we not have a limited amount of time before ceilings cave in or structural supports give way, this constant slowdown causes the film to drag.
What's worse, there are moments in the film where we clearly see that there are about three minutes before something really bad happens and the characters know it. Yet we are treated to sad puppy dog eye scenes as characters mourn a possible death for what seems like well more than four minutes. By the end of the movie when one character makes a long expected heroic sacrifice that drags on and on with fellow survivors being sad and the martyr spending quite a bit of time moping, I'm pretty sure the Tower Sky would have already collapsed. Everyone's going to die unless you do what you were planning to do and yet we have to watch you be all sad for more time than you actually have left?
That is when I start throwing (soft) objects at my screen. This really wouldn't have been that much of a problem if we actually spent some time getting to know and care about these characters, but they are written so one-note that I just ended up rolling my eyes when the film slows everything down to say, "Oh, look, this character that we took the time to give a single shallow characteristic is going to die. Care! Care!" And I found myself rolling my eyes so much at times I'm sure it looked like I was having a seizure. I simply can't love cardboard cutouts.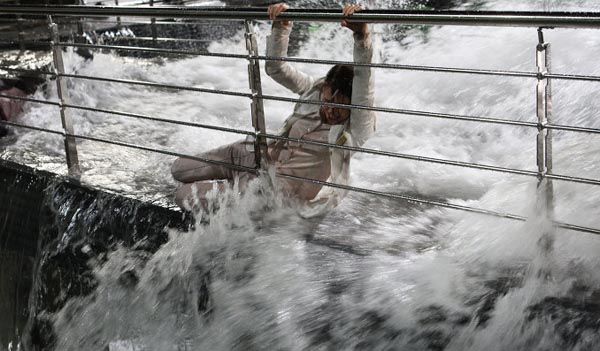 That's not to say that the film doesn't have its moments. I mean, Kim Sang-kyung and Sohn Ye-jin have some cute moments as a potential couple, the comedic beats from Kim In-kwon and other minor characters are fun. The actors clearly didn't have much to work with, but most of them manage a decent moment or two. Also, the special effects and even some of the action sequences are pretty good.
But, in the end, if you're going to try to inject your film with actual honest-to-goodness drama, you really need to have actual honest-to-goodness characters and not the cardboard action film archetypes here. If you're going to have flat characters, just blow them up when dramatically appropriate and move onto the next threat without giving the audience too much a second to breathe. Otherwise it's really easy to start seeing just how empty the story really is.
In the end, this attempt to stuff a drama into a decent action-disaster film makes the experience increasingly tedious as it goes on. You simply don't have enough character in The Tower's characters for the drama to payoff. And it's worse because you can pretty much guess who lives and who dies well before the destruction starts happening. Sure, there might be some surprises, but by the time they happen, the film has pretty much lost most of the goodwill earned by its highly technically proficient scenes of destruction.
If you are a fan of disaster films, there is probably enough disaster in The Tower to be enjoyable. In fact, the action moments, when not bogged down by needless drama, are relatively engaging enough that I think most audiences will actually be able to make it through the film on them alone. But The Tower's insistence on slow, unnecessary, and unearned dramatic moments feels like it's trying so very hard to wring at least a tear out of your eye. And for me, finishing the film became as much of a chore as wringing every last drop of water from my clothes after a laundry gone wrong. Approach with caution. 6/10.
RELATED POSTS
Tags: featured, Kim Sang-kyung, Sohn Ye-jin, Sol Kyung-gu