Lee Jun-ki's bloody escape from the law in Two Weeks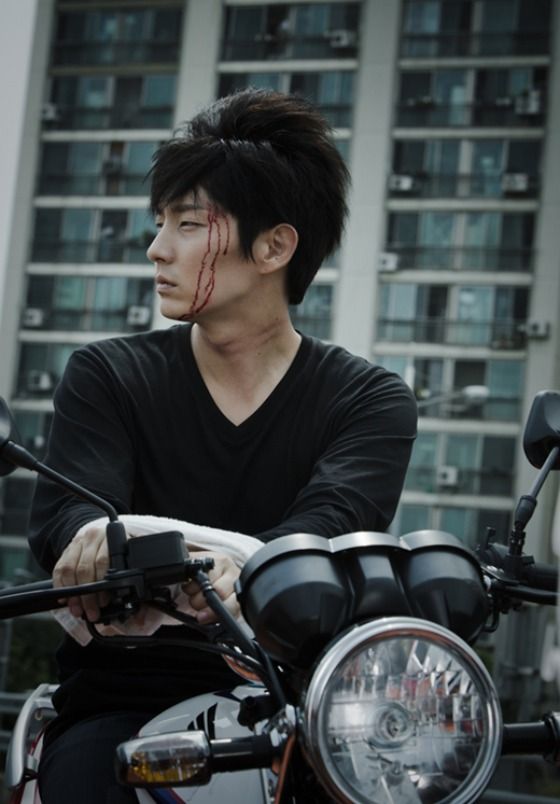 Ooh, I like the first teaser for Lee Jun-ki's man-on-the-run drama Two Weeks, getting ready to air on MBC. It's action-packed, but broody and melancholy in tone. Best of all, it already has me interested in the character and wondering how he ended up this way.
In thirty seconds we get a quick capsule of the premise: Lee Jun-ki wakes up one day covered in blood, lying next to a dead body. (Talk about your rude awakenings.) He gets hauled away as the prime suspect, and meanwhile he's just found out he has an eight-year old daughter he never knew about. Oh, and she's dying. Suddenly the police car that's taking him away crashes in an accident, and he sees his window of opportunity to flee.
He takes it, and narrates as he rides away: "For once in my life, just once, I want to live as a person." It's a great line to end on, because it immediately has me wondering about his past and why he's thrown his life away. It also helps explain why his ex Park Ha-sun may have kept his daughter a secret all these years. Curioser and curioser.
The thing I'm looking forward to the most with this drama is the two-week timeframe for the whole story, which should keep it suspenseful and tightly wound all the way through. He not only has to run from the law to save his daughter, but figure out who framed him for murder, all while dodging assassins and prosecutors and cops. And stopping for the occasional artful brood, of course.
Two Weeks follows Queen's Classroom and premieres August 7 on MBC.
Via TV Daily
RELATED POSTS
Tags: Lee Jun-ki, Two Weeks