Kim Soo-hyun and Jeon Ji-hyun reunite in rom-com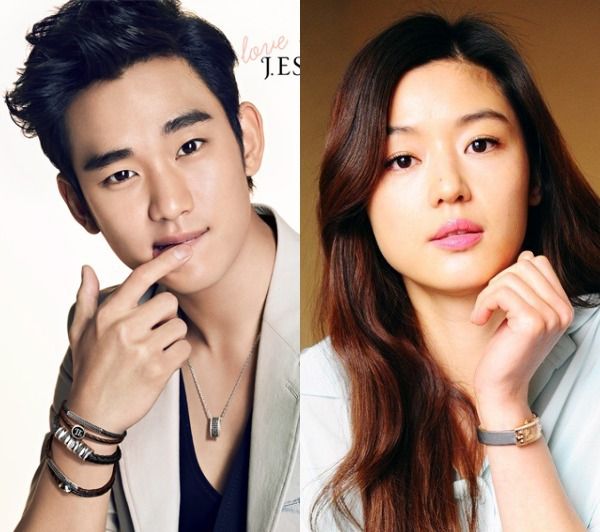 Confirmations are in: Kim Soo-hyun and Jeon Ji-hyun are getting back together for the alien time-traveling fusion Joseon-to-modern-era romantic comedy (could there BE more descriptors for a drama?) Man From Another Star. Woot. Bring on the wacky zany fun. Let's just throw the kitchen sink at this sucker and add superpowers, fugitives, and ghosts, and then we'll have covered all the recurring tropes of the last two drama years.
The new SBS rom-com is gearing up for a winter premiere, for what will likely be a programming slam dunk for their Wednesday/Thursday lineup all the way from I Hear Your Voice to the currently reigning Master's Sun, with Heirs and then Man From Another Star to follow. Someone's bathing in money over at SBS this year. The drama comes from the writer of the hit weekend drama You Who Rolled In Unexpectedly, and the PD of acclaimed sageuk Tree With Deep Roots. I think we're in for something good.
Kim Soo-hyun stars as an alien who lands in Joseon, and just lives there for the next 400 years until the present day. You'd think a guy would check out some other lands in all those centuries, but maybe he just really really liked Joseon. In any case I like that it makes him both a time-traveler and also a really old dude, but in the body of well, the gorgeous Kim Soo-hyun. *paws at screen*
In the present day he meets Jeon Ji-hyun's character, a top actress. So… she's playing herself. The drama will be about the man and woman who are literally from two different planets, overcoming their intergalactic differences to make a romance work. The tone is described as cheery and heartwarming. I'm gonna go out on a limb and say, DUH.
The Thieves co-stars made a big splash with their onscreen chemistry that was just enough of a tease to keep us wanting more, so I think they'll make a great pair in a drama. Jeon Ji-hyun hasn't been on television since 1999's Happy Together, and Kim Soo-hyun's last drama The Moon That Embraces the Sun is still the biggest weekday ratings hit since its day. Now that both actors are officially starring, I'm officially excited.
Man From Another Star follows Heirs and premieres in December on SBS.
Via TV Report
RELATED POSTS