Basketball: Episode 2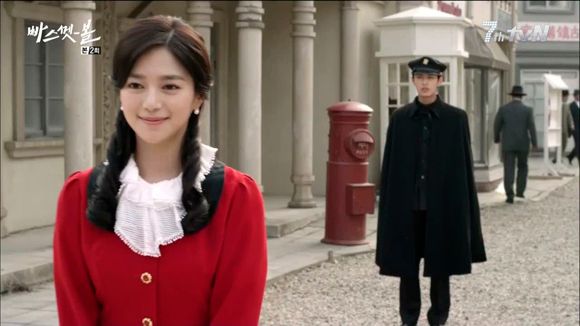 Love is in the air, and however sweet it is to see two people so completely infatuated with each other, it also means that we have to worry for the inevitable fallout to come, because San just can't wear that disguise forever—even though I wouldn't put it past him to try.
And though the romance is cute to watch and maybe starting to grow on me like a fungus, the show is still better at selling just about everything else it's got going for it, and does an especially great job this episode of packing a hell of an emotional punch. I'm still reeling from it actually, but it's a good feeling to have this early on. It means that there'll inevitably be that much more suffering ahead, but looking forward to San triumphing over it all (because he has to eventually, right?) makes it all worthwhile.
SONG OF THE DAY
IU – "A Lost Puppy" [ Download ]
Audio clip: Adobe Flash Player (version 9 or above) is required to play this audio clip. Download the latest version here. You also need to have JavaScript enabled in your browser.

EPISODE 2 RECAP
Takeshi turns into a weenie as soon as San gets his arm in a lock, and the supposedly noble lineage he claims to hail from has no effect on our hero. But when security inevitably arrives, Shin-young takes San by the hand so they can escape.
Meanwhile, Chi-ho serves as a model for a photo shoot selling the hot-ticket imports of the era, but the French director makes an oopsie when she mistakes the country she's in (Korea) for Japan, and assumes Chi-ho is Japanese when he isn't.
Chi-ho politely corrects her through the use of his translator, and the woman actually says aloud that she's surprised… since her Japanese friend told her that all Koreans were small and lazy. "But you're different, I see now!" Lady, check yo self.
Since she can't understand him, Chi-ho uses that to his advantage to give her what-for. His tone and mannerisms come off friendly, but his words aren't as he calls her ignorant (among other things), and I love that his translator is all, He… just… invited you to his next basketball game!
Chi-ho is treated like a celebrity wherever he goes, and is instantly mobbed by squealing fans and paparazzi the second he steps outside. But when his secretary/translator tells him he has to go to that fancypants banquet he doesn't want to go to, Chi-ho makes a sudden escape (pursued by all his fangirls, ha) and hitches a ride outta there.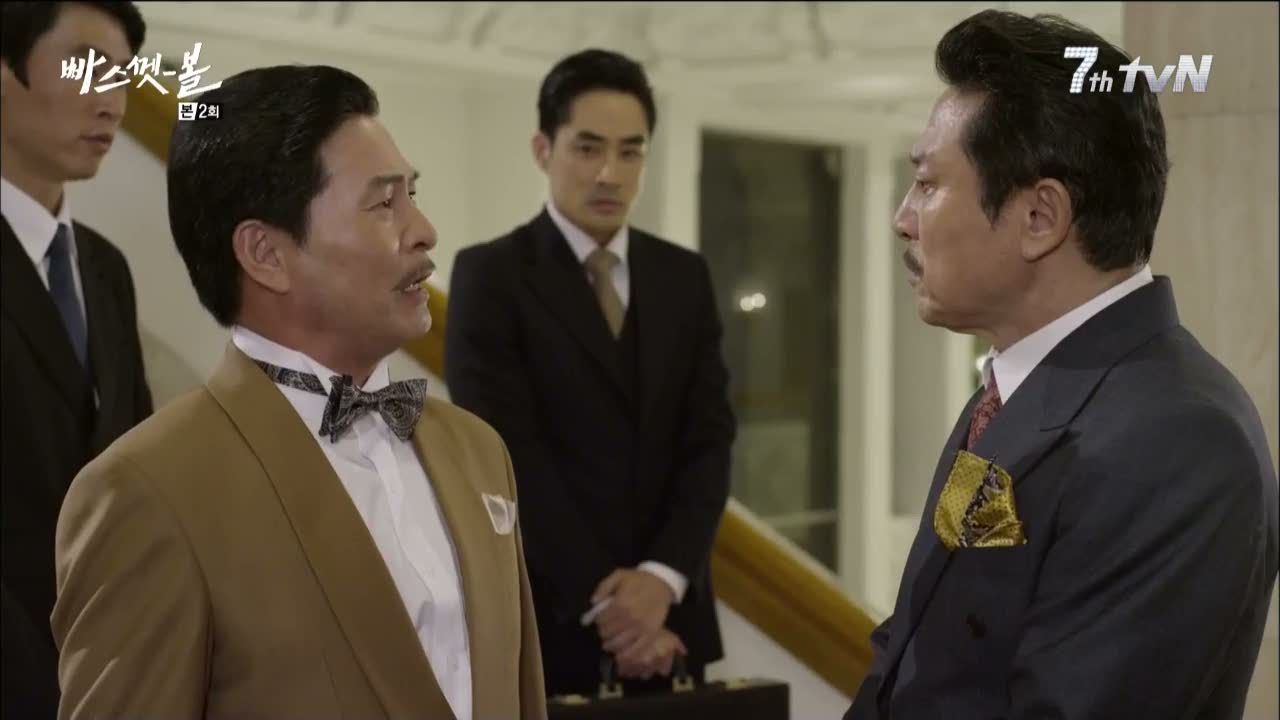 Daddy Choi gets invited to one of Councilman Yoon's meetings, where all he does is pass out neighborhoods to the wealthy men in attendance for housing development projects. Daddy Choi is given charge of San's shantytown.
But as it turns out, Councilman Yoon didn't keep to his side of the bargain and seized Daddy Choi's factory on behalf of the Japanese government. Surprise surprise.
Shin-young ducks out of sight with San when she finds her dad and the councilman blocking their escape route, and San just stares at her like she's the prettiest thing he's ever seen. Boy has he fallen hard.
San tries hard to make a good impression on her, but he stutters his words, quakes in his boots, and accidentally bumps his head against hers when they get up. Aww, poor guy.
At least Shin-young doesn't seem to mind him being an awkward fool once she notices a small scratch on his hand, which she binds with her own handkerchief. (Just to note: San is dressed as a student from the Princeton of imperial colleges, so Shin-young is under the assumption that he's not a poor street rat.)
They share a Moment, enough for San to stop her from leaving in order to catch her name.
Meanwhile, her father surveys San's neighborhood while formulating a plan on how to evict the residents, all of them San's neighbors and friends.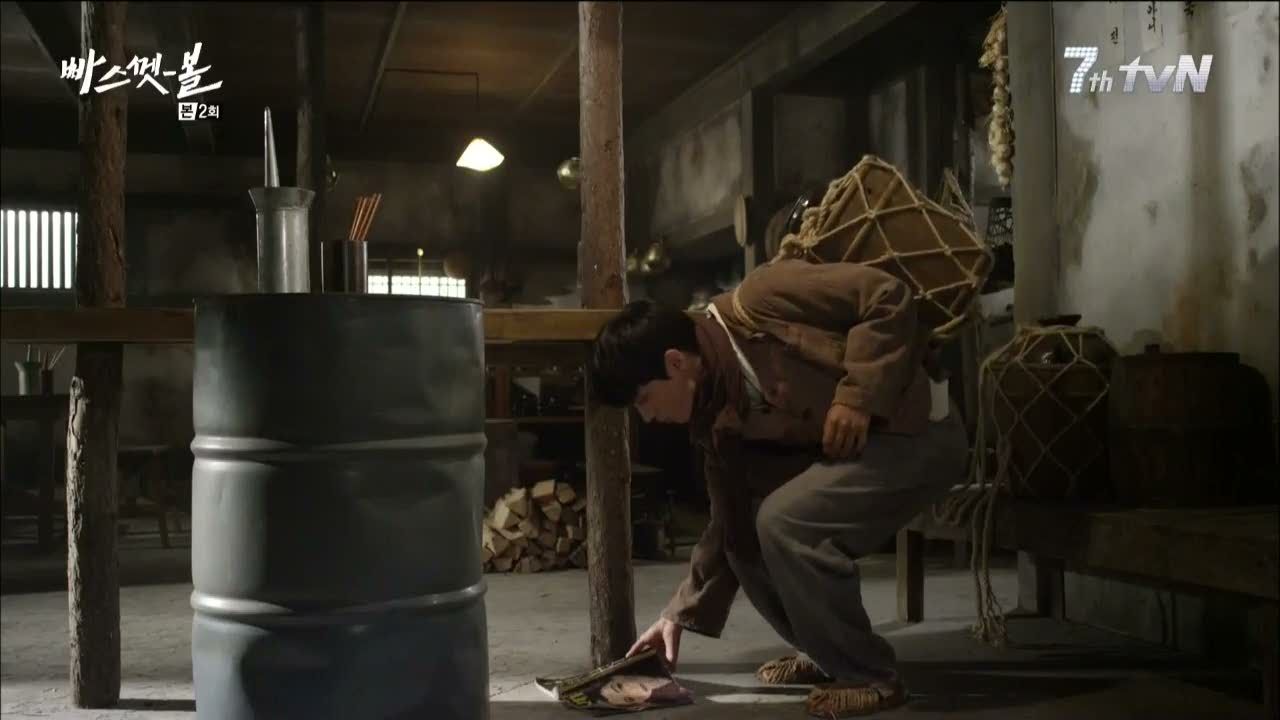 At the same time, San reports for work early while clutching Shin-young's business card, his head lost in the clouds. As fate would have it, the women's magazine the restaurant ajumma throws out is the one Shin-young works for, and San picks it up like it's a precious tome. Now he just needs a lock of her hair to complete his shrine.
Even though she's no longer technically employed, Shin-young still shows up for work just to attack the phone every time it rings in the hopes that San will be on the other end.
When her editor tries to urge her to quit out of fear her father will retaliate otherwise, Shin-young takes a stand: "I'm the reporter for this publication, not my father. Even just for the readers who wait earnestly for my writing, I won't just up and quit my job. Never!"
San takes a spare moment to read the article we saw Shin-young writing previously on true love. He soaks up her words as though he wants to become everything she lists as being good in a man, but there's one quality he's got down pat—she likes basketball.
His grin stretches from ear to ear as he reads that last sentence aloud, and I'm not going to sugarcoat it, it's f*cking adorable. There, I said it.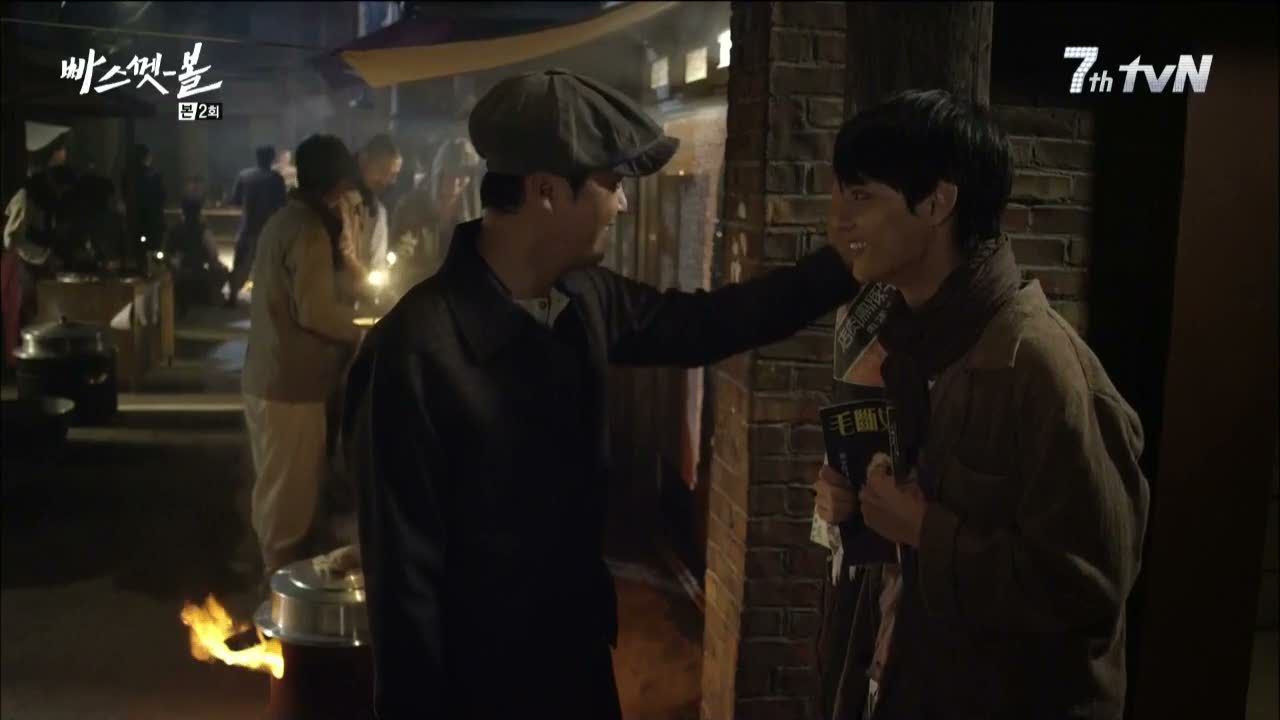 Bookie Gong gives a clueless San some wooing advice, like how going ice skating with a girl might force some hand-on-hand contact (third base in the '30s). San is so completely clueless about dating and also very shy, so the thought of hand-holding has him giggling like a fool.
San's happy bubble bursts once Bookie Gong tells him the going rate for dates these days, and such a sum is way out of San's league. So of course he jumps at any opportunity Bookie Gong will give him to make money by eagerly promising that he can do anything.
Though it seems like Bookie Gong is just sending San out to collect overdue debts for him, his lackeys know that the Japanese men he'll be collecting from will beat him senseless. The idea is to send San out knowing he won't get the money as some kind of insurance for Gong that San won't stab him in the back. I'm not following his logic.
Shin-young and maid Bong-soon attend practice for the star basketball team, where the coach calls Takeshi by his real Korean name. (Ha! Poser.)
Even though she's there to get a shot of Chi-ho for the magazine, her thoughts lie elsewhere, with San. She's head over heels in love, and has no problem admitting that it was love at first sight to a skeptical Bong-soon, who brings up a few good counterpoints, none of which matter to Shin-young. "What does any of that matter in the face of true love?"
While this is going on, Takeshi spots Shin-young standing on the sidelines and sees an opportunity to enact revenge for being rebuffed… by deliberately missing a pass from Chi-ho so that the ball smacks her right in the head.
Shin-young is fine, but Bong-soon exaggerates her injuries in order to guilt-trip Chi-ho into taking her lady to the hospital. She forces Shin-young to go along with the ploy because it'll give her a perfect opportunity to interview Chi-ho, which is smart.
San visits Japanese tailor and Willy Wonka-enthusiast Jo Hee-bong to collect the debt he owes, but he's refused and insulted in the most derogatory of ways.
Unfortunately for him, San has heard that insult a lot lately, and finally reaches his breaking point as he intimidates the tailor, demanding to know how Koreans have ever hurt him for him to hold such a hateful grudge.
"If you ever call me that again," San grits through his teeth, "I'll kill you." Needless to say, he's successful in collecting the debt, though he picks up an unwanted tail.
Chi-ho escorts Shin-young out of the hospital sporting one more bandage than she had when she went in. She grows nervous when he tries to split right away and invites him for coffee, spurring Chi-ho to let her down easily—she's very pretty, but she's just not his type.
Shin-young scoffs and says it's for an interview, not a date. Chi-ho: "That's what they all say." But Shin-young refuses to back down, and San catches sight of her as she's bickering with Chi-ho—but from his vantage point, the two look like they're flirting. Awww, no, his poor heart.
But when the Japanese men who followed him call him out for a fight, San is forced to flee.
Meanwhile, Shin-young figures out Chi-ho's weakness (his ego) and exploits it by baiting him about how she's never seen him play a real game because she doesn't like basketball.
"Did you just say you don't like basketball?" Chi-ho sputters, and just like that, his cool facade melts away to reveal the twelve-year-old beneath.
I do love that Shin-young is all, "What's the point of putting a ball in a basket if it's just going to fall back out?" Oh, the look on Chi-ho's face is priceless. (Don't think I can't hear you, background music from Runaway Plan B. Get back into that storage room this instant!) And then she just leaves him like that, ha.
Chi-ho sets chase to the urchin girl who threw rocks at him before, and she retaliates by throwing a bucket of crap at him before yelling again (so everyone can hear) that he's Japan's dog. She really doesn't like him, does she?
As Chi-ho resumes his chase, San runs away from his own pursuers, though he's eventually cornered, beaten, and robbed of the debt he collected. San limps back home all bloody and bruised, only further injured when an ad with Chi-ho's face on it reminds him of Shin-young.
Meanwhile, Chi-ho chases the girl to the Korean slums on the outskirts of town, and something about the sight just seems to get to him before he finds her hiding under a threadbare blanket. In his attempt to call her out, he wakes a nearby sleeping elder who's all too happy to give him what-for for pestering her.
Chi-ho is respectful as he tells the elder that he's there to talk to the girl's parents about her behavior, but the elder is baffled that Chi-ho would think the girl even has parents—her mother died when she was young and her father was tricked by the Japanese into forced labor and never seen again, an all too common and horrible atrocity committed by the colonial government against Koreans during the mobilization years.
The elder brandishes the flyer that was used to deceive the girl's father, claiming that the recruitment offer was endorsed by some big basketball star. Chi-ho's eyes widen as he takes a look at the endorsement picture and finds his own face staring back at him. He was the star. His face was used to con her father and his countrymen into giving up their lives.
Chi-ho is devastated as the girl sobs, "Give me back my dad!" Oof, this scene hurts. It just hurts.
Bookie Gong is recruited by Daddy Choi to do some dirty work for him, but he doesn't mention the meeting to his boys over dinner later. He's sorry-but-not-sorry about San getting beaten on the job since he planned it, but poor San doesn't suspect him of a thing.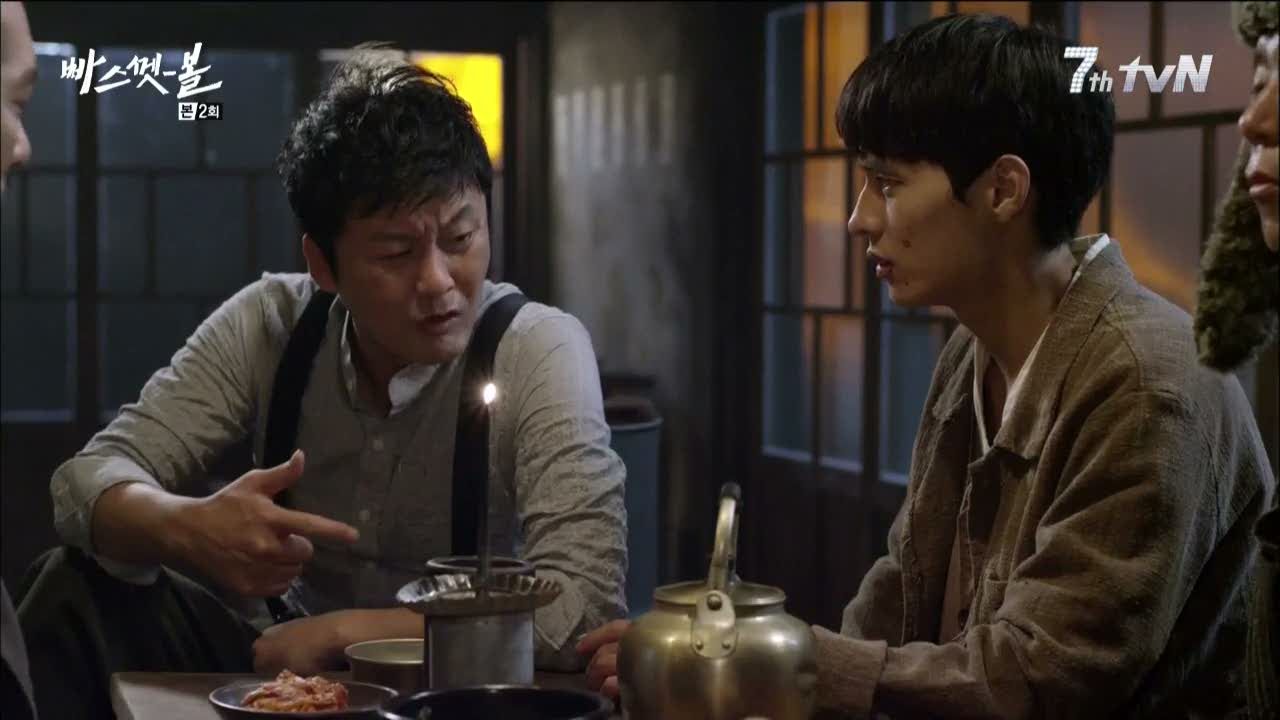 When the guys ask San about his date, he just sighs miserably that he was dreaming from the start—why would a rich girl like her waste her time with someone like him?
That's when Bookie Gong puts his foot down. "Do you know what women hate most? Losers. Do you know who's acting like one now? You." He lists all of San's desirable qualities, and then goes into the undesirable ones. So what if he was kicked of school? He's still educated. So what if he's poor? Is there a law mandating that poor guys can't date? In Gong's mind, all men are equal inside, and no one is born entitled to anything.
But just when you think he's being purely genuine, he prods San about a job he got for him in service to their country. Is he dragging San with him to do Daddy Choi's work? Nooo.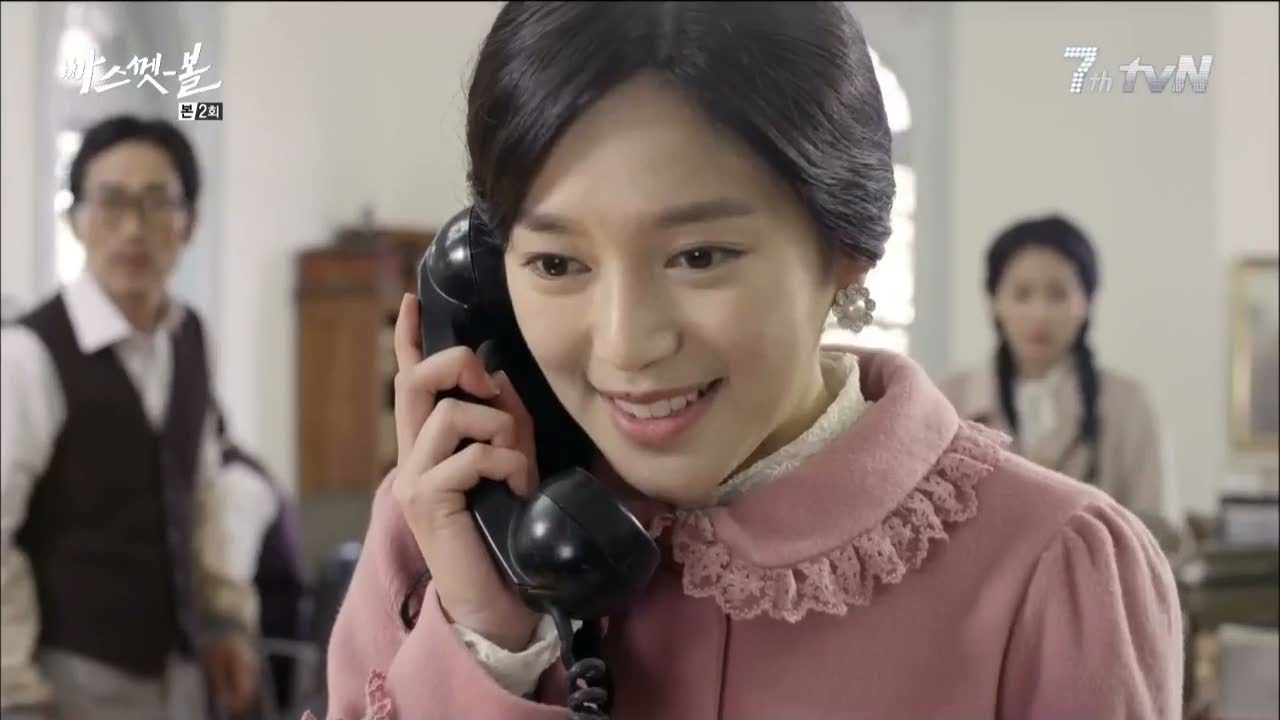 Shin-young spends her work day just waiting by the phone to hear from San. She gets excited when Bong-soon comes in with an envelope, but visibly deflates when it's just from Chi-ho. (So… I guess she's not that interested in being a reporter anymore?)
Inside are two tickets to Chi-ho's upcoming basketball game, which Shin-young couldn't really care less about as she vaults over to the phone the second she hears it ringing. This time it is San, and Shin-young is over the moon when he asks her on a date.
And aww, he shows up wearing the same stolen university uniform because it's the nicest thing he owns (and okay, also maybe so he doesn't have to admit that her image of him is a lie).
It's a typically awkward first date, but a little funny in that Shin-young is all gung-ho about basketball when it comes to impressing San, as opposed to how she was with Chi-ho.
San is extra awkward because he's memorized her article and is actively trying to say and do everything Shin-young said she liked, which is so endearing intent-wise but so cringe-inducing in execution. (For instance, she wrote that a man should shake a woman's hand when she offers… prompting him to just ask her when she plans on shaking hands instead of just, y'know, waiting for the right moment. He's so bumblingly eager, it kills me.)
And ha, he took Bookie Gong's advice to take her skating after all. He does exactly as her article says by taking her hand to help her along and even pulls her out of harm's way when necessary. It's beyond cute.
They both had a wonderful time, but San is forced to keep lying about himself when Shin-young asks where he lives, since the truth would undoubtedly break the mood. She works up the courage to ask for his phone number and is pleasantly surprised when San writes it on her wrist in the absence of paper.
Before she leaves, San returns her handkerchief with a flower wrapped around it. "Before this flower wilts… will I be able to see you again?" he asks. Excuse me while I get a defibrillator handy, something tells me I'm going to need it—if not now, then soon.
Shin-young spends her hours daydreaming as she stares wistfully at San's flower, and she's lucky to have someone as pragmatic as Bong-soon, who blows Shin-young's mind when she suggests that she could just call him if she misses him so much.
I like that Shin-young is all about this totally radical idea, which she tries to justify as being more about feminism and fighting back against the outdated view of women as virtuous maids always sitting around waiting for men to take the initiative. Well, not on her watch.
Bong-soon has to remind Shin-young that she has a responsibility to go to Chi-ho's game and interview him, but Shin-young couldn't care less about her job… until she remembers that San likes basketball, which means they can go watch together.
The capital streets are lined with cheering fans as the procession of basketball players passes them, and the chyron explains just how huge the sport was in the 1930s and how the fans were just as ardent then as they are today.
Daddy Choi has planned to make his move against San's neighborhood while everyone's focus is turned to the game, but he catches Shin-young on her way out to ask if she quit her job or not. She lies that she did and puts on a brave face to mask her pain.
Despite facing a shelf lined with fan letters and gifts, Chi-ho can't get that little urchin BYEO-RI (Jung In-sun) out of his head, and so he abducts her from her hut (since she hates him and wouldn't have listened to a reasonable word he said) and carries her kicking and screaming all the way to the basketball game.
He plops her down next to his manager/secretary/translator/wizard and challenges her to watch him play and decide for herself whether he's a Japanese puppet or not.
Meanwhile, Bookie Gong gives the men he's gathered government armbands and pickaxes, with San just going with the flow because he thinks he's doing good things for the country. This is going to be bad.
Shin-young calls San to invite him to the basketball game, but the whole gang is waiting outside calling for him. You know he'd much rather go to that game and be with her, but he has to decline because of the promise he already made.
However, San hopes that he might finish his work early to go to the game. I love the way this sequence is shot from San's point of view on the moving truck, since it really works to ratchet up the tension he's unknowingly driven to his own neighborhood.
In contrast, Shin-young tells Bong-soon just how much she likes San and why, hinging special importance on her assertion that he wouldn't be the type to play with a person's feelings or pretend to be something he's not. Yeeeeaaaaah, listen, about that…
San's neighbors all crowd around the one radio they have to listen to the game, which is being announced by none other than Jo Hee-bong. (Okay, this running gag is actually getting funnier. I like it.)
The crowd goes wild as Chi-ho steps onto the court, which is right when Bookie Gong's gang arrives in the shantytown. San finally recognizes his home with dawning horror, and he stumbles to Gong, the man who lied that San would be doing government work.
But the bookie doesn't understand what demolishing this place means to San, and San is at a loss for words amidst the destruction and chaos.
He tries to stop the men, fighting some of them tooth and nail to get them off of his defenseless neighbors and friends. But he can't stop them all, and is too late to save his schoolyard friend's grandma from being killed in the fray.
But when his friend sees the gang acting all chummy with San, he thinks he's been betrayed, and so do San's neighbors. Oh god oh god oh god. Make this stop.
San is held back while Bookie Gong starts beating his friend right in front of him.
Cut to: The basketball game where Chi-ho scores before it's back to San's reality. Parents cover their children's eyes as San's friend is hit over and over and over again. They're killing him, and San is powerless to stop it.

COMMENTS
I don't think I was mentally prepared for the frankly traumatizing nature of those last few scenes, and I don't think that affect could have been achieved had the episode not worked toward establishing a pervasive sense of all-out dread whenever San so much as smiled. We knew what was going to happen to him, but he didn't.
It's all made that much worse because of that childlike and trusting quality in San, which I'd even go so far as to call naivety. Yes, his rough upbringing has taught him how to survive and he's become very good at it, but aside from basketball and survival he's almost clueless about life. He compensates for it with his intelligence and his constant willingness to learn, as evidenced by his memorization of Shin-young's article for their date, but that can't and doesn't prepare him for everything. Then again, who's ever so equipped?
But what he hasn't learned yet, despite all the people who've been unimaginably cruel to him, is how to use natural suspicion as a form of self-preservation. Maybe it's because San is so morally grounded that he expects the best from others until they prove otherwise, since he doesn't suspect anyone of doing wrong until they've already done it to him, and by then it's too late.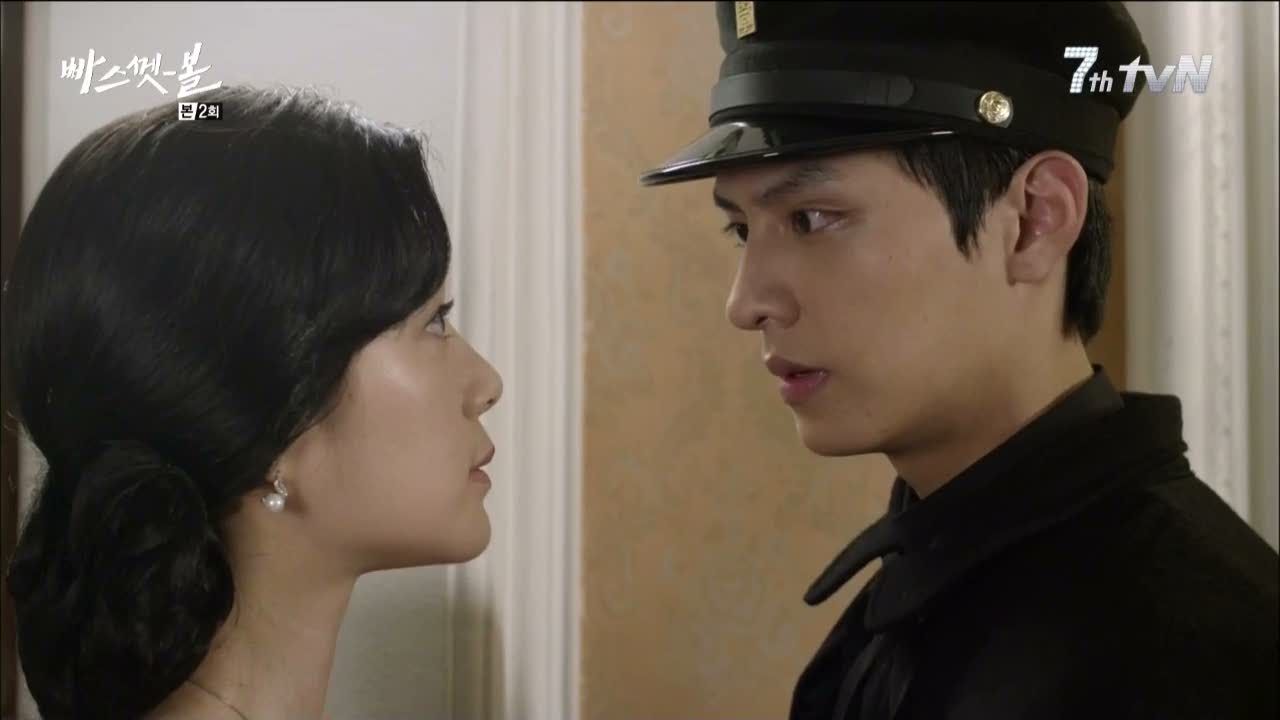 At the same time, that's a quality in San I don't want him to lose just because dramaland hates puppies, rainbows, and his smile. And that worry is what made the slow build-up leading to the end so nail-bitingly unbearable. San is such an instantly likable character right off the bat, but what makes him more than just a character I can appreciate from a distance into the kind of hero that my heart bleeds for is that very same vulnerable quality. I can't help it, I feel so protective of him.
I just know Freud would plenty of things to say about that statement, but the moral of the story is that Basketball has me so fully invested that I wish I could just do something when things go so horribly wrong for San. And if I can't, he needs to get some friends who can, damn it.
And all that isn't to say that San is hogging all the sympathetic limelight—Chi-ho had two amazing moments this episode, in that he found out the truth behind Byeo-ri and did something about it. I like that he was deeply affected by what he unwittingly caused even though it was his ego that made him follow Byeo-ri in the first place. That being said, I think there's more than just superficial egotism driving Chi-ho, and maybe Byeo-ri was just the one to voice Chi-ho's internal doubt about his identity.
Or there's the other alternative, in that Chi-ho could be nothing like anything mentioned above. At this early point the possibilities are endless, but I do love when a show nabs the part of you that totally knows you'd just love to be productive but tries to convince you that spending a week speculating about a story's future is an acceptable and completely normal use of your time. I'm not sure that it is, but it is fun sometimes.

RELATED POSTS
Tags: Basketball, Do Ji-han, featured, Jung Dong-hyun, Lee Elijah