Unemployed Romance: Episode 1
Cable rom-com Unemployed Romance premiered this weekend on E Channel, so I thought I'd catch the first episode and weigh in. It's a short 10-episode series airing on Saturday nights, and seemed like a promising setup for a heroine-centric underdog tale.
It's a light, easy watch and Lee Young-ah is likable right away. And because our heroine is a drama writer, there's some hilarious meta about dramaland sprinkled throughout. But it isn't by any means a fast first episode—it takes a while to rev up, and it might've been a show that would benefit from having a second episode air directly after. Let's just say I wanted a leetle more romance in my Unemployed Romance.

SONG OF THE DAY
Standing Egg (with Windy) – "먼지를 털어내고 (Dust Myself Off)" [ Download ]
Audio clip: Adobe Flash Player (version 9 or above) is required to play this audio clip. Download the latest version here. You also need to have JavaScript enabled in your browser.

EPISODE 1: Queen of Dramas
We open on a sequence narrated by our heroine, that might in fact be your average weekend makjang, on super-speed: A woman marries into a family and is shunned by her father-in-law, who makes her life a living hell. He shoves her down the stairs and makes her a laughingstock at a family banquet out of spite.
She confronts him about the mistreatment, only to have him horrifyingly confess that he's actually in love with her, and then when she runs home to find hubby, she finds him in bed with his sister. "We're not really siblings!" "Our love is pure like Autumn In My Heart!" Hahahaha.
As she falls to the ground in shock, other voiceovers join in to tell her that this makjang fest was already a storyline last year—hasn't she done her research? Cut to: real life, where the players in the drama turn out to be a team of writers and a PD, brainstorming new storylines for their drama called Love and Ruin.
Our heroine IM SEUNG-HEE (Lee Young-ah) gets chewed out for her hackneyed pitch, and then her boss sidles up to ask her to write a drama pilot on spec, promising that this time it'll be "a real drama—a miniseries!" She rolls her eyes, having fallen for that line more than once, but he reminds her that she took this job (that pays pennies) so that she could someday be the queen of dramas.
She heads home that night to find her roommate MOON SUN-JOO (Bae Seul-gi) home when she was supposed to be staying near her drama set to write; Sun-joo is clearly the successful writer of the two.
When Seung-hee tells her about her day, Sun-joo answers patronizingly, "Oh, it's so much worse when you're on a miniseries! Mistakes like that wouldn't be tolerated." Seung-hee raises a pillow to launch at her, but thinks better of it in the end.
She offers to go buy coffee since she finished the last of it, and then gets her petty revenge by dunking her dried squid in Sun-joo's coffee. (I love that she drinks soju with a bendy straw popped in the bottle like it's a coke. We could be friends.)
In voiceover she says that when they first moved in together, she was the one with the promising future. We go back to 2010, when Seung-hee was knee-deep in her fantastic idea for an open screenwriting contest, and Sun-joo was the one struggling without a story.
But then in that short time, Seung-hee hurt her arm and wasn't able to finish her script, and their fates flip-flopped. Sun-joo became a Writer, and Seung-hee became "a writer who gets paid to write whatever you ask."
She says that Sun-joo could live on her own, but she stays, perhaps because she knows she's living the life that Seung-hee was meant to. Seung-hee is clearly envious, but says that she doesn't hate Sun-joo: "In truth, all my misfortune began with that bastard…"
In a dreamlike (or nightmarish) flashback, Seung-hee chases a man up a crowded escalator shouting his name: "Jong-dae-ya!" We don't get a formal introduction, but this is KIM JONG-DAE (Namgoong Min).
He doesn't turn around, and then halfway up the escalator, she breaks a heel and begins to fall backwards. Is this how she hurt her arm? She shakes herself out of the memory with a shiver before we can see how it ended.
Her sister calls to say that she's sleeping over tonight, in a rage because she found out her husband went to a room salon and swore he only "talked" to the ladies. Seung-hee sighs that unni should (a) try believing him, or (b) leave the kids at home so that he has a hard time and cares to find her sooner. Practical AND revengey.
Unni isn't having it though, so Seung-hee resorts to a sleepover at the jjimjilbang because she can't have her family invading her shared workspace. Unni sighs that Sun-joo's personality sucks, but she sure writes good dramas. "You should write ones like that!" Oh, family.
Seung-hee asks if Unni's got any good neighborhood ajumma gossip for her to use for story ideas, but she's fresh out. So she gets up to go trolling for gossipy ajummas to eavesdrop on.
She hits the jackpot with a trio of gabby girlfriends who know all the dirt on cheating husbands of people they know, and she lies down nearby to get the juicy details. When they start whispering out of earshot, she sidles up to join in, making up wild lies about being an ajumma herself as a way into the conversation. Is this where makjang ideas come from?
She makes friends with the chattiest of them, but cringes when she finds out that they're neighbors. For now, she keeps up the lie that she's a fellow mom to keep her gossip source open.
Unni's husband comes to the jjimjilbang to pick up his family, having been tipped off by Seung-hee to the tune of a hundred bucks. Unni scowls, and then takes half. Ha.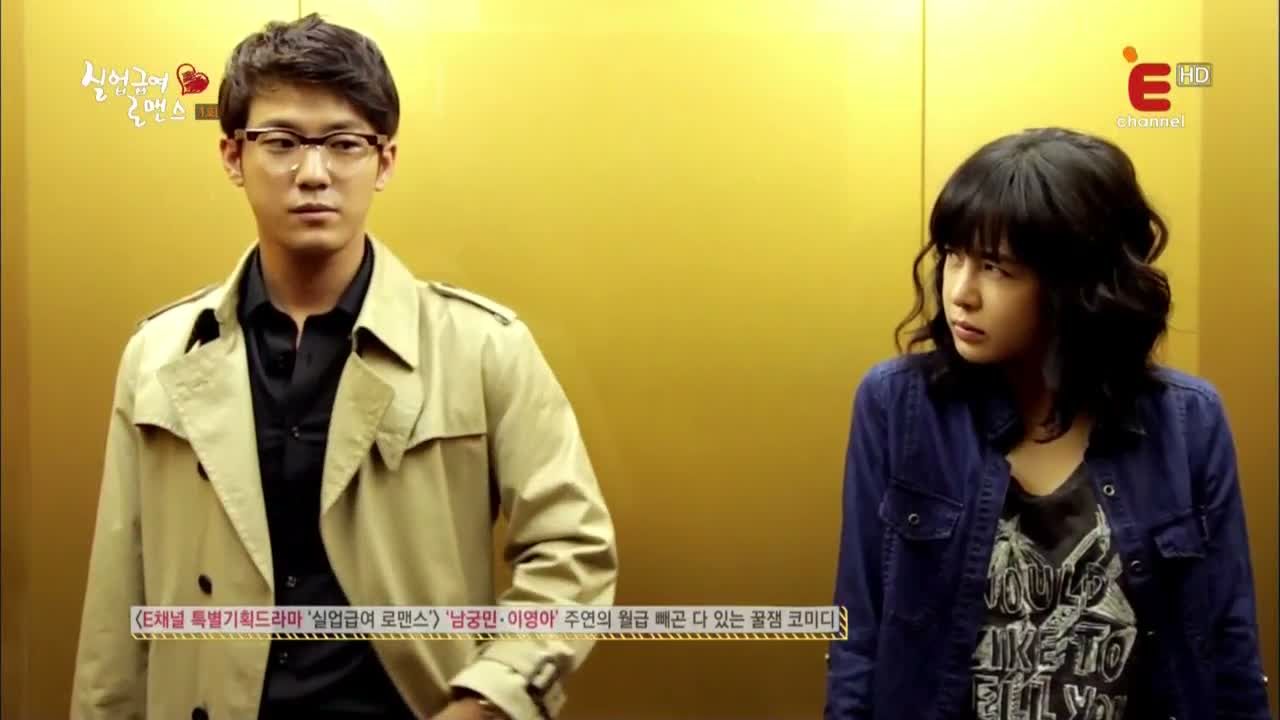 Seung-hee heads back to the office to bust out the next episode's script, chock full of new makjang twists courtesy of ajumma gossip. Her boss marvels at her endless idea bank of a brain, none the wiser.
She heads home exhausted, and suddenly the music turns suspense-thriller on us as she walks down the hall to the elevator. A man in a trench coat follows behind her, lurking in the shadows. I admit that part of me is hoping it's Vampire Prosecutor.
He stops the elevator just before it closes, and doesn't press a button for a floor, which she finds suspicious.
He doesn't look especially creepy, but Seung-hee's imagination runs wild. Suddenly he's kissing her on the cheek and getting grabby, and they're catfighting like two really petty schoolgirls—all in her mind, of course, as she glances at him like she's trying to read his serial killer mind.
She races off the elevator and clamors hurriedly to unlock her door. But he comes closer… and closer…
She freaks out and starts pelting him with her purse, until he finally has to hold her back just to get her to listen, and explains that he's here to meet Sun-joo. Hee. The outcome was obvious, but the effect no less embarrassing.
She bandages up his bloody finger inside, suddenly sheepish and apologetic. She offers coffee only to realize they're all out, but thankfully he declines.
Sun-joo calls to say she's running a few hours late because of a rescheduled meeting, and begs Seung-hee to entertain the guy, whom she says is a really important lawyer. Seung-hee's reluctant, until Sun-joo suggests she take her credit card and go to a really expensive dinner.
So that's how Seung-hee ends up on a non-date with lawyer SONG WAN-HA (Seo Joong-young), which to her is a ticket to a free meal with lots of beef. She stuffs her face while he makes polite conversation, asking her if she's a writer too, and what dramas she's done.
Her face scrunches up as she tries to bypass the question, but he swears he watches a lot of TV, and asks her for the titles eagerly. Seung-hee: "Makjang Survival: Kill Your Husband 2… Divorce Show: The Difference Between Wife and Mistress… Real Chase Show: Catch That Bastard…?" LOL.
On their way back home, Wan-ha says that Sun-joo needed to consult a lawyer for her new drama, and he got assigned the task, not minding because he's a fan of her work.
Suddenly he stops Seung-hee to say that he's been wanting to ask her something from the start. He leans in close: "Haven't we met somewhere before?"
Seung-hee stares at him, thinking to herself that it's a rather old-school pick-up line for a guy like him, but can't help but feel flattered anyway.
The air feels like it might go from merely curious to something romantic… but then Sun-joo shows up just in time to break the moment. Argh.
She runs up to apologize that he must've been so bored waiting (which gets a side glare out of Seung-hee), but Wan-ha says he had fun. I sort of love how that deflates Sun-joo, if even for a half-second.
Sun-joo ignores the coffee in his hand and asks him to go to the café to talk, and leads him away. But then he turns back to call out to Seung-hee, calling her Writer Im: "I'll see you next time!" It leaves her with a smile.
She gets a call late that night from the office, with a request to pump out the next episode's script in three days. She groans that she's out of ideas, and then remembers her new ajumma source.
First thing in the morning, she gets up to join her gossipy neighbor, who gives her the latest scoop about a mother-in-law who gauged prospective daughters-in-law by whether or not they were a donor match for her failing liver. Freaky. Seung-hee hugs her in delight for the horrific story and offers to buy breakfast, despite the fact that she's short on rent this month.
She asks for the rest of the story, but the ajumma tells her she won't know till tomorrow, and suggests a weekend play date with their children. Eep. Seung-hee makes the date and hurriedly calls Unni to borrow her son for the weekend, with the request that she dress him like he's seven. Ha.
Meanwhile, her boss's gambling habit has been spiraling out of control, and today he's so far gone that he decides to bet it all on one big game. This is going nowhere good.
The rest of the staff gathers for lunch at the office, where Seung-hee pores over the announcement of people who passed the bar exam, looking for someone's name.
The company card gets rejected by the deliveryman, but the staff doesn't think much of it since it seems to be a regular occurrence. The PD adds belatedly that the boss called to say that their salaries would be late this month, and Seung-hee sighs at the terrible timing.
The boss has lied that he's on a business trip, while he's in fact getting a loan against his car for more money to gamble with. Back at the office, the production assistant asks Seung-hee why their company seems to have no money, worried that they'll go under.
Seung-hee assures her that all small production companies are like this, and that they'll be fine. They work for a show that's on the air—what could go wrong? Famous last words.
The assistant asks why Seung-hee is loyal to this company, only to realize (and say out loud) that she's obviously here because no one else wants her. Yeeeouch.
The next day Seung-hee goes to her play date with the neighbor ajumma, her nephew exasperatedly playing with the other boy and pretending to be seven, just so she can get the rest of the scoop on the "gumiho mother-in-law" and her liver-stealing ways.
She manages to get through the play date okay, but no amount of polite hint-dropping stops the ajumma from inviting herself over for coffee and more play time for the boys.
She follows Seung-hee all the way back to her apartment… but when they discover two scary thugs standing guard at her door, the ajumma runs at the first sign of trouble. Of course the first thing she does is get on the phone to gossip about it.
The gangsters are here looking for her boss, and leave her with a business card to call if he shows up. And then while she's still standing in the hallway processing that, the production assistant calls from the set of Love and Ruin in a panic. The crew is packing up and leaving because they haven't been paid. Their company is bankrupt.

COMMENTS
I like the premise and the main character, so I envision the series being enjoyable, especially at a low-commitment 10-episode length. It's just that it takes the full first episode to get us to the unemployed place, which is rather slow given that it's in your title. I don't mind spending lots of time fleshing out our heroine, but the pacing is definitely a downside, and in being so slow to get started with its story, it doesn't leave me clamoring for the next episode.
I think I would've been far more forgiving had we gotten more of the hero than a passing glimpse in a flashback, for crying out loud, because we were promised lots of cute. I still think they're going to be adorable, but I'm sad about not getting any of it from the start. Did we really need three meetings with the gossipy ajumma, or could we have traded two of those for a decent introduction to our romantic lead? Her scenes with Seo Joon-young saved the episode for me, and I already like that there's romantic potential with the new guy, especially since Namgoong Min's character will be an ex-boyfriend with all the attendant baggage.
The tone was light and fun—it's very wink-nod-nudge at the audience, with everything from drama posters and fantasy sequences starring this drama's main players, to actual winks out at the camera. I like that it's meta without being self-serious, and that the heroine isn't too proud to write shitty shows to make her rent. That's what I like about her from the start—she has big dreams, but she's a realist who understands that writing for a living isn't a glamorous job, and writes makjang when ordered to write makjang. She's a bucket of sass and then some, so I don't expect her downturn as an unemployed writer to be a bleak one, though I'm sure the show will milk the blow to her ego in as many ways as possible.
As a premiere it shows promise, but it doesn't instantly grab me. I'll probably keep watching to give it another episode to win me over, but I won't be recapping the show week to week with so many fall dramas on the way.

RELATED POSTS
Tags: cable programs, featured, first episodes, Lee Young-ah, Namgoong Min, Seo Joon-young, Unemployed Romance