2013 Blue Dragon Film Awards
Fall marks the start of awards season, and today we have the 34th Blue Dragon Film Awards, one of the major film industry ceremonies, along with the Grand Bell (Daejong) Awards earlier this month and the Baeksang Awards in the spring.
You'll recognize many familiar faces, not just from the other festivals and ceremonies this year but from years past. It's kind of funny how the films change, but the pool of nominees seems almost static from year to year—perhaps one actor will hop from a lead role to a supporting one, or maybe someone will take a year off from the nomination circuit, but by and large we're looking at a pretty small world.
But the fun part is always the red carpet, which was pretty star-studded this time around. Most attendees stuck to safe and familiar, which as a viewer and fan is less exciting because I get the feeling we've seen these all before. And it's been a trend for the past year or more to have an overwhelming amount of black on the red carpet, followed by a smaller contingent favoring white, which makes me sad: Where be the color? The fun? The drama? I guess I'll have to content myself with the handful of WTF choices, which aren't necessarily attractive but are at least interesting.
Let's take a look at who won this year…

WINNERS LIST
Best Picture: Wish
Best Director: Bong Joon-ho (Snowpiercer)
Best Actor: Hwang Jung-min (New World)
Best Actress: Han Hyo-joo (Cold Eyes )
Supporting Actor: Lee Jung-jae (The Face Reader)
Supporting Actress: Ra Mi-ran (Wish)
New Actor: Yeo Jin-gu (Hwa-yi: The Boy Who Swallowed a Monster)
New Actress: Park Ji-soo (Mai Ratima)
New Director: Kim Byung-woo (The Terror Live)
Cinematography: Berlin, Choi Young-hwan
Lighting: Berlin, Kim Sung-kwan
Music: Hwa-yi: The Boy Who Swallowed a Monster , Mowg
Art Direction: Snowpiercer, Ondrej Nekavsil
Technical effects: Mr. Go, Jung Sung-jin
Screenplay: Wish, Kim Ji-hye, Jo Joong-hoon
Short Film Award: Mija, Jeon Hyo-jung
Box Office Audience Award: Miracle in Cell No. 7
Popularity Award: Kim Min-hee, Lee Byung-heon, Sol Kyung-gu, Gong Hyo-jin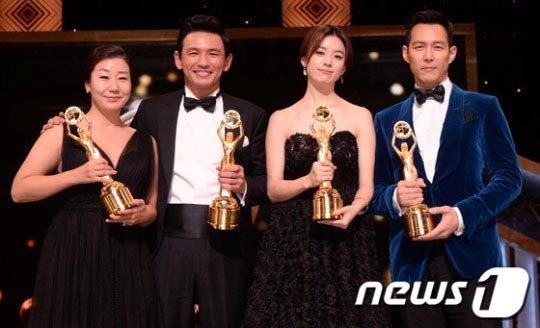 Yay for Hwang Jung-min, who won for crime film New World. He'd been nominated for a Grand Bell Award a month ago (Grand Bell co-winners Ryu Seung-ryong and Song Kang-ho were also nominated for this category), so it's nice to see him get the prize this time.
I feel like I've seen this gown on the red carpet before, maybe more than once, maybe even worn previously by Han Hyo-joo. It's a reasonable choice for an award winner who wants to look classy and put-together, even if it lacks Best Actress drama. Still, she won (for Cold Eyes), and she looks fabulous, so overall it's a plus.

Lee Jung-jae, my forever oppa! His co-stars Song Kang-ho and Jo Jung-seok were awarded previously for their performances in The Face Reader, but the Blue Dragons gave Lee Jung-jae the Supporting Actor prize for his role playing a future king.

I wonder how Jung Woo-sung (Cold Eyes) felt being beat out by longtime best bud Lee Jung-jae. Somehow I feel like they're the type to shrug it off and go out for drinks instead, all hugs and laughs. Don't ruin my fantasy.

Adorable. By all accounts, 16-year-old Yeo Jin-gu had a strong performance in his dark movie Hwa-yi, and he won for New Actor. I haven't seen the film, but having seen Yeo rock role after role, I have no doubt he earned it.

He beat out Im Seul-ong, who was also nominated for New Actor for 26 Years. Seul-ong has improved so much in the past couple years, and it's gratifying to watch him keep the progress going.

Another New Actor nominee was Lee Hyun-woo for Covertly, Grandly, which I did see and agree that he was wonderful in. I don't know what's going on with his dyed hair or his idol polish, but I like it. (And yet, I don't want him looking too much like an idol, because I actually think it makes him look more generic—idols are so pretty, but man it takes effort to tell them apart. He's too good an actor to get lost in the pack!)

Go Kyung-pyo was nominated for New Actor as well, for Scary Story 2, which starred a ton of familiar young names (Sung Joon, Baek Jin-hee, Lee Soo-hyuk, Kim Seul-gi). Doesn't he look sharp? (With a healthy does of mischief thrown in; I always feel like he's got a joke planned, or is playing one out in his mind.)

And last in the New Actor pack is 15-year-old Seo Young-joo, nominated for the movie Moebius and currently also in weekend drama Gold Rainbow.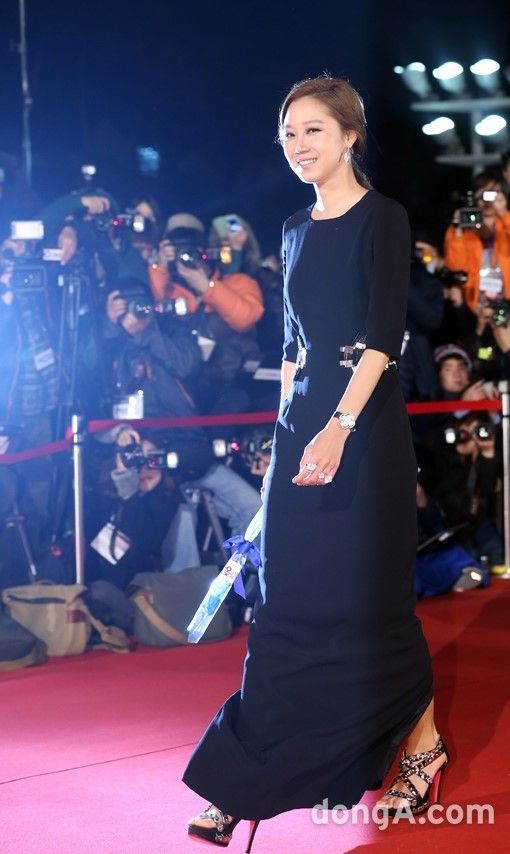 Yes, Gong Hyo-jin is wearing all-black like so many of the other attendees, but she just looks so chic and elegant. She took home a popularity award.

I love Kim Min-hee in this; she's an actress who always finds a way to change it up, and almost always succeeds, whether she's being avant-garde or classic or experimental. She didn't win for Best Actress (she was nominated for Temperature of Love, aka Very Ordinary Couple, where she had a very strong and naturalistic performance), but she received a popularity award.

Park Bo-young (Werewolf Boy) must really, really like this dress, since she has it in every color. I'm pretty sure this is just this dress, and this one, and also this one, only with a train stuck to it. Honey, you are a Big Movie Star! Please wear a new dress! You are way too young to have One Signature Look.

Eom Ji-won was nominated for Wish in the Best Actress category, and while she didn't win the hit film did win in a number of other categories.

For instance, her Wish co-star Ra Mi-ran did win in the Supporting Actress category. She can be pretty hilarious when the role calls for it, usually in a wry sort of way. And as you can see, we're now in the thick of the black dress trend, which sort of goes on and on and on…

Uhm Jung-hwa, nominated for Best Actress for her thriller movie Montage, always kind of scares me a little on the red carpet. To be fair, she did kill a giant bat and wear it on her boobs as a warning to us all, I'm pretty sure.

Nam Ji-hyun is growing up nicely; I guess she's still technically a "child actor" in the sense that she's still in her teens, but she's transitioning gradually out of those parts and doing pretty well. She was nominated as a New Actress for Hwa-yi.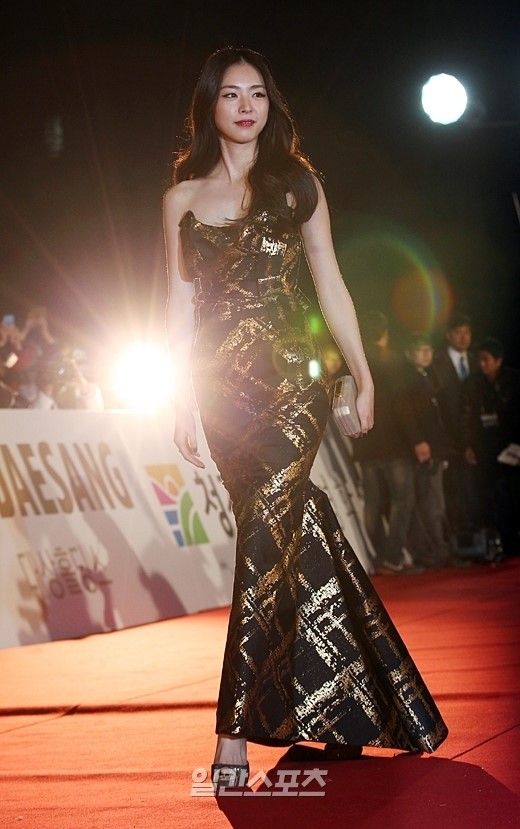 Phew, out of the morass of blackness with Lee Yeon-hee (Night Before the Wedding). Okay, admittedly her gown is still black, but I'm just glad it's got something else going on, and while I'm not even 100 percent sure I love the dress itself, I AM pretty certain Lee Yeon-hee is physically incapable of taking a bad picture. She looks amazing.

Aw, I still think of Go Ah-sung as the little girl in The Host, and here she is arriving with her Host daddy and Snowpiercer co-star Song Kang-ho. They were both nominated for awards, though neither won. She's grown up well, and looks quite mature in this dark navy gown, which kicks off another color trend of the night. I mean, dark navy is so close to black as to not count as a different color, but at this point I'll take what I can get.

More dark blue for Im Soo-jung, who wears her lacy beaded gown like a pro.

I love how confident Kim Go-eun looks—remember last year when she was the brand-new, fresh-faced ingenue cleaning up the awards shows for her role in Eun-gyo?

Speaking of new faces, here's New Actress nominee Jung Eun-chae (Nobody's Daughter Haewon). It's a little casual for a red carpet, and now that I've seen her at a couple awards shows, I'm thinking perhaps slouchy and messy isn't a mistake but just her aesthetic. Maybe she's a hipster?

Daniel Choi! I love youuuuuu.

I would say the same of Choi Jin-hyuk (Heirs), but I fear getting trampled to death by several hundred of his rabid fans. It's okay, I will love from afar.

Joo Sang-wook (Good Doctor) is a good-looking man. That said, I don't know if anyone can make brown suits look great, and not like a remnant of your '70s-themed retro costume party.

Aww, I can't hate on Jo Jung-seok, especially on the night he didn't win the Supporting Actor award for The Face Reader. But… that slicked hair… that waiter's jacket from the Copacabana… sigh.

I think Lee Byung-heon's jacket is made of velvet patterned into flowery shapes. He still looks good.

Moon Jung-hee, nominated for Hide and Seek, is rocking a gown that looks like the epitome of unforgiving. I'm not entirely sure sitting is recommended in that fitted satin, but I love how it pops on the red carpet. (Uh, let's just hope it doesn't pop any other way.)

It looks like So Yi-hyun (Top Star) saved herself from having a nip-slip moment on the red carpet when one side fell off her shoulder. Which, phew. Although I'm not sure that would've been the most boob we saw at the event even if it had happened. Oh, you'll know what I mean when you get there.

Park Ji-soo won in the New Actress category for her movie Mai Ratima, which happens to be the film directed by actor Yoo Ji-tae.

There's a distinct "Woman in White/gothic nightgown" quality to the gown worn by Nam Bo-ra, but I still like it, mostly because it's styled simply and plays up her youthful freshness. Also: points for comfy! Who wants to go to an fancy gig and have to suck in your stomach all night?

Not Jang Young-nam, certainly (she's pregnant). She was nominated for Supporting Actress for Werewolf Boy.

Another supporting actor nominee was Jo Jin-woong, for Hwa-yi. He always seems a little uncomfortable on the red carpet, though he certainly knows how to let that go when he's acting the hell out of a role.

Sexy ajusshi (and real man) Ryu Seung-ryong didn't win for Miracle in Cell No. 7 this time, but he did win back at the Grand Bells so they're just spreading around the love.

Lee Joon (Rough Play) looks a little white-faced and dark-circled in some photos, but I'm going to trust that that's got to do with makeup more than, say, latent vampiric tendencies.

Thank you, Jeon Mi-sun (Supporting Actress nominee, Hide and Seek), for wearing a color, any color at all. I wouldn't have even cared if it were a pretty one, but as it turns out, she looks classy and polished.

Park Sung-woong was another nominee for Supporting Actor for New World. I love that flash of gold lining in his jacket, as much as I'm a little disappointed that the fun part never gets seen.

No awards or nominations for Ahn Sung-ki this year, but given his incredibly long track record of churning out commendable work, I expect to see him back on the lists in no time.

How's this for an unlikely pair? Singer Insooni and pianist Lang Lang were both at the event as performers, and arrived on the red carpet together.

Sol Kyung-gu, Best Actor nominee and popularity award winner, came with his Wish director Lee Jun-ik:

There's nothing really terrible about this gown on voice actress and SNL Korea performer Seo Yuri, but it feels all wrong—the shape(lessness), the fit, the baggy feeling, the saggy boob area. Also, it kind of looks like a dirty wedding dress?

How adorable. Here are two notable child actresses at the awards together, Lee Re of Wish and Kal So-won of Miracle in Cell No. 7. I love the look on Kal So-won's face in that last picture.

Without that last photo, I would have dismissed this look on New Actress nominee Lee Eun-woo (Moebius), because the side angles make it look like it's only going for the provocative see-through effect. But the color blocking from the front view is flattering enough to make it work.
It's a heck of a lot better at being sexy than this number, for instance, which is as head-scratching as it is meant to provoke. Kim Hye-soo (The Face Reader) is known for being sexy and glamorous, and she usually works that to best effect in her red carpet selections, but this? FUG. LY. No defending it.
Even if you ignore the part where she's obviously going for the peep-show factor (that side view is the bestworst at this, oy), the netting, the shaggy feathery Yeti sleeves, the puke green color? No no no.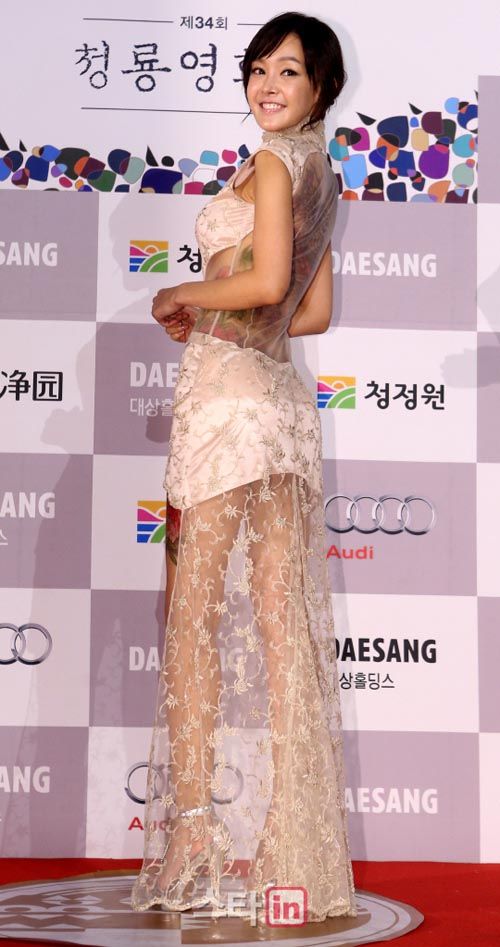 And yet, is it better or worse than this choice by Kim Sun-young (Grand Outing, Moby Dick)? I am all for interesting body art, but whether or not hers are real tattoos (the consensus seems to be that it must be fake, but you never know), I just don't know that this pulls together. Clearly the gown was designed to emphasize the artwork, but there's so much going on that I feel like the patterns are fighting with each other for prominence. That lace train is distracting to no end; maybe it would have been better if the front were similarly paneled? Or if it were a minidress with no train? Orrrrrr maybe there's no saving things.
RELATED POSTS
Tags: Ahn Sung-ki, awards, Choi Jin-hyuk, Daniel Choi, Eom Ji-won, Go Ah-sung, Go Kyung-pyo, Gong Hyo-jin, Hwang Jung-min, Im Seul-ong, Im Soo-jung, Jang Young-nam, Jo Jin-woong, Jo Jung-seok, Joo Sang-wook, Jung Woo-sung, Kim Hye-soo, Kim Min-hee, Lee Byung-heon, Lee Hyun-woo (2), Lee Joon, Lee Jung-jae, Lee Yeon-hee, Moon Jung-hee, Nam Bora, Nam Ji-hyun, Park Bo-young, Ryu Seung-ryong, So Yi-hyun, Sol Kyung-gu, Song Kang-ho, Uhm Jung-hwa, Yeo Jin-gu