Basketball: Episode 5
We were promised rivals, and this show is certainly delivering on that. But if the high-octane basketball sequence in this episode is just a taste of the kind of rush we can expect from the rest of the series—the kind that makes you want to get on your feet and cheer—then the future looks pretty bright. And maybe more than a little sweaty. But also alarmingly attractive.
SONG OF THE DAY
Basketball OST – Park Wan-kyu – "Rebound" [ Download ]
Audio clip: Adobe Flash Player (version 9 or above) is required to play this audio clip. Download the latest version here. You also need to have JavaScript enabled in your browser.

EPISODE 5 RECAP
Everyone's in shock after Shin-young and Chi-ho's wedding announcement, but no one more than San, who decides to go against his arrogant coach's wishes and play the game with all he's got.
Daddy Choi leaves feeling quite proud of himself, confident that the first score won in the game was won by Chi-ho. It's Secretary Kim who breaks the news that it was someone from their team, causing Daddy Choi to start making his way back toward the court out of curiosity. Who could be giving the great Min Chi-ho a run for his money?
It's none other than San, whom we see racing across the court with his teammates, sinking basket after basket. Bong-soon is adorably supportive as she gives the awed crowd San's name so they can cheer for him: "Kang San! Min Chi-ho's newest rival!"
The game gets fierce, and I mean fierce, when Chi-ho gets his head back into the game to take San head on. I'm actually even loving the rock track blaring in the background as Chi-ho not only steals the ball from San, but he actually grabs the ball Takeshi threw in midair to get it in the net.
Both of them get a stare-off moment as they run across the court, with occasional flashes to Shin-young to show us why they're competing. Aside from her, this scene is great.
After we get an odd cut to Jo Hee-bong as the dying vice chairman of Jungchuwon (the Governor-General's Korean advisory board), we're back to the game.
Chi-ho starts to forget that there is no "I" in "team" as he takes it upon himself to do all the scoring, ignoring his open teammates for a pass even though it ends up costing him the ball.
The crowd goes from cheering his name to cheering San's as he sinks enough baskets to not only even the score, but to get his team on the winning side.
Chi-ho's anger only worsens when Shin-young smiles only for San, and cheers only when San sinks a basket. No matter what he does, he can't grab her attention. (Meanwhile Bong-soon gets swept up with the crowd, cheering, "Kang San! Kang San! Kang San!")
Everyone's wondering about San during the halftime break, including his own teammates—though they're mostly just happy to have such a good rookie on their side. Even San's cynical and mean coach seems to be warming up to San now that he's seen how skilled he is.
There's even a halftime show, with Jo Hee-bong (looking quite dapper, wow) singing a pro-Japanese tune to rally the people.
Daddy Choi is introduced to one of Councilman Yoon's powerful friends (on the Jungchuwon council), only he makes a gaffe when he mentions how Yoon is a perfect candidate to replace the dying vice chairman. Everyone's just like, Toooooo sooooon.
Chi-ho's hyung/wizard OH IN-SOO (Kang Sung-min, long overdue for an introduction) is hounded by reporters due to the engagement announcement while Shin-young is stopped on her way to see San by the same newsmen.
San becomes worried when the teammate he replaced finally shows up, since it's LEE HONG-KI (Jo Il-joo), the kid from his high school who got picked over him. He's also the only one who knows San's true identity aside from Coach, so this could be bad news.
Chi-ho pulls Shin-young away from the reporter mob to talk, but she's brusque in her mannerisms and words. She wants nothing to do with him, but Chi-ho is still angry she was going to take the time to see San.
"Is he the only person you can see right now?" Chi-ho asks, his jealousy bubbling to the surface. She's under the assumption that he hates her and urges him to tell the reporters that they're not getting married, which leaves Chi-ho huffing and puffing with nothing to say. He can't spill the truth that he likes her.
Before Hong-ki has a chance to tell his teammates where he knows San from, San answers/covers for him: "We're from the same hometown."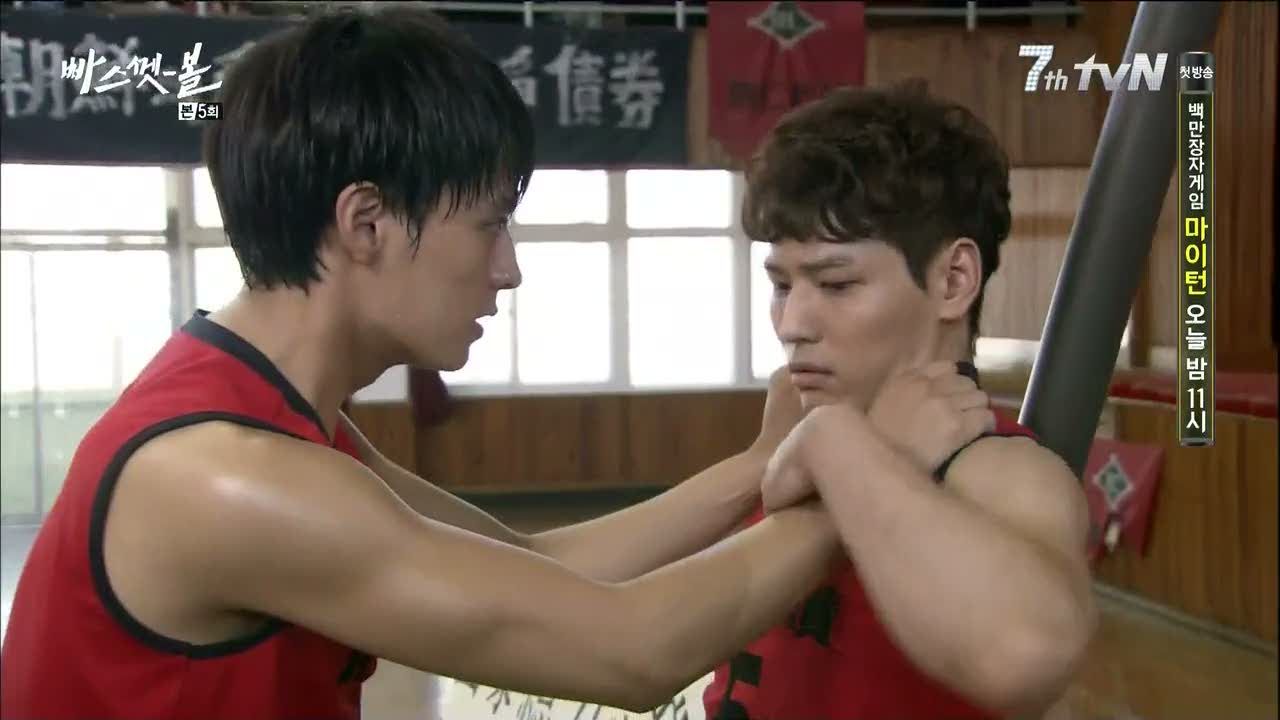 Hong-ki knows this is a lie and threatens to spill the truth to everyone (that San didn't even graduate from high school, so he couldn't be a university student), but San shoves him against the wall menacingly and threatens him to keep his mouth shut since he's already enjoying the spot he stole from him.
Before the game resumes, Chi-ho smiles as he thinks of Shin-young passing out shoes to the poor, only to frown when he thinks of her kissing San. Okay guys. We get it.
But the show seems to think we don't, since Chi-ho has a moment of realization about himself when the second half starts. Maybe up till this point he didn't understand why he was so angry when it came to Shin-young and San, but now looking at Shin-young (looking at San), he realizes that he has feelings for her.
Thus, the ensuing second half is like a game to win her heart, with Chi-ho and San giving it all they've got.
The scores are tied with two minutes left on the clock, and San gets a little too aggressive as he collides with Chi-ho, earning the audience's scorn for his bad sportsmanship.
Coach calls for a brief timeout to give his team a pep talk, but he pulls San aside specifically to remind him that while this is just a practice game for the rest of the team, this is a tryout for him—so he has to win to earn his place.
San pulls off some clever plays with his teammates which manage to surprise Chi-ho, though that doesn't stop him from stealing the ball over to his side of the court. San follows with dogged determination because everything is riding on this one game. If he loses, he'll lose everything.
Both men are pouring sweat as the clock counts down to the final seconds. Chi-ho makes the jump for a three-point field goal, San jumps to block… but as high as his jump is, the ball sails right over his head and into the net.
Chi-ho's team wins, and San is devastated. When Chi-ho sees that Shin-young is still not even looking his way, he pulls her to his side and in front of all the press proclaims that he's never played as hard as he did today—and all of it was for Shin-young.
The reporters take this as confirmation of their engagement, which was Chi-ho's plan. As he drags Shin-young away from the mob she looks desperately back toward San, who can only watch helplessly as she goes.
The following scene with Daddy Choi and Councilman Yoon is honestly a bit of a snore so I'll just sum it up and do us all a favor: Yoon gives Choi a promotion that's not to Jungchuwon, with the promise that once Jo Hee-bong dies and he becomes vice chairman, he'll give Choi his old seat.
Shin-young tears into Chi-ho on their car ride home, operating under the assumption that he's doing all this just to take revenge for the article she wrote. "I had someone else there who treasures and cherishes me. Did you even consider how it would make San feel to hear the news of our engagement?"
This throws Chi-ho over the edge: "Was there ever a time you considered my feelings?" He brings up their first meeting and the article that turned him into a laughingstock since she didn't bother checking any facts, and how terrible it felt to listen to all those rumors being said behind his back.
So yes, he claims he was just trying to get back at her for what she put him through, but I think he's just covering up his own feelings. It's easier to give into her perception of him than to say, I did it because I like you.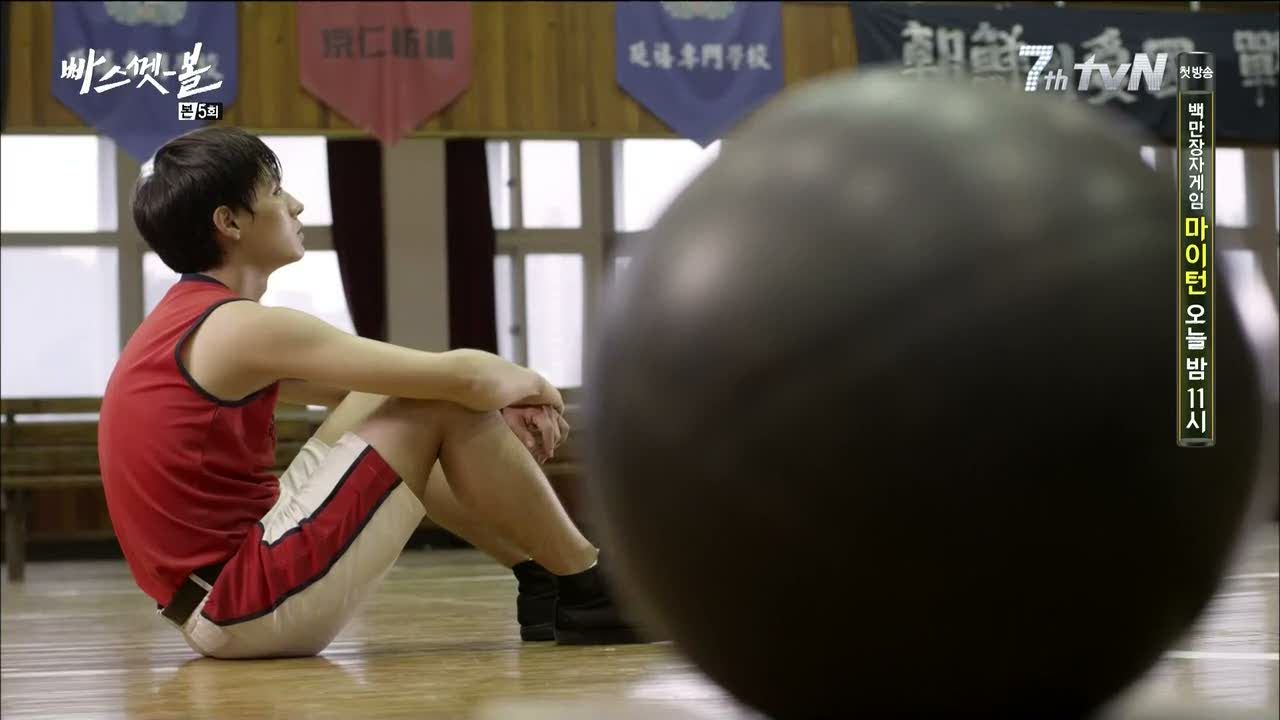 But, good news! Secretary Kim offers San a spot on Daddy Choi's team, regardless of the loss. There's just one condition: He has to cut off all ties with Shin-young, since she's now engaged.
Shin-young spits vitriol at Chi-ho when he drops her off at home, and he doesn't bother correcting her. In-soo Hyung knows that Chi-ho really has feelings for her and urges him to stop being a coward and show her so through his actions.
She calls the ajumma's restaurant looking for San later, without knowing that he's standing silently outside her home, unable to call to her.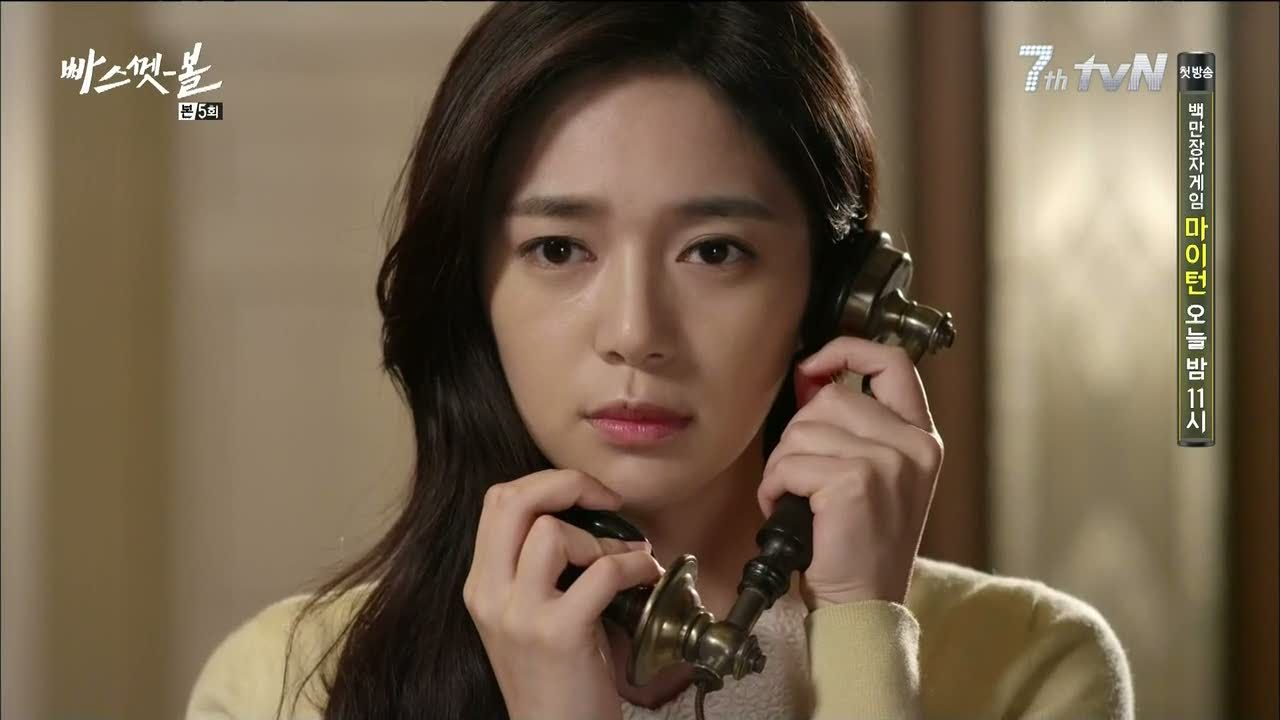 Any attempt on her part to write an article about the game proves futile, but at least her spirits are lifted when Bong-soon tells her the good news of San's recruitment.
She's still angry about the engagement and thinks that writing an article telling the truth will solve everything, but as always, Bong-soon is there to bring her back down to earth—if she calls off the engagement now, everyone will turn against her for seducing their national treasure.
Even though Bong-soon warns Shin-young to heed her reputation, she couldn't care less about it. What she really cares about is the pain this must've caused San, and she can't rest until she's able to speak to him.
So the ever-loyal Bong-soon tries to sneak out of the house to convey a letter to him only to be caught by Secretary Kim. Wamp wamp waaaamp.
Meanwhile, Daddy Choi wears the world's ugliest tie as he accepts his position as director of another pro-Japanese group that's not Junchuwon, but alike in function.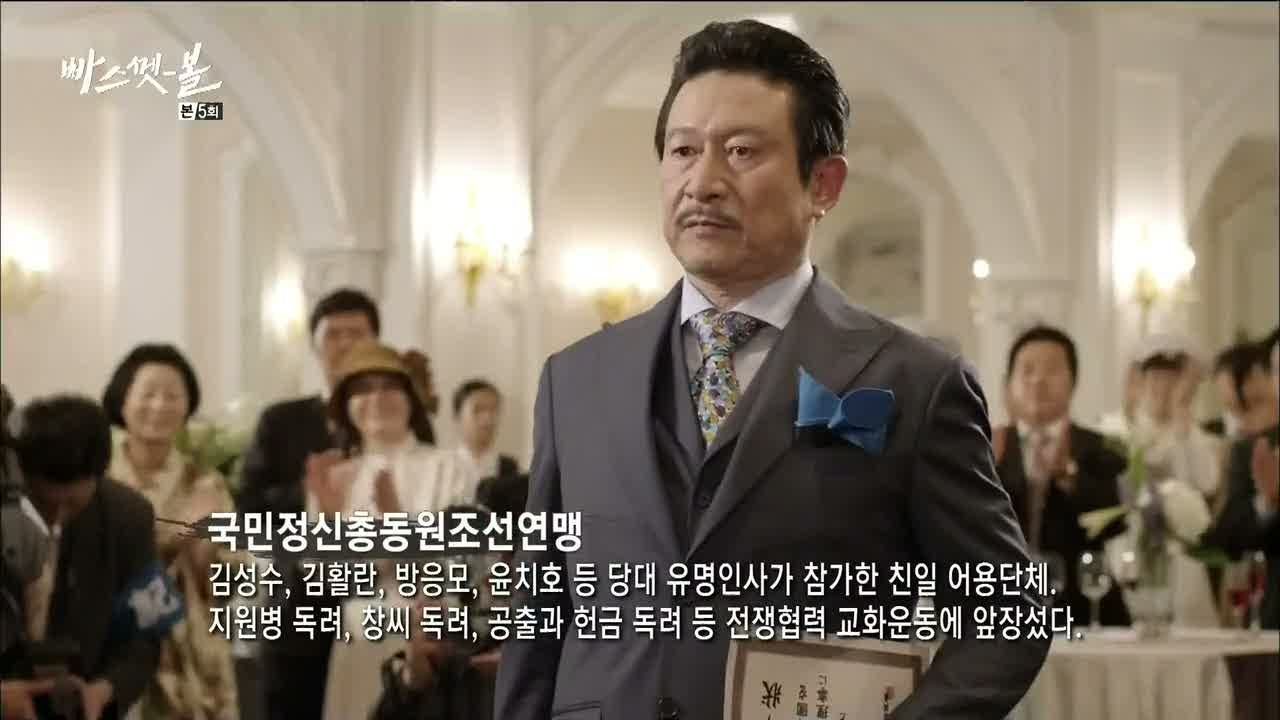 Both groups had one goal: To assimilate Korean citizens into the colonial state, whether through prodding them to fight for the Japanese, donate war funds, or deny their heritage and adopt Japanese names. So it's no surprise that Daddy Choi is a bad guy by now, right?
Shin-young uses the excuse that she's going to meet her "betrothed" Chi-ho as a way to finally get out of the house, and we meet her betrothed as he's heading out to meet her and set the record straight. (I totally take back what I said about Daddy Choi's tie now.)
He's surprised when Shin-young is already outside his house, even more so when she acts all sweet to him in order to get Secretary Kim to buzz off. It works.
The first order of business for Daddy Choi in his new position is to convince an event hall full of powerful men's wives to basically fork over money for Japanese war mobilization. (He's introduced by Jo Hee-bong, naturally.)
It's actually pretty smart of Daddy Choi to target women, since wives were in charge of their husband's purse strings. When the speech doesn't go over too well, Daddy Choi decides to call in his basketball team for backup.
At practice, San tries to replicate the kind of winning shot Chi-ho beat him with during the last game with diminishing results. He's just not there yet.
Shin-young sees Secretary Kim off with a smile before she reveals to Chi-ho that she was just using him as an excuse to escape surveillance—and if he doesn't like being used, then he can break off their engagement. Ha.
She's all proud of herself for pulling off the stunt, but Chi-ho's not just going to let her get away with it. He follows her in his car to offer her a lift to wherever she wants to go: "You said you're going to use me, so use me wisely."
At least she's smart enough not to pass up on a free ride, and Chi-ho's just happy to spend some time with her. Aww, I'm really starting to like them together.
Chi-ho drops her off outside San's practice hall, but because the team is nowhere to be found she ends up leaving her letter for San with jealous teammate Hong-ki. He smiles like the cat who just swallowed the canary.
The reason why San is missing is because Daddy Choi called them to serve as handsome incentive for his fundraising event, and the tactic works brilliantly.
All the wives coo over the pretty young boys (with a shout-out to the infamous Na Hye-seok, a renowned female artist and feminist from the colonial period whose divorce after an affair all but ruined her career) and gladly give their money.
While a few of Shin-young's friends recognize San in the greeting line, there seems to be a rivalry brewing between Count BYUN JUN-PYO (Go In-bum) and Daddy Choi.
San is a bit uncomfortable with having to be touched by rich ajummas and asks his teammate when they'll get back to their actual job, only for his teammate to tell him that this is all part of their job—what, did he think they'd just get to play basketball all day? (Short answer: Yup.)
Daddy Choi is praised for his fundraising work by the Japanese higher-ups, which only arouses Count Byun's ire. Councilman Yoon is the one to suggest that Daddy Choi get in on creating what would be called "Neighborhood Patriotic Associations"—a wartime measure used by the Japanese to achieve control over the Korean people by organizing them into ten-family units where everyone spied on everyone else, mostly in an effort to facilitate rationing and forced monetary donations to the Imperial Army. It was just another method of subjugation.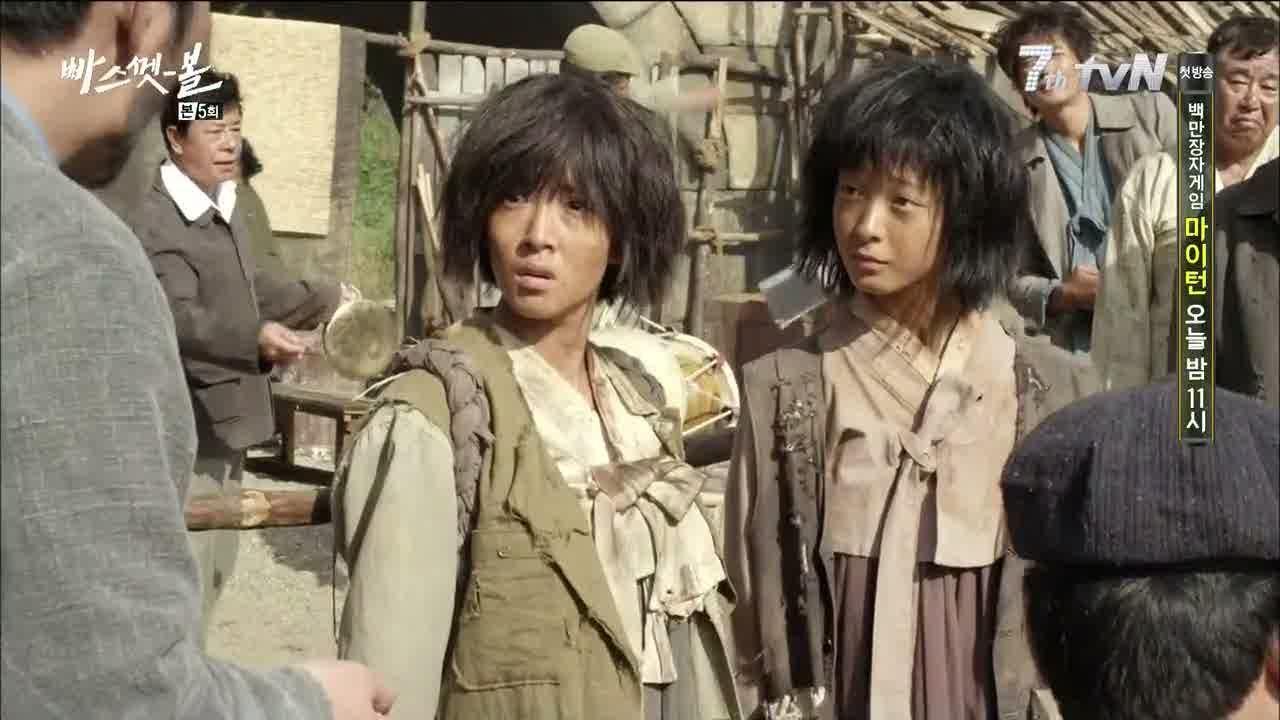 In Byeo-ri's neighborhood, food is being given out as incentive to join one of the neighborhood associations, but Byeo-ri remembers what happened to her father when he listened to a man saying, "Just sign here."
Her friend urges Byeo-ri to sign up with her so they can get free rice, and a reluctant Byeo-ri ends up signing because her friend doesn't know how to write her own name.
Daddy Choi pays his basketball team for their hard work, encouraging San while he's at it: "I like the fire in your eyes. I'll be watching over you."
San overhears that Shin-young is on a date with Chi-ho, which is when we cut to her as Chi-ho drops her off at her office. Since he's served as her chauffeur for the day, she actually agrees to spare him some time so they can have a talk after she's done per his request.
He feels uneasy about leaving her and follows her inside in time to see one of Shin-young's colleagues tearing into her about her hypocrisy—she's acting all socially conscious and caring when her father is a shameless pro-Japanese capitalist and her boyfriend a Japanese henchman.
He also makes sure to add that the rumors going on about her insinuate that she's Chi-ho's kept woman, and at the end of his tirade, he even asks if she's even ashamed of herself. Shin-young is so caught off guard by his attacks that she can think of nothing to say.
And that's just when Chi-ho steps in to gallantly defend her honor, taking her colleague down a few pegs before he dramatically escorts her out. He's doing just like In-soo said by showing his feelings through action, and Shin-young is clearly moved as a result.
San is having a rough time during practice as he thinks about Secretary Kim's warning to stay away from Shin-young, which means he's definitely not in the mood for Hong-ki's mean-spirited teasing about the letter Shin-young left with him. (Ha, and he actually does a pretty good impression of Shin-young.)
The letter reads: "San, the news of our engagement isn't true. My heart already belongs to you. I miss you." San rushes out in the middle of practice to Shin-young's house, causing Coach to mutter something about San's attitude and the special favor that got him on the team.
Hong-ki overhears the "special favor" part with malicious interest. Not good.
During the car ride home, Chi-ho and Shin-young try broaching conversation at the same time and only end up interrupting each other. After Shin-young thanks him for helping her back there, Chi-ho takes his turn to tell her that he was angry at her at first, which is why he made the engagement announcement without thinking.
But because he saw her colleague using her relationship with him as fodder for derisive comments, "It made me think that maybe what I did was really wrong. I felt like you were put in a difficult situation because of me… I'm sorry."
Neither of them notice San watching them from outside as Shin-young accepts Chi-ho's apology before asking him to clear up the misunderstanding regarding their engagement to the public.
"If it's possible, I want to make right everything that went wrong. But as for the engagement… I don't want to," Chi-ho confesses.
That's when San opens the car door to get his girl out, even though that doesn't stop Chi-ho from finishing what he had to say. He plans on helping Byeo-ri as much as he can to make up for his wrong.
Chi-ho: "But as for the engagement, I have no intention of breaking it off. I've come to think of you more seriously, Shin-young… I like you."

COMMENTS
This is one of the better love-triangle-based cliffhanger endings, even if it seems like a waste to give Shin-young so many reaction shots when she's not using them to, y'know, react. But that's okay, since all twenty of us knew from Episode 1 that Shin-young's character wouldn't be the most fun heroine ever (or any fun at all), so that's our cross to bear to get to the rest of the show. Sigh.
That said, I found Shin-young more likable this hour than in any of the others combined, which is making me doubt whether I was ever rooting for her and San's relationship at all. Yes, their love is sugar, spice, and everything nice—but when you hold their awkwardly formal interactions next to her interactions with Chi-ho, there's a whole world of difference.
Different characters will have different dynamics obviously, but it's interesting to note how much more Chi-ho feels like the traditional drama hero we're used to, especially when it comes to Shin-young. He's proud, slightly arrogant, and tops it all off with a cold exterior to hide how emotionally sensitive he is inside. He gets to bicker with the heroine, swoop in to defend her when she's wronged, and enter into an initially loveless contractual relationship with her that in any other drama might lead to true love.
I'm not discounting that possibility here (I actually wish the show would go there), but it does seem unlikely when we already spent so much time on how she and San are just meant to be. So by proxy, that makes Chi-ho into a pseudo-villain just because he's going to be the force that keeps them apart, except for the fact that his interference is the most interesting thing about the romance in this show right now. There, I said it. (I'm sorry, San! I still love you!)
Everything else is coming along nicely and I'm appreciating the camerawork more and more with each passing episode. We've seen this director handle bombastic action before (Chuno), along with more intimate storytelling (Conspiracy in the Court), and I'd say Basketball is trying to strike a happy medium between the two.
Granted, there's not as much overt showmanship as we've seen with this director's past work, but it takes a deft hand to make a fifteen-minute-plus basketball scene feel so immediate and raw. If only we could harvest some of that energy and intravenously inject it into Daddy Choi and his politically-minded buddies. Jo Hee-bong as vice chairman is the only fun thing about that side of the show right now, and all he's doing is dying. So let's pick it up just a little, Basketball. You can do it.

RELATED POSTS
Tags: Basketball, Do Ji-han, featured, Jung Dong-hyun, Lee Elijah