Running Man: Episode 171
What a dizzying episode. And it's not just from our sheer number of guests in an hour and a half. Our star guest is in control of our cast's future from thousands of miles away as they run around bases, build meat towers, and create impromptu food descriptions all while trying to keep clipped words at bay.
I may or may not have become an expert on all things Dodgers Stadium by the episode's end, or maybe it feels like I'm the one who's spun around the sick chair one too many times.
EPISODE 171. Broadcast on November 10, 2013.
Today's opening is a mostly recycled version of last week's super-long intro of Ryu Hyun-jin (LA Dodgers). There are couple of adorable moments at the start, however, like how Gary shoots Ji-hyo cutesy heart baseball signals and Ji-hyo's flubbed pitch.
The cast marvels at the baseball star's sweet digs, joking that they should have treated him better during his last visit. Then they collectively cringe when Hyun-jin shouts out the corny magical incantation.
This time, Hyun-jin's superpower gives him control of the cast's future, but mostly it means that he'll be issuing the missions today. So it's likely he won't even show up until much later or possibly even next week. At least the mission "choices" are straightforward: choose correctly for an easy mission or choose wrong for a hard one.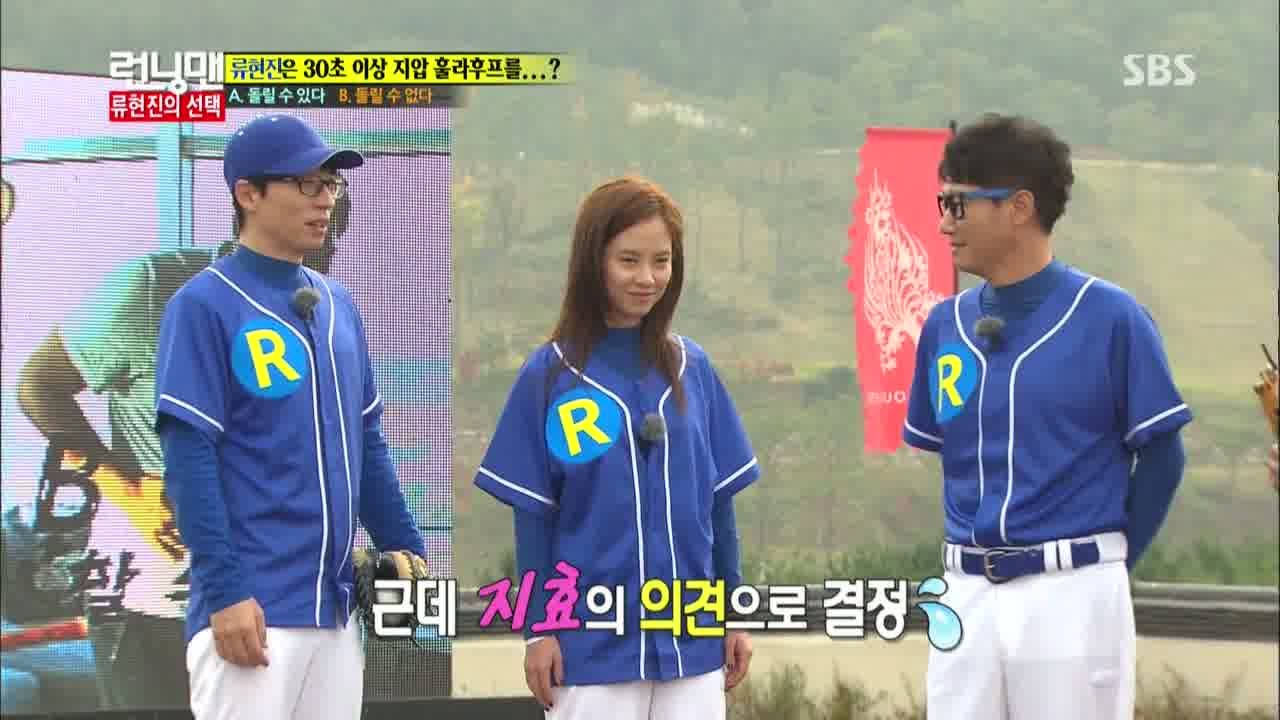 To start, the cast must guess whether Hyun-jin can hula hoop (those bumpy, weighted ones used for exercise) for more than thirty seconds. Hyun-jin is adorably and hilariously terrible at it in general, and it cracks me up how he dismisses the possibility that his twirling skills are on par with Spartakooks.
The cast makes their initial guesses, but when it's Ji-hyo's turn, she responds with her trademark mung expression. Ha, I've totally missed her blank-faced tendencies when she's put on the spot.
However, the deciding vote falls on her, and they decide on that Hyun-jin can't do it. Then they're off to their first mission location.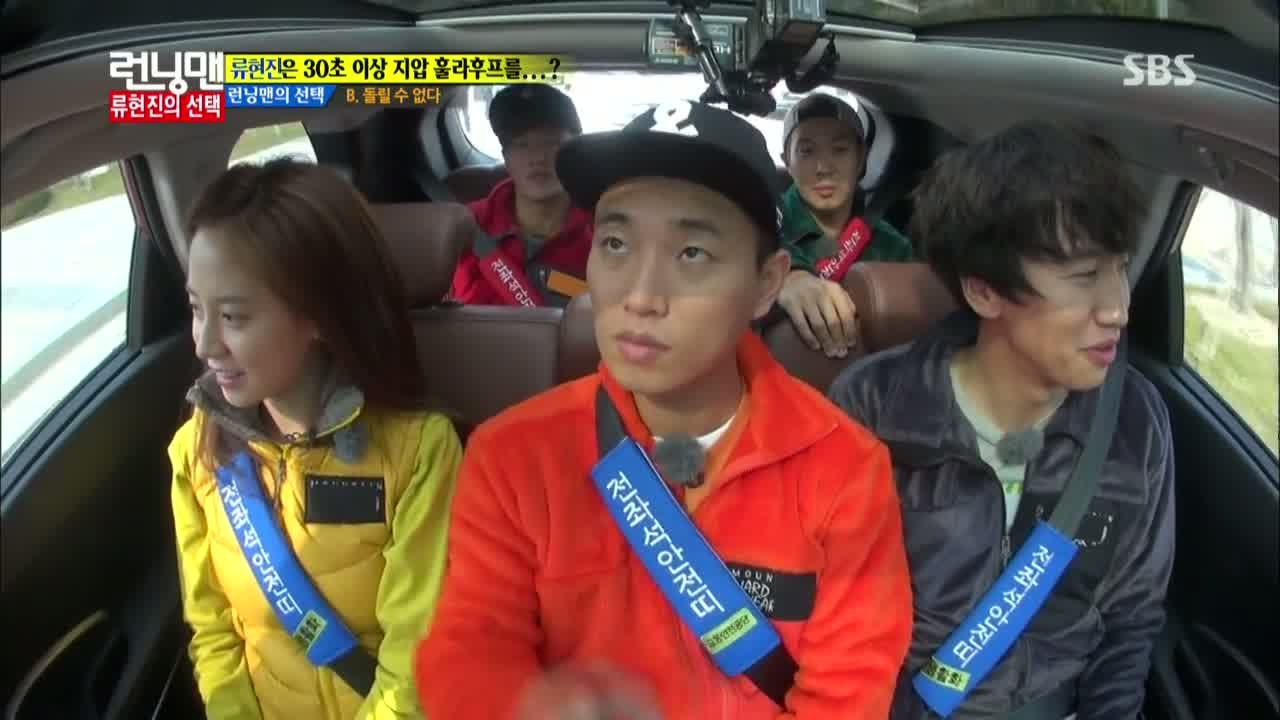 It's occurred to me that it really has been a while since we've seen our seven castmates riding altogether in one van. Their easygoing ride turns into a frenzy when a rogue bee buzzes around them and they freak out, both worried about the bee and the cameras.
They collectively gape at their first mission setup—a makeshift baseball field and a fork crane. Yipes, methinks our cast was wrong. Sure enough, they confirm the video which shows they're in for the harder mission. (Is anyone else slightly weirded out by Hyun-jin's bedroom-like noises?)
Then to drive a nail into the coffin, they're told that they missed out on the other mission: a massage. While that may sound like a nice prize, Jong-kook reminds everyone that the staff would make sure it was an extremely painful massage. *squeeze*
What we're interested in, however, is the mission they're stuck with, and I'm not getting a good feeling about that chair attached to the crane. It's a good thing the staff decides to demonstrate the mission with a simulation, because then we see someone sitting in the chair, twirling around like a lone flying chair from an amusement park ride.
It only gets more complicated from there since they must throw the ball to one another through a series of more tasks, then get this—toss the ball BACK to the one sitting in the crane to finish. The staff pulls it off effortlessly of course, to the cast's astonishment.
Er, I know they have to keep doing this until they succeed, but doesn't that also mean we could be stuck here all day? I'm getting motion-sickness just thinking about it. And if that wasn't enough, they've got 99 seconds to complete the sequence.
Gary volunteers to sit in the sick chair first, and Jong-kook nearly blows his fuse at Jae-suk before he finally catches the ball. Things go a lot smoother from there until Haha is up at bat, and he bunts a ground ball. Whoops.
Coach Kookie goes into critique mode between rounds and targets Jae-suk, who retorts that they would be getting massages right now if they listened to him. They bicker for another minute, and at Jong-kook's sly remark at the Grasshopper's poor baseball skills, Jae-suk bites back: "You can't even play soccer!"
Ji-hyo rallies the team before taking another swing at it, and Jong-kook and Kwang-soo miss ball after ball after ball until time runs out. Jae-suk goes on another rant about how Jong-kook is being way too harsh on Kwang-soo until he meets Spartakooks''s eye and immediately apologizes.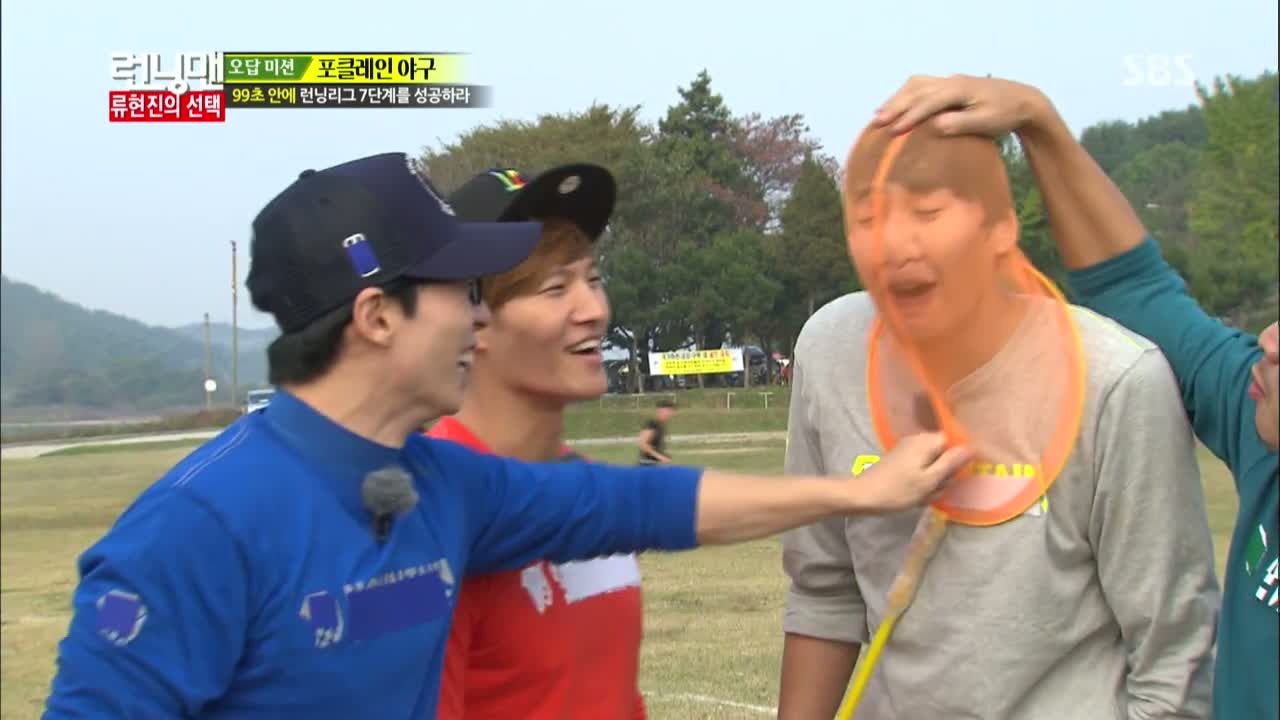 Suk-jin finally steps in to switch places with Jong-kook, and it takes a few tries for the Easy Brothers to catch the ball. But then it's Jong-kook who drops it, thanks to his reliable lack of hand-eye coordination.
In order to avoid a confrontation, Kwang-soo's the one to get scolded for it, and after the lecture, Jae-suk sticks on a Now go and tell Jong-kook what I told you! to the maknae.
It's only been three tries but they're already starting to get annoyed with each other, so when Jae-suk says they should listen to the leader aka himself, they all yell back, "Who?!"
So here we go again as the ball gets passed from one team member to another, and it's nice to see that Gary still looks optimistic whilst sitting in his chair. But things seem to be looking up as Haha hits a flyball right into Jae-suk's waiting glove.
All Jae-suk needs to do is throw it back to Gary… but he throws it to Ji-hyo? Oh noes.
So he ends up in the sick chair as his punishment, and this time, things go smoother rather quickly until the final ten seconds. But then Suk-jin gets butterfingers and the ball slips out of his glove.
If anything, I find it entertaining that punishment = sick chair, and that's how Suk-jin takes a spin in it himself. And spins and spins and spins. The cast eventually makes a full circuit 'round the bases, but by now, Suk-jin is dizzy and lookin' green.
Gary takes a shot anyway, but it's short, and they all groan. We speed ahead a bit as we see the cast members make one mistake after another, which only aggravates their frustration (and frankly, mine).
The staff has no problem with sticking with this one mission past sunset as they set up lights to prepare for such an occasion. I'm starting to think that this is one of those games where morale can only take you so far until your irritation exceeds accuracy.
And so it is, as we check in with Attempt #14 (yes, fourteen. I don't want to know how many hours that equates to) and everyone looks EXHAUSTED at this point. I wouldn't be surprised if the reason for the cast's laser-focus concentration is just because they want to get it over with already. And if it's true, I don't blame them one bit.
They're so close after all, and Jae-suk makes one final toss… and Gary catches it. OH THANK GOD. And aww, they gather in for a well-deserved congratulatory group hug.
Hyun-jin touts some more Dodgers Stadium facts at us along with a misconstrued headline about what looked like an altercation with a fellow teammate, but was caught just kidding around with him.
The full five-minute tour could interest baseball fanatics, though less thrilling for someone like myself. Then the question: If Hyun-jin can throw a strike after spinning ten times while holding his nose, and a ball with five spins, then what would he throw after seven spins?
The cast is split between either strike or ball, so they play rock-paper-scissors to arrive at a team decision. It's a close match, but Jong-kook wins, which means they choose "ball." And then Jong-kook rubs in their next mission location (a Hanwoo beef restaurant) in the other team's faces as proof that they've got it right this time.
Time to check the video at the restaurant, and Hyun-jin throws a ball after all. He tosses said ball as a congratulatory prize and we see it fall out of one shot and into Suk-jin's hands. Heh, Suk-jin is totally amazed: "I've always wondered how they did that!"
Ha, I love how the cast is not at all worried that Suk-jin has current possession of the baseball, all, "It's good for us if he has it!" "Easier for us to steal later!"
We get a glimpse at what the cast missed out on: basically looking for hidden in a muddy field. And from the simulation, looking for a needle in a haystack sounds easier than that.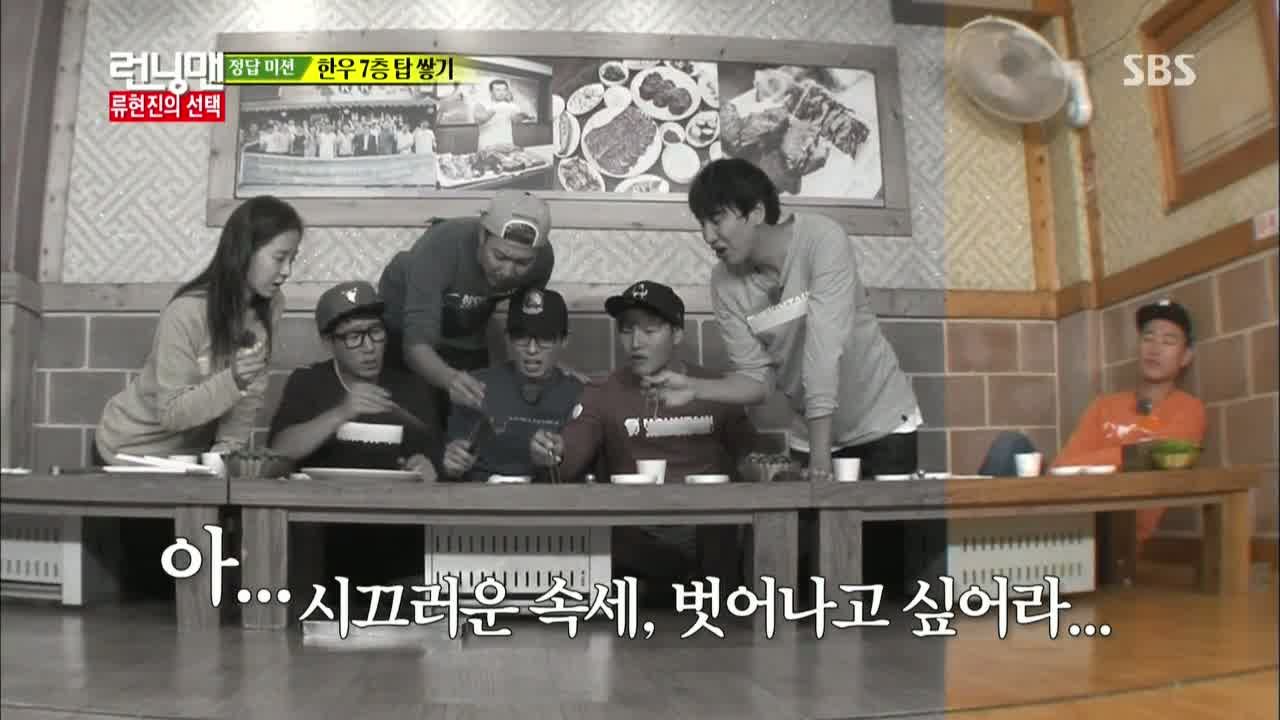 Here, they'll have to construct a literal meat tower, and if it topples over, well, the staff will happily devour it. Heyyy, this girl doesn't share her meat.
Coach Kookie immediately shifts to strategy mode, rambling on about the perfect way to cook their meat for optimal stacking. If all else fails, "The staff will eat it anyway, so let's undercook it."
The family spat starts off innocent enough between Jae-suk vs. Jong-kook, but that quickly escalates into a chaotic squabble… as our Peaceful Gary sits back from the noise, and adds wisely, "This is why you don't go on family vaycays." Hahaha.
They start stacking and Jong-kook gets in prime position to add his piece. But then the tower starts to tip after Kwang-soo's turn, and it collapses before Gary can step in. Pfft, then they get grabby for the meat anyway, stuffing it into their mouths.
After a round of more bickering to replace the grill, and I'm going to be perfectly honest—all this meat is making me hungry. So is the cast as they snap at each other with grumbling stomachs, nagging about the stacking order.
They watch Gary place the final piece with great anticipation (hee, did Kwang-soo give him a peck on the cheek) but that falls too. Then the staff is extra-prepared as a PD slams a plate over the meat and makes off with it before the cast can grab a piece. Puhahaha
It's torture enough from this side of the screen and Haha looks like he's emptying his thoughts until it's finally his turn. He just needs to set down the final piece, and his hyungs warn him that he'll be deadmeat if he fails. But no pressure or anything!
Thankfully, he succeeds and the cast happily digs in. With full stomachs and higher spirits, they receive their next question from another baseball pitcher Yoon Suk-min.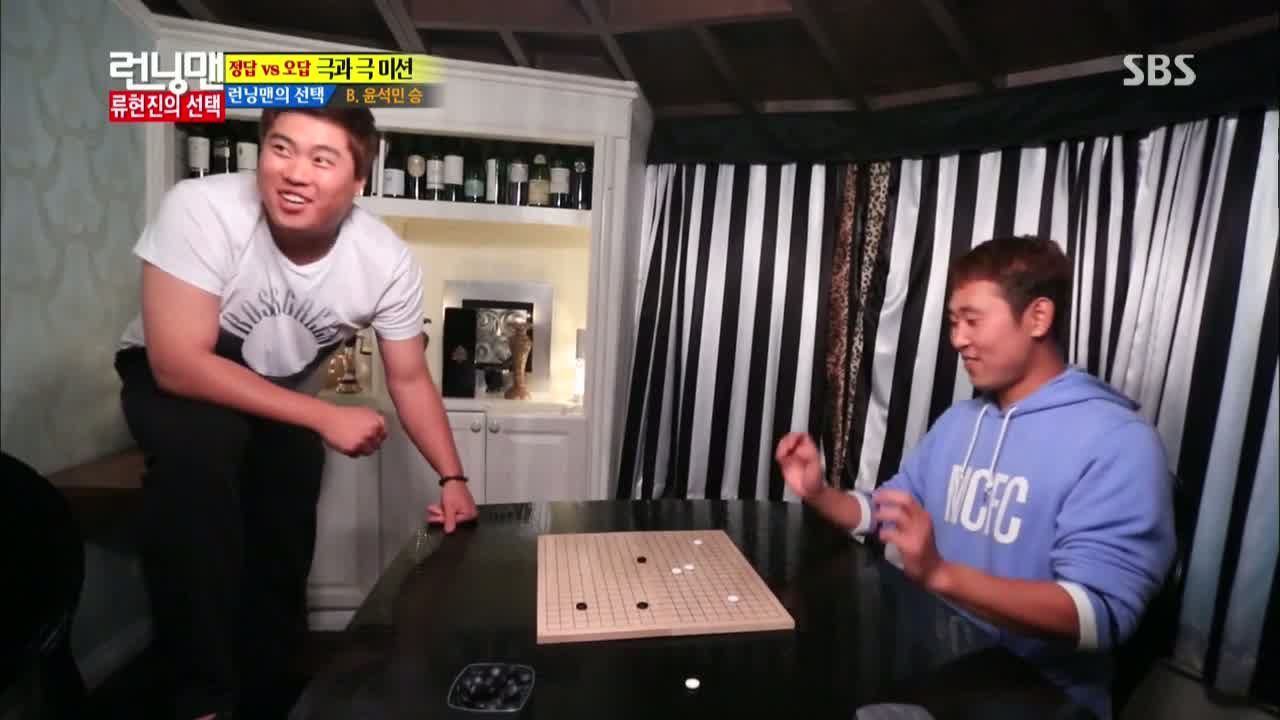 The man reminds me more of MC Shin Dong-yup than anyone else, but the cast compares him to Gary and soccer sensation Jung Dae-sae. And aww, Suk-min is adorably shy.
The two baseball stars play a game and it's up to the cast to guess who will win. Ji-hyo is left with the deciding vote, and she goes mung again. She votes for Suk-min, and it's off to the market.
They wonder if they got off lucky this time too, but Ji-hyo points out Myuk PD's presence (versus Jo PD) means that they've got it wrong. We actually watch the entire game between the players with running commentary from the cast, which is just as amusi—zzzz…..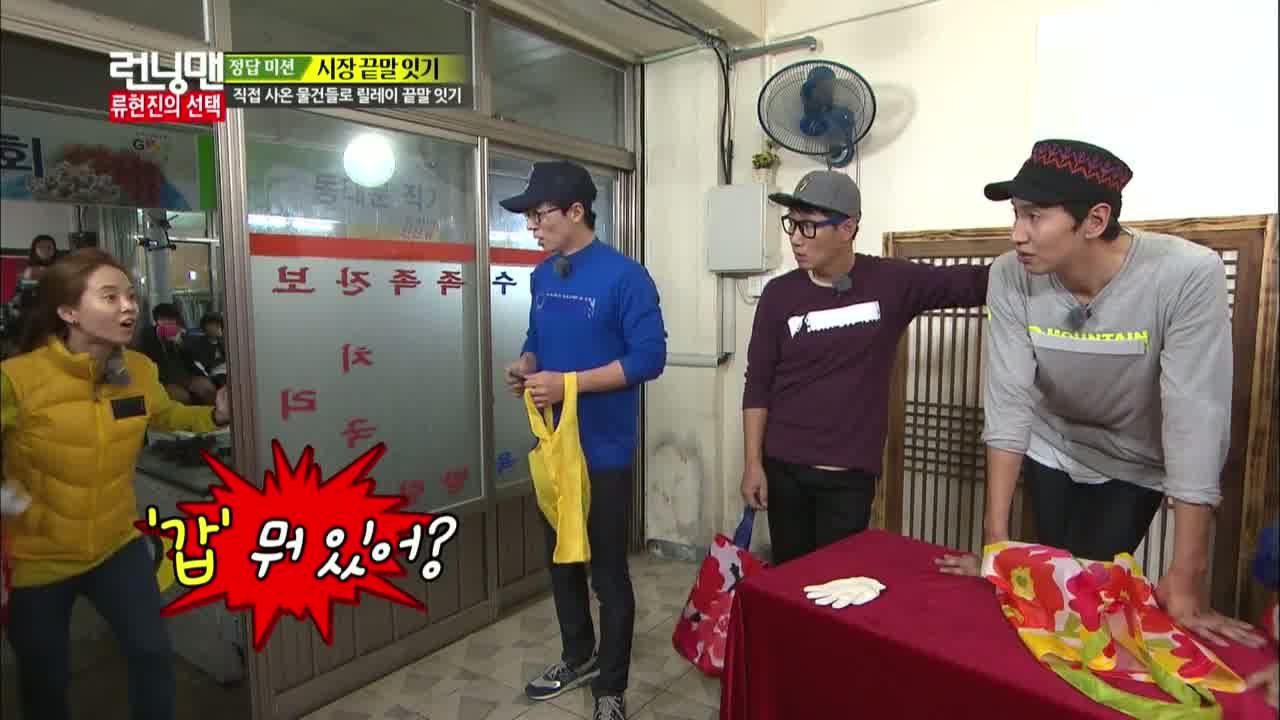 Needless to say, it's good news for the cast as Suk-min comes out as the winner (and Hyun-jin grumbles nearby, ha). Suk-jin gasps that he left his autographed ball back at the restaurant, but a flashback teaches us that Haha had swiped it. Muhahaha.
Aw, I would have liked to see the return of the cardboard boat game, but the easy mission sounds fun, too. It's a word-ending shopping relay race, and Jong-kook runs out first and buys gloves.
Meanwhile, the other toss out jokes that start with "jang," like, "Are you kidding me?" Ji-hyo runs into trouble searching for an item, but she runs back with something. Or so we think as she exclaims, "What starts with 'kap'?!"
Desperate, she comes back with the first thing she can grab, saying it was an expensive (the ending sounds similar to the word for "price/value") cabbage. Hahaha. Then the caption also includes that particular ending: You were in a pinch.
Haha suggests they go for the thick-skinned tactic, 'cause to hell with the rules—if it's close, they'll fight for it. So while Haha is out, the others brainstorm how to bend the rules, making adjectives out of the prefixes.
Just then, Haha storms in: "Really [Jin-jja] hot pepper!" HA, well there you go.
They keep up the trend, but Suk-jin is the only one sweating bullets. They wonder what's taking him so long, but he comes back with an acceptable item. They've got less than 20 seconds left when Jae-suk bursts out the door…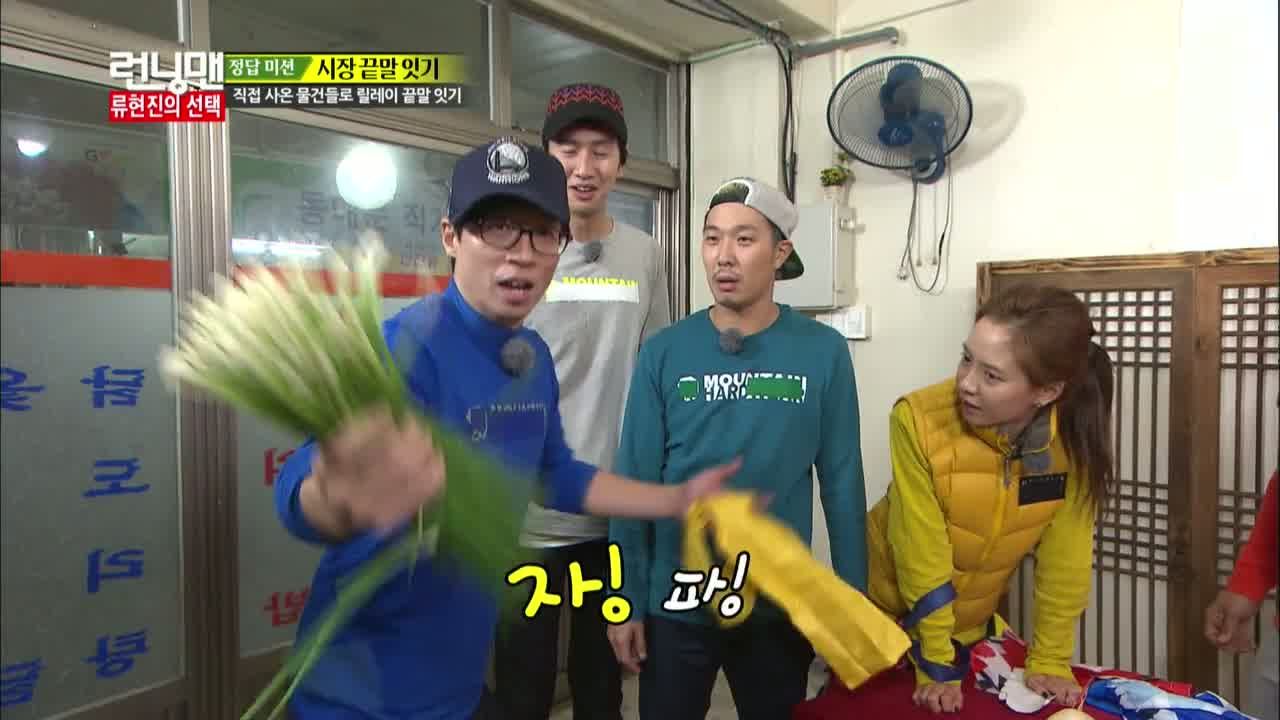 …then runs back in with a bundle of scallions in hand, and hollers, "Here [Ja]! Scallions!" HAHAHA. Oh god, I'm dying.
At least the staff lets them stick to the adjective-starting descriptions (though I get the feeling it's because they want to keep moving things along), and Ji-hyo's is adorable: "Pretty-looking radish!"
Hehe, Suk-jin keeps to the rules, and then argues that succeeding this mission is totally possible. At the end, Jae-suk runs in with this mouthful: "The farmer who shed blood to grow these ONIONS!"
They get a cheery call from Hyun-jin, who has just arrived at the airport. He teases Jong-kook, who shouts back, "I let you off easy last time!"
Then it's time for their last question, an age-old dilemma of sorts: jjampong or jjajangmyun? When asked which one he usually eats, Hyun-jin slyly answers, "Jjamjjamyun" which is to say, half-and-half or both.
Settling on jjajangmyun, the cast heads back to the outlet where they held the opening. We learn that they got it wrong, thus their punishment is a hide-and-seek game versus idol group EXO, which some might argue isn't much of a punishment.
The 11 (out of the original 12) EXO members set off in search of the hiding Running Man cast, who are nowhere in sight. Some of the boys start to panic as they roam the place, and Kai gets lucky(?) by discovering Jong-kook. "I can't take him down alone!" he cries.
And ALLLLL of them come over to help. HA, epic. Jong-kook keeps Kai hostage as he tries to fight off four idol boys at once in a tight corner. With great effort, he eventually gets taken down.
Despite Gary's well-hidden hiding spot, the EXO boys track him down too and eliminate him. They panic again at the one-minute warning, moving to safe locations for the switch.
Now the tables have turned and the cast struts around with confidence dangling on their shoelaces. Hee, does Kris have a heodang quality about him? He gets spotted by Suk-jin, who follows him into a store where two more EXO members are hiding.
But Kris makes a run for it and gets quickly pinned to the floor before getting eliminated. Haha walks back to the store where Kai and Baekhyun are, and the latter pops out with a smile before he's tagged out.
D.O. has found himself a pretty smart hiding spot on top of the shelves, but gets caught. Then Lay wonders in his hiding spot: "Are you sure Jong-kook's out? Then why are so many of us eliminated?" Hahaha.
It's 7:5 in favor of EXO a minute before the switch. The EXO boys try to lure the cast members towards them, confident.
Jae-suk bites, using up any second before time's up… and then we cut to next week's preview, where we hope Hyun-jin (and Suzy!) will finally join the cast.
RELATED POSTS
Tags: featured, Haha, Ji Suk-jin, Kang Gary, Kim Jong-kook, Lee Kwang-soo, Running Man, Song Ji-hyo, Yoo Jae-suk