Variety Roulette: Rain Effect
I totally wasn't intending to write up the brand-new reality show Rain Effect, but I fired up the first episode out of curiosity and immediately got sucked into its fun, funny vibe. (Trust me, I wasn't looking for another thing to recap!) It's been a while since we've done a Variety Roulette; nothing like a little Rain to merit a comeback.
These kinds of reality-docu shows aren't by any means new, but it's not often you get one with a star as big as Rain. (And I'm sure I'm not the only one who had a brief flash to the Jeon Ji-hyun character doing one in the newly premiered drama You From Another Star.) True, he hasn't been as big in recent years as he once was at the height of his pop-star fame (the mid-2000s were SO all about Rain), even if you factor for his two-year army-duty absence, but he's certainly achieved enough to have solidified his place as a lasting star in the K-pop firmament.
(Also: watching Rain Effect reminded me of my own crush on Rain back in ye olden days of Hallyu—and while pop-star crushes eventually fade, I'll never forget that giddiness that having one brought. It's really those little joys in life that make fandoms so worth it—not the star him/herself, but what they make you feel and how they recall a specific time of life. I'll always have a soft spot for Rain.)
Rain Effect airs on Thursday nights on Mnet. I'm not entirely sure how many episodes are planned in total—if you know, please let me know in the comments!
SONG OF THE DAY
Rain – "How to Escape the Sun" [ Download ]
Audio clip: Adobe Flash Player (version 9 or above) is required to play this audio clip. Download the latest version here. You also need to have JavaScript enabled in your browser.

EPISODE 1: "Do You Know Rain?"
We open with concert footage and the information that Rain, aka Bi, aka Jung Ji-hoon, is returning after 1,326 days—he's done his mandatory military service and is now making his comeback with a new album in the works and concert tours—and is doing this program to show the untold story.
It's an intro told with dramatic flair and promising Big Things, which is why I'm so pleasantly surprised when we begin the show proper to a much funnier vibe—it's the Rain you've never seen before, but that's because he's never let the cameras show him being so normal before. You know, if by normal we mean unable to use household electronics and having difficulty feeding himself.
So. It's November 12, 2013, and Rain arrives at his house and acquaints himself with all the cameras that have been mounted for this show. He's still awkward in front of them, and goes around the house noting each one, and as happens with these kind of reality shows, he laughs incredulously when he has the moment of realization about what he's actually gotten himself into.
He resorts to hiding behind an open door to change his pants, after first checking from multiple angles that he's safe. We see him crouching in the corner, shaking his head: "This is nuts." He wonders if it was a mistake to do this show, while the caption tells us: "Currently flooded with regrets."
He's got two dogs that welcome him home, the hilariously named General (aka Janggoonie, the tiny tiny dog) and the poodle Sarangie (or Lovey, the much larger dog). He tries to get Sarangie to sit on command, which doesn't work at all, and at one point he's crouching over the dog's hindquarters to force it to sit for its food. The dog gets its food despite its dubious sit-on-command skills, and then it's time for Rain to rummage in his fridge for people food, to no avail.
He calls his buddy Kwang-min to bring some food, then struggles with the remote control to turn on the TV. He has to call his little sister for help, saying stuff like "Where's the button? The green light's on but the screen won't show anything," sounding like somebody three times his age trying to wrap his head around all that newfangled gadgetry. The caption helpfully points out: "The world star who can't turn on his TV." He fiddles with the remote a little more, and then: "Ultimately, fails to turn on TV."
Kwang-min arrives with tacos, and as a struggling actor himself, he's sorta working his way in the industry on his own, but also sorta part of Rain's entourage. I really enjoy the inclusion of Kwang-min because he offers up a counter for Rain as the other end of the celebrity spectrum (as in, he's not one); also, because they've been friends for a dozen years, they're also very comfortable together and chat in banmal.
They have this amusingly meta conversation about how hard it is to be natural in front of the cameras, and how even in this moment they're trying to be normal, but finding it difficult. You can see Kwang-min putting on this air of trying to be cooler than he is, which is both secondhand-embarrassing and really entertaining. (Rain can see it too, and just has to shake his head. "Go ahead and swear like you normally do," he says. "I'll have them bleep it out." Instead, Kwang-min half-talks like he's prepping for a stage play.)
The next day is when Rain heads to Japan for a 15-day, 5-city tour. His first point of concern? Airport fashion. Lol. Though to a star, it's probably as much a stress as it is a thrill, and as Rain notes, in the two years he's been away the airport has become a total paparazzi feeding ground.
Rain pulls up to a total hole-in-the-wall type of salon, and the next thing you know the world star is crouching in a bathroom getting his hair shampooed while water runs over his bare feet into a drain in the floor. Haha. Totally not the chic, uppity type of Gangnam establishment you'd expect him to visit. Apparently even the PDs were surprised.
The stylists do a good job—Rain looks like he could've just stepped out of the house dressed casually, as though this is how he looks all the time, only the best version of that. You know, with that sprinkled-with-fairy-dust aura that seems to hover around big stars. (Apparently there's just a ton of effort put into looking like you put no effort into it.)
Kwang-min's in the car heading to the airport, and jokes with the PD about clearing his super-busy work schedule to accompany Rain on tour. Rain just laughs, "He'd have nothing to do in Korea anyway." They're asked about their long friendship, and start talking over each other with their own version of events. (Kwang-min calls Rain Ji-hoonie, which is entirely natural given their long acquaintance but also really cute.)
Sure enough, it's a total fashion show at the airport. A round-up of the ensuing articles in the press show Rain being described with words like "luxury" and "charisma"—all in all, a successful airport fashion experience. In the plane, Rain makes faces at the camera mounted in front of his face, while the caption notes, "Plays well alone."
The next day begins his "Story of Rain" tour in Nagoya. Then it's off to Fukuoka, then Osaka, and last is Tokyo.
He has a rehearsal at the arena, and hearing him do his run-through reminds me of one of the reasons I'd loved Rain so much, which was how good he is at singing live. I'd never call him the strongest vocalist, but he does have great live singing skills, which isn't so true of singers who have as much emphasis on dancing as he does.
There are cameras throughout Rain's hotel room in Fukuoka (and even in the hotel hallways), and he goes around checking each one's placement. I love the boyish vibe that's emerging as he goes on his camera hunt; the cameras are there, may as well have some fun acknowledging them.
In the evening, he has a meeting with the PDs to discuss the birthday of one of his dancers, Kyung-ryul, who's been with him for eight years and has been in his videos. He explains his birthday surprise, which entails getting angry at Kyung-ryul hyung for doing a crappy job and saying he doesn't want to work with him anymore. OMO. The PD's all, "That seems too harsh," but Rain is practically giggling, saying that he spent the whole train ride thinking up ideas of how to make an impact.
So late that night, the dancers arrive in Rain's room, and he begins the fakeout. And oh man, he punks them so hard. It's awesome because you know it's gonna reverse in just another minute, but also chilling because I've almost forgotten that Rain can be a really convincing actor and he's totally sticking to this role—none of that over-the-top hamminess or wink-wink at the audience. Just stone face.
He sits down his crew and starts in on how he saw concert footage and was terribly disappointed in how half-assed and out of sync they were, and how their dancing has lost the feel it used to have.
The birthday hyung sits there looking like he might cry while Rain goes on in his stern boss voice, "We don't have to work together anymore, you know." Acting like he's fed up, Rain gets up angrily saying, "Fine, let's not" and stomps out, flinging the door shut. Eeeek. A moment later he comes back to call the birthday hyung over, and the guy gets up with trepidation.
The moment the dancers enter the other room, Rain giddily sings Happy Birthday at them, and I'm pretty sure there may be tears, and maybe some pants nearly peed. Man, that was a hard punking. Rain asks, "Was I scary? You were scared, weren't you?" Dude, I was kinda scared and I knew it was fake.
Caption: Jung Ji-hoon, taking off Rain persona
Now we're on the morning of November 18. Rain's manager wakes him up, and the first thing he wants is breakfast. Pancakes and bacon and coffee and just a lot of food for first thing in the morning. His manager first orders in English, and I'm thinking he's doing a decent job at it but Rain doesn't agree, so he takes over and starts ordering in Japanese.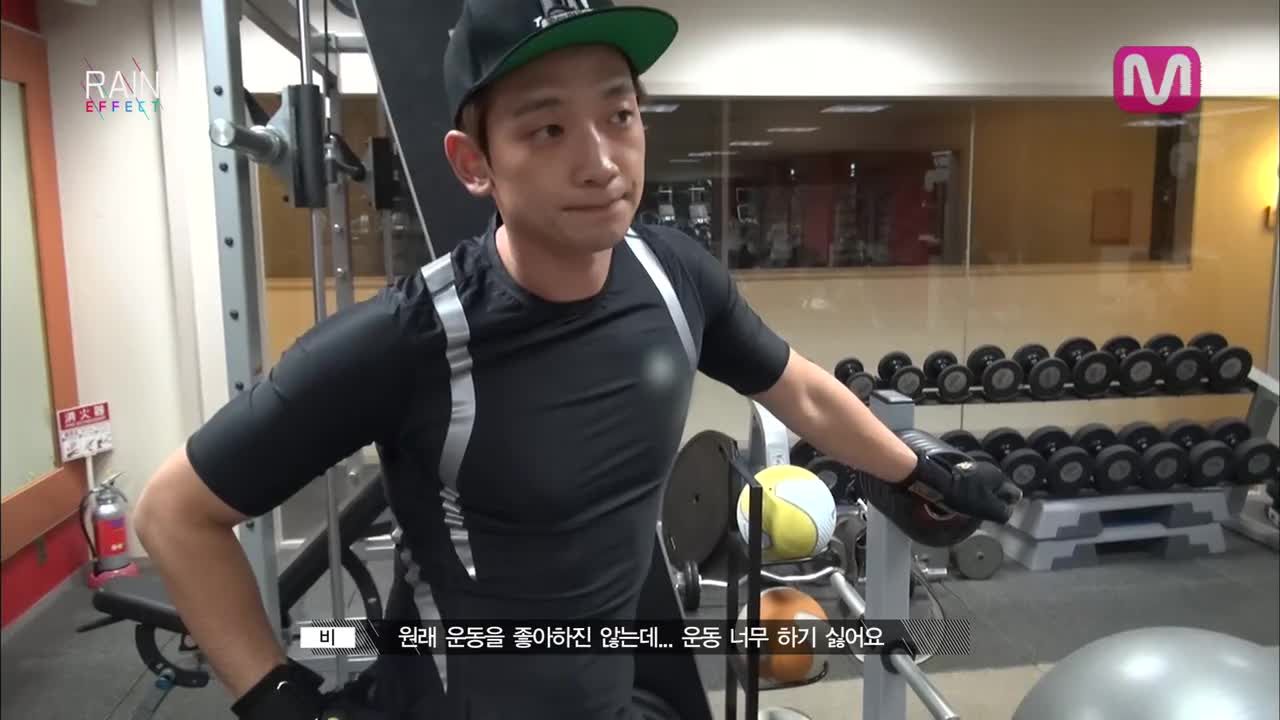 Afterward, it's off to the hotel gym, and Rain admits hating to work out: "I just have to do it." Man, I wish that weren't a true statement. He sweats through his workout, and the caption reminds us: "This body doesn't make itself."
At one point, all the effort sets Rain off swearing and he gripes, "I wish there were a pill you could take for your body so you didn't have to work out!" I hear you. Hey, I'm not saying we're made for each other, but like minds are important in a committed relationship, I'm just sayin'.
Then it's nighttime, and fans pile into the arena for his concert. We zoom through it, resuming the next day as Rain heads off to go shopping with his team, which includes his stylist. I enjoy how the show has zeroed in on everyone's special traits, like the manager who "still manages to say everything he wants to say" and the stylist who "thinks of Rain as an ordinary person."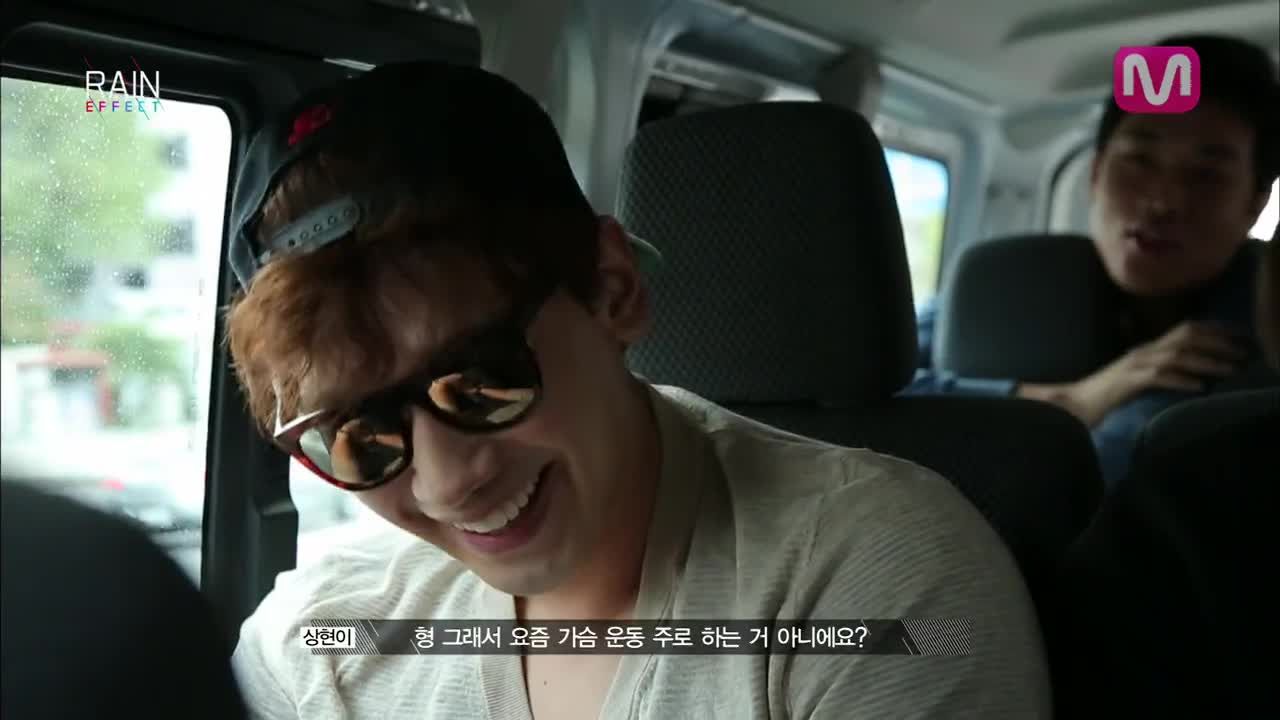 In the car ride, Rain tosses out ideas for his next album, wanting to find an angle that's sexy without being too nekkid, or has a twist of some sort. That's what he'll be shopping for on their excursion today, and he asks his manager what kind of clothes he should wear. Manager: "Shirtless!" They crack up, and the manager adds, "Isn't that why you've been working out your pecs lately?" Rain protests that he's just maintaining his figure, not building it up.
Buddy Kwang-min hasn't eaten yet and wants to grab a bite, and Rain calls himself a mama bird to be feeding him all the time. So Kwang-min offers to treat today… as much as seven dollars' worth of food, LOL.
In the car, Rain outlines clothes as the priority, but upon arrival at the mall he beelines for a cafe menu. Heh. He drools over some takoyaki (while bemoaning his need to lose some weight) and Kwang-min buys, as promised. Of course, even as they're chowing down, they're also looking at sushi menus for their actual lunch. Rain admits to having a food obsession, which I'm sure I've heard before about him.
The food comes, and Rain takes one bite of his omurice and knows it's not good. He asks Kwang-min if his is good, and Kwang-min (who insisted on omurice over Rain's choice, udon) has to smile sheepishly because he can't defend his choice.
On to clothes shopping. They drop in on a number of shops, and come to a vintage street clothing store where Rain lets his stylist choose what he'll wear. From behind the dressing curtain, we hear him sighing, "I don't think so. This seems wrong."
Out he comes, and HAHA. On the one hand there's vintage, and on the other there's the revival of the Fresh Prince. Ah, the tattered patchwork jeans, the flannel shirt tied around the waist, the early nineties. His stylist really likes it, going for a "rags" concept that I'm not sure I buy. I'm also not sure if Rain actually lets her convince him it's a good idea or if he's being deadpan, but he ends up nodding, "It's a good idea. Like a beggar."
He picks out a jacket for her as a birthday gift, which she likes… and then Kwang-min puts on a jacket and says, "I wonder if Ji-hoonie will buy this for me." HA. He tries to build up to the request smoothly, asking Ji-hoonie for his opinion, and Ji-hoonie says immediately, "Put it back."
Kwang-min figures that Rain won't budge but still tries anyway, making the longest, most reluctant production of putting the jacket back. "You really think I should put it back? Okay, I'll put it back. I'm putting it back now!" He tells his VJ that he'll have to come back tomorrow and try again, lol. He gives the jacket a kiss and tells it to wait for him.
The next leg of the tour takes them to Osaka via train. As Rain warms up for his show, his staffer notifies him that news leaked of his MAMA appearance and his upcoming album, and he sighs in disappointment: "You can't keep anything secret."
So he gives a lively performance, and after the show we see Rain lying on the floor of his dressing room, groaning, "Just let me be like this for five minutes." Aw, is the old man feeling the effects of aging? He says the ole body's not the same after hitting thirty and wonders why he's so dizzy and tired today (uh, you just answered your own question). He sighs, "Thinking of doing MAMA tomorrow makes me want to cry."
So that night he flies to Hong Kong, and while riding the shuttle bus, he and his team start listening to music and bopping along to the dance. He hasn't had time to work out his MAMA performance yet, but the producers of the show have sent videos of the stage and the wire work they've planned for his number. They don't have the time to choreograph a group number, so they'll all go freestyle, they decide.
His dancers pass out in the plane, and Rain stays up working on preparations. Eek, are you actually going to perform on no sleep? They arrive at the venue in Hong Kong, where the producers outline the dangers of their wire stunt and run through the mechanics. Rain isn't happy with how slow the wire-lifting is, and the team tries to think up some last-minute workarounds to give the performance that cool factor it's lacking.
I find it rather fascinating watching him in action, because you can definitely see how Rain got to be the star he is—it's not just being a good performer or having a marketable image, it's also knowing exactly who he is and having the confidence to know he has to deliver to his highest level. He's decisive and passionate, and in this he actually reminds me a lot of his mentor/hyung JYP. It's not so much that he has a specific, concrete idea in his head of coolness that he has to execute. It's more that he has an inner barometer telling him what does and doesn't make it to that level, and if something isn't cutting it, he'll work at it until it does.
By this point Rain has been awake and traveling for so long that he's rather disoriented, and you sort of think he's going on sheer concentration and adrenaline. After the rehearsal he's pleased with the plan for tomorrow's performance, and has to be corrected: "The show's today!"
Then we zip ahead to that night as stars begin arriving at MAMA, and Rain pops in to visit old friends: Hyori and Lee Haneul. He and Hyori hug, and Haneul jokes, "Adultery!" (Since she's married now.) She teases that he can't just bee all handsy with her now, and then they sit down to chat.
Hahaha, Rain admits that he has no idea who any of the new idol groups are anymore, and Hyori retorts, "You know all the girl groups." He sheepishly admits that yes, he did acquaint himself with all the girl groups' names while watching TV in the army, where their wake-up call song was IU: "I even learned her dance."
It's the hand-grabby motion from IU's "You and I," which leads to a quip about it being way too risque, lol. Hyori cracks up, saying, "I didn't realize when IU was doing it, but now that you're doing it, it looks dirty." Mmm, Rain dirty…
With that we end, with promises of a brain meltdown moment for Rain in next week's episode, along with some cursing and revealing disclosures from Haneul and Hyori. And is that… Rain cleaning up dog poop? I dunno about you all, but I'm definitely watching.
RELATED POSTS
Tags: featured, first episodes, Rain, Variety Roulette