Enlistments on the horizon for Yoo Ah-in, Choi Jin-hyuk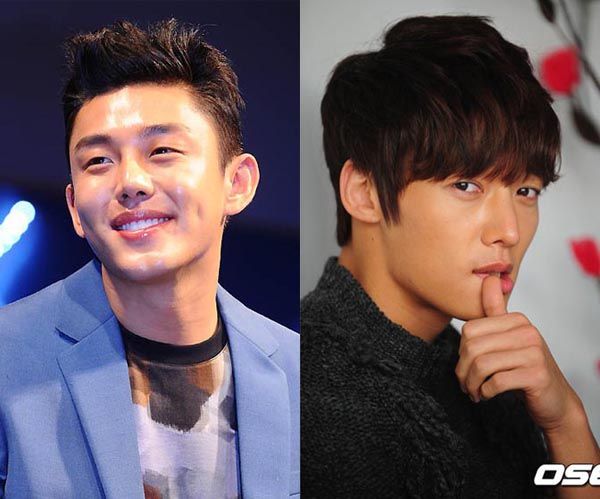 Say it ain't so! Well, it's no wonder Yoo Ah-in has been packing his schedule in the early months of 2014; the actor, currently shooting the noona romance Secret Love Affair with Kim Hee-ae, is also slated to appear in the upcoming movie Veteran and is said to be considering Min Kyu-dong's flick Hundred Years' War.
Choi Jin-hyuk, currently shooting Emergency Couple, has also been working up a storm. It turns out both actors have completed the physical exam and interview for admittance to Seoul Police Special Promotions Unit, which is a special division established for celebrities needing to complete mandatory military service. After five weeks of rigorous physical training, eligible actors and singers commit to nearly two years of service as part of the unit, reaching out to young folks by way of performances and concerts, in the name of causes such as discouraging school violence and kidnapping prevention. Hot, talented actors/singers delivering messages in uniform — pretty effective strategy, I'd say.
Among the list of candidates who also passed the initial entrance requirements to join the special division to Seoul Metropolitan Police are singers Sungmin (Super Junior) and Sungje (Supernova). However, there are still final acceptance procedures that need to be completed, and due to everyone's varying schedules, enlistments have not been confirmed. Evidently the admittance date is a little flexible, but if Choi Jin-hyuk and Yoo Ah-in enlist this year, they would likely begin training sometime between May and August, after present filming obligations end. Celebrities currently serving as members of the special police force are Lee Je-hoon (Paparotti, Fashion King), Kim Dong-wook (The Royal Concubine, Romantic Heaven), and SS501's Heo Young-saeng.
Via My Daily, X Sports News
RELATED POSTS
Tags: army duty, Choi Jin-hyuk, Yoo Ah-in