I Need Romance 3: Episode 15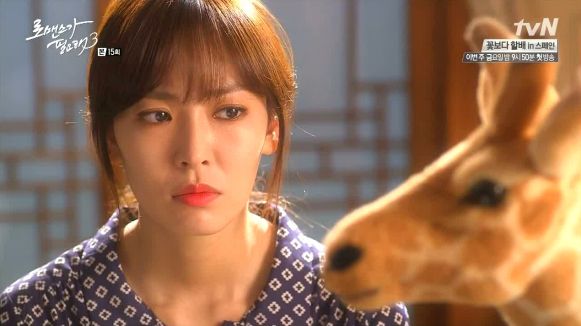 Knowing how you feel and actually acting on said feelings is quite a different thing, as our heroine discovers the hard way. It's not made any easier when Wannie decides that he won't let his love be taken for granted any longer, and puts his foot down. Now she's faced with a true ultimatum: it's all-in, panic-inducing, no-holds-barred love… or he walks.

SONG OF THE DAY
Standing Egg – "고백 (Confession)" [ Download ]
Audio clip: Adobe Flash Player (version 9 or above) is required to play this audio clip. Download the latest version here. You also need to have JavaScript enabled in your browser.

EPISODE 15: "It's begun again—dating hell!"
Joo-yeon stress-cleans after her breakup with Sunbae, and catches the testy giraffe giving her the stink-eye and reminding her of that one big thing she's putting off. She says she's already decided to go to Wan… but she just doesn't know how.
She sits in his room pondering a text to tell him about the breakup, but can't bring herself to send it. She listens to Wan hosting his radio show, which gives her an idea.
On the air, he starts to read the many anonymous texts sent in from listeners, and he gets to: "If I send the man I lived with a text that says, 'I cleaned your room,' will he come back?" Wan's response on the air: "See here, Caller 5061, how bad must things have been for him to move out of the house? That text won't cut it."
In the ensuing days she sends more texts into his radio show, about how she's watering his plants—will that get the man to come back? She misses his pumpkin broccoli soup—what about that? "I sleep in his empty room alone without him. Don't you think this is enough for him to know my heart?"
He mutters to himself that it's not enough, and then he gets the first text sent to his actual phone—that she broke up with Tae-yoon. His response: "You've never once said 'I love you' in your entire life, have you?"
She starts to type it out… but then chickens out in the end. The giraffe was witness! She almost said it, we swears! At work the next day, she asks her team whether any of them has said "I love you" sincerely in recent memory.
They all shake their heads no, and Min-jung asks if this is about the guy she's dating. Joo-yeon tells her they broke up. We go back to the scene that ended the last episode, where Joo-yeon comes over to break things off with Tae-yoon. She narrates that he didn't even argue, and just accepted their ending with silence.
Joo-yeon (voiceover): "He didn't ask why, and I didn't say sorry. Dating is a really strange game—a game where you give someone the hurt given to you by another." Their conversation is intercut with her breakup with Alex and his breakup with Se-ryung, as she describes the strange process of recycling the same pain given to one, and then the other.
She says that there are days when being on the receiving end is no different from any other day, while other times it crushes you. She calls it a game where you think there are only two players in the field, but in reality you're each holding someone else's hand in a giant group game.
He asks if she'll go to Wan, and she admits that she doesn't know how yet, but she will. He sighs that he can't do that kind of all-consuming love anymore, and she points out that he isn't holding onto her right now. As she says the words, it dawns on her that it's the same exact thing that Alex once said to her. She realizes it now—that that isn't enough to make a relationship work.
She asks if he still hates Se-ryung, and conveys the stuff that Se-ryung had said over drinks, about thinking that Tae-yoon was the one for her and wanting to go to the end even if they had to fight a hundred times. Aw, you're being a good friend.
But he just says in his deflated way that he's too tired to fight like that anymore. Joo-yeon says he ran away to another relationship, but she's decided to be more like Se-ryung: "I'm not going to run away anymore." Huzzah.
Back in the present, Hee-jae agrees with Joo-yeon's sentiment about dating being one big game where all your exes are in play—it's just impossible not to compare your new relationship to your last one. She wonders if she's dating someone who's the complete opposite of her ex on purpose.
Woo-young starts to shift uncomfortably in his seat, but then when she tells them that she's not even really sure she's dating this new guy because he hasn't declared his feelings outright, he guffaws that those things are implied.
When Joo-yeon and Min-jung back her up, he finally just grabs her hand in front of everyone: "I like Jung Hee-jae! We've been dating for a month!" How cute. He asks for the weekend off so they can take a trip together, and then runs out pretending to answer a call before he dies of embarrassment.
He then calls Hee-jae and points out that she hasn't said she likes him either, so then she blurts, "I like you!" before hanging up.
Min-jung asks Joo-yeon about the "I love you," if Tae-yoon isn't the guy she's going to say it to. But Joo-yeon remains silent, the way she always shuts down when conversations get too personal.
When Min-jung points that out, Joo-yeon surprises her by agreeing with her, adding that she's come to realize that there's a lot that's wrong with her lately. Min-jung comforts her by saying that everyone is childish and petty and full of problems—the ones who are fooling themselves are the people who think they're the exception.
Min-jung gives her the advice that the truly impressive thing in life isn't how great you are, but what kind of company you keep, and how impressive the people by your side are. Hear, hear.
At that, Joo-yeon asks with the cutest little hesitation in her voice: "Do you… want… to be my friend? Or… unni…?" Egads, who knew this would be my favorite scene in this drama?
Min-jung turns to her and deadpans: "Did you get struck by lightning?" Joo-yeon apologizes for the way she reacted about the pregnancy, and Min-jung reminds her that she sent the supportive text afterwards (which Joo-yeon remembers was really sent by Wan). "From that text onwards, you were already my friend." Awww.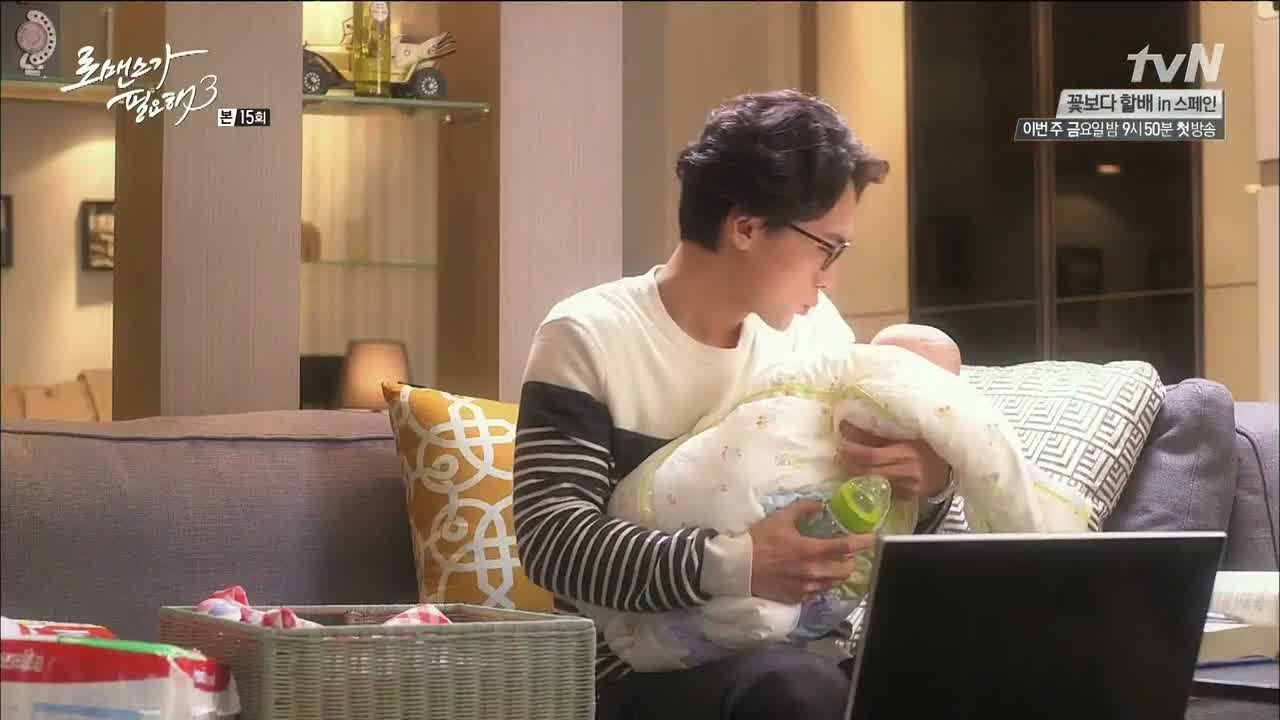 Min-jung shows her the live CCTV feed of Min-seok taking care of their practice baby, and it's pretty hilarious how seriously he's taking this—he tests the fake milk's temperature on his hand, and gives the fake baby kisses.
Joo-yeon is impressed and says he's a better guy than he seemed, but Min-jung sighs that it doesn't matter because he'll run away when he learns the truth that they're having twins. I dunno, my money's on a second mail-order fake baby.
After work, Joo-yeon heads to Wan's hotel and sits in her car just freaking out at the prospect of going in there and confessing her feelings. She checks her makeup in the mirror and sighs at the six-year age gap, which now seems oppressively vast in the face of an actual relationship.
She argues that age doesn't matter, only to contradict herself again when she considers that at her age, marriage should be a real factor. And then it dawns on her that their mothers will have their heads, and she buries her head against the car horn to beat the sense back in.
Of course that's exactly the moment that Wan pulls up next to her in the garage, and she hilariously ducks for cover thinking he can't see her. He rolls his eyes and walks by pretending not to notice, but then texts her to ask if she's stupid enough to think he doesn't know her car.
He tells her to come up, threatening never to see her again if she leaves this time. So she screws up the nerve to go to his door with a box of his stuff as her excuse to come by. When she confirms that that's the only reason why she's here, he takes the box and closes the door in her face. Ha.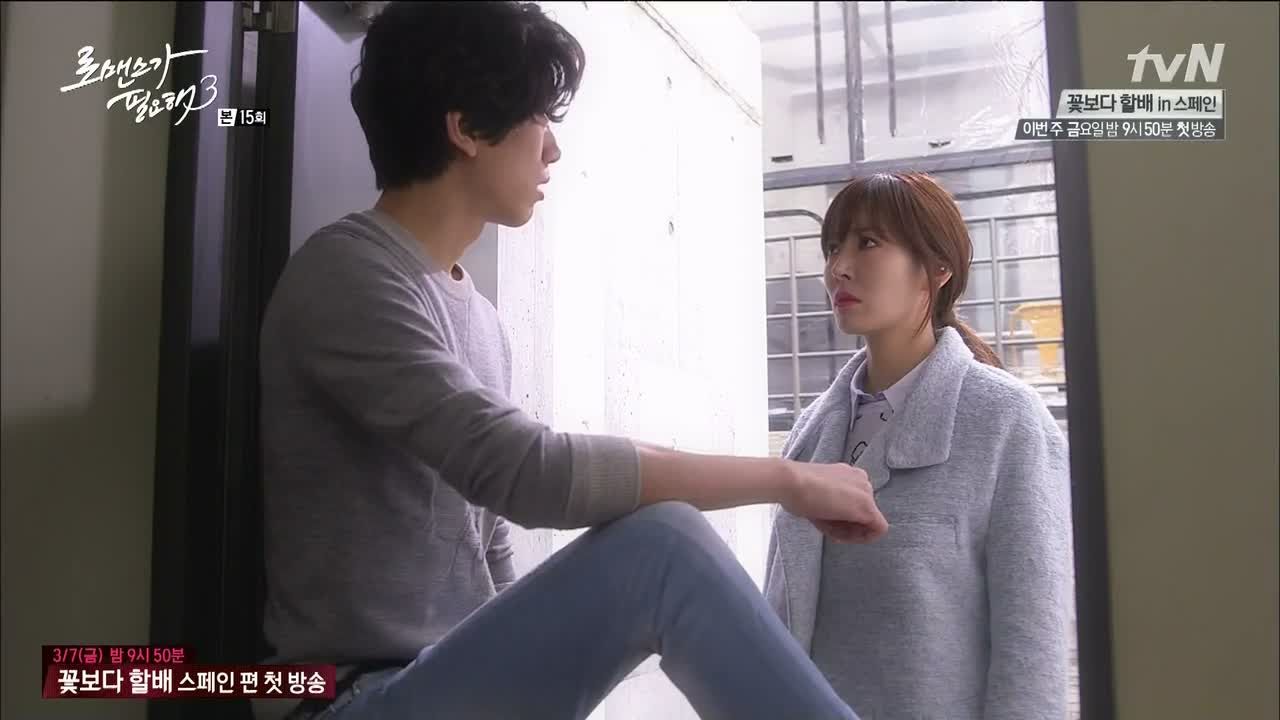 He mutters to himself that she must be joking, but then smiles when she rings the doorbell a second time. I love that he has to put effort behind the stern façade, but he's all about putting his foot down this time, and actually throws a leg up to block her from coming inside until she can say It.
She wants him to come back home first so they can sort out their stuff slowly, but he refuses to let her just skip over the hard part and go right back to being Sweet Potato. So then she starts to explain all the things she's worried about, like their age gap, their mothers, how awkward things will be if they break up.
He asks if that's it, saying that there are probably more than ten thousand excuses she could come up with: "Like the fact that I'm too good-looking to not be a cheater, or that I'm too popular with women." Pffft.
He says he can't keep his leg up like this, and asks if she's coming or going. She decides to go for now. He takes the rejection in stride, pointing out that he's ready to move mountains, but it won't matter until she gathers the courage to say how she feels.
Wan: "If you're a woman who realizes the truth but still can't strike up the courage to take the first step, then what does it matter if I move mountains on my own?"
With that, he tells her to go and shuts the door in her face. He talks to the picture of Little Shing Shing and apologizes for not letting her off the hook and sending her away like that. "But I would like it if the fact that I love you wasn't taken for granted. Me just smiling on my own—it turns out that isn't love."
Min-jung's jaw drops when she runs into Min-seok at the grocery store, carting the practice baby around in a stroller. He complains that she's late to pick up the baby, so she insists on taking it, only to have him follow her around the store to point out how badly she's taking care of it.
At home, he finds out that she has no siblings and her parents have already passed away, and wonders how she thought she could raise a baby on her own. She tells him to stay next door then if he's really that worried, wondering why he's so intent on running away when he clearly cares about being a father.
He says he's sure to run off when things get difficult, and then tells her to reconsider having the baby at all. Her response: "We're having twins." Ha. He loses his mind, as expected.
Joo-yeon comes home and wonders, "What am I so afraid of? If I just take one step, I know that a new world awaits, and that what I want is there."
She looks at her collection of couple rings and knows it's because all relationships could end at any time—knowing that makes her more afraid, because splitting up with Wan will hurt so badly that she's scared to even start.
She gets ready for bed but finds that the heat is off in the house, and texts Wan to ask how to swap out the coal briquette in his room. He grumbles that she's using dirty tricks to weaken his resolve, even though he's clearly unable to stop worrying. "Why was I born so weak-hearted?"
He tries to convince himself that she's fine, but then when he hears that the main boiler in the house is broken, he freaks out and rushes over.
He finds the house empty though, because she's given up halfway and decided to spend the night at the jjimjilbang. He calls (while greeting the giraffe, heh) and goes looking for her.
He finds her there and tells her not to speak to him—"You're not even going to say 'I love you'"—but follows her around like a puppy the whole time. It totally backfires on him, of course, because she just pretends he isn't there and it drives him crazy.
He plays it cool for a while, but then when another man sits near her he shoos him away claiming that spot, and lies down next to her and spoons her right there in the middle of the jjimjilbang.
When she reaches out to hold his finger, he turns into a puddle of goo and totally caves and tells her to come back this weekend to try her confession a second time. He adds, "I love you, no calculations."
She smiles and thinks to herself that she tried to ignore it, tried not to feel that flutter, but there's no way to fight it now.
Joo-yeon and Tae-yoon both get chewed out at work for not knowing that Se-ryung is being scouted by their competition. Joo-yeon sees him taking more pills for his digestion and worries, and he tells her that despite appearing like he's fine, their breakup hasn't been easy and he sincerely liked her—that much, he wanted her to know.
Joo-yeon and the team take Se-ryung out to lunch, and they dance around the subject awkwardly for a while until Joo-yeon finally calls her out on it and asks outright how much the other home shopping channel offered.
Se-ryung bristles at the accusation that she's betraying them and says they offered twice as much and they'd have to beat it, and storms out.
Joo-yeon chases her down and asks to go have a drink, and admits that she thought they turned over a new leaf the other night. She says that they need Se-ryung and thought that they were building a partnership.
Se-ryung beams and says she should've said so from the start, because she has no intention of leaving them for the competition. Phew, from now on can you two only interact when there are cocktails present, because clearly that is your formula for a lasting friendship.
Hee-jae sneaks Woo-young a text to ask if they can really get away from work this weekend, and he reassures her that they will. But then Min-jung replies teasingly and so does Joo-yeon, and she cringes to realize she just asked about their weekend plans in the group chat.
Joo-yeon shows Se-ryung the chat exchange, and Se-ryung sees a text come in from Wannie asking if she's coming to his hotel this weekend. She holds up the phone and asks Joo-yeon to explain.
Woo-young and Hee-jae get away after all, and on the drive over he pretends to have misplaced his phone just so he can have her call and show that he saved her number as "My Girlfriend."
They barbeque at the vacation house and she plays the first song she learned on the ukulele for him.
Meanwhile, Joo-yeon finally works up the nerve to return to Wannie's door. She rings the doorbell and when he comes out, she says in voiceover, "My heart told me, now is the time."
She looks up at him: "I love you." He smiles and says he didn't hear her, and asks for a reprise. She says it sincerely as if it's the first time all over again: "I love you."
He holds her close, and she just breathes this sigh of relief into his shoulders. He tells her he loves her, and how nice it is to be holding her like this.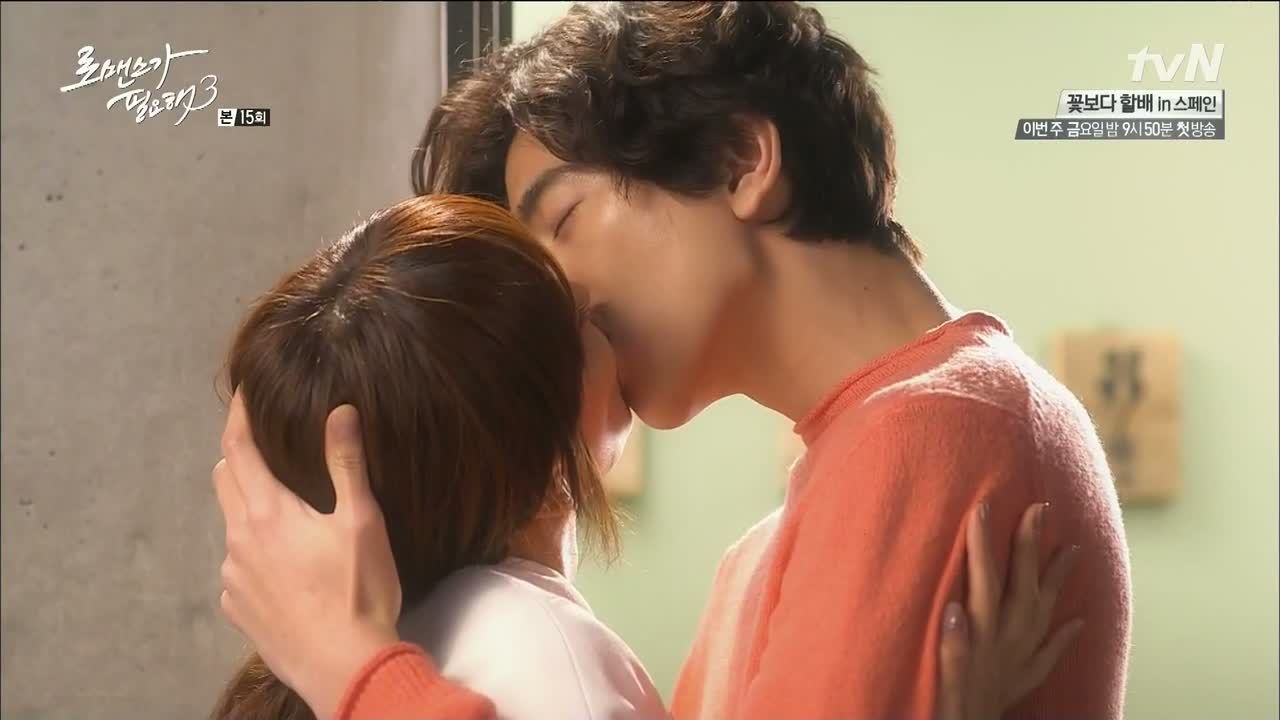 And this time, she's the one to lean in for a kiss. Yum.
Wait, why are we cutting away to Hee-jae and Woo-young? BAH, I hate you guys right now. Why did we leave the kissing? Take me back therrrrrrrrrre.
Woo-young confesses how much he likes Hee-jae and is in it for the long haul. Despite her reservations about being obsessed with the future (because that's what burned her in her last relationship), she agrees that she feels the same way. They seal it with a kiss.
By the time we come back to Joo-yeon and Wan, they're lying in bed post-sex, and he warns her that he's going to kiss her again. He laughs when she shuts her eyes in preparation, and he teases that he's decided against it because he prefers looking at her like this.
She says she's hungry, but turns down food saying that she prefers feeling hungry after sex. He scowls: "You talk like a player." He asks what else she likes, and she says sex while it's raining is nice, while he prefers snowy days.
She asks what he doesn't like, and he says he dislikes a woman who's messy, lazy, and can't cook. Joo-yeon: "That's me." She says she hates a man who nags. Wan: "That's me."
When he says he likes a woman with a lot of aegyo, she balks, wondering how he ever came to like her. The same goes for him when she says she likes disinterested men. She doesn't like observing things like Valentine's Day; he thinks those days are important.
There's just this silent moment when they realize just how totally opposite they are in everything, and he just says matter-of-factly, "We're going to fight a lot."
She asks if he's going to always lose to her like he used to, but he says no—she has to start losing fights too. She pouts, and he sighs again, "We're going to fight a LOT."
As soon as he says it they're already fighting, arguing about how many times he said that they'd fight, and how she's still talking down to him like he's her dongseng.
Joo-yeon (voiceover): "It's begun again. As if this relationship would be any different. It's begun again—dating hell."
Wan (voiceover): "A little bickering and this woman's expression has already changed. We've got a long road ahead."

COMMENTS
Yaaay, she said it! I was kind of amazed that Wan managed to play hardball (well, kind of, minus that gushy interlude where he cheats and returns to his spoony self for a night). But that's what makes the confession so earned on both sides—it's as much effort for him to hold back his love as it is for her to confess it. It wouldn't be as interesting if he were just sitting back and demanding things from her, but this way he's equally forcing himself to do the thing that's hardest for him, and in doing so his love matures by leaps and bounds too.
He learns that loving her on his own isn't enough, and running around to move mountains is pointless if she doesn't want her mountains moved. (Did this sentence just go to a dirty place?) It seems obvious, but he didn't know it before that you can't force reciprocity, and that the limit to his love will always be her choice whether or not to accept it. I adore that he doesn't even make it through the week before rushing to her side at the first sign that she might maybe need him, and that despite everything he still confesses his love anyway. But he also knows that that will never be enough, so he goes right back to waiting for her to come to him. It is, as with all things Wan, the best of both worlds.
My favorite thing about Joo-yeon in this episode is her asking Min-jung to be her friend. It's the cutest thing that she asks it so literally, like she's five and needs to be told in so many words that they are. It's the thing she learns how to do with everyone in this episode, from Min-jung to Se-ryung to Wan—say the thing you really mean, with no qualifiers and no doublespeak to hide behind. I'm so with her in this episode because I can feel that panic like it's my own. That's just the hardest thing in the universe, to say baldly the thing you feel, like you're hanging your heart out to dry or you're wearing your underwear on the outside. That's why I love that her confession has no other words. Just "I love you"—that's it, because that's the thing that's hardest to say.
Of course in true I Need Romance fashion, that only signals the beginning of the bumpy relationship ahead, and no romantic confession magically takes away the everyday problems they'll face. But something tells me that those bedroom eyes are going to solve about ninety-nine of them.

RELATED POSTS
Tags: featured, I Need Romance 3, Kim So-yeon, Sung Joon