Sly and Single Again: Episode 12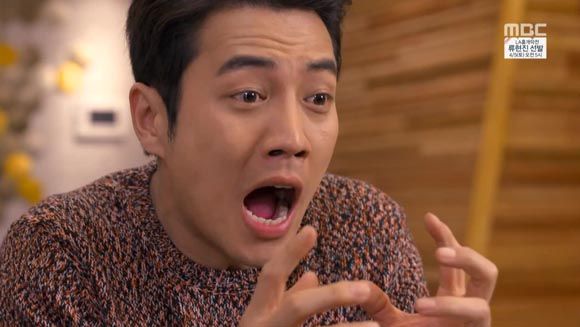 What a way to end the week! Almost all of the secrets are out now, and the plot proceeds apace. Seung-hyun continues his puppy-dog courtship, supporting Ae-ra both at home and at work. Yeo-jin sinks a little deeper into the quicksand of Second Lead Manipulation, although this episode gives us valuable insight into her darkest fears through her fraught relationship with her father. Jung-woo, meanwhile, is driven to distraction by his fear that Ae-ra may be drifting away. He tries to keep her close, using all of the tricks of the trade except honesty, and none of them seem to work. But when Ae-ra prepares to leave for good, even a man as chronically incapable of knowing his own mind as Jung-woo may be pushed into admitting his feelings.
EPISODE 12 RECAP
Ae-ra discovers Seung-hyun still awake, late at night in his refurbished art studio. He offers to tell her an interesting story, which triggers a hilarious extended fantasy scene in which the cast reenacts the fairy tale of the Seventh Princess.
Seung-hyun's telling of the story is essentially the story of his parents, couched in the fable, with his father in the role of the king and his mother as the sad queen. Upon the birth of each of children, the happy king gave the queen anything she wished for, but despite the lavish gifts she wasn't happy — not caged as she was, longing for her freedom.
The seven princesses grew older and the king declared that he would pass along his kingdom to the one with the longest hair. So each daughter diligently attended to her hair, with the queen giving particular attention to her youngest (played by Ae-ra).
Then the queen died, and a foreign prince arrived declaring his intention to marry the princess who would inherit the kingdom. (He's a boor of a prince, played by Jung-woo, with Seung-hyun playing the nice, devoted servant — this is Seung-hyun's story, after all.) But when it came time for the princess's hair to be measured, everyone's was all the same length — except for the seventh princess. When she revealed her hair, it was cut short, because all along the queen had been cutting it.
Thus the seventh princess lost her inheritance, but gained her freedom. (And her love with the servant Seung-hyun, of course, with whom she lived happily ever after.)
After finishing the story, Seung-hyun explains about his parents. He tells her how his father always provided material comforts, but made his mother feel trapped. Now she lives in Paris, Seung-hyun says, but he wishes that his family could be the kind to fight with each other and reconcile again, like Ae-ra's family.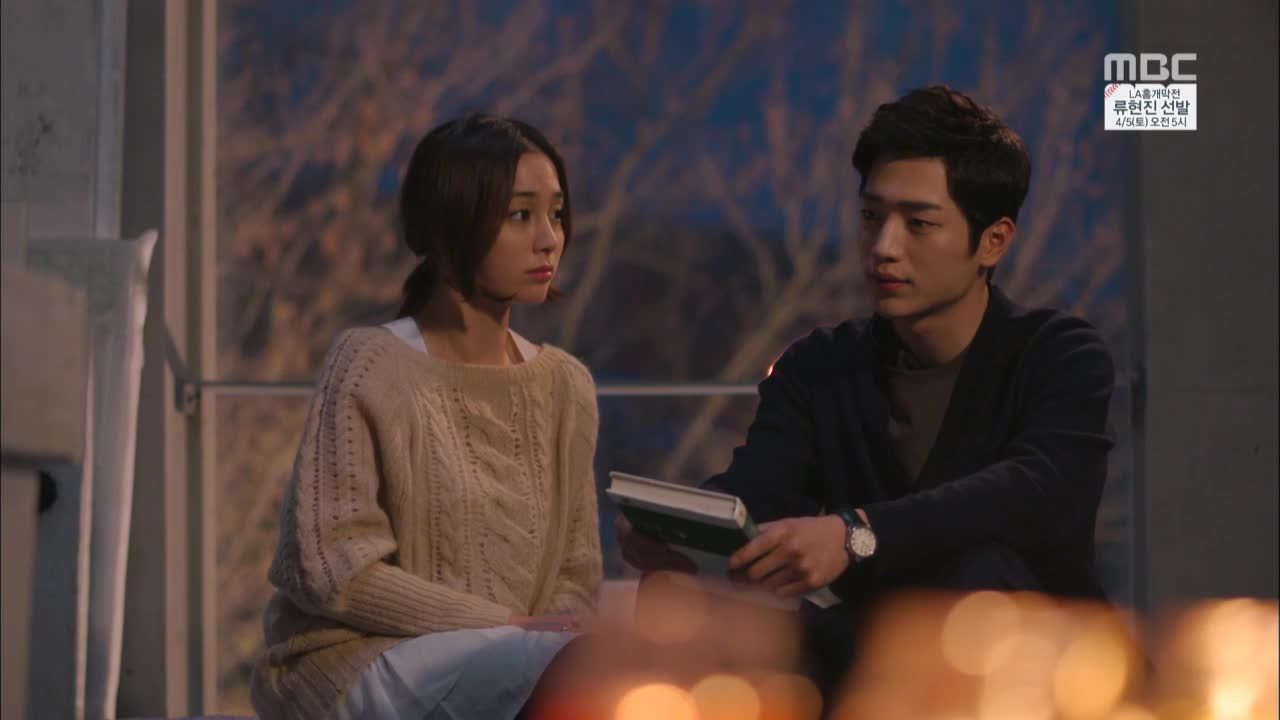 His story makes an impression on Ae-ra, who never realized that Seung-hyun had such a history because he's always laughing and goofing off. He tells her that it wasn't because he was happy that he laughed; rather, he didn't want to burden others, and he thought that if he only laughed long enough, something would happen worth laughing about. It's a nice sentiment, and one that Ae-ra says she once shared. She knows what it's like to laugh when you want to cry, and tells him not to try too hard.
That's when Seung-hyun initiates the hug that ended Episode 11, and tells Ae-ra that he hopes his one-sided attraction won't be one-sided forever. Ae-ra doesn't say anything, but the hesitant way she returns the hug is much more encouraging than the curt way she broke out of his back-hug a few episodes ago.
Outside the studio, they have a great exchange wherein Seung-hyun tries to be cute, and when Ae-ra calls him out on it, he says that he thought younger guys were supposed to rely on their cuteness. But Ae-ra doesn't like that kind of man, the kind who make puppy-dog eyes and say, "Noona!"
"That's a 'No, thank you' for me," she says. When Seung-hyun asks, "What if he's rich?", Ae-ra immediately changes her tune: "Thank you!" Pfft. He accuses her of being materialistic, but she maintains that she's just being honest.
Yeo-jin arrives at President Kook's house, only to learn that the President has called Jung-woo over. He means to take care of Yeo-jin's so-called "marriage problem" by putting the pressure on Jung-woo, which is the last thing Yeo-jin wants to hear. She breaks a vase (nothing says "I'm serious" like property damage), and screams at her father that he has to stop doing things like this.
It's not just about Jung-woo, which we find out when Yeo-jin rips into her father for keeping her mother close by any means possible. She knows his greatest fear is that the people he loves will eventually leave him, and so he uses despicable methods to make sure they stick around. Yeo-jin's greatest fear is that she will turn out like him.
Yeo-jin's words enrage her father so much that he raises his hand to strike her. Jung-woo has arrived, however, and interposes himself between Yeo-jin and President Kook. He takes Yeo-jin up to her room, and at her request stays by her side until she falls asleep. Jung-woo passes Seung-hyun on his way out, and Seung-hyun thanks his hyung with a smile.
Back at his apartment, Jung-woo can't stop worrying about the fire at Ae-ra's place. He calls her and finds out that she has a place to stay, but she doesn't tell him where. After hanging up, he sees a letter informing him that an old friend is getting married.
At the Na family rice soup restaurant, Soo-cheol and Min-young are working together with sunny smiles. Soo-cheol's mom reflects that it's the first time she's seen her son work so hard, and Dad hints that if this keeps up, they may be grandparents before long.
The restaurant is hosting a celebration for Ae-ra's old friends from the "Exam Village" where she first met Jung-woo. Apparently good news comes in threes, because in addition to the upcoming nuptials, the groom-to-be has passed the civil service exam, and his fiancée is two months pregnant.
Min-young jokes that the wife should just take it easy now that her husband has passed the exam, just like Ae-ra intended to do all those years ago. The groom-to-be asks Ae-ra why she doesn't have a child since she's been married for so long, and his fiancée has to remind him that she's divorced.
Another old friend, Chun-gyu, stops by and remarks that he hasn't seen Ae-ra since her wedding. He's come up in the world, from working in his father's store to owning several new locations, and he gives Ae-ra a look that's just a little bit too interested.
Jung-woo has arrived for the celebration, just in time to see Ae-ra's family leave. Mom doesn't trust Dad or Soo-cheol not to try to drink with the guests, so they head off to a sauna to have a beer (or several) there instead. Jung-woo goes inside, where his friends joke that they're honored that the famous CEO took the time to visit them.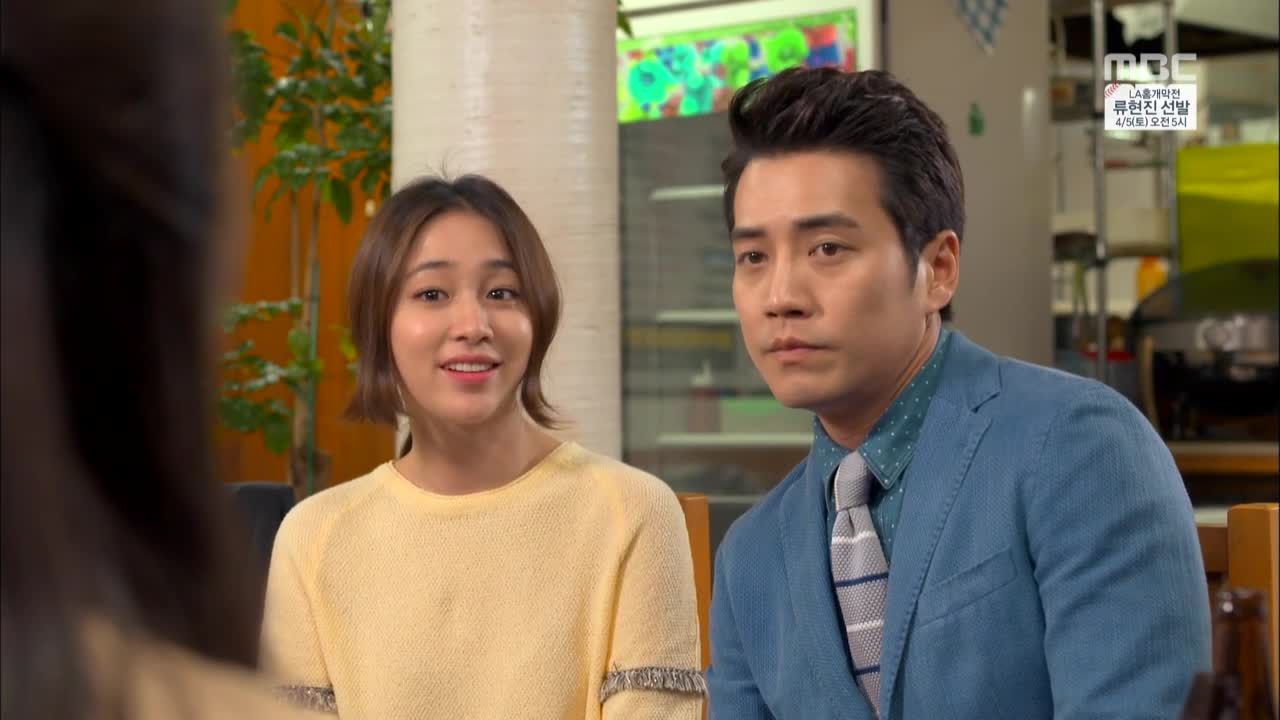 He and Ae-ra play it cool, saying that they may have split up, but they're fine spending time with each other. Their friends keep calling them the Exam Village Madonna and the Exam Village Genius, remembering the old days. Ae-ra and Jung-woo's insistence that their relationship is amicable leads them to take a "friendship shot," hiding their awkwardness as they drink up.
Chun-gyu used to chase Ae-ra around asking her out, and apparently has not gotten over his crush. He's quite drunk, and follows Ae-ra into the hallway. He tells her that he's "trying to get something going with her," even though he's become too good for her. It's an odious speech, and Jung-woo hears enough of it to get thoroughly pissed off. He pushes Chun-gyu up against the wall, but Ae-ra yells at him to stop before he can land a blow.
Ae-ra marches Jung-woo outside and reams him out for interfering. She tells him that cases like that are a dime a dozen for a divorced woman, and she's gotten along just fine all these years without his help. "Stop doing this," she says. "It's burdensome."
Director Oh overhears some of what Ae-ra says, and Seung-hyun arrives in time to see Jung-woo lingering outside the restaurant. He tells Jung-woo that he should leave, and reveals that he and Ae-ra are staying together.
That bombshell stays with Jung-woo all the way to his apartment, where he agonizes over the fact that his ex-wife and his rival are living in one house. Of course he starts imagining the worst, which is a shirtless Seung-hyun doing push-ups when Ae-ra, fresh from the shower, asks him for her towel… HA!
"Don't give it to her," Jung-woo mutters, as Seung-hyun walks toward Ae-ra with the towel draped around his shoulders. "Don't give it to her, don't give it to her!" Poor Jung-woo… you're not talking about the towel anymore, are you? Imaginary Seung-hyun offers to dry Ae-ra's hair, and then leans in ever so slowly for a kiss…. "Noooo!" Jung-woo yells.
The next day, Ae-ra meets with a vegetable vendor and starts to work on a project proposal. Seung-hyun watches her work, and sends her a playful text with a picture he drew. Then Ae-ra gets a call from Yeo-jin, who wants to meet her for a cup of tea.
Yeo-jin tells Ae-ra that she knew about her relationship with Jung-woo, but that's not all. She also explains about the accident that killed her husband and took her leg, saying that she hasn't told Jung-woo about her prosthesis yet "because I don't want him to feel burdened."
Yeo-jin then asks Ae-ra not to stir up Jung-woo's feelings. It's not love that he's feeling now, she says; it's guilt. But what Jung-woo needs to be responsible for is not Ae-ra. Rather, it is the company and its seven hundred employees.
Basically, Yeo-jin stakes her claim and appeals to Ae-ra's compassionate nature to make sure that she stays away from Jung-woo. For someone who said that she doesn't want to manipulate the people closest to her, Yeo-jin's doing a pretty good job.
Ae-ra's big day arrives, when she has to present her project proposal to the head honchos of D&T Soft Ventures and the Shilla Hotel. Team Leader Wang and Song-hee make it clear that a lot is riding on a mere intern, while Seung-hyun urges Ae-ra to just be her usual confident self.
The presentation for the wedding anniversary event starts out well, as Ae-ra's memories of marriage give her speech a touching sincerity. She talks about the precious moments in a marriage, moments that will remain even as the nature of the relationship changes.
But just when it seems that Ae-ra can't fail, the CEO from the hotel says that this event sounds too costly. Other executives chime in, saying that Ae-ra must be single, because she doesn't understand what married women really want.
Ae-ra takes the harsh words in stride, however, and says that she was married, so she knows that what a wife values is not the gift itself, but the thought that went into it. A woman wants to see her husband's affection most of all, and an expensive gift is merely a symbol of that affection.
The camera cuts to Yeo-jin in her office, tearing up a printed copy of Ae-ra's presentation with a look of pure frustration. The marketing team, on the other hand, couldn't be happier when they get a congratulatory call from the Shilla Hotel. The people in charge liked the concept so much that they've decided to make it an annual event.
Team Leader Wang rushes off to give Yeo-jin the good news, and Song-hee follows her in order to suggest that Ae-ra shouldn't be allowed to run such an important event, even though she was responsible for its inception. Maybe it should be handed off to a more experienced, more permanent employee, she says, practically pointing to herself. It's looking like Song-hee might get away with her sly maneuver, when Jung-woo arrives in the nick of time.
He calls out Ae-ra's colleagues for sticking her with the risk and then trying to take away the reward. He also points out that she's been working overtime on this project, when the rest of them had already gone home. Ae-ra overhears part of this tirade, and then Jung-woo catches her eye and gestures up towards the roof.
He calls Ae-ra once on the roof, although she stays on the other side of the glass doors. Jung-woo is rather miffed that Ae-ra isn't more grateful after what he said to her colleagues. He congratulates her on the successful proposal, and offers to take her to dinner to celebrate. It's not a date, he protests, just a dinner to celebrate his employee's success. That's when Ae-ra remembers what Yeo-jin told her, that what he feels for her is guilt, and makes an excuse about having other plans. Jung-woo turns and sees Ae-ra after she hangs up, then tries to pry open the glass doors while yelling that he'll wait for her, and she'd better show up!
While Jung-woo waits at a fancy restaurant with a bouquet of flowers, Seung-hyun takes Ae-ra to a dinner meeting with the CEO from Shilla Hotel. He suggests that Ae-ra might find a place at his company, seeing how well she did during the proposal. It's not an official offer, since he'll have to see her résumé first, but Ae-ra looks interested.
Jung-woo waits at the restaurant until closing time, then goes back to his company apartment feeling glum. He thinks the elevator is broken, until he realizes that he was just too distracted to push the button. He tosses and turns in bed, so frustrated that he can't sleep.
Nothing will do except to call Ae-ra and pester her. He demands to know why she didn't show, to which she replies that she told him she wouldn't. She tells Jung-woo that she's at Seung-hyun's art studio, and this upsets him so much that his "stress-induced stomach ulcer" flares up.
Secretary Gil takes Jung-woo to the hospital. He tells his boss to "hold on to Ae-ra properly, because otherwise you're just making trouble for me." Tell it, Secretary Gil! Let the truth be heard!
A doctor asks Jung-woo about his symptoms, shrewdly guessing that he's concerned about a woman. He tells Jung-woo that he's probably suffering from "plastic flower," another name for lovesickness. Jung-woo gives his "that's-so-ridiculous-it's-funny" laugh. Later he refuses to let Secretary Gil pay the hospital bill, saying that the one responsible for his injury should pay it.
At work, Ae-ra requests leave so that she can interview for a position at the Shilla Hotel. Seung-hyun sends her off with his best wishes, just before Jung-woo comes striding through the hallways, talking angrily to himself about Ae-ra ignoring his calls again. He sees Seung-hyun, who reveals that Ae-ra has left for an interview. The news sends Jung-woo off at a run.
He spots Ae-ra walking away, and yells out her name across a busy street. He then runs into the street, thankfully crossing it without getting hit by a truck (I swear, I half-thought that he was going to end up with a prosthetic leg of his own). The two of them stare at each other in the cold.
"Do you hate being close to me that much?" Jung-woo asks.
Still affected by Yeo-jin's warning, Ae-ra says Jung-woo shouldn't act like this if it's just out of guilt or shame. Jung-woo flatly denies that those are his reasons.
"Then why are you so interested in every detail of my life?" Ae-ra asks.
"I… have 'plastic flower'," he declares (pfft), referring to the doctor's earlier diagnosis. "What?" Ae-ra splutters, understandably confused.
"Plastic flower. Lovesickness. Na Ae-ra… I like you."
And then Jung-woo swoops in for the kiss.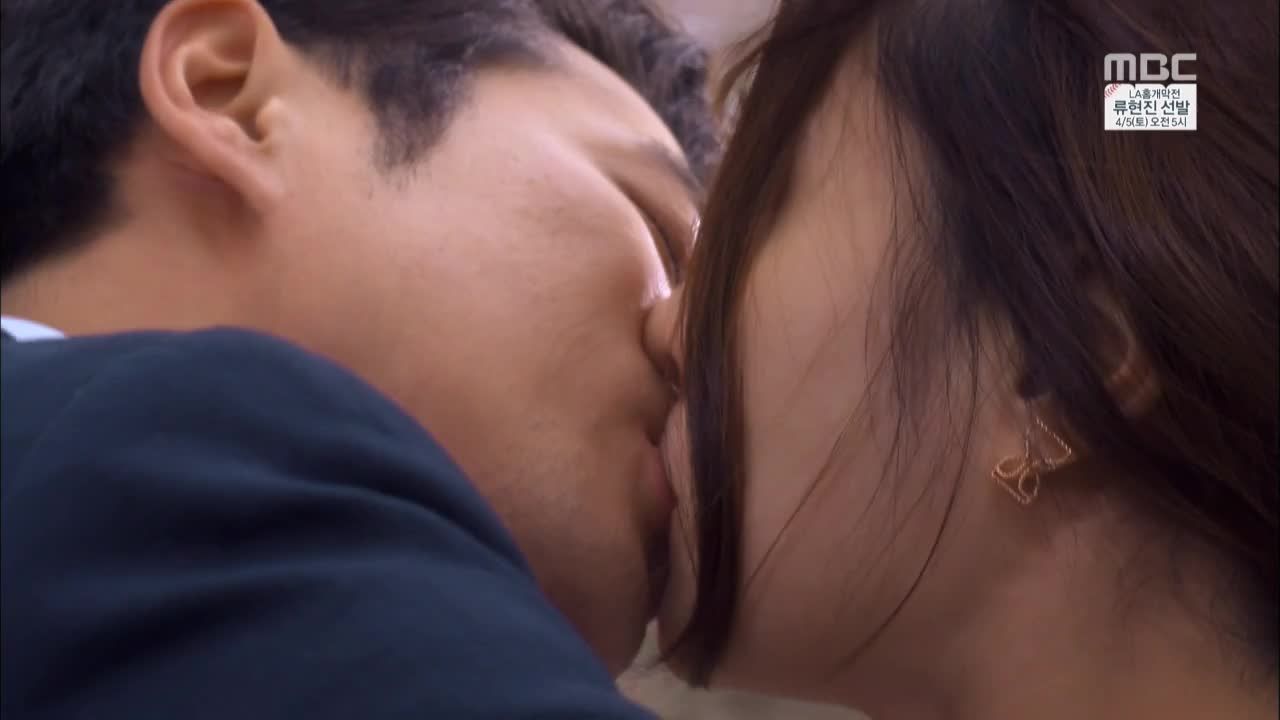 COMMENTS
They kissed! FINALLY! But the kiss, for me, wasn't nearly as important as the simple "I like you" which preceded it. Honesty from Jung-woo; quick, go outside and see if the sky is falling! Seriously, though, that was a big moment for Jung-woo, and it's been a long time coming.
Let's back up a moment, however, because there was a lot to like about this episode even before we got to the smooching.
I really liked the scene with the old friends, even if it felt a bit strange to have three named characters come out of nowhere so late in the game. It worked for me, though, because it added some more realism to the divorce. Breaking up is never as simple as two people deciding to go their separate ways. There are mutual acquaintances and old friends who know you both, and it's impossible to avoid the awkwardness that comes when you confront how different things have become.
It was also nice to see Jung-woo want to protect Ae-ra from jerks like Chun-gyu, only to have Ae-ra tell him point-blank that he no longer has any right to do things like that. And then his obvious frustration at the news that Ae-ra is staying with Seung-hyun was pretty darn cute. I like the balance that was struck between childish antics and real emotion, and the dream sequence at the art studio? Hilarious.
Jung-woo keeps trying to play the hero for Ae-ra, whether it's beating up a pushy drunk or chastising scheming colleagues. He doesn't seem to understand, however, that Ae-ra doesn't need a hero (…except when the pillar was falling. That act of heroism was acceptable). As Ae-ra said, she's been getting along fine without Jung-woo for years. She doesn't need him to 'save' her, but to be honest with her. Of course, that requires that he first be honest with himself. His confession and kiss at the end of the episode represent a big step in the right direction, but the fact that we still have four episodes to go tells me that reconciliation isn't likely to be simple.
I can't wait to see what next week's episodes bring, although I must admit I'm also worried. Despite her words to her father, Yeo-jin seems determined to hold on to the man she loves, regardless of whether or not he wants to be held. That makes her exactly like her father, and she'd better realize that before she goes any farther off the deep end.
Wielding guilt to make Ae-ra walk away was the lowest move we've seen so far, and what made it so much worse for me was that Ae-ra is the first person that Yeo-jin has actually told about her disability. That should have been a defining character moment, when Yeo-jin finally trusted someone else enough to show her vulnerability. Instead, Yeo-jin tells Ae-ra about her prosthesis with a sunny, fake smile that frankly made me feel ill, and used her own disability as a weapon to push Ae-ra away from Jung-woo. Time to do some soul-searching, Yeo-jin: would you rather have the man and lose your pride, or stay single and avoid the pitfalls that turned your father into the bitter man he is today? Choose quickly, because we're losing patience.
As for Seung-hyun, well… I just don't think it's meant to be. He's honest and funny, but it just doesn't seem to me like the spark is there. From a pragmatic point of view, there's also the fact that he has a lot of ground to make up. Over the last three episodes he's just graduated from a one-sided back-hug to a sort-of-mutual front-hug, while Jung-woo ended the episode with a kiss. I'd say Seung-hyun is losing that competition, although of course it depends on Ae-ra's reaction next episode. Bring on the drama, Sly!
RELATED POSTS
Tags: featured, Joo Sang-wook, Lee Min-jung, Sly and Single Again