Nine, Queen Inhyun's Man team returns with Three Musketeers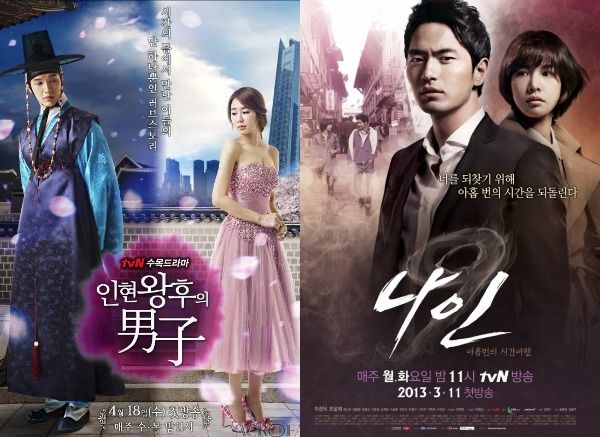 Good news: the PD-writer team behind Nine and Queen Inhyun's Man is returning with a new drama for cable network tvN. This time they're setting their sights on a three-season epic, based (very, very loosely) on the Dumas novel The Three Musketeers. Only it's set in Joseon. I said loosely, didn't I? In Korean, Three Musketeers is translated as Trio, so it's not altogether discombobulating; besides, I have a feeling the drama series will remind me more of Chuno than the original source material when all is said and done.
All we know for now is that the series will be a fusion sageuk about a group of warriors who travel freely between Joseon and China. PD Kim Byung-soo has a stylish track record — Vampire Prosecutor Season 1, Chosun Police Seasons 1 and 2, and of course Nine and Inhyun. Writer Song Jae-jung has more credits to her name pre-Nine and Inhyun, including Coffee House and the first season of the beloved family sitcom High Kick. They've become a high-profile team for tvN, which is where Three Musketeers is likely going to air, though broadcast specifics haven't been locked down.
According to reps for CJ E&M, the sageuk is being considered as a three-season franchise, with twelve episodes a season, airing once a week. So it's something closer to Vampire Prosecutor or other OCN shows that have been airing shorter episode counts to experiment with multi-season formats. While I can see the open-ended format working for procedurals, I am glad that this new drama project has an end date in mind. I dislike going into a show not knowing that my story will have a resolution.
The estimated budget is 12 billion won, and there are rumors that they might do an all-location shoot in China, though tvN is being tight-lipped about anything having been decided. I find it funny that we're in this situation again with this production team after Inhyun, where their time-traveling fusion sageuk came after announcements of allll the others in dramaland at the time (to their credit, theirs was awesome). And now we've got Joseon Gunman slated to air and everyone's picking up guns in Joseon (if we're to believe Joseon musketeers yunno, carry muskets). Oh drama trends, so predictably copycatty.
The multi-season once-a-week format doesn't have me excited, but the production team does, so I'm secretly hoping they lock in a big star who can't commit to three years but will agree to do it if it's just a regular 36-episode show. It could happen, right? All eyes are on the casting calls to see who gets wooed.
Three Musketeers is reportedly gunning for a July broadcast.
RELATED POSTS
Tags: cable programs, drama production, Nine: Nine Time Travels, Queen In-hyun's Man