Doctor Stranger: Episode 17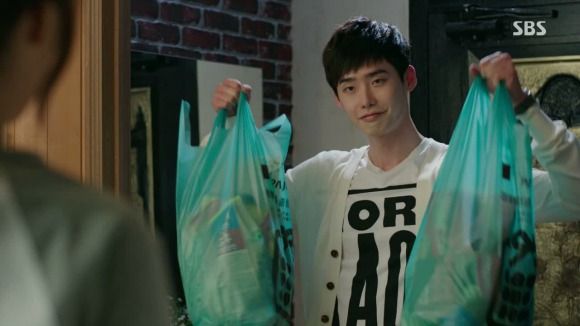 There's more of what the doctor didn't order in this hour with the one surgical competition that will never end, injecting the show with even more moments of medical incompetency than I thought it could handle. On the upside, there are a few emotional beats that ought to stir your heart unless that heart is made of stone. But I'm sure that if there were two patients who shared that same condition, Chairman Oh would create another round just to have Hoon and Jae-joon compete again. Like a bonus round.
As for the Monday ratings: Stranger kept first place with 11.6% with Triangle trailing with 7.4% and Trot Lovers rounding out the pack with 6.1%.
SONG OF THE DAY
History – "Blue Moon" [ Download ]
Audio clip: Adobe Flash Player (version 9 or above) is required to play this audio clip. Download the latest version here. You also need to have JavaScript enabled in your browser.
EPISODE 17 RECAP
Not a moment too soon, Hoon arrives at the operating theater and takes the lead on the pre-final-finale-sort-of-last surgery. It's actually amusing how one viewer (since everyone's busy watching instead of doing their jobs) asks, "Where was he until now?" Your guess is as good as mine.
Everyone sits up a little straighter in their seats as Hoon repairs the critical tear, and Chairman Oh calls in and orders Doctor Yang to make sure that Hoon loses this round by any means. Weren't… you worried about a table death not just five minutes ago?
Doctor Yang agrees, albeit reluctantly, and then proceeds to impede Hoon's progress. His attempts don't go unnoticed by Hoon, who orders Yang out of surgery at once. But Team Hoon isn't out of the woods just yet because their patient's vitals go haywire—they're in need of a specialized anesthesiologist.
Enter Seung-hee, who had heard about Hoon's return from Jae-joon earlier. She stabilizes the patient, and Hoon can't help but steal glances at her as he continues. He's unaware that Soo-hyun is watching him outside the operating room, and she's unaware that Jae-joon is watching her until she turns to leave.
After surgery, Seung-hee pulls Hoon out to lecture him about returning to the hospital when she told him not to, even though she told Soo-hyun that Hoon would definitely be back. I don't really understand either, but people in this universe seem to forget what they said or just happened five minutes ago anyway.
Hoon replies that he can't, no won't send her into the president's surgery alone, telling her to stop leaving him behind anymore. He hated her for letting go of his hand on that bridge in Budapest and also himself for not falling in after her, so this time they'll face any danger together.
He'll make sure to win this competition no matter what so she can carry out her original plan to meet the president without dragging down a decent doctor like Jae-joon down with them. Agreeing that he's got plenty to worry about as it is, Hoon asks her to relieve him of one concern: where his mother is.
Nightshade calls to inquire how Hoon's return changes up their plans, Seung-hee affirms that it doesn't—she and Jae-joon will operate on the president and Hoon will stay out of it.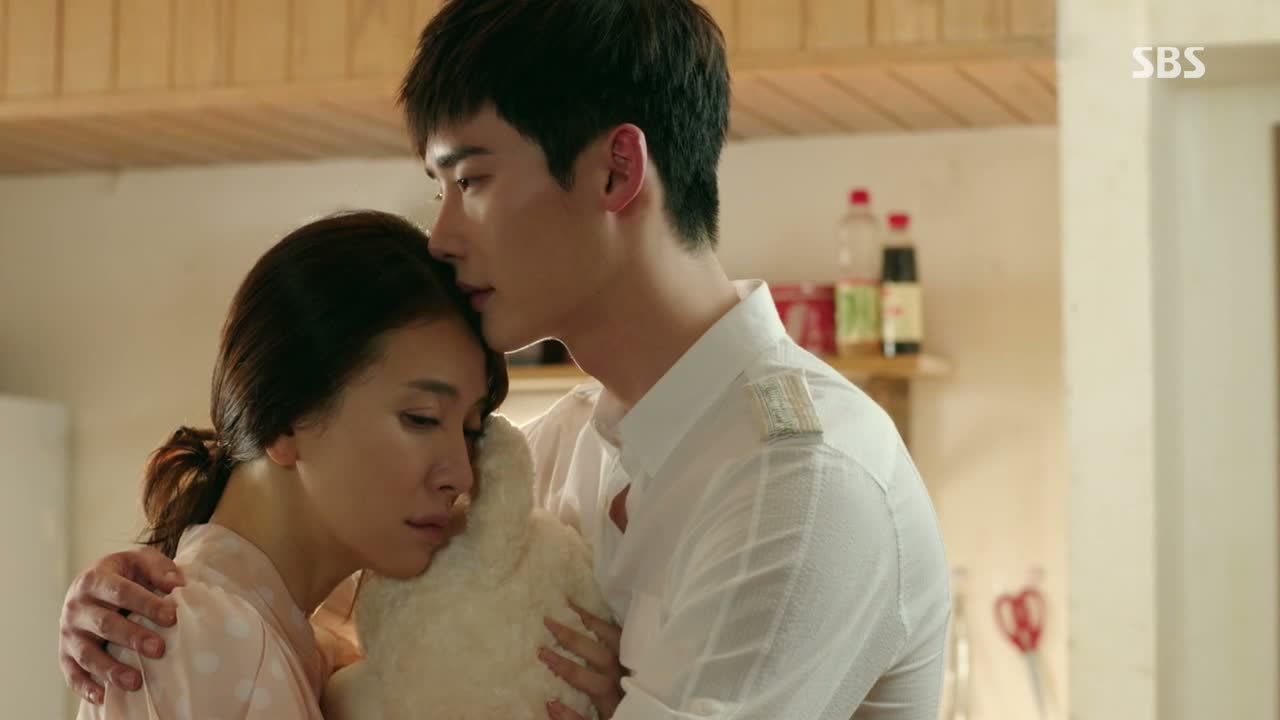 It looks like Seung-hee disclosed Mom's hiding place to Hoon after all, since we see him show up at Chang-yi's place—the teddy bear a telltale sign that he's got the right place. He heads inside and immediately chokes up at the sight of her. "Mom," he finally utters.
Mom gets up to take the doll from his arms and speaks to it as if it were Hoon himself. Clutching it towards her, she says, "I was looking for you. I'm sorry, Hoon-ah. I'm really sorry." With tears in his eyes, Hoon replies, "No, I was wrong."
When Mom looks up at his face to ask who he is, Hoon identifies himself to her: "It's me, Hoon." Hoon sincerely apologizes to his mother, saying that he resented her for years because he thought she abandoned him and he didn't even know what she'd been through.
"I'm sorry, Mom," he repeats, then gently draws her into a hug, letting the tears fall where they may.
Chairman Oh goes straight to Prime Minister Jang to complain about how the man keeps flip-flopping on who should operate on his heart surgery. It's only when he threatens to pull the plug on Myungwoo's involvement does Prime Minister Jang reveal that it isn't his heart on the line, but the president's.
Nothing good will come of it if word gets out too early, but if the patient were to be successfully treated at Myungwoo, then that would mean lots of good press for the hospital.
Doctor Yang manages to brush aside the question of why he's been thrown out of the operating room twice already by asking if the surgical competition is still tied. Doctor Moon claims it is, and even asks Jae-joon for confirmation, much to the latter's annoyance.
Rejuvenated by his conversation with the prime minister, Chairman Oh presents the two similar patients for their real final tie-breaking round. The heart valve procedure should be easy enough for both surgeons, and the winner will be whoever finishes the fastest.
Doctor Moon gripes about how Jae-joon has an advantage because his patient is a young female, but Chairman Oh argues that they can't keep this surgical competition going on forever with the prime minister waiting (orrrr can they? *cries*). If Doctor Moon doesn't like it, he can concede the win to Jae-joon.
Hoon, on the other hand, agrees to the terms and assures Doctor Moon that he'll win this thing. But first thing's first: He'll need to some surgical team spring cleaning.
So Hoon walks in the middle of Nurse Min questioning her husband on why he keeps trying to sabotage their surgeries. At Doctor Yang's denial of doing anything of the sort, Hoon makes the executive decision and bars Yang from his operating room.
Before Hoon can leave, Doctor Yang finally admits why he got his hands dirty: It wasn't just for the money, but because he hates arrogant people like Hoon who can spend money easily and don't understand that ordinary folk like him have to work themselves to the bone or resort to doing dishonest acts.
But dirtying one's hand is something Hoon knows of all too well; he also knows the pain guilt that comes with it, and that's why he's removing Yang from his team. Furthermore, Doctor Yang isn't just an ordinary man—the privilege to wear a doctor's coat means that patients entrust their lives to him. "Let's not disappoint them anymore, Doctor Yang," Hoon says.
Nurse Min agrees with Hoon, telling her husband that he'll lose everything if he continues down this path.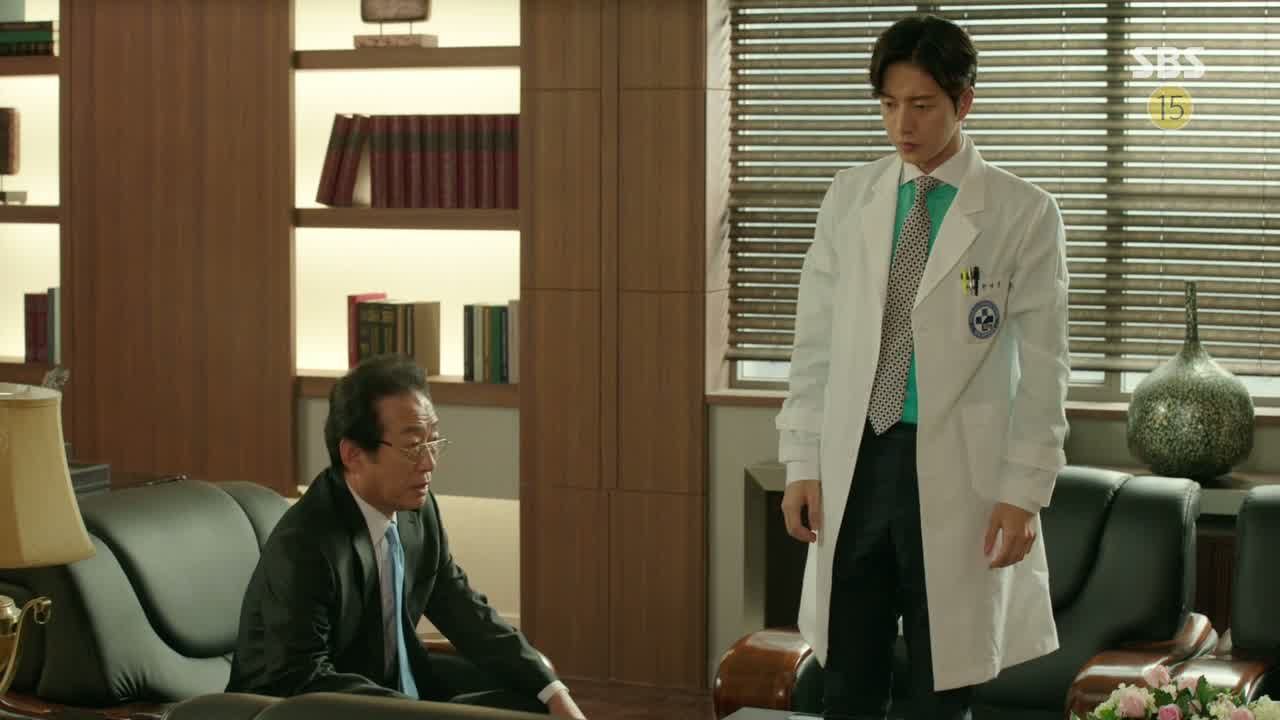 Chairman Oh whispers to Jae-joon that all he needs to do is complete this surgery, since he'll be a shoe-in to win anyway. And once Jae-joon is picked for the surgical team, he'll have to become the chairman's representative, the details of which will become clear once the competition is over.
Chairman Oh rubs his chest while he says all this, as if it pains him. Looks like he isn't the only one with heart problems around here. It doesn't go unnoticed by Jae-joon, who mulls over his revenge plans in his office and says out loud that he's nearly there.
Hoon saunters into the office and plays with the wooden knight, but he cuts to the chase and asks that Jae-joon withdraw from the competition. Jae-joon refuses, and he isn't the least bit swayed by Hoon's concern for him.
Instead, Jae-joon asks if Hoon's adamance is related to his father, a question that piques Hoon's curiosity. Come to think of it, Hoon wonders how Jae-joon knew that Dad was sent up to the North, since he never told Jae-joon about that.
So Jae-joon explains how he knows by talking about himself in the third person, referring to his Lee Seung-hoon identity as "a friend from Harvard." Throwing down the lawsuit documents for Hoon to see, Jae-joon claims to be acting per his friend's request to find out whatever happened to that doctor that abandoned his family's case to seek fame by operating on the North Korean leader.
Hoon clarifies that Dad was deceived by Prime Minister Jang and Chairman Oh under false pretenses to stop a war. Jae-joon calls that a flat-out lie, and perhaps catches himself protesting too much and says "his friend" won't accept that excuse. When Hoon offers to speak to Lee Seung-hoon himself, Jae-joon says he hasn't really kept in touch lately.
Hoon calls out Soo-hyun for avoiding him in the hallway via text, which leads to some PPL bickering until Hoon finally catches up to her. He speaks first since he's got a few things to say, including how sorry he is, that what Chairman Oh did isn't her fault, and tops it off with pressing down on her hair again.
He childishly pouts at her when she gets all upset, claiming that he just wants to get along with her. He then pokes and teases Soo-hyun to get a rise out of her, which Jae-joon sees.
Soo-hyun can't help but smirk thinking of the playful exchange, but then finds herself alone with Jae-joon in the elevator. Jae-joon lets his jealousy flare at seeing her joke around with Hoon earlier, but she claims she's trying to get over her feelings for Hoon as it is.
Soo-hyun finally gets to discuss her discovery about Seung-hee's true identity as Jae-hee. Soo-hyun asks if she really came from the North and if she has an ulterior motive for wanting to be on the prime minister's team. If so, she better leave Hoon out of it. (For the purposes of this conversation, I'll call her Jae-hee.)
Jae-hee confirms that she did meet Hoon in the DPRK, but she's in fact a second-generation North Korean-Japanese. She received medical treatment in Japan and finished medical school there. She pretended not to know who Hoon was because she didn't have the courage to face him.
Rolling with the explanation that the CT scan Soo-hyun saw was one kidney, Jae-hee divulges that that kidney came from her father. Hoon performed that kidney transplant operation, and while she knows that he was trying to save her, that also meant that Hoon killed her father. Knowing that truth now, she wasn't sure if she could love him like she once did anymore.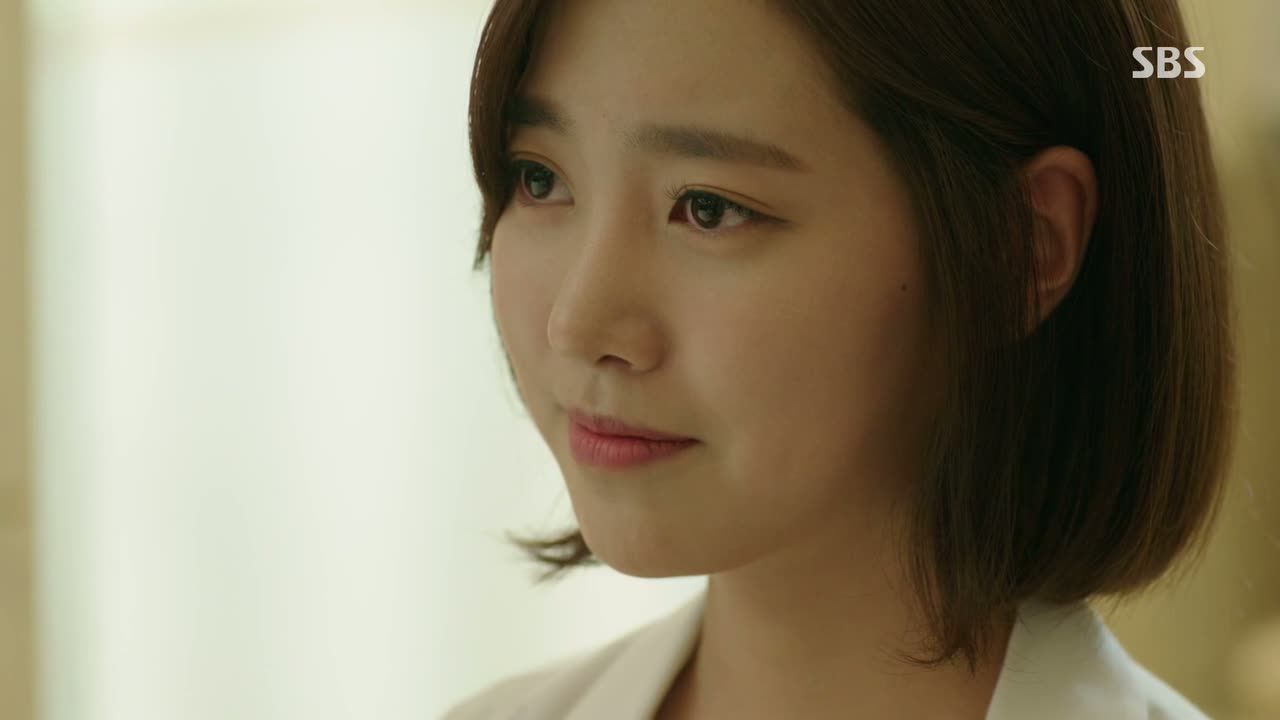 Soo-hyun assures Jae-hee that Hoon loves her without a doubt. Jae-hee had hoped for that too, but she can't help but think that Hoon's feelings for her were out of a guilty conscience or irritation. She declares that she'll be returning to Japan soon, and then claims that Hoon likes Soo-hyun, notably distancing herself from him by calling him "Doctor Park."
Jae-hee is sure that Hoon would've chosen Soo-hyun if they exclude both of their fathers' muddied pasts, but Soo-hyun reaffirms that Hoon only has eyes for Jae-hee. But Jae-hee smiles and asks Soo-hyun to wait after she leaves for Japan—if she stays by Hoon's side, she'll see how Hoon truly feels.
Hoon drops in carrying bags of groceries, intending to utilize Chang-yi's help to whip up a homemade meal for Mom, though he's left grumbling when she reheats leftovers instead. Hoon: "I thought you worked at a restaurant before." Chang-yi: "I was the delivery girl." Ha.
Mom just stares the dinner table, and it's only when Hoon and Chang-yi start eating does she pick up her chopsticks to join them. Then Mom does the motherly gesture and silently places banchan on Hoon's spoon, which Hoon happily accepts.
She does it over and over again, waiting for Hoon to empty his spoon so she can place more food on top of it. It's a small but loving gesture that has Hoon fighting back tears of gratitude. Mom cracks a tiny smile. Awwww.
Soo-hyun is still feeling awkward around Hoon when he saunters over with his usual friendly, cavalier greeting at the nurses station. The nurses wonder if they've been fighting again, and Soo-hyun asks that he stop calling her "Quack" lest her patients get the wrong idea.
But Hoon finds that he can't break the habit that easily, and the nurses excuse themselves, trying to stifle their laughter. Soo-hyun asks that he stop joking around with her, and when Hoon says he's just trying to make things comfortable again, she asks if that can happen overnight.
Hoon has barely has time to let that sink in when a patient behind him asks if he likes that unni. It's Chi-gyu's sister we saw in the previous episode, and she gets a few playful jabs in before Hoon sends her on her way.
Chi-gyu and his sister's argument quickly evolves into an all-out brawl back in her hospital room. Wielding her stiletto heel against him, she pins him to the ground. This is how Jae-joon finds them, and she introduces herself as Chi-gyu's sister. Ohh, so she's Jae-joon's patient?
It turns out that Chi-gyu's sister, Ah-young, knows about her own heart condition quite well. Her shortness of breath and dizziness are the first signs of heart failure, which means that she's going to need surgery whether she likes it or not.
It appears that Ah-young has kept her condition a secret from her brother and has been to nearly a dozen hospitals already trying to get a second opinion.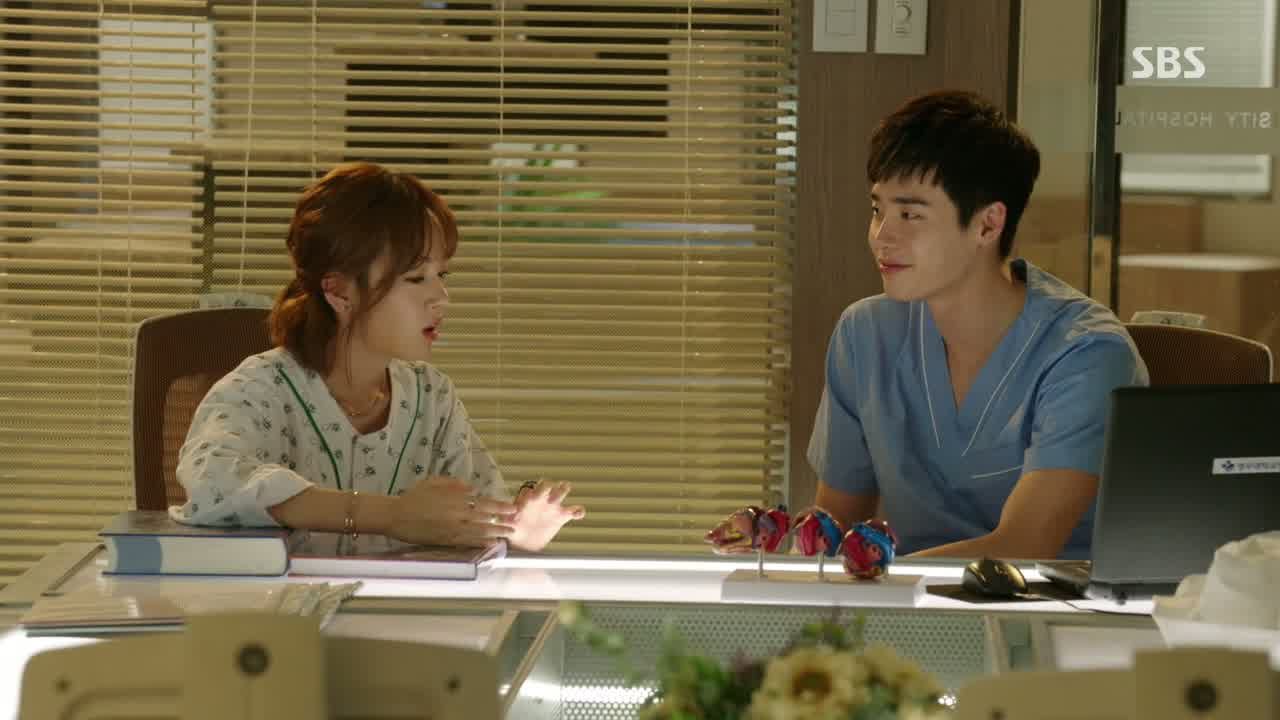 Ah-young catches the tail-end of Hoon's explanation of the procedure to his own patient, and then pulls him aside for a chat.
She doesn't get the second opinion she's looking for from Hoon, however, though she's comforted when he says Jae-joon can be trusted as her doctor. She lets out a disheartened sigh to hear that there is no alternative other than surgery.
Her main concern is that she's getting married to her soulmate next month, and even giggles that they share similar heartbeats. Hoon can't help but chuckle. Showing off some wedding pictures, Ah-young says she wants to get married and have kids, but having that surgery will put an end to that dream.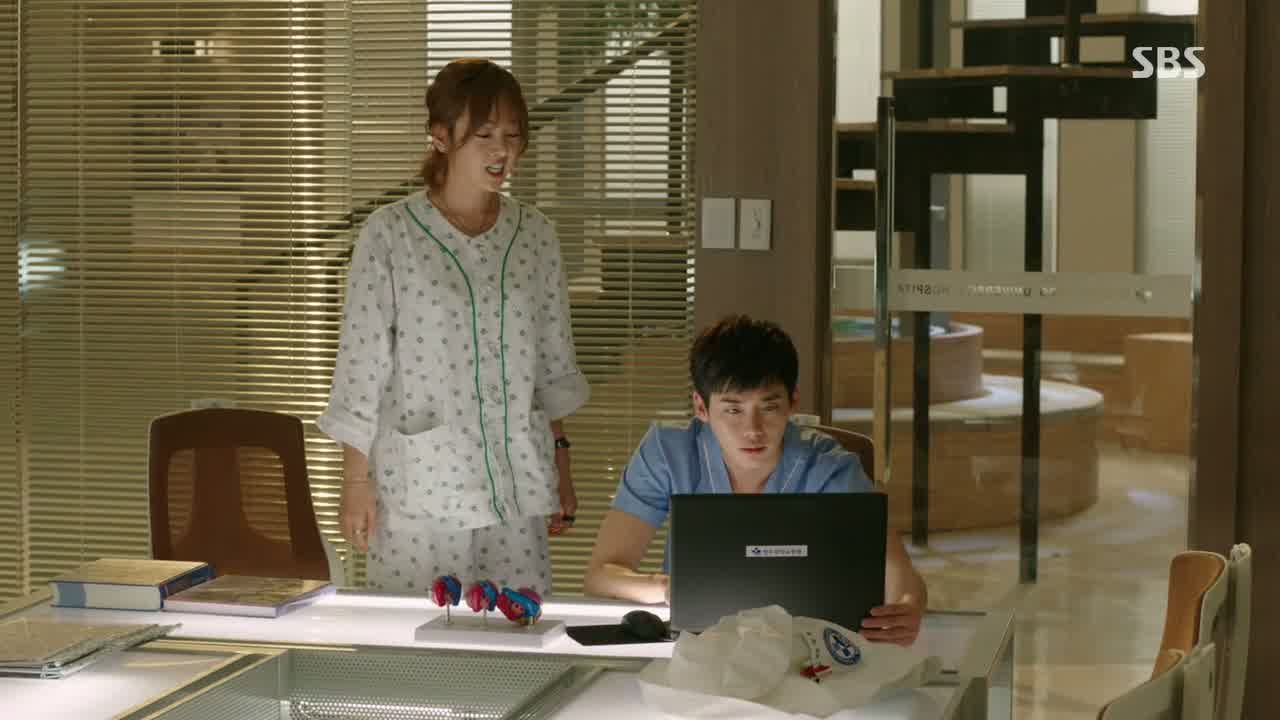 Hoon affirms that she'll have difficulty getting pregnant later, but encourages surgery anyway. Ah-young gets up in a huff, but then turns to ask to see her own ultrasound so that she can curse that heart valve for ruining her life.
But Hoon sees that something is off when he finally sees that ultrasound for himself, and Ah-young curses her scan, none the wiser. Hoon beelines to confront Jae-joon about his patient's condition, arguing that surgery isn't necessary yet.
Furthermore, the medication she'll have to take post-surgery reduces her chances for pregnancy, and she wants to have kids in the future. Jae-joon asks if Hoon is throwing in the towel for the competition, refusing to listen to logical reason that the patient can give birth and still wait a decade before surgery is necessary.
There's a chance her life could change for the better by then, and Jae-joon knows it too, Hoon argues. A doctor should consider his patient's interests, but Jae-joon throws those words back at him, determined to operate.
When Hoon says they can just call it a tie again this round, Jae-joon growls that this has to be the final round. If Hoon wants to act like the self-righteous doctor he is, then they can just switch patients. But Jae-joon knows that Hoon wouldn't agree to that because not performing surgery means to lose, and Jae-joon snarls that he'll switch anytime.
Chi-gyu has overheard their exchange, astounded to hear what he's just learned. He asks if it's true, and then heads over to ask Jae-joon for his medical opinion. He believes Jae-joon that his sister does need surgery, and then whispers that Hoon had a different opinion.
Jae-joon turns that statement into a teaching point about mitral stenosis (when the mitral valve doesn't open fully), listing off all the major symptoms. Chi-gyu points out that it isn't that bad yet, but Jae-joon argues that they can't wait for his sister's condition to worsen, so this surgery is a precautionary measure.
Chi-gyu is still hesitant, however, and asks Jae-joon if this is about the competition. Jae-joon replies that he's in agreement with the same medical diagnosis the other hospitals made. He adds that having children is still a real possibility for Chi-gyu's sister after surgery, and tells Chi-gyu to take serious thought into whose medical opinion he trusts: Jae-joon's or Hoon's.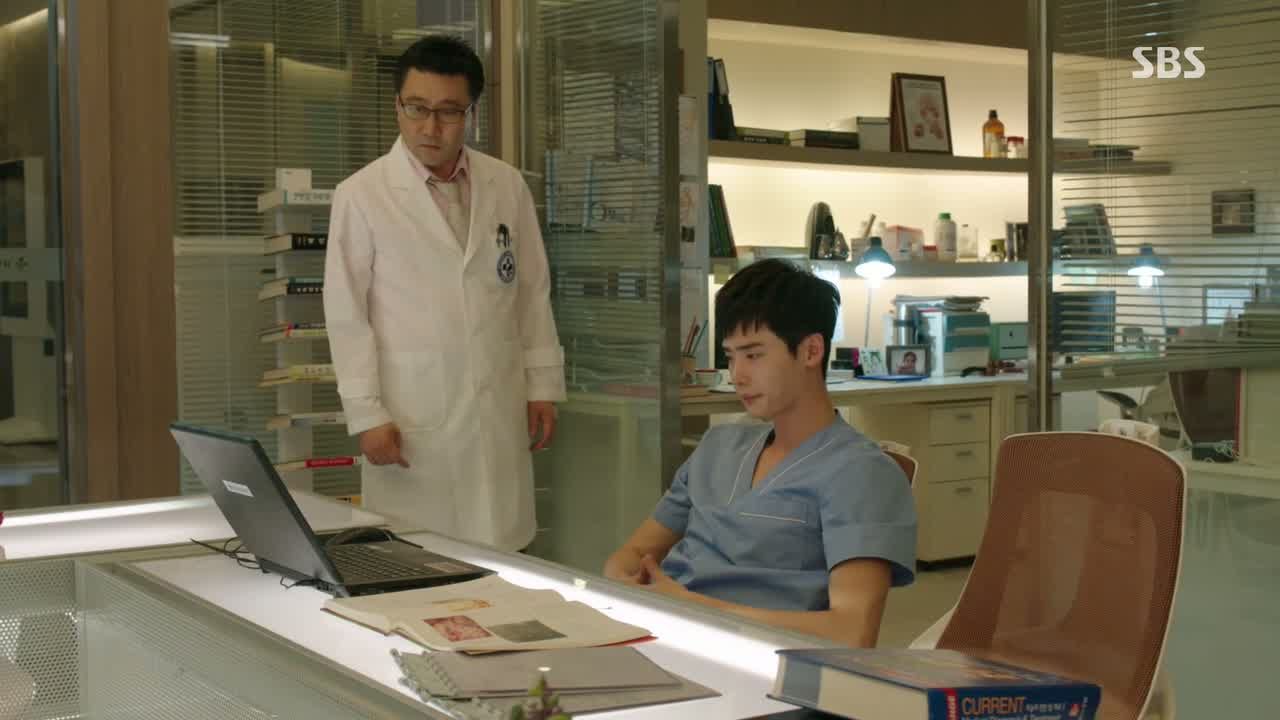 Doctor Moon has heard through the grapevine that Jae-joon's patient doesn't require surgery. When Hoon says not to say a word since she's still under Jae-joon's care, Doctor Moon says he already did, practically giddy at the thought. Sigh, of course you did.
Ah-young bursts inside moments later, and her voice breaking, she asks if it's true. Hoon says he thinks she can hold off on surgery, but that when Chi-gyu barges in to discredit his words—why should she believe a North Korean doctor when the prestigious Harvard doc and all the other hospitals claim otherwise?
But Ah-young doesn't care about prestige or background in the least, since they're all the same kind of doctor. She's done her homework and she knows that it's difficult enough to get pregnant and even if she did, there's a chance for a miscarriage.
Chi-gyu says she can try harder, but Ah-young refuses, asking why she must work harder for something that comes so naturally for other people. She just wants to lead a normal life, and leaves the decision up to her brother.
At Chi-gyu's conflicted expression, Ah-young demands an answer out of him, even calling him 'oppa' in her desperation. In the softest whisper, Chi-gyu tells her to have the surgery, and he can barely handle the sight of his sister's sobs.
Surgery Day. The president asks what will happen if this round ends in another tie (oh god, please say no) and Prime Minister Jang says the decision will go to Chairman Oh. Hoon is surprised to hear that Jae-hee will be joining Jae-joon's team.
In fact, Hoon's even more thrown off by her cold demeanor towards him because she's suddenly decided to be bitter at him for killing her father. She doesn't say that outright, but I'm sort of sure that what she means by "Think about what you've done to me." Or something.
Why Jae-hee chooses now of all times to hold that against him is simply beyond me, though I wouldn't be surprised if it's an attempt to push Hoon away so that he'll end up with Soo-hyun or to bother Hoon. She says they'll talk about it later, but I wouldn't bet on it.
Whatever her intention was, it does the trick to throw Hoon for a loop, leaving him distracted prior to surgery. Jae-joon excuses Chi-gyu from the operating theater, and as Chi-gyu waits outside, he receives a text from Ah-young's fiance on her phone saying that he cancelled the wedding hall reservation.
Tears well up in Chi-gyu's eyes as he flips through his sister's wedding pictorial and pictures of baby clothes on her phone. Both teams are ready to begin when Chi-gyu rushes into Hoon's operating room and asks him to switch patients with Jae-joon.
Doing so would mean Hoon would follow his own medical judgment and not operate on Ah-young, thus losing the competition. His voice desperate, Chi-gyu asks for Hoon's help to act like a proper oppa for once and keeps pleading with him as he's dragged out of the operating room.
In the adjacent room, Jae-joon prepares to make his first incision. Hoon stalls, however, thinking back to his father's dying words never to forget that he's a doctor and his earlier promise to win no matter what.
But next thing we know, we see Hoon's hand stop Jae-joon's from cutting into his patient. Jae-joon asks what he's doing, and Hoon returns, "What do you think?"

COMMENTS
I don't know what to think anymore, Hoon. I really don't. I just want this stupid surgical competition/merry go 'round to be over and done with already. It's never a good sign when the baddies who have been stretching this competition for as many rounds as possible suddenly say that THIS will be the final tie-breaking round whereas your hero is willing to go for another round. But really—what does a number matter when the baddies are too busy trying to sabotage Hoon anyway to make sure that he loses?
So you can imagine my confusion when Chairman Oh decided that he'd risk a table death anyway once Hoon showed up to save the day (again). Is it because he doesn't care if he has a medical malpractice suit on his hands just so long as he can shift full responsibility onto one doctor even if it occurs in his own hospital? He cared enough to want to save the other patient if Jae-joon held the scalpel or have Doctor Yang do everything he can to help Doctor Moon, but all of that changed once Hoon showed up.
Among the handful of medical dramas I've seen over the years, I don't think I've ever encountered a show whose medical incompetency builds upon itself with each passing episode. Virtually everyone on Myungwoo's payroll has made some intentional stupid/coldhearted/inept medical decision, and reacts to possible cases of medical malpractice with either one of two extremes: the downfall of the hospital or as if they narrowly missed stepping in a puddle on the sidewalk. I couldn't possibly name them all in this show, let alone in one hour, though Jae-joon's coldheartedness to pursue surgery seems to stand out this episode.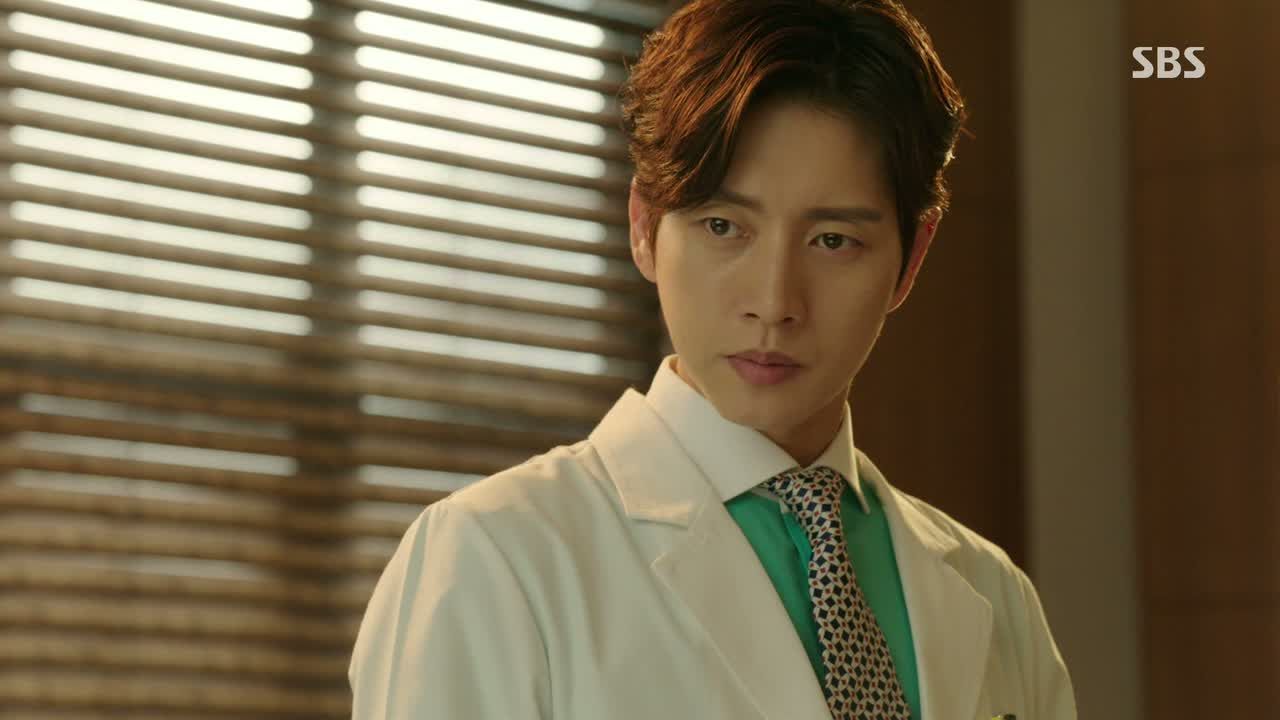 While I wouldn't be able to tell you whether Jae-joon's medical judgment was correct, it wouldn't even matter when the show prefers Hoon's opinion anyway. And while everyone insisted that surgery was necessary, I couldn't understand why Jae-joon insisted on performing the operation on a patient who didn't necessarily need it in order to win a competition, when apparently another tie would mean Chairman Oh would decide the winner. And he would choose Jae-joon. Because I think that's what The Plan still is, and maybe Jae-joon has to definitely win to see what's in that envelope. Or maybe that's just the fever I'm running talking.
But no one is a quite a mystery in this show than the elusive Jae-hee (since she's apparently back to that now), who not only wanted to protect Hoon and his mother (and at one time, herself) by taking Hoon out of The Plan but now seems to want Hoon be happy with Soo-hyun, even if Soo-hyun keeps insisting that she isn't the object of Hoon's affection. Even Jae-hee's explanation(?) is more confusing than informative because while she claims to being unsure of whether she could love Hoon or not knowing that he killed her father to save her (I haven't the faintest idea how she found that out), we've seen so many episodes of Jae-hee not letting that fact stand in her way, until she decided to hold that truth against Hoon for whatever reason we'll never be able to fully understand.
At least the tiny thing I can understand out of this show is Hoon's reunion with his mother. That moment when she placed food on his spoon is one beat that never fails to stir my heart no matter what show it appears in. Plus that's the only true moment I've seen someone love Hoon, no strings attached, in the longest time.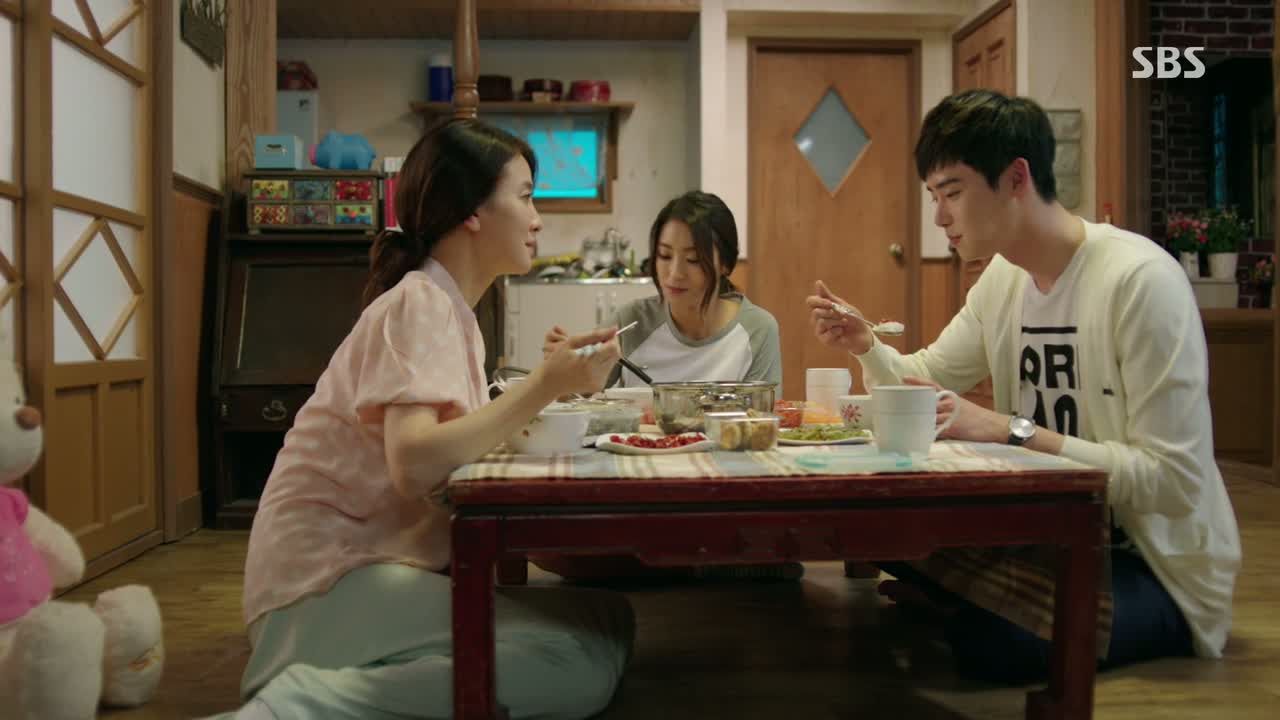 RELATED POSTS
Tags: Doctor Stranger, featured, Jin Se-yeon, Lee Jong-seok