Triangle gets extended, Night Watchman premiere delayed
Sigh, it looks like we'll have to wait even longer to see the ghostbusting summer sageuk The Records of a Night Watchman, because MBC's current Monday-Tuesday drama Triangle is getting extended by two episodes. Why? That's a very good question. According to MBC, Triangle has lots of story left to tell… to which I would ask Triangle what it couldn't possibly accomplish in its already lengthy 24 episodes. It's a mystery. The show will now be a total of 26 episodes, which pushes Night Watchman's premiere to early August. To look on the bright side, the week delay gives the special-effects-heavy Night Watchman some extra prep time. Boy, I hope they use it wisely.
I was actually holding out on posting the early stills from the set of Night Watchman because I was waiting for Jung Il-woo in all his princely night watchman glory. Sadly, he's not even shooting his portion of the drama yet because they're working on Dad's backstory. When I saw that he visited the set in modern clothes I was a little miffed, but it's nothing a picture with his adorable child actor can't fix. Yeah, I'm easy like that.
Dad Choi Won-young (Heirs) leads the early portion of the drama where he plays a king gifted (or cursed) with the ability to see ghosts, and leads an army deep into the mountains where he defeats a legendary serpent monster known as an imugi. (Imugis are said to be serpents that need to amass power to become dragons.) He's a good father and a righteous king, but the curse slowly changes him for the worse to tragic consequences.
Yoon Tae-young (King's Daughter Soo Baek-hyang) is the sword-wielding warrior in the stills, and he'll become the leader of the night watchmen when Jung Il-woo's bad boy prince joins the crew. And Blonde Zorro is Kim Sung-oh (Age of Feeling), who plays the psychic villain who worships the imugi and will try to harness its power to take over the world. I have to say, his are the stills that teeter on the brink for me — the others are badass, while Kim Sung-oh looks a little bit like he's starring in an embarrassing music video. Prove me wrong, Show.
Triangle will complete its run on July 29, and Night Watchman now premieres August 4.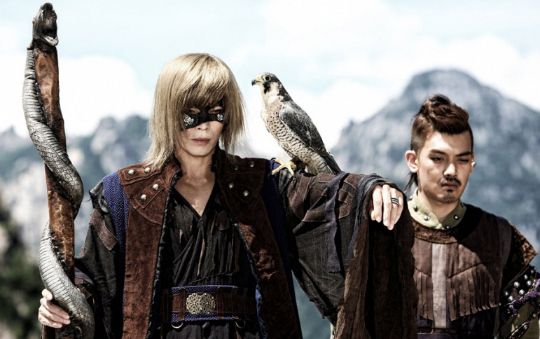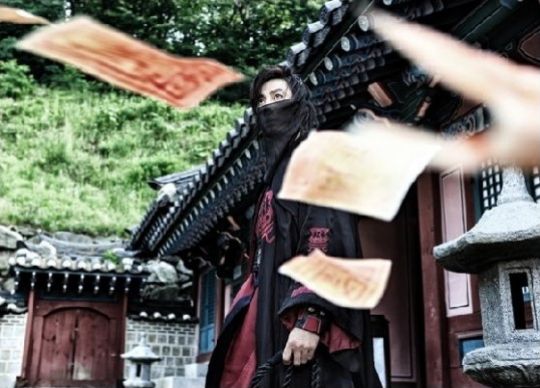 Via News1, IS Plus, TV Report, Star News
RELATED POSTS
Tags: Choi Won-young, Jung Il-woo, Kim Sung-oh, Records of a Night Watchman, Triangle, Yoon Tae-young