Trot Lovers: Episode 10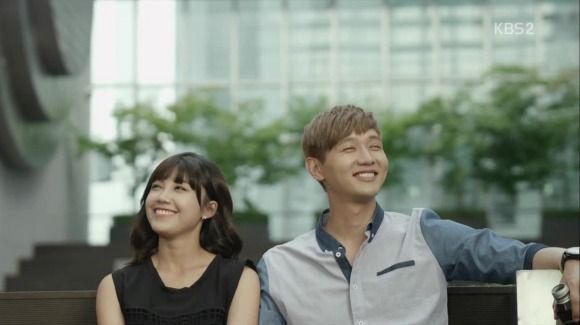 What a fluff-filled episode of utter cuteness! Joon-hyun and Chun-hee finally get enjoy their adorable coupledom — but in secret, of course, because this show can't handle another scandal. Haha! Just kidding: we all know the plot can't move along without a scandal or two, and our characters definitely have to face a few, whether from their own making or from the conniving of others (and one guess as to who's responsible for the "conniving"). As much as Joon-hyun and Chun-hee delight us with their sweet and fun romance, apparently there's a price to pay for a couple so happily in love. But who would have guessed that price would be hackneyed plot twists that make you want to tear out your hair?
EPISODE 10 RECAP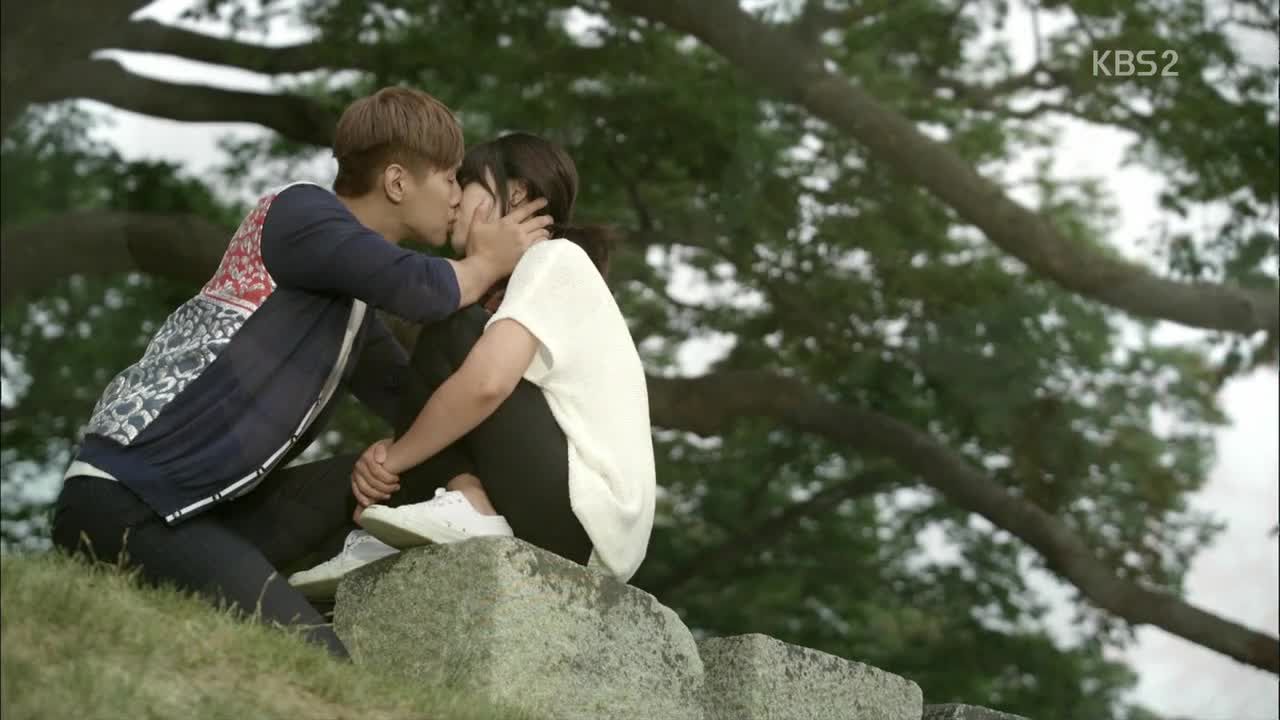 After Joon-hyun gently kisses Chun-hee while she's singing, he takes out her earbuds, asking why she always gets into trouble when he's not around. Then he kisses her again.
He apologizes and pulls her into a hug, and the two leave their special spot, smiling and holding hands. Joon-hyun drives Chun-hee home, declining her invitation to go inside and at least say "hi" to Byul because they still need to be careful about any potential scandal. Chun-hee doesn't care about a scandal, but Joon-hyun does. She's pouty that they can't be together like before, but goes inside without him, and he returns to the apartment he shares with Tae-song.
The happy new couple wait anxiously by their phones, expecting each other's texts. Joon-hyun becomes agitated when Chun-hee doesn't respond, asking how she can sleep when they just shared their first kiss. But he's taken more off guard when she texts that it wasn't her first kiss — it was with some "bad boy."
He immediately calls her, demanding to know who it was, and she laughingly tells him that it was him — he was the "bad boy" of her first kiss. That changes the mood considerably, and the two hide under blankets to continue their giddy conversation.
The next morning, Chun-hee meets with Geon-woo, apologizing that she couldn't be reached yesterday. He's not particularly bothered by it, and invites her to lunch instead, teasing her that she needn't look so surprised, because it's not like he's asking her to marry him.
But Chun-hee decides to be honest, and lets him know that there is, indeed, someone that she likes, and she's having lunch with that person instead. He's a little stunned, but admits he can't complain due to her forthrightness.
She tries to sneak up on Joon-hyun while he's waiting in the lobby of Shine Star, but some other employees greet her and she spins around, detoured from her original target. The couple pretends to ignore each other throughout the day, but secretly hold hands in the elevator and pass each other notes, exchanging the cutest glances and waves when they think no one is looking. But someone is, and Soo-in's smile can't be as benevolent as it appears while she observes them.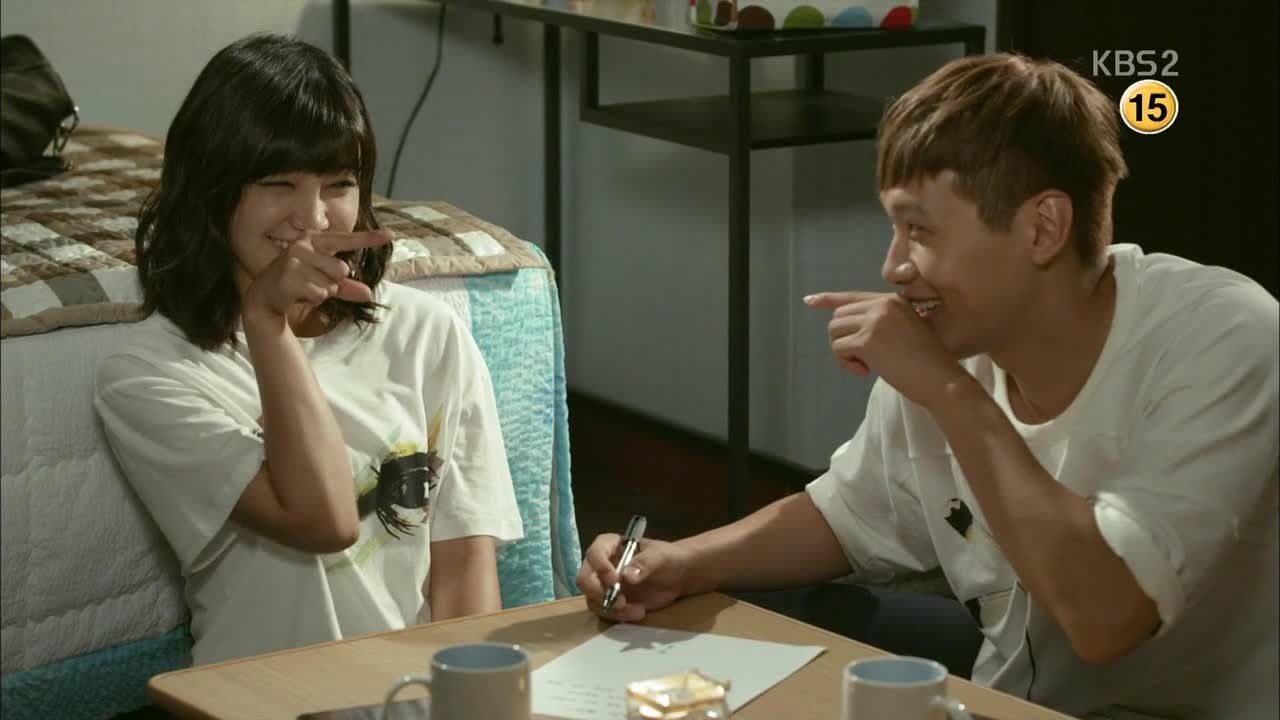 After a happy afternoon playing around in the outdoors, Chun-hee and Joon-hyun get back to the officetel he shares with Tae-song. Joon-hyun writes out a dating contract: where person "B" (which he claims for himself) will obey person "A" (Chun-hee) no matter what; B will make A laugh once a day, and (with Chun-hee's insistence) both A and B will give each other a compliment and a pat on the head every day.
Joon-hyun initials the contract to bind it, and Chun-hee protests that he continues to call her "MJ" because those aren't her initials. But he reminds her it'd be easier to hide her identity if the contract was ever leaked, and besides, it was because of her medal meddling that they met in the first place. Then he wants to see see how she's put him in her phone, and he's offended that it's "Bad Guy." He makes a quick change so that it reads "Pretty Man" instead.
Soo-in meets up with Geon-woo who is at the bar, drowning his Chun-hee sorrows with shot after shot of whiskey. She tells him that there's now a Shine Star couple: Joon-hyun and Chun-hee. He pauses slightly while pouring her shot, but tells her he's somewhat aware of it.
She then comes right out and tells Geon-woo that she likes him. He, however, does not feel the same. Soo-in reminds him that Chun-hee is already dating someone else, but Geon-woo says he's content in his one-sided love. As he downs yet another shot of whiskey.
Chun-hee and Joon-hyun continue their date at Tae-song's officetel, where they sit on the floor watching television until Joon-hyun turns the lights off, and leans over — but not for any sexy times that Chun-hee first assumes (protesting that they're moving too quickly and she's not ready). Instead, he pulls out a projector and they watch the music video Joon-hyun made from their time in the river, set to his "To MJ" song. It's super cute and sweet.
Tae-song comes home to interrupt the couple cuteness (and eat the adorable dinner that Joon-hyun had prepared for Chun-hee). When Joon-hyun leaves to see her home, Tae-song discovers the projector with the music video, and is surprised (but delighted!) to find out that the two are dating.
Director Wang meets with Yang Joo-hee, telling her that Soo-in is all set to get the first place on the music show. But their delight is short-lived when they get a call that Soo-in was in a car accident.
Soo-in refuses to get out of the car, or even lift her head from where she's hiding behind the steering wheel, and Director Wang tries to convince the noisy ahjussi (clutching his neck, of course), that they will pay him whatever compensation he wants. Until the ahjussi recognizes who was driving the car — a popular singer getting into a drunk-driving accident is big news.
At the music show (Music Tank instead of Music Bank, ha), Chun-hee happily exchanges texts with Joon-hyun, not caring that she's in third place. Soo-in, on the other hand, waits nervously to hear the results of the first place contests — which don't include her. The PDs tell her that because of the drunk-driving news, Soo-in won't be allowed to perform.
As Soo-in and her manager leave the broadcast station, Chun-hee happily greets her "sunbae" and cheerfully thanks her for showing her the picture of Joon-hyun sleeping in the living room with her and Byul, because now everything is good between them. Unaware that Soo-in was bumped from the performance list, Chun-hee cheers for her, saying Soo-in is sure to win first place.
In her eagerness to answer her phone, she misses seeing Soo-in's look of scornful distaste, and Soo-in relieves her angry frustration by kicking over a mop bucket as she leaves the building.
Chun-hee hurries outside to meet with Joon-hyun, but she's immediately mobbed by her fans, so the couple only exchange adorable little finger-hearts from a distance. He leaves Chun-hee to meet with her fans, and runs into President Jo, who says he must be disappointed about Chun-hee's third-place standings. But Joon-hyun admires the fact that Chun-hee has come so far on her own strength, and reassures President Jo that he doesn't want to tie Chun-hee to his own album — he'll comeback on his own strength, too.
Tae-song's officetel is becoming the couple's retreat, as Chun-hee arrives to give a big back-hug to Joon-hyun, who's busy washing dishes. Aw, I've missed these domestic moments, and Chun-hee seems to have, too, as she's reluctant to let go of Joon-hyun to answer her phone. It's Coach Bang calling to invite Chun-hee to a celebration of her third-place win on Music Tank.
A feast is set out in Coach Bang's restaurant, and everyone toasts Chun-hee's success. But Joon-hyun, concerned about Chun-hee drinking too much alcohol, declares himself her black knight and drinks for her, reassuring the loan shark ahjussis (and her current managers) that they're not in any relationship.
When Coach Bang admires the way Joon-hyun drank Chun-hee's shot of soju for her, Tae-song immediately volunteers to do the same for Coach Bang. But Chul-man pours another glass for her instead, and she eagerly agrees to do a "love shot" with Chul-man. Tae-song jumps up in desperation, offering to sing. Despite Coach Bang's enthusiasm for his music, Chul-man continues to continues to get all of Coach Bang's attention. Aw, poor Tae-song — at least you have cutie-pie Byul offering to dance with you to make sure you're not ignored.
Late at night, Chun-hee marvels at the posters for her upcoming concert. She calls Joon-hyun, asking him if he'll perform the song he wrote. He's hesitant, and she reminds him about their dating contract, so he has to obey her — but he still asks her to think of anything else he can do except that. Pouting, she hangs up on him.
Tae-song, annoyed at having to overhear their little lover's spat, asks him why he won't just agree to perform. But Joon-hyun is worried about revealing their relationship and ruining Chun-hee with another scandal. She's barely made it this far, and still has yet to find her father. Besides, once he's made his own comeback, he'll proudly stand on her stage.
After Joon-hyun leaves the room, Tae-song thinks long and hard before he uploads something to a song-writing website. Hmm. Is it Joon-hyun's "To MJ" song?
Yang Joo-hee catches Soo-in about to swallow a fistful of pills, and yells at her, wondering what brought her to this state. Soo-in reminds her mother that she's been a trainee at Shine Star since she was fourteen, and everything she's done since then has been solely focused on debuting and performing on stage. She never regretted it, because she wanted to sing so badly.
But as she starts shrieking about Chun-hee, her mother slaps her (hard, too — ouch!). She screams for Soo-in to come back to her senses, because if this is just about Chun-hee, then Soo-in has to step on her, before she's stepped on. That's just the way to get ahead in this business. Of course, she'll do all she can to help her daughter.
Such as setting up a meeting with an assemblyman, promising to introduce him to a singer from her company to perform his campaign song. If Yang Joo-hee is behind this, then it can't be good — and you'd think Chun-hee would have learned by now, but she seems delighted to be given the chance to sing for the assemblyman.
Until she arrives for their dinner meeting and discovers that it's just the two of them — Yang Joo-hee makes up an excuse, saying she's unable to make the meeting. The assemblyman is a total creeper as he leers at Chun-hee, and Chun-hee looks incredibly uncomfortable, even though she politely agrees to stay.
As Chun-hee prepares to record Creeper Assemblyman's campaign song, Director Wang sets the rumor mill buzzing about Chun-hee's new "sponsor" (as in, a high-profile person who supports an artist by providing opportunities and connections, usually receiving sexual favors in return).
Joon-hyun is busy trying to get someone to check out the demo of his new song (and is refused because he has his own scandal still hanging over him). He runs into Hyo-yeol, who says that Joon-hyun should have stayed Chun-hee's manager, considering how successful she's been lately. But he supposes it doesn't matter because she's now supported by Creeper Assemblyman.
Grabbing Hyo-yeol by the collar and shoving him up against the wall, Joon-hyun demands to know what he's talking about. Hyo-yeol says that the rumor is spreading everywhere, and Chun-hee must have some enemies in Shine Star, because it started from within her own company.
Joon-hyun returns to Shine Star, and the concern in his eyes as he watches Chun-hee in her practice room melts away. The couple share a moment of happy solitude outside while Chun-hee says she's worried at how things are going so smoothly for her: if only her father would return, everything would be perfect.
Which is why she chose "Filial Duty" as her concert title, as she explains in a radio interview that the reason she began a singer was to find her father. Chun-hee dedicates her live radio performanceHence of Oh Ki-taek's "Daddy's Springtime of Youth" to not just to her own father, but all the parents out there.
As Chun-hee's gorgeous voice sings out the haunting melody of parents just wanting nothing more than their children to be happy and successful, Yoo-mi's father cries as he watches the video of his daughter singing. When he goes to her school to see her, he pulls her into a tight hug. Does this mean she might get a chance to perform?
During this music montage, Joon-hyun also discovers where Chun-hee's father is, and takes him to lunch, where he asks him to come back home to his daughters. But Choi Myung-sik simply asks Joon-hyun to keep it a secret that he found him — yet still manages to do the fatherly thing of asking if Joon-hyun likes his daughter.
Joon-hyun says he does, and Choi Myung-sik asks him to protect Chun-hee from the harsh world so she can focus on her singing. If only he knew how much Joon-hyun has done already.
Tae-song returns to his apartment to discover Joon-hyun brooding over the situation with Chun-hee and Creeper Assembleyman. As he snags one of Joon-hyun's beers, he suggests it might be good to ward of further scandal if Chun-hee was revealed to have a boyfriend. That sets Joon-hyun's creative juices running, and he designs a necklace that will have "their" initials on it.
He then lets Chun-hee know he'll sing for her at her concert. She's delighted he's agreed, but he warns her that he also has something to tell her then. She wants to know now (as do we all!), but he tells her to wait.
Oh, and yay! Chun-hee receives a call from Yoo-mi, saying her father has agreed to let her sing!
But no "yay" for Soo-in, who sits with a giant glass of wine, scowling at her television as she watches Chun-hee beam and blush as she denies that she's in any sort of relationship. Soo-in throws the glass against against the television, the red wine dripping down over Chun-hee's smiling face as she gives her interview.
At Shine Star (and actually in his office for once), Geon-woo hands Chun-hee an envelope of cash that looks to be a pretty serious chunk of change — millions of won, or thousands of dollars. He calls it an "incentive bonus" since she's made so much for the company, reminding her that she once said she needed money urgently.
She says she'll only accept a portion of it, though, in exchange for Joon-hyun's guitar. Gah, she's so cute as she dances with her prize, delighting that she can return it to her boyfriend.
Byul attempts to play badminton by herself, but President Jo (who she calls "Hawaii Grandpa") offers play with her. She totally smokes him, though, and the two enjoy some post-game ice cream where he asks about her sister's boyfriend (describing Geon-woo).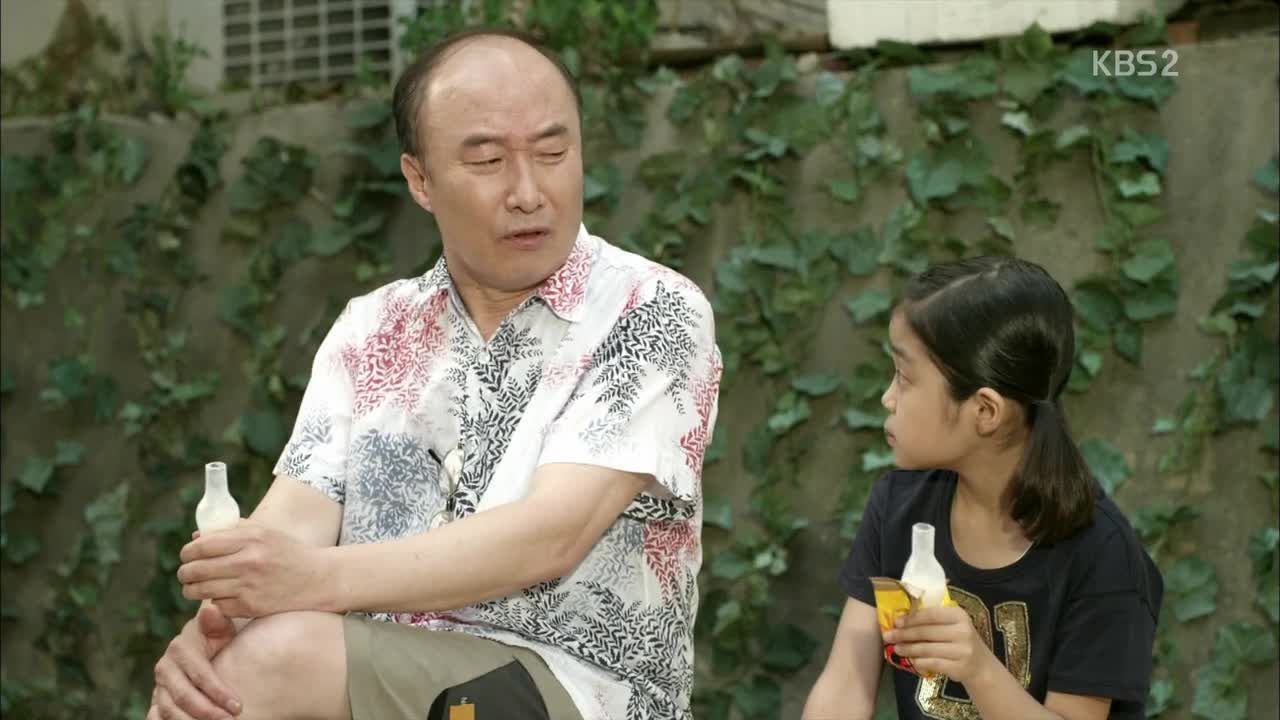 Byul says her unni doesn't have a boyfriend, but she knows there's someone Chun-hee likes. She's not sure who it is yet, though. Or who she wants it to be, as she runs through the various positive attributes of both Geon-woo and Joon-hyun. She sighs that it's so hard to choose between the two. Yeah, tell it to the rest of the viewing audience.
After learning that Chun-hee's backup singers all are out sick, Coach Bang asks Tae-song to help out at the concert. Of course he can't say no to anything Coach Bang asks. Pil-nyeo happens to be visiting the restaurant just then, and Tae-song recalls that she used to be a trainee for Shine Star. Of course, she can't say "no" to him when he asks her to join him as a favor, even when she learns it's singing back-up for Chun-hee.
Joon-hyun finds a little stuffed toy frog that says "I love you" when pressed, and as he's taking it to Chun-hee's dressing room to give her some encouragement for her performance, he spots Soo-in hurrying out. She's rubbing red paint off on her sleeves, and once Joon-hyun sees that Chun-hee's outfit for the concert is marked in red paint, his suspicions are raised.
He immediately calls Chun-hee to ask where she is, and she reminds him that he had sent her a text to meet her onstage. Except he didn't. Remembering Soo-in's meltdown over the attention Chun-hee was receiving through the sporting good photo shoot, Joon-hyun tells her to stay right there and sets off running to the auditorium.
Chun-hee is lost in her own happy little world, as she sits in the middle of the stage, humming to herself, completely unaware that Soo-in is in the wings, ready to loosen the pulley on the set pieces hanging above Chun-hee's head. Rushing in, Joon-hyun is relieved to see that nothing has happened, until he spots Soo-in offstage.
Remotely turning off the lights, Soo-in releases the cord, and then panics when she sees Joon-hyun run on stage to protect Chun-hee. The decoration falls on top of Chun-hee and Joon-hyun, but he takes the brunt of it. Wriggling out from under him, Chun-hee screams for help as she cradles his bloody head in his lap, using her shirt to try and stop the bleeding. Once she realizes how much hurt she's caused Joon-hyun, Soo-in quietly freaks out, still hidden in the shadows.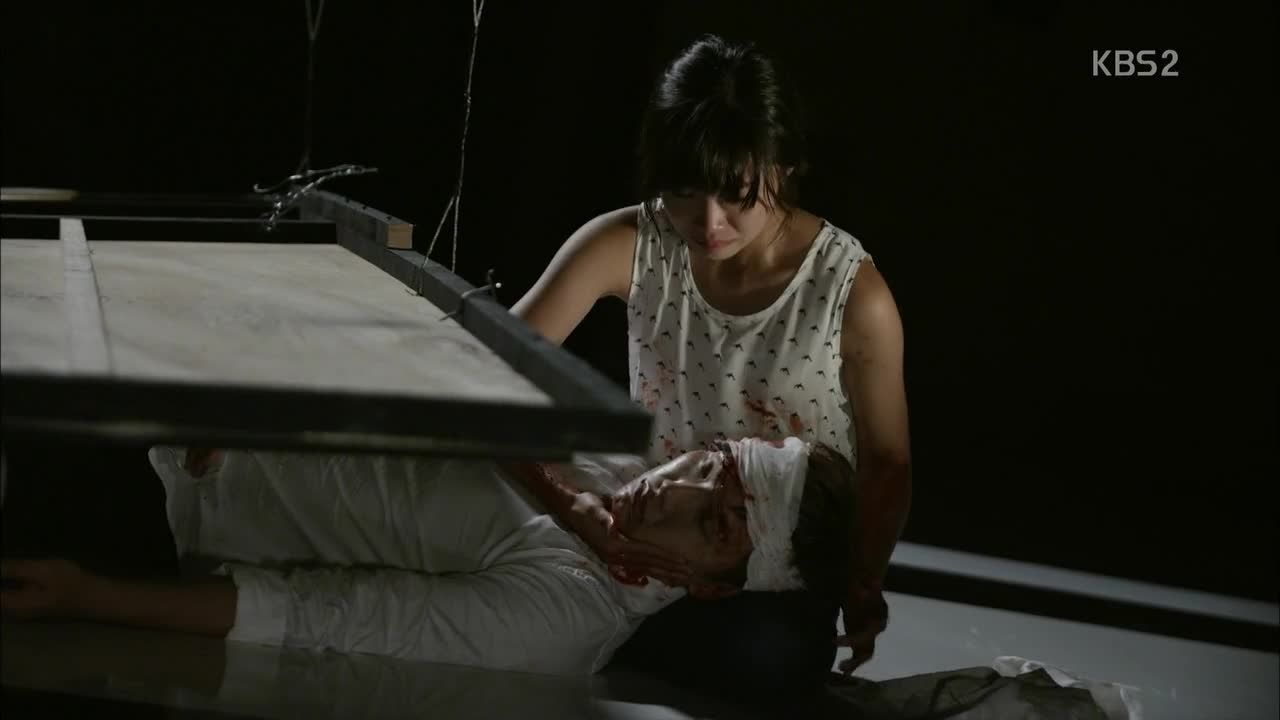 Chun-hee doesn't have her phone to call for emergency help, and so she rushes out of the auditorium as fast as her hurt ankle will let her, begging the use of the phone from a nearby cleaning lady. After Chun-hee leaves, Soo-in hurries over to cry over Joon-hyun, still panicking. A couple stage-hands arrive at that moment and soon the sounds of an ambulance can be heard as Chun-hee limps back to the auditorium.
But the stage-hands refuse her entrance, saying there's been an accident. Joon-hyun is taken to the ambulance as a worried Soo-in runs alongside the gurney, screaming out "Oppa! Please wake up!"
The paramedics assume she's the one who assisted at the scene of the accent (instead of, y'know, being the one who actually caused it), and she gets into the ambulance.
Chun-hee pounds on the closed ambulance doors, screaming to be let in. Soo-in glances her way, but does nothing to stop the ambulance that soon speeds away. She tries to run after the ambulance, but hurt ankle prevents her from running very far, and collapses onto the ground, a bloody mess as she cries her heart out.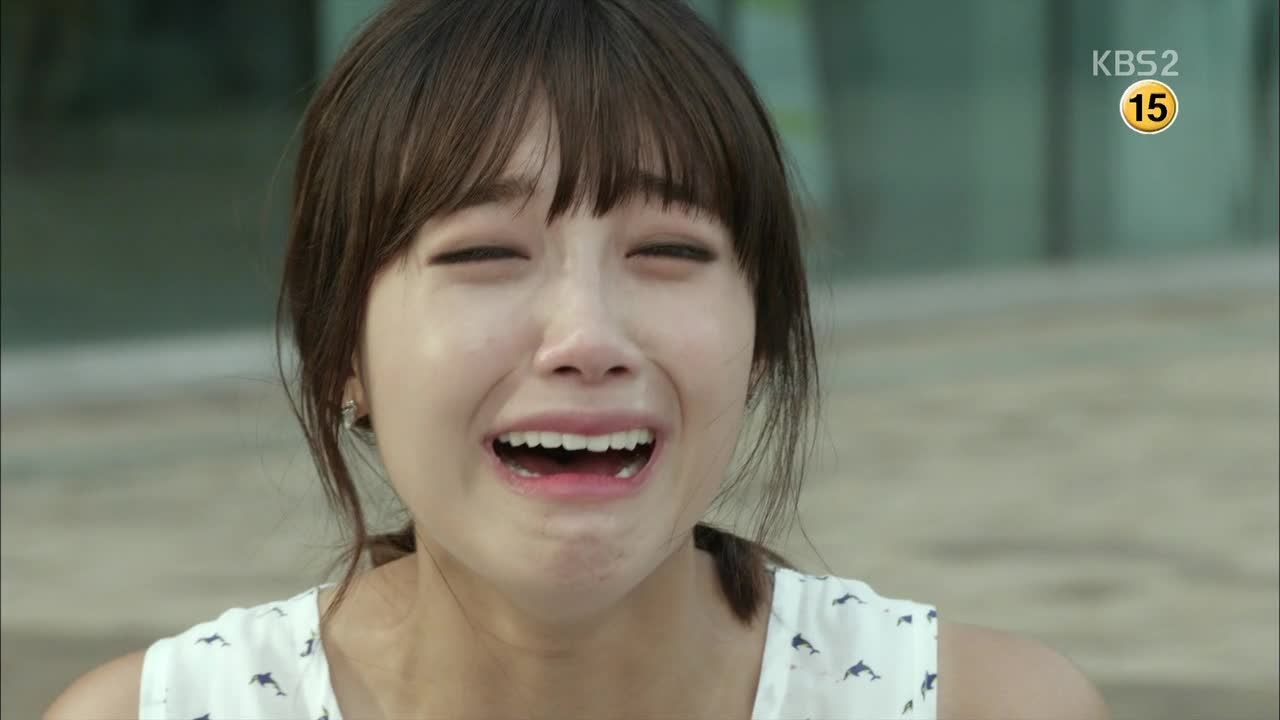 COMMENTS
When I said last week that I was concerned the writers were zooming through the plot so fast we'd be stuck with angsty filler, like birth secrets or cancer, I totally forgot (heh) about amnesia. But that seems to be where we're headed, doesn't it? Head injury = amnesia, according to Dramaland arithmetic.
Up until now, I haven't minded that the plot has been pretty thin, because it's been moving swiftly and has been entertaining enough, and all the characters are delightful. They're the reason I love this show so much — I can handle silly, fluffy rom-com plots so long as everyone is endearing.
But the show took a wild and unexpected turn to the melodramatic, and I just don't know what to think any more. I can't even pretend to care about any of the subplots right now (Chun-hee's father; Yoo-mi and her father; Coach Bang's love-triangle; President Jo and Byul as our adorable Greek chorus), so frustrated with how the last few minutes stripped so much of my squee-worthy joy of everything leading up to it. I mean, I can't even go "OMG, you guys! How cute are Chun-hee and Joon-hyun together?! Their natural and comfortable skinship is so perfect for a couple that is happily dating!" because I'm so annoyed at how the writers have decided to tear them apart.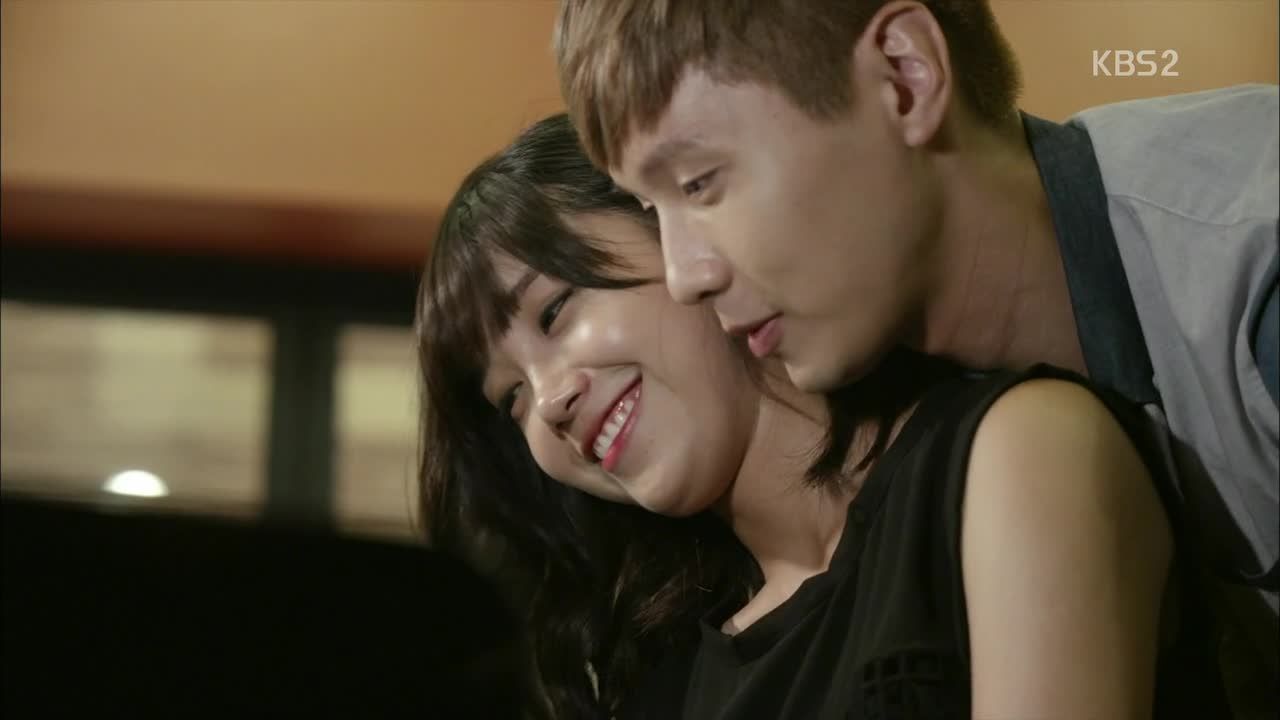 First of all, where the hell was everyone during the "accident?" If they were prepping for her concert that night, I'd expect the auditorium to be buzzing with various technicians and whatever other musicians she has set up to support her (if she has backup singers, I assume she has a band, too). Not to mention Chun-hee's phone mysteriously disappearing. She used it to talk to Joon-hyun, but then has to run out to borrow a phone? I'll be generous and assume it was broken in the fall, or that she was panicking and not thinking clearly.
But why did the stage-hands not understand that her screaming to get into the auditorium was because she had been in that accident, especially since she was distraught, limping, and covered in blood? Or be ignored by the paramedics because clearly she could use medical attention of her own? That felt like such a forced scenario, I can't take it seriously, even in a show filled with forced scenarios.
I'm assuming that Soo-in has gone so far over to the dark side that she was actually attempting to murder Chun-hee. Okay, maybe she just thought Chun-hee would be hurt enough to be unable to perform, but that prop hanging there looked pretty vicious, and if it hit Chun-hee on the head, she'd probably be dead right now. Then again, we have to remember who Soo-in's mother is (and the dormant "we assuming she killed Chun-hee's mother with her car" plot thread), so I suppose it's not too far of a stretch. Sins of the mothers being passed down to their daughters.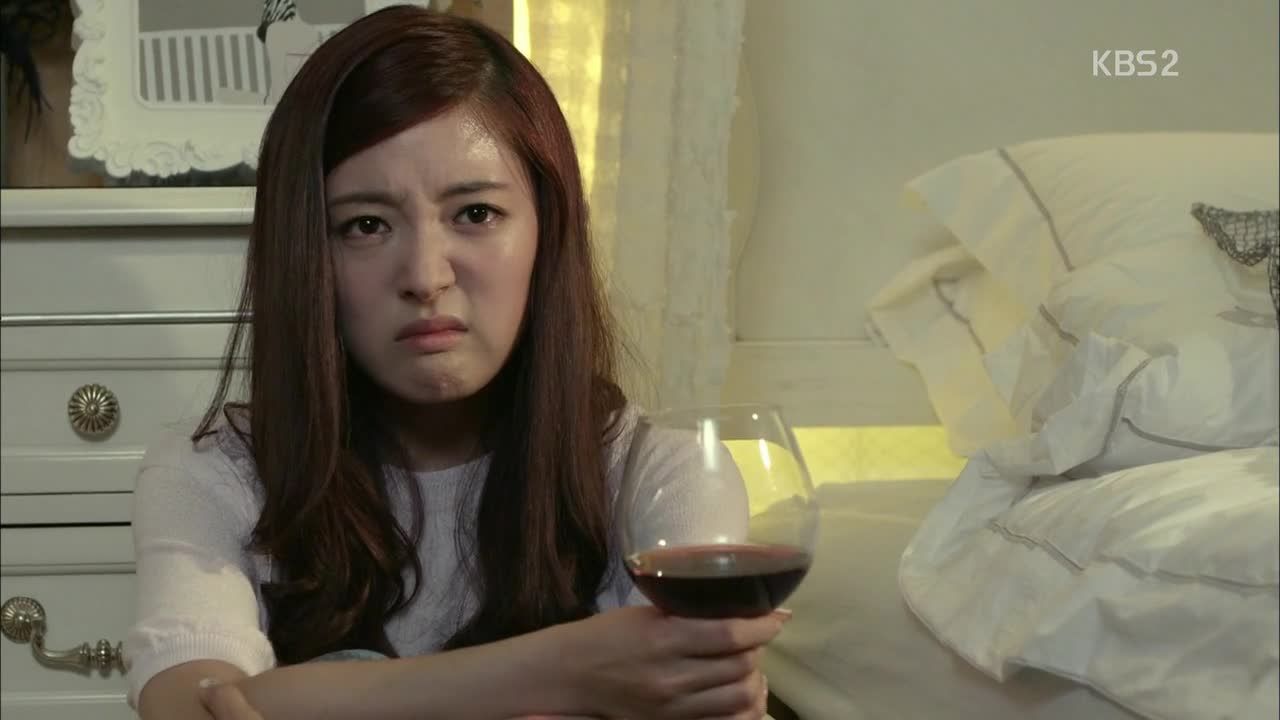 Another reason I'm legitmately angry at how this episode ended is because when we were first introduced to Soo-in, it seemed like there might be some internal conflict there — that she would be struggling with the desire to please her mother by being a singer at all costs, or wanting to play fair by competing with Chun-hee based solely on talent. Or, heck, even deciding that the life her mother has carved out for her isn't the one she wants after all, and since her heart isn't in it anymore, maybe she'll quit performing to go to school and become something wild and crazy like a doctor or lawyer. But apparently not.
This means Soo-in is pretty much unredeemable in my eyes. I'm trying to think of it like Baek-hee in Dream High when she shoves the flower pot off the building, intending to hit Hye-mi, but Sam-dong rushes to save her and he gets hit instead. Which means that Geon-woo must the Jin-gook in this situation, who will rush to comfort Chun-hee and potentially confuse her even more — but noooo, because she's meant to be with Joon-hyun! Now I can't decide if I'd rather Joon-hyun have amnesia or lose his hearing. (And does this make Pil-nyeo and Tae-song the Milky Couple?)
But I almost wish the writers (who, thanks to those last five minutes, I'm officially calling "hacks") would actually go the Dream High route. I think I could bear it since I know the characters will be redeemed and have a happy(ish) ending. I've long thought of Soo-in as Baek-hee — someone who works very hard to succeed but doesn't necessarily have the wow-factor talent, so is stuck trying to manipulate the path to stardom so she doesn't get chewed up and spat out. Also, Baek-hee had an interesting character arc — she didn't remain a one-dimensional villain, which is sadly what Soo-in seems to be turning into.
My love of watching characters grow and change, and having already seen that happen with Joon-hyun, is why I'm hoping so desperately that the show will prove me wrong, somehow — that it won't get bogged down with a ridiculous amnesia plot, and have Chun-hee be a heartbroken Noble Idiot, sacrificing Joon-hyun just to avoid a scandal. Because that's not the girl we've known the past ten episodes (and very clearly not the girl we've known just in this episode, who was all "No, but seriously — why can't we live together now?").
On the bright side, one of the more positive aspects of this show has been the fact it hasn't lingered on any plot thread too long — it's usually resolved in the next episode, if not the same episode. So fingers crossed for whatever happens next week will be cleared up quickly so that we can have the cute back ASAP.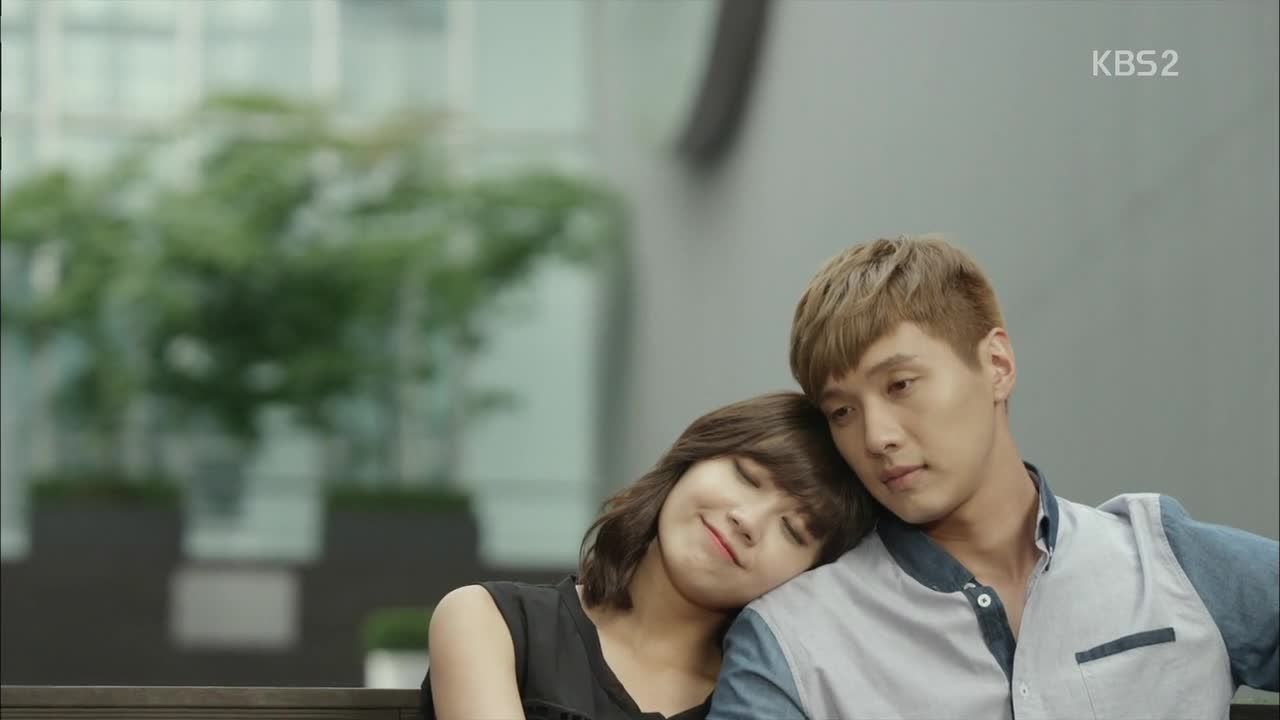 RELATED POSTS
Tags: featured, Ji Hyun-woo, Jung Eun-ji, Trot Lovers