Go Kyung-pyo joins Nodame Cantabile remake as rocker violinist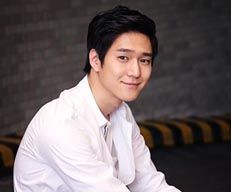 Aside from that blip that we shall not speak of, I'm feeling pretty good about the casting for the Nodame Cantabile remake, which is tapping rising actor Go Kyung-pyo to play the Mine character. (They are reportedly in final negotiations.) Ha, this should be great.
The drama had taken on the working title Cantabile Romance but seems to have shuffled back on over to the original title. Something tells me this may go back and forth a while! In any case, the role is of a violinist who joins the orchestra that gets directed by our hero and the eccentric conductor. Mine was a popular character in the original and had broad comic appeal as the violinist who thinks he's pretty great but maybe lacks the discipline to make the most of his talent.
Go Kyung-pyo is still in supporting lead territory but this should be a nicely high-profile role for him; good for him for movin' on up. I can totally see him in the role of the guy who simultaneously admires our hero, envies his talent, and maybe also hates him for being so perfect all the time, damn him. I look forward to see his dynamic with Joo-won, for sure.
Go Kyung-pyo burst onto the scene a few years ago—his debut was in Jungle Fish 2 in 2010, but I recall it was his spot as a cast member of SNL Korea that gave him that first bump—and has been working steadily ever since. Projects include Flower Boy Next Door, Potato Star 2013QR3, High Heel, and most recently action-epic sageuk Roaring Currents. He's got pretty wide range but I think he's got a particular knack for comedy, and he always seems so game to put himself out there and be ridiculous for the laugh.
In addition to Joo-won, Nodame Cantabile has cast Shim Eun-kyung as the quirky heroine, Baek Yoon-shik as the pervy conductor, and Do-hee as a supporting member of the orchestra. (I'm guessing the role of Masumi the timpanist will be next to be cast.) The drama will follow Discovery of Affection (which follows Trot Lovers) and premieres in October.
Via IS Plus
RELATED POSTS
Tags: Go Kyung-pyo, Nodame Cantabile