High School King of Savvy: Episode 17 (Final)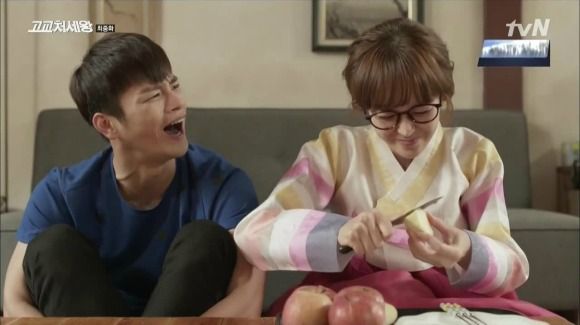 We're here! The final installment of our zippy double-life workplace romance gives us mostly plot to get us through the last leg, but it doesn't discount the cute or the heart. Just when we start to question the validity of the choices made, we're reminded of the true reason why we stuck with Savvy in the first place. It's the characters and the authentic way that they made us care, love, laugh, and cry with them. And I'm happy to say that we're given just what we needed to wrap up such a ridiculously fun and heartwarming story.

FINAL EPISODE RECAP
After the fight, Soo-young repeatedly checks her phone, waiting for Min-seok's call. Yoo-ah notices and tells her sister to clear the air – she's probably in the wrong because Min-seok isn't one to get mad often. Taking the blame, Soo-young nods but sighs in frustration because it's a little more complex in her mind.
Min-seok receives the call from Soo-young but ignores it. Dad asks why he isn't picking up, and Min-seok replies that it's not an important call. Mm-hmm.
The next morning, Min-seok and his friends eat at Tae-seok's Chinese restaurant, which is notably empty. Min-seok wonders how this restaurant is still in business, as there are rarely ever customers. Tae-seok nonchalantly explains that his dad has a building in Gangnam or something, but Min-seok and Duk-hwan gasp at this revelation that their friend is rich.
The conversation transitions to Yoo-ah's situation. Tae-seok explains that Yoo-ah's mother recently closed her bungee jumping facility but has accumulated a large debt. As a result, Soo-young is taking out her down payment on her house to repay some of the debt. And Soo-young wasn't able to attend Dad's birthday dinner because her mother had caused a scene asking family for money. This is news to Min-seok, and he drops his head in solemn realization.
Min-seok offers to treat Soo-young out to dinner, and she settles for some expensive naengmyeon – well, expensive compared to their usual ddukbokki. Soo-young acts happy, but there's still some tension as we see Min-seok forcing a smile throughout the meal. Afterwards, they walk the night streets with ice cream. Soo-young tries to lighten the mood, but Min-seok suddenly stops and addresses her in a more serious tone. He wants to go to Germany to live with his brother and Dad.
Soo-young asks what she should do… wait? But Min-seok goes on about how he heard about her situation and why she was absent for Dad's birthday. "I never once thought that I was younger than you, but embarrassingly enough, I realized that I am younger. I'm eighteen. I'm selfish. School's not that easy, and I don't know what I'm doing for my future. The way I am now, I have nothing to offer. I can't stand the person I am right now. I'm sorry." With that, he asks for one last chance for skinship and kisses her on the forehead as a farewell gesture.
Min-seok walks away in tears, but he's stopped by Soo-young, who asks him not to go. Not telling him about the bungee jump situation is her fault. "Even if you don't do anything, having you by my side gives me strength. If the problem is school, I can help you. If it's about your father being lonely, I'll be your family. Let's… let's get married!"
Min-seok replies with a big "Huh?!" (exactly my response) and asks if she remembers that he's a high-schooler. Soo-young nods and explains that she can't think of any other option at this point. After a moment of ice cream eating silence, Min-seok agrees to her proposal and pulls her into a hug. They're getting married.
When Soo-young returns home, her mother has some good news. The person acquiring the bungee jumping facility is buying it at a premium, and her mother was offered a job by her friend. With all this good news, Soo-young mentions that she should just get married. As a passing comment, Soo-young asks her mother what she thinks about younger men. Her mother immediately rejects the idea, reasoning that Soo-young needs someone older to take care of her clumsiness. Well, it's a little too late now…
Min-seok tries to convince Dad, who rejects the idea as well. But Min-seok's not giving up and throws a fit, asking Dad to meet Soo-young in person.
The next day at work, Sang-hee looks for Soo-young and happens to see the text on her phone from Min-seok: "The more I think about it, the more it seems like a dream… us getting married." She jumps back in shock and looks to Soo-young for confirmation. She's speechless, and the whole team seems understandably surprised.
Soo-young's called into Team Leader Kim's office (now Director Kim), and he starts to warn her about what she's getting herself into. He realizes that she really does love him, so he changes his approach and so does the music. Taking the role of Min-seok's guardian, Team Leader Kim tells her to love and understand him, even if he watches a lot of porn. He also really likes hamburgers and cola, so don't get mad at him for eating too much fast food. Haha.
Soo-young asks him to scale down some of the affection since Min-seok is her man and walks out while Team Leader Kim still looks sad to see his baby bird fly away.
Next up to warn Soo-young are Sang-hee and Yoon-ju. They tell her to rethink the marriage. She's marrying a kid in high school. Sang-hee tells her that marriage is three months of love, three years of fighting, and thirty years of patience. Marriage is not love, but a reality. Yoon-ju adds that if she marries, Soo-young becomes a guardian, not a wife. Oof. Soo-young imagines the scenario: going to a parent-teacher conference because of a fight. Except she's addressed as Min-seok's wife, not mother. Double oof.
Yoon-ju continues on with another point. Even if Min-seok does reach legal age, both Soo-young and Min-seok will age. Soo-young will be having a child in her thirties, and Min-seok will be in his early hot-blooded twenties. She begins to imagine another scenario, in which she's taking care of her baby while Min-seok parties it up at the club.
Soo-young shakes herself back to reality and argues that Min-seok's not that kind of person. Her coworkers shake their heads and tell her to think it through. Yoon-ju mentions that it may be better for Min-seok to go to Germany and figure out his life there. There are more opportunities and maybe that's what's best for him.
The last point echoes in Soo-young's head as she waits to meet up with Min-seok. When he arrives, he seems super giddy about the whole marriage. But Soo-young grounds him as she voices her conflict. She doesn't know if marriage is ideal at this point, as Min-seok could grow and find other opportunities abroad in Germany. Min-seok's face falls, but he seems to understand her dilemma.
Soo-young drowns her uneasiness with some soju and heads back home. Her route is intercepted by Min-seok, who's holding huge bag of popcorn.
Offering it to her, he says, "I can't get you a ring, but I can get you what you like most. I've thought about what you said, and you're right. I could do better things in Germany, and I could regret it if I married you now. But no matter what, I want to be with you. I don't know if this is the right answer, but I want to be with Jung Soo-young until the very end."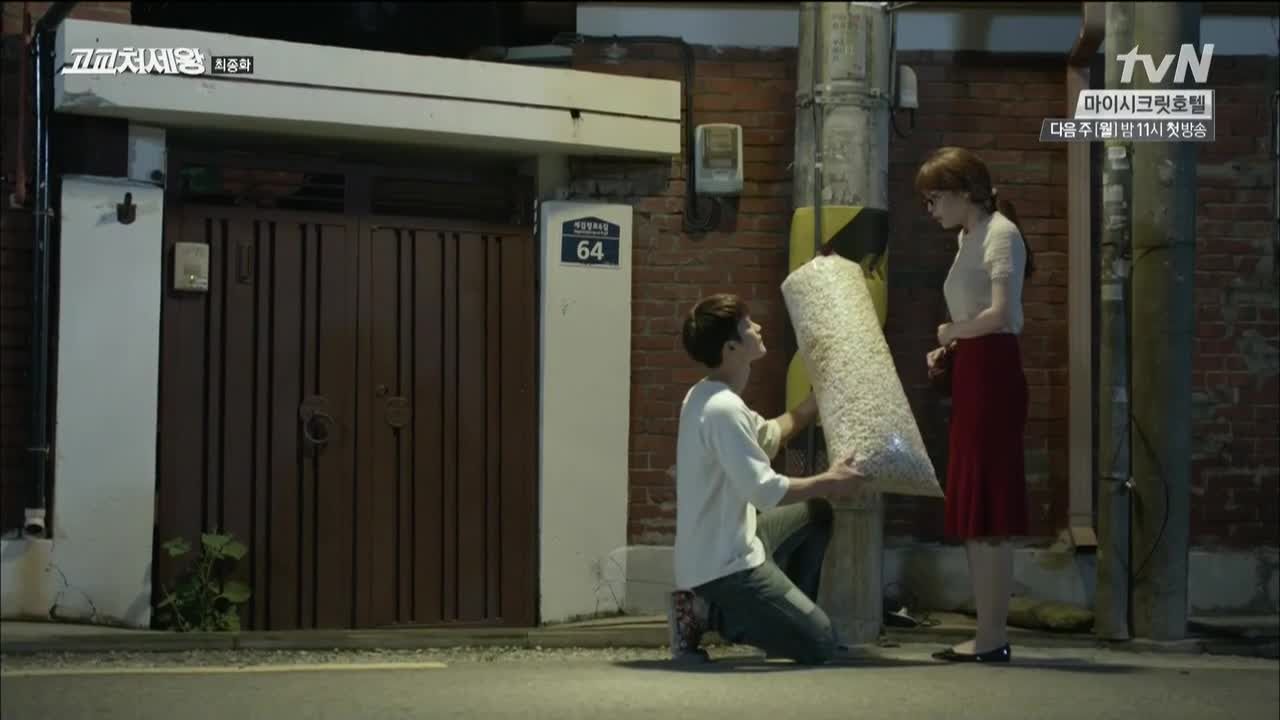 Min-seok gets down on one knee, offers the popcorn bag to Soo-young, and proposes. Just as he starts to doubt she'll say yes, Soo-young accepts the bag and his proposal. She apologizes for giving him doubts, and he thanks her for saying yes.
Min-seok pulls her into a hug with the popcorn bag in between them. Then he leans in for a kiss, and the smoochies continue with the popcorn bag between them. It's cute and sweet, exactly like our couple.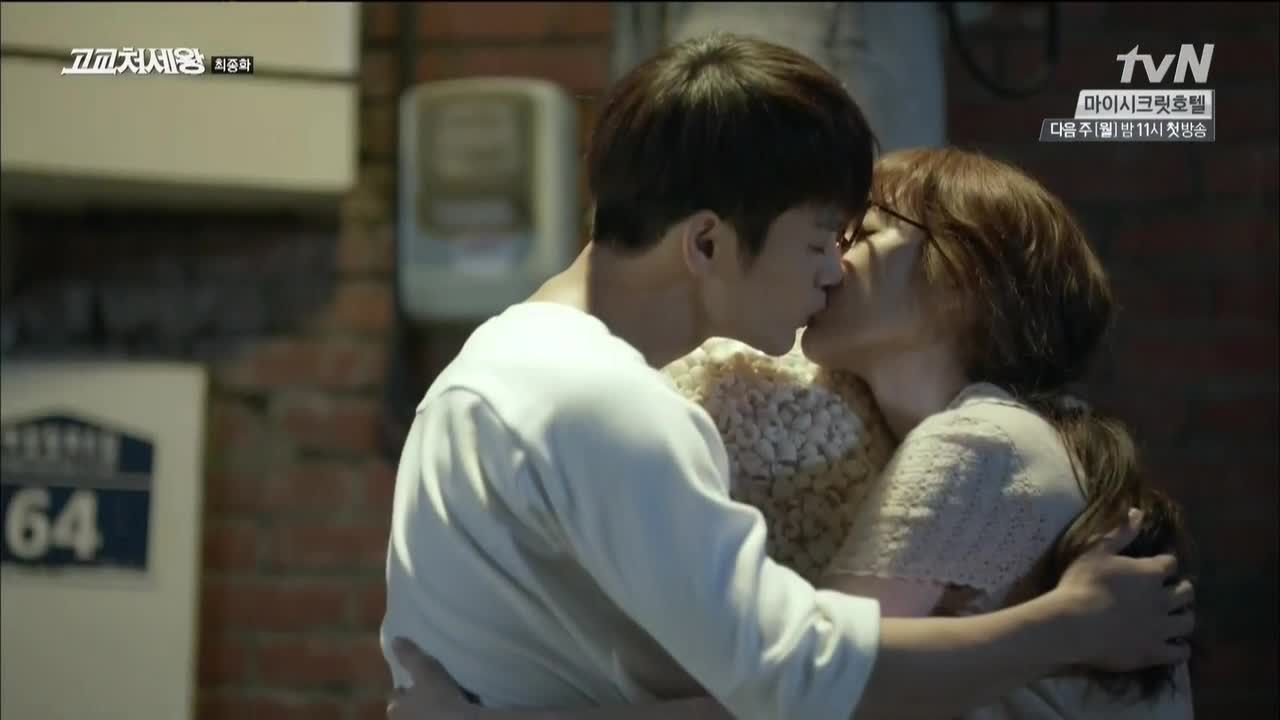 Dressed in hanbok, Soo-young goes to meet Dad. She puts her best foot forward and cuts the apples (badly) with special rabbit ears, but that doesn't mitigate Dad's shock when he finds out that Soo-young is ten years older. Min-seok doesn't help much either, looking ecstatic just being there.
Afterwards, Min-seok and Soo-young meet up with Tae-seok and Duk-hwan to brainstorm ways to convince Soo-young's mother. Tae-seok admits that he wouldn't approve of this marriage himself but comes up with the genius idea to fool Soo-young's mother. Just pretend you're still the Chief Director! Duk-hwan praises him for having a tiny piece of a brain for once, but Min-seok scolds them, saying that he can't commit fraud, especially with Soo-young's mother.
Soo-young steps away for a moment, and Min-seok's friends take the chance to pull his hair out of jealousy. With all the "bbuing bbuing" and "bbonga bbonga" that Min-seok gets to do with marriage, Tae-seok jokes that Min-seok's going to have to get on that exercise grind.
Min-seok walks Soo-young home and assures her that he'll be able to convince her mother to accept their marriage. He pumps out his chest with bravado, stating that he used to be ice hockey superstar Lee Min-seok. Their conversation is interrupted by Soo-young's mother, who catches them red-handed. She addresses Min-seok as Chief Director and invites him inside.
Yoo-ah watches the whole scene with a smirk, as Min-seok goes along with his role-play. Soo-young's mother sits down to ask Min-seok if he's thinking of marriage, and he confidently states yes. Mom is overjoyed at his reply and starts to plan out the couple's future. Meanwhile, Yoo-ah sits in the back giving them disapproving looks.
At school the next morning, Yoo-ah describes the situation to Duk-hwan and Tae-seok. They criticize Min-seok for going along with this fraud even though he refused to go to these extremes. The trio is interrupted by a smitten girl who offers chocolate to Tae-seok. She runs off in embarrassment, and Duk-hwan explains that the girl's been stalking Tae-seok lately.
Yoo-ah tells him to date the girl, but Tae-seok asks Yoo-ah if it's okay for him to date her. Yoo-ah gives him a very nonchalant approval, so he agrees to do so. But as Yoo-ah walks to class, she stops in realization. She bursts into the classroom and digs the chocolate out of Tae-seok's pocket, warning him not to take anything from other girls.
She leaves the boys in confusion, but Duk-hwan notes that this seems like a confession. Tae-seok breaks into a smile while Duk-hwan throws a fit in lonely misery. One friend is getting married, and another just scored a girlfriend. He tries to ask a classmate out, but he's immediately shut down. Aw, poor Duk-hwan.
At the office, the retail team practices their wedding congratulatory song ("Magic Castle"). Yoon-ju complains about the song choice, while Dae-han argues that this is the best song for the wedding. Assistant Park notes that this is the twelfth time the two have broken up, so he continues practicing with Sang-hee.
Soo-young enters the office and thanks the team for putting in the effort. Yoon-ju and Sang-hee commend her for her courage and show their support for her marriage.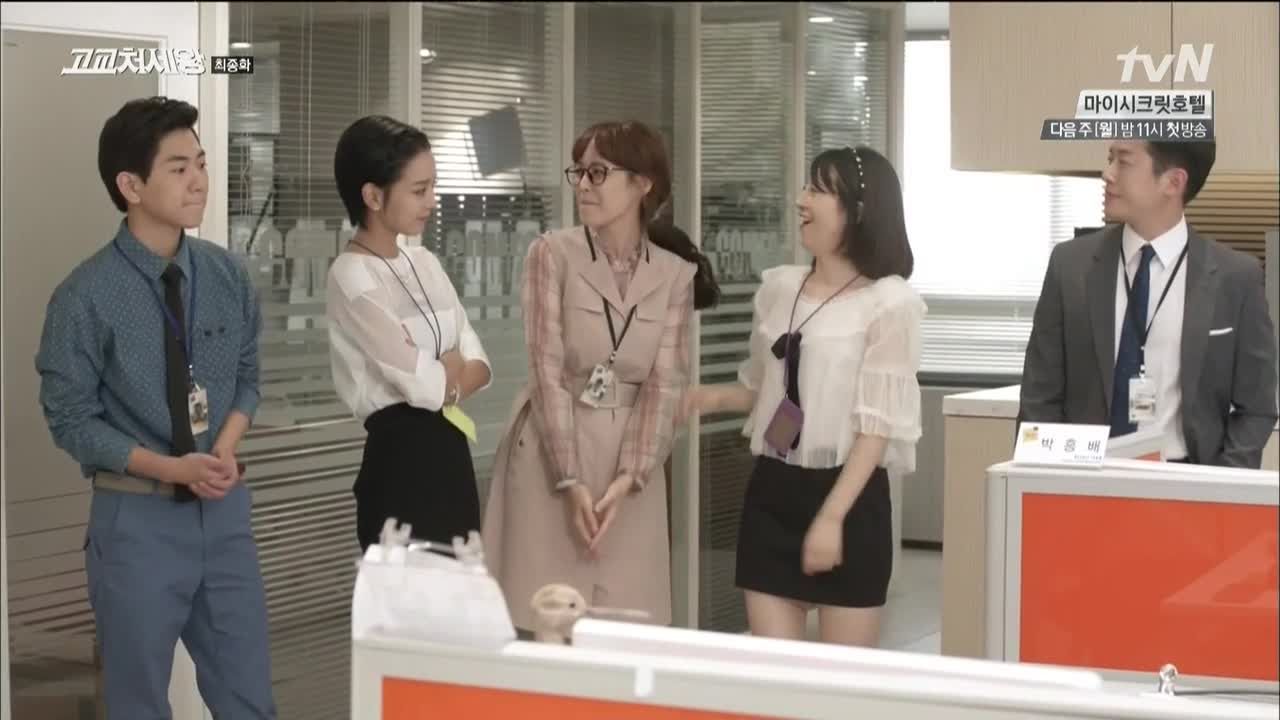 She gets a call from Min-seok, who's walking through the hallways. Soo-young's mother also arrives at school to meet Yoo-ah's teacher. When Min-seok walks outside, he unknowingly greets her, only to reach the realization right after. Soo-young's mother turns to see the high schoolers: Min-seok, Yoo-ah, Duk-hwan, and Tae-seok. Mirroring Soo-young' reveal, her mother drops her boxed drinks as it dawns on her that Min-seok is a mere high school student.
When Soo-young's mother returns home, she packs her bags. Soo-young and Min-seok apologize on their knees, but she's not having it. She's already cancelled all the wedding arrangements, and there's no way she's going to approve.
Min-seok tries to meet Soo-young's mother, waiting with flowers outside her home, but she throws them and a delivered fruit basket on the ground. Even when rain starts to pour down, Min-seok waits outside on his knees. He comes back again and again, and she rejects him every time.
Soo-young finally comes to retrieve Min-seok and tells him that her mother is too much. She calls her mother, determined to speak her mind. Just as she's about to set things straight, her mother tells her that she's in Seoul.
The couple heads back to Seoul, where Soo-young's mother gives them a curt approval. She says that they'd better decide before she changes her mind, so both Soo-young and Min-seok blurt that they're going to get married.
Yoo-ah watches everything with a smile but can't seem to hide her surprise. She follows her mother into the room and asks her what changed her mind. Soo-young's mother reveals that Tae-seok, Duk-hwan, and Dad have been calling nonstop with their testimonies, and even Team Leader Kim delivered a fruit basket. Seeing that Min-seok was able to form a loyal circle of friends and a support team at such a young age, she was able to change her mind.
Plus, when Min-seok was playing the Chief Director role, he rehired Soo-young so that she could have a stable position in the company. Even when Min-seok was playing the role, Soo-young's mother thought about how nice he would be as her son-in-law. Yoo-ah gives her mother a hug and jokes that she should find a young man for herself.
Next thing we know, we're at the wedding. It's being held at none other than the community park, on the large field where drunk times and rehab exercises have happened (which sounds really wrong out of context, but it's true). The guests are a hodgepodge of high-end executives and high-schoolers: the hockey teammates, Director Han and Director Nam, the retail team, and even Jin-woo.
The wedding is about to start, but the couple is nowhere in sight. Team Leader Kim frets about our missing couple while buffing his face with makeup, and Yoo-ah tries to get in contact with them. Team Leader Kim begins to ask the guests for their patience just as Min-seok and Soo-young arrive.
They stumble into the field and explain their delay as ring complications. They also tell Team Leader Kim to rush the wedding ceremony since they need to catch their train in ten minutes. HA. As usual, Team Leader Kim looks like he's going to cry but goes along with the new plan.
The bride and groom speed walk down the aisle with the music in fast-forward to match their pace. They skip over everything, and it's hilarious to see the parents stand up only to sit right back down and the retail team to passionately sing only three seconds of their whole song. Team Leader Kim tells the audience to pretend that everything – addressing the parents, the quick celebratory song – has happened and asks Director Han to officiate the wedding.
He speaks at a normal pace, but that's too slow for this high-speed wedding and Team Leader Kim tells him to cut to the chase. Min-seok and Soo-young quickly reply, agreeing to love each other forever, and finish off it off with a peck. With that, the newly married couple walks back down the aisle to more fast-forward wedding music.
Jin-woo watches from the back and comments on how this wedding is so fitting for this couple. Bwahaha, I could not agree more.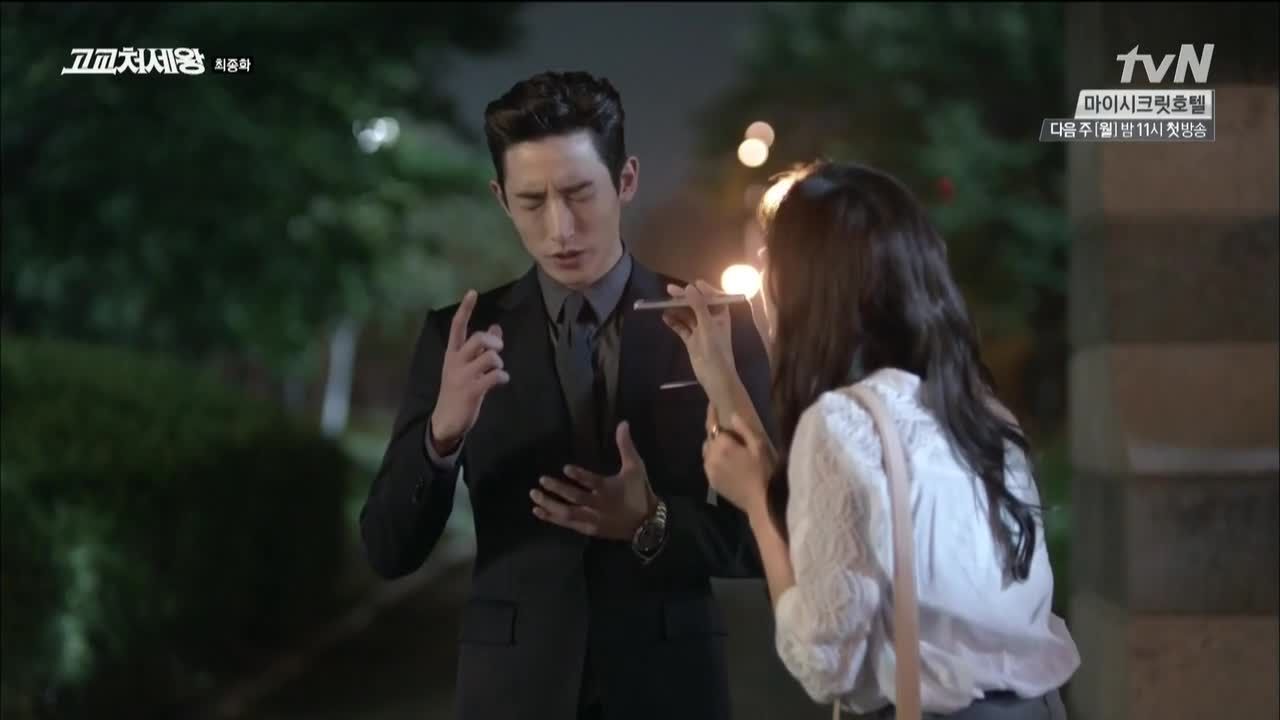 He walks back to his car, only to find a random girl arguing with her ex on the phone. The argument gets heated, and the girl ends up asking Jin-woo to act as her boyfriend. Although he seems hesitant, he agrees and cringes as he speaks to the ex, warning him to stay away. The girl (cameo by Lee Chung-ah) thanks him and asks him for one more favor while he's at it: take her to the nearby subway station.
She thanks him one more time at the station, and he drives off. A phone rings, and Jin-woo finds that the girl left her phone in the car. He picks it up, and she tells him that she left her phone in his car on purpose and asks him on a date. Aww, Jin-woo's found himself some company.
Back at the fast-forward wedding, Min-seok and Soo-young prepare to take off for their honeymoon. Team Leader Kim wrestles Director Han out of the car while the guests send their congratulations to the newly married couple. Soo-young throws her bouquet, which ends up in the hands of Dae-han. He hands it to Yoon-ju, and it seems that their fight is over. We see another workplace couple – Assistant Park and Sang-hee – who talk about the destination of the honeymoon: Namiseom. Heh.
Three years later. Our lovely couple has a family… of small baby moss plants. The alarm goes off in the morning, and both Min-seok and Soo-young wait until the very last minute to turn it off. Soo-young realizes they're late, but Min-seok looks too content in bed.
But they are indeed late. Min-seok and Soo-young run around the house putting on clothes. Just like their wedding, their life seems to be in fast-forward. Soo-young gives her moss plants a quick spray, wishes Min-seok good luck on his presentation, gives him some leftovers, and with a quick peck, they're both off.
Duk-hwan and Tae-seok laze around on a college campus, and Min-seok interrupts their relaxation with a critical lecture about their hockey game. Tae-seok asks about the PT competition, and Duk-hwan adds something about a lantern. Min-seok yells at them, saying that it's an intern position not a lantern.
To top things off, Tae-seok gets up and starts doing warm-up exercises, asking if it's that PT (the same mistake Min-seok made previously). Calling Tae-seok an idiot, Min-seok leaves for his competition. Haha, it's nice to see they haven't changed.
Min-seok delivers a dynamic presentation about a sports complex, and as expected, he excels. He's engaging, entertaining, and full of energy. Soo-young gets a call from Min-seok, who tells her that he got first place. The whole retail team celebrates this news, and Team Leader Kim tears up in happiness.
On the walk home, Min-seok asks Soo-young for a special dinner. She tells him that she'll make him his favorite seaweed dish… again. She compliments Min-seok, saying that he's kind of the best. Min-seok takes the compliment and elaborates with some self-boasting. He's handsome, skilled, and young. He also compliments Soo-young, who has a lot of age. She's old, she's old, and she's old. Way to rub it in, young one.
Soo-young walks off, slightly irritated, but Min-seok assures her that he's crazy about her. Every day when he wakes up, he falls for her again. She claims that she's still unsure, so Min-seok plants a couple kisses on her cheeks and forehead. Soo-young complains, wondering how long he's going settle for these measly pecks. Ohhh, you want more, eh?
Min-seok turn to address her, "Popcorn sister, my popcorn (mine), my wife… thank you very kamsa for marrying me." And with that, he swoops in for a real kiss, in the exact place where they shared their first kiss.
A montage showing our couple's progression passes by as Soo-young narrates her final thoughts:
Soo-young: It could be that fate doesn't come to those who sit around and wait for it. Real fate comes when you discover it, when you take the courage to choose it; then it comes to you as a gift. So with the person I've chosen as my fate, I'm loving with all my heart and I'm living my life to the fullest as the cool and confident modern woman, Jung Soo-young.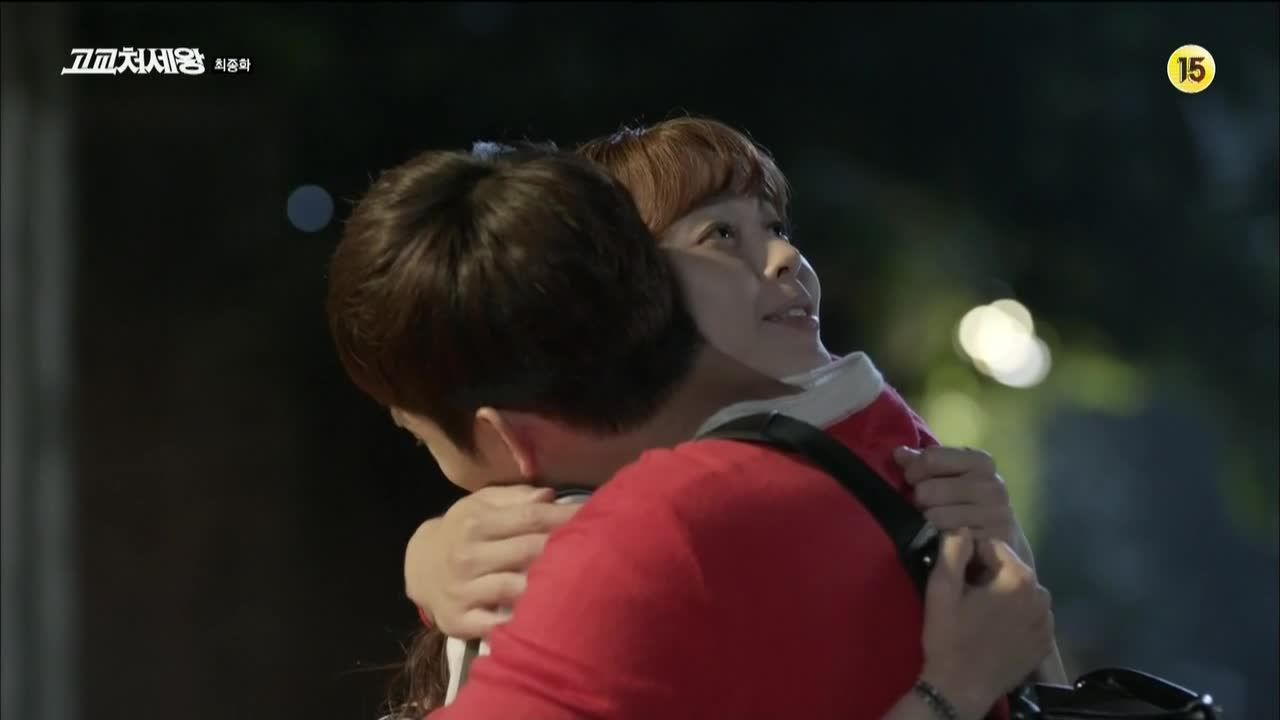 COMMENTS
D'awww. This drama just warmed my heart. I love how it started off as more of a Min-seok drama and then developed a greater focus on Soo-young. And that process of changing focus was smooth and gradual, reflecting Min-seok's growing love and attention towards Soo-young. Of course, everyone had a chance to grow and develop throughout the drama, but I would have to argue that Soo-young's growth had the fullest arc. But Soo-young didn't drastically change who she really was; rather, she found the potential that was already there and opened it up for the world to see. Min-seok didn't change our ditzy Soo-young; he just brought out the best of her. Now that's the kind of relationship I want to see.
This whole episode was all kinds of funny and cute, and I thank the drama gods for giving us such a treat. The kisses, the popcorn proposal, Yoo-ah's brusque confession, Jin-woo's new date, the retail team's singing… but I don't think anything can beat the wedding. Holy moly, I was DYING. It literally felt like watching a wedding while pressing the fast-forward button, and all the small details made it such a memorable scene. That wedding will probably last as one of my favorite scenes because it was just pure hilarity. In fact, I might just go watch that again after I finish this recap. Hehe.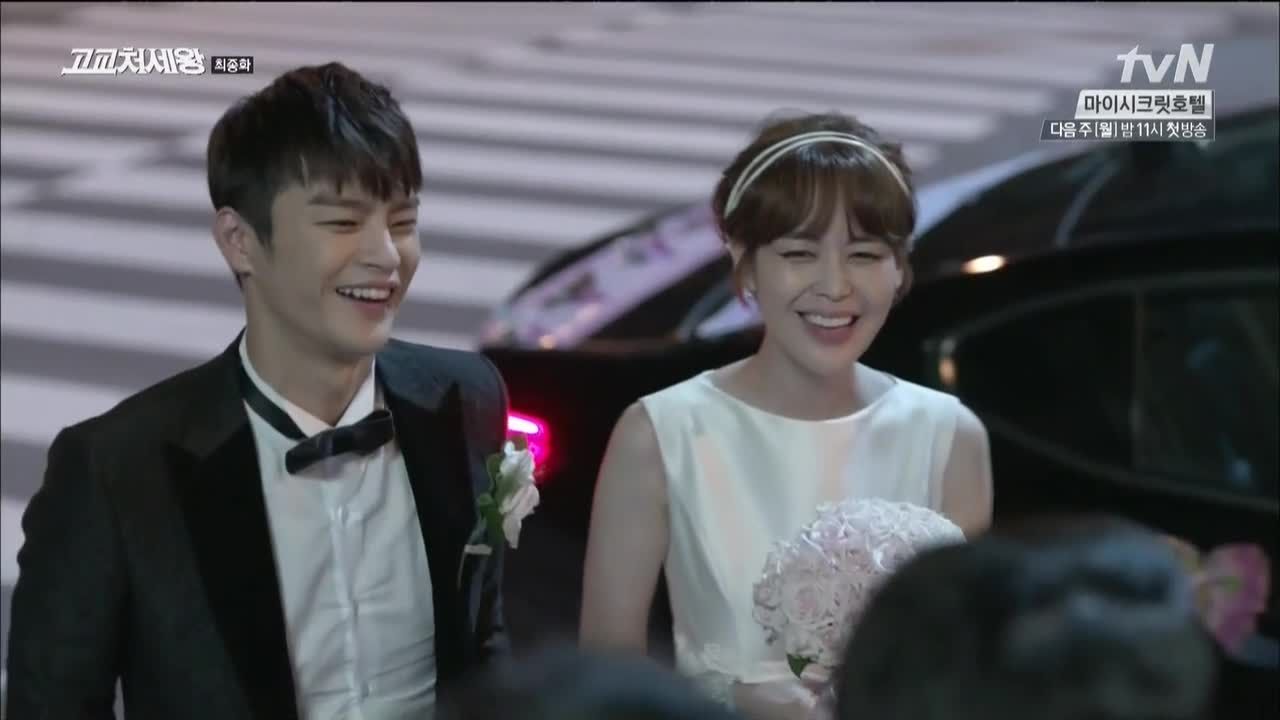 The last minute complications and relationship struggles were a bit nerve-wracking, but I can see that they were necessary. Soo-young made standards for Min-seok based on her own subjective opinion, and although it was to respect his age, it showed that the levels of trust and understanding were proportionally off. She tried to be so understanding of his age that she overlooked the trust factor. It's the lack of trust that brewed conflict, but conflict was necessary to reaffirm what the relationship meant to both sides.
But reaffirming the relationship through marriage? To be honest, I was shaking my head… marriage is seriously the most unrealistic solution at this point. There were a million things going through my mind about how uncomfortable I felt about this: It really won't turn out well if Soo-young and Min-seok continue to dream in their own little world because their little world is the most unrealistic place I've ever stepped foot in. I guess with an unrealistic world in an unrealistic drama, you gotta drop the realism and enjoy the cute.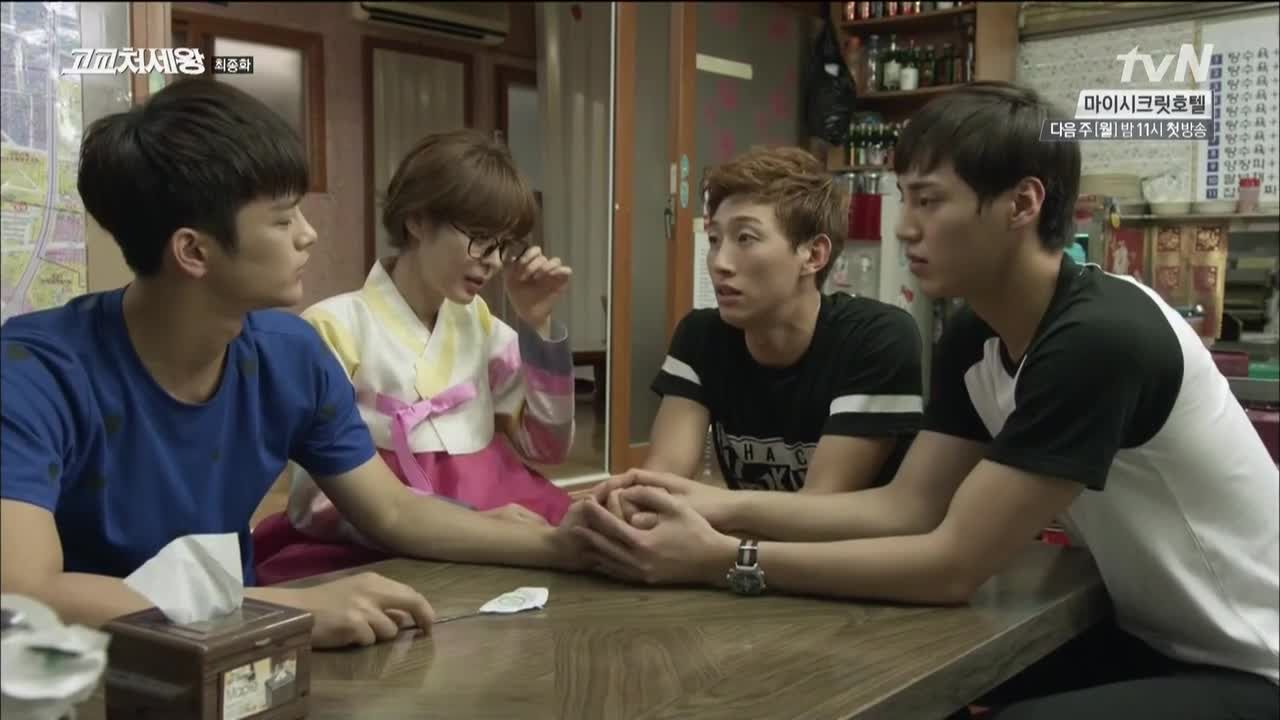 But my initial feelings settled as I realized that everything was coming back around full circle. The loyalty in Min-seok that we first fall in love with comes back around when he needs it the most. And the marriage symbolized that to some extent. While the unrealistic factor was still clearly there, I'm totally okay with it because Min-seok and Soo-young deserved it.
Like Soo-young's mother said, Min-seok had created such a tight-knit group of friends and allies because of who he was, and that's no small feat. In the end, I don't think the drama was a matter of true love or overcoming age gaps or any other barriers. It was about being fiercely loyal, unapologetically passionate, and embracing the vulnerabilities because someone's always got your back.
Also, a shout-out to the writers, who've done a great job with this drama. Their comedic timing and placement of poignant moments was on point, and I applaud them for making me feel all the feels without sacrificing any significant plot lines. Although I didn't agree with the direction of the ending at first, I commend them for pushing through the initial uncomfortable nature of the pairing and proving me wrong. As with most dramas, the writers had the easier option of sending our character abroad. Min-seok could have been sent to Germany to spend a few years maturing, becoming an adult, and finding some sort of success. But Min-seok follows his heart and decides what's best for him, creating his own fate and deciding his own future.
There are so many things I will miss from this drama. The great ensemble, all the lovable characters, the workplace dynamic, Team Leader Kim's verge of crying face, the Spam PPL, Jin-woo's abs, Gramps… the charms in this drama were endless, and of course, I especially loved the performances by Seo In-guk and Lee Hana. They had a wonderful chemistry, and they brought out each other's charms and fed off of each other to create such an oddly perfect couple. They were loving, vulnerable, supportive, brave, loyal, and if anything, they were generous. So here's one more for y'all.

RELATED POSTS
Tags: featured, High School King of Savvy, Lee Hana, Lee Soo-hyuk, Seo In-gook