Joseon Gunman: Episode 17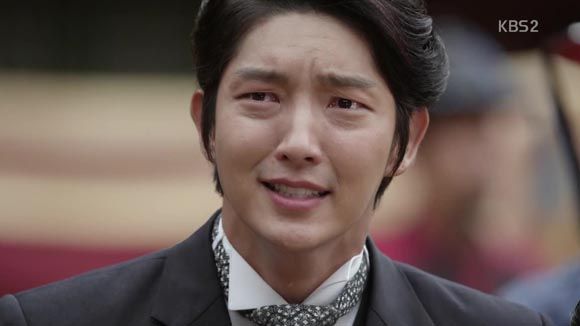 There's a Korean saying that suits practically every hero and heroine known to dramaland, which is mountain after mountain. As in, you exert all this energy into climbing one huge mountain of pain and effort, only to find at its peak that there's a whole freaking other mountain hiding behind it. And before you collapse in defeat, you just have to keep going, else you'll just die on that cold summit like fate's patsy, and we can't have that, can we? (The adage doesn't explicitly state all that, but obviously it's implied.)
For better or worse, that is Yoon-kang's fate—in the series as a whole and in this episode specifically—as he is able to find some measure of closure on one front… and yet, the fight is far from done, because there are more baddies to take down, more injustices to correct. What's a hero got to do to around here to earn himself a little peace and quiet and happy romantic times with his honey?
(Is a rhetorical question, naturally, as the real answer is: five more episodes.)
SONG OF THE DAY
Ra.D – "그렇게" (Like that) [ Download ]
Audio clip: Adobe Flash Player (version 9 or above) is required to play this audio clip. Download the latest version here. You also need to have JavaScript enabled in your browser.

EPISODE 17 RECAP
Yoon-kang infiltrates Lord Choi's home and holds him at gunpoint. Lord Choi switches to bargaining mode, asking for his life and pointing out that he has the power to give Yoon-kang whatever he wants in return.
Yoon-kang growls, "Don't fool yourself. You're already finished." If this military coup fails, Lord Kim will die by the law, and if it succeeds, he will die at Yoon-kang's hand.
At the home where the queen has taken temporary shelter, Soo-in and Ho-kyung are the first to be confronted with armed intruders: Choi Won-shin leads a team of gunmen in, and they raise their weapons. But before they can shoot, a woman's voice commands, "Stop!"
It's Hye-won, leading a small army of armed men. Choi Won-shin immediately retreats, and she orders her men to capture the gunmen.
Then she presents herself to the queen, announcing that she is here to serve her. Both Soo-in and the queen are skeptical, knowing of her father's allegiance to Lord Kim, but Hye-won states that her father was found innocent of any accusations and is in fact nearby to aid in the queen's protection.
Aha, clever Hye-won. She says that her father will be capturing those gunmen sent by Lord Kim, and Soo-in, who knows the truth, gapes in shock.
In the woods, Choi Won-shin and his men corner a quartet of peasants, who beg for their lives and have no idea why they're being chased. Choi gives the order, and they are shot to death. What are you up to?
Then he has those four bodies taken back, where he presents them as the captured gunmen. Ahhhhh. Evil bastard. Soo-in tenses up fearfully, but she's the only one who knows this is an act, and Choi is acting his part fully, assuring everyone that they are safe now, with him here to protect them.
Minister Kim claims credit for this plan, telling the king that he ordered Choi Won-shin to take out the assassins sent by Lord Kim. Gojong knows that Minister Kim is a member of Suhogye, but Minister Kim claims he only followed because he was coerced. Dropping to his knees, he exclaims that he doesn't request that the king believe him, only that he spare his life; Minister Kim will then go out and round up noblemen to assist the king.
You have to give them credit: Minister Kim and Choi have planned this out very shrewdly. Choi turns to Ho-kyung to say that he was sent by Minister Kim, who requested that he report to him: "He told me himself that you are his son." Aw. Just the thing to appeal to poor Ho-kyung, who so desperately wants some sort of acknowledgment from his father.
Soo-in pulls Hye-won aside to ask plainly what she's up to. Hye-won says it's all as it appears, and urges Soo-in to go back home. Soo-in states firmly that her job is to assist the queen, but Hye-won informs her that her mother needs her—and that her father was killed in the coup.
Next, Choi Won-shin is dispatched to assassinate Lord Kim—they need to show the king that they're on his side, and this will do it. But when he bursts into Lord Kim's inner chamber, it's empty.
That's because he's been abducted by Yoon-kang, who has taken him away to his hideout. Lord Kim goes on and on about how the world will not change, and that the rich will always act to preserve their own status, and how the aristocracy always wins. His attempts to convince Yoon-kang his plans are futile are ineffective, though, and Yoon-kang just gags him to shut him up.
Yoon-kang says that the nobility is in fact afraid, which is why they're in such a tizzy to protect themselves: They know that the people may one day rise up against them.
But just then, Yoon-kang hears that armies from China are on their way to the city. Ack, so Gojong caved and appealed for Qing aid, did he? The news hits the streets soon enough, and the sight of the foreign military has the people in alarm. This spells doom for the Suhogye members, because with Qing reinforcements, the rebellion can be crushed, and soon our Sugu ministers are rounded up as criminals and brought before the high court. Lord Kim is missing from the round-up, but Yoon-kang delivers him to the court and appeals to the king to punish everyone appropriately for their act of treason.
Minister Kim looks deeply dismayed as part of the apprehended group, but we see in a flashback that this is part of his master plan: He had told Choi that he would be captured with the rest. The queen will be critical for the rest of their plan, and so for now Choi sits in Lord Kim's seat and waits, smiling in anticipation.
The queen is impressed with Hye-won's competence and bearing as a commander, and praises her. She also expresses dismay over the loss of Soo-in's father, who is the reason for Soo-in's early departure back home. She arrives to a house in mourning still half in disbelief, and when it sinks in that her father is truly gone, she breaks down in grief.
Facing charges of conspiracy and treason, the Suhogye members break under the pressure, and one minister blurts out that Lord Kim was behind everything, including the framing of Park Jin-han. Gojong delivers their sentence: execution for their uprising, pardon for Park Jin-han's so-called crime, with a posthumous promotion in military rank. This also means pardon for Yoon-kang by extension, and restoration for Yeon-ha out of her slave status.
This is all fantastic news for our good guys, and Yoon-kang is overcome with emotion. And yet, I'm left uneasy because of the smug expression on Lord Kim's face. He's just lost everything—why isn't he upset?
Perhaps he's got a card up his sleeve, or perhaps he's just a smug bastard; sitting in their shared prison cell, Lord Kim cackles to Minister Kim that they're both going to die the same way. Minister Kim replies cryptically that "we" aren't dying, as he will be surviving this.
Ah, so now the queen tells the king that her rescue was orchestrated by Minister Kim and Choi Won-shin. Gojong understands that their aid was a response to the failed coup—they were merely acting in their own interests—but the queen points out that regardless of motive, they result is that they saved her. She asks him for lenience with them, while his advisers insist that they are too dangerous to let go.
The queen says that Minister Kim could prove to be useful in winning over the members of the aristocracy who are resistant to the king. Her nephew Min Yeong-ik chimes in, adding that Choi Won-shin has a multitude of merchants under his command who could be mobilized to support the king. Gojong is swayed, and agrees to pardon those two: "If I can strengthen the crown, I will join hands with anyone necessary." He understands the risk he's taking, but states that the citizens allied themselves with rebels to attack the palace, thus undermining the crown. With such instability afoot, "Joseon has no future."
Ho-kyung is full of concern for his father, but upon his release Minister Kim just chuckles that this is politics at work—he saved the queen, and now he's saved his own life.
Gojong calls in Yoon-kang and first apologizes for taking so long to right his father's wrong, and then rather nervously asks him for a favor. He hopes that Yoon-kang will be able to accept a difficult decision he's made for the good of the country, and describes the man who will be working with all of the merchants in the land. Yoon-kang gapes in horror as Choi Won-shin is called in, trying to protest as the king tells him firmly (though without being able to meet his eye, tellingly) that despite the grudge between them, now they are to work for the country's sake.
Gojong makes it clear that they aren't to go after each other anymore, and asks for their promise. Choi Won-shin readily gives it. Yoon-kang refuses, reminding the king that Choi killed the king's faithful scholars and his own father: "Your Highness, how could you take the hand of such a dirty person?"
Gojong pleads with Yoon-kang to see the bigger picture, but when Yoon-kang refuses, he gathers himself and makes it a royal command, giving him no choice. Now he orders Yoon-kang to promise to put his grudge with Choi behind him and to forgive his crimes: "And if not, you will be back to being a treasonous criminal, and your sister will return to being a slave." Ughhh. Now that's just low, and the mark of a weak leader.
Choi smirks to see him put in such a bind. But even so, Yoon-kang refuses to be coerced and declares that he'll make Choi Won-shin pay for his crimes. He tells Gojong, "If you must stop that, then kill me. You need not hesitate. I have now completely thrown away my faith in you."
Yoon-kang excuses himself, and the king doesn't stop him. "He will obey me," he says rather weakly. "But you mustn't kill him," he warns Choi Won-shin.
Yoon-kang leaves that meeting full of indignant frustration, but those emotions take a backseat when he belatedly hears of Soo-in's father's death. He races to her house and does his best to comfort her while she blames herself, wracked with guilt for not knowing earlier. He promises to be by her side forever, to share in her pain and tears.
The Kaehwa scholars convene to discuss the king's decision, realizing that he is opting to protect the throne at the expense of justice. "Then we must give up our hope in the king," one says. The time has come for them to make their move, they decide. Ho-kyung agrees to join them, and leader Kim Ok-kyun tasks him with another job: to become a spy. Since Minister Kim will now be the man guiding the direction of the government, Ho-kyung is to tell his father he wishes to join his side, and then watch him carefully.
Kim Ok-kyun warns him that it'll be a difficult job that will earn him scorn from multiple quarters, and he mustn't reveal his true intentions to anybody. Is he up for the task?
Choi Won-shin has the gall to arrive at Soo-in's household—or perhaps it's the king who has the gall to send him—to offer mourning gifts, which goes about as well as you'd suppose. Soo-in orders him to leave, and then Yoon-kang appears to drag him out furiously.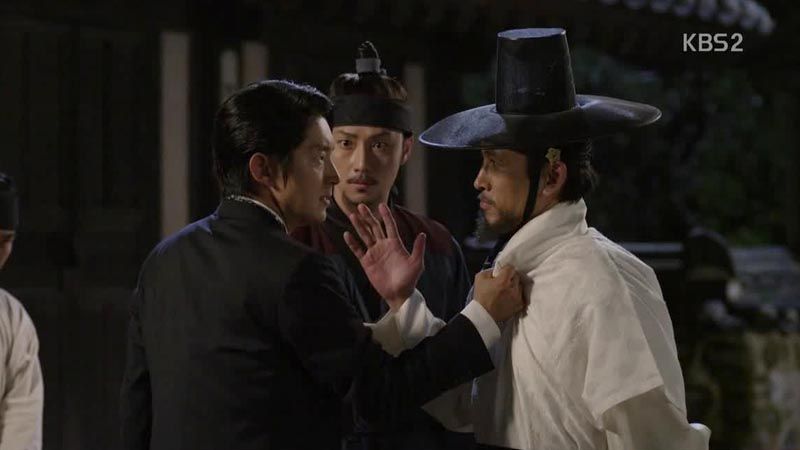 Choi notes that Yoon-kang is as hot-tempered as ever and says that Choi feels the same way toward him (as in, would dearly love to do away with him) but is holding back because of the bigger picture. Yoon-kang assures him that he won't be killing him just yet—but he'll make sure to bring him enough pain that Choi wished he were dead. "I'll make sure you pay for your crimes," he says.
For Soo-in's sake, he urges her to think only of her father's funeral and not this latest development. Ho-kyung arrives to pay his respects, and while he can't divulge the choice he's made, he assures her that the remaining scholars will see out her father's work, and that he will do everything he can to that end.
Ho-kyung visits his father at home, and while Minister Kim treats his concern with sarcasm, Ho-kyung is as thoughtful and calm as ever. Perhaps its his steadfastness in the face of perennial rejection that finally moves Minister Kim, who seems touched despite his own intentions; he finally extends a hand, asking Ho-kyung to return to his side.
Choi Won-shin visits Lord Kim in prison and asks how it feels to be bitten by the dog he raised. Lord Kim admits that it's unpleasant, and Choi replies that he's lucky—he won't have much time in which to feel angry, since he'll be executed before long. Lord Kim sputters and spits in his face, which only stirs Choi's long-suppressed anger; he tells him that Lord Kim is lucky to be facing execution, which would be far kinder than the torturous end that Choi would mete out.
Perhaps he's right about that; the next day, Lord Choi faces the executioner's sword rather peacefully, and meets a swift end.
One foe has been eliminated, but Yoon-kang's mission is still ongoing, with Choi Won-shin and Minister Kim still alive. He sends Sang-chu on reconnaissance to observe Choi's gunman army.
Soo-in is given her father's diary by her mother, who notes that everything in it is about Soo-in. She pores over his writings, which express his pride in her, his desire to bring about the new world that she envisions, and his dismay at not being able to give her the opportunity to work toward that herself.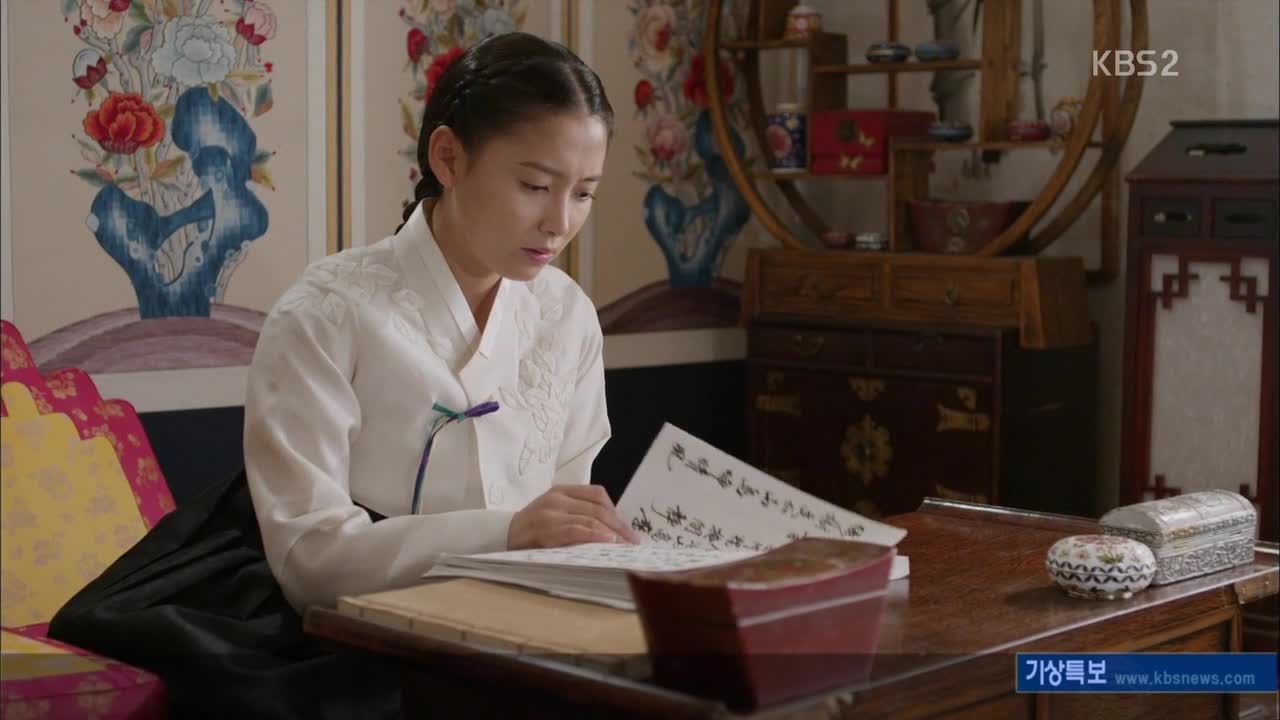 Then Yeon-ha bursts in to share the alarming news she has just learned: that the king ordered Yoon-kang to forgive their father's killer, and what's more, has rewarded him with government office. Soo-in is outraged.
Choi Won-shin, meanwhile, celebrates with other merchants—now that an official office has been created to oversee trade, he will essentially control every commercial enterprise in the nation. "This is our era," he tells the gathering. Hye-won, meanwhile, will step into the role he has just vacated.
The festive atmosphere is interrupted by Soo-in's arrival, as she joins the party shooting a thunderous glare toward Choi Won-shin. Hye-won tries to pull her away quietly, but Soo-in won't be silenced and declares that Choi cannot escape punishment for his crimes. Hye-won raises a hand to deliver a mighty slap to the face, but Soo-in blocks her this time (yesss) and tells her the same goes for her, "Because now you're the same."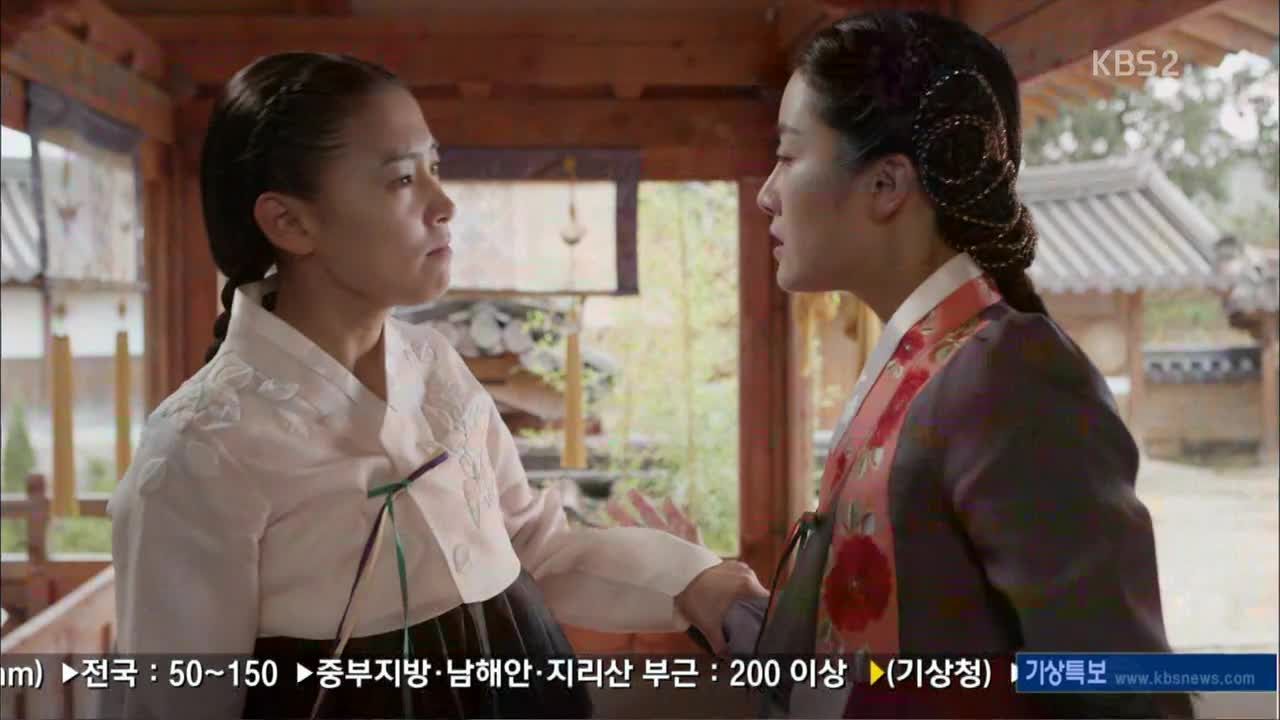 She shares her indignation with Yoon-kang, who tells her that he'll make sure those men pay. But she points out that that would make him into a criminal, and while he knows that's true, he says he'll find a way—"A wise, intelligent way." Yes, please.
He expresses his frustration at thinking it had all been solved, only to find it wasn't. He asks her to wait just a while longer, until he finds that way.
The real Yamamoto finally puts in his appearance, and balks when Yoon-kang reclaims his identity (putting Hanjo behind him). But Yamamoto reminds him that he has work yet to be completed, and is not free to leave Yamamoto until that's accomplished. He also orders Yoon-kang to find a way to recover the losses he's responsible for—after those obligations are fulfilled, he can turn back to his Yoon-kang life.
To get that backstory, we flash back to three years ago in Japan. Ah, now we finally get to see what happened after Yoon-kang had been approached by that man after he was fighting in the street. That man is Hanjo, and he talks about what it's like working for the illustrious Yamamoto. That's when they're ambushed in the road by another gang, and a swordfight breaks out.
Yoon-kang launches into the fray and holds his own. Hanjo lasts a good while, but he falls too, and Yoon-kang rushes to his side. Hanjo gasps at him to hurry to Yamamoto and instructs him to take his name, as being a Joseon man would be a mark against him.
Their group had been on their way to take an important delivery to Yamamoto, who decides to meet with the one man who survived and brought them to him. Yoon-kang presents himself as Hanjo and, when asked what he would like, requests to work for him. Yamamoto agrees readily, but orders Kanemaru to kill him, knowing immediately that he's an impostor—he speaks with a Joseon accent.
But it's Kanemaru who urges him to consider the alternative—this man risked his life to carry through this assignment, and they need men like him. Aw, you go, Kanemaru. No wonder he was so upset to see Hanjo acting like a lascivious boor.
Kaehwa leader Kim Ok-kyun checks in on Soo-in to see how she's holding up, and she expresses her desire to carry out her father's unfinished work. She'd also like to help Yoon-kang set his injustice to rights, but hasn't been able to think of a way to do either. He assures her that she may yet find a way.
Yoon-kang pays a visit to the explosives specialist, who is now recovered from his accident, and proposes giving the project another try. He assembles a team of specialists (engineering, mining) and makes plans to begin work. The explosives expert looks discomfited throughout the planning, until he finally shares his backstory for why he's joining their team, and it has nothing to do with money. He calls those mines hell, and was appalled at the working conditions. The job was so tough that nobody could be hired, and so Choi Won-shin would send slaves. Beaten and underfed, they'd collapse from exhaustion, and when they tried to run, they were killed.
Choi Won-shin is also lining up his ducks to resume the mining operation, and he makes nice with Yamamoto to grease the wheels with him. I'd be more worried about this alliance if not for the presence of Kanemaru, which is comforting.
Horrified at the expert's accounting, Yoon-kang puts on his gunman gear that night and makes his way to the mine. He arrives just as a mutiny is about to break out, with the slaves begging for food and Choi's guards sneering that they haven't earned it. One raises his sword to strike down the lead slave, and Yoon-kang fires off a shot quickly to take him down before he does. He shoots several of the guards until they start to scatter, but when the slaves try to jump on the remainder and beat them down, he orders them to stop. Instead, he tells them to go, since these guards are merely acting on someone else's orders, and the men don't need to be told twice to run.
One little boy remains rooted in place, though, saying that his father is buried here and therefore he can't leave. Yoon-kang kneels to look him in the eye and tells him that his father is in his heart, urging him to go.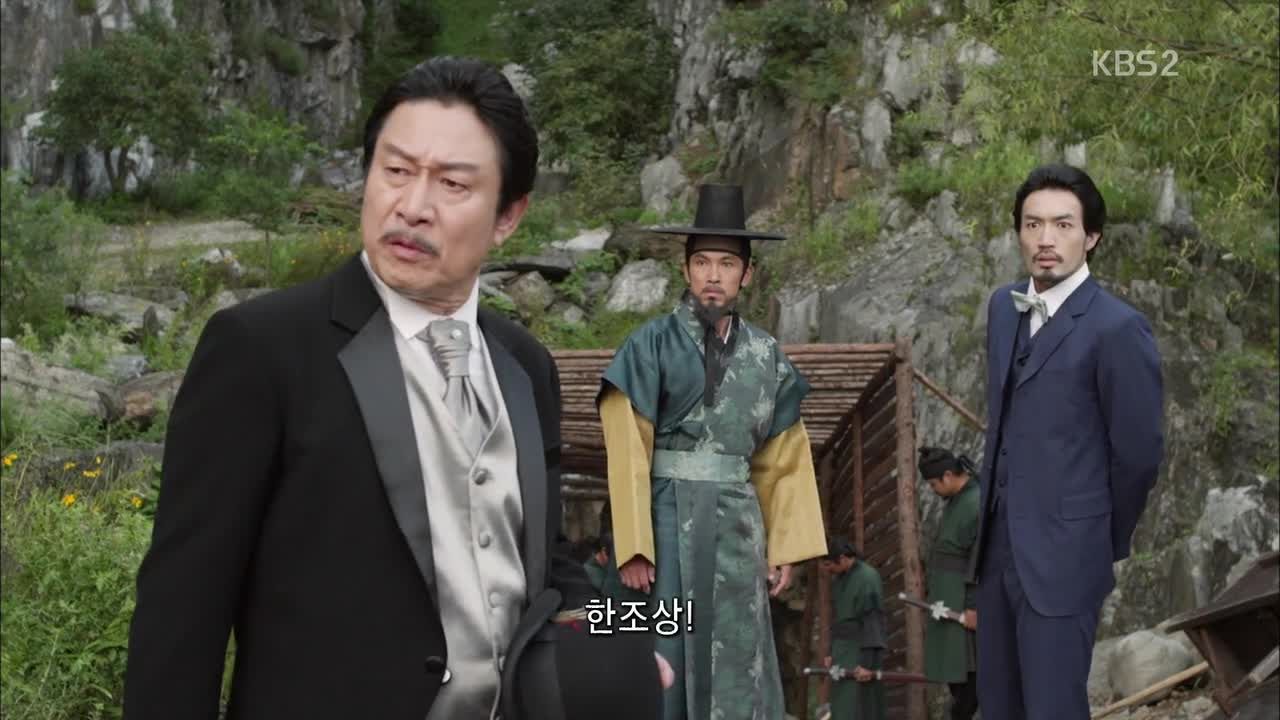 In the morning, Choi Won-shin finds his mine abandoned, and tries to assure Yamamoto that it'll be a quick job to rustle up new workers. Kanemaru isn't so sure.
Enter Yoon-kang, who arrives with his team in tow. He offers himself to Yamamoto as the coordinator of the mining operation, having already made all the arrangements to get it going. Yamamoto is pleased and agrees to it, leaving Choi Won-shin fuming.
Yoon-kang informs him, "You won't be able to have anything now. It must make you angry, not to be able to kill me. Wait and see. Things are about to get more and more interesting." I certainly hope so.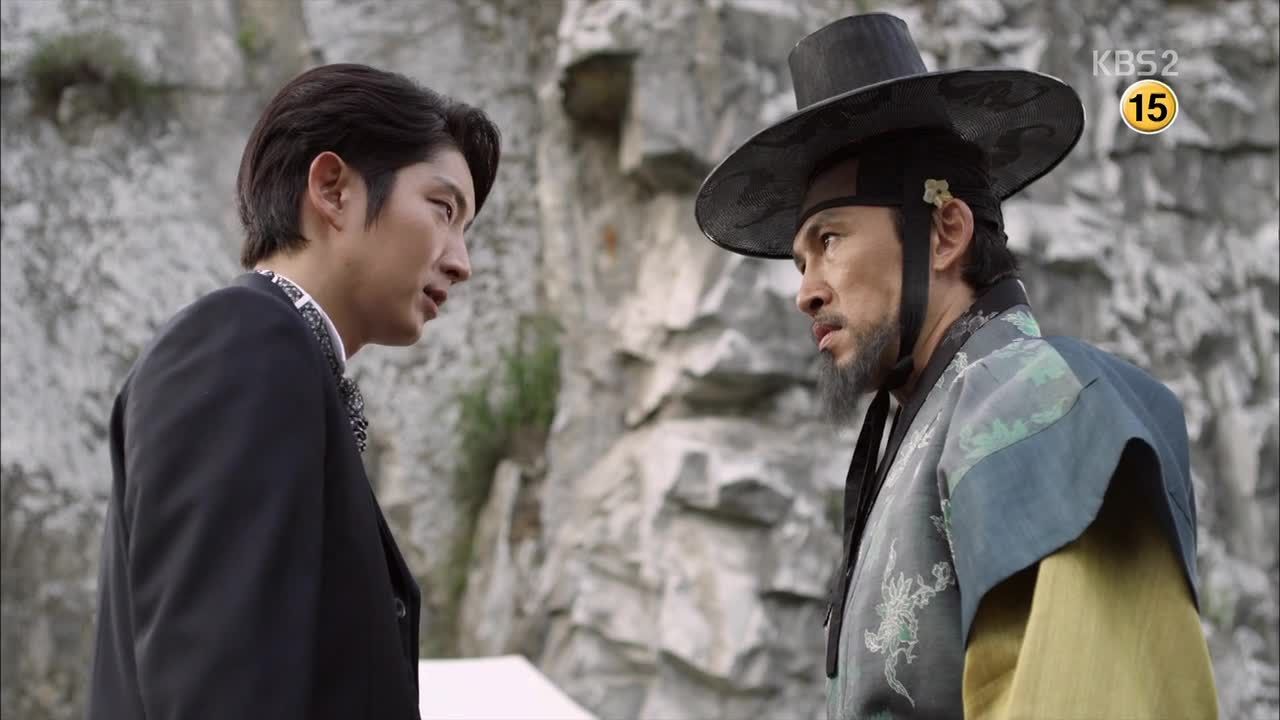 COMMENTS
It's interesting that Lord Kim went with relatively little fanfare, given the scope of his troublemaking efforts in the series thus far. But I can see how it's rather fitting for him to go with a smile on his face and zero remorse whatsoever, inasmuch as he is the purest embodiment of the old guard's mottos of self-interest and status quo. He would never admit defeat or concede that his way isn't the better one, and so the only end suitable for his character is a simple one that ejects him from the picture, and yet doesn't solve our hero's woes—he was only one cog in the machine of injustice. And a vigilante hero's work is never done just because one bad guy stopped being bad.
I also want to see more of this pissed-off version of Soo-in, although I don't expect that the show will actually let her act very much on her rage. I would be thrilled if it did, though, and capitalized on her grief after her father's death, because if anything could stir her sense of righteous fury, it's seeing proof that ideals only get you so far, and are a poor shield from injustice. So maybe it's time she sharpened her wits as well to take down the bad guys—and in a smart, practical way, rather than looking to the letter of the law and impotent sovereigns to reign supreme. Because as it turns out, power is seized, not bestowed by nice people who think you deserve it.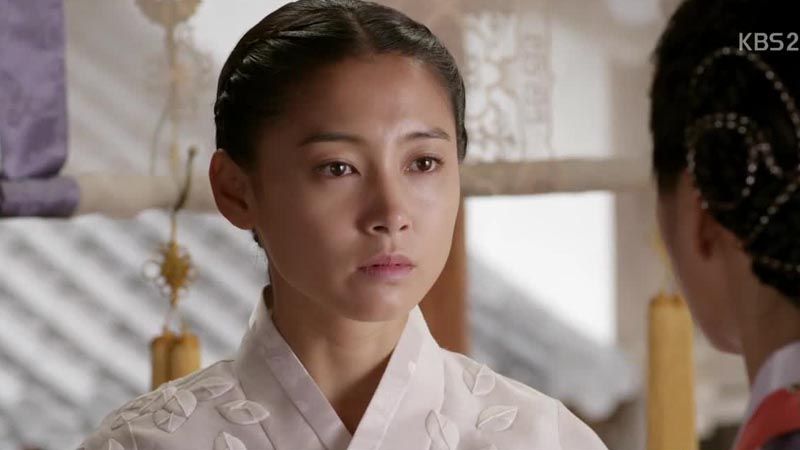 Minister Kim's political ploy and Choi Won-shin's slippery exit from doom take us into some new narrative ground, and I'm especially intrigued by Ho-kyung's place in this double-agent mission, because he's such a tender-hearted soul that he is absolutely the worst guy for the job, personality wise, while also being the only person for the job. By now we know to have faith in his true nature so his loyalties won't be too much of a question mark to us, so in that respect I wish this had come a bit sooner—not only to explore his idealism-versus-filial-devotion conflict but to also play on our uncertainties. It might have been quite compelling to watch him working both sides before we knew him so well, so that we'd be on edge wondering which side he would ultimately choose. We've already seen him send his father into exile for his crimes, so the show skips out on making full use of that potential conflict.
Even so, I'm happier than not at the spy storyline he's facing, and look forward to his angst, particularly considering that his father is finally making gestures of conciliation. It's just a shame that the show let a few dramatic choices pass them by.
So with Yoon-kang's father vendetta cleared (…ish), now we're seeing him transform into a protector of the people, standing up for people who aren't directly related to himself. I do wish the show would extend its circle of evildoers so that Choi Won-shin isn't painted as the source of all badness ever, because that's limiting and also because we've been shown enough nuance with him to know that he's more than that. And I'm pretty sure there's a lot more evil in the world to be fighting against than one man who happens to also be his enemy, conveniently. That's the thing about evil: It's evvvverywhere.
RELATED POSTS
Tags: featured, Joseon Gunman, Lee Jun-ki, Nam Sang-mi