Discovery of Romance: Episode 8
To call or not to call? That is the question that lingers throughout this whole episode. It's a frustrating game of tug-of-war, in which neither side is willing to cut any slack. The reluctance to communicate reveals a fundamental flaw in the relationship — something that our couple may not have noticed yet — and it's a sure sign of a slippery slope. The nature of their relationship is not as stable as we once assumed, and the potential for their old blissful relationship seems to be out the door, especially with new players in town.

EPISODE 8: "This isn't dating; it's war"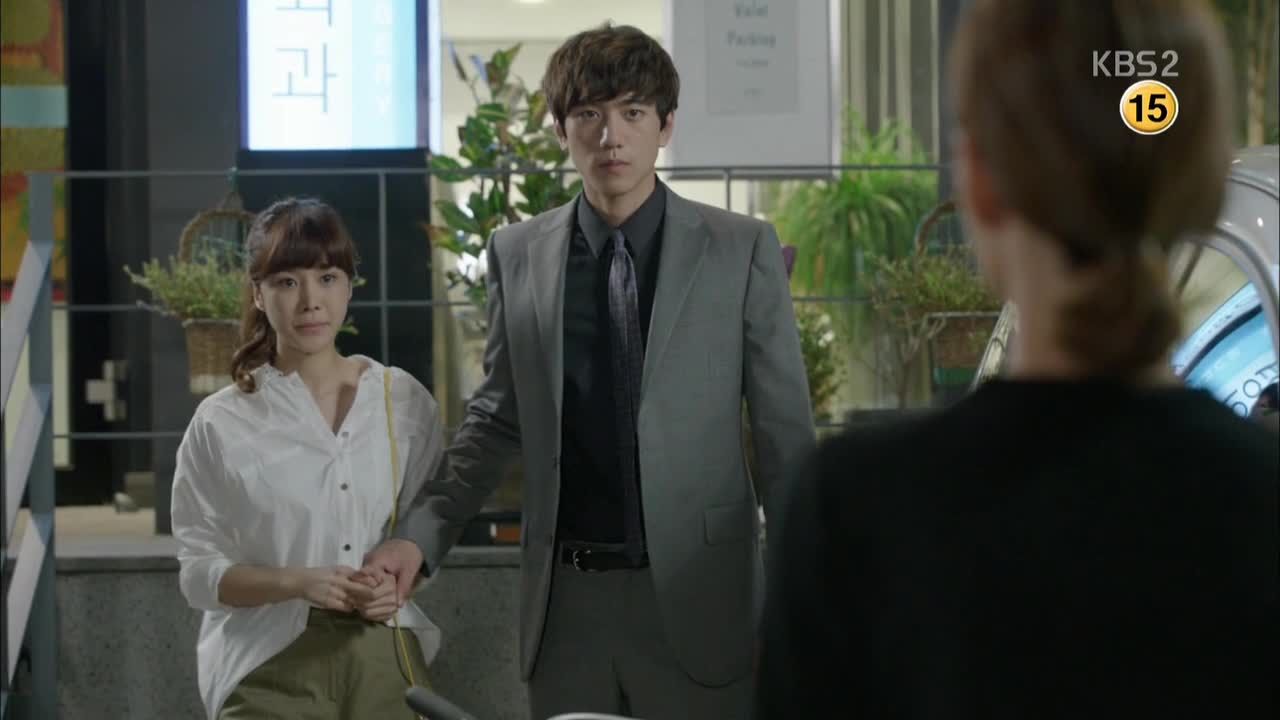 Yeo-reum witnesses this outrage and demands to know why Ha-jin and Ah-rim hid if they had nothing to hide. Surprisingly, Ah-rim steps up and tells her that she's had enough. She can be patient once and twice, but not the third time. That statement stirs Ha-jin's memory, and he thinks back to their childhood.
Young Ah-rim cries to Ha-jin, asking him to beat up the kid who hurt her. He says that he can't do that, but he teaches her how to defend herself. He instructs her on throwing a punch right at the girl's nose, telling her to be patient the first and second times but not the third. People will trample all over you if you don't stand up for yourself.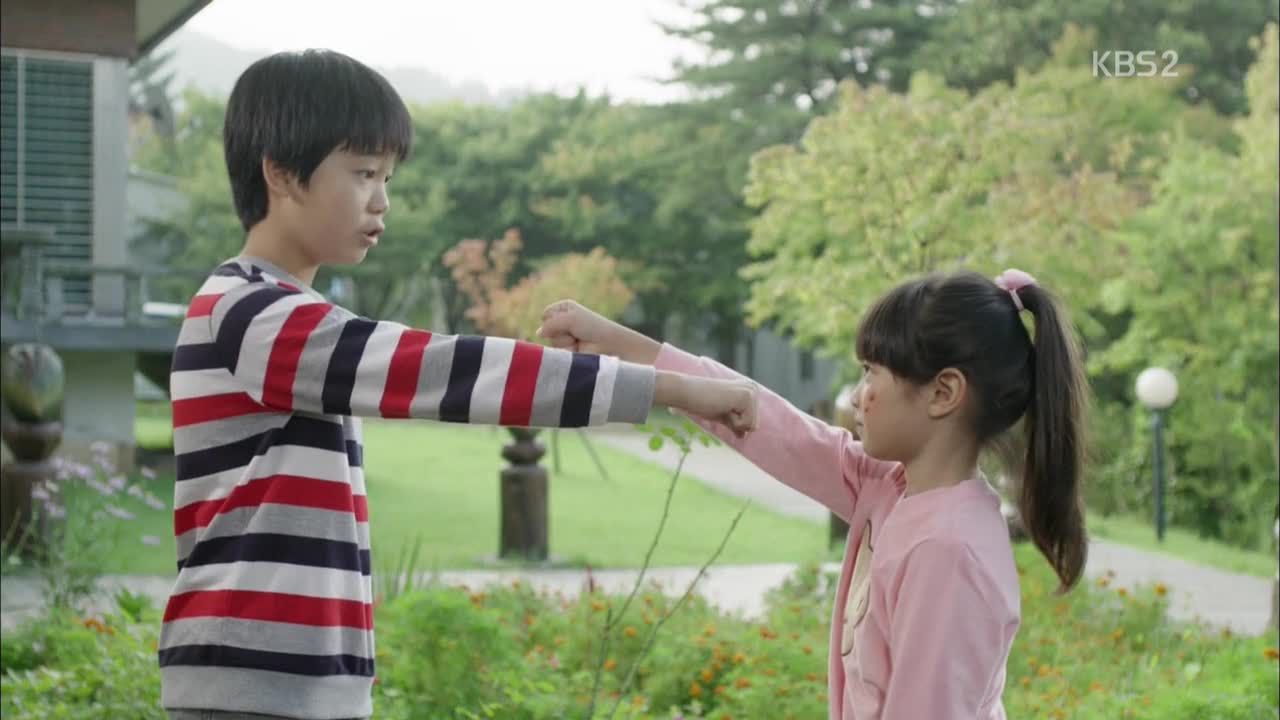 She does as instructed and punches the bully right in the nose. Ha-jin cleans her up afterwards, and she tells him that she's not scared of the girl anymore. She promises to stand up for herself after waiting three times.
Back in the present, Ah-rim voices her frustrations. She accuses Yeo-reum of being suspicious right away, never giving her the benefit of the doubt and even tracking her down where she worked. Ha-jin receives this information with shock, spectating Tae-ha scoffs, and Yeo-reum looks to him with apologetic eyes. Looks like the tables have turned.
Yeo-reum tries to defend herself, but Ha-jin's reached his tipping point. Looking at her with incredulous eyes, he asks why she would do such a thing and yells at her for misunderstanding the kimbap date. Taken aback by his reaction, Yeo-reum reflects on how they've been dating for a year, but this was the first time she's ever seen this expression on his face.
Ha-jin doesn't accept any more excuses and expresses his anger asking, "If you don't trust me, why are you dating me?" Yeo-reum falls silent, but Tae-ha decides to step in and call out Ha-jin for being a hypocrite. He's the one caught doing wrong and now he's yelling at Yeo-reum. Ignoring him, Ha-jin offers to take Ah-rim home. At that point, Yeo-reum's brimming tears start to fall.
Tae-ha yells at him, asking if he doesn't know what's important right now. Taking her cue, Ah-rim walks off with her bike and escapes the tension. Tae-ha offers to take Ah-rim home if he's so worried and advises him to resolve his problems with Yeo-reum. But he doesn't take that advice. He tells Tae-ha to mind his own business, and he walks off after Ah-rim.
Feeling uncomfortable about Ha-jin following her, Ah-rim turns around and tells him resolve his misunderstandings with Yeo-reum. He refuses, saying that he doesn't want her to walk alone at night. Ah-rim pops the question, "Do you really like me?" Again, Ha-jin refuses, saying that it's not like that.
She tells him that she's fine going home alone and starts to ride off on her bike, but it breaks down. She attempts to fix it, but Ha-jin ends up picking up the bike to take back to the shop.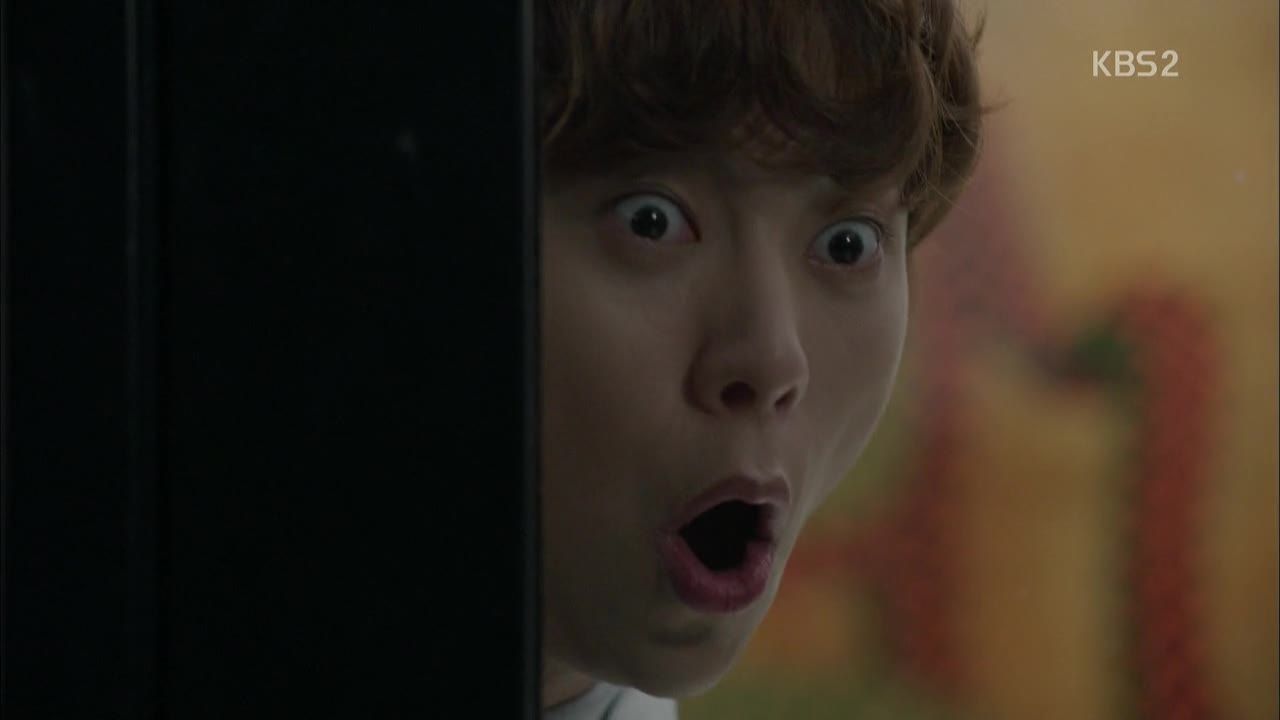 Tae-ha approaches Yeo-reum and asks her what she wants to do. He offers to take her to Ha-jin's house and beat the pulp out of him when he gets home, but Yeo-reum simply states that she's hungry. He offers to take her out for food, and she follows.
From inside the hospital, Joon-ho peeks at this scene with shock and falls to the ground. Shaking his head, he tells us, "This isn't dating; it's war." He gets a call from Sol, who complains about him being late. She decides to head into the show without him.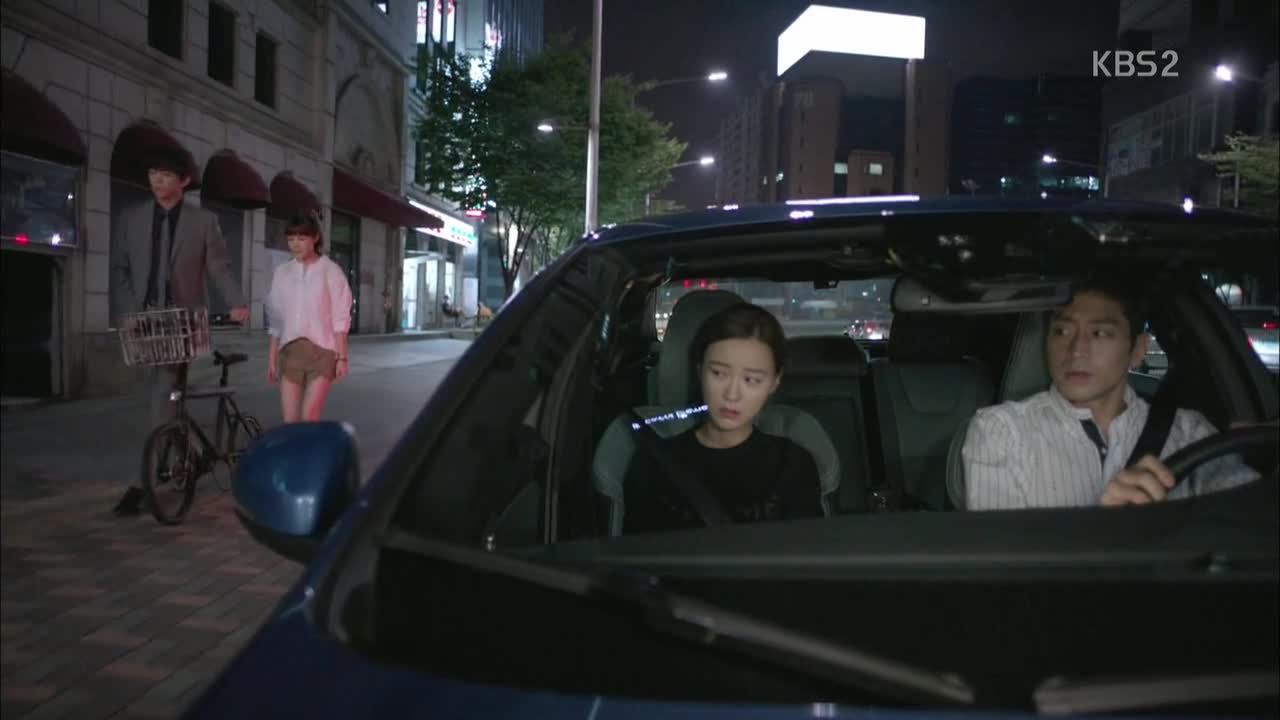 As Tae-ha and Yeo-reum drive away, they notice Ha-jin and Ah-rim walking together. Yeo-reum's clearly affected by this, so Tae-ha tries to pass the awkwardness by asking what she wants to eat. She's visibly upset and answers, "Anything delicious."
At the bike shop, the mechanic tells Ah-rim that her bike has many problems. She's ridden it so much for so long that it's better to get a new bike at this point. She doesn't seem to have the funds and asks him to just repair the basics. But long-legged Ha-jin buys her a new bike and walks out.
She chases him outside to ask why he's so nice to her. He tells her, "Misfortune comes without a reason, and so does fortune. Have you never met someone who's been good to you?" She tells him that those people only exist in fairytales, like Daddy Long Legs. He tells her that he'll be her Daddy Long Legs since he's tall anyway. Heh. He also acknowledges his mistake in creating the misunderstanding with Yeo-reum and tells Ah-rim not to worry about it.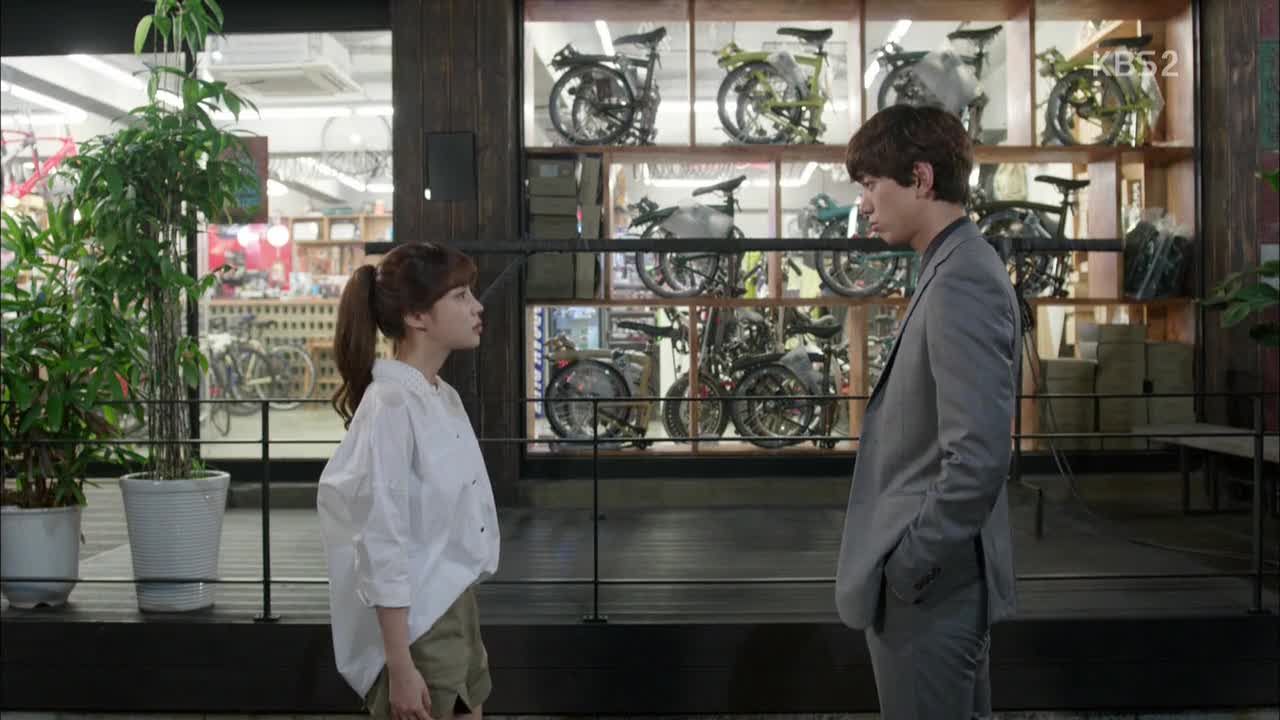 Meanwhile, Yeo-reum is stuffing her face with some delicious food. Tae-ha asks how she's eating so well after this fiasco, but she's optimistic. She knows that things will be better tomorrow. Unable to understand, Tae-ha pokes her where it hurts, mentioning all the suspicious things Ha-jin's been doing.
Yeo-reum insists that Ha-jin is a good person, which prompts Tae-ha to ask why she didn't just let this slide. She argues that letting things slide can become a habit, and some men (ahem, Tae-ha) take that kindness for granted. He's annoyed by her implicit blaming and asks her to list everything he did wrong. She looks at him and says what she's always said, "Go home and think about it."
Frustrated, Tae-ha demands that she just tell him, but she responds, "Men who don't get it without explanations won't understand anyway." He just gives her the stink-eye and continues eating.
Tae-ha drives Yeo-reum home, but the moment she sees Ha-jin at her house, she instructs him to drive past. All of them see each other, and the situation gets stickier. Ha-jin's furious about being ignored, and Tae-ha's irked that he was manipulated.
Ha-jin approaches the stopped car, but Tae-ha locks the doors, telling Yeo-reum that he's not letting her out. She shrugs, as she didn't want to get out anyway. Ha-jin begins pounding on the window, demanding that she come out, but Tae-ha starts the car and drives off. Yeo-reum decides that she's going to watch a movie now.
As they watch the movie, Tae-ha's alter ego pops onto the screen to tell him that he should get it together. "Just get up and go home. Do you have no pride? Han Yeo-reum doesn't have the slightest interest in you. She's just using you to make her boyfriend mad." He gets up to leave, but his alter ego stops him, "Okay fine, you like this girl. The only way to continue this unrequited love is to be patient. But why the hell did you fall for a girl with a boyfriend?" And so he's stuck there glaring at Yeo-reum. Haha.
Ha-jin waits and broods in front of Yeo-reum's house. He checks the GPS tracker, but she's deleted it off her phone. And boy he's mad — he kicks the wall and throws his jacket to show it.
Joon-ho looks sour as he waits for Sol outside the Nanta show. When she comes out, he accuses her of being disloyal and watching the show without him. She says it's his fault for being late and that he can't become Eun-gyu, even if he's "taking his place."
A couple walks into Joon-ho, and he takes out his handkerchief to clean his very expensive shoes. Sol sees the handkerchief (which belongs to Director Yoon) and snatches it away from him, saying that it belongs to a different man. He scoffs, saying that he knew all the eleven men in her life. She says that this man could be the twelfth, but every man from now on will be the twelfth man — no significance, no love, no name. Dragging Joon-ho by the tie, she tells him, "Right now, you're my number twelve. Let's go, Twelve!"
Tae-ha drives Yeo-reum home, and she shows a tinge of disappointment when she doesn't see Ha-jin. She thanks him and apologizes, but Tae-ha tells her that he's fine. He offers himself up for any future manipulation, but in his mind he suggests that she could jump onto his train as well.
After a moment, Yeo-reum tells him that he did have one good thing about him. He was bad to her but worse to everyone else, which she prefers over someone who's good to her and better to everyone else. He gives her a sympathetic look and tells her to go inside. Watching her leave, he says good night.
Before Ah-rim leaves the shop for the night, she looks at the bike Ha-jin purchased for her and thinks back to his explanation for helping her out. She decides to take the bike with her as she leaves the shop.
At the support group, Producer Bae and Ha-jin's mother eye each other, and he thinks back to Mom's words about her being interested in him. They strike up a conversation about the side dishes, and he explains that his friend found them a bit suspicious. She acknowledges how that could have led to the misunderstanding, but her instincts tell her that this friend must be a woman who likes him.
He refuses to believe it, but she explains that this friend is clearly showing jealousy. She adds that he's pretty handsome, considerate, and doesn't have that middle-aged man feel. She hilariously uses the phrase "sexy brain" to convey her compliment.
Producer Bae steals glances at Mom during their jjajangmyun meal, which is interrupted by a call to Gi-eun. Assuming it's the director, Mom tells her to deny the meeting. But Gi-eun doesn't listen and tells the man to drop by tomorrow morning. Mom's annoyed, but Gi-eun clarifies that there are more men in her life than just the director. That catches them off guard, but Gi-eun disappointedly says that it was just the delivery man. Haha. She's got no time to meet any men because of this god damn job. She asks for two hours to herself and leaves.
Now that it's just the two of them, Producer Bae asks Mom what it means if your brain is sexy. She says that those kind of compliments are for men who want to compensate for their looks. He says that he was given that comment by side-dish woman, but Mom says she's wrong. His looks are better than his brain, and she acknowledges that he's the dandy type — the type of guy she likes.
At his drama meeting, Producer Bae tells his complaining staff that all they need to do is change the male character into more of a dandy. Someone like himself — sexy brain, considerate, and dandy! HA.
Joon-ho reads off the list that Sol compiled and stops at "going on a trip together." He comments that the implications of an overnight trip don't apply to them, but Sol warns him to stay alert. She's actually pretty sexy. She says that Yeo-reum knows, and they look to her for confirmation. But she's been staring at her phone the whole time and branches off on her own conversation, "Even if Ha-jin calls, I'm not going to pick up."
They give her an accusing look and tell her that she's been staring at her phone the whole day. Yeo-reum matter-of-factly explains, "I'm waiting for Ha-jin to call so I won't pick up. I can't not pick up if he doesn't call." Okaaaay. They shake their heads at Yeo-reum, and so do I.
At the hospital, Joon-ho analyzes Ha-jin's behavior and concludes that he's not going to call Yeo-reum anytime soon. In the interview, he says that he expected Ha-jin to cave as he's done before. Sol says that Yeo-reum's pride won't let her call first, but she's on her friend's side. Joon-ho argues that Yeo-reum was in the wrong, prompting Sol to scowl at him across the screen. She gets so worked up that she crosses over to his interview domain wielding a wooden block.
Sol tells us that she knew from the beginning that Ha-jin was a player and that she doesn't believe his "no relationship" claim with Ah-rim. And of course, Joon-ho has to comment on Sol's poor taste in guys.
Ha-jin stares at his phone, contemplating if he should call Yeo-reum, but he decides on someone else. Tae-ha picks up his phone and is told to meet at the place where he had his company dinner the other (bromantic) night. He says he's not going, but of course he shows up.
They each get a soju bottle to themselves and start up a tense conversation. Ha-jin asks what Tae-ha did with Yeo-reum that night, and only then does Tae-ha find out that the two haven't talked to each other since the incident. He reciprocates the question and asks what he did with Ah-rim. But Ha-jin switches to a more serious tone and clears the misunderstanding. "The person I like is Yeo-reum, and I can't do without her. Kang Tae-ha, you've never loved this much, have you?" Tae-ha replies that he wouldn't tell him even if he had.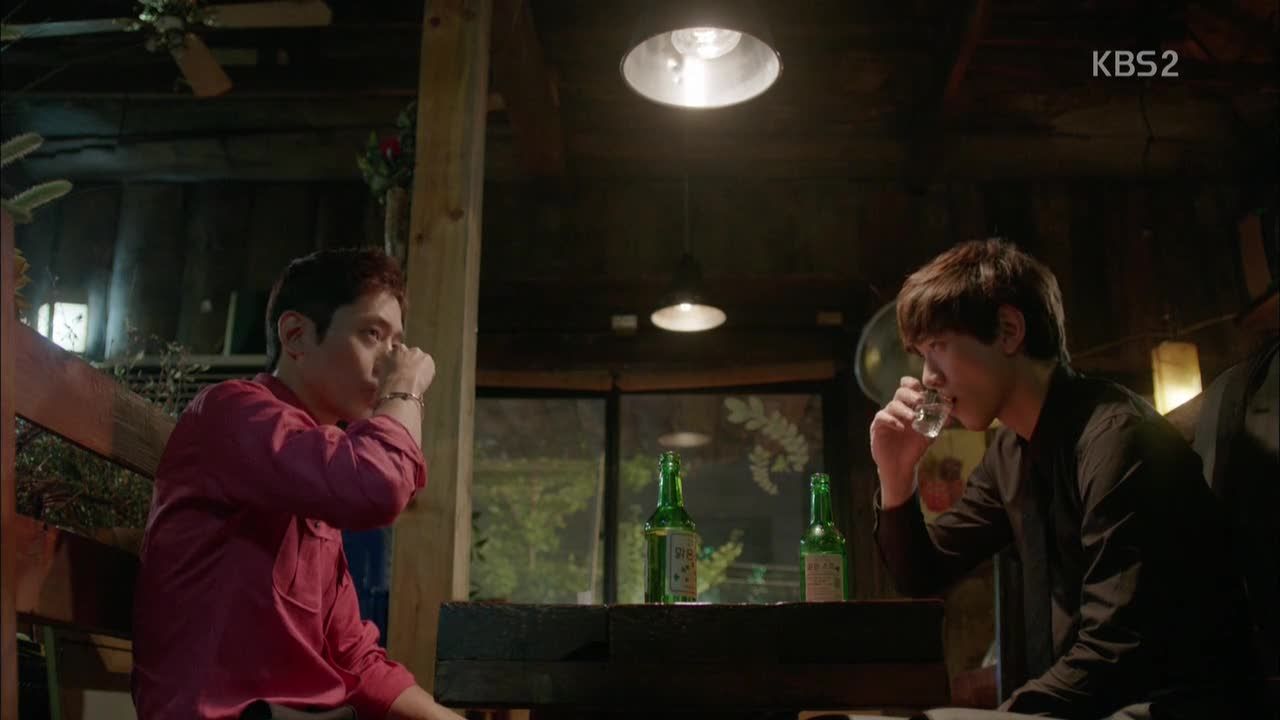 Tae-ha's snide remarks contrast Ha-jin's sincere confession about Yeo-reum. He says that he ignored all the suspicious little things that could've led to fights because he liked seeing her smile. "In those moments, it was more important to me that she was happy and smiling." Only now does it dawn on Tae-ha what Yeo-reum meant by describing Ha-jin as a good person.
He continues by explaining that it doesn't matter if Tae-ha likes her or not, what's important is what she feels. "But now your feelings matter. Yeo-reum has never belittled me in front of other people. She's never pulled in a third party to resolve our fights, and the old Yeo-reum would have gotten out of that car to fight with me. Are you two close enough to openly share these emotions?" Oh man, he's catching on.
Tae-ha brushes it off with his snarky comments, but Ha-jin's not letting his guard down. He tells him that this is a warning, and the next time Tae-ha teams up with Yeo-reum, he's dead. Ha-jin walks out while Tae-ha downs another shot.
Ha-jin finds himself in front of Yeo-reum's shop but can't bring himself to go inside. He sits on the steps and drafts a message, but he deletes it. Yeo-reum does the same, her fingers lingering over Ha-jin's name on her phone. She gets Joon-ho's message that Ha-jin and Tae-ha met up, so she immediately calls Tae-ha.
He quickly hangs up on her yelling demands, but she follows up with a message apologizing and asking him to come over to her shop. Knowing it's a trap, he absolutely refuses to let himself do so because he knows he's going to cave. Needless to say, he asks his driver to turn around, and he hates himself.
And then he changes his mind and asks the driver to stop the car. He gets out of the car and texts Yeo-reum that he's not one to be called back and forth on request. His time is precious. Even with a pretty definitive text, he paces around waiting for her reply and ultimately decides to go home. He tells the driver that he'll pay him twice his normal rate; just make sure that he doesn't turn around no matter what. Heh.
Ha-jin finds Ah-rim just as she's about to wrap up her other part-time job. They talk about scheduling the surgeries and about Yeo-reum in a fairly light mood. He also says that he'll drive her down to the orphanage tomorrow, as it takes multiple train and car transfers to get there. He tells her not to worry about it, and before he leaves, he tells her that he was happy to see her new bike by the entrance.
Ah-rim sits down to eat her belated dinner, a roll of kimbap, as we get our first interview of her. She tells us that she would like to date but doesn't have the time. She does, however, have someone she likes. It's a one-sided love. "At first, I just thought he was a warm person. But without a moment's notice, I started to like him."
She thinks back to the night when her bike broke down and confesses that it was that moment. She could hear her breathing in her ears; she'd never felt that way before. "I was surprised and confused. He has a girlfriend, so I know I can't be caught. But I can't seem to give up these feelings." She starts tearing up, her voice starts to shake, and she tells us that she can't continue the interview.
Tae-ha finally arrives at his destination and pays not double but quadruple the pay. The camera pans out, and we see why. He caved and turned the car around again to come to Yeo-reum's shop. He walks in, and Yeo-reum can't help but smile when she sees him. He tells her to stop smiling and checks out her work.
Yeo-reum's surprised when Tae-ha remembers the type of wood she's working with and what it means — a love that doesn't change. He obviously remembers because he was there the whole time she was trying to memorize these back in the day.
On that topic he asks, "Do you believe that there are things that don't change?" She thinks so, if there's enough will to do so: "When I dated you, I thought love was based on emotion, but after we broke up, I realized it was an issue of will. It wasn't about how much I liked you, it was a matter of how much will I had to keep that love."
Opening up to the conversation, Tae-ha asks if maybe he didn't have that will. But Yeo-reum supposes that they both didn't have that will. "We both felt that love, but we really didn't know how to love or how to protect that love." Truth.
Regretful and nostalgic, Tae-ha accuses her of showing up in his life at the wrong time. "Why did you show up then, when I didn't know how good you were to me? If you came to me now, I would be so good to you." A little too late now.
Back to the main topic of concern, Yeo-reum asks Tae-ha what he and her boyfriend talked about. Tae-ha refuses to be the middle man between the two and tells her that he promised himself he wouldn't tell. It's his pride. Then why is he here? Because he just wanted to see her face (and because he's a bit drunk).
Before he leaves, he turns back to Yeo-reum for one last word: "I'm sorry I couldn't be there for you when your father died." His sincere apology leaves Yeo-reum speechless and tearing up.
When Yeo-reum arrives home, Joon-ho and Sol team up against her, not letting her in on their ramen meal. They claim to have always cooked for themselves while she was out on dates with her boyfriend. She tries to join, but they block her and tell her to ask Ha-jin for her ramen. She walks away in a fuss, and the two nod in accomplishment. They've even got a handshake to finish it off. Too cute.
Lonely Yeo-reum walks into her room and contemplates calling Ha-jin. She's so close, but she doesn't end up doing it. Ha-jin comes home anticipating Yeo-reum's shoes in his house at some point, but tonight's not the night. He enters his empty home and stands by his room, flicking the lights on and off.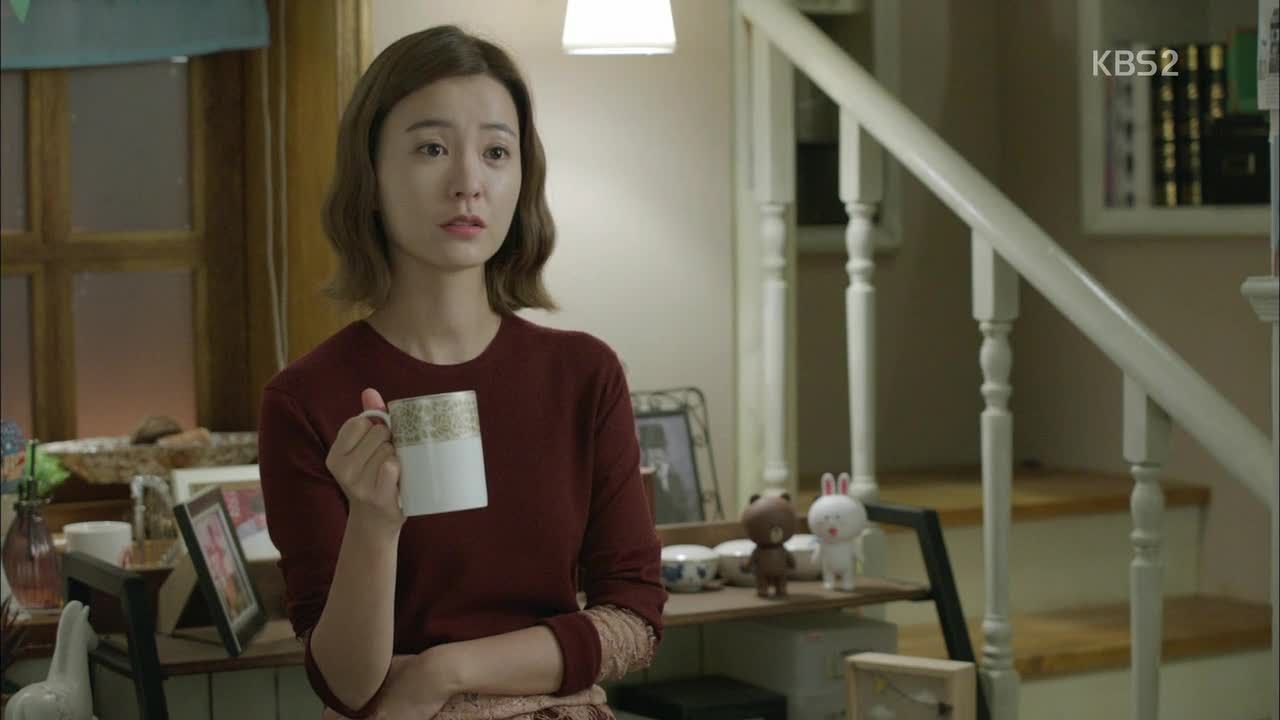 In her interview, Yeo-reum tells us her reason for not calling. "It's not a push and pull strategy. When you date, there comes a moment that differs from when you first met. That feeling you get when you think that this is real love, and then it just collapses. At that moment, I felt that our relationship had changed."
She thinks back to when Ha-jin decided to follow Ah-rim and leave her hanging. "A special relationship that I thought only we shared became just another plain old relationship. Women know that moment intuitively. That's why I was scared, and that's why I won't let this pass."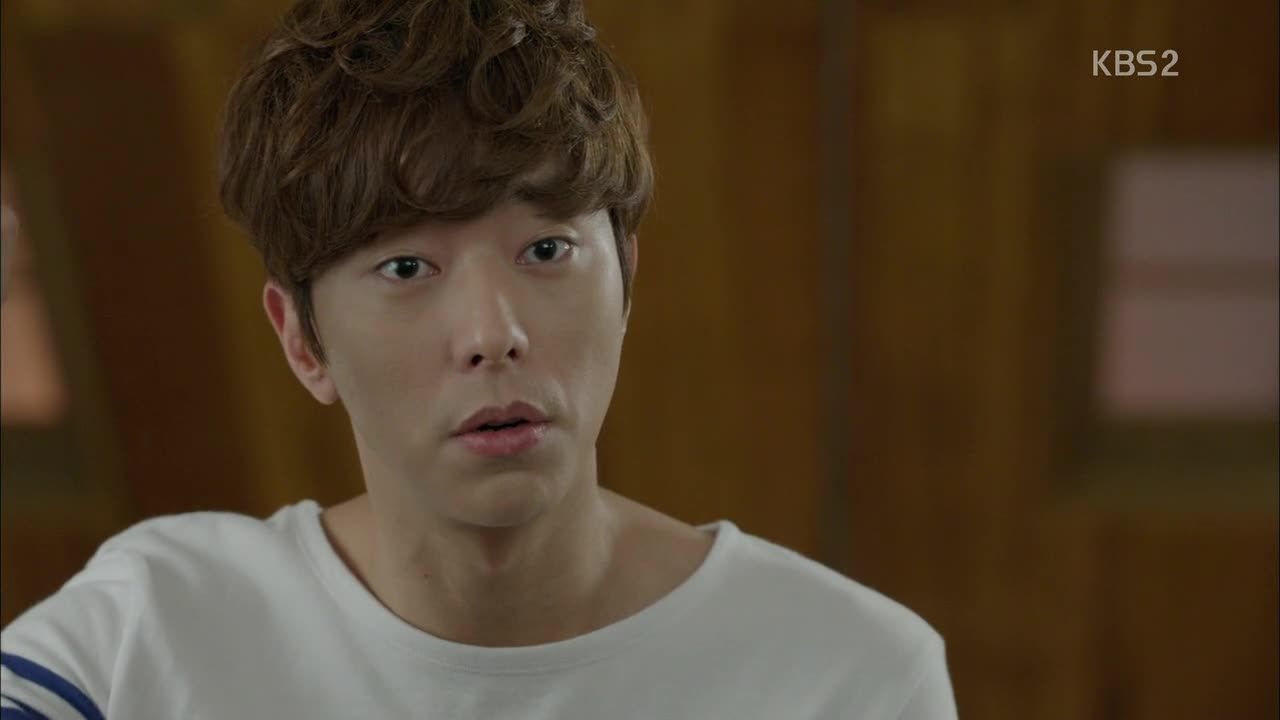 Joon-ho gives us the other perspective. "When a man really loves a woman, he's really good to her. In that moment, you even want to go catch a star for her. But there's one thing we can't do. Love forever. It's just not possible. Yeo-reum really needs to get it together." We see that she's watching the interview from below, taking in this warning.
Meanwhile, Ha-jin stares at pictures on his phone and wonders why Yeo-reum's never the first one to apologize. Suddenly, the doorbell rings and on the other side is Yeo-reum. She walks in, and they lightly bicker about their misunderstandings and lack of communication. She says that she's still mad at him and tells him not to create any more misunderstandings. He says that she's done nothing wrong, and they make up with kisses.
Now back to their normal relationship, Yeo-reum suggests that they go on a trip tomorrow. Maybe somewhere overnight. Right then, Ha-jin gets a text from Ah-rim agreeing to drive down to the orphanage with him tomorrow. That's followed up by Yeo-reum getting a text from Tae-ha about visiting a site for work. They both agree to their meetings with their separate parties. Turns out, they're both busy tomorrow, and Ha-jin lies that he's got a seminar. Maybe they aren't back in their normal relationship anymore…
The next morning, the mismatched couples set out on their own adventures: Ha-jin with Ah-rim and Tae-ha with Yeo-reum. We know where they're headed, but they don't. Uh-oh.

COMMENTS
Just when you thought things were finally getting better, they actually get worse. But let's be honest here, these rendezvous were bound to happen. Both Ha-jin and Yeo-reum weren't going to stop meeting their respective partners, whether it be for work or for some long lost sense of nostalgia. They choose to be blissfully ignorant, and they're perfectly happy within the boundaries of their ignorance. But it's only a matter of time before reality hits, leaving them with an irreparable relationship. That looming reality is exactly what Yeo-reum fears, and it's quite possible that she knows of its inevitability. They've changed, and the most frustrating thing about it is their passivity.
Their main problem of miscommunication can easily be resolved by, well, effective communication. It's hard to believe that these people are so in love when in fact, they barely know each other. They enjoy each other's company, care about each other, and like to see each other smile. But the ugly details of their life struggles are conveniently hidden away behind these façades. And they're perfectly complacent with this. How? I have no idea. Lying for that long must be exhausting, and I see them slowly yet surely losing steam. Lack of communication and honesty is an insidious element of a relationship, and it's creeping up on this couple. Kisses are great and all, but they can't cure everything.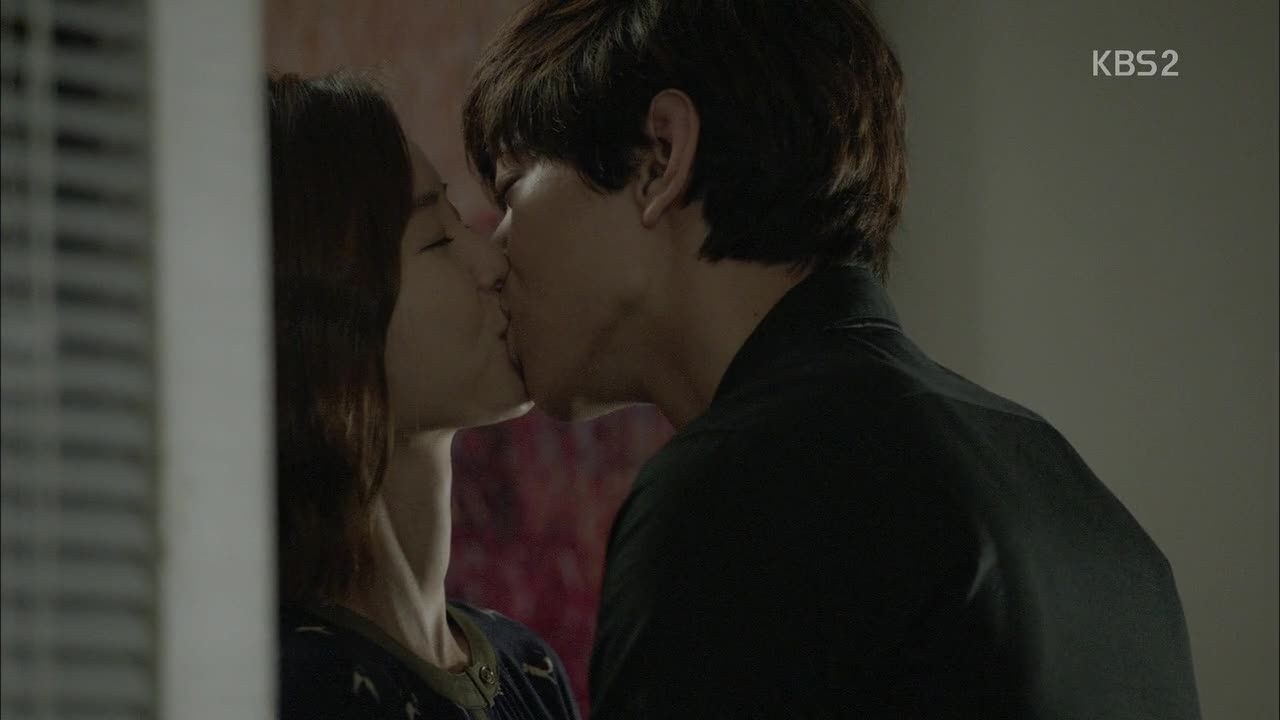 As these two are growing apart, they're growing closer to their taboo partners. It's more evident between Yeo-reum and Tae-ha, who had a pretty decent episode of honesty and real talk. The candid conversation between Yeo-reum and Tae-ha was wonderful. It helped that Tae-ha was drunk (Is it bad that I like Tae-ha better drunk than sober?) because he was willing to be direct, vulnerable, and in the moment. Yeo-reum had such a great way of articulating why they didn't work out, and it was refreshing just to hear those words come out of her mouth. She's not just saying the past is in the past like every other time; rather, she's reflecting upon why the past happened. Being young, not knowing how to love but finding love — that's where they were.
It's such a different dynamic than our actual couple, and I'm slowly growing to like the pair of exes more. Sure, they have problems with pride and manipulation — they're almost sadistically manipulative with each other — but something about being together brings them both down to earth. The relief and smile on Yeo-reum's face when Tae-ha walked into the shop shows how much they still value each other's company. They've seen each other through the best and worst of times, and they're just themselves around each other. They know too much about each other to let things be misunderstood or unexplained, unlike Ha-jin.
In a way, they remind me of Sol and Joon-ho, who can be the worst enemies but also the best of friends when necessary. I want him to be the official Mr. Twelve, the missing piece to fulfill the dozen men she will have dated. They've waited a long while, and hopefully that unintended patience will pay off in the form of right timing, finding love, and knowing how to love — something our exes never had a chance to complete.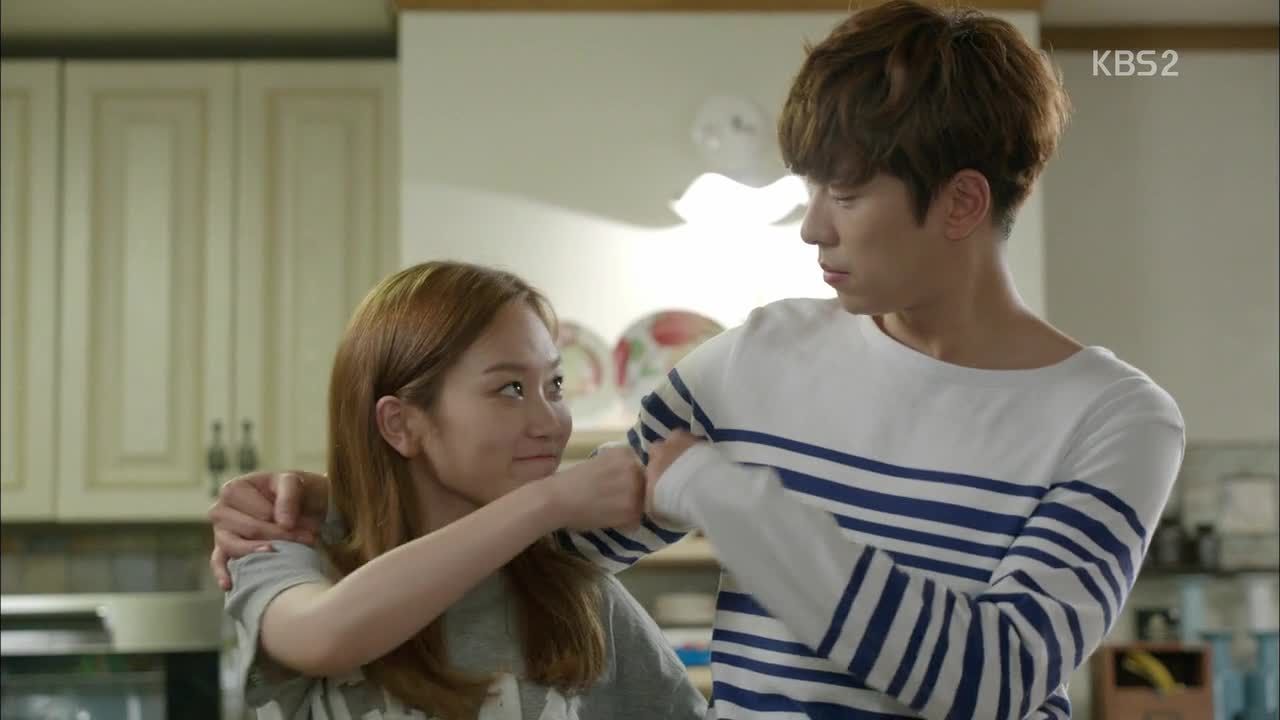 RELATED POSTS
Tags: Discovery of Romance, Eric, featured, Jung Yumi, Sung Joon