Running Man: Episode 212
Working with numbers has never been so confusing than in this second half, where our teams will do almost anything to avoid a hellish roller coaster ride overseas. Little do they know that getting on the ride is only the beginning of a terrifying (or thrill-tastic) experience, but on the bright side, at least they can wake up to animals waiting just outside their balcony.
EPISODE 212. Broadcast on September 7, 2014.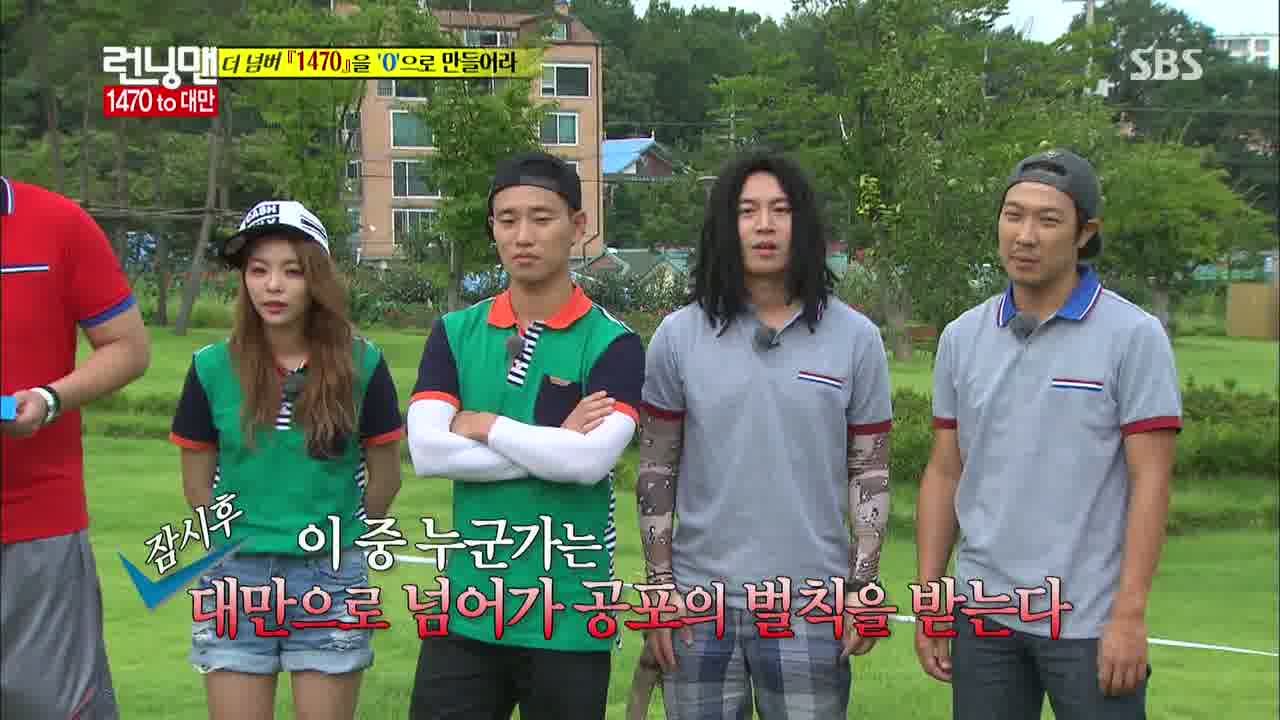 We resume with the Numbers Race, where the number 1470 refers to the distance between Incheon and Taiwan: 1470 km. Using math, our teams must either get that number down to zero and stay in Korea or face punishment in Taiwan: a terrifying rollercoaster ride.
Before the final mission, our teams are given one last chance to acquire another number through a piggyback race. Once the whistle blows, those in front of the curtain must piggyback whoever is behind them to the finish line, even if they aren't teammates.
Interference is fair game, but ideally the teammates would want to end up together. Er, maybe everyone apart from Jong-kook, who asks if it'd be fortuitous if he has to carry Tae-woo. The winning team will receive one number card of their choice.
After lots of switcharoos, the curtain finally drops, and some runners are luckier than others: like how Sung-jae ends up with Ji-hyo, but Chang-wook gets the honor of carrying Tae-woo. Oh man, the poor guy doesn't even have a chance before he crumbles underneath Tae-woo.
Gary and Ailee is the only team who end up together, though, and they run ahead and win it while the others are busy trying to check each other. It turns out that Gary switched places again at the very last second, which worked out for him and Ailee in the end.
They go for another round, and it's Gary who's the lucky winner with Tae-woo. Needless to say, he's down on the ground moments later. Two teams have found their respective partners, but Jong-kook (with Eun-yi) isn't far behind. In the end, it's Jae-suk and Sung-jae who win the round.
Our teams will face off inside, where they'll collect (and steal from one another) various mathematical symbols that will bring that 1470 (hopefully) down to zero within thirty minutes. Ack, I see a square root sign in that mix!
Finding all the tiles they need early won't be of great help, since they could easily be stolen before the doors open. So they'll need to use their brains and brawn to win this war. After collecting their previously acquired digits, everyone enters the arena.
Jae-suk and Sung-jae decide to stuff their numbers down their pants to prevent them from getting stolen. Kwang-soo and Chang-wook come up with a similar plan and strategy to find certain digits and symbols that will assure them an answer of zero.
Ailee wonders if people check the garbage—for a second, I thought she'd been asking whether the clues would be hidden in the trash, only to see that she and Gary hide their numbers in there instead. Risky, but sneaky.
All Ji-hyo and Seul-ong need is either a division or minus sign since they have so many digits already. And while those two use their noggins, Jong-kook and Tae-woo decide to go for quantity—they'll figure out the mathy stuff later. Ha.
The Easy Brothers fail to strike a deal, mostly because Chang-wook isn't great at lying to people's faces. So when Kwang-soo says they'll give up a seven, Chang-wook is all, But we don't have that…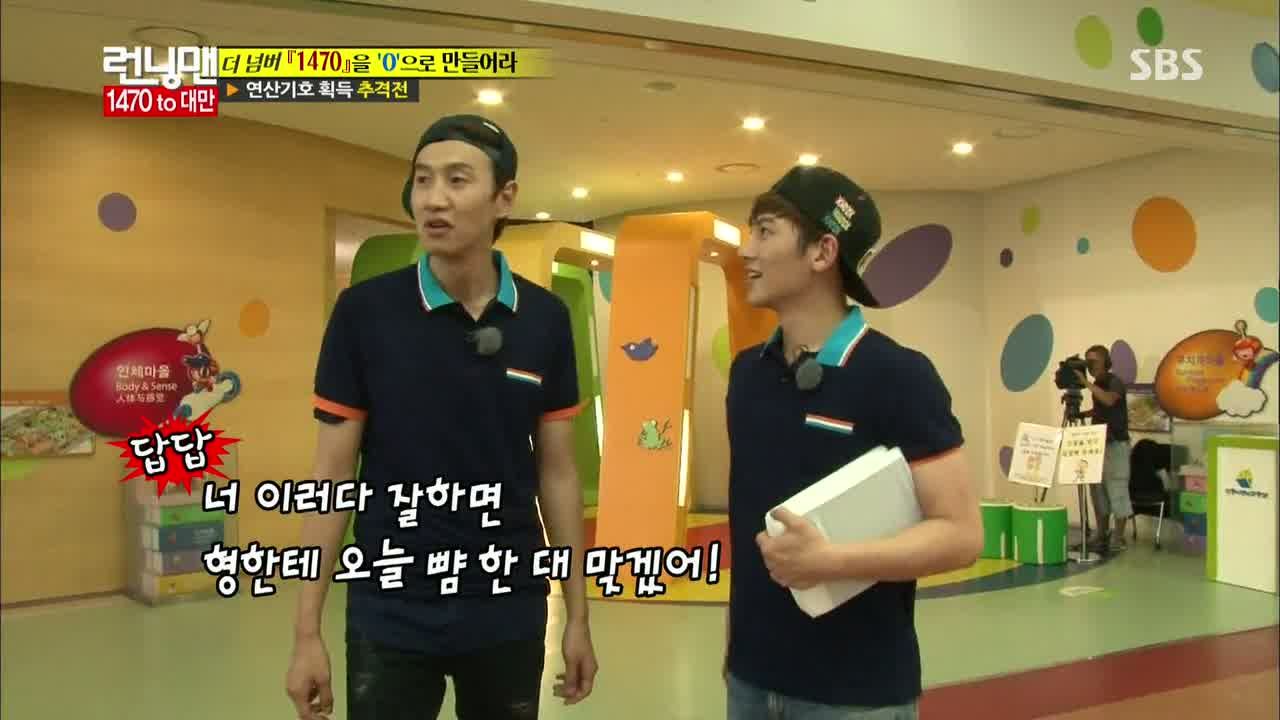 Then Chang-wook just waddles back and forth in awkward silence while Kwang-soo tries to convince Ji-hyo that they've hidden a division sign she and Seul-ong needs. But Ji-hyo doesn't take the bait: "Why would you hide it if you didn't need it?"
Chang-wook gets another lecture after Ji-hyo and Seul-ong leave, and Kwang-soo shows him an example of how to lie: all he has to do is show the blank side of a tile and claim that it's what the other person needs. Chang-wook: "What if they ask to see it?" Kwang-soo: "You don't show it to them!"
Jae-suk has some fun with the pin screen, and HA—his facial expression really does resemble a grasshopper. Seven minutes have already passed when Skull finds two tiles he and Haha need (multiplication and division signs). Haha borrows change from the staff, then runs over to the locker room to stow away their tiles.
Jong-kook and Tae-woo have found many of the tiles they need by the time they talk to Haha and Skull. The latter team suggests swapping numbers, but that's when a thief makes off with a tile right under their noses. It's Sung-jae, who managed to nick a square root sign.
Jae-suk warns his teammate against annoy the wrong people, lest he wants to lose more tiles than he's stolen away. Too bad Haha and Skull are already annoyed, but they're also too busy presenting Jong-kook and Tae-woo with a proposition: they'll hand over the one number Jong-kook needs to win for one they need in exchange. Excited, Jong-kook says he'll give them anything they want.
Fifteen minutes remain on the clock, and Jae-suk and Sung-jae are in a pickle—none of their current combinations give them a zero; they'll have to steal tiles away. At the same time, Gary goes around blatantly asking for tiles, claiming that his were taken. To his luck, Haha gives him a tile he needs (which is then promptly hidden in the trash can).
Haha and Skull have to run after a succe6ssful switch with Jong-kook and Tae-woo, the latter of whom now have the necessary tiles to get down to zero. The name of this unstoppable duo: "Bear & Tiger." Heh, how apt.
Haha and Skull are bundle of nerves as they stuff their necessary tiles in a desk. I love how the VJ gets yelled at for grabbing a closeup for us to see, since his behavior is much too conspicuous for the open. Through clenched teeth, Haha warns, "Stop it! What are you doing?"
Kwang-soo manages to keep a tile high above the air, thanks to his tall height, though there's much grabbing and stealing among the others. Seul-ong nicks a plus sign, and uses math to realize that they have enough to make zero, too.
Everyone's getting antsy with five minutes left on the clock, and Chang-wook drives a hard bargain to Jae-suk's offer to exchange tiles. The captions inform us that nobody has to go to Taiwan if they all exchange what they don't need.
Kwang-soo steals a tile and then runs off, only to be discovered less than a minute later. But soon they're joined by the others, who all pounce on Jae-suk and Sung-jae, all hoping to wrangle a tile or two. Not too far away, Chang-wook is huddled into a ball, trying his best to protect his pile from getting stolen away.
But with less than three minutes until the doors open, this fight has turned into an all-out war, as teams attack left and right to steal tiles from one another. Jae-suk and Sung-jae sneak away to do some last-minute calculations, and it looks like the thrill-loving Sung-jae has changed his mind about that frightening rollercoaster that awaits them in Taiwan.
Jong-kook and Tae-woo are the only ones biding their time in silence while Suk-jin and Eun-yi fret over a missing tile, unaware that they have all the pieces in their hands already. It's kinda funny how Suk-jin's sweating, though I wouldn't be able to calculated anything either with time running out soon.
HA—all of Haha and Skull's tucked-away tiles are now missing from their hiding place. Did you really think they'd be safe there forever? It turns out that Chang-wook–who'd been looking for a place to count his tiles—had accidentally stumbled upon the hidden tiles tucked behind the desk.
He'd pilfered the place like a gold mine and made off with his new goods. There's less than a minute left on the clock now when our teams settle down to protect their loot. Kwang-soo and Chang-wook are unaware that their mess of a pile contains the few key tiles they need, and everyone sits tight in the final few seconds.
Seul-ong and Ji-hyo are first out the door with their bag of tiles, and Suk-jin and Eun-yi run off with a tile the former team left behind. Gary and Ailee are the first to make zero, followed by Seul-ong and Ji-hyo as well as Jong-kook and Tae-woo. Do all these teams get to remain in Korea?
Remember that tile Suk-jin and Eun-yi picked up? It turns out the extra digit gives them a negative number (-5), and Suk-jin belatedly realizes that he needed a plus sign instead of an extra minus sign.
Kwang-soo and Chang-wook are busy arranging digits, trying to subtract a large number from 1470. We're told of the easier alternative (1470 x [5-5]) in their roster, but they don't see it. Chang-wook reassembles their tiles, but now they're missing a parenthesis tile, which Kwang-soo admits they gave to another team. D'oh!
Jae-suk and Sung-jae are short just one mathematical symbol too, and then the whistle finally blows. Our three successful teams are given the a-okay to go home, while the rest will be heading out overseas.
After a short interruption of a barrage of actresses including Choi Yeo-jin, Seo Woo, Yoo In-young, etc., our remaining cast members head straight for the airport. Dawn breaks the next morning, as Skull adorably records himself in his hotel room. "Why am I in Taiwan right now?" he asks. "I came here to film Running Man, and after I opened my eyes, I arrived in Taiwan."
He heads over to wake a still-sleepy Haha, and calls out a chipper Kwang-soo for claiming to have gone on a morning jog and read the newspaper while drinking coffee: "It looks like you just woke up, though." Ha.
Kwang-soo proceeds to rouse Haha out of bed by blowing a raspberry on his stomach and bum, which Haha doesn't take too kindly to. There's a whole zoo outside, with turtles, giraffes, and rhinos, oh my! At the giraffes, Sung-jae remarks, "There are three Kwang-soos!"
Speaking of whom, Kwang-soo is busy trying to gain the affection of one of the giraffes, which slowly walks away. He points out a pointy-looking structure in the distance—oh snap, is that the rollercoaster?
Needless to say, no one is particularly thrilled about their punishment today. (Also, Eun-yi couldn't travel overseas with the others, due to scheduling conflicts.) Haha and Kwang-soo apologize for not working harder at that 1470 solution.
Suk-jin is the first person to break the awkward silence on the bus, and he's skeptical of Sung-jae's confidence, citing that their actor guests are usually the type to talk a big game. Sung-jae appeals to Jae-suk for help, and the latter affirms that sure, Sung-jae can get on a scary ride just fine… he'll just swear on the ride, too.
Once they arrive, Kwang-soo admits that he wants to knock everyone out and run home. Chang-wook honestly confesses that he can't ride rollercoasters, and Sung-jae boasts that he's the only one in this group who's looking forward to it, which Jae-suk hardly believes.
Seeing the inverted shuttle coaster up close does little to ebb their fears, and the terrifying-looking structure has a name: Screaming Condor. Hey, if a rollercoaster shot me straight up a 90-degree angle, I'd be screaming too.
If it couldn't get any worse from here, it just did—they've got a mission, too. It's great how the crew is all, No it's easy! All you have to read whatever's written on these signs and you get to go home! Well, they can go home if they guess correctly on their first try, that is.
The group rallies together to give it one go, and they all take turns in Yaja Time (a short period where the social hierarchy is reversed) telling each other to pull it together. Even maknae Chang-wook is encouraged to speak in banmal to the hyungs.
After their encouraging slaps turn into mini brawls, they finally strap into their seats. The ride starts, propelling them forward. But it isn't long before they go in reverse, then fly forward again.
When the rides comes to a most welcome stop, each member steps forward and multiply the two numbers they saw (9 x 5 = 45). Given how most of them are offering the correct answer, it seems like most of them did see the numbers, even scaredy-cat Suk-jin.
It's down to Haha, but he admits that he only saw one number because he kept his eyes firmly shut. Which means they have to get back on the ride, to everyone's ire. Haha suggests they scream the numbers for him at the top, to which Jae-suk points out that they're all busy screaming as it is.
Sung-jae, on the other hand, sticks to his "That wasn't all that scary" line, even though his sweaty hair and arms are dead giveaways. Haha vows to keep his eyes open, and everyone braces themselves for launch.
And this time, Haha keeps his eyes wide open and sees both numbers. Sung-jae says he feels like he's gonna hurl, and Jae-suk encourages to admit that the ride scared him already. But then Sung-jae reveals that he only saw the left number, because he thought that's what they agreed to before. Chang-wook's Are you kidding me?!? expression is priceless.
Everyone gives the correct answer, and then it's Sung-jae's turn. We don't get to hear what he said, but he's surprised by the numbers, and then… smiles? Ah, he'd given the correct answer after all, which means that they can all go home now.
All of them feel bad to make their first Taiwan visit so short, and the cast sends their warmest greetings to their fans.
We then cut away to meet our Running Man cast members, all second-generation chaebols of large enterprises. They're frozen stiff when the ladies from the previews, our next group of guests, suddenly approach them and make quite the entrance.
All these actresses throw themselves into their roles of scorned girlfriends, and omg, it's HILARIOUS. I especially love how flabbergasted the guys are, unable to utter more than "What's going on?" in jondae to the ladies they're meeting for the first time.
Actress Lee Yuri (Jang Bori Is Here!) throws a glass of water at Gary's face, while Choi Yeo-jin (Emergency Couple) whacks Kwang-soo over the head, "Does it hurt?!" Kwang-soo: "You really hit me!" Yeo-jin: "You really hurt me too, you jerk!"
Seo Woo (Emperor's Daughter, Soo Baekhyang) threatens Jae-suk before keeling over due to a mysterious sickness, and Yoo In-young (Three Musketeers) throws a fit with Haha.
Kim Min-seo lets Jong-kook have it, and Ji-hyo looks taken aback that Suk-jin recognizes her. "I'm Min So-hee," she corrects him. Hilariously, Suk-jin throws himself into the Temptation of Wife parody even more than she does, and admits that yes, he's here to kill her. HA.
Ji-hyo gets on her knees and recites a line from the drama, asking the heavens to oust this man and she'll follow him to hell. Not playing anymore, Suk-jin deadpans, "You just go to hell then."
I have to wonder how much of these exchanges are improvisation, but no matter, because they're funny all the same. Lee Yuri rips into Gary: "Stop liking Ji-hyo and like me too!" It looks like Yoo In-young may have met her match with Haha's taste for the theatricals, and Seo Woo throws back a handful of pills (vitamins, really).
We'll find out what these ladies are in for next week in It's Okay, I'm a Chaebol.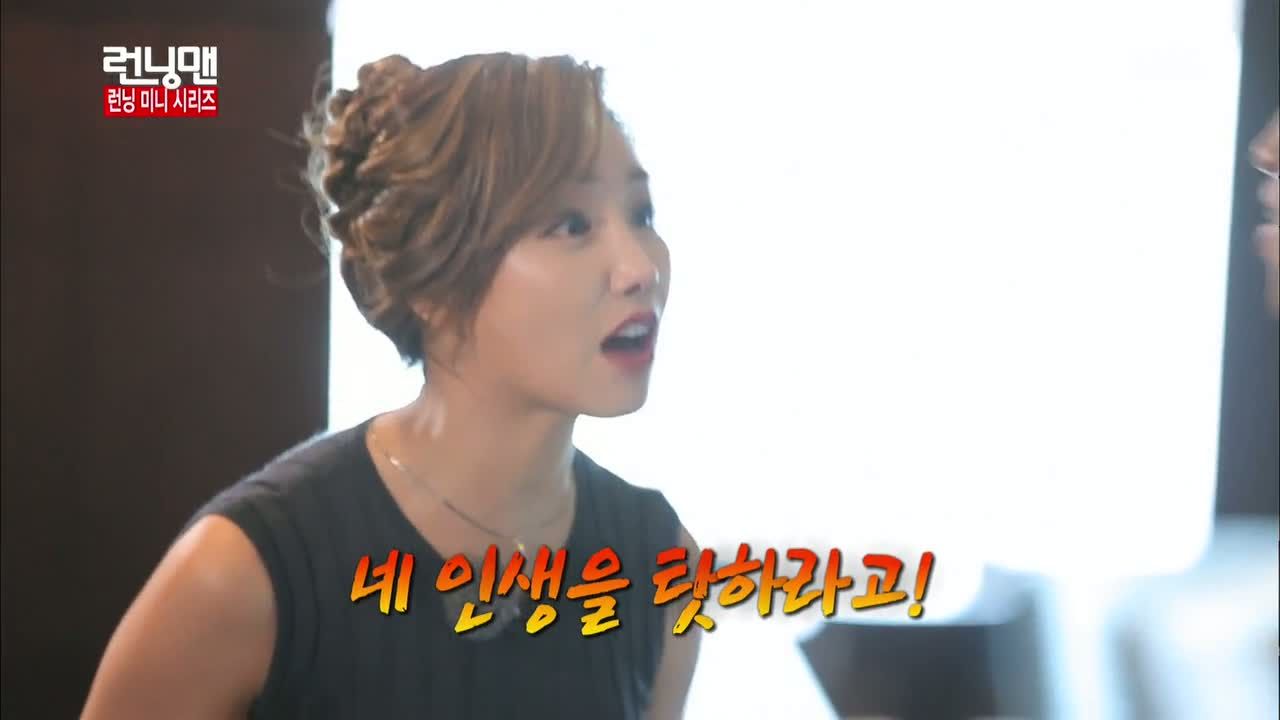 RELATED POSTS
Tags: featured, Haha, Ji Suk-jin, Kang Gary, Kim Jong-kook, Lee Kwang-soo, Running Man, Song Ji-hyo, Yoo Jae-suk