Misaeng: Episode 3
Hey guys, I'm just filling in for today, but I'm happy to pick up an episode of Misaeng, which is fast becoming one of my favorite shows of the year. It's clear now why the original webtoon is so beloved—this show takes the most mundane minutiae of office life and turns it into something universal and emotionally cathartic, and I'm thrilled to see that the execution onscreen is beautifully moving.
Truth be told, if surviving a day at the office was always this hard, I'd probably join a hippie commune in the mountains before my first week was over. But taken as a metaphor for life, every new hurdle for the newbie interns becomes a crucial lesson for how to survive in the world. Today's lesson: the price of pride.

SONG OF THE DAY
Jang Kiha and the Faces – "기상시간은 정해져 있다" (Wake-up Time Is Predetermined) [ Download ]
Audio clip: Adobe Flash Player (version 9 or above) is required to play this audio clip. Download the latest version here. You also need to have JavaScript enabled in your browser.

EPISODE 3 RECAP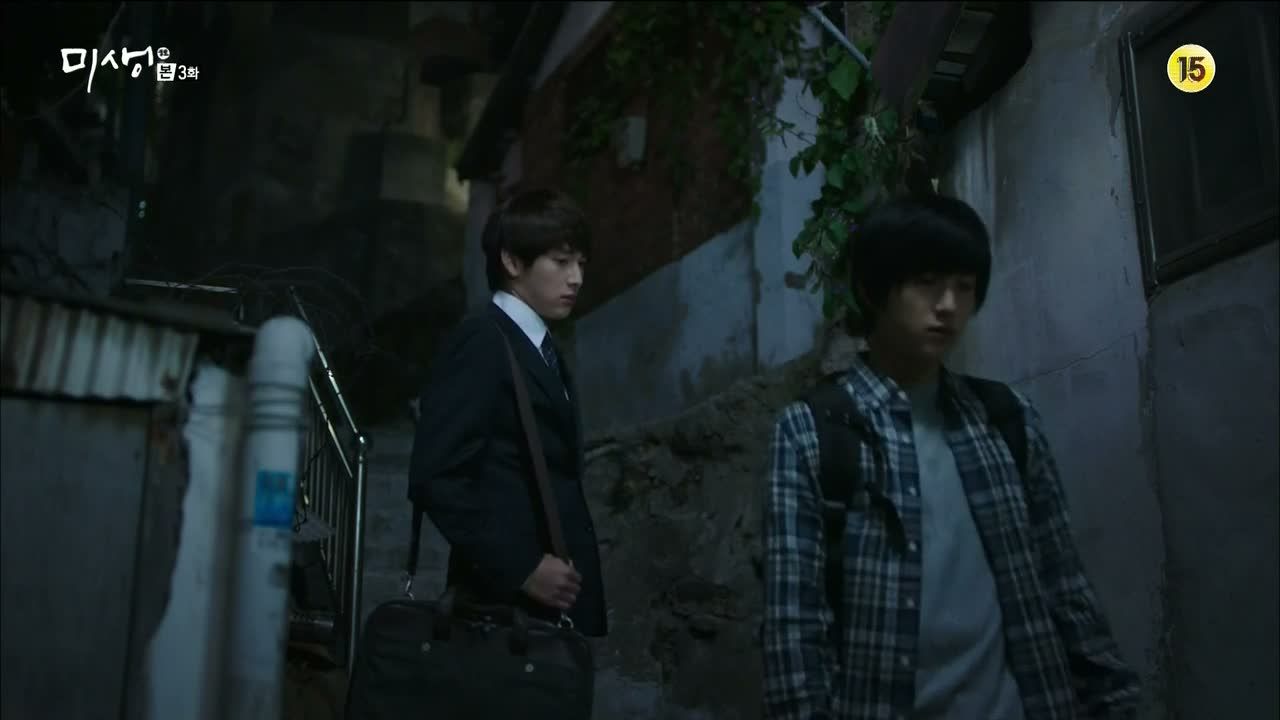 Geu-rae heads out for work while it's still dark out, and he envisions younger versions of himself passing by as they come and go at the same hour. He narrates that then, as now, there are always people on the street. "I expected others to still be lost in their dreams, but as always, the world is faster than I am."
He gets to the office and goes straight to smooth-talking intern Seok-yul and agrees to be his partner for the presentation competition. Seok-yul is a little taken aback and they relocate to the rooftop, where he asks why Geu-rae wants to be his partner.
I don't even know why he asked, because the second Geu-rae starts to state his qualifications, Seok-yul launches into this spiel about how everything in his life is about to change in these five minutes on the roof, and then agrees to be partners. Geu-rae stares at his outstretched hand, wondering if this guy is for real.
The other interns laugh to hear of the partnership, and make fun of weirdo Seok-yul's daily habit of arriving early to work just so he can drool at the female coworkers, earning himself a reputation as a dog (they call him gae-byuk, which means "unprecedented event," but they mean it literally parsed per syllable as "Dog Wall," like he's so pervy he's a dog who hides behind walls to peep at girls). They conclude that the Geu-rae-Dog-Wall partnership is basically the meeting of two bombs: "It's a nuclear bomb!"
Conscientious intern Baek-ki in particular says he's curious to see which of them will explode first, and chuckles to himself when he witnesses Seok-yul basically telling Geu-rae to do whatever he wants for the presentation, to make himself shine. Seok-yul says to just let him in on the process as it comes along. Uh-oh, is he going to be stuck doing all the work on his own?
Ace intern Young-yi starts stressing out when she realizes she's out of time to secure a partner, and Baek-ki comes by to ask her about it. He sees her eyeing Geu-rae and tells her that he's already found another partner, and her face falls. To make matters worse, Bitter Intern comes by to make finger guns at her as he declares that she's stuck with him now. Oy. Baek-ki can only tell her to be strong.
Geu-rae busies himself with straightening random stacks of paper as Department Chief Oh and Dong-shik arrive, and they're both weirded out by the email from Geu-rae sitting in their inboxes. He says cheerily that he sent it to inaugurate his new account, and smiles broadly as he walks away.
Chief Oh reads the painfully earnest email from Geu-rae where he thanks them for the delicious dinner last night and calls it the start of forming a bond with colleagues. He mentions that it was also a chance for him to witness Chief Oh's hidden sincerity, and ha—the narration cuts out as Chief Oh closes the email halfway through.
He asks if Geu-rae was even at the gopchang place last night, and admits to Dong-shik that he doesn't really remember much after dinner. Dong-shik gapes and asks if he doesn't remember running into the department chief next door and getting into a petty schoolyard fight, and Chief Oh completely blanks on all of it. Noooooo! You can't forget "our kid!"
And Geu-rae, totally unaware that Chief Oh was too drunk to remember their moment of bonding, sighs happily to himself that it's a good morning.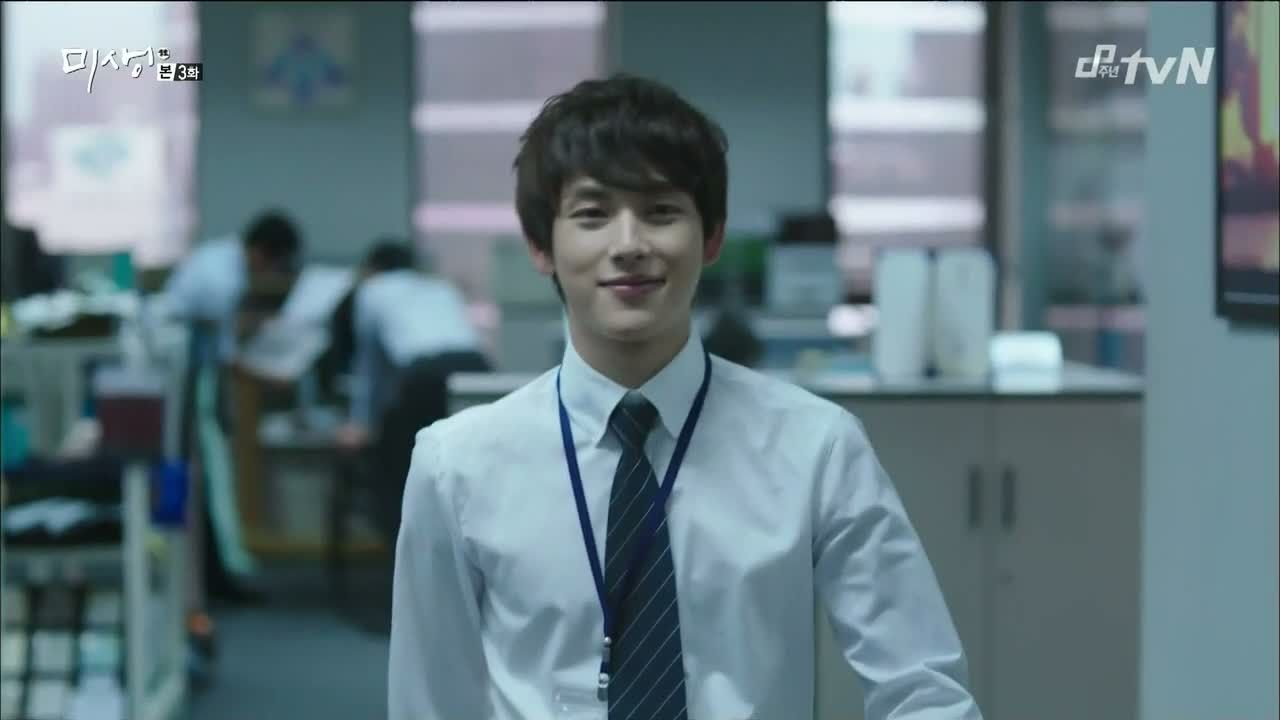 The workday gets going, and Dong-shik wonders why Chief Oh is trying to revive a business proposal for a project that the executive director already turned down. Chief Oh just stubbornly thinks it's still a good idea and can be revamped, to Dong-shik's dismay.
When Geu-rae returns from the copy room, Chief Oh has a pang of guilt as he remembers how harsh he was to Geu-rae yesterday, and decides to give him a task. He tells him to fetch a few contract forms, but uses so much business jargon that Geu-rae just stands there not knowing what to do.
Chief Oh looks as displeased as ever, but this time he shoves a business lingo dictionary at him and tells him to figure it out. Hey, it's progress.
Geu-rae studies the dictionary outside, and Young-yi comes by to ask if he's partnered with Seok-yul. She notes that she was rejected then, and her partner Bitter Intern comes out to say that he already has a presentation from a sunbae they can use.
He grabs her by the hand and she pulls away, making it clear that he's being inappropriate, and he just smarms at her that he's just used to being so close with all the other female employees. Ew, don't make me rename you Sexual Harassment Intern, okay? (We do learn that his name is Lee Sang-hyun, in case it comes in handy later.)
Young-yi looks over his sunbae's proposal in a conference room, and says she'd rather do the work herself. Her partner is lazy on top of being handsy and bitter, and rolls his eyes at her insistence that they do unnecessary work.
Baek-ki finds her sighing in frustration and presents her with a coffee (with a cute post-it on it telling her to rest), and swears that it's from her department chief. I dunno, my money's on you being her coffee fairy, but we'll let it go for now.
He says that the one thing he doesn't understand is why Geu-rae chose Seok-yul to be his partner. The reason everyone else asked Geu-rae was obvious—they wanted to shine next to a bad partner. It's news to Young-yi that so many other people asked Geu-rae to work with them, and it dawns on her now that he must've thought the same of her, that she was trying to use him.
Geu-rae stays late that night studying his dictionary, and stays up even later as he continues at home. In the ensuing days, he's quicker on his feet and makes himself useful during meetings.
Chief Oh takes the time to quiz him on new terms every day (awwww), and whacks him on the head with a ruler when he gets things wrong. It just gives me the warm fuzzies that he even bothers to quiz him. And things remain awkward between Geu-rae and Young-yi, not that Geu-rae is ever not awkward to begin with.
One morning, Chief Oh barks an order at Geu-rae, then remembers himself and starts to translate what he means. But Geu-rae says he understands and cites the jargon back at him with precise definitions. Booyah.
Both Chief Oh and Dong-shik just stare slackjawed until Geu-rae walks away. Dong-shik wonders if Geu-rae is some kind of genius—he memorized that whole dictionary in just three days, all while preparing for his presentation. He adds that of course they don't know if he's doing his presentation well, and asks Chief Oh if he wants Geu-rae to pass or fail. Chief Oh pauses, "Honestly?" He stays silent for another long beat, then admits, "I want him to fail."
Geu-rae keeps getting these exasperating one-line texts from his presentation partner Seok-yul that range from, "Again!" to "That's not sexy!" (The text icons crack me up: a dog and a wall for Dog Wall, and "Yes" for Geu-rae, whose name means "yes.") Geu-rae calls him, and Seok-yul is busy standing in the street taking pictures of random hot women.
He explains that by "not sexy" he meant that Geu-rae's presentation idea wasn't edgy enough for his liking, but of course all he does is shoot down Geu-rae's ideas without ever offering one of his own. Geu-rae fumes on his own in the copy room, and Baek-ki chortles to see that this bomb went off first. Baek-ki seems rather smug about Geu-rae's impending failure and goes off with his own presentation partner, leaving Geu-rae feeling even more insecure.
As Geu-rae makes his way through the many office workers stumbling home after another late night, he flashes back to the moment when he packed up his life as a baduk player. His friends ask if he's really going to give up like this, and if he won't regret it—after all, he was always better than them, and they made it.
Mom peeks in on Geu-rae and wonders why he always works all night and through his weekends. Chief Oh and Dong-shik come to the office on the weekend and find Geu-rae sleeping at his desk, and Chief Oh makes sure not to wake him. Dong-shik says he thinks Geu-rae is pretty much doing his presentation on his own, and when Chief Oh finds out who his partner is, he notes that the guy with nothing but know-how and the guy with zero know-how got together.
As Geu-rae dozes off at his desk, he dreams of being a little boy sitting in front of a baduk board. Different men pop up to guide his hand with every move that he makes, as a representation of all the great players who have influenced and taught him.
But then they start to fade around him as the boy grows up. He narrates, "My many heroes… are all disappearing. Don't go! I'll do better! Don't go…" He cries in his sleep, and murmurs aloud, "Don't go…"
Young-yi happens to come by and notices him crying as he dreams, and hurriedly walks past when he starts to stir awake. When he wakes up, he looks down at his hand and chastises himself for still dreaming the same dream like an idiot when it's been so long since he left all that behind.
He finds that Seok-yul hasn't even read his latest presentation proposal, and calls with an angry reminder. Seok-yul rolls his eyes at the nagging, and gets back to drinking with the factory workers he was sent down to work with. I can see how a guy like this might get far in the business world, but he's infuriating.
Young-yi's thoughts linger on Geu-rae's sleep-crying, and she's jolted back to reality when her partner calls to push their presentation meeting till tomorrow, insisting yet again that he'll find another sunbae's project they can rip off.
She's especially fed up with her partner when she runs into Geu-rae in the copy room, and this time she makes an effort to get past their awkwardness by suggesting a coffee break. She says that she's unhappy with her partner, and uses the chance to clear up the misunderstanding, explaining that she didn't approach Geu-rae to be partners with any ulterior motives.
He brightens at that, and apologizes for jumping to conclusions. She tells him he can make it up to her if they both pass the test, and they both smile. Aw, does he finally have ONE friend?
Baek-ki's face darkens when he notices them, and when he comes up asking if they're laughing because something is funny, Young-yi just answers curtly, "Yes, it is." Baek-ki says Geu-rae doesn't really have time for this though, because his team is in crisis mode. Uh-oh.
Geu-rae returns to his cubicle to find Chief Oh ripping Dong-shik a new one for overlooking a term in their latest contract that's threatening to stop a massive deal in its tracks. It's especially harrowing because this falls entirely on their shoulders, and they scramble to figure out a way to book a new boat and straighten out the shipment before the buyer backs out.
Chief Oh gets called in to be yelled at by his boss, and meanwhile Geu-rae hangs back and asks his neighbor intern what he knows about the situation. When Chief Oh and Dong-shik pack up their things to go down to the Ulsan branch themselves, Geu-rae says he's already booked them on the next train down. I love the look of shock on Chief Oh's face every time Geu-rae does something right.
He asks what else he should do, and Chief Oh just tells him to keep working on his own. Geu-rae sighs to himself that he'd love to, but he can't because of his partner. Cut to: Seok-yul still drinking and singing.
Down at the company's Ulsan branch, Chief Oh realizes they left a file on his desk, and figures that they have so much work to be done here that they should just have Geu-rae bring it down.
Geu-rae is sitting at his desk fuming at every minute that goes by without Seok-yul opening the presentation document that he sent, and heads down to Ulsan when Dong-shik calls. It's only when he arrives that he remembers this is where Seok-yul is, and we see that he's in fact just on the other side of the factory.
Geu-rae brings Chief Oh the requested file and goes to fetch more records, and he finally comes across Seok-yul as he sexually harasses a woman and gets slapped across the face for trying to grab her butt.
He actually says that since he already got hit, he'll touch one more time, and she hits him again. What the hell, sleazebag? Geu-rae's face contorts in horror, and he calls Seok-yul a wacko pervert, which sounds about right. Guess they call you a dog for good reason.
As he ices his face, Geu-rae confronts him about their presentation ideas, and Seok-yul makes sure to belittle his efforts, despite having contributed nothing so far. Seok-yul looks them over when he gets to his desk, where he overhears a manager complaining about Chief Oh's mistake.
In their makeshift corner of the factory, Geu-rae and Chief Oh work side by side. When he notices that Chief Oh is straining from neck pain, Geu-rae pops up to rub his shoulders, freaking Chief Oh out. They both jump out of their skin and Geu-rae scurries back to his seat.
The awkward air lingers, so Chief Oh asks how his presentation is going. Geu-rae lights up and says with excitement that he's never asked before, and gets up to start the story… which is just about as much as Chief Oh can take, and he changes the subject. HA.
Their crisis gets handled, and Geu-rae cutely hovers around Chief Oh to ask if things are good now. He gets a curt text from Seok-yul wanting to meet, and Geu-rae asks Chief Oh hesitantly if he's ever been conned before. When Chief Oh doesn't respond to his timid complaints about Seok-yul, Geu-rae shuffles toward the door.
But Chief Oh calls out after him to say that in his estimation, his partner Seok-yul is someone with very clear motivations to succeed—if Geu-rae is incapable he'll use that to his advantage, and if Geu-rae is capable, he'll use that to his advantage to shine.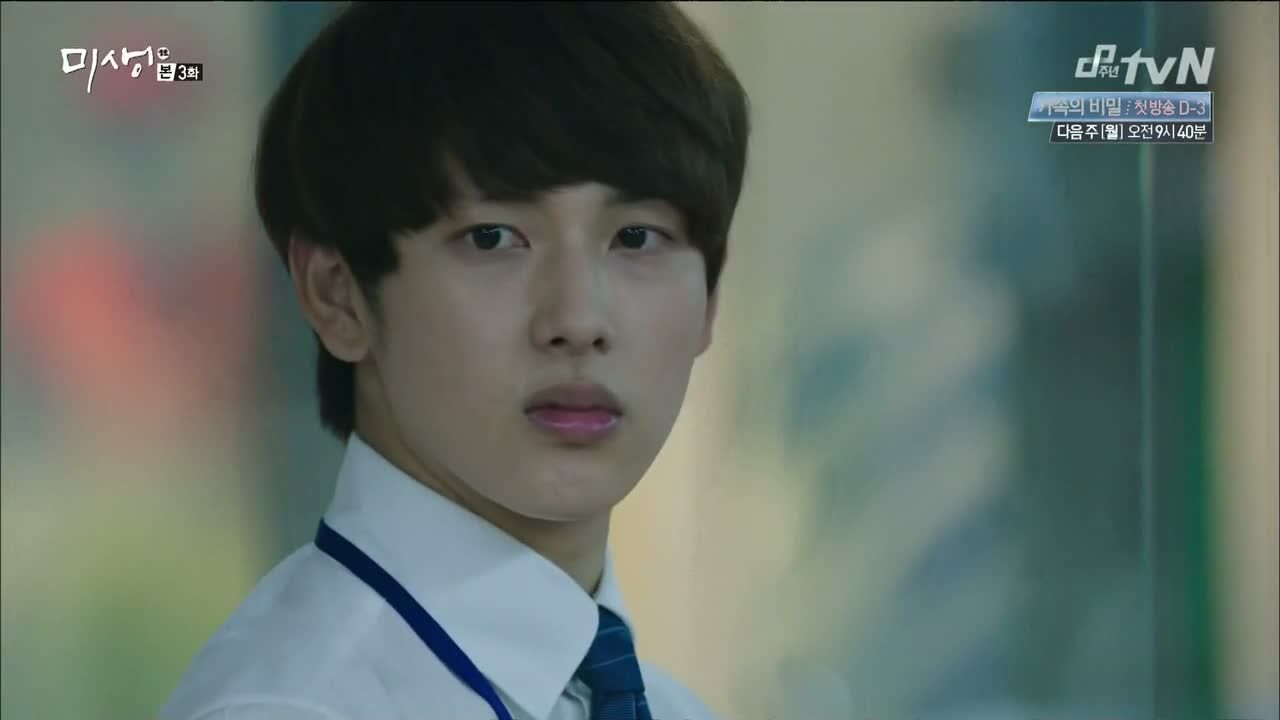 Chief Oh: "People with strong motivations to succeed are like tornados. They give the people around them a hard time and do them harm. But their center is silent. Take charge of the center." That was awesome. He kind of even looks like Yoda.
Now armed with that epiphany, young grasshopper goes to meet his partner, and doesn't let himself get derailed by Seok-yul's attempts to belittle him (this time for his team's screw-up). Geu-rae stays laser-focused on task and finally gets him to agree on a presentation topic.
Geu-rae cuts him off to state decisively that they have clearly made this choice together in agreement, and from now on Geu-rae will plan the presentation himself, to his own benefit. He says he'll brief Seok-yul on the process but not take any direction from him, "as promised," totally turning every single thing Seok-yul said around, to bite him in the ass. So. Great.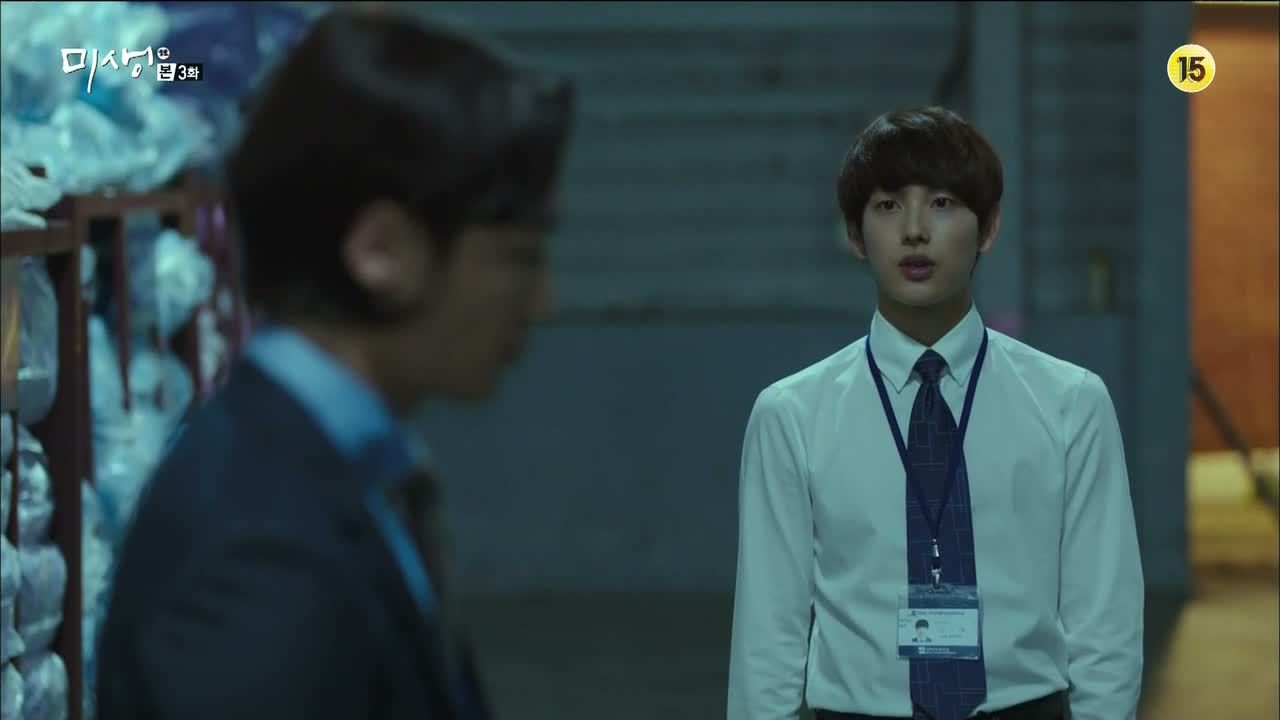 Seok-yul's jaw drops, and he starts to stutter. Geu-rae doesn't blink, and starts to walk toward him with purpose. He narrates, "At a basic level, baduk is a fight and a war. If one approaches, the other retreats. Coexistence is supported, but it's a world where there is a clear winner and loser."
He gets right up in Seok-yul's face… then asks in banmal, "How old are you?" Lol. Geu-rae adds in voiceover: "I lived in that world for over ten years. I might be a defeated soldier, but I was trained to win." Badass.
As we watch him finish up his work with Chief Oh, Geu-rae narrates that they completed the deal successfully and the new boat even left with their shipment on time.
And a few days later, Seok-yul returns to the main office and presents Geu-rae with their personnel files without a word. Geu-rae looks from one to the other and his eyes widen in horror to discover that Seok-yul is a year older than him. Drat.
Chief Oh's boss gives him the bad news that he's being called in for a disciplinary hearing, and the whole floor goes eerily silent as everyone's eyes shift back and forth. Chief Oh pushes back, wondering why they're being so harsh when he managed to close the deal with just a slight raise in their shipping cost.
But his boss says this is all because he insisted on reviving the deal that the executive director shot down. Ugh, I had a sinking feeling about that proposal when Dong-shik looked so scared to turn it in. Chief Oh realizes that it's personal.
His team is frightfully nervous as he returns to his desk, but Chief Oh makes every effort to go on with business as usual. Dong-shik knows he's to blame and will take the fall at the disciplinary hearing, and Chief Oh storms out in frustration, but immediately goes to the roof to start calling other managers and directors on Dong-shik's behalf.
Geu-rae runs into Seok-yul, who's so well connected in the gossip mill that he's already heard about the disciplinary meeting. They go over their presentation, and Seok-yul railroads Geu-rae any chance he gets, pointing out the presentation's flaws and reiterating that this is why he's needed on the team.
Geu-rae goes to roof to vent on his own and admits to himself that Seok-yul was right about the mistakes he pointed out. He overhears Chief Oh just around the corner, as he calls a managing director to say that he's more to blame than Dong-shik is.
It's not looking good though, and Chief Go (of the neighboring cubicle team) comes out to tell him that the one director who might speak up for them is on a business trip abroad. He tells Chief Oh to go see the executive director and just hang up his pride for once: "Why do you take the long road when you know the shortcut?"
Geu-rae looks especially curious when he hears that the executive director could make the whole disciplinary hearing go away, and that he and Chief Oh have a history of bad blood between them. Chief Go needles him and says sarcastically that his pride is naturally more important than his teammate's salary and job security, and Chief Oh gives him a wounded death glare.
He hangs his head and lets out a defeated sigh, and then stalks off with a determined look on his face. He reaches the top floor and stands frozen in place as the elevator doors open, and then begin to close.
Chief Oh raises a hand to keep the doors from closing… but in the end he lets the doors shut without ever stepping out of the elevator.
Geu-rae and Seok-yul turn in their presentation materials for review before tomorrow's big day, and Chief Oh overhears Seok-yul being pushy and dismissive as ever. Chief Oh grows increasingly irritated every time Geu-rae gets cut off or answers meekly, and finally makes his presence known.
He can't exactly yell at Seok-yul, so he sort of screams at both of them, over a stupid task that Geu-rae has put off because of the presentation. He does make sure to glare though, which finally wipes the grin off of Seok-yul's face.
Back at his desk, Chief Oh says he's used to seeing Geu-rae disregarded, but asks why he's letting Seok-yul walk all over him—does he have no thoughts or just no drive?
Geu-rae says calmly that Chief Oh told him to go into the center of the tornado—didn't he mean that it's better to go into the eye of the tornado rather than stand aside and be harmed? Geu-rae says that he got angry and resented him, but he came to realize that he needs Seok-yul, and that he has to acknowledge that.
Geu-rae: "Because there will always exist those differences that can't be overcome by pride or stubbornness. Because even though I'm ashamed, I have to survive till tomorrow."
Oof. The moment it hits Chief Oh that this kid understands his own advice better than he does—it's embarrassing and empowering, all at once. He goes straight to the top floor and braces himself to go see the executive director. He storms in like he's ready to go to battle… only to walk out deflated because the director isn't in.
He gets back into the elevator, and Seok-yul happens to be inside. Chief Oh answers his greeting with a good-natured chuckle, but spends the rest of the ride in silence.
Suddenly at the last moment as Seok-yul steps out on his floor, Chief Oh sticks his foot out to trip him on purpose, and Seok-yul goes flying. Hahahahahaha. I have to watch that again.
Long seconds of silence pass by, and then Chief Oh feigns concern, advising that a man can't have a weak lower body, so he should stop taking the elevator and just use the stairs.
Of course, in front of Geu-rae's face he can't let on how he's feeling, so instead he gives constructive advice on how to practice for his presentation. Geu-rae just blinks in awe, never having been given actual tips from his boss before.
It's only later in the copy room that a slow smile creeps up on Geu-rae's face, as he lets himself bask in Chief Oh's advice for one small moment.
Meanwhile, Chief Oh waits and waits before calling up to the executive director's office, but his assistant says that the director just left for the day. Chief Oh asks if she conveyed the message that he was waiting to speak with him, and she awkwardly answers yes. He hangs up in defeat, but after a moment's consideration, he gets up to leave the office.
Geu-rae calls Seok-yul up to the roof and asks that they practice their presentation out loud, per Chief Oh's suggestion. Seok-yul is strangely resistant though, and argues that he's the one doing all the talking anyway and it's too late to make any changes because he's already memorized it.
That's not enough to dissuade Geu-rae, and he argues that Chief Oh told him to take the time to practice and make last-minute changes. But Seok-yul just answers snidely that Chief Oh is a powerless, ineffectual manager who's letting his subordinates take the fall for his failings. Whoa. He says everyone here knows it, and adds that he doesn't consider anyone who's that inept in the field his boss.
Finally Geu-rae has enough of his yammering and lets a punch fly: "What do you know about my boss?!" Seok-yul reels and punches Geu-rae right back, reminding him that they're technically both interns and no one's their boss yet.
But by now they're both just pissed, and they throw punches back and forth wildly, stumbling around and wrestling toward the precarious ledge. Finally Seok-yul calls a timeout when he gets a text, and tells Geu-rae to check his phone too.
They both read the message with these twin looks of incredulity—it announces that the second part of their intern test is to come up with something to sell to your presentation partner. Geu-rae narrates: "You want me to make a sale to the one person in the world I least want to sell something to?
Downstairs, Chief Oh runs out of the building just in time to watch the executive director's car pass him by without a moment's pause. And back on the roof, Geu-rae and Seok-yul stand there mid-face-off, in a stupor.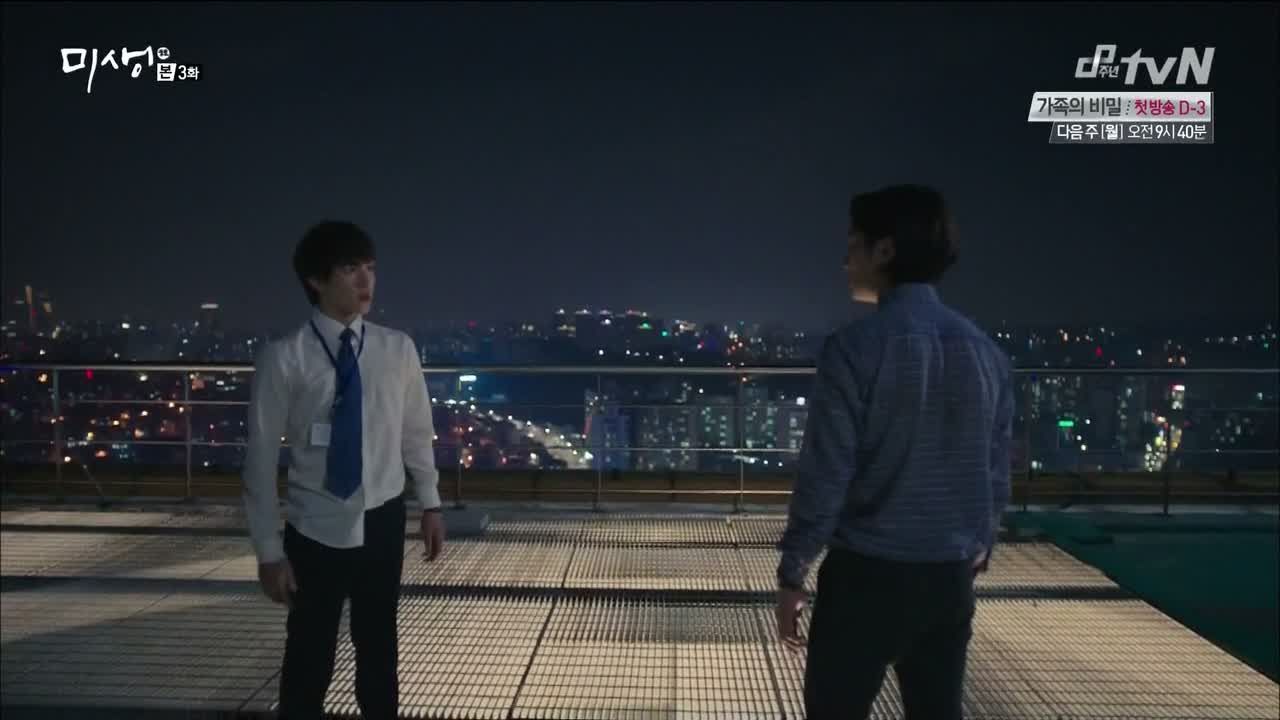 COMMENTS
I'm really excited by the way this show has turned out. It may be the least exciting plot on paper, but I was hoping for something good, and it's even better—it's great. The directorial style and the actors' performances have me captivated, and I'm even emotionally invested in what I thought would be rather obvious rookie growing pains. Granted, the pace is languid and the episode lengths are bloated (tvN, more does not equal better—why do you not understand this?), but I find almost every scene visually interesting, and that most times I'm so taken by the performances that it doesn't feel slow.
The cast is pretty spectacular from top to bottom, including all of the small side characters and the interns who often function as antagonists. And I think Im Shi-wan is doing an amazing job with the subtlety of his character—I can feel his nervousness, his fear, his joy, and his sense of being adrift, no matter where he goes. I see only Jang Geu-rae when he's onscreen, and I'm immediately on his side, rooting for him to find his place in this office.
But his isn't even the best performance in the cast, because Lee Sung-min makes my heart hurt, he's so good. I don't know how he does it, but his character always seems two steps away from breaking down, like he's one pack of cigarettes over his daily limit, on his seventh cup of coffee no matter what time of day it is, and smelling faintly of cheap aftershave and yesterday's takeout. He feels so… for lack of a better word, real.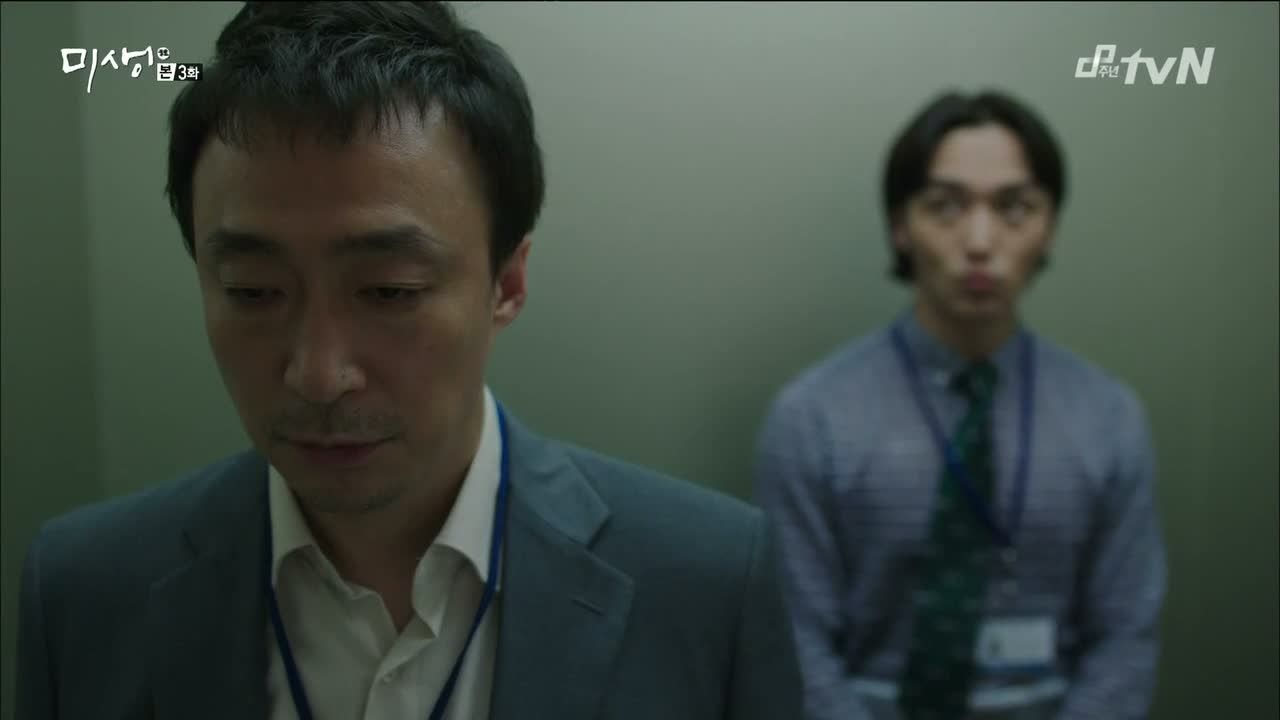 I think it's funny because I'm pretty sure I've been desensitized by the show's bleakness, because my heart swells with every nugget of praise Chief Oh throws Geu-rae's way. It feels downright swoony. But the way Geu-rae reacts to each occurrence—like Chief Oh's praise is his lifeblood—it's so moving, and yet sometimes I step back and think, This is why they deprive prisoners of basic needs—so that you're grateful for a morsel! I just find the dynamic so fresh and intriguing, because our central relationship is between a boss and his intern, and it's emotionally gripping even though on the surface, their conversations remain very dry. They just leave so much unspoken that only we can see, and the heart of that emotion is really in Lee Sung-min's eyes.
What really strikes me about this world is that there are no pretty ribbons tied to their work lives in the form of dreams—nobody works at One International because it's the fulfillment of a lifelong passion. People punch the clock here to survive, and that informs everything, from interns' competitive battles, to middle managers' need to humble themselves in front of petty executive directors.
I enjoy that Geu-rae's current challenge is in dealing with this delinquent weirdo for a partner, because it forces him to make very clear choices, and gets him to sharpen his wits to survive. What I like about Geu-rae is that he might be downtrodden, but he never paints himself as a victim. He has no practical knowledge, and yet he's wise beyond his years, and understands brilliantly what it means to lose one battle to win a war. I loved how his arc actually came around to teach Chief Oh that lesson—schooled by his own intern, and with his very own words at that.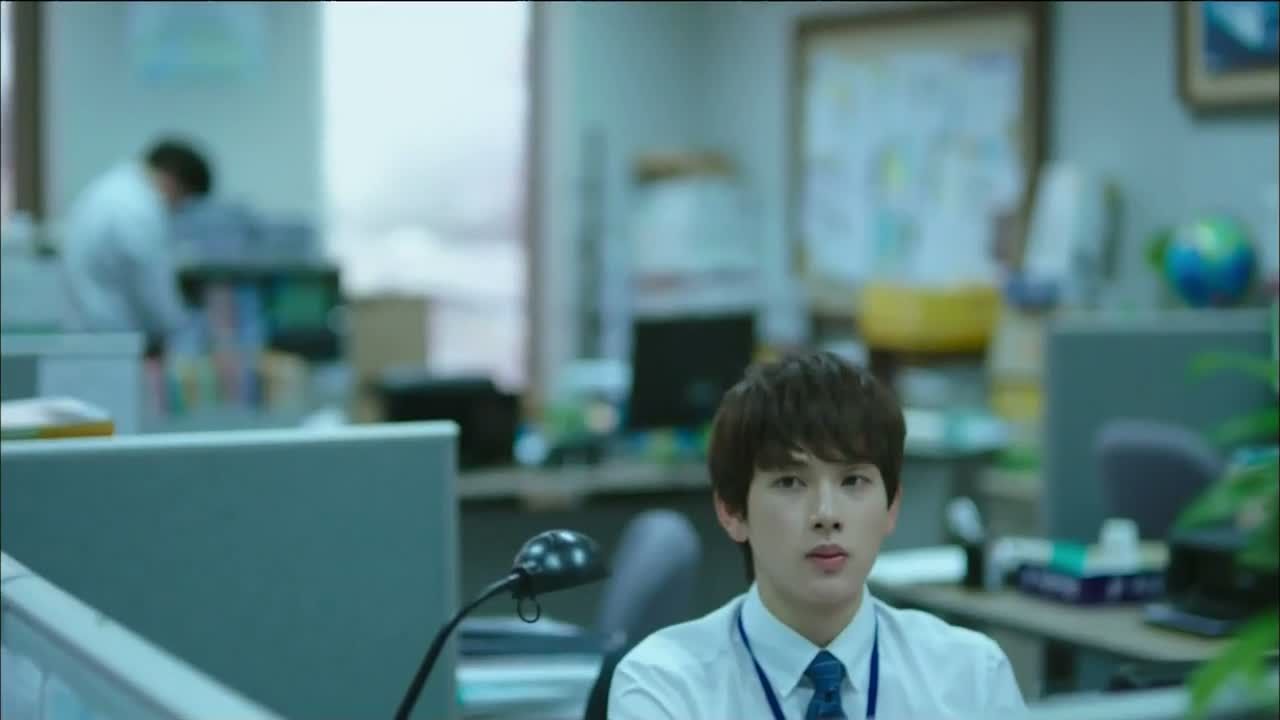 RELATED POSTS
Tags: featured, Im Shi-wan, Kang Haneul, Kang So-ra, Lee Sung-min, Misaeng