Surplus Princess: Series review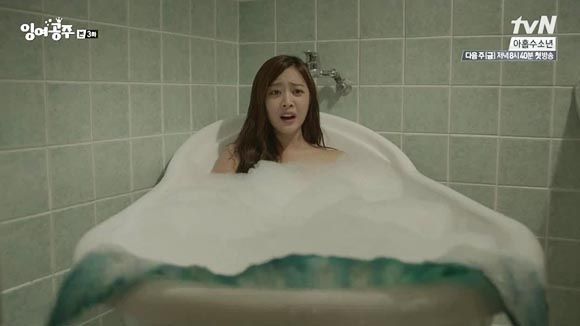 Fantasy rom-com cable drama Surplus Princess just wrapped up its ten-episode run a few days ago, and I found myself quite looking forward to the finale. Not only because I needed to know who the end pairing would be—the show really kept that question alive right up to the finale—but because the drama ended up being much more enjoyable than I'd expected it to be. I knew to expect screwball antics and eccentric characters, but Surplus Princess surprised me by having heart, thanks to the affecting friendships that grounded its zaniness.
Despite dealing with a sudden episode cutdown, the show managed to wrap up the key point of interest (that is to say, the romance) with a degree of closure. I suspect that how you feel about the ending depends on where you fell on the shipping divide, although that may not be the only grievance that fans voice. I've got some myself, but stepping back to consider the show on the whole, I'm left with an overall sense of satisfaction about Surplus Princess, and I'll miss its silly charm.
Beware: There will be spoilers! I've separated out commentary about the ending to keep the top section as spoiler-free as possible, but there will inevitably be some spoilers throughout.
SONG OF THE DAY
Loveholic – "인어, 세상을 걷다" (Mermaid walks the earth) [ Download ]
Audio clip: Adobe Flash Player (version 9 or above) is required to play this audio clip. Download the latest version here. You also need to have JavaScript enabled in your browser.
THE PLOT (SPOILER-FREE)
Surplus Princess is based on a familiar premise with a twist: It's The Little Mermaid, with a pun-inspired tweak that makes the concept of employment a central conceit of the show. (I'll explain the pun in more detail the next section.) If the classic Little Mermaid was driven by a need to find a love that would allow her to remain human, this Little Mermaid has the added burden of looking for gainful employment. As our story's witch notes, "Did you think being human was easy?"
Our mermaid heroine is Aileen (played by Jo Boa), although we can just call her Ha-ni, the name she adopts as a human. Spurred by a love of smartphones and the internet, Ha-ni frequently pops up to the surface to get a glimpse of human life, and of one human life in particular—the object of her affections, chef Shi-kyung (Song Jae-rim).
One day, Ha-ni is busy stalking Shi-kyung from the Han River, ogling him (specifically, his ass—this is no meek wilting heroine, but one boasting a full set of hormones) while he films a cooking segment nearby. When he slips and falls into the river, she's right there to rescue him… after first stealing a kiss, that is. Why waste precious skinship opportunity? Breathing is incidental!
A half-conscious Shi-kyung reciprocates the kiss, but the encounter is all too brief, leaving him with only a vague memory that he's not certain is real. He drops his cell phone in the water during the fall, which gives Ha-ni another peek into his life. Feeling confident that he's her true love, she goes off in search of a way to become human and crash a particular party that he'll be attending.
Ha-ni has heard vague tales of other mermaids making the sea-to-land leap, and gets pointed toward the grim-faced (but marshmallow-hearted) Witch Ahn (Ahn Gil-kang), armed with bribes and sneaky tricks. When he refuses to comply, impetuous Ha-ni swipes the magic potion and drinks up, ignoring his protests.
What she doesn't know is that new legs come with a caveat, and if she doesn't find true love within a hundred days, she'll disappear into bubbles. She'll learn this later, but for the moment, newly-two-legged Ha-ni trots off to the party to dance with her Prince Charming.
But this ain't Cinderella, and instead of her epic fantasies of a time-stopping You From Another Star-inspired rendezvous, she gets a rude awakening when Shi-kyung doesn't recognize her and has her kicked out. Talk about coming down to earth.
Shi-kyung is known for being an aloof perfectionist, starting out cold enough that I found myself nonplussed when I didn't love him as I was prepared to do. Thankfully that changes, and later explanations give context to his standoffishness.
Ha-ni intends to win Shi-kyung over, but her most pressing concern is being stranded here for the next hundred days, and she turns to the gruff Witch Ahn for help. While he initially helps only grudgingly, he eventually becomes something like family—a grumpy uncle, perhaps.
He's also a former merman, although Ha-ni points out that his fish half was the upper portion. I'll give you a moment to picture that. Savor that image. He managed to find a human love but lost his wife; with his adored daughter studying in the States, Witch Ahn spends every waking moment working to scrape together money. It's a little sad, and a lot heart-tugging.
Witch Ahn happens to be longtime buddies with the owner of a "share house" (one of the many current pop-culture trends that the drama taps into), and with a borrowed name and an introduction as Witch Ahn's niece, Ha-ni is welcomed as the newest roommate. The inhabitants of the house are quirky and endearing in their own way, each with a bit of growing up to do. We've got (from left to right, above):
Ji-yong (Kim Min-kyo), a 34-year-old graduate of an elite university who has nevertheless spent the last ten years failing to pass the bar exam;
"Big" (Nam Joo-hyuk), a sweet 24-year-old kid who doesn't really know what he wants, who grew up comfortably but has been now been cut off by his parents;
laconic share house owner Seon-kyu (Lee Seon-kyu), who seems like your classic aging slacker but turns out to be more than meets the eye; and
Hye-young (Kim Seul-gi), she of the sharp tongue, ready retort, and live webcast wherein she eats massive amounts of food for her viewers' pleasure. And I suppose also hers.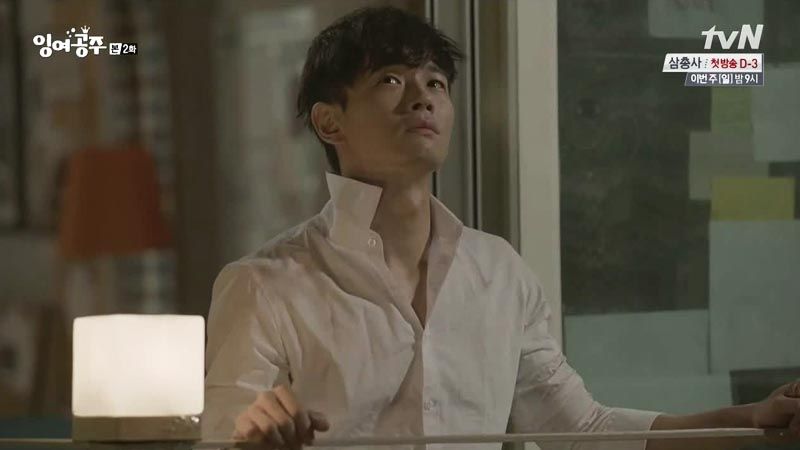 But we can't leave out Hyun-myung (Ohn Joo-wan), the other leg of the central love triangle. Hyun-myung is a talented artist, although I almost think he'd have been better off with less talent—quitting feels like a waste of his abilities, so he clings to it for a long while because it's the only thing he's good at. But he struggles to make headway, until his frustrated girlfriend urges him to give up his artistic ambitions and aim for a stable job at a large corporation; with Hyun-myung's smarts, he should be able to work his way into the salaryman ranks.
Hyun-myung has therefore spends endless hours fine-tuning his resumé and applying to every job opening under the sun, to no avail. When he finally scores a first-round interview, he finds himself sneered at for his art background and the lack of elite "specs"—things like study abroad experience, foreign language fluency, and all the flashy credentials that make you look great on paper.
Hyun-myung is a sweet guy with a good heart, but his continued unemployment casts him in a loser light, and finally his girlfriend has enough and dumps him. He's devastated. She's got her eye on a bigger prize—chef Shi-kyung.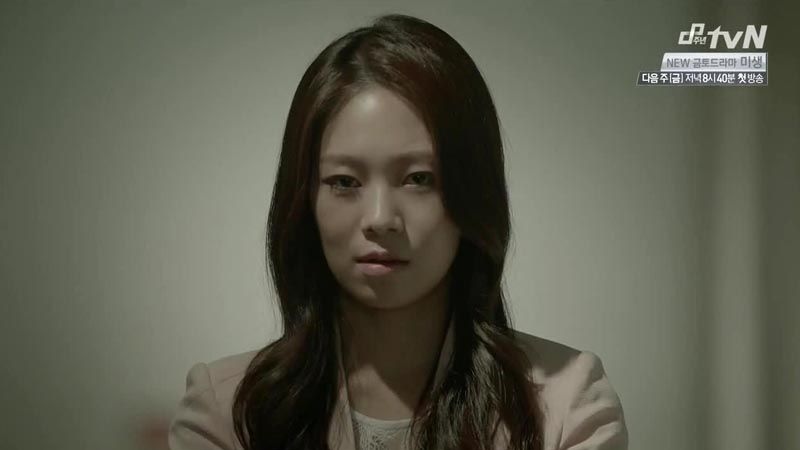 As much as I'd dearly love to ignore that manipulative ex-girlfriend entirely, I suppose she has a sizable amount of screentime (sadly), so I may as well acknowledge her existence. Just this once and only fleetingly, I promise.
She's Jin-ah (Park Ji-soo), and she's enviably employed at JH Food, where she's poised to climb her way up the corporate ladder. I won't say that her feelings for Shi-kyung are entirely mercenary, since I can see some sort of real human emotion emerging as the series progresses (jealousy is an emotion, right?), but it's safe to say that her interest is less in the man himself and more in what he represents. She moves out of the share house and into a fancy high-rise apartment, purposely choosing Shi-kyung's building so she can orchestrate "accidental" run-ins with him.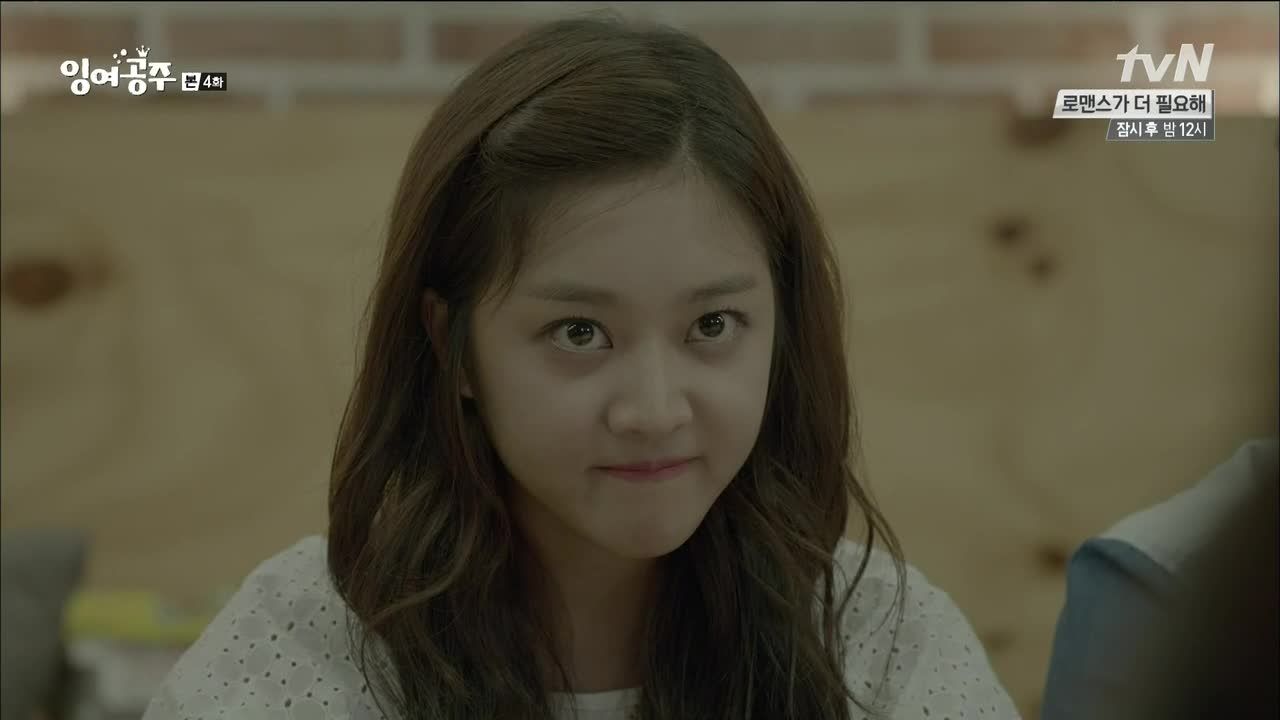 She's hostile toward Ha-ni right off the bat, and Ha-ni, recognizing competition when she sees it, is hilariously petty in her scorn of "that sly fox." You can almost envision steam coming out of Jin-ah's ears whenever Shi-kyung pays Ha-ni attention, as though wanting to stamp her feet, "But I'm so much better, with a better job and a better resumé than her! How could anyone not prefer me?" (…which would be its own answer right there.)
The plot kicks in once Ha-ni's a member of the household and JH Food announces an internship opportunity. This dovetails with Ha-ni's goal of getting close to Shi-kyung so he can fall in love with her; armed with a childlike exuberance that belies common sense (but is cute all the same), she's confident that Shi-kyung would love her, if only she could give him a chance to. As he is a workaholic who spends most of his time at the office, she decides to join in the hunt for the position and win her man. Nothing to it, right?
What ensues is a series of challenges and setbacks as Ha-ni and her housemates work together on projects to bolster their creds, and along the way grow into a tight group of genuine friends. Ha-ni and Hye-young form a friendship that turns into a show highlight (more on that below), and side romances spring up to keep things interesting.
Their team faces direct competition from an elite study group, against whom they go head-to-head in a contest hosted by JH Food that would lead to an employment opportunity for the winners. That group is full of haughty candidates boasting personal connections who assume they're shoo-ins, and Ha-ni's crew looks pitiful by comparison. But once the housemates actually put their heads together and start working in earnest, they manage to produce some good ideas and surprises. (Through it all, there's She-Who-Must-Not-Be-Named, doing her best to keep 'em down. Booooo.)
Ha-ni's relationship with Hyun-myung is characterized mostly by bickering, but despite their inauspicious beginnings (her antics get him mistaken for sexual assaulter), they bond as they each undergo emotional setbacks and find comfort in each other's friendship. It takes a while for the romantic undertones to come to the surface for this pair, but when Hyun-myung gets the wrong idea about Ha-ni's "remaining time on earth" meaning terminal illness (heh), he treats her especially nicely and the emotional lines grow more blurred.
Shi-kyung also warms up to Ha-ni, who is so bubbly and unpredictable that he finds her a welcome breath of fresh air. His earlier coldness—which is frankly off-putting—gets cleared up when we see that he's concealing a condition that he's sensitive about; what's interpreted as hauteur is really his face blindness, which makes him struggle to recognize people. He improves the more he interacts with people and when he's at ease, and Ha-ni has a way of putting him at ease.
Furthermore, Shi-kyung and Ha-ni get more occasions to bond when he recognizes her talents in identifying tastes and describing food (all that eating sure helps!), and enlists her aid in testing recipes. So when she's not with Hyun-myung and her teammates working on the contest project, she's often with Shi-kyung, and these two lovelines develop alongside each other, which has the effect of keeping us guessing till the very last about the endgame. I'll argue that has its upsides but also some key detractors, which I'll talk about more below.
Even so, almost as key a question as Ha-ni's love life is her success in the job realm, as she works her way toward that holy grail of the unemployed: that coveted access badge, marking one as a full-time member of the corporate workforce.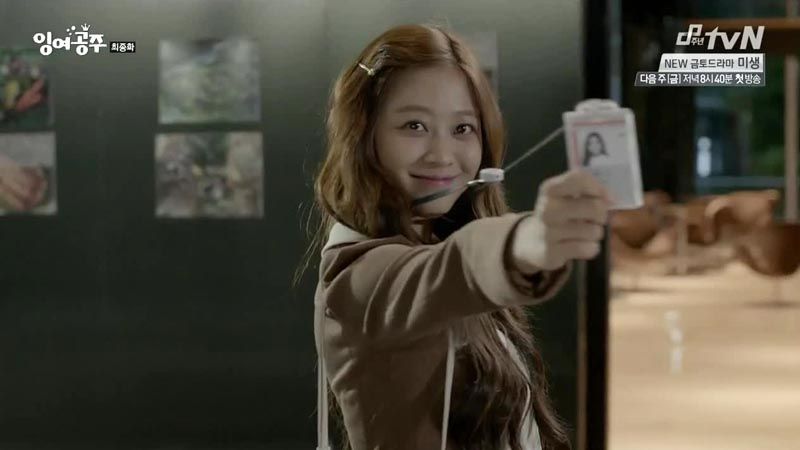 THE SURPLUS HOUSE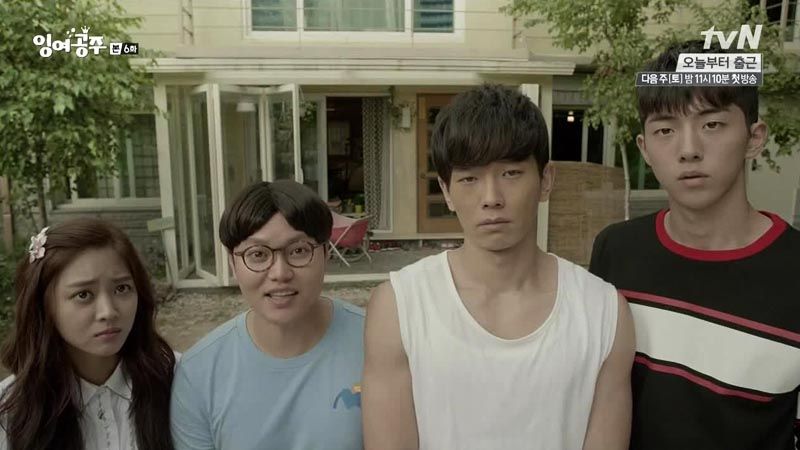 "Surplus" in the context of this show is used in a generally negative sense, indicating leftover people who aren't particularly useful or needed. The housemates, who are unemployed and broke, acknowledge their lowly standing in society and refer to themselves self-deprecatingly as surplus humans.
Ha-ni's quest for personhood isn't strictly dependent upon her finding a job, but to her mind the issue becomes inextricably entangled with her quest for love. And despite sounding like the drama's premise was conceived as the product of a throwaway joke ("mermaid" = in-uh, "surplus" = ing-yuh), the job-seeking motif does make for story turns that are meant to resonate with the young generation that the drama depicts and sees as its target audience. In more wordplay, the housemates have revised the name of their home, Fate House ("fate" = in-yeon), to Surplus House.
What I appreciate about the show is that the plight of the unemployed is treated with some sensitivity, but not mawkishly so. To the contrary, the drama mostly pokes light fun at the topic; it has fun depicting the gimmickry and desperate measures to which people resort, like exploiting connections and attempting to go viral to parlay insta-fame into employment opportunities. Shame takes a backseat to efficacy, because the job offer is paramount.
The characters aren't treated as mere victims of the brutal corporate system, either—that would be too heavy-handed. So we see them goofing off and having fun and trying to live their daily lives to some extent, while remaining painfully aware that life doesn't "really" begin until they land that job.
Because the tone of the show skews primarily wacky, the occasional flashes of insight into the characters' vulnerabilities pack an extra punch in the brief moments when they crop up. Hyun-myung displays a chink in the armor when he overhears himself described as a lost cause who'll never amount to anything, and struggles to put up a cheerful front. You feel a similar pang when his thrill over being interviewed gets trampled by his interviewers, who say condescendingly that he should just stick to art. Gee, I wonder why he didn't think of that. Maybe all the starving clouded his logic.
Ji-yong's another example, as the Seoul University law school graduate who somehow fell off the fast track to success. He'd assumed that his credentials would open the door to his future, but that never happened, and now he's facing a dead end: "I'm just a game-addicted crap-making machine." Normally a goofy source of comic relief, he's surprisingly self-aware: "When I wake up in the morning, I feel bleak. I wonder, How will I spend today? Do you know why I play games? There, I can be first place. There, time passes quickly. And now, they're the only thing I'm good at."
It's meant to ring true for a certain (not unsizable) segment of the population, but thankfully this doesn't feel like pandering. Its matter-of-factness and humor undercut any moment that threatens to grow self-important.
Fortunately for our crew, they have each other to jump in to support each other, and it's this camaraderie that really forms the emotional backbone of Surplus Princess. I was pleasantly surprised when I found these friend dynamics more of an emotional center than the love triangle or the bubbly princess's journey to humanhood. Written out, perhaps this stuff sounds schmaltzy. But the show's ability to skirt the maudlin is more proof that its charm is in its tonal touch. It doesn't trot out platitudes to trumpet Important Messages; the messages are a byproduct of the comedy.
For instance, in one scene the housemates engage in a cringe-off, uttering a string of cheesy banalities like "There's nothing more precious than the present." They shudder at each progressively drippy cliché, while understanding that the words they're mocking are totally the truth, which they appreciate and acknowledge… by mocking as corny, of course. We can be earnest, but only if we allow ourselves to poke fun at ourselves for it.
It's the same self-awareness that drives the parade of parodies—seriously, so many parodies!—running through the drama, with references to a whole bevy of pop-culture properties. Those include: Heirs, You From Another Star, Fatal Encounter, Frozen, Rude Miss Young-ae, Secret Love Affair, SNL, music videos (G-Dragon), and even commercials.
It also puts the meokbang element front and center, using it in outright parody and as running motif. Meokbang refers to eating on television, and has exploded in popularity in recent years; the definition is fairly broad, and covers anything from gourmet foodie shows to merely showing food being eaten, often with extreme gusto. Ha-ni's character is pretty much a personification of meokbang; being a mermaid curious about human food gives Ha-ni the excuse to eat (and eat and eat). Hye-young's webcast, meanwhile, is described as a meokbang parody, in that she's making fun of the meokbang trend by taking it to an extreme, eating outrageous quantities of food on-air. It creates a funny meta feedback loop—she's mocking the trend, while simultaneously contributing to it in an unironic way.
But speaking of the two ladies, they make up another of my favorite aspects of the show, which is the portrayal of a female friendship that's positive, encouraging, and adorable. Hye-young finds out about Ha-ni's mermaid status early on (the tail comes back when her legs get wet), and after a moment of surprise, just accepts her completely as is. Saying that mermaid Ha-ni reminds her of her recently departed pet fish, she takes to calling her "carp" affectionately—particularly when Ha-ni does something bubble-brained—until Ha-ni becomes "our carp" to the rest of the crew.
Hye-young also gets another highlight—maybe she's lucky, or maybe it's really just Kim Seul-gi demonstrating that she's awesome in everything—in a side romance with Big that develops gradually over the course of the show. They start out with Hye-young coaching Big on how to win over his crush, only to have the feelings creeping up on them unexpectedly. In a show where the main romance was ambiguous (…in that it wasn't even clear which pairing was the main romance), it was nice to have these two keeping us gratified. And who could resist an adorable youngun' making earnest, puppy-dog-eyed pleas to date his noona?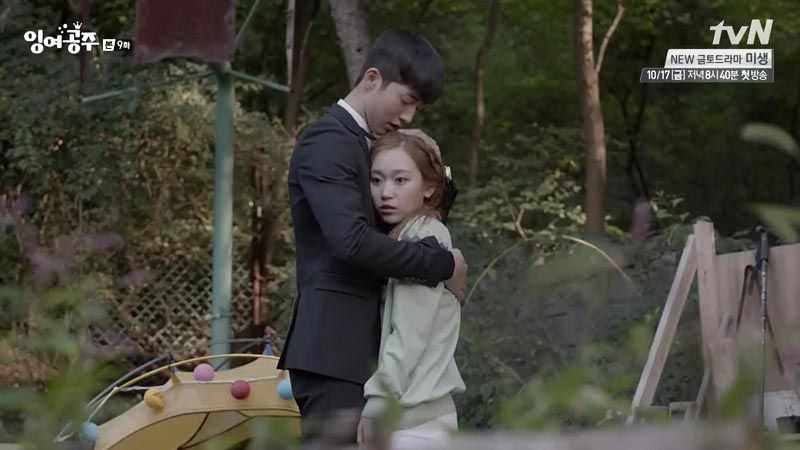 WHAT IS LOVE? (THE ROMANCE, THAT ENDING)
Oh boy, here we go: the romance. I'll venture a guess this is the point that'll raise the most comments and complaints, and I'll join you on that front in just another minute. I have a love-hate thing for dramas that work the love triangle effectively, because it's enjoyable and painful at the same time. I give the drama a lot of credit for giving us two strong romantic rivals, both portrayed as decent people; their mutual viability for Ha-ni's affections spurred the narrative tension and kept me invested in both. In that, it accomplished what it set out to.
But on the other hand, how could we feel satisfied when an ending shows no signs of resolving all the emotions satisfactorily until the eleventh hour? Fine, technically it was the tenth, but only by a few minutes, really. The resolution made sense to my head, but felt too rushed, and I while the characters were shown to be at peace with the ending, I certainly wasn't. I was too sad for the other one! But before we get to the specifics of the ending, let's back up to take a look at the romance as a whole…
The question of love is explicit in Ha-ni's problem: In order to become human, she needs to find true love. But rather than assuming that a kiss or a declaration is sufficient to meet the criteria, she's faced with the challenge of first figuring out what true love even means. How can she find it if she doesn't understand what the parameters are?
So Ha-ni goes around asking people what they think true love is, and in some of her more misguided moments, asks if someone will be it for her, like it's something you can decide to do. In the midst of her quest to define love, she realizes that love takes different forms, demonstrated in the various situations our cast encounters.
Ha-ni notes, "Everyone has their own definition of love. For someone, love is something you let go, even if it's painful. Someone else gives up on love in order to get a love with better qualifications. Sometimes it begins with a misunderstanding, and to someone else it's the reason to keep living. And to someone else, it becomes a puzzle that needs to be solved. But for anyone, love is a feel-good fluttering feeling, and hope. And love brings a shining smile to anybody." As for herself, Ha-ni calls love a bomb set to go off in a hundred days—it determines whether she lives or dies. I appreciate pointing out the conundrum in the Little Mermaid tale where the whole concept of finding one true love is ambiguous to begin with.
Now back to the love triangle. Going into the final week, I was so convinced (so convinced!) that we were going to get an OTP flip, that the shortened run indicated a deviation from original plans, and that we would have to anoint Song Jae-rim dramaland's resident OTP-killer. There was so much development given to his cute budding romance with Ha-ni that it was enough to make me think they might contradict all the narrative signs. Would they flout their setup? Would they go with the guy she spent most of the drama being crazy about, rather than the one who was poised to take over in her heart but hadn't quite managed it yet?
Because here's the thing: Shi-kyung wasn't set up to be the ultimate pairing, not from a structural standpoint. It's particularly clear if you go back to the beginning of the show and take note of the introductions and setups: Hyun-myung is in the traditional hero's role, from his underdog position to his antagonist meet-cute with Ha-ni to their bickering relationship. He's the guy who's there to soothe her when she's crying, who doesn't get credit for the quietly helpful things he does for her. Tellingly, he's also the guy who finds out about her mermaid secret; he sees all her flaws, knows she's in love with another guy, and accepts the whole package.
Shi-kyung, on the other hand, is the man of fantasy. He's the embodiment of Ha-ni's misguided Operation: Human plan, which she rushed into without thinking over. He's quite literally objectified in her eyes with her recurring (and hilarious) apple-butt visions; when it's in sight, she barely even notices his face or the rest of him. That doesn't have any of the hallmarks of twoo wuv, so for dramatic integrity's sake I prefer the ending they gave us. (Emotionally, I'm more torn because I loved Song Jae-rim in this role.) But the drama's message would be, and is, stronger for not validating her misbegotten motivations in pursuing Shi-kyung.
But there's a problem in the follow-through of this premise, and it's not just that Song Jae-rim is too damned charismatic to stay put in his second lead corner of thwarted love and tears. I mean, yes, he's compelling, but there are more significant hiccups than a mere case of liking one actor more. (Especially since Ohn Joo-wan is also quite sweet and endearing.)
What got me confused was that the developments with Shi-kyung felt miscalibrated—too much, extending too far, curtailed too late. And while some blame can be attributed to the episode cutdown, not all of it can—I still hold the drama responsible for miscalculating the pacing. Hyun-myung walks the classic hero path for a while, but while he's off falling for Ha-ni, it's like she was off filming a different love story with the other guy. Yes, it does make sense for her to realize her feelings for Hyun-myung belatedly, because she needs to see on her own that Shi-kyung isn't the man she wants. But belatedly should have come sooner; we needed more balance of Ha-ni feeling both ways in order to buy that she made the choice to be with Hyun-myung in the end. It's not enough to give us a finale-episode epiphany and just tell us everyone was okay with that. It may have been enough time for the drama to show us that this happened, but I'm still a few steps behind in believing it.
As a character in his own right, I did like the progression of Shi-kyung's arc, transforming from the polished stiff professional to warm and smiling softie. I didn't much like Shi-kyung at first, and thought less of Ha-ni for being so obsessed with him. Okay, never blame a girl for going gaga for a hot guy—no judgy there. It's more the extremeness of risking your life on the basis of a hot bod and apple butt that makes me shake my head for her.
Still, this is a case where the warming of character's cold exterior via the heroine's pluckiness happens in a credible, satisfying way. She's legitimately so weird (from a human standpoint) that it catches Shi-kyung off-guard, intrigues him, and then reacquaints himself with a happier, fuzzier side of life he's been ignoring for years. And because this is dramaland where hair means so much, we only need to look as far as his increasingly relaxed hairstyles to see where he is in his emotional growth. The closer she comes to humanhood, the more he looks like one too.
It almost starts to seem like Shi-kyung usurps the hero's place by claiming the cold-Darcy-meets-his-Candy narrative, which messes with my head. Plus Shi-kyung starts out as an obvious Mr. Wrong, then turns gradually more right, which is why it hurts when doesn't win the girl's heart. So close, but so far away. Then he takes the loss with a tearful smile and wishes her well like a totally upstanding dude, and it hurts even more. Maybe our consolation prize is in hearing him recognize that through Ha-ni, he rediscovered his lost smile. Now if only someone could do something about that broken heart.
So with half an episode left, Ha-ni and Hyun-myung get to enjoy a blissful but fleeting spell of coupledom, until the fateful hundredth day comes. Unsure of the magical spell's criteria for true love, they wait with bated breath and try to rest assured in the knowledge that they couldn't possibly love each other more.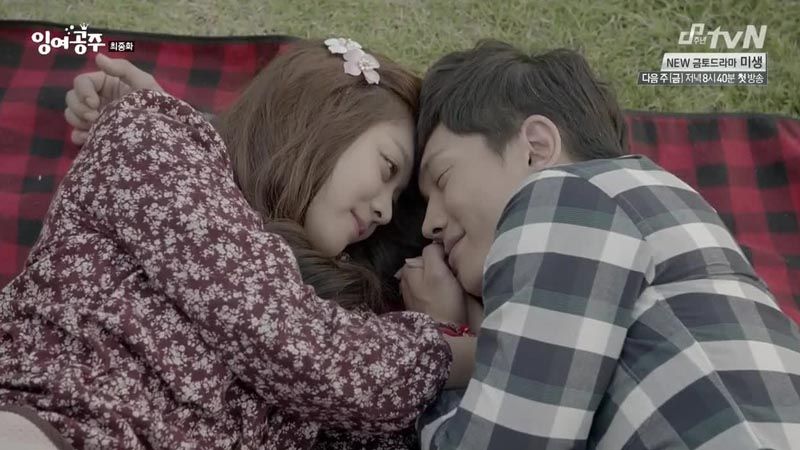 It's a poignant moment as Ha-ni faces her fate with hope, only to disappear into bubbles anyway. A sad but salvageable turn, since there's still time left in the episode—surely she'll find a cosmic loophole to return, right? The twist is reminiscent of My Girlfriend Is a Gumiho, but I won't quibble about that so long as we turn this ship around.
Ha-ni does return, one year later, in a flash of light just like the first time she arrived on land. She rejoins her elated friends and flashes an enigmatic smile at the camera, while the caption tells us, "I'll be back…" And fin.
Which, WHAT.
I mean, seriously, WHAT?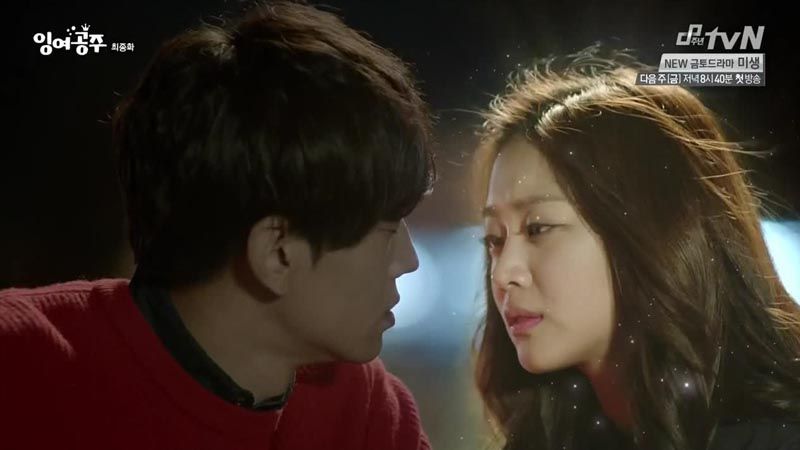 That's the end, and we're done. Ha-ni disappeared into bubbles (how was the love not true?), but unlike the other mermaid princesses before her, she wasn't gone-gone (why not?). She managed to stay alive (how?), and then finagled another trip back to earth (how?). And we'll never know why (WHY NOT?).
I'm of two minds about the ending. One is that it sucks and answers nothing and in fact contradicts the drama itself. The other is a more meta response and wonders whether the producers were reacting to the abrupt cutting of their show, and if that's the case then I have to figure that I understand that impulse.
If I consider the ending on its own, as a resolution to this story—and this is my inclination, because I want to judge a drama on what it did, not what it meant to do—then it fails to fulfill the basic bullet points of "satisfactory finale." Merely producing a happy result accomplishes little when you don't explain any of it. It's almost worse than not having Ha-ni return, because you returned her but didn't explain why or how—we got the trappings of a happy ending but none of the satisfaction, yet it feels churlish to gripe since at least she lived. We had all these questions, but turns out the answer is: shrug. So from a structural standpoint the ending fails.
To consider it from another angle, the ending so flagrantly flouts the conventions of finale-dom that I'm reminded of Vampire Idol, which did a similar thing in response to being cut down. Since it was a show based on paranormal/sci-fi premises, we had to give our trust to the show to build its world and explain its internal logic. The ending, however, merely opened the door to a whole slew of questions (for instance, hinting that one of the vampire idols would split from the others, for reasons unknown) and answered none. It felt like the producers were throwing up a big middle finger at their station, as it to show that it had a whole bunch of interesting storylines in the works that would never get to see the light of day.
Surplus Princess feels like a similar case. I can't believe that this was their intended ending from the start—and if it was, my estimation drops another notch. The "I'll be back…" caption in particular smacks of a rebellious gesture, because in fact she won't be back—there's been no indication that Surplus Princess is getting any sort of continuation. (Ratings were low and a show that's cut never gets another season.) It feels defiant, and you know, for that I'll give them a point for chutzpah.
But only one, because ultimately a drama serves its viewers, and meta knowledge should enhance your fun of a show but not drive understanding of it. So taken on its own merits, that ending? Yeah, I'm sad about it. And confused. And left wondering at the meaning of it all.
RELATED POSTS
Tags: featured, first episodes, Jo Boa, Kim Seul-gi, Ohn Joo-wan, Song Jae-rim, Surplus Princess