Cantabile Tomorrow: Episode 14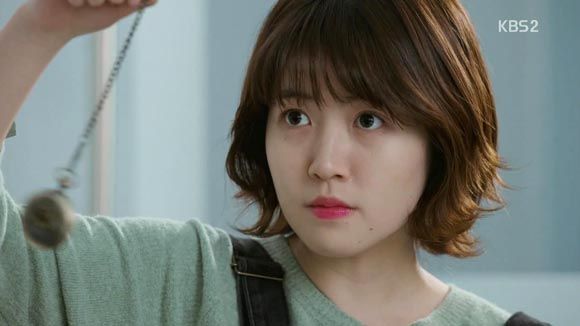 Aw, this is my favorite episode yet. It made me cry, and it also made me laugh so hard I may have snorted food down the wrong pipe. (The pain was totally worth it.) There's a thread of bittersweetness and wistfulness that made the episode feel particularly poignant, with characters confronting obstacles, accepting certain truths, and in some cases, being forced to reevaluate where they stand.
SONG OF THE DAY
Liszt – La Campanella [ Download ]
Audio clip: Adobe Flash Player (version 9 or above) is required to play this audio clip. Download the latest version here. You also need to have JavaScript enabled in your browser.

LESSON 14 RECAP
Shaken by the encounter with her horrible former teacher, Nae-il runs out of the hall just as Yoo-jin arrives to see her play. He sees how she's gasping and frozen in fear, and slowly reaches out a comforting hand to pat her arm. "Okay," he tells her gently. "Let's stop."
Taking her hand in his, Yoo-jin smiles and her and says, "Let's go home." Nae-il follows numbly as he leads her away, just as Streseman's words float back to her about Yoo-jin being meant for big things far away, and how she has to confront the music head-on if she wants to go with him.
There's a nice directing touch depicting Yoo-jin from her point of view in this moment; she stares at the back of his head as she thinks of him moving farther out of her orbit.
That idea brings her back to the present and she pulls her hand free of his, deciding that she has to continue the competition. Yoo-jin tells her not to force herself, but Nae-il says more firmly that she can do it, and runs back the way she came.
She makes it back to the dressing room just as the usher is reporting her departure, and she pleads to be allowed on. The audience gets restless, wondering why it's taking so long for Nae-il to come onstage, while her old teacher smirks that she hasn't changed. She gets up to leave, only to be surprised at Nae-il's last-minute arrival after all.
Nae-il sits down at the piano and thinks of Streseman's advice to pour her anger and her feelings all into the performance and to make it her own. She begins playing, and more satisfying than the relieved looks on her friends' faces is the sour one that comes across her teacher's.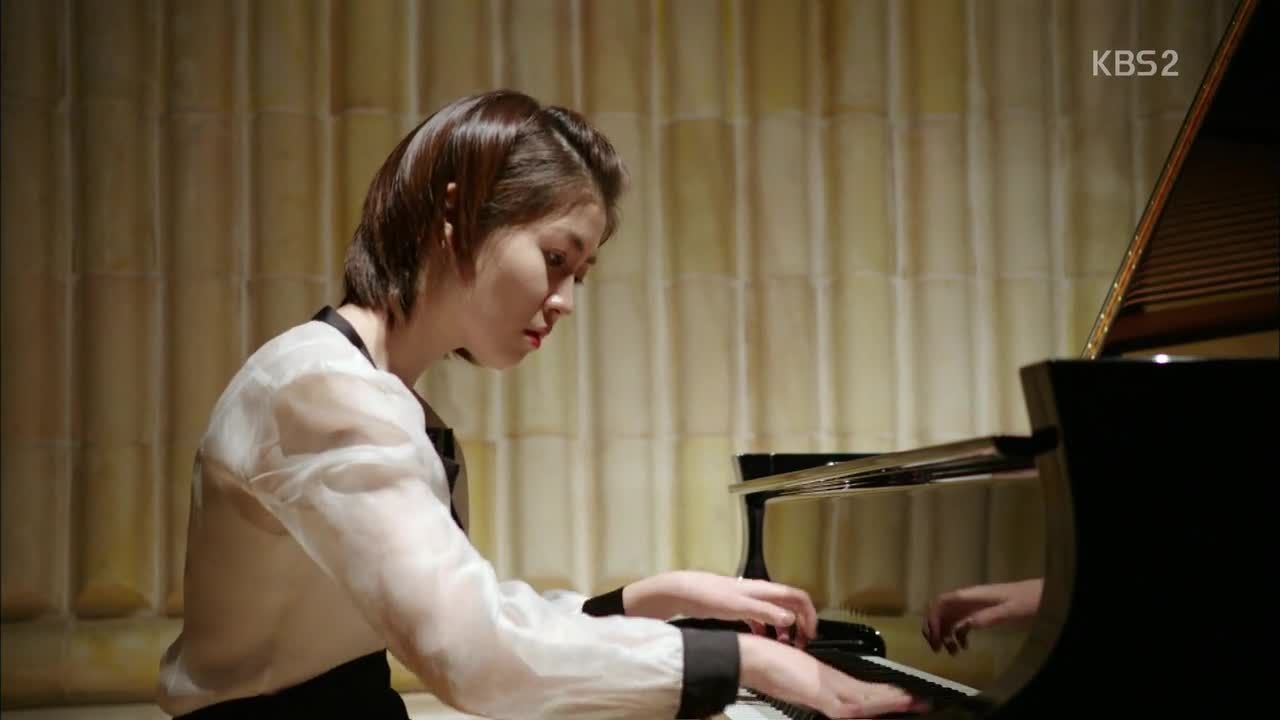 Mom notes that it's a different type of La Campanella than she's heard before, but likes Nae-il's interpretation.
Yoo-jin calls this performance just like Nae-il's style: "It's piano that's like an orchestra."
As Nae-il reaches the final passage, her playing becomes more impassioned, the look on her face growing harder as she recalls the encounter with her teacher in the hallway. She plays increasingly more fiercely as she winds to a close, glaring at her teacher as she hits her final note.
Silence rings out, and then a crash of applause.
Nae-il throws a wrench into the deliberations, because while the judges all willing to admit that she performed well, they're wary of awarding her the competition. For one, she plays outside of the rules, and for another, they fear that it would send the message for other students that ignoring the rules is now a good thing.
Teacher Yoon is Nae-il's most outspoken supporter, saying that they're not talking about rewarding a bad performance, but suggests a solution to the panel. We don't hear it, and will have to wait for the big reveal.
Nae-il is on pins and needles as she waits, and another competitor drops by to congratulate her performance. He even asks for the score to her variation of the piece (since it was different from the traditional interpretation), which makes Nae-il ask in alarm if she performed it differently. Ha, it's cute how worried she is, and how absorbed she was that she doesn't know the answer to that.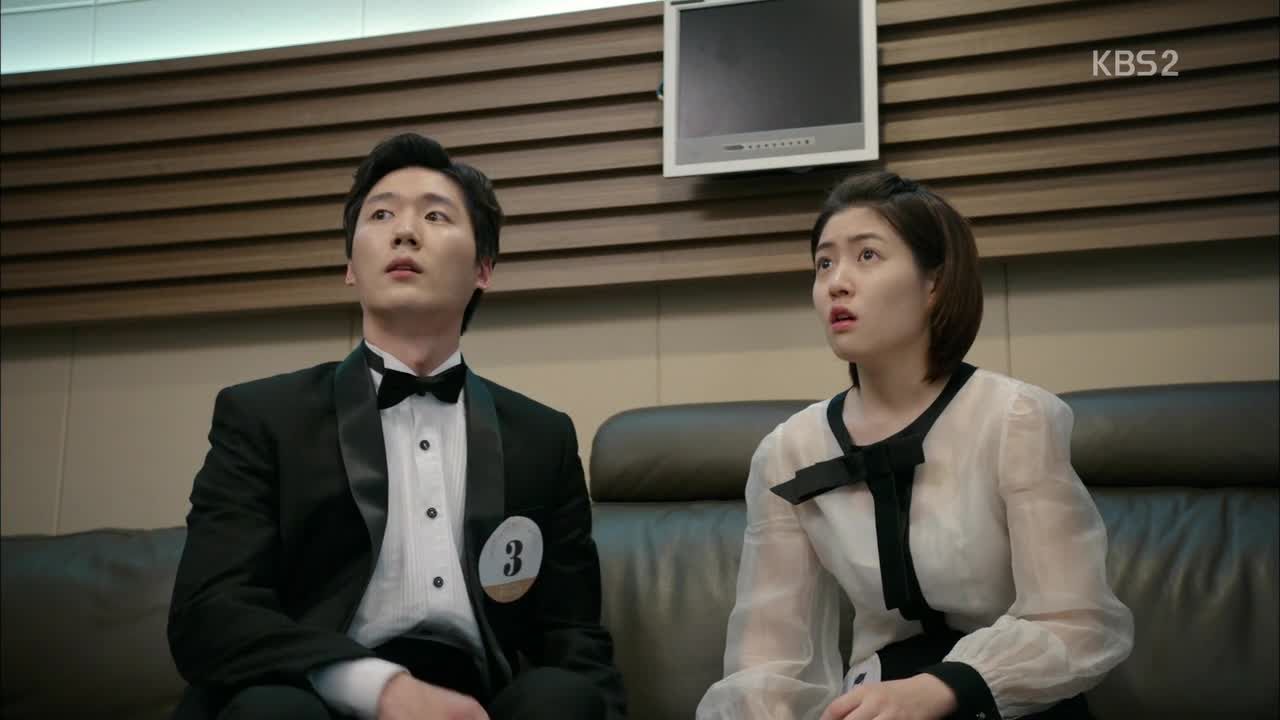 As the judges begin the presentation of the awards, Streseman pauses to chat with Teacher Yoon outside, and she notes that he had his reasons for asking her to that music festival. He says that he has an eye for picking out talent, but she counters that talent on its own isn't enough, because students reach a limit without passion. It's a good thing, she notes, that Nae-il has tapped into her passion. Streseman says with amusement that he's getting old: "I like watching kids grow more than my performances."
The third-place winner is elated with his placement, but second place gets mixed reactions: Ka-ram is disappointed to have missed first place, while Nae-il's supporters sit up in excitement, figuring she has to have taken first.
And yet, the first place winner is announced as… nobody?
Everyone is stunned, including Nae-il, who hears the announcement from the dressing room. Nae-il's old teacher is furious, wondering why Ka-ram was named second in a competition with no winner. Teacher Do wisely replies, "Because there was another student worthy of first." I guess they just couldn't actually give it to Nae-il, all things considered.
When Yoo-jin arrives in the dressing room, Nae-il is already gone, having left a note behind thanking his mother and Min-hee for their help.
Nae-il trudges home with a heavy heart, but keeps her voice light when she calls her mother. She says that she worked hard and played well, but still didn't win—what can she do? Sigh.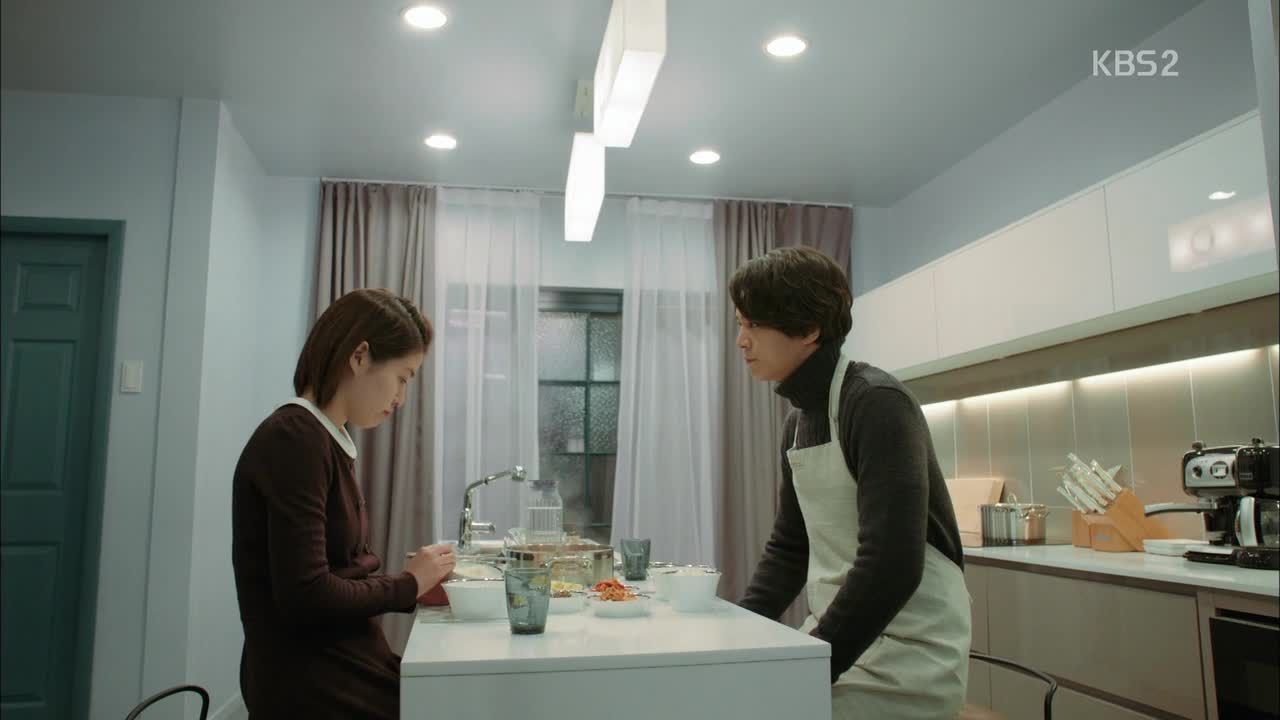 Yoo-jin is waiting at her door when she arrives home, and asks why she's been wandering in the cold and whether she's had dinner. Hearing that she hasn't eaten, he brings her inside and cooks her a hot meal. What are you even waiting for, marry him now. (Also: That totally counts as a couple outfit, doesn't it?)
He tells her he was just happy that she didn't run away, and that she put in an outstanding performance. There will be more competitions for her to try. She replies that there aren't any more this year that send students abroad, and he surprises her by saying, "That's good. You can't go, and neither can I."
Nae-il takes out her watch and starts studying up on hypnosis via books and websites, which Yoon-hoo finds her reading. She stammers that she's not looking for any particular reason, and he teases her a bit before asking more seriously about her disappointment over the competition.
She says that it's okay and that there'll be more competitions, though she says philosophically that she won't be winning those—apparently her playing isn't the type that competitions recognize.
When Nae-il warns him not to get all flirty with her, he assures her that he won't, encouraging her to lean on him as a friend. Still, she forces the happy reply that she's okay, though her smile wavers.
Yoo-jin meets with Streseman, who presses him again to go abroad. Thinking he's dragging his feet to stay with Nae-il, Streseman says that she can always go next year, and issues the order for Yoo-jin to head overseas as soon as the orchestra competition is over.
Yoo-jin lands on the Rising Stars as an excuse (and it's a pretty obvious excuse), saying that there'll be nobody to lead them if he leaves. Streseman points out that he's hardly the only conducting student around, and in fact directs him to take on an assistant conductor. There's one he has in mind.
Of course he means Yoon-hoo, who's already introducing himself to the orchestra, who greets him warmly… at least until Yoo-jin walks into rehearsal and then they all trade nervous looks, not sure how this is going to go down. Yoo-jin is typically cool toward him, ignoring Yoon-hoo's glib greetings, though he doesn't reject him as the new assistant either.
With that, Yoo-jin conducts rehearsal while Yoon-hoo watches intently. Thankfully, Il-lac is much improved and back to top form with the concerto.
Afterward, Yoon-hoo asks about the upcoming competition, noting that the rivals are formidable. Yoo-jin just tells him to worry about himself and his recovery, advising him to train his left hand. But Yoon-hoo sees the orchestra's division as the biggest concern, and explains how he was approached beforehand by a few of the S orchestra players, who had appealed to him to help them once Yoo-jin leaves.
Rumors are already afoot that Yoo-jin will be heading abroad with Streseman, and the S members fear that they'll be shut out with him gone. Hence the attempt to convince Yoon-hoo to join and keep the A's from forcing them out.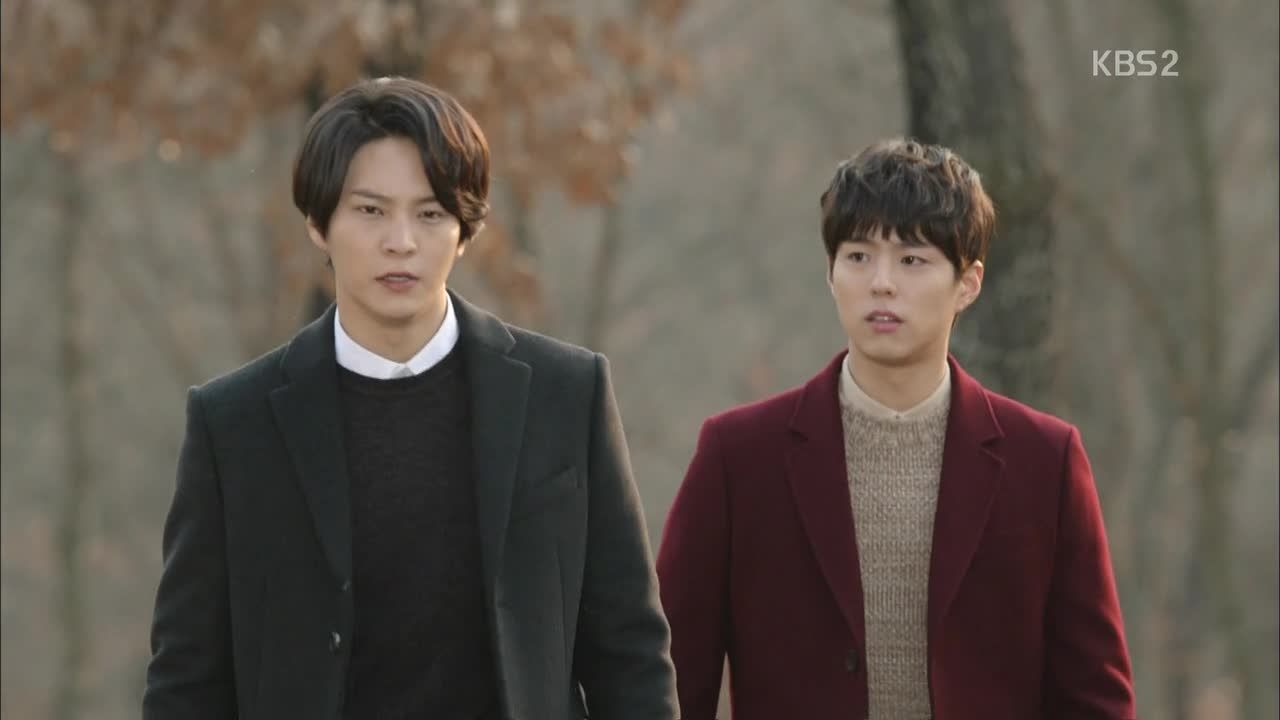 Yoo-jin is less concerned, thinking the conflict will work itself out, while Yoon-hoo reminds him of his observation—that Yoon-hoo had no friends because the ones he had were all really just rivals. This is why Yoon-hoo understands what jealousy and rivalry do, and he warns that leaving things as they are will lead to an explosion.
"I'm surprised," he says. "I didn't think Cha Yoo-jin would be this incompetent." I'm pretty sure he's just pushing some buttons to get Yoo-jin to recognize what he sees, but it does sound rather brassy of him to declare that he's only doing the orchestra to take care of his friends.
Yoo-jin barks, "Is this child's play?!" Yoon-hoo replies that he's not playing, and reminds him once again to be on his guard.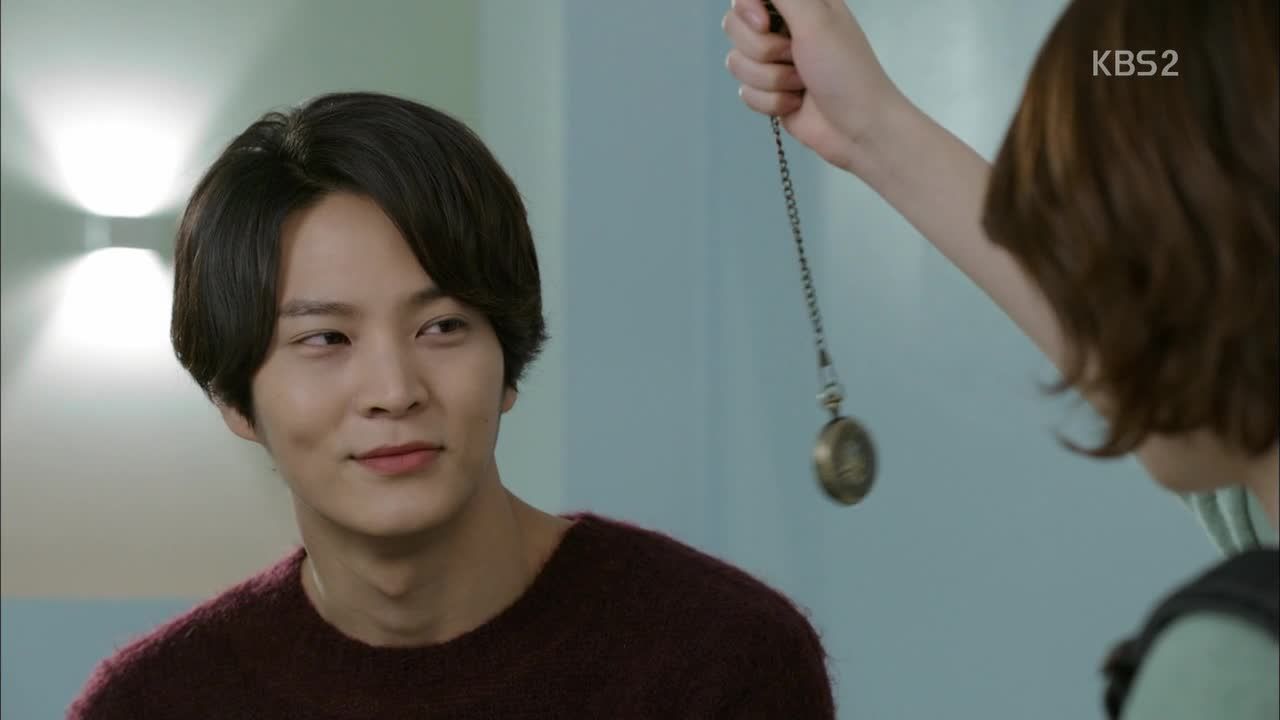 Nae-il's hypnosis research includes consulting with a doctor, who advises that in order to create a key to solve the problem, she has to know what the lock looks like. Namely, she has to understand the traumatic incident.
With that in mind, she sits Yoo-jin down at home and takes out the watch, which she holds up in front of his face. He finds it funny but lets her keep dangling it, his gaze getting more focused as it swings back and forth…
We don't see how that session ends, but next he's joining his friends at school, and before he knows it, the words "our Nae-il" slip out of his mouth. It's so shocking that everyone stops eating their sponsored almonds to gape, and even Yoo-jin is so startled he tells them to forget what he said.
Yoon-hoo hadn't realized how corny "our Nae-il" sounded and vows to stop saying it himself, to which Yoo-jin blurts, "Why would you say 'our Nae-il' to our Nae-il?!" More jaws drop, including his own, and he hurriedly excuses himself in mortification.
Yoo-jin tries to figure out the source of the slip of his tongue, deciding, "It must have been at our Nae-il's request. But even if our Nae-il asked a favor…" and then he cringes some more and slaps his mouth shut.
Min-hee describes to Nae-il how shocking (and horrific) it was to hear Yoo-jin talk like that, and Nae-il double- and triple-checks to make sure it wasn't a mistake. Now we see the hypnosis session that Nae-il had induced the night before, where she had made Yoo-jin fall asleep and then tested things out with one small instruction: to say "our Nae-il" ten times in front of people.
By the time she joins Yoo-jin, he's this hilarious bundle of nerves and blurts to her in agitation that whatever she heard, don't get excited, it was just a mistake okay? She tells him it's okay because she's figured out a way to cure his fear of flying, marveling at the solution. She takes out the watch to do it right then and there, but has to put it away when Il-lac and Su-min interrupt to pepper Yoo-jin with questions. Namely, are the rumors true? Is he really going abroad next month?
Yoo-jin tells them that Streseman is wrong and that he's not going, snapping angrily when they get too excited at the idea.
Nae-il has second thoughts that night, telling herself that she can't succeed where doctors have failed. It must have just been a coincidence, she tries to convince herself. She reminds herself that curing him means that he'll leave: "Even if he does go, he can go later, when I can go abroad too."
The friends wonder if Yoo-jin will really go, and Su-min half-jokes that he wants to follow, what with Shi-won heading overseas too. Il-lac is alarmed at the idea but says that it won't be right away, only to hear with dismay that she plans to leave fairly soon—after their next concert, in fact.
Shi-won tells him as much on their next date, and Il-lac keeps his crushing heartbreak under a forced smile. But then he puts his foot in it by saying that it wasn't like they were a serious couple, and they didn't even have couple rings or anything. Ack! Be honest or shush, you!
It's no surprise that Shi-won gets up and leaves him at the table, her mood soured. Dad stops Il-lac from going after her, huffing good riddance at the girl who'd stolen his concertmaster seat away from him. Il-lac's face crumples as he tells his father that it was her place to begin with, as was the solo he's performing.
Dad totally didn't realize that Il-lac was so in love with her, and tries to backtrack by saying that she's got pretty hair. Lol. At least it makes Il-lac feel better, and then he asks for Dad's permission to be a bad son.
The Rising Stars suffer a confidence crusher when they watch a video of their main rivals in the upcoming competition, Seyeon University. They're so good that everyone in RS worries that they'll just be embarrassed at the comparison, and then wonder who brought them the video to watch in the first place.
It's reminiscent of the S Orchestra's first performance, when they'd watched video of the A Orchestra right before going out to play. But nobody knows where the video came from, and as Yoon-hoo listens to them speculate, it seems he may be formulating a hunch.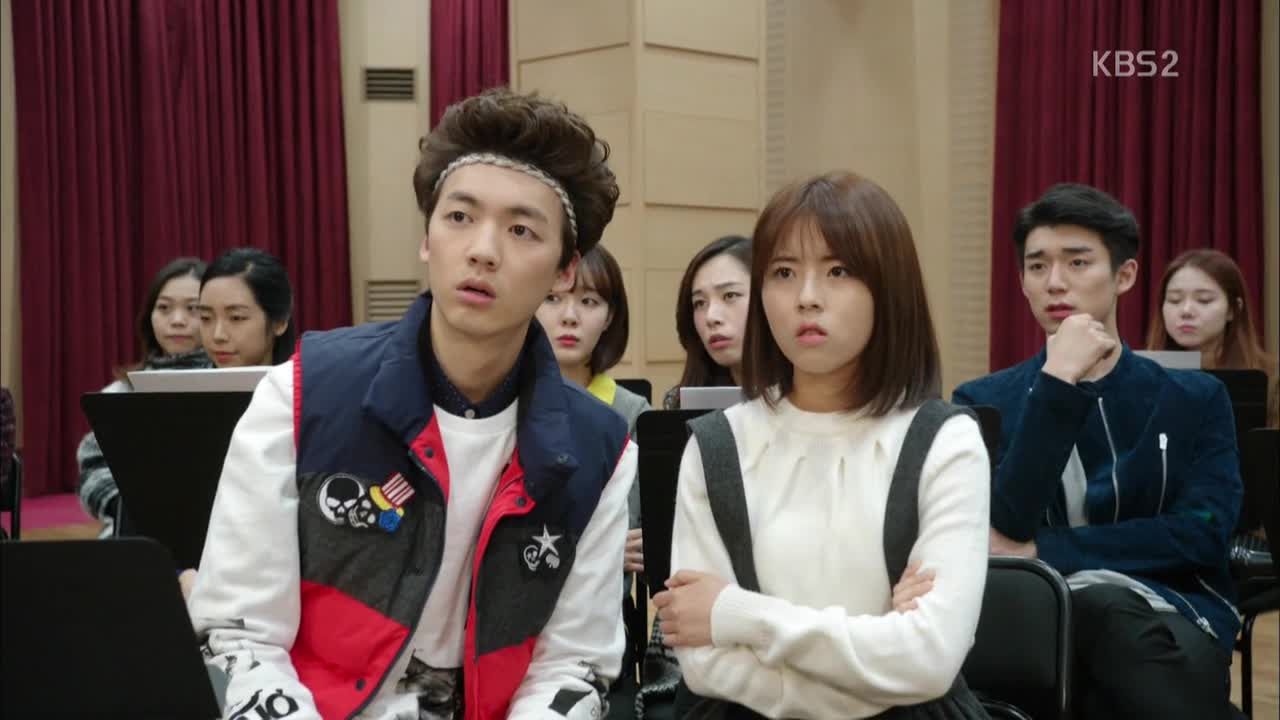 Il-lac heads into rehearsal sporting a sling and the excuse that he fell. Aw, you're throwing the game for love! He says that it's a minor injury and that he'll be back to playing soon… but they'll need a new soloist. He nominates Shi-won, and it's the logical answer since they can't pick a new concerto.
Yoo-jin asks for a day to think it over, while Min-hee repeats her refrain that this feels ominous.
Shi-won finds Il-lac and worries over his arm, which he waves off (metaphorically, that is) as nothing to worry about. She insists on seeing his hand, though, and while he's assuring her of his health, she slides a couple ring onto his finger. She's already wearing hers, which she flashes at him. Aw, I love her.
Now that they're appropriately serious, she warns him not to cheat on her, and he's only too happy to make that promise. She assures him, "I'll go quickly… and come back quickly." He holds up his hand wearing the ring for a fist-bump, and she obliges him, which is cute but also dumb! Why exert pressure on your (albeit fake) injury when you could spare yourself the (again, fake) pain and just kiss already?
Yoo-jin heads over to see Il-lac that night, and hears the sounds of violin practice coming from his room. Ah, so he's on to him.
The day of filming arrives, but the air inside the rehearsal room is frosty, with both sides throwing barbs back and forth. Of course they drop the animosity the second the camera crew enters, wanting to be seen in their best light for this broadcast that emphasizes cooperation and friendship.
So they're all dumbstruck when the PD shows them the camera stationed in the back of the room, filming them unawares. They had secured permission of time to film rehearsals—were they not informed? Hm, I wonder who could have forgotten to mention that.
The footage is so negative that the program decides to cancel the broadcast altogether, and Yoo-jin confirms with Mina that he was informed of the filming. So what happened?
Nae-il reverts to playing her fart song listlessly in practice, to the concern of Teacher Do. He watches from outside and comments to Yoon-hoo that she's lost her drive after the competition, though Yoon-hoo suggests that it's just a momentary slump and asks the teacher to give her some time.
Then he joins her in the practice room and engages her in a round of Chopsticks, then notes that it's no fun and suggests that she not force herself to play when it's not fun. He knows from experience that recovery from illness is quicker when you allow yourself to be sick.
Bad news hits the press, throwing the Rising Stars into panic mode. Now there are articles painting the orchestra as on the verge of disbandment due to internal strife, and Il-lac hurries to alert Yoo-jin of the news while the school board is convened for a meeting.
Meanwhile, Su-min and Min-hee worry that their problems may have created extra trouble for Yoo-jin, who might be facing dire consequences. Yoon-hoo has been mulling over the peculiar circumstances and suggests that there's something very fishy about all this—doesn't it seem premeditated? Who might benefit from this discord?
They think it over, and suppose that Seyeon would get the broadcast slot instead. Yoon-hoo decides to look for the projector used to show the Seyeon video, but has an additional thought: "Are they aiming at our orchestra… or Cha Yoo-jin?"
But when he checks the equipment checkout log, Yoon-hoo gets a shock to read the name listed there.
Yoo-jin is called into a meeting of furious board members, meekly taking all their rage as they scream at him. His friends watch from outside the glass doors, feeling terrible on his behalf. Teacher Do and Nae-il also watch him being thoroughly raked over the coals, and Teacher Do comments on how it is to see the respected Yoo-jin treated like some delinquent, when he'd practically been treated like a teacher himself.
Nae-il supposes that he wouldn't be subject to such abuse if he were to study abroad. All he has to do is get on that plane…
Yoon-hoo waits to catch Dean Mina alone, and asks if she approved as well: "What Cha Yoo-jin is doing right now."
A flashback shows us the rest of Mina's conversation with Yoo-jin earlier, where he'd admitted to knowing about the observation camera in advance—and how he had purposely refrained from informing his orchestra about it. He'd told her that he wanted to show them exactly what they look like right now.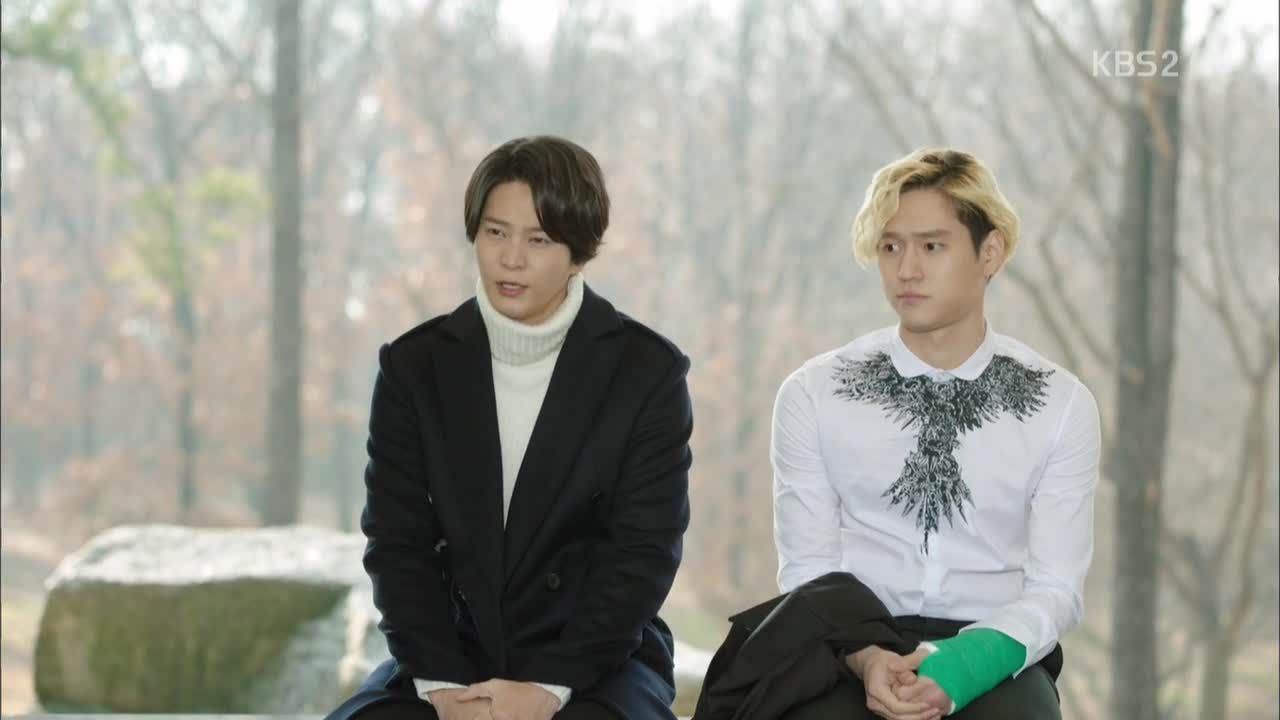 Next Yoo-jin joins Il-lac and indicates his wrapped left hand, telling him to take off the bandage now. Il-lac is sheepish at being found out and admits that Shi-won makes a better soloist, and that it's the better choice for the orchestra.
Yoo-jin replies, "To me, the orchestra has no better soloist than you."
The orchestra's mood is grim as Yoo-jin faces them and says that he doesn't know what the board will decide. He says, "I want to ask you all—whether we really want to go together. You guys make the decision."
Nae-il joins him as he leaves the meeting and once more broaches the subject of hypnotherapy. She asks him about it not working well on him, and he explains that his doctor concluded that he may lack the requisite faith in the therapist.
The idea fills Nae-il with warmth as she realizes, "Then you really trust me a lot."
Yoo-jin just smiles, "Nope, I don't." But the proof is in the pudding, and we've already seen it.
Nae-il sits Yoo-jin down again that night with the watch and lulls him into a hypnotic state, then leads him to his memory of that traumatic plane crash. She asks what happened, and we see the scene unfold as Yoo-jin remembers it:
Young Yoo-jin reads a pamphlet on the Berlin Philharmonic, which a kindly old grandpa sees and comments on, being a huge fan of Maestro Viera himself. The plane hits turbulence, and the grandpa clutches his chest and reaches for his pills, but he fumbles and drops them down the aisle.
Hypnotized Yoo-jin sheds a tear as he describes this, and we see Young Yoo-jin unbuckle himself and go after them. "But I couldn't grab them," he says. Young Yoo-jin falls in the turbulence and hits his head, which knocks him unconscious.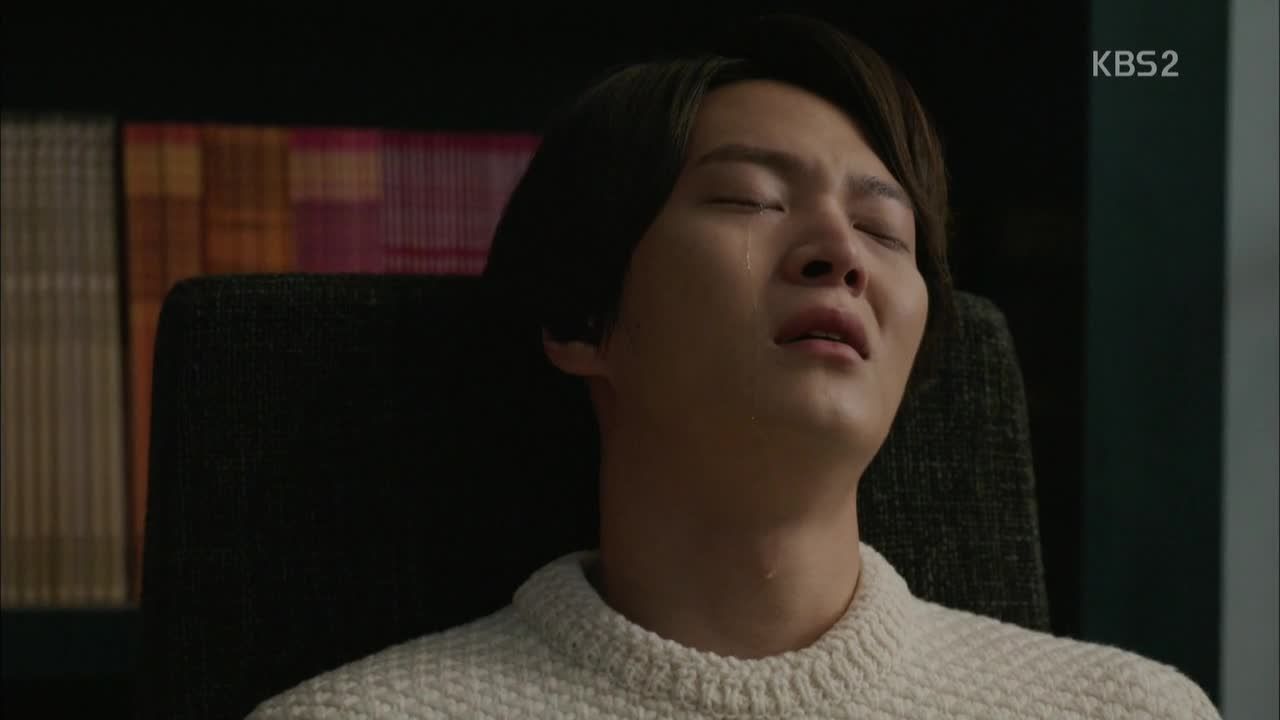 Nae-il tells Yoo-jin, "It's okay, you did your best to save the grandpa."
Yoo-jin cries, "I couldn't do anything." Her voice trembling, she tells him that it's not his fault. "You don't have to feel guilty or scared anymore," she says.
She instructs him to wake up when the alarm rings. "And when you open your eyes…" She can barely finish her sentence, but fights back her tears to conclude, "You can ride airplanes now. You can take a plane and go anywhere."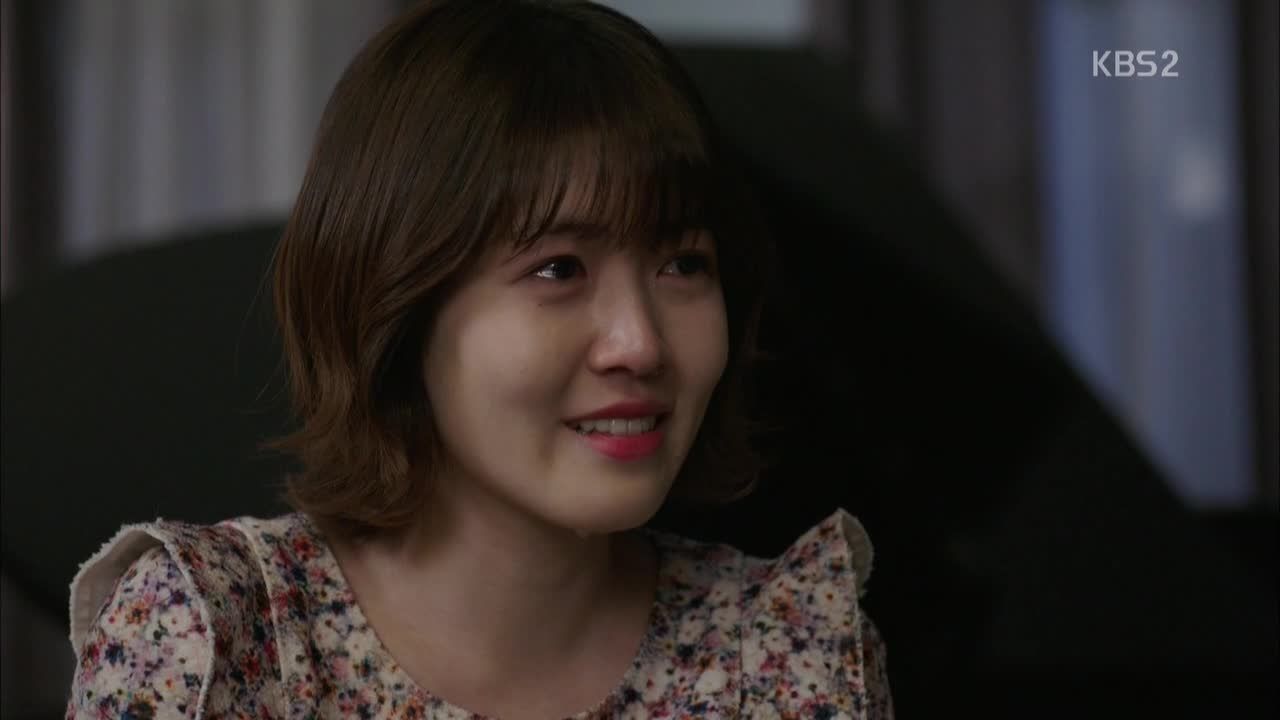 COMMENTS
I really did love this episode, once it settled into its groove and we could see what Yoo-jin meant to do with the orchestra feud. It seemed likely that he was the one acting, but his reasoning wasn't clear, and I wondered whether he was making himself the common target to rally his members around him, or whether he was just trying to get that explosion to happen faster so that they could get to the rebuilding part. Yoon-hoo's comments about that explosion being inevitable seemed logical, and the bitterness was too entrenched to hope for resolution without active interference.
It remains to be seen how Yoo-jin's actions will affect the group in the long run, but I like that he's basically using a form of his tough love—for instance, of the kind that got Yoon-hoo to face his surgery. The orchestra squabbling has been played lightly but are essentially debilitating, as we saw in the soloist vote, because now they're willing to cut off their nose to spite their face.
In the past when the orchestra faced conflict, it felt empowering to have somebody like Streseman or Yoo-jin go to bat for them to throw their support behind the underdogs, but right now the orchestra doesn't deserve to have somebody swoop in and fix their problems for them. It feels like a fatherly move (and we know that Yoo-jin has commented on feeling like their father before)—not coddling, but the kind of parenting move where you force your kids to take responsibility for their own mistakes. It isn't sabotage in the sense that he's making them worse off than they would be otherwise; he's holding up the mirror and giving them a dose of cold hard truth. It feels fair, particularly when you have guys like Il-lac who are always thinking of the orchestra first, and having sweet sacrifices go trampled by selfishness.
Speaking of whom, how great is Il-lac? And Shi-won? And Il-lac and Shi-won together? Okay, maybe there could have been a bolder way to make a statement than to fake an injury, but his heart is so in the right place, and I got a little teary when Yoo-jin recognized that Il-lac was just as worthy as anybody else. Yes, playing music is about technical proficiency, but at this point we know that everybody in the Rising Stars possesses the baseline standard of musical competency. Beyond that, it's like the teachers noted at the competition—passion and motivation are what take you beyond the limitations of natural talent.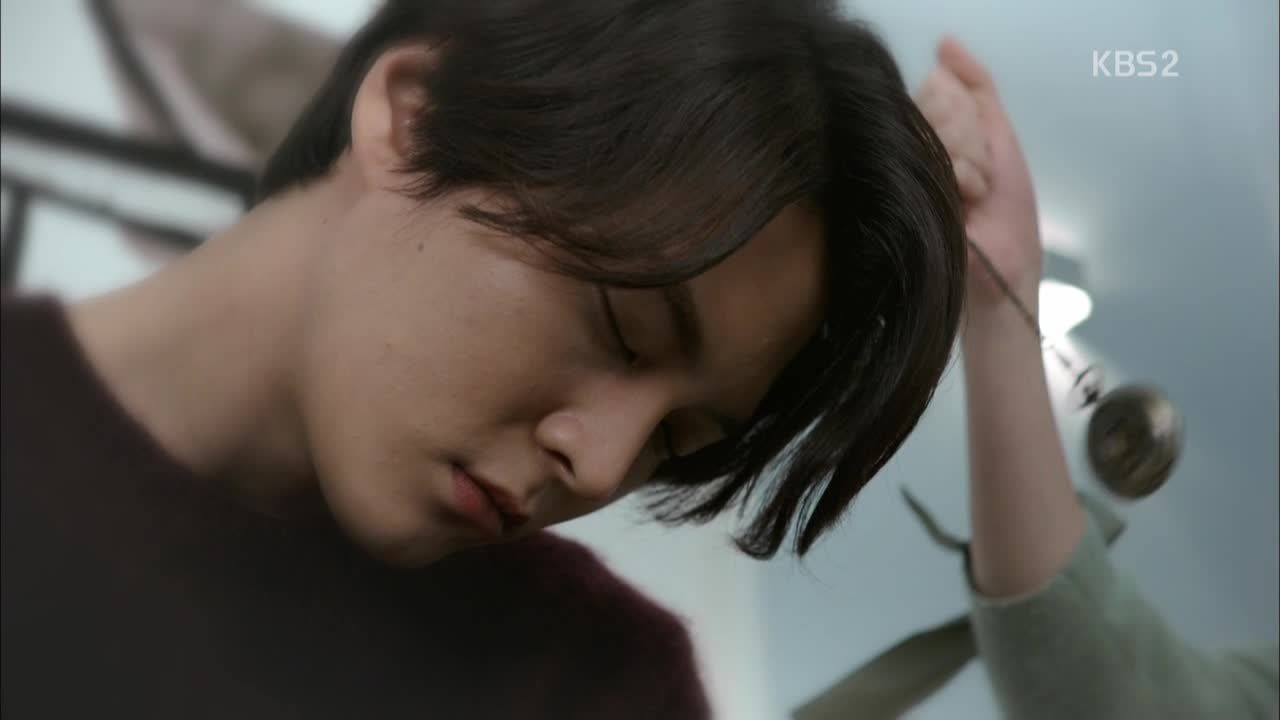 But by far my favorite aspect of this episode was Nae-il's emotional journey, which was no less moving for the fact that I already knew what would happen and why. That's something I've really appreciated about this series, in drawing me into the emotional spaces of these characters, and doing so in a nuanced, understated way. Even when the broad strokes of the plot are familiar to me, the interpretation of these characters' feelings make them feel fresh again, and today was the first time I really felt glad to have Shim Eun-kyung here to give this role her personal touch, because it would have been a shame to miss out on it.
I say this despite liking Shim Eun-kyung and Nae-il, and also despite struggling with them early on. Like many, I found this version of the character awkward and exaggerated at the outset, which I took as a big shame because I know how fabulous an actor Shim Eun-kyung can be. I have been gradually warming to both the character and Shim's take on her, but I felt like today broke through a kind of wall; I felt Nae-il's emotional conflict in a palpable, relatable way that spoke to me.
It's not like she's scared of losing Yoo-jin in a possessive way, like she feels she needs to be physically present to ensure that he remains "hers." The fear is a more universal feeling, of the kind we feel when a friend moves away; in this day and age, there's no reason that should signal the end of a friendship, but it does alter the relationship in uncontrollable ways, and it's natural to feel the pang of loss.
I don't want Nae-il to pursue music because she has to be with Yoo-jin; I want her to see that her path could allow them to travel in the same direction if she overcame a fear that she has to overcome anyway—a fear that is holding her back, regardless of Yoo-jin's presence in her life. If Yoo-jin is the catalyst to get her to heal, then by all means, catalyze away. I want them to be complementary goals—playing piano and being with Yoo-jin—not false equivalencies. So far, I think the show is staying on the right side of that line. And so, Nae-il's trepidation reminds me of the feeling of coming to a bend in the road and feeling blind as to what the future holds but giving into the trust that it will work out—or even if it doesn't, that you'll handle it anyway. Her reaction in the last scene really took me back to times in my life when I felt that myself, in a way that makes me both wistful and really, really glad I'm not still there. Thank god for growing up.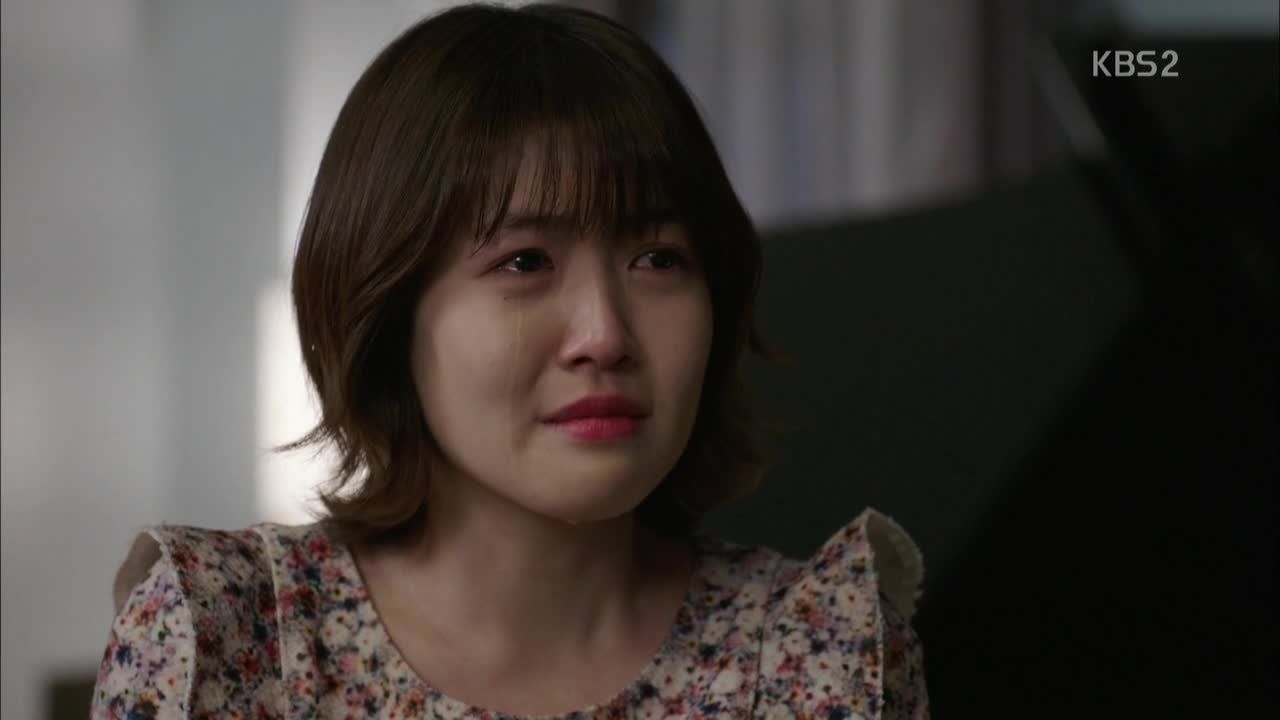 RELATED POSTS
Tags: Cantabile Tomorrow, featured, Go Kyung-pyo, Joo-won, Shim Eun-kyung