Jung Woong-in reprises serial killer role in Pinocchio cameo
HA. These are the kinds of cameos that I love — I Hear Your Voice alum Jung Woong-in (Endless Love) stopped by the set of Pinocchio to shoot a cameo appearance as none other than Min Joon-gook, his scary serial killer character who terrorized Lee Jong-seok and Lee Bo-young on I Hear Your Voice. The writer and director requested the special appearance, and Jung Woong-in happily agreed to reprise the role that arguably made him a household name (yunno, in a terrified, Please don't kill me, OMG way).
The producers are known for their inter-drama cameos, and featured one from Kim Min-jong in I Hear Your Voice, where he played his lawyer character from A Gentleman's Dignity. I just like that this writer is a drama fan, and that she has fun making fictional universes collide.
Min Joon-gook will appear in Episode 2 of Pinocchio, in an imaginary dream sequence where Park Shin-hye imagines herself in a courtroom. There she'll meet Min Joon-gook dressed in very familiar prison clothes, awaiting trial. I'm a little sad that the reunion isn't also with Lee Jong-seok, but maybe that would've actually been too many points of collision for the crossover to work. A Min Joon-gook nightmare sounds like the worst thing ever, but on the upside if it's just a dream, he won't be killing anyone in this drama… right?
The drama's reunionfest includes I Hear Your Voice's Lee Jong-seok, Best Mom Ever Kim Hae-sook, and silly judge Kim Kwang-kyu, and Gap-dong's Jung In-ki. Hopefully Jung Woong-in's visit to the set is only the first of many more star cameos to come. What, are Kim Soo-hyun and Yoon Sang-hyun busy or something?
Pinocchio premieres November 12.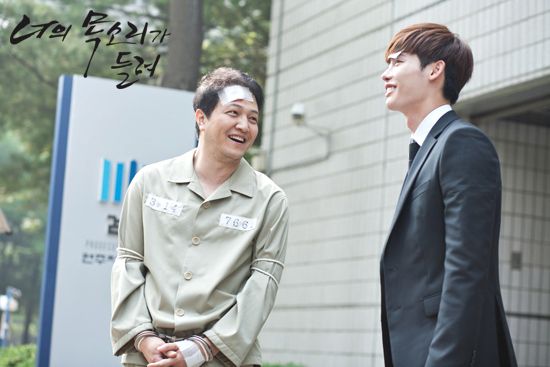 Via TV Report
RELATED POSTS
Tags: I Hear Your Voice, Jung Woong-in, Pinocchio