Secret Door: Episode 13
It definitely feels like we're at the peak of the first half of our story, as every single conflict comes to a head in one gruesome trial, with one side willing to die to expose the truth, and the other determined to kill if they have to, to keep it hidden. One guess as to how that plays out. Our hero has to either take a stand for the people who are being wrongfully imprisoned or protect his own father, and the question of the day is: Whose father deserves to be saved?

SONG OF THE DAY
Luwa – "사람은 슬픔으로 죽는다" (People Die of Sadness) [ Download ]
Audio clip: Adobe Flash Player (version 9 or above) is required to play this audio clip. Download the latest version here. You also need to have JavaScript enabled in your browser.

EPISODE 13 RECAP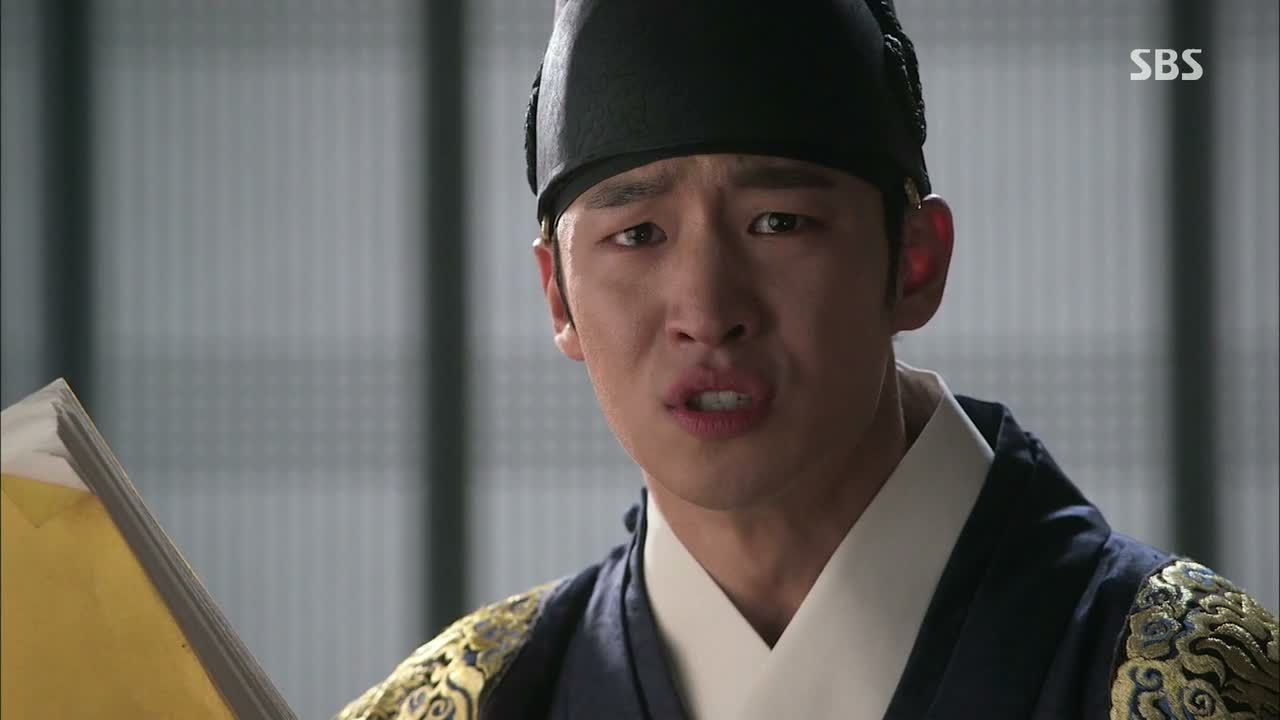 In the wake of Yeongjo's order to kill everyone in possession of the book that makes him complicit in his brother's death, Sun finally confronts him with the truth: Did he sign the maengui? Is he Juk-pa and does that mean that everything written in this book is true?
Yeongjo quakes with rage to be confronted with the truth so head-on by Sun, and cries defensively, "'How afraid were you? How difficult and scary was it? Didn't someone threaten to kill you? If you didn't sign that document, were you scared they would kill you?' If you are my child… IF YOU ARE MY SON—that is what you should ask!"
Father and son's eyes are brimming with tears, and Sun drops to his knees as his tears spill out. He immediately realizes that he never considered it from his father's perspective and begs forgiveness, acknowledging that being born his son (and therefore the rightful heir) means he can't ever fathom the struggles Yeongjo went through as the king's brother.
Sun's contrite reaction seems to genuinely touch Yeongjo, and a tear trickles down his face. But just when I think it might be possible for them to reach a moment of true understanding, Sun pleads that if he didn't know the king's true heart, the people surely have jumped to the wrong conclusion as well—so shouldn't they let the truth be known to the world?
Yeongjo's face immediately darkens at that, and he starts scratching at his ear in irritation. The tender moment between them is gone as quickly as it came, and Yeongjo screams in frustration that if he told the world the truth, they'd remove him from the throne in a heartbeat.
Ever the idealist, Sun cries that the people will remember who he really is and stand behind him, and that it's possible they'll applaud him for taking the direct approach by confessing his own sins and bringing the criminals into the light. Sun: "No matter what difficulties lie ahead, I will endure them with you."
Yeongjo scoffs like he's speaking to a child, and says plainly that the person who needs to make a decision here isn't him, but Sun. He says that if Sun really wants to protect his father, then he needs to go out there and find those plotting against the king, and kill them by his own hand.
Ugh, I get this knot in my stomach every time Sun's trust in his father gets crushed yet again. This time Sun's tears are hurt and angry, and he glares back at the throne with resolve in his voice: "I cannot do that, Father." Yeongjo tells him to shut his trap then, and walks out.
In his chamber, Yeongjo asks his eunuch if Sun's approach is actually possible—should he tell the truth and put his faith in the people? But he answers his own question by declaring that they've come too far for that.
Late in the night, a messenger rides up with an urgent report for the king, detailing the appearance of traitorous announcements. They refer to the Soron rebellion of 1728, an attempt to dethrone Yeongjo with accusations that he killed his brother, from which Yeongjo barely escaped with his life.
The king concludes that a new Soron rebellion is underway, and lights the scroll on fire. He cackles maniacally that they should go ahead and try to mess with him, scaring even his eunuch.
Sun hears what's going on and rushes to the emergency assembly gathered in the king's court, but he's stopped from entering with instructions from his father not to attend. Well that's not a good sign.
Unsurprisingly, Yeongjo takes a scorched earth approach, and tells the minister of war to arrest every single person connected to the rebellion rumors and the publication of that damning book. Suddenly Shin Chi-woon, the radical Soron who instigated the book's publication, stands up and declares proudly that he's the one responsible so there's no need to look elsewhere.
He rather enjoys sticking it to the king publicly in court, and when Yeongjo asks how a man who gets a government salary could do such a thing, Shin says bitterly that it's because he's taken thirty years of government salary—given by the people, not the king—that he feels the need to repay the nation by revealing the truth.
He's not wrong, but he's also an extremist, which only makes him an easy target for Yeongjo. When Shin says that the records of Yeongjo bringing his brother King Gyeongjong medicine before his death are all the proof he needs, Yeongjo flares up and has him dragged out of court by the guards. Shin shakes them off and says he'll go of his own accord, adding the final warning to the king not to try and hide the sky with his hand.
The stunt leaves the Soron ministers flummoxed, and Yeongjo goes even further to order the arrest of anyone who illegally publishes books. This time it's Teacher Park who speaks up, reasoning that punishing innocent citizens this way only supports the rumor that the book's contents are true: "People who oppose you are your people too!"
Yeongjo simply orders Teacher Park's arrest on top of everything else, and Teacher Park finally asks the king bluntly to address the question—are the things written in that book true? The room gets tense and (former prime minister) Kim Taek watches the proceedings warily.
Pressed by Teacher Park for an answer, Yeongjo declares that he'll tell them the truth—he brought medicine to his brother the king, as everyone here knows, but he never poisoned him. Teacher Park's face falls. Yeongjo decides that they're all a part of the Soron plot to turn him into a criminal, and goes ahead and has allllll the Soron ministers in court arrested. Yeesh, this is getting out of hand.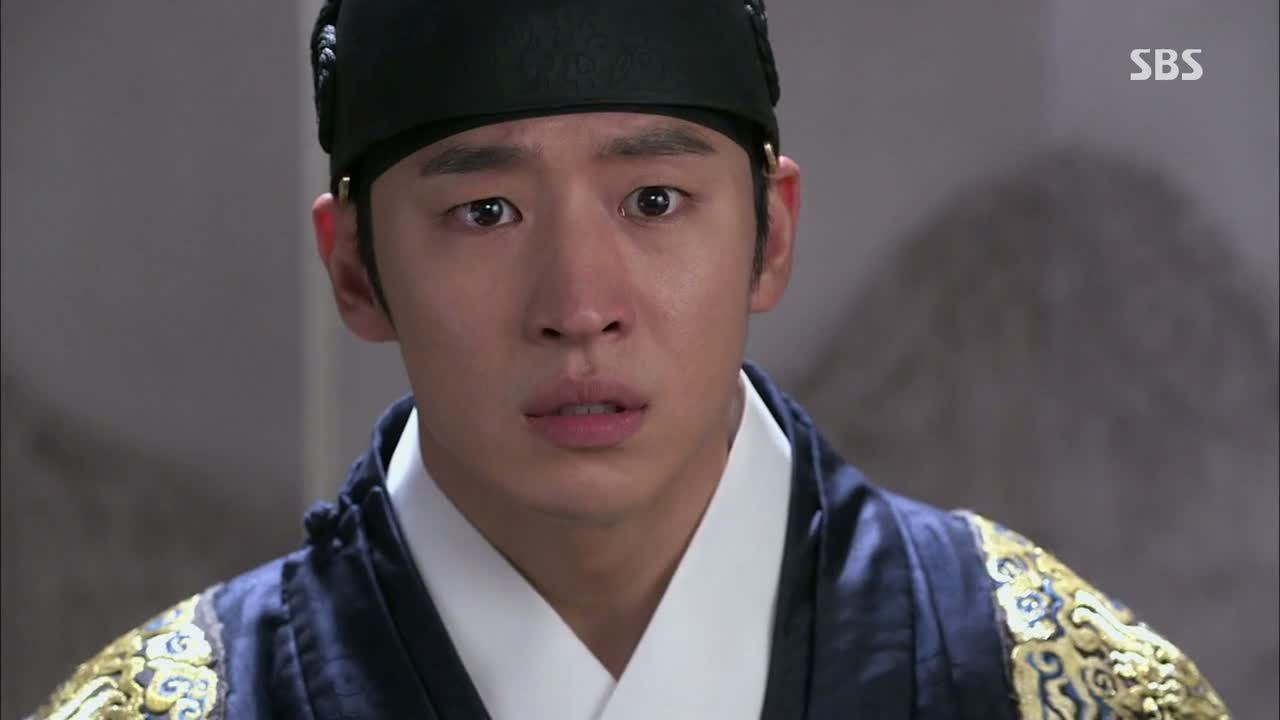 Soon the whole lot of Soron ministers gets hauled in by the state tribunal to be tortured and interrogated. It's a good day to be Noron, but Kim Taek reminds his colleagues that they aren't safe until they get rid of the prince.
Sun panics to hear of what is soon to be the next Soron purge, but then his eunuch bursts in with more bad news: They're now indiscriminately arresting every single booklender in town.
Sun rushes out of the palace to see booklenders being hauled away left and right in the streets. And in his basement, Ji-dam's father works away at another copy of the treasonous book on his own, as if waiting for them to come arrest him.
Dad gets taken away in ropes, and Ji-dam runs up to try and stop them. She cries and wails, refusing to let them take Dad away, and Chul-joo has to hold her back before she launches herself at the officers again. Dad turns back one last time to ask Chul-joo to look after her, and Ji-dam wails after her father.
By the time Sun arrives at the house, Dad is long gone. Ji-dam sits in a daze at the gibang, while Chul-joo asks Woon-shim to send word to the prince asking for his help in the matter.
There's no need, since Sun arrives a moment later, out of breath. The tears Ji-dam has been holding back start to fill her eyes, and she looks around wondering where her father is—didn't Sun bring him? What's her father's crime? Are the things written in that book false?
Sun has nothing to say in response to that, and Ji-dam cries, "They're not—those things are all true! If they're true, then your father is bad! So why is my father the one being taken away?!" Sun can only hang his head and apologize.
Ji-dam takes his hands and asks with hope-filled eyes, "You'll release my father, won't you?" Sun gives her his word that whatever it takes, he'll return her father to her. Ugh, I have a bad feeling about that promise.
He rushes back to the palace and ignores his father's orders to leave him alone. He runs inside and gets on his knees to plead for the king to change his mind. Sun says that he'll be the one to take all the stones that are cast Yeongjo's way, and will personally seek out every citizen to apologize if need be, and asks that they do this the right way.
He clings desperately to his father's leg, letting himself get dragged along the floor. But Yeongjo just shakes him off and ignores his cries without a second glance.
Kim Taek is quick to move on this golden opportunity to frame Sun, and tells the king that there's a rumor that Sun is the one behind Seo Family Booklenders and the publication of that book.
Yeongjo refuses to listen to any more lies, but when his eunuch reports that Sun went straight to Ji-dam's house immediately following her father's arrest, Yeongjo begins to wonder if it could be true: "Are you saying that Sun stuck a knife in my back?"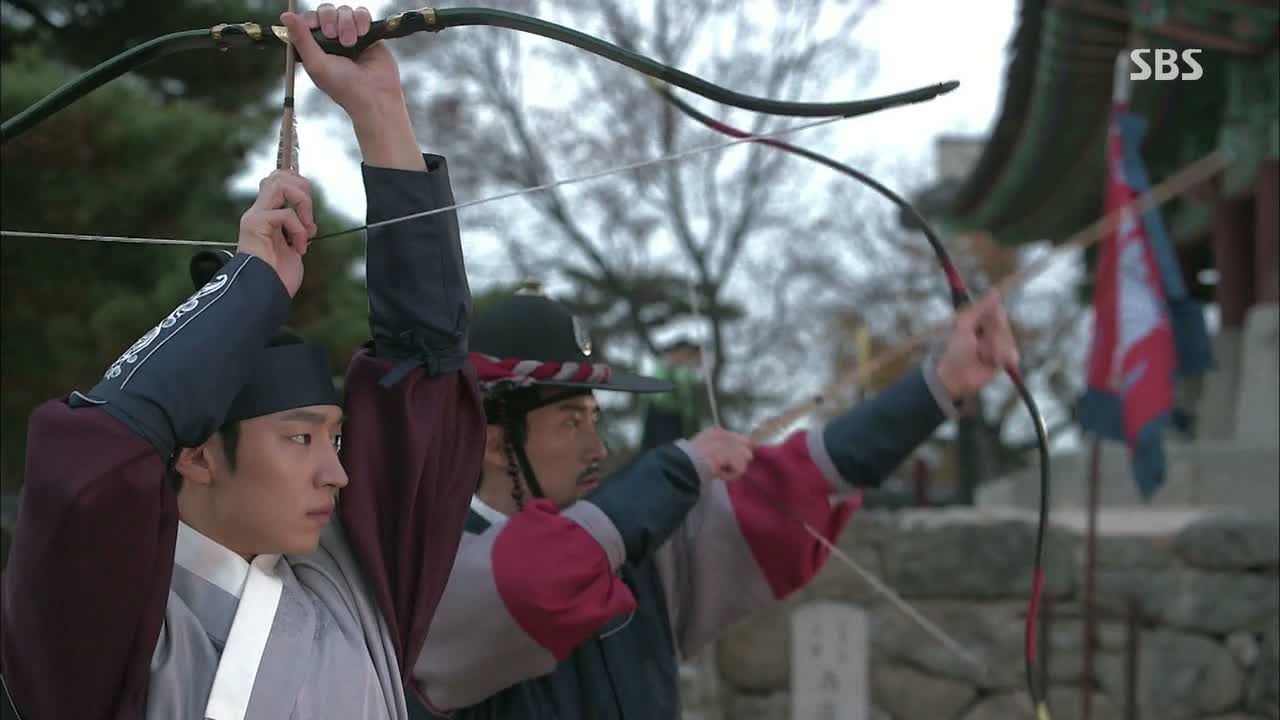 Sun calls Officer Min Woo-sub to join him in archery practice, and asks if he's ever killed anyone, and what he thinks the duty of an officer is. Woo-sub states very plainly that he was put here in this post by the Norons to get information on the prince, and that the prince seems to want the reverse.
Sun takes to his direct approach and asks why Woo-sub is telling him all this. He says it's because he doesn't want to be mixed up in any of it, for any reason. Sun asks if there are any exceptions: "Even if it means saving a life?" He asks if that isn't the true duty of a military officer, and Woo-sub stops to consider his words.
When Sun shares his copy of the maengui for Woo-sub to read, his eyes widen to realize the scope of what's happening between the king and the political factions. Sun says that what he needs is the original document, likely in Kim Taek's possession, otherwise countless innocent citizens will die.
Woo-sub asks haltingly what will happen to his father once that document is found and comes to light. Sun counters, "And what do you think will happen to MY father?" Woo-sub is startled by that, and Sun continues, "Do you want to protect your father? I'm no different. But in doing that, I cannot sacrifice someone else's father."
He asks how he can turn his back on the innocent fathers who are being tortured without just cause, simply for telling the truth. Sun stands up to look Woo-sub in the eye: "You and I are the sons of sinners. We must finish this and be prepared to share our fathers' sins."
It's a moving speech that speaks directly to Woo-sub's moral dilemma, and he declares that he'll search for the document. Sun takes his hands in gratitude, and Advisor Chae is relieved to hear that Woo-sub is now on their side.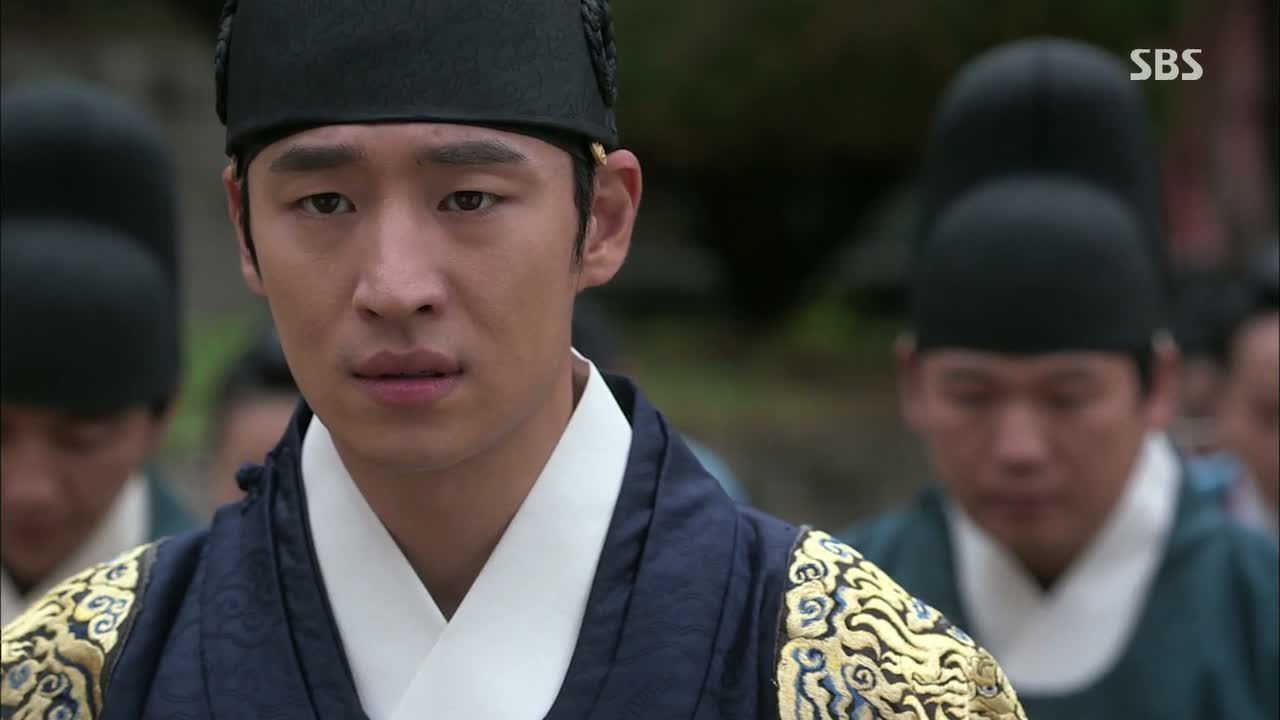 But Sun hardly takes two steps when he's met with the king's eunuch and a troop of palace guards, here to put him under house arrest. The eunuch whispers to Sun that he's under suspicion of treason (for being behind the publication of the book), and has been ordered to stay in his residence until further notice.
Advisor Chae gets called in to see the king, and Yeongjo baldly accuses him and Sun of conspiring against him. He threatens to get a confession out of someone to back up his suspicions, after which he'll dethrone the prince and kill them both. Advisor Chae falls to his knees and begs for the king to have mercy—not on him, but on Sun.
Poor Advisor Chae doesn't even know how easily he's being manipulated. Yeongjo asks if he wants to know a way to spare Sun's life, and Advisor Chae pleads for the answer. Yeongjo approaches him and says that from this day forward, he will cease to be the prince's confidant, and will be the king's instead—he will report to this palace, where his job will be to record confessions during the trials.
He is to believe only those recorded confessions as the truth, and no matter how much Sun asks for his help, he is to ignore him. Yeongjo has to ask him twice if he can do it, and after a long conflicted moment, Advisor Chae agrees. Nooooooo. Sun only has maybe three friends in the entire world! You can't take away Advisor Chae!
Yeongjo is impressed by his loyalty, but only turns it around to tell him that he is never to show an ounce of that loyalty to Sun if he wants to spare the prince's life. Advisor Chae spills tears as he bows solemnly in obedience.
He goes to see Sun to tell him of his new post, and Sun asks in disbelief how Advisor Chae could be party to those heinous trials and record false confessions. But Advisor Chae says that he asked to do the job, because he wants to live. He turns the reason into a selfish one, lying that he doesn't want to die a pointless death by taking the prince's side.
Advisor Chae: "To me, the king is now the truth, and the prince is false." What breaks his heart is that Sun apologizes for not having enough strength to protect him. Advisor Chae says one last thing before he goes, and begs Sun not to act rashly anymore—he doesn't want to have to imprison him with his own hands.
Both men tamp down their tears, and Sun manages to give him a weak smile. Advisor Chae holds his emotions in until he gets outside, and turns back tearfully to bow one last time.
Ji-dam gets word that even the prince is under house arrest, and she asks what's to be done about her father now. Chul-joo takes matters into his own hands, and tells his boys to gather as many men as possible—they're going to rescue Ji-dam's father themselves.
Advisor Chae does his new job and tells all the prisoners that if they sign confessions of their guilt, the king will spare their lives. The Soron ministers are all ready to die as a matter of principle, but Teacher Park is the one to speak up and say that someone among them has to live to protect the prince. He offers to stay behind and asks that the others sign confessions and get away with their lives.
In the next cell over, Ji-dam's father asks for the first parchment to write his confession, and Shin Chi-woon tells Dad that he's doing the right thing, and that if it weren't for him, Dad wouldn't be in this mess in the first place. Advisor Chae apologizes for making him do this, but asks if surviving isn't most important.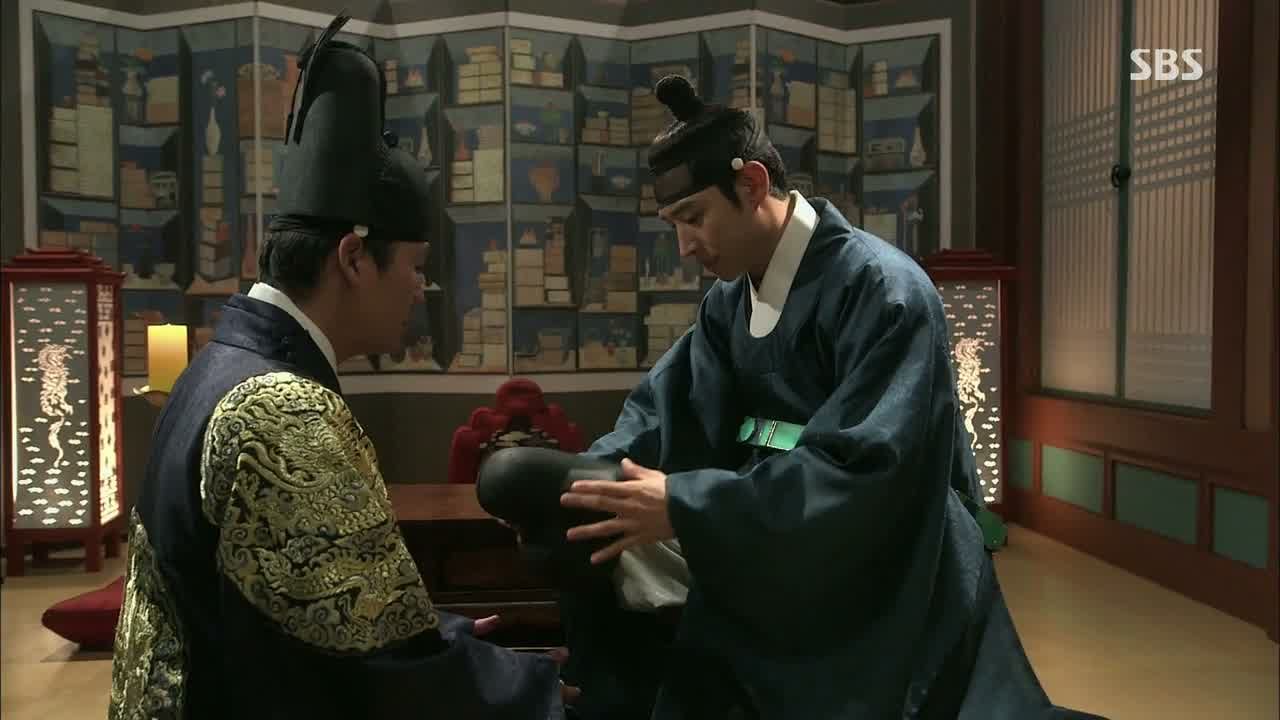 Sun asks his eunuch for a huge favor, and soon they're in each other's clothes. Eee, this could be disastrous… Sun says as much, making it clear that if they're caught, Eunuch Jang won't escape with his life. But his eunuch is nothing if not loyal, and even though he's clearly frightened, he says it's fine.
At the same time, Princess Hyegyeong worries for Sun, sighing to herself that being the crown prince is no easy path. She asks their son if he wants to play with his father, and sets out for Sun's palace.
With Court Lady Choi's help, Sun prepares to pass by the line of guards posing as a eunuch on an errand. Hyegyeong arrives just as Sun is given permission to leave, and the sight of the unfamiliar eunuch gives her pause, but Sun manages to slip past them quickly before she gets a good look.
Of course when she gets inside, she finds Eunuch Jang in the prince's robes and nearly bites his head off. Court Lady Choi gets on her knees to plead on behalf of Sun, who ran off to save someone's life. Hyegyeong can't believe they'd agree to something like this when the prince could lose his life as a consequence.
The servants shake in terror and beg for her to overlook it just this once, and the tension mounts as the guards outside start to get a strange feeling that something is wrong inside. The head guard starts to approach…
And inside, Hyegyeong gathers her wits and asks her son very loudly if he's happy to see his father, and speaks to Sun as if he's there. The guard returns to his post, convinced that things are normal.
A wave of relief washes over the servants' faces, and they cry. I might cry too, not out of relief, but the touching way that Hyegyeong speaks to imaginary Sun, asking him to play with their son for a long long time tonight. God I wish you were the main character of this drama sometimes. Okay, every time.
Sun jumps the palace wall and meets up with Woo-sub, and they race to track down the original maengui. It's a little convenient that Woo-sub happens to have peeked in on Kim Taek as he was having the document lined inside a book, but a search turns up the half-burnt title of the original book, which sends them to the palace library. They're on the right trail, but the book isn't there.
Meanwhile, Ji-dam's dad gives his confession to Advisor Chae, and it turns out to be a letter instead of a confession, which he asks to be delivered to Chul-joo. Chul-joo has gathered his men and is about to go storm the castle when Advisor Chae bursts in with the letter, in which Dad begins by scolding Chul-joo because he's probably about to do something stupid like storm the palace to rescue him. Ha.
Dad promises that he doesn't intend to just give up like this—he's going to fight for the truth and walk out of here on his own two feet. He doesn't seem to believe his own words, but he insists in the letter that he's hopeful.
He then addresses Ji-dam to tell her that he's always been proud of her, and always felt sorry. That's why he's trying to do the right thing now, and adds that if he can't return to her, it's because he's joining her mother. He tells her to live a long life and asks her to be happy.
Yeongjo prepares to preside over the trials, and comes marching out in military dress, wielding his sword. A few of the high-ranking Soron ministers kneel in the king's path with confessions at the ready, and he tells them dismissively that they did the right thing. But the only confession he really wants is from Teacher Park, and he has him brought out of his cell to see him.
Teacher Park gasps to see the king in military dress, because it's a sign that they're in times of war. Yeongjo asks how it's not war when people are threatening to shake the royal house and therefore the nation, calling them all his enemies.
Yeongjo says softly that it's not too late, urging Teacher Park to sign a confession and be his friend, as always. It's sad that Yeongjo probably means it too, after all that's happened. But Teacher Park bows and says he can't do that, and Yeongjo laughs that he wouldn't be Teacher Park if he didn't try to break the king to the very end.
But he says that he has no intention of letting him die so easily—in fact, he plans to keep Teacher Park alive while he kills every one of his comrades in front of him.
Sun and Woo-sub ride all night to the library where the book was transferred to, and Sun frantically digs through the manuscripts until he finds the one they're looking for. He carefully tears open the backing on the cover, revealing a fresh page with another document hidden inside.
He carefully opens up the document, now worn with age. I'm half expecting a twist, but there it is—the original maengui. Sun finally has the original!
The trial begins, and I'm not even kidding when I say that the entire courtyard has been converted into a torture yard, to house as many different simultaneous forms of torture that can be performed in one space. And as promised, Teacher Park is forced to kneel before all of them, unable to do a thing as he watches them suffer.
Yeongjo tells them that it's not too late, and they can still confess. But Shin Chi-woon just cries out that the person who needs to confess is the king. Yeongjo presses them to continue with the torture, and they literally burn Shin Chi-woon in the heart with a hot poker until he dies.
Both Ji-dam's father and Teacher Park wail at the loss of their friend, and Teacher Park cries for the king to please kill him first. Yeongjo just calls for the torture to continue, and Teacher Park has to sit by and watch them all die one by one.
Finally Ji-dam's dad bellows that they're all crazy, addressing the officials and ministers who are just standing by and being party to these horrific events. He asks if it's a crime to see because they have eyes and hear because they have ears, and screams that they're all insane to serve a king like this. "This isn't a king!"
At that, Yeongjo draws his sword and approaches, but Dad doesn't back down, asking if he isn't ashamed that he can't face his people without that sword. Dad cries for the others not to stay silent, and to cry for the king to stop this insanity at once. It's the last thing he cries, before Yeongjo cuts him down with one deadly swing.
Blood splatters across Yeongjo's face, and Teacher Park cries out in agony. Ugh. I know it wasn't a light switch that suddenly turned Yeongjo into a tyrant, but this is the moment—he's crossed that line completely.
Chul-joo delivers the bad news to Ji-dam, who sobs for her father.
Sun has been racing toward the palace all this time, and he finally arrives in the torture courtyard with his jaw hanging open at the sight of his father standing over a pile of dead bodies.
Sun cries for it to stop, and when Yeongjo tells him not to interfere, he shouts that if he doesn't stop right now, the maengui—the original maengui—will be pasted onto a wall for the public to read. Yeongjo approaches menacingly, and father and son stare each other down right there in the courtyard in front of everyone.

COMMENTS
I'm actually glad that Yeongjo had a moment of vulnerability and shared the truth with Sun, about signing the maengui because he was frightened and coerced. For one, it's a heartbreaking moment between the two actors, but it also solidifies the fact that these two were always on different paths—knowing the truth doesn't change the fact that Sun still believes in doing the right thing, and that Yeongjo believes in protecting his power above all else. Sun admits that he doesn't understand what it's like not to naturally inherit the throne, and he proves that his perspective of his father falls short in that regard—he has the ability to put complete faith in the people because the throne is his birthright, but his father will never be able to let go of his tight grip on power the same way, not in a million years.
And Sun finally gets the answer he's been dreading all this time—when faced with the truth, his father would choose to kill innocents to protect himself, and even order his son to kill them in his place. The saddest part is that Sun would die for his father in a heartbeat, but Yeongjo's request is for him to kill for his father, and that's the one thing he'll never do. It's crucial that Sun regained his faith in his father and began to hope again in recent episodes, because it makes his decision in this episode even weightier. What can Officer Min Woo-sub say to argue when the prince is willing to betray his own father to save innocent lives? It's one small consolation that if both sons have to suffer this enormous burden, at least they can do so together. Bro-hug of solidarity?
Please just let Woo-sub survive this. I can't handle it if anyone else gets ripped away from the prince. It's bad enough that he only has a few measly souls left to confide in, but the king had to take away Advisor Chae and force him to be a noble idiot on top of it all too? I know, it's not actually idiocy when he's lying and leaving the prince to save his life, but AUGH—that's the worst feeling, that everyone thinks Advisor Chae has taken the king's side to save himself, and he can't say anything to counter their assumptions that he's a spineless coward. He's the one guy on a government salary who follows the rules and goes by the book and believes in doing the right thing! I really hope Teacher Park finds a way to survive this trial no matter what his principles tell him to do, because the prince needs someone left by his side, and you can't all go dying on him.
Today's trial felt like the culmination of Yeongjo's journey to becoming a tyrant. He always seemed to be on the verge, teetering dangerously on the edge and constantly flirting with the wrong means justified by noble ends, but I always felt torn just like Teacher Park or Sun always did, because no matter how dangerously close he got, Yeongjo showed flashes of brilliance and wisdom as a king. He really does want the power for good reasons and could be a truly effective ruler if unhampered by political warring in his court. But his actions today prove all that moot, because to get that power, he's willing to kill innocent people for daring to oppose him. Even as we witnessed the gradual change over many weeks, the moment he cuts Ji-dam's father down with his own sword makes the feeling just sink into your gut—he has crossed over and is no better than a common murderer. Worse, perhaps, because he hides behind the virtue of the crown.
I wish we had actually been shown more of Ji-dam's dad's revolutionary past or beliefs, because he plays such a key role in the trial. We certainly care because he's Dad and because what he's saying is right, but I do think his role and his death could've landed with even more impact had we been shown the rebellion and the cause from his perspective rather than Shin Chi-woon's, who always seemed too much of an instigator to get behind in a serious way. Maybe that's why Dad had to be sacrificed though, because ultimately, whether Noron or Soron, it only matters to us that innocent people are being killed because they dared to speak the truth, and that they are people our characters care about. Through Dad's death, Chul-joo, Ji-dam, Sun, and Yeongjo are forever changed. And now with the maengui in Sun's hands, is this the end of hope and the beginning of war?

RELATED POSTS
Tags: featured, Han Seok-kyu, Kim Yoo-jung, Lee Je-hoon, Park Eun-bin, Secret Door