Let's Eat shakes up cast lineup for sequel
javabeans: I have some drama news for you, but maybe you should sit down first. So they're doing a Season 2 of Let's Eat.
girlfriday: Yeah, I know. I'm already on it. Got my bowls of ramyun and my takeout menus at the ready.
javabeans: Wait, that's not all. Season 1's Yoon Doo-joon is just-about-almost signed on to return in his role as Gu Dae-young.
girlfriday: Uh-huh, yes, that's totally why I'm watching Season 2. Duh.
javabeans: Hold on, there's more. So…. none of the other cast members are coming back.
girlfriday: Wait, WHAT.
javabeans: Yeah, there's been "a large change" in the lineup, according to Yoon's management. Also the management of his potential new co-star, Seo Hyun-jin (Three Musketeers), who is looking at the leading role.
girlfriday: WHAAAAAAAAT. You can't do that! What about Lee Soo-kyung??
javabeans: She… is not returning. And that original loveline "will be very different" in this new season.
girlfriday: Very different? VERY DIFFERENT?! You mean different because it won't exist, because he's going to not be with her anymore and fall in love with someone else?
javabeans: Well, I did tell you to sit down. I don't know why they say that. Does rage travel less far that way? I don't really know how you do that to a show, though, where you make a Season 2 that kind of…
girlfriday: …derails the happiness that you spent sixteen episodes building in Season 1?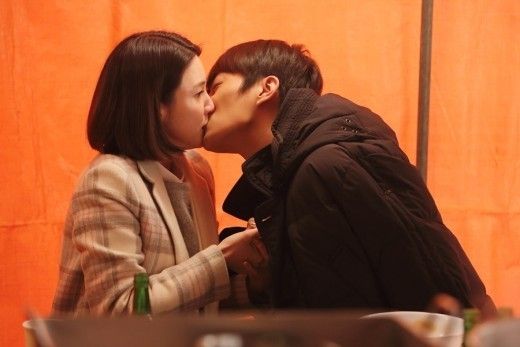 javabeans: Yeah it kind of seems counterproductive, because I don't know how I would root for the new girl that you're trying to sell as his love interest.
girlfriday: You solve that by not rooting for her. What the hell, Let's Eat? Why are we suddenly being My Sassy Girl 2?
javabeans: Aghhh, talk about ruining two movies with one movie. Because I don't care if I don't see the second, lesser, stupid movie with some other girl. Just the fact that she exists totally negates the whole point of the first movie!
girlfriday: Yes! She's a canon-ruiner!
javabeans: Why couldn't they just make Yoon Doo-joon a new guy who's like his first season character living out a parallel existence in the apartment building next door? Why did you have to bring him back and then crush his love?
girlfriday: Yes, if you're only going to bring back one character, which is already a mistake, then what's wrong with Bizarro Gu Dae-young running a copycat Shiksha blog and not cheating on Lee Soo-kyung? HUH?
javabeans: I'm trying to be fair and think of any way in which this might actually work. So they're also courting Jo Eun-ji (Greatest Marriage) and Kim Hee-won (Misaeng) to join the cast. In addition to Seo Hyun-jin, of course, who's been offered the lead. Maybe it's a prequel and he hasn't met Lee Soo-kyung yet?
girlfriday: Then what's the point of caring about this girl, if he's just going to break up with her and meet Lee Soo-kyung later?
javabeans: Oh right. Then maybe Lee Soo-kyung is his girlfriend in Canada and we just never see her?
girlfriday: Why did she go to Canada? Why aren't they Skyping with webcams?
javabeans: Maybe they were really happy, and had a beautiful marriage, and she got cancer but was able to spend her last few months beautifully enjoying all her good food with him and went peacefully, leaving him to move on and heal with another nice lady who likes to eat?
girlfriday: Well now I'm annoyed AND depressed. Thanks.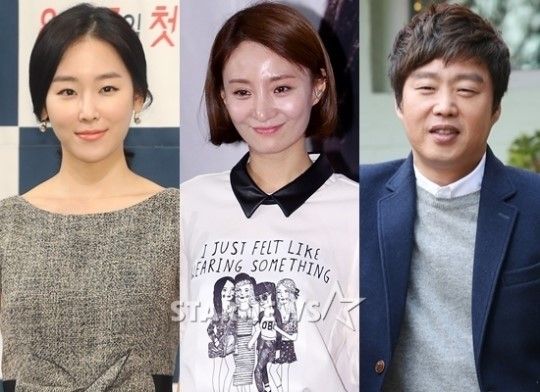 Seo Hyun-jin, Jo Eun-ji, Kim Hee-won
Via MBN
RELATED POSTS
Tags: conversation post, Let's Eat, Let's Eat 2, Seo Hyun-jin, sequels, Yoon Doo-joon