Healer: Episode 17
We've got fun and thrills in store for us today, with the central Scooby gang united in purpose and out to pull off a caper. I love caper plots. It's a dangerous game they're playing, but our team goes all-out and heightens the already high stakes, sending the message to their opponents that not only are they not backing down, they're willing to go on the offense. Bring it.
SONG OF THE DAY
Ji Chang-wook – "지켜줄게" (I'll protect you) from the Healer OST [ Download ]
Audio clip: Adobe Flash Player (version 9 or above) is required to play this audio clip. Download the latest version here. You also need to have JavaScript enabled in your browser.

EPISODE 17 RECAP
Jung-hoo runs from the scene of the crime—never mind the fact that it's not his crime—and the image of him looming over the ex-cop's body is foremost on his and Young-shin's minds. It looks pretty damning, although we should all be grateful that the police don't appear to have seen him.
At the scene, Moon-ho answers questions for the police officer and says that he and Young-shin were just passing by. The officer readily accepts their explanation.
Still reeling from shock, Young-shin sounds like she's trying to convince herself more than anyone as she tells Moon-ho, "There would have been other people. There were, but I didn't see them."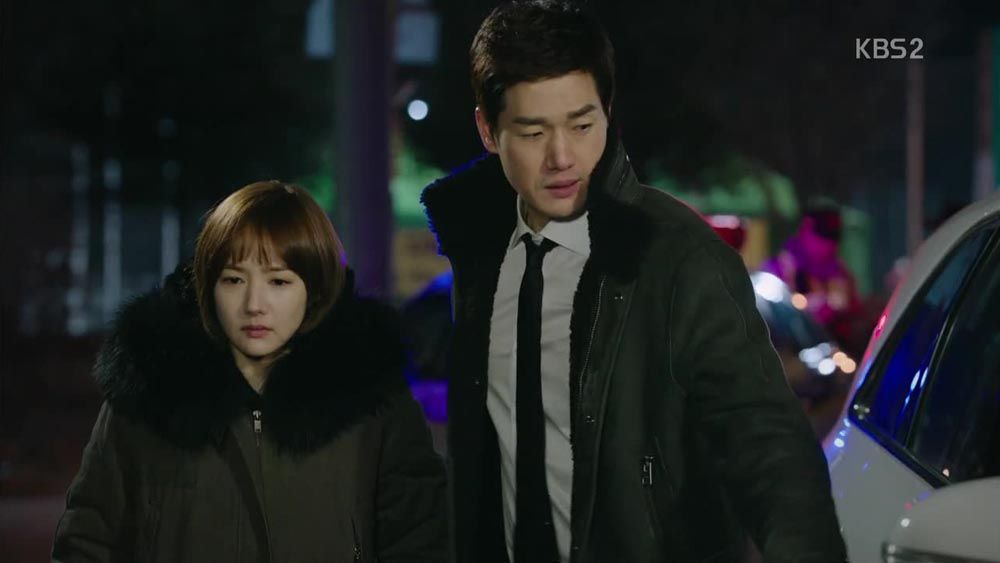 Moon-ho ushers her into the car, but moments later she dashes out to retch in the street.
Jung-ho makes it home, where Min-ja informs him that the ex-cop, Park Dong-chul, died on the scene. He's sure that Park was telling the truth about the tape of his father's police statement, and tells ajumma about Park's strange last words. In flashback, we see Park gasping out to Jung-hoo: "Three… nine… one." It's clearly important, but what the heck does it mean?
Adding to his problems, Jung-hoo has to deal with the fact that Young-shin was there. He throws his beer can at the wall in frustration.
At the cafe, Young-shin's father and Pickpocket Ajusshi bicker about how to deal with the issue of their little girl dating. Ajusshi wants to bring Bong-sookie in for a sit-down chat, but Dad's in favor of waiting until she's ready to share.
Young-shin arrives with Moon-ho, whom she introduces as her boss. The men all bow to each other, and there's a cute moment when Dad rises from his bow, but sees that Moon-ho's still bent over and pops down for another one. Aw, Moon-ho's being particularly respectful to the man who raised Ji-an all these years, and he asks Young-shin if they can't share the full story now, "So I can pay my respects properly."
HAHA, that sounds like he means bridegroom respects, and Dad struggles mentally to get the picture in order, wondering where Bong-sookie fits into all this. But before that gets too out of hand, Young-shin states without further preamble, "I found my birth mother."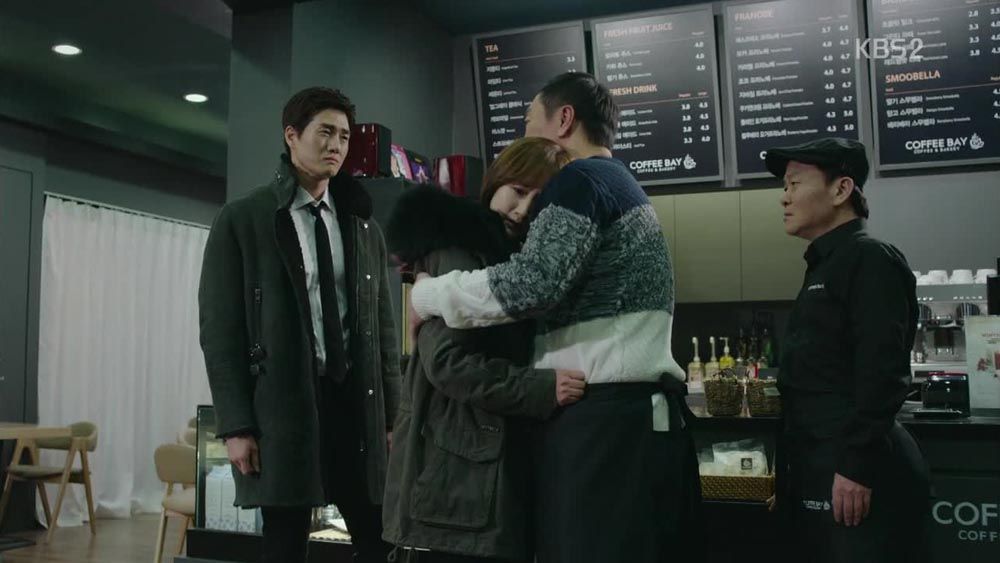 She tells him the facts as calmly as she can, about her birth mother being ill and her birth father having died, and gets increasingly teary-eyed as she apologizes to her father for not telling him sooner. But since Dad is the best dad ever, he just opens up his arms, and she steps into them as she cries.
Ajumma runs through all the possible meanings of 391, but they've got no leads. She notices that Jung-hoo's not paying attention and guesses that he's preoccupied with Young-shin and provides a common-sense and simple solution: Tell her what happened. Call her! She even logs off to give him some privacy.
Jung-hoo calls, and Young-shin nervously prepares a greeting before answering. But she answers just as he gives up, and they miss the connection.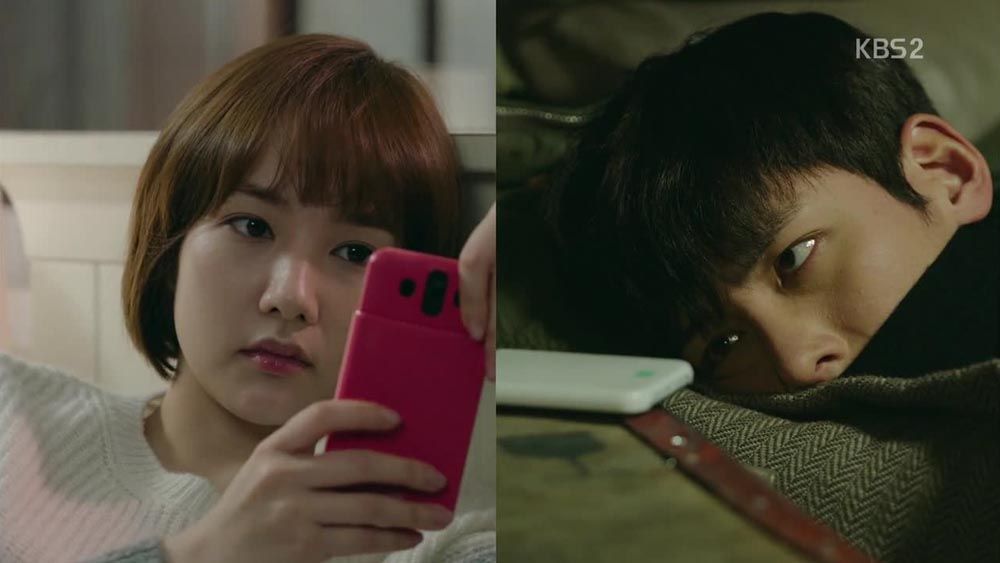 His entry in her phone has gone from Park Bong-soo to Seo Jung-hoo, and now she edits it once again to read "That Person." She doesn't want to get him in trouble by revealing his name, and wonders, "What else should I hide for him?"
They both lay back in their respective rooms, having one-sided conversations to each other. She waits for his call, wondering if he's okay. He, on the other hand, implores her to ask him everything she wants to know, so that he can tell her: "If you don't ask, I can't answer."
Secretary Oh is let out of police custody, to his smug satisfaction and Detective Yoon's aggravation. Thanks to his connections, he's got lots of people vouching for his (false) alibi, and the police are denied a warrant. The police mole who'd poisoned Teacher is observing his right to remain silent, leaving Detective Yoon stymied for now.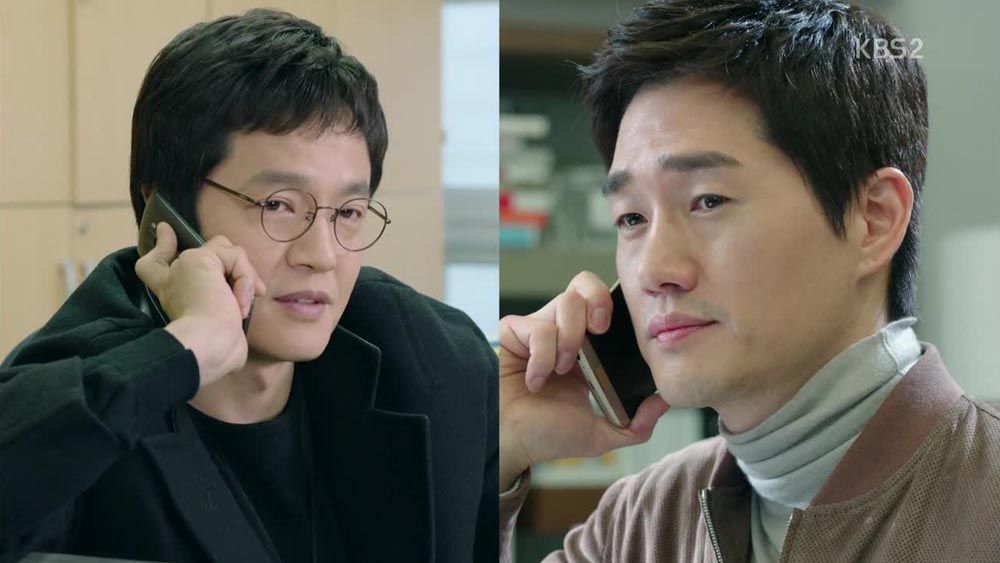 So Detective Yoon goes to Moon-ho for more help, asking for an introduction to the very nice fellow who collected all that evidence and made the mole so easy to arrest. Moon-ho replies that officially, he has no idea what the cop's talking about.
But Detective Yoon isn't buying the act, and adds that there were quite a lot of people out and about looking for the dead guy last night—in particular a twentysomething young man wearing glasses and a hat with extraordinary fighting skills.
Jung-hoo makes his way to the dead cop's room at a boardinghouse, which has already been ransacked, confirming that the baddies are in the hunt for the tape. He reasons that if Park kept the tape for twenty years but lived a semi-transient life, he wouldn't have stored it here.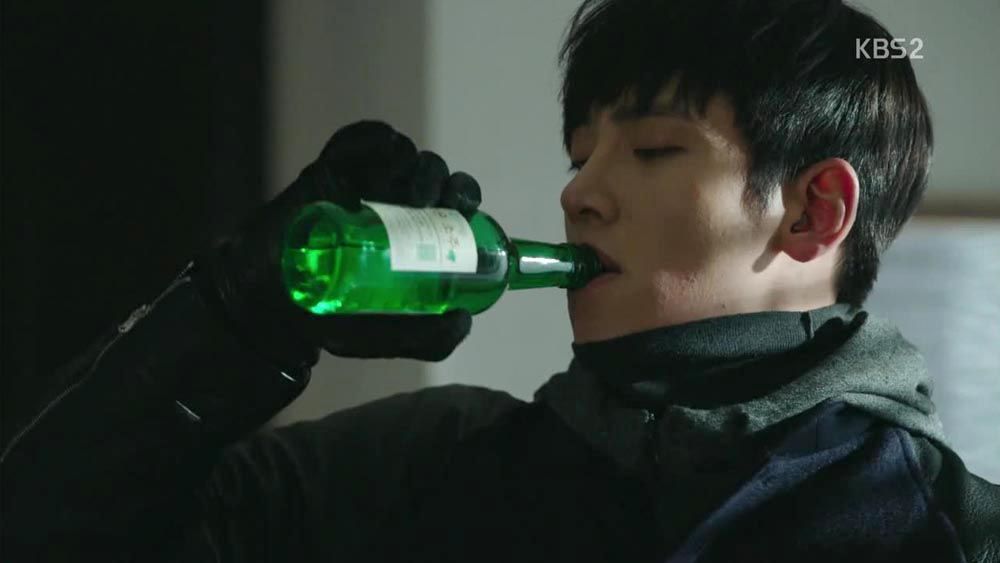 When Jung-hoo pulls out a bottle of soju from his pocket, Min-ja realizes he didn't come here for the tape—he's here to pay his respects to the dead. "This man turned out this way because of me," he explains. Ajumma provides him with the etiquette for offering the dead a drink, and he follows along: sprinkle some, drink some, say something.
As Jung-hoo heads out of the building, he notices that he's picked up a tail. He clocks the two men and the van that follow as he changes direction, and Jung-hoo asks Min-ja for suggestions on how to handle this.
But ajumma has some unsettling news to break, and leads with the warning to take a few deep breaths. First, Secretary Oh has been released. Furthermore, the tracker she planted on Young-shin's phone is being used by an unknown source. Also, Young-shin appears to be heading for Moon-shik's house, and Secretary Oh is there.
Okay, yeah that's a lot of bad news to drop all at once. Jung-hoo grabs a cab immediately, and the stalkers' van squeals out after him.
Young-shin arrives at the house to see Myung-hee, who is busily preparing a grand birthday spread for Ji-an, the sight of which makes Young-shin's eyes fill with tears. She has to hold it together when Myung-hee smiles in welcome and takes the flowers from her, holding out a hand. She compliments Young-shin and calls herself a fan, and the tears spill over as Young-shin takes her hand.
To cover up her emotional response, Young-shin makes the excuse that she's had a rough time lately and tends to cry easily. Myung-hee confides that she does too.
Of course, Secretary Oh's around the corner to spy. He reports the scene to the Elder directly.
Young-shin shifts to interview mode as Myung-hee leads her to her room, and asks about her old pirate-broadcasting friends. Myung-hee sits her down in front of her photos and points out Teacher, and is surprised to hear that her husband already showed Young-shin this photo.
Myung-hee points out her first husband, and Young-shin hesitantly asks about him, concerned that talking about it will make Myung-hee ill. In reply, Myung-hee just hands over a call box and tells her to press the button if she gets ill, ready to talk anyway. Eager, even.
Young-shin asks if she can talk about the two friends who died in 1992. Myung-hee smiles up at her almost defiantly and says, "After more than twenty years, finally somebody asks."
Secretary Oh has guessed that Young-shin came knowing the truth of her parentage, and warns the Elder that this is a volatile situation. The Elder reasons that Myung-hee will leave her husband once she knows the truth—and that would destroy Moon-shik. Since they'll look ridiculous if they swap out their mayoral candidate again, they'll have to protect Moon-shik.
And just as Secretary Oh is asking how to do this, he turns around and sees Healer standing right behind him. Ooh, chills. Great reveal.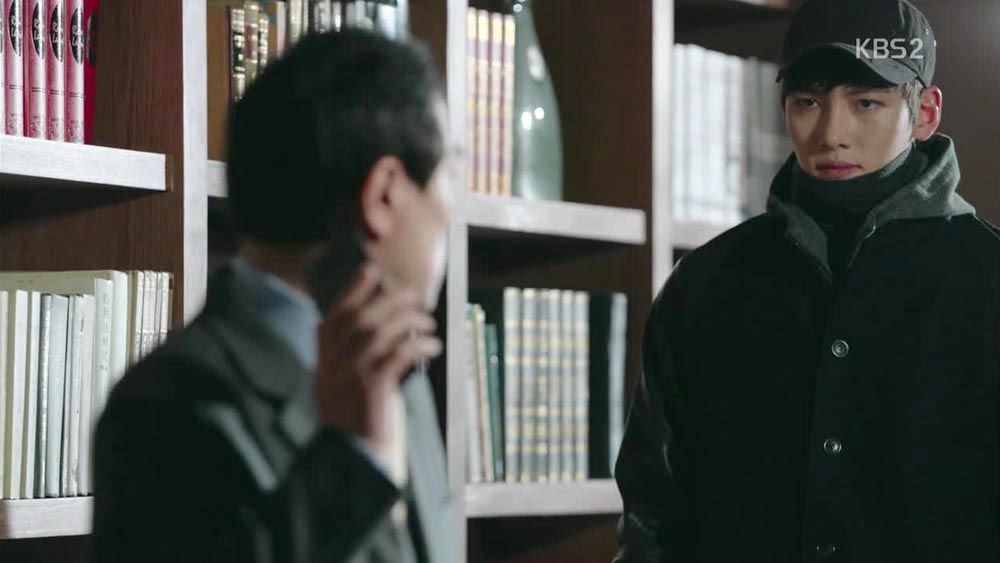 Jung-hoo takes the phone out of his hand and says, "Hello, Elder. You're the bad person giving orders to Mr. Oh in front of me, and Kim Moon-shiik ajusshi, aren't you?" The Elder is so startled he can only gape, and Jung-hoo asks where he can come see the Elder to ask some questions.
In response, Elder just disconnects the call. Secretary Oh tries to inch away but Jung-hoo looms over him menacingly. Secretary Oh actually looks scared (not that I feel sorry for him) as Jung-hoo outlines his offenses, including killing his teacher and intimidating his mother. "If I let you live, you'll keep doing this," Jung-hoo says. "Killing people, hurting people, scaring people."
Jung-hoo knows that police custody means nothing, and looks rather threatening as he tightens Secretary Oh's necktie and muses, "If I kill you, I'd be doing a good deed, wouldn't I?"
Upstairs, Myung-hee holds Young-shin's hand and asks her to broadcast "our story," promising to tell her everything she knows about that day in 1992. Young-shin readily agrees, but Myung-hee warns that it'll be dangerous, because "the people who killed us that day are still alive."
Young-shin wonders whom she means by "us," and Myung-hee clarifies: "My husband Oh Gil-han, my friend Seo Joon-seok, my daughter Oh Ji-an, and me."
Downstairs in the study, Jung-hoo sends books crashing to the ground, and Secretary Oh is practically beside himself trying to set the mess to rights. It's actually funny in a pathetic way, and it prompts Jung-hoo to thank ajumma for preventing him from killing him—what a waste to become a murderer over such a sorry being.
Min-ja sends him the police sketch for the ex-cop's murderer, and it bears enough resemblance to the Healer to know that they're really going after him. Thankfully the sketch doesn't actually look much like him aside from the telltale hat and glasses. Jung-hoo should really go for another look.
Jung-hoo finds paperwork on Moon-shik's desk related to Teacher's burial arrangements, which he first tosses away… until the three-digit number triggers a thought. He asks Min-ja what his father's vault number is.
Myung-hee continues her recounting to Young-shin about that day in 1992: She was at home with her daughter, waiting for her husband to come home. Moon-shik called to warn her to run away immediately, because "they" were coming. So Myung-hee grabbed Ji-an and left home.
In the present, Myung-hee explains that "they" call themselves Farmers, because they believe themselves to be cultivating this nation through their efforts—planting crops, eliminating weeds, building their country. What an innocuous thing to call someone so pernicious.
Back to flashback: Young Myung-hee runs down the alley of their neighborhood carrying Ji-an, chased by men in suits. Myung-hee hides Ji-an amidst a pile of trash, under a covering. Frantically, she tells Ji-an to be silent and promises to come back for her. So Ji-an forces herself to be quiet while her mother runs in the other direction.
But these memories spark another episode and Myung-hee starts to convulse. Young-shin calls for the nurse and grabs Myung-hee in a hug, and even when the nurse takes over, Myung-hee makes sure to keep holding her hand.
While her mother is being treated, Young-shin makes her way down to the kitchen, looking at the birthday spread. She picks up one of the cookies and holds it close, full of emotion.
As she leaves the house later, Jung-hoo approaches cautiously, having waited by the road. The air is still strained as Young-shin explains that she just met her birth mother, and heard the story of how she was lost instead of thrown away. Myung-hee had been in an accident after hiding Ji-an, and when she woke up days later she was paralyzed. The last words she'd told Ji-an were not to make a sound, which must be why Young-shin didn't speak as a child.
"I thought I was abandoned," she says. "I must have been scared. That if I don't smile prettily, if I ask questions they don't want to answer, they might get sick of me. They might throw me away."
"I won't," he promises her. So she asks, "Then can I ask?" He nods, "Of course."
Young-shin asks, "Have you ever killed a person?" Jung-hoo answers no, and she says with a smile, "I knew it."
With that, they fall in step comfortably, and now he shares his plan with her. Since he's a murder suspect, he intends to find his father's tape first, then the guy who framed him. Young-shin readily offers to help with that, although when he says he should see her Dad, that thought makes them both a little timid. LOL.
Then she sidles close to him and slides her hand into his pocket.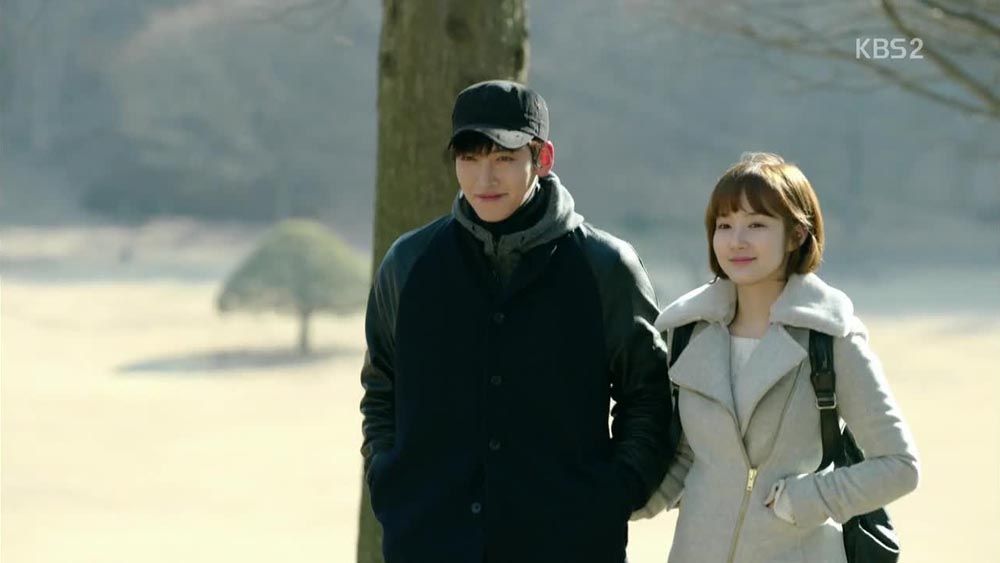 Moon-shik is called before the Elder, who informs him that missing persons cases are closed after five years—after that point, they're essentially presumed dead. Moon-shik is startled when the Elder insinuates that he'll make Moon-ho disappear without much fuss—despite his fame, people forget very quickly—and assures him that he'll take care of his brother.
The Elder reminds Moon-shik that they're about to kick off the next plan, and an ancient case can't ruin their plans. Moon-shik understands, and repeats that he'll handle his brother. At least this suggests he isn't about to kill him, if the idea of Moon-ho actually disappearing upsets him.
Moon-shik is informed of the day's events (and visitors) when he returns home, and is even aware that Myung-hee has been ordering listening bugs and calling Moon-ho behind his back. Far from being angry, however, he's more worried that Myung-hee is upsetting herself and tells his secretary to leave things alone. He says things will return in due time, as though this is just a temporary blip.
Min-ja confirms that the number 391 corresponds to Jung-hoo's father's memorial vault, and how much do I love that the whole Scooby gang is in on the call? Moreover, they even seem to be enjoying the teamwork.
For instance, Young-shin pouts when Moon-ho suggests that she sit out this operation—she'd hold Jung-hoo back—but perks right back up when Min-ja counters. Aw for sister solidarity.
Jung-hoo cleans up Young-shin's phone, then gives her instructions on how to act if he's in danger of being apprehended (pretend not to know him). The show of concern is too cute for Min-ja, who chucks her headphones in disgust, though Moon-ho chuckles in amusement. I'm with him.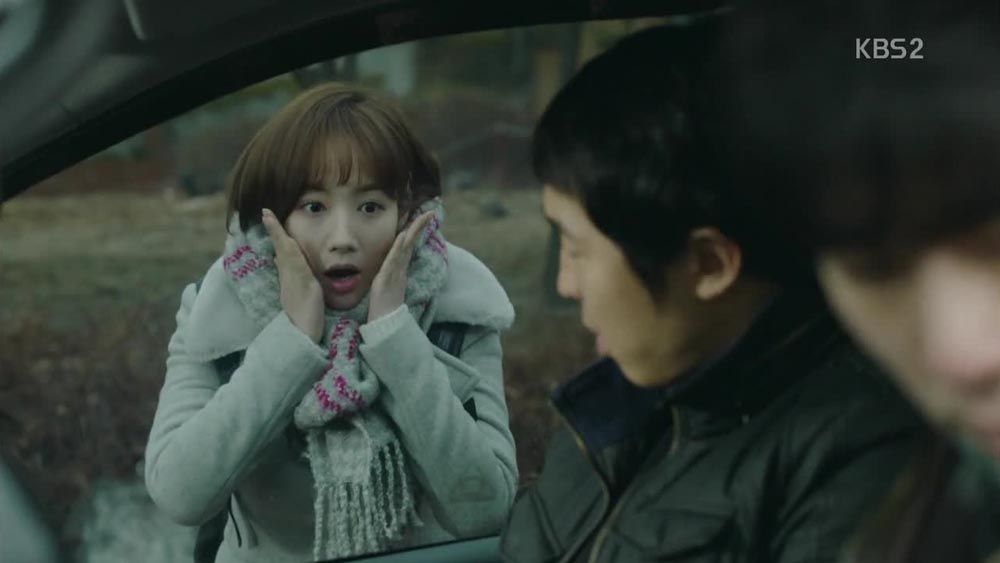 As they arrive at their destination and spot their pursuers' van nearby, Jung-hoo makes sure she's got the protocol for a fight: Close her eyes and wait while Jung-hoo takes care of it.
Jung-hoo and Young-shin walk by pretending not to notice the goons just sittin' there in their car, staking people out, as you do. Young-shin pretends to primp using their window as a mirror, and while they avert their faces nervously, Jung-hoo sneaks around to spill tacks in front of their tires. Heh, so lo-tech but effective.
Jung-hoo instructs Young-shin to run, and she does. Then he knocks on the van door, opens it, and quickly snaps each of the goons' faces using his glasses. Then he runs for it.
Dae-yong pulls up in a car and hands it off to Jung-hoo and Young-shin, who jump in and drive off. Back at the van, a poor goon crouches in front of his tires slowly picking up tacks, not wanting to risk a flat.
With the photos, Min-ja gets to work identifying the goons—and more importantly, whom they work for. She warns that it'll take time, but the show is kind enough to let us know right away, taking us to a hi-tech situation room directed by Manager Ahn—the guy leading the Healer hunt for Jeil Newspaper. And all roads lead to the Elder.
Moon-ho receives a surprise visit from Min-jae, and her arrival has the office placing bets on her relationship to the boss. Most of those go to girlfriend.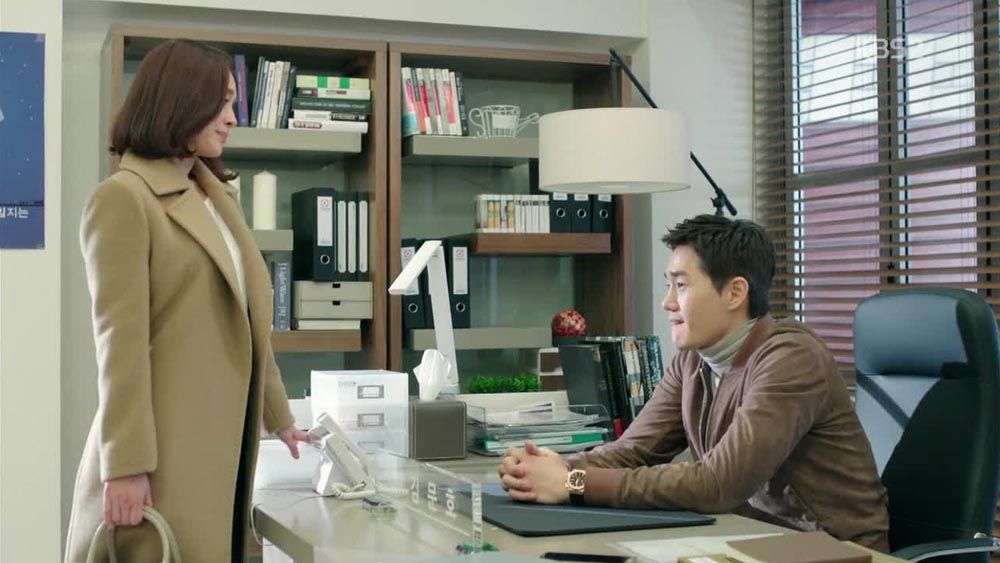 Min-jae is in charge of ABS's upcoming broadcast featuring Moon-shik, and has heard that Moon-ho is preparing his own corresponding broadcast. They both know that a certain Omega Holdings is Moon-shik's financial backer, but she reminds him that he ought to know Omega is not to be trifled with.
Moon-ho recognizes the difficulty, but he isn't cowed, and vows to turn Omega's every obstacle into broadcast material. Seeing his stubbornness, Min-jae revises her earlier comment about Moon-ho only fighting when he won't get hurt, saying that that's the good method—it's how you stay in the fight longer.
Moon-ho just replies with relish that these days he finds life quite interesting. In the past, he would wake up in the morning and sigh, "Must I get through another day?" These days, on the other hand, spur him on: "I think, 'Great, what should I do today? What'll the kids be doing?'"
Min-jae just looks more worried, saying that "those people" will always be above them, because regular people operate on common sense, but those in power are not thus bound. "You can't win," she says.
What's scarier, the idea that she may be right, or the idea that he knows this? "But if I quit just because I can't win," Moon-ho returns lightly, "I'll be embarrassed in front of the kids."
Jung-hoo drives them to his father's charnel house, while Dae-yong arrives at the Someday building and charges in to see Moon-ho without so much as a hello. The staff guesses that she's another girlfriend, haha.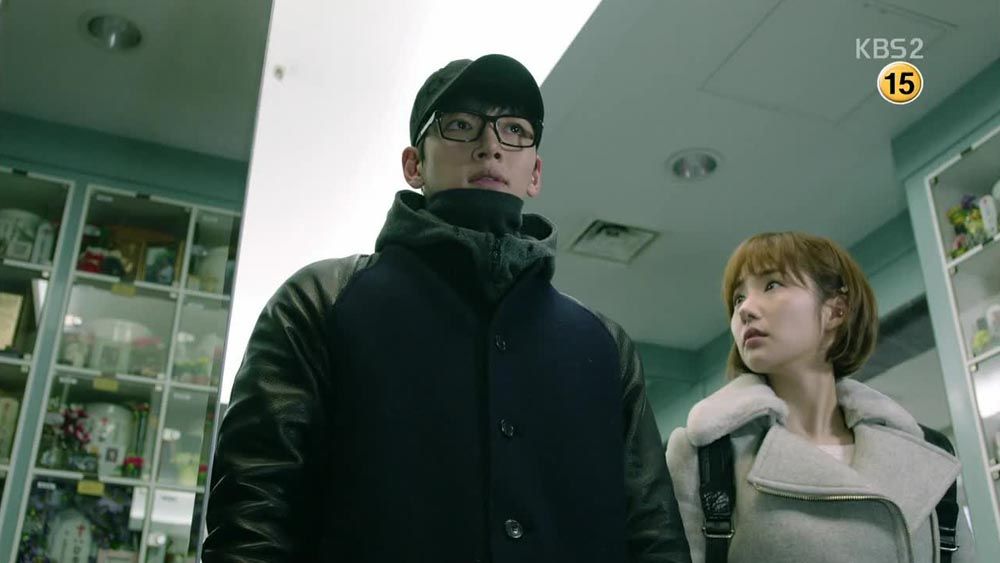 Jung-hoo and Young-shin make their way to the vault, and when Jung-hoo waves at the CCTV camera, knowing ajumma's watching, Young-shin adorably sends her a hearty wave too. Despite seeing the goons arrive right behind them, Jung-hoo looks unconcerned and tells Young-shin not to look at them.
Jung-hoo reminisces about coming here with Teacher once, years ago. Affecting Teacher's distinctive voice, he recounts his words: "Your father isn't here. We don't know where he is. But still, you should know which direction to direct your greeting. So let's do it here, the greeting."
And there it is: No. 391. Jung-hoo looks at the photo of his father's smiling face and introduces Dad to Young-shin.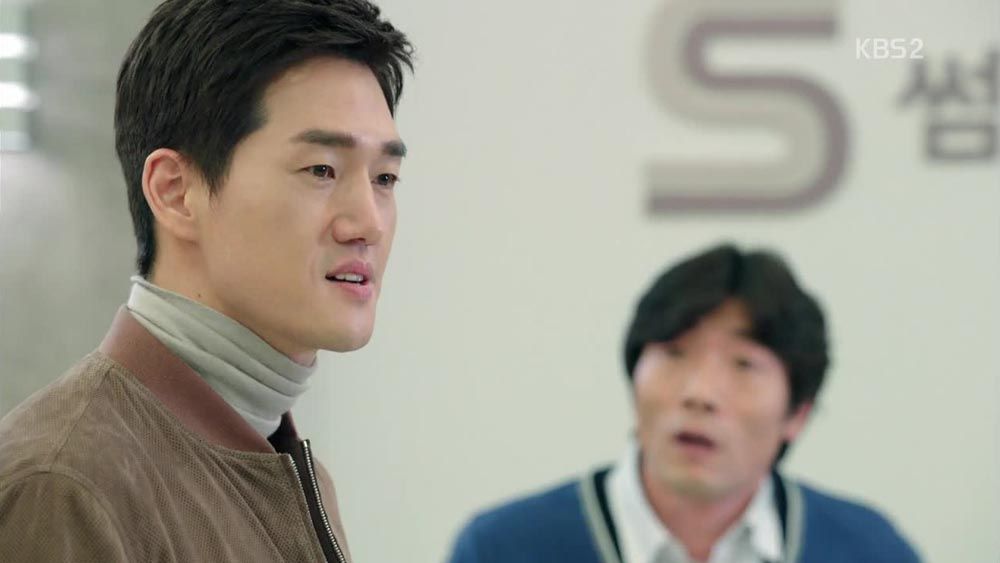 Dae-yong leaves the Someday office as abruptly as she came in, and Moon-ho announces to his team that they'll launch their third broadcast shortly, based on the new information that just came in. They've gotta release it before anybody stops them, and the subject will be: The Truth About the Puppetmaster Pulling Kim Moon-shik's Strings.
He already has one video prepared, and instructs his team to pull together a few more supplementary materials. Asked how long to prepare the broadcast for, Moon-ho replies that he doesn't know how far they'll be able to go. Hm, what does that mean?
Jung-hoo picks the lock to his father's vault and feels around inside. Tucked behind the photo is a cassette tape, which he surreptitiously hands off to Young-shin, out of sight of the goons who keep a close eye from a short distance. She tucks it into her jacket and assures Jung-hoo that she'll be fine.
Upon their exit, the pursuers close in on the pair. Min-ja gets on the phone and affects a hilarious girlish voice to send in a tip to the police: She heard gangsters planning to kidnap a girl with her own ears.
Interestingly, Jung-hoo adopts a Bong-soo-like meekness as he stammers to the gangsters, asking what they want. The guys demand the tape, and he asks naively, "If I give it to you, can we go?"
Seeing the patrol car pulling up nearby, Jung-hoo tells Young-shin to close her eyes, and she obeys. Quick as a flash, he knocks down as many henchmen as he can, then grabs Young-shin. He gets her safely to the police car, has her toss him the tape, and goes on the run. The gangsters chase.
Moon-ho begins his third live broadcast—so soon!—with the news of "one more lonely death." He outlines the case of ex-cop Park Dong-chul, who heard the statement given by a murder suspect back in 1992, and links this broadcast to their previous one about Teacher, since the two key players were friends and pirate broadcasters. And curiously, Seo Joon-seok died while under police investigation, just as Teacher did.
Jung-hoo runs for a while, but finds himself (allows himself to be?) cornered and takes a punch to the face. Still in his Bong-soo-like facade, he chooses not to fight back, whimpering in fright instead. Promising to cooperate if they don't use violence, he hands them the cassette case, which happens to be empty.
That earns him another punch, and now he cowers and begs to meet the Elder, offering this tape and also the "LA video" (featuring the Elder) in exchange. He also has a message: The Healer wants to join the Elder.
Moon-ho's broadcast continues: At the time of Seo Joon-seok's death, the newspapers called it a suicide, one prompted by guilt over killing his friend. But Park Dong-chul revealed a different story, and we hear it with our own ears as a recording plays.
It's from Jung-hoo's conversation with him at the church, and it looks like Min-ja is manning this part of the broadcast from her hacker station. Park explains the discrepancy in statements and the way he was stripped of his badge for reporting the breach of ethics within the police department.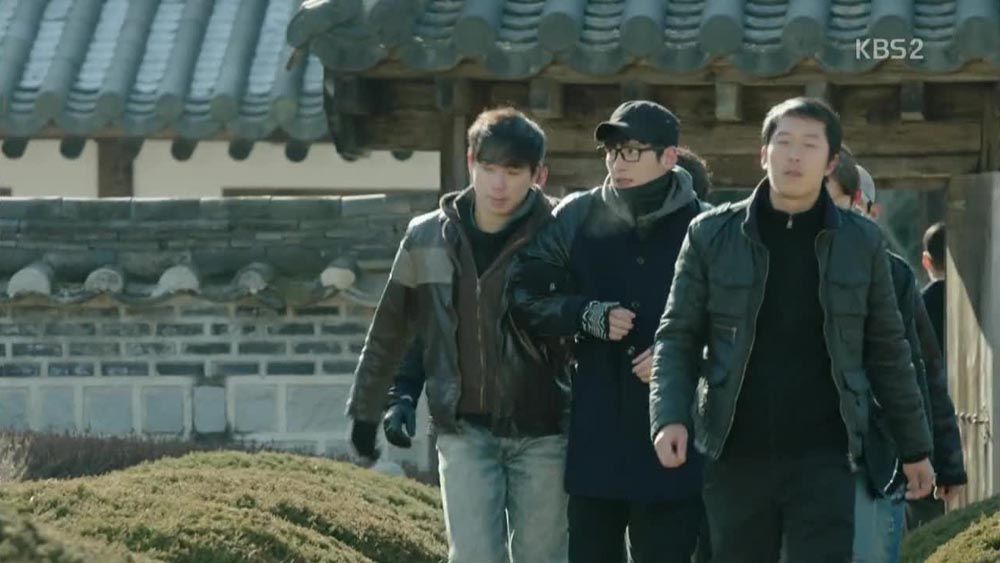 Jung-hoo is dragged to the Elder's home, his glasses taking note of each face standing guard outside. He gets shoved into a room to await the Elder.
Moon-shik is alerted to the broadcast and tunes in just as Moon-ho reveals that Park Dong-chul safeguarded Seo Joon-seok's true statement. It's awfully suspicious that Park died after talking about it, like somebody did it to silence him.
And then, Moon-ho pulls out a tape. Omo omo! How'd you get that, you sneaky magician.
But before proceeding, Moon-ho pauses, like he's waiting for a signal. Min-ja also pauses with her finger over the keyboard, awaiting the cue. Then Jung-hoo looks toward the door and says, "It's coming," and she hits the key.
At that, Moon-ho resumes, saying that one of his Someday reporters has made his way to a particular home, belonging to a man called the Elder. Holy shit, are you going to broadcast Jung-hoo's wiretap? That is ballsy, dude.
Oh, even better: There's video feed, coming from Jung-hoo's glasses. The broadcast captures the door opening, and Jung-hoo rises to his feet to greet the Elder. A guard darts in front of the old man to cover his face and whispers a warning. But it's too late, the money shot has been had, and Jung-hoo smiles.

COMMENTS
Yes, but how are you going to get out of there alive, Jung-hoo, tell me that! You impressed me with your tricksy maneuver, but please tell me an exit plan is part of the master scheme? Because I can't see how the Elder is going to hear about this broadcast and not kill him, either to silence him or just because he's pissed off.
But yes, it's a clever plan, and one whose parts are hidden while you're watching the show, only to come together at the last minute like a mechanism locking into place. At first I thought Jung-hoo's plan was merely to get to the Elder, but upon looking back at the episode it becomes clear that the Scooby gang sprang quite the elaborate trap, and that every bit of it was choreographed. I'm assuming that Dae-yong must have gotten the real tape first, before she handed off the car, and what Jung-hoo took out of the vault was a decoy. You wonder why she couldn't have just gotten it in the first place, except that getting the tape isn't their only goal—it's a twofer, and Jung-hoo needs to take down the Elder too. The tape on its own isn't enough, and this is the only way he can get both.
The writing is quite tight in this episode, and even more so when you go back hunting for clues to how the pieces fit together. There are little comments strewn throughout that hint at the endgame, but only become apparent in retrospect, which I enjoy. If a twist truly comes out of nowhere, it's not satisfying because we need to feel that it was a natural part of the story, not just some random left-field occurrence—you need to lay groundwork in order for a twist to pay off, but that always runs the risk of giving away the goal too early and ruining the climactic reveal. So I appreciate having clues built in that reinforce but don't spoil the payoff, like Moon-ho's fixation with the need to attack with a live broadcast. I thought, in the moment, that he was a bit obsessed with the live aspect of the broadcast—what's the big deal with a live broadcast when you prepare the parts in advance? And then I saw that he meant holy-shit-live, I-mean-catch-you-with-your-pants-down-live, with the video feed coming in as it occurred, and suddenly his comment about not knowing how long the broadcast will take made a lot more sense.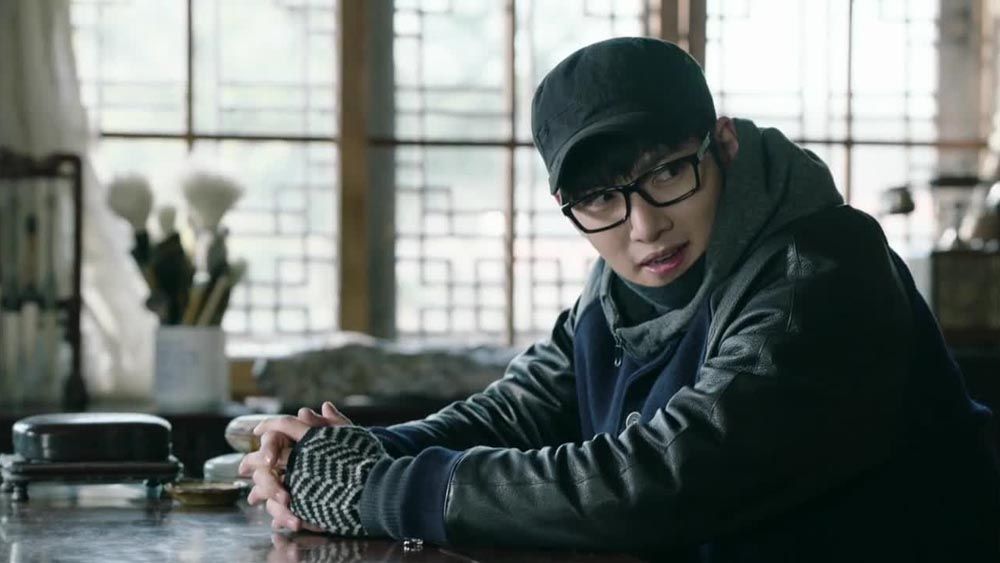 I'm relieved that the murderer misunderstanding was resolved with relatively little angst, because honestly this couple has already weathered more meaningful angst. To subject them to this kind of misunderstanding would have felt overly simplistic given the lovely developments they've experienced thus far, and it's therefore gratifying to have the situation cleared up with a simple exchange: Did you do it? No? Okay we're cool. It's instances like this that make me think that this couple will be fine as long as they communicate; the trust is there, but there's only so much you can do when one side won't talk.
Seeing Young-shin drawing Jung-hoo out of his shell and getting him to communicate with the world again is really one of the most satisfying growth trajectories for me. It isn't that she's teaching him to be a wholly different person, but more that he's always been a caring, affectionate, thoughtful person, and his circumstances have forced him to shut that part of him down. So it's an awakening of sorts, as the true Jung-hoo wakes up from hibernation and rejoins the land of the living.
A throwaway line (or is it?) line that felt sweetly meaningful was the way Young-shin changed her cell phone log to "That Person," which is the vaguest of her myriad ways of referring to Jung-hoo. In this instance it's specifically done to hide his identity, but I like to think it's because it's not so much his literal name that matters to her, but his place in her life as that person.
I find myself looking forward even more to Myung-hee's eventual reunion with her daughter, because her attitude when speaking to Young-shin bespeaks a stronger woman than she is credited with being. I don't blame Moon-ho for being afraid of sending her over the edge because her seizures are frightening, but I love how matter-of-fact she was about her illness and how little it stopped her from talking anyway. And it did seem that she reacted less violently with Young-shin around, which is promising.
The mother-daughter reunion brings to light another interesting point for me, and made me revisit the idea of Moon-shik's culpability. We know he's committed a number of crimes (and very willingly so), but Myung-hee's latest flashback made me reconsider the possibility that he wasn't perhaps as selfish or guilty in the moment as we have been led to believe. When we were told previously that Moon-shik made his deal to save Myung-hee, I assumed that he in joining the Elder, he got money and doctors and access to the best treatment, saving her life in a sort of roundabout way. But if "they" had gone after Myung-hee immediately after killing her husband, it sounds like she'd been marked for death—in which case Moon-shik literally saved her life. And in that case, it's kind of like he sacrificed his soul for her life, which is a lot harder to condemn.
None of that is meant to absolve him of the crimes he's committed since, which include having his former best friend killed, but it's an interesting surprise to find reason to reevaluate a character at this late stage. It adds a shade of complexity to his motivations, and comes at a moment when I'd been ready to write him off as a plain villain. And that makes me happy.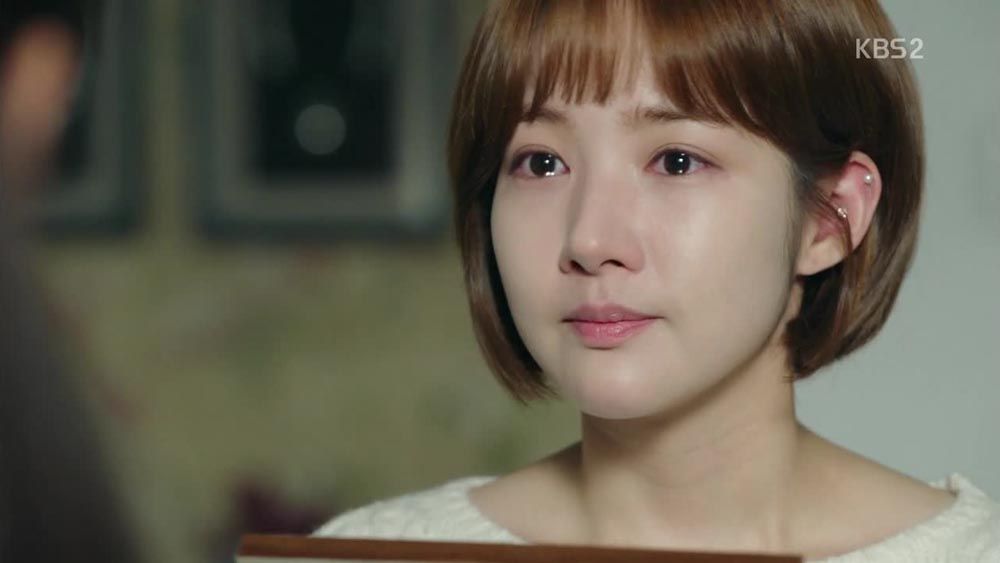 RELATED POSTS
Tags: featured, Healer, Ji Chang-wook, Park Min-young, Yoo Ji-tae