Punch: Episode 16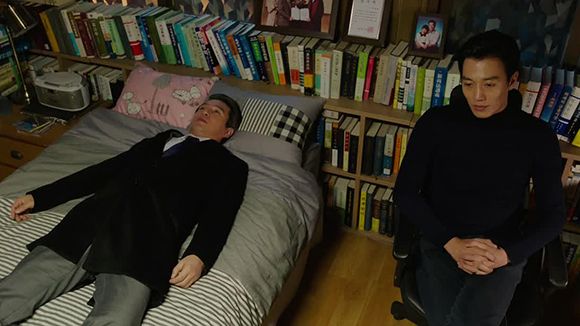 There are high points and higher points in Punch's best episode yet, though that's almost redundant to say in a show where every week tops the one that came before it in sheer intensity. Along with our anti-hero's relentless pursuit for justice, Kang-jae and Tae-joon finally get to lay everything bare, which is arguably one of the best/worst ideas Kang-jae's ever had. Regardless of what it means for him, it equals some damn fine drama for us, so all I can say here is: More, please.
SONG OF THE DAY
Urban Zapaka – "위로 (Consolation)" [ Download ]
Audio clip: Adobe Flash Player (version 9 or above) is required to play this audio clip. Download the latest version here. You also need to have JavaScript enabled in your browser.

EPISODE 16 RECAP
After watching a news report claiming that the fugitive(-ish) Kang-jae is expected to appear at Jung-hwan's press conference that night, Ho-sung presents Tae-joon with the missing ten minutes of interrogation footage he somehow managed to recover.
In it, Kang-jae didn't rat Tae-joon out like he was led to believe, but instead defended his ties to his longtime friend and refused to give Ha-kyung anything she could use to incriminate him.
Tae-joon is left in shock, knowing that what he's done to Kang-jae under false pretenses is irreparable.
Now that Kang-jae is in Jung-hwan's hands, he attempts to stand by his loyalty to Tae-joon until he's shown the latest news coverage detailing Tae-joon's public proclamation that he'd actively pursue his arrest.
He sings a different tune after watching that, and immediately confesses that he received the initial eighty million won (for the driver's wife's store) in cash from Tae-joon.
The problem is that there are no witnesses other than Kang-jae, and that the exchange was in cash. Jung-hwan rewinds things back to where it all began—Tae-sub's murder of Researcher Yang, and Tae-joon's alleged attempt to cover it up.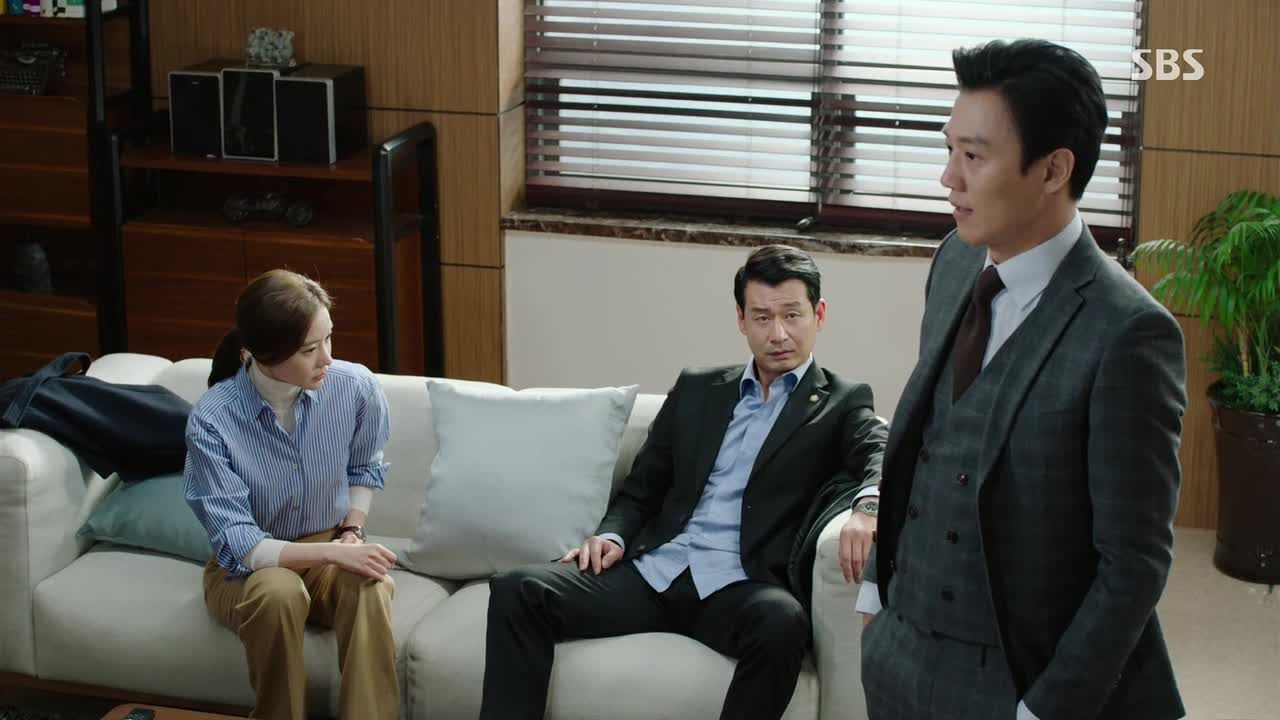 Kang-jae spills the beans that he met with the two brothers after the incident, and that Tae-joon admitted his brother pushed Researcher Yang off the roof in an attempt to get Kang-jae's help in covering it up.
Again though, they only have Kang-jae's word, and no evidence. At least until Kang-jae says that Tae-sub paid the restaurant bill that night, meaning that there'd be proof in his credit card statements that he was there. They've got to find it before the press conference.
Ho-sung has found out the location of the press conference and can't tell Tae-joon fast enough, so that he can call Minister Yoon to sic the independent counsel on Jung-hwan & Co.
Yeon-jin hurries to call Jung-hwan to warn him, but he's unfazed—the press conference will continue as planned.
Sure enough, the prosecutors from the independent counsel burst through the press conference doors only to find the press waiting and the stage empty. Then a live video feed of Kang-jae giving his confession begins. Ahahaha. I can only laugh when Jung-hwan pulls brilliant moves like this.
He's broadcasting from Jung-hwan's interim office as he confesses that he received the eighty million won from Tae-joon directly and, more damningly, that it all started when Lee Tae-sub murdered Researcher Yang.
All the details of the attempted cover-up by Tae-joon are given to the media, who go into a literal frenzy. The press conference is taking place in the exact same restaurant where Tae-joon told him about the murder, and to prove that Tae-sub was there that night, Ha-kyung hands out copies of Tae-sub's credit card statement to everyone present.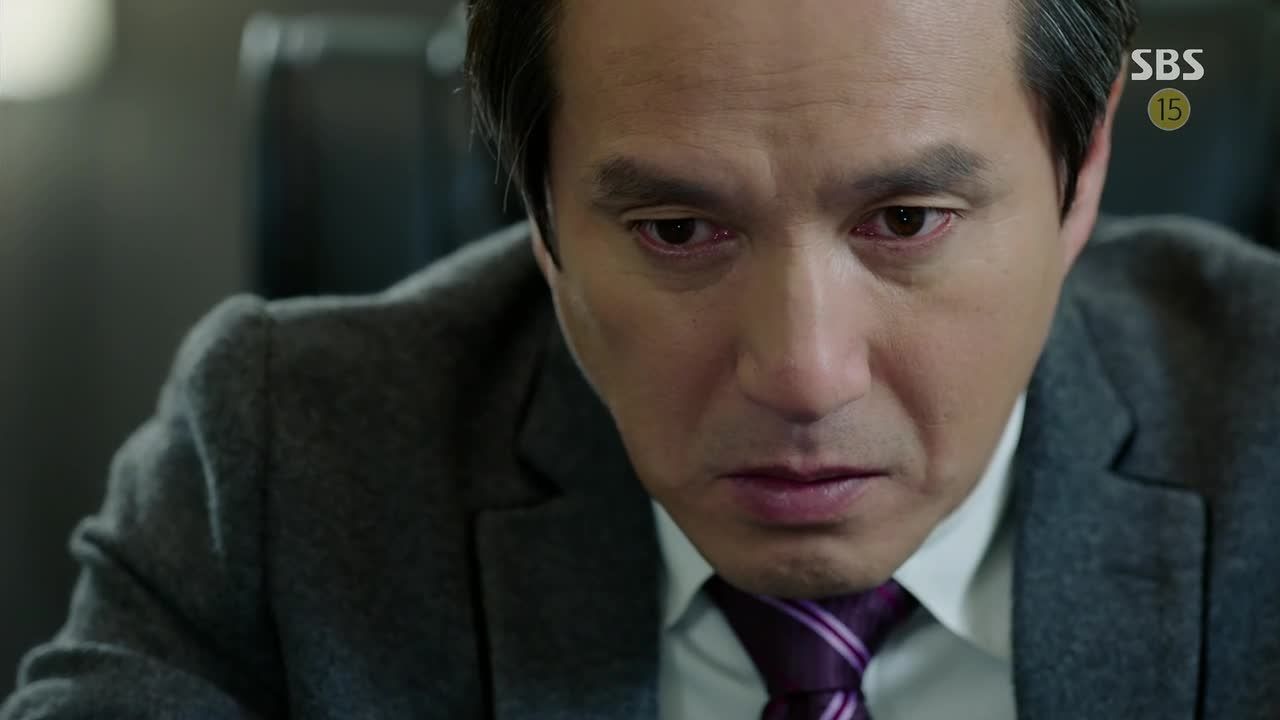 Kang-jae claims that his obedience to Tae-joon was like a soldier to his general, and that the eighty million won came from a larger slush fund that's currently under investigation by the independent counsel. But he swears on his life that the bigger sum they've tried pinning on him has nothing to do with him, finishing by asking the citizens to find the truth.
Tae-joon turns off the television numbly, only to get a call from Jung-hwan inviting him out for their favorite food: jjajangmyeon.
The sob story of his impoverished youth Tae-joon tells at the dinner table is one Jung-hwan has heard many times before, but this time, Tae-joon is impressing upon him that it was his background which pushed him to become a prosecutor.
And since Minister Yoon has tried to take his prosecutor's robe from him more than once, Jung-hwan muses that Tae-joon must hate her even more than he does. So he proposes a deal that they both work together to take her down using the incriminating NIS chip Tae-joon has.
His reasoning is that Tae-joon will fall eventually anyway, and he's run out of time to tackle them both simultaneously. But Tae-joon just smiles that he won't fall just because they found a receipt of his brother's, even though Jung-hwan likens it to starting a wildfire with a cigarette.
He claims he'll pay for their dinner if Tae-joon exposes the chip, causing Tae-joon to immediately pay the bill himself. Jung-hwan sighs that Tae-joon is going to make him use time he doesn't have, which I'm pretty sure is the whole point.
He tells Ha-kyung about the situation, both of them knowing that if Tae-joon doesn't expose the chip, they'll have to expose the facts of Kang-jae's story bit by bit—a much more time consuming process. Jung-hwan knows this, but vows that he'll have to live long enough to see it completed.
Thinking back to Tae-joon asking him why he became a prosecutor, Jung-hwan looks at an old picture of himself and says he did it to show all the privileged kids up. They all went to the fanciest schools while he couldn't, but he still proved he was better.
Ha-kyung disagrees with that reason, citing how she knew him to be warm and kind when they were both still in training. Jung-hwan flashes back to the day they both took their oath.
But because of his condition, he acts like he's re-living the memory, losing his awareness of the present. Just like he did then, he holds up his hand and recites the Prosecutors' Oath—and Ha-kyung, her heart breaking as she realizes what's happening, joins him in the recitation.
He flashes her a bright smile like he would've back then. Ha-kyung can only hold him close and cry.
Tae-joon finds himself at odds with both Minister Yoon and the Chief of Staff when it comes to the possibility of his resignation, and claims he will if he doesn't have the mess all cleared up in two days' time.
Outside, he reminds Minister Yoon that if he goes down, he'll take her with him. She's not so sure—if he's suspected of covering up a murder, he's bound to go through an investigation, trial, and prison sentence. If she stays in her position, she can help him get a reduced sentence or even a pardon.
But if he has someone else who can help, she challenges, then by all means he's free to expose the chip. Tae-joon makes a call to find out where Kang-jae's daughter goes to school.
Kang-jae brightens up to get a video call from his daughter, only for his face to fall when the camera pans to reveal Tae-joon there with her. The threat is implicit: Kang-jae's daughter will be just fine if Kang-jae agrees to meet with him.
So Kang-jae does, and is pretty ingenious with the spot he chooses, since it puts Tae-joon on one roof and him on another. So close, yet so far.
Tae-joon wants Kang-jae to lay low abroad for a few years, claiming he'll pay for him and his family, but Kang-jae only asks: "Have you ever cried over me?"
Tae-joon cried when he found out about Jung-hwan's tumor and when he sent Ha-kyung to prison, but he didn't shed a tear when he sent him away after twenty years together. He's not about to forget the past like Tae-joon wants, because he accused him of laundering and pocketing billions of won.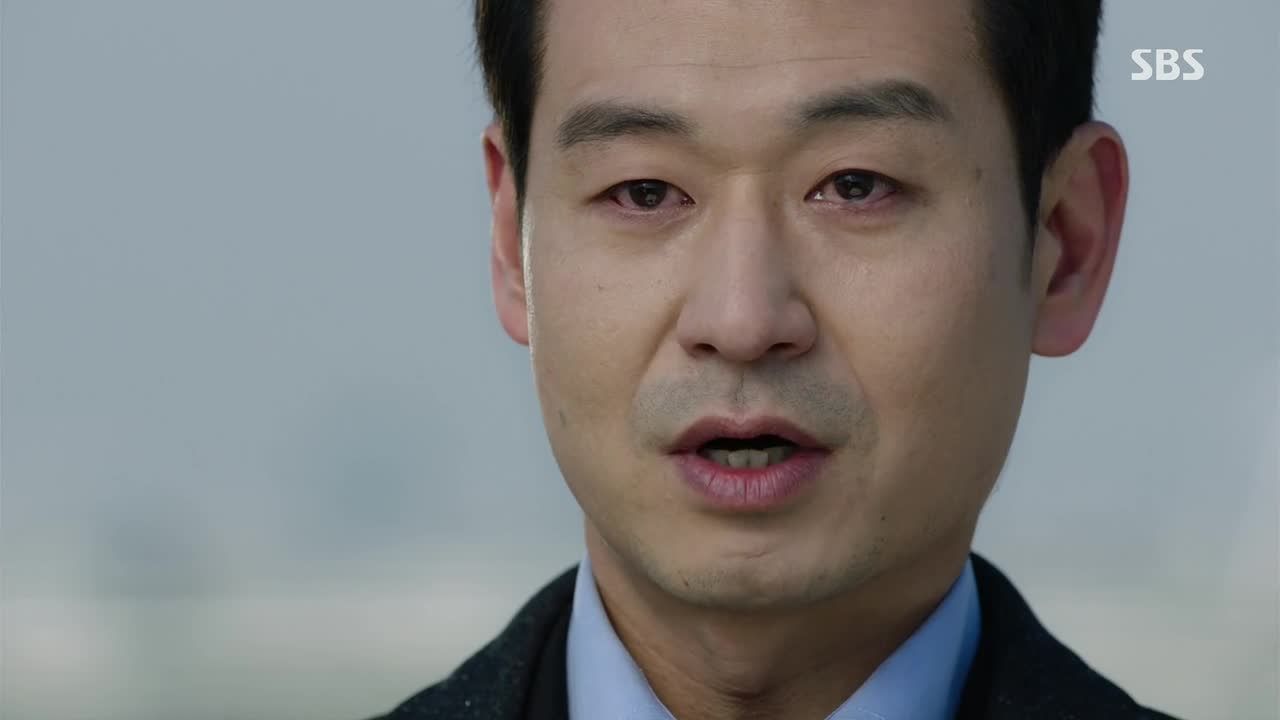 "In order for me to live, you have to fall," Kang-jae says. Tae-joon has to take on the twenty-seven billion so that it won't fall on his shoulders. "I want to see you cry right here. I need to see it," he adds, his voice shaking.
With tears rolling down his cheeks, Kang-jae tells him about the day Tae-sub committed suicide… and how he was the one who told him that the prosecution would be suspended if he died. Whoa now, let's think about this…
Kang-jae: "I told him that if he wanted to save you, he should throw himself into the reservoir. I told him you would bring some heavy clothes. If he jumped with heavy clothes on, he'd sink quicker and deeper. I told him that."
Holy. Crap.
Kang-jae doesn't say it with menace, in fact, he's almost sobbing by the time he gets through with it. Tae-joon screams in disbelief, his eyes filling with tears as he asks why. But Kang-jae got what he wanted, since he's crying in front of him now. Because of him.
Tae-joon's whole body shakes with the sobs wracking through him, but his expression morphs into one of pure rage when Kang-jae walks away. Uh oh.
He has a genuinely sad moment alone later, as he eats the kudzu root his brother gave him just before he jumped. He thinks back to his brother's last words, his sacrifice, as he tries to control the emotions threatening to consume him.
Tae-joon goes to Minister Yoon with a plan to pin Researcher Yang's murder on Kang-jae, along with the twenty-seven billion. In fact, it's because Yang threatened to expose him that Kang-jae murdered him, and altered the forensic records to implicate Ha-kyung instead. (Worse is that he did do that, but for Tae-joon.)
Murder is where Minister Yoon draws the line, claiming that she can't close her eyes on a case like this. Tae-joon reminds her that he has the chip that can end her entire career as he tells her that she wouldn't be closing her eyes so much as refocusing her gaze on Kang-jae.
Besides, he says, "It's true that Kang-jae killed a man."
While Tae-joon coerces/threatens four chief prosecutors into fabricating everything they need to pin everything on Kang-jae and Jung-hwan, Minister Yoon attempts to get Ha-kyung to side with her against her own husband, who'll be dying soon anyway.
Minister Yoon reasons that their world can never be perfect, and that they have to learn to coexist with Tae-joon in order to compromise. Of course she's just looking to save herself, since finding Kang-jae would mean that Tae-joon wouldn't expose the chip.
Ha-kyung likens her to a rotten flower stubbornly clinging to a tree where all the other flowers have wilted to make way for new growth. The only solution is to pluck the rotten flower so that a new one will grow, which she'll do together with Jung-hwan.
Yeon-jin updates Jung-hwan on Tae-joon's plan, leading him to conclude that they have to find irrefutable evidence that Tae-sub killed Researcher Yang in order to stop him.
There's just one problem: He doesn't have that evidence. He and Kang-jae will have to work in order to find it. Kang-jae thinks it's hopeless when they're up against Tae-joon and Minister Yoon, until he remembers paying the building owners to delete the CCTV footage from the rooftop which showed Tae-sub doing the deed.
Kang-jae gets excited at the thought of recovering that file, since it would mean his freedom. He and Jung-hwan head over to the building as a team, but Jung-hwan is held up by one of his leg cramps.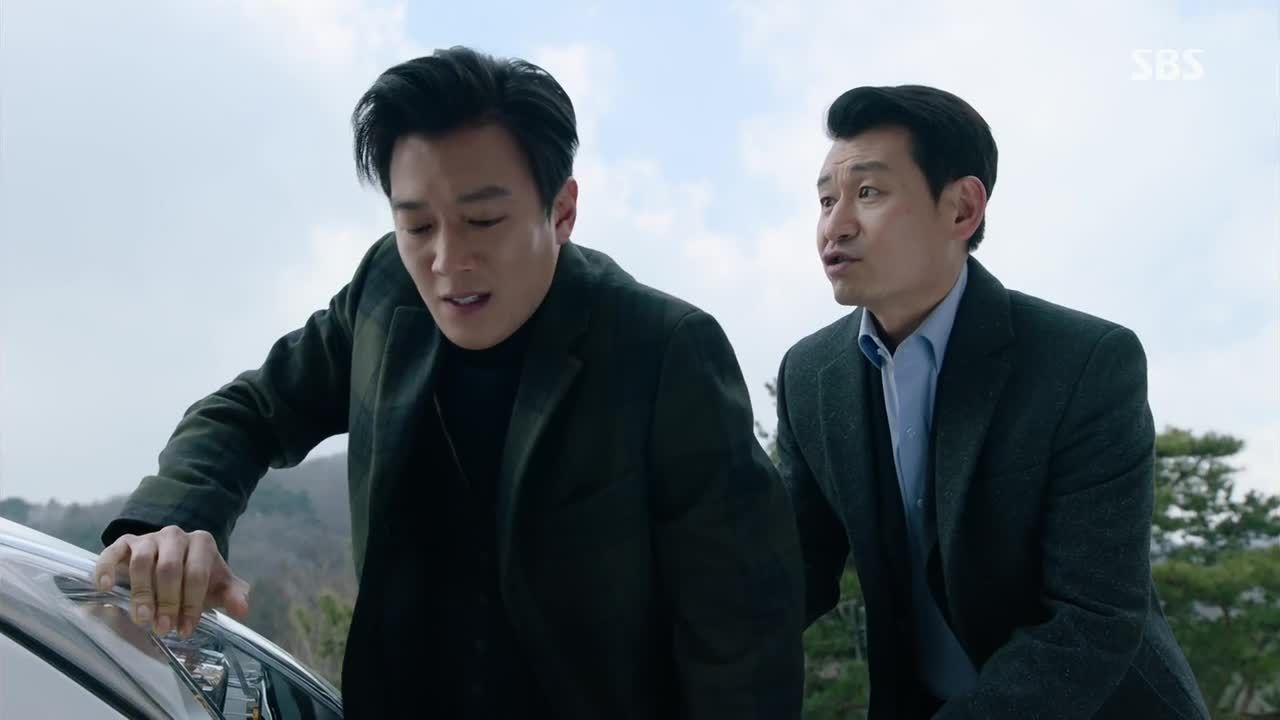 For once, Kang-jae is concerned about Jung-hwan's welfare, because he needs him to live until they can recover the CCTV file. Jung-hwan powers through the pain and says that he has no right to die until Tae-joon and Minister Yoon stand trial.
But the teamwork might be short-lived, since Kang-jae seems to be getting some ideas of his own. He convinces Jung-hwan to let him meet with the security manager by himself, but Jung-hwan isn't so easily fooled and dials the Korean equivalent of 911.
Knowing that it'll take too much time to recover the deleted footage, Kang-jae calls Minister Yoon in the middle of her press conference blaming him for the murder of Researcher Yang as well as a host of other crimes related to it.
She rushes out to take the call, where Kang-jae tells her that he already has the CCTV file proving Tae-sub is the murderer. Minister Yoon holds her head and steadies herself against a wall as Kang-jae makes his demands for a boat out of the country and money in return for the file.
It's the same thing Tae-joon promised him, but he's offering the file to her before he gives it to Jung-hwan. Minister Yoon promises to send him a car, and Kang-jae looks for a way to escape without alerting Jung-hwan.
But by the time he gets outside, the police are already there. He's a wanted fugitive, after all.
He tries to run back inside, but Jung-hwan has locked the door. There's not enough room for him, but there's enough room for him to pass the USB through the broken glass. He can either get caught with the USB and end his lift as a murderer, or give it to him and hope he can recover the deleted footage.
Kang-jae hands him the file right before the police converge on him. Jung-hwan gets to walk away like the boss that he is.
He's mobbed by the press the second he's led out of the police car in handcuffs, all of them already assuming he murdered Researcher Yang. Kang-jae looks into the camera and mouths "Restore it" so that Jung-hwan can see.
Tae-joon cancels dinner at the Blue House in order to be there in the interrogation room once Kang-jae is transferred over to the independent counsel. Now he's no longer crying, but smiling.
He wants to know what his brother said to Kang-jae after he suggested suicide, and after he tells him, Tae-joon pours one out for his departed brother and offers the empty cup to Kang-jae.
Kang-jae meekly reaches for it, only for Tae-joon to slap him HARD across the face, sending him to the floor. After Kang-jae sputters that he spent twenty years living for him, Tae-joon coldly replies, "I lived for myself. You should have done the same. Why did you live for me? It's every man for himself."
He gets Kang-jae firmly under his heel when he threatens to ruin the lives of all his family members, leaving Kang-jae begging for his forgiveness. "I can forgive you for this," Tae-joon says. "But I can't forgive my brother." He repeats it again, his eyes looking distant and halfway mad. Eek.
Tae-joon pays a surprise visit to Jung-hwan at his house, winning over his family with expensive gifts. Minister Yoon told him about the CCTV file, and he's here to get it from Jung-hwan.
He makes himself at home on Jung-hwan's bed before admitting that he can't lose this one. Jung-hwan figures they're at an impasse, since he can't lose either. "It's tough, isn't it, Jung-hwan?" Tae-joon asks. "I'm tired too."
Jung-hwan claims he'd offer Tae-joon his bed, but he can't have it in prison. Oh well—he can spend the next ten minutes on it before leaving. They both share a look and a moment that speaks volumes.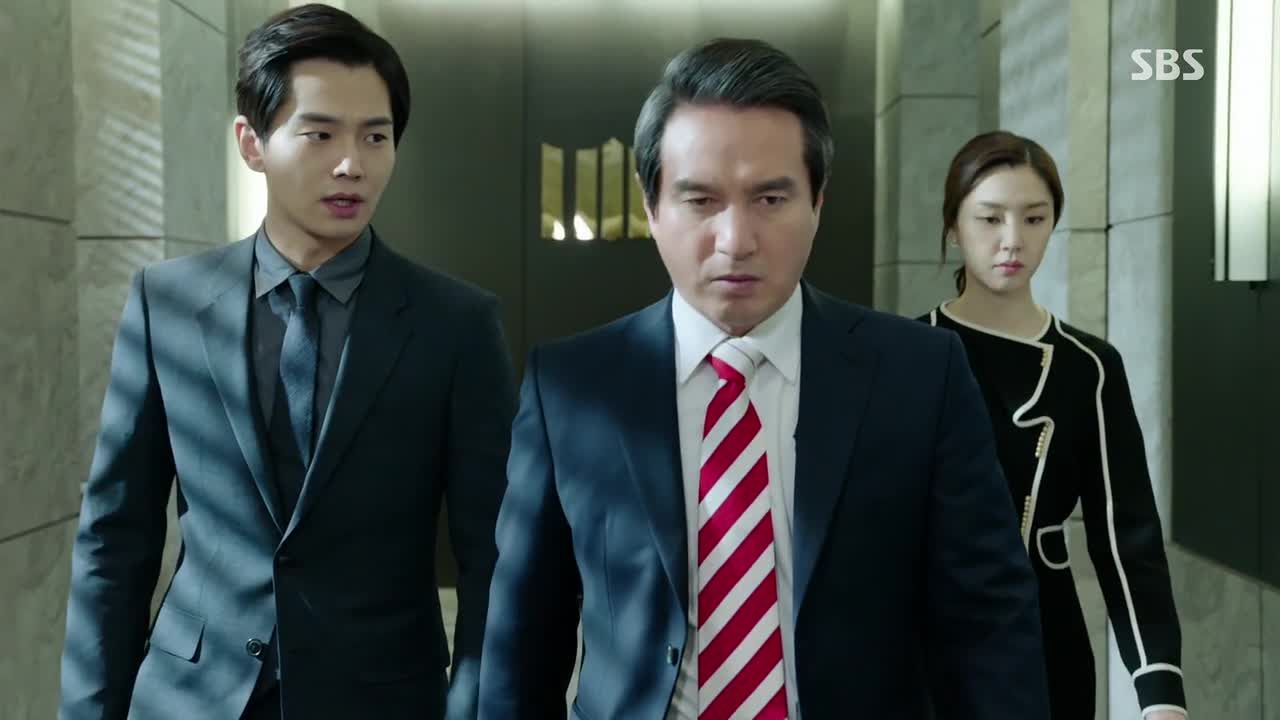 Tae-joon wants to send detectives to every center in the country capable of recovering that footage, a feat that Ho-sung thinks is impossible—there must be hundreds of places that can do it.
But Tae-joon wouldn't even care if there were thousands, because it'll be the end of the line for him if the footage is released.
Ha-kyung knows they'll have a hard time finding somewhere to recover the footage with Tae-joon on it the way he is. However, since Jung-hwan and Tae-joon are so alike, he knows the way he operates: "We're always looking far ahead, so we miss important things close to us."
He looks at Ha-kyung when he says this, in a way admitting that he didn't know what he had with her. But the saying that the darkest place is under the candlestick rings true here, because he plans to give the file to the digital forensic center right in their office. Hah, and it's literally one floor below Tae-joon's.
Ha-kyung enlists Prosecutor Jung's help in getting the digital forensic team to drop everything to work on recovering the footage—and in complete secrecy, no less.
Tae-joon is flummoxed that Jung-hwan has apparently gone nowhere to recover the file, and somewhat hilariously has that conversation right outside the office where the file is actually being worked on.
With the file set to be recovered tomorrow, Jung-hwan and Ha-kyung's only job will be to keep Tae-joon distracted until then.
Meanwhile, Yeon-jin calls Jung-hwan from a meeting with Tae-joon as she usually does so he can listen in. Ho-sung calls Tae-joon to report in, but claims that he couldn't reach Yeon-jin because her line was busy. (Noooo no no no no no.)
Since Yeon-jin is standing right in front of him, Tae-joon finally suspects something's amiss. She doesn't realize when he attempts to call her, only to get the message that she's on the other line. He knows. He knows.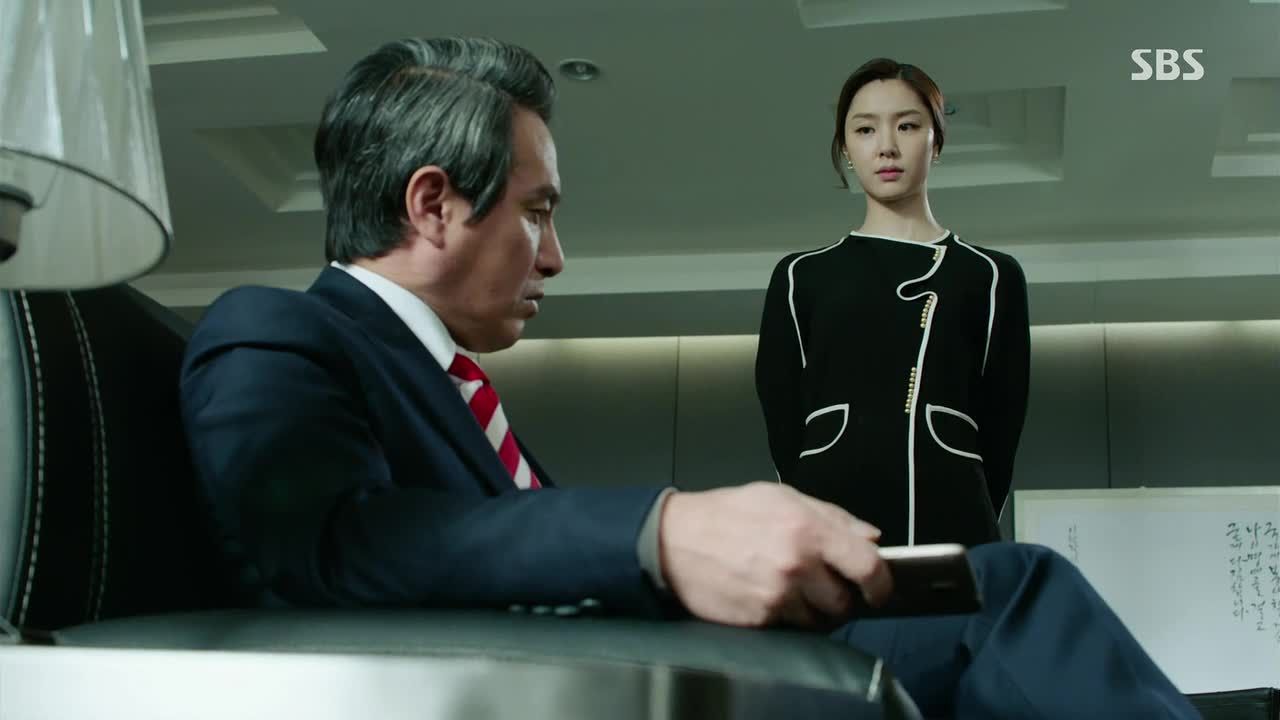 He doesn't let her know that he knows in order to keep Jung-hwan fooled as well. Yeon-jin leaves suspecting nothing. This is bad.
"Jung-hwan, I can't lose," Tae-joon thinks to himself.
"That's too bad. I can't lose either," Jung-hwan thinks.

COMMENTS
Yikes. I could not be any more worried for Yeon-jin, mostly because we've come to know her pretty well over the course of this series and she likes to play for the winning team. If Tae-joon has a weakness of hers he can exploit to potentially ruin her future in politics, what are the chances that she'll drop Jung-hwan like a hot potato and spill the location of the CCTV footage?
By and large one of the best scenes yet had to be Kang-jae and Tae-joon's rooftop confrontation, with the emotions on display so raw and real that watching almost became difficult. Neither men are the type to change, but Kang-jae's inner turmoil was palpable when he asked if Tae-joon had ever shed a tear for him like he did for Jung-hwan. You got the sense that this was a man on the brink of despair, hoping for one little ray of sunshine to poke through and prove that the last twenty years he spent in service to Tae-joon weren't spent in vain.
And his reaction in that moment of realization was oddly human and relatable, even if we'd like to think we'd act differently than him if put under the same conditions. But what I didn't anticipate was Kang-jae revealing that he was the one to plant the suicide idea in Tae-sub's mind, because that was a bombshell of a secret that could've died with him. The only reason he'd have to reveal it in that moment was strictly personal, because if his twenty-year loyalty (however easily wavered he could sometimes be) wasn't enough to bring tears to Tae-joon's eyes, he sure as hell was going to find a way—any way—to get the emotional response that he wanted.
On that front he succeeded, though he might as well have put a bright red target on his forehead in the process. I guess there's also the possibility that he didn't have much left to lose at that point, at least until Tae-joon told him exactly how he could ruin the lives of his entire family, down to the very last in-law. Kang-jae is still a weasel for betraying Jung-hwan when that was the only ally he had, but luckily Jung-hwan knows how to deal with rats. Which is likely due to his years of practice being one himself.
But if we know one thing, it's that any episode that puts Tae-joon down just means he'll spring back ten times stronger and a hundred times more ruthless. The recovered footage could be the last big card Jung-hwan has to play, and now it all depends on him playing it right. Now that he has a potentially weak link in Yeon-jin and a nemesis with nothing to lose but that footage, Jung-hwan better be ready to fight to the death on this one. Er, wait—he's already doing that. Then he just needs to win. Easy, right? Ha ha…

RELATED POSTS
Tags: featured, Jo Jae-hyun, Kim Ah-joong, Kim Rae-won, Punch