God's Gift – 14 Days gets the Hollywood remake treatment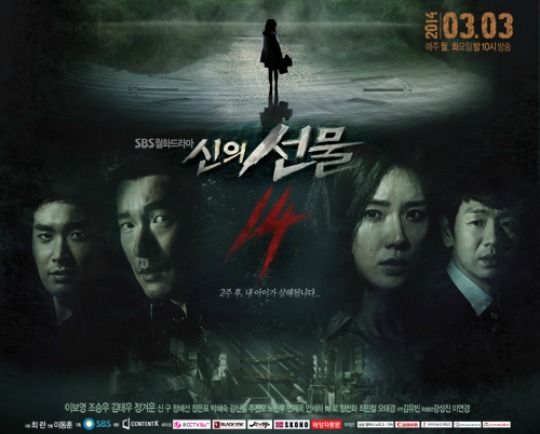 And the remake trend continues: Following titles like You From Another Star, Good Doctor, and Nine, last year's murder-mystery-time-traveling thriller God's Gift – 14 Days is also being snapped up for an American version.
According to drama production company Goldenthumb Pictures, God's Gift's writer, Choi Ran, will participate in the American production. Choi will serve as executive producer and will be working with behemoth Hollywood agency CAA to package and cast the project with CAA talent. The remake will proceed in the usual fashion for American shows, which is to produce a pilot episode first and then hope the series is picked up for a full season.
I'm fine with the idea of a God's Gift remake, because it's a high-concept story that I could see working well in any language: A mother (originally played by Lee Bo-young) lives her worst nightmare when her beloved daughter is kidnapped and murdered, then mysteriously given a second chance to save her life when Time/Fate/The Universe gifts her with a two-week trip back in time. Aided by an awesomepants ex-cop who becomes an unexpected ally (Jo Seung-woo), she realizes that her life wasn't quite what it seemed and navigates a sea of suspicious characters to track down her girl.
I do have two reservations, which are: (1) What are you going to do after Season 1 is over? and (2) You've gotta do something about that ending, man.
First off, God's Gift seems like it wouldn't work past the first season. There are some American series that have made multiple seasons out of ideas that sounded just as miniseries-like (Prison Break and Revenge come to mind), but I'd argue that those shows suffered for it and should have been single-series runs. The second issue is more readily fixed, in that you see what the K-drama did in blowing its entire story in the last hour, and then just don't do that. Even though I've moved past God's Gift and watched tons of dramas since then, there's a lingering disappointment that's hard to wash away entirely, especially given how awesome I thought the show was for most of its run. The last bite really is the bitterest.
In any case, it's promising when remakes work with the original producers, and while an EP can run the gamut from being a super-hands-on force in shaping a show to being almost a courtesy title, it's much better than licensing something and cutting ties to the original. We'll see how things shake out when the remake of God's Gift – 14 Days gets to work on the pilot.
Via Joy News
RELATED POSTS
Tags: God's Gift – 14 Days, Hollywood, remakes