Ho-gu's Love: Episode 11
The new, delicate family that Geum-dong's birth brought together, threatens to break apart when he's gone, but all is not lost. A change of heart, a heroic act, and a lot of forgiveness could put everything back to rights again. We also see a bit more of Do-hee and Ho-gu's past, and such an adorable past it is, but a misunderstanding needs to be cleared up before they can fully rekindle their old friendship.
EPISODE 11 RECAP
Ninth Foolish Act: "All Babies Are Everyone's Babies"
Ho-gu breaks down in great sobs at the thought that they may have sent Geum-dong away with bad people, as Do-hee hides her tears and Kang-chul sits stone-faced. Ho-gu grabs Coach and drags him out of the apartment to help him find Geum-dong, refusing to give up. Do-hee asks Kang-chul if he thinks those were bad people, but Kang-chul just asks in return if his answer would change anything.
Out in the street, Coach admits that he didn't really know the adoptive parents, that he just met them at a cafe. Is he saying that he sold Geum-dong?? He tells Ho-gu that it wasn't a physical cafe, but a website, and Ho-gu goes to an internet cafe to do some research.
He's horrified to find that the website is basically a place for unwed mothers to sell their babies to the highest bidder. The mothers post about their situations, and potential "adoptive" parents choose which child they want and make a monetary offer. As Ho-gu digs deeper, he finds posts where the biological parents are concerned about the motives of the adoptive parents, wondering if they can get their babies back.
Coach had told Ho-gu that Do-hee chose which internet cafe to use, so Ho-gu goes back to Kang-chul's place to confront her. With dead eyes and a flat voice, he asks if Do-hee just sold Geum-dong. She swears she didn't accept any money, only asking the parents to raise him well and saying she had no other choice.
Kang-chul comes to Do-hee's defense, saying that in order to adopt her baby out legally, she'd have to go on record as having a baby. Even after adoption, Geum-dong would have been on Do-hee's family register, and her secret would be out.
Ho-gu doesn't understand, saying that they're the adults in this situation and even if there are consequences, they still should have done the right thing by Geum-dong. At the end of her rope, Do-hee yells that he's her baby, and that it's her right to decide how to handle the situation. Ho-gu screams that Geum-dong may be her baby but she's no mother, and Kang-chul neatly puts him in his place.
Ho-gu agrees — this is not his house, and Geum-dong is not his baby. It's none of his business. He wipes his tears, tells them it's their business and to do whatever they want, and leaves. He wanders the streets, thinking of Geum-dong but admitting to himself that he really has nothing to do with him. It's hard to admit, as he remembers cutting the cord and Geum-dong's tiny hand gripping his finger.
When Ho-gu gets home he finds his mom feeding the stray cats, and she asks him the name of that little gold kitten. He says it's "Geum-dong," and Mom says she hasn't seen Kitten Geum-dong in a while.
Gasping for breath, Kang-chul and Do-hee jump in his car and he asks for the last time if she won't regret this. She says she won't, for now, and suddenly Geum-dong's adoptive parents run up and pound on the car windows. Kang-chul peels out, and holycrap they just kidnapped Geum-dong, didn't they? They did!! AWESOME.
Kang-chul asks what Do-hee plans to do now, wondering what she was thinking, but she says there's nothing to think about. It was the only thing she could do. Despite being her getaway car, Kang-chul marvels at her audacity, but she reminds him that she's a badass single mom and she's not scared of anything. HAHA, Kang-chul's all, "Are you seriously bragging right now??"
Meanwhile Ho-gu calls for Kitten Geum-dong from his bedroom window, who he can hear mewing but can't see, and pleading with him not to cry. "My name is Ho-gu. Kang Ho-gu."
Ho-kyung comes down the next morning and runs to call Ho-gu to breakfast, sure she's about to catch him with a woman in his room. Instead she finds him alone in bed, wide awake and staring at the ceiling. She demands the truth about him and Do-hee, but poor Ho-gu only moans that he wishes there was no such thing as morning, and turns his back.
They go to the manhwa shop to talk, and Ho-gu tells Ho-kyung that there's nothing to tell about Do-hee — it's been over between them for a long time (wait, does that mean there used to be something?). She asks why he was crying, but he just says it was about someone else. Crying again, Ho-gu says he thought he really had something with that person, and leans into his sister for a sweet, comforting hug.
Tae-hee and Chung-jae see Do-hee on television doing a press conference, and figure she really did give her baby up for adoption. When Ho-gu wanders in to work, he wilts to see Do-hee promising her fans that she'll win an Olympic gold medal.
At his home watching Geum-dong, Kang-chul frowns to see all of the baby stuff (not to mention, the actual baby) taking up space on his precious furniture. He gripes at his housekeeper for using the same gloves to clean the kitchen as she used to clean his trophies, which is an impressive new level of nitpicky, sheesh.
Kang-chul's parents come to see him again, Dad swearing to break open the door if necessary to get inside. They run into Do-hee in the elevator, and obviously Dad is a fan, since a huge smile breaks over his face and he starts to fawn over her (while Mom glares daggers at him, hee).
Dad is so goofily thrilled to meet Do-hee that it's embarrassing, and he even digs in his wife's purse for paper for an autograph. He hands Do-hee his business card, offering his services as a lawyer if she ever needs it, and they all get off at the same floor (Do-hee's face is hilarious!). Kang-chul's parents screech to a halt to see the famous athlete Do Do-hee going into their son's apartment, and can only stare open-mouthed.
Kang-chul orders Do-hee to get a babysitter, since his housekeeper is making mistakes because she's too busy looking after the baby. He thinks Do-hee is rich, but she says all her money goes towards paying off her parents' debts. Kang-chul is chastened, but mutters that she should use the money she'll get for a recent CF she made to get a babysitter.
Do-hee lights up like a Christmas tree when the doorbell rings, but wilts again when it's just the housekeeper looking for her scarf. Awww, she misses Ho-gu. Kang-chul clocks her behavior, but Do-hee strongly denies it when he asks if she's waiting for Ho-gu.
Ho-kyung waits outside Kang-chul's building, wondering over some things Ho-gu said to her that morning. He'd said he would have held onto the person he cares about more, if he'd known he'd have to send them away like this. She wonders who the new woman is that displaced Do-hee, which leads her thoughts to Do-hee and Kang-chul. She refuses to accept losing, and takes off after Kang-chul when he comes out for a jog.
Ho-gu also thinks over his talk with his sister, who'd reminded him of his own words that a heart is like paint — you have to use it or it hardens. She'd said that she still has a lot of paint, but when the person you want to draw goes away, you have to wash away the paint quickly.
Ho-gu takes out Geum-dong's discarded belly-button, and seems to come to a decision. He goes to the bank and stops the automatic payments he's been making to a children's charity, asking the bank employee to stop when she laughs at his name.
Ho-kyung pretends it's a coincidence that she just happens to be biking in the same place Kang-chul is jogging, and the incredulous look on his face is priceless. He doesn't stop, pointedly mentioning that he likes to exercise alone. When he refuses her offer to get something to drink, she skids to a stop in front of him, forcing the issue.
Next Ho-gu goes to Kang-chul's place, surprised to see that Do-hee is still there. He stops her when Do-hee starts to talk, and gives her a photo of the Tibetan child that he's been sponsoring. He says that sponsoring the child made him proud and happy, but that he stopped that sponsorship on the way here.
Ho-gu says that he realized that that happiness was pointless, because a one-sided love isn't love. He tells Do-hee that when he stopped the sponsorship, he also let go of his feelings for Geum-dong. He gives Do-hee Geum-dong's belly-button which he had made into a seal stamp, and Do-hee asks if this isn't a bit strange.
Ho-gu insists that he's totally done with caring about Geum-dong, and says he feels soooo free now. In fact, he realizes how much trouble babies are, and the amount they poop is just gross. Do-hee just calmly turns and says, "Geum-dong-ah, Ho-gu made you a seal stamp and says you're nothing but trouble."
Ho-gu's head whips around so fast it gives instant lie to his insistence about being over Geum-dong, and he gasps to see Geum-dong laying right there on the couch. Do-hee stops Ho-gu from going to him — you know, since he's so annoying. She picks up Geum-dong, and Ho-gu is so overcome he can only run and hug them both. He wails that he missed Geum-dong so much that he wanted to die, and kiss-kiss-kisses the baby's head while Do-hee smiles.
Ho-kyung gets Kang-chul to sit, and even manages to maintain her sweetness-and-light demeanor when he gulps a drink down and tries to go. She drags him back down onto the bench, denying that this meeting was anything but an accident, and swears that she heard him when he said he's not interested and only wants to be friends.
In fact, Ho-kyung reminds Kang-chul that she's a psychology major and that he may need her help in his future cases, but he starts to leave anyway. He stops and asks if she's ever heard of someone's sexual preferences changing, and suddenly their talk looks more like a therapy session.
Ho-kyung uses pickled radish as a metaphor — some people eat it, and some don't. But some people are like her, who likes pickled radish alone but picks it out of kimbap. So, is she a person who eats pickled radish, or a person who doesn't?
Kang-chul wonders, what does pickled radish have to do with sexual preference? She says there's a deep connection, and wheedles him into going somewhere more comfortable before she'll tell him. They sit down with some ramyun (and pickled radish, naturally), and Ho-kyung says that liking pickled radish actually IS like sexuality, in that there's more than two simple and distinct answers.
Claiming that a man came to him for legal advice, Kang-chul asks how you can kiss someone of the same sex without knowing your sexuality, and without permission at that. But Ho-kyung wants to know, who asks permission? Asking breaks the mood.
Ho-kyung asks how that man felt when the other man kissed him — was he shocked, and did his heart pound? Kang-chul says that he was shocked at first, because the other man just came at him, and that now every time he sees the man his heart pounds from the trauma. Ho-kyung says that it's not trauma — the man is gay.
Kang-chul's voice squeaks on the word "gay," and he insists that it's not true, his "client" is NOT gay. But to Ho-kyung, if your heart pounds when you see a certain person, it means you like them. And if that person is another man, then you're gay. She tells Kang-chul to advise the "client" to kiss the other man again, and if his heart pounds again, he's gay.
Ho-gu can't stop grinning at Geum-dong, even turning his back on Do-hee, his possessiveness over Geum-dong making her smile. Ho-gu asks how this happened, and we see that after he left Kang-chul's that night, Kang-chul had asked Do-hee if this was all over, sighing in relief when she said it was.
Oh but by the way, Kang-chul mentions, he got the adoptive parents' license plate. He asks Do-hee one final time if this is really over, and apparently her answer changed. Back in the present, Do-hee says that it was Kang-chul who'd found out where the parents lived and taken her to get her baby back. He'd even climbed a wall to get to Geum-dong. MELT.
Kang-chul innocently comes home just then, and Ho-gu relinquishes the baby to Do-hee so he can tacklehug Kang-chul at the door (as an instrumental version of I'm Your Lady swells in the background, HAHA). He yells that Kang-chul should have called him before doing something so dangerous, but Kang-chul doesn't register Ho-gu's words over his suddenly racing heart.
Kang-chul staggers to his office, clutching his chest and gasping for air. Desperate, he texts Ho-kyung to meet with him tomorrow to talk. When he gets himself together and goes back out to the living room, he's startled to see Ho-gu and Geum-dong, sleeping beatifically together on the floor.
Kang-chul asks Do-hee how she and Ho-gu got to be friends, and a strange smile comes over her face. She remembers back in high school, going to class early one day and finding Ho-gu's sketchbook in her desk. She finds the naked picture he drew of her, only now she's clothed in a beautiful colored dress.
She flips through the sketchbook and her smile grows wider and wider — it's entirely filled with amazing manhwa-style drawings of her. The pictures tell the story of a girl who goes to the sea and is drawn into the water, swimming deep and meeting amazing sea creatures. Slowly the girl's legs change into a beautiful tail, and she transforms into a mermaid.
It was the same day that Ho-kyung had worn Ho-gu's jacket to school, and we see the twins screaming at each other over it at the family's manhwa store. Do-hee comes into the store while Ho-gu is working, chooses a couple of books, and asks Ho-gu hesitantly if the girl turns into a mermaid every time she goes into the water.
Ho-gu misunderstands and thinks she's asking about the girl in the manhwa books she chose and corrects her, since Elize is a warrior. Annoyed, Do-hee pays and leaves in a huff, but Ho-gu realizes what she meant and goes after her. He calls out that the girl was a mermaid from the beginning, which is why she's happier in the water and isn't comfortable around people.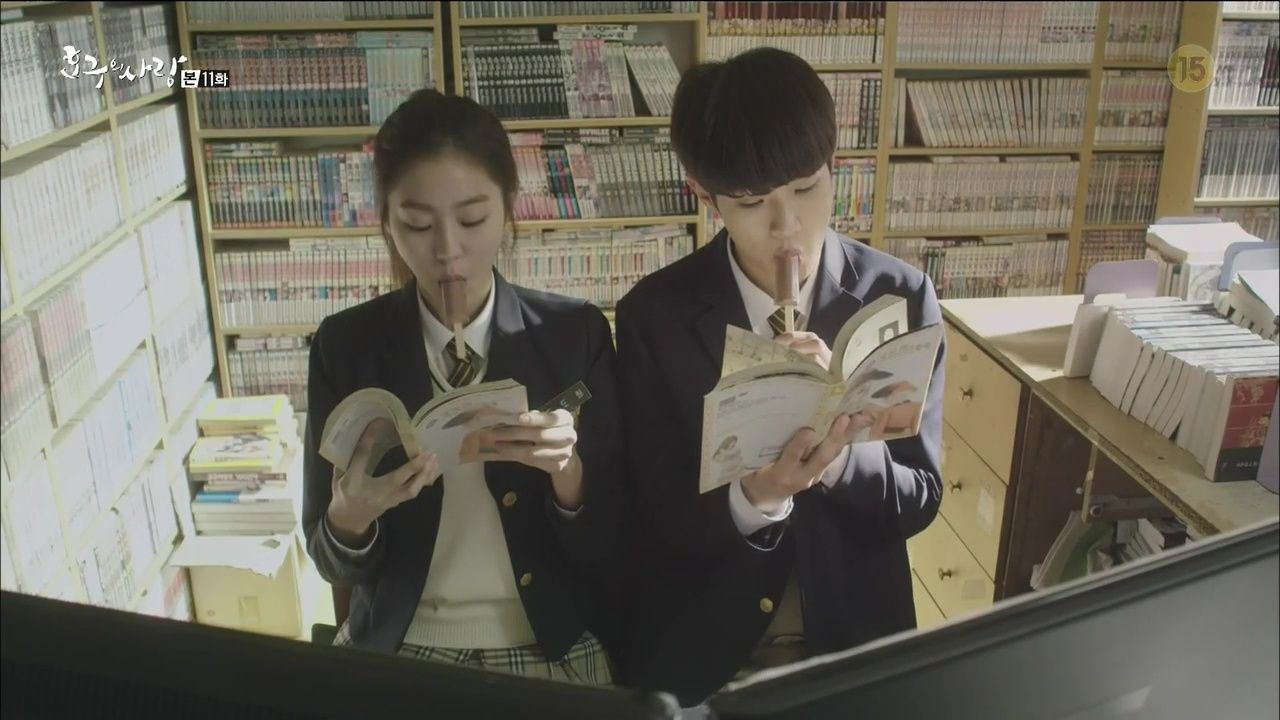 After that, Do-hee had visited the manhwa store often, initially turning down Ho-gu's tentative gifts of fruit. Slowly she begins to accept the tangerines, and eventually they're comfortable enough to sit knee-too-knee and silently share fudge pops. That is so freaking adorable — it wasn't a one-sided love!
But one day, Ho-gu and Tae-hee go to a restaurant, and Ho-gu's face falls to see Do-hee and Kang-chul eating together. He watches as Do-hee asks if Kang-chul looked in the book she returned to him, disappointed that he hasn't mentioned the four-leaf clover, and unaware that Kang-chul doesn't even know it was from her.
Turns out, Do-hee brought Kang-chul here to ask him if she can use the pool at the club he belongs to, since the pool is regulation-size. He flatly refuses her, citing the high dues for members, and says they can't just let any loser use the pool. Do-hee's temper flares, and she splatters ddukbokki sauce on his hand and leaves.
Kang-chul uses the sketchbook that Do-hee had with her to wipe his hand, which has Ho-gu (who's still watching for a couple of tables over) rising from his chair in horror. He leaves with Tae-hee right behind him, so they miss Do-hee coming back for her things. She sees the sauce smear on the sketchbook, and her loud threats have Kang-chul's hands shaking violently.
Unaware that Ho-gu witnessed her conversation with Kang-chul, Do-hee goes to the manhwa store with snacks as usual, but Ho-gu isn't in any mood to hang out. He shuts her down so Do-hee leaves, but Ho-gu only watches her go.
Back in the present, Do-hee leaves Ho-gu napping with Geum-dong, but before she goes she asks Kang-chul why Ho-gu had earlier mentioned a fast food restaurant that had been outside their school. Kang-chul just reasons that Ho-gu is abnormal, ha.
Do-hee goes to a cemetery with flowers, though we don't see who she's visiting. She apologizes to the person for not coming in a long time, and cleans up the grave while saying the person's parents should visit more often. No, she should come more often, but she's been busy, hiding and looking into adoption while also trying to make a comeback.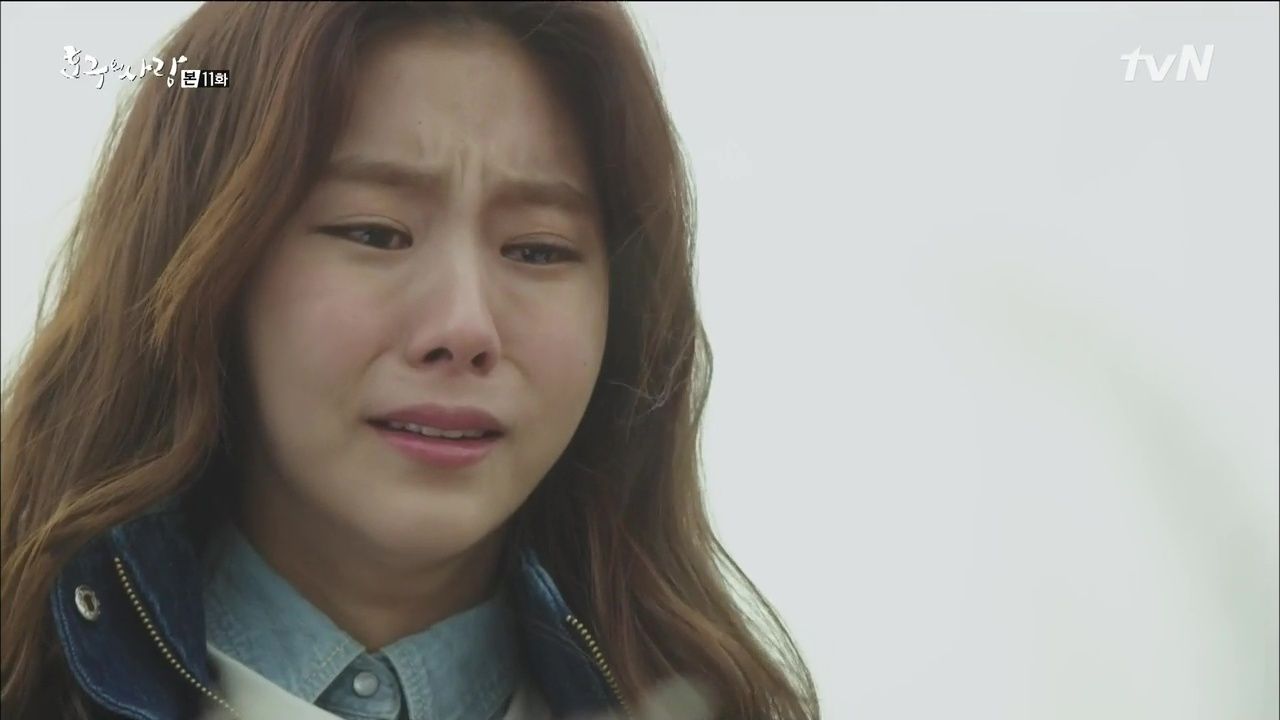 Do-hee's smile falters as she says that she got "our" baby back (although in Korean, that doesn't necessarily mean anything other than a term of endearment). She asks if she did well, and starts to cry in earnest: "I miss you. I really miss you."
Chung-jae waits nervously for Ho-kyung in a cafe, adorably dressed in a suit, but she shows up in her ratty old tracksuit. He tells her he likes her, and even presents her with flowers and a song, but gets no reaction whatsoever. She bounces up when Gong-mi enters the cafe, leaving him hanging mid-note.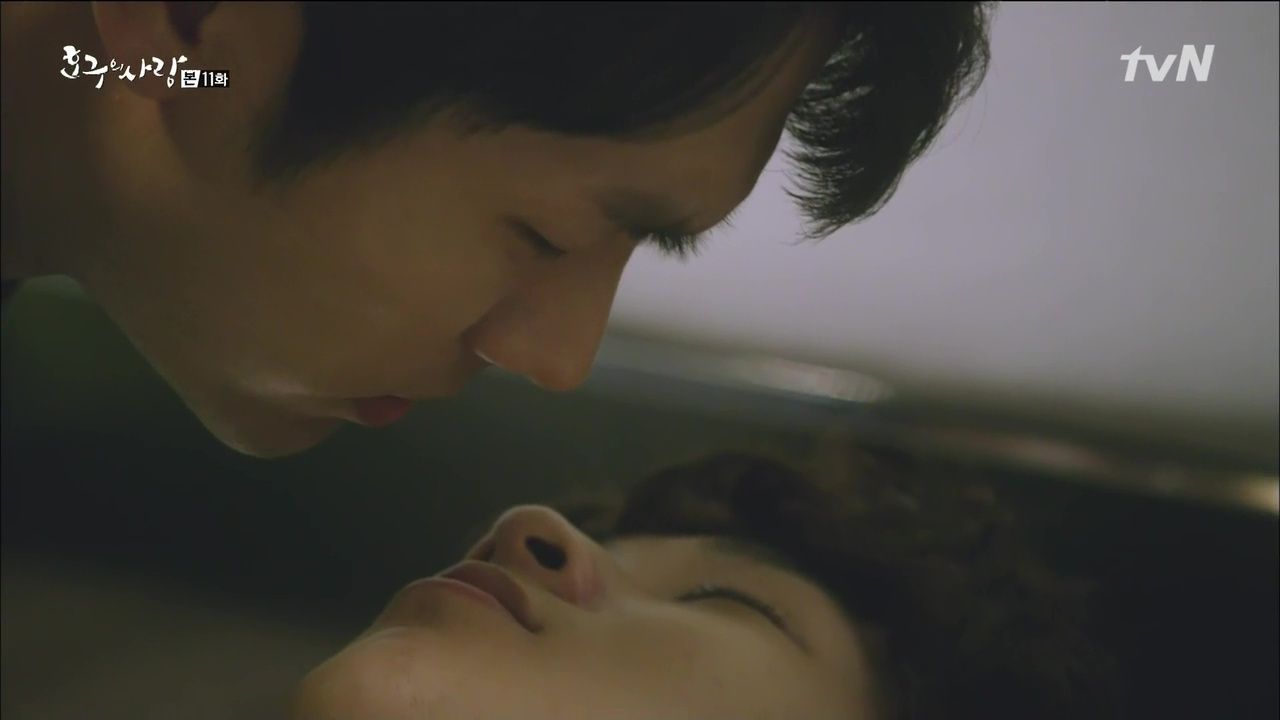 Kang-chul watches Ho-gu sleep all day, and finds the sketchbook that Do-hee is still carrying around with her. He lays on the floor to get a closer look at Ho-gu, remembering Ho-kyung's words that if your heart pounds for someone, it means you like them.
Kang-chul searches Ho-gu's sleeping face, looking simultaneously worried and fascinated. Softly he asks, "Kang Ho-gu… do I… like you?" He thinks about Ho-kyung's advice to kiss the man again and see if his reaction is the same, and he reaches out but stops short of caressing Ho-gu's face.
Kang-chul slowly leans down, determined to see if another kiss with Ho-gu will make his heart pound. Just before their lips touch, Do-hee comes home and sees Kang-chul leaning over Ho-gu, and claps her hands over her mouth in shock.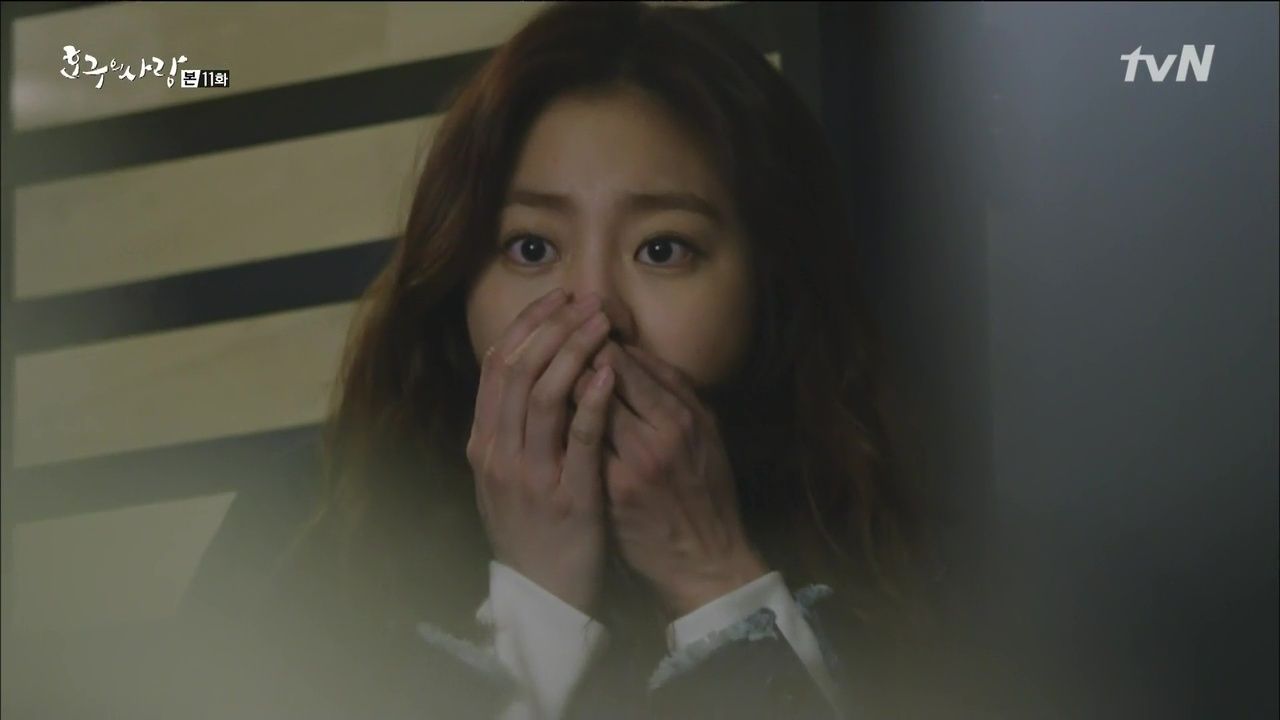 COMMENTS
Wait, you can't just leave me hanging like that!! That's so not fair! Also, how come both of my episodes so far have ended with Kang-chul and Ho-gu nose-to-nose? This show just likes to tease me. I actually don't think it would be terrible if Kang-chul did turn out to be gay, and I'm really enjoying the interesting twist on the usual love triangle. I know this is a polarizing issue about the show, but I think Kang-chul's crush on Ho-gu is sweet. It gives Kang-chul a vulnerability that keeps him from just being a stock stuffy-lawyer character, since his possible attraction to Ho-gu is as much about him learning about himself as it is about how he feels about Ho-gu.
And I know, the show will argue that it's really Ho-kyung that Kang-chul likes, since his heart originally pounded because she kissed him and not Ho-gu, but I'm not really buying that anymore. Kang-chul thought it was Ho-gu then, and he still thinks it was Ho-gu, and now his heart definitely pounds for Ho-gu. If he finds out now it was actually Ho-kyung who kissed him, I don't think that means he's really liked her all along. If it were true that his heart knew the truth, that it was a girl who kissed him, then wouldn't he be reacting to her now, as a woman? But he's not, and if the show were going to try to convince me that he's really meant to be with Ho-kyung, wouldn't we be seeing some clue that he finds her interesting or attractive or something?
I love how this show doles out the characters' past together slowly, giving up glimpses into their interactions as teenagers, which then informs what's happening in the present. How much do I LOVE that Do-hee liked Ho-gu back, when they were in high school? Their cute, silent manhwa-reading sessions were so comfortable and innocent, and it tells me a lot about why Do-hee went to the ocean with Ho-gu back in the early episodes. She wasn't just being reckless — she was almost certainly missing their past friendship as much as he was. And now, suddenly their kiss on the beach at sunrise means so much more. I lovelovelove that Do-hee was in the same place emotionally as Ho-gu back in school, which tells me they have a good chance of getting to the same place together now.
Though at this point, I can't imagine Do-hee and Ho-gu being together without Kang-chul — it's like they've formed this odd little family around Geum-dong, and without all three adults, the family just won't make any sense. I can't even picture the three of them not together, at this point. They just balance each other out so perfectly — Kang-chul as the stable point, Do-hee as the motherly voice of reason, and Ho-gu as the emotional center of it all. I really hope this is where the show is going with them, because without all three, something would just always feel off.
I still want to know why Do-hee was so closed off to people back in school and before she even got to be friends with Ho-gu, because I don't think that could only have to do with losing her parents. She didn't let anyone get close, and that speaks to me of a greater emotional trauma or letdown in her past. Someone hurt Do-hee, and badly, and she's had a hard time trusting anyone since then. But I like how Ho-gu knew instinctively that she's not like other people — she's a mermaid who occasionally visits land, but is really more comfortable in the water. And he doesn't try to change her, but only takes off his shoes and goes into the water with her. He's willing to meet her in her element, wherever she's most comfortable, which really tells me all I need to know about his feelings for Do-hee.
RELATED POSTS
Tags: Choi Woo-shik, featured, Ho-gu's Love, UEE