Ho-gu's Love: Episode 13
Awkward, party of two, your kiss I mean, your table is ready. Ho-gu and Do-hee dance around each other, neither willing to be the first to mention The Kiss, but eventually something's gotta give. It's a roller-coaster of an episode, with some very low lows but also thankfully some very high highs, and more than one gesture of love to make your heart melt.
EPISODE 13 RECAP
Thirteenth Foolish Act: "Let's flirt moderately."
Ho-gu babysits and watches Do-hee go about her days training and looking for adoptive parents for Geum-dong. He narrates that he's not skilled like Coach, or smart like Kang-chul — he just wants to stay next to Do-hee until her scar heals. He remembers offering her the hug, thinking that he honestly didn't have any ulterior motives. But then… she'd kissed him.
Ho-gu somehow manages to get home on his jellylegs, collapsing onto his bed. Poor guy, he still thinks he's just a band-aid to her, to sooth her wounds but not to be taken seriously. He jumps out of bed (and immediately drops to the floor, hee) to talk to Ho-kyung, but she's in a state of shock herself and orders him out.
Ho-kyung remembers Kang-chul's loud drunken confession that he's gay, and we see that he'd said he's never liked a woman, and when he tried to force a relationship, it never lasted long. But mostly, anything that reminds him of "that man" still makes his heart race. Ho-kyung asks if that man knows how Kang-chul feels, but he says that jerk is in love with someone else and forgot about him. He admits he's ashamed, and scared.
Kang-chul had stumbled home and gone right past Do-hee to straighten his trophies. Do-hee tries to stabilize him but he shoves past her to perch on the sofa, and she gripes that she's the only one around to see this display. Gotta admit, Kang-chul is the cutest drunk ever.
He spots Geum-dong, hilariously mis-pronounces his name "Geum-deng" and complains that a whole lot of people are getting involved with the law on his behalf. He muses that if Geum-dong hadn't appeared, he might have lived his whole life never knowing himself. Little Geum-dong just sleeps, oblivious to the commotion (though his hair looks a bit startled).
Kang-chul slurs that he's grateful to Do-hee, because thanks to her, he had romantic feelings at least once in his life. Of course, she assumes he means her, especially when he says she'll probably be the only woman in his life.
We go back to their high school days, when the kids had been ushered into the gym for an assembly. They're all led in a vow of chastity until marriage, then the boys are dismissed to watch a sex ed tape while the girls stay to eat something called "purity candy" to affirm their vow to stay pure until marriage.
Do-hee hands a piece of candy to another girl, who scoffs that eating candy won't change anything. She's angry at the blatant sexism, and she stomps on the candy, drawing a teacher's attention. Do-hee backs the girl up, muttering that it's only the girls who have to eat the purity candy.
The other girls also wonder why the guys don't have to eat the candy, but the (male) teacher yells at Do-hee to stop causing trouble. He orders her to pick up the smashed candy and eat it. She picks it up but stops there, giving the teacher her best Death Glare, until Ho-gu speaks up that he'll eat the candy. Aww, he's her purity-candy Black Knight.
The teacher orders Ho-gu to the floor to whip him, but at the last second another voice calls that he'll eat the candy, too… it's Kang-chul! He agrees that it's discrimination to only make the girls eat it, and asks respectfully to have all the students eat the candy. Suddenly, now that the student president is speaking up, all the boys clamor for candy.
Kang-chul, Ho-gu, Do-hee, and the female student who initiated the mutiny don't escape punishment, and are forced to do duck-squats across the playground. The other students look on, impressed that Ho-gu stood up for a woman and perplexed as to why Kang-chul would get involved. Tae-hee tells them that Kang-chul is dating Do-hee (which isn't true, but he thinks it is after seeing them at the restaurant together).
As Ho-gu staggers home on his sore legs, leaning on Tae-hee and with Do-hee trailing sadly behind, he's surprised when Kang-chul has his driver stop so he can talk to them. Kang-chul pointedly invites only Do-hee for a ride home, but she tries to get Ho-gu to come anyway, only for him to grouchily decline.
In the car Do-hee brings up the dating rumors, but Kang-chul just glares and huffs at the idea. They get out at their stop, where Ho-kyung happens to be waiting to see Kang-chul. But she's wearing a scarf over her face again and has her own jacket and nametag on today, so Kang-chul has no idea who she is. Ho-kyung thinks to herself forlornly, "My name is Ho-gu."
Back in the present, everyone is lost in their own thoughts. Kang-chul stares at the test he took to determine if he's gay while Do-hee exercises, Ho-gu touches his lips and remembers Do-hee's kiss, and Ho-kyung hugs her precious shoes. Silently Ho-kyung calls herself "wang ho-gu," or "big fool."
The next day, Coach asks Do-hee why she's been sighing and moaning all day like a drunken idiot. She points to Kang-chul and says he's the drunken idiot — she's just going insane. She starts to have an immature hissy-fit but immediately calms when Ho-gu arrives, ha. He takes Geum-dong from Do-hee, and it looks like the most awkward game of Twister ever, as they try to pass the baby without actually touching.
Coach tries to talk work with Do-hee, but she's hardly paying attention as she sneaks glances back and forth with Ho-gu. Completely off-balance, she leans over and kisses Coach on the cheek, claiming that she does that sort of thing all the time. She even runs over to give Kang-chul a peck when he comes out of his room looking like five miles of bad hungover road, scaring the crap out of the poor guy.
Ho-gu's mom nurses his dad, who's apparently taken to his bed in shock over Ho-gu's new dating-with-a-baby status. We also check in with Kang-chul's parents, where it's his mother who's distraught at the thought of her son being an unwed father, though his dad is delighted: "My son is a man! A real man!"
Tae-hee visits Ho-gu while he babysits and complains about Chung-jae and Gong-mi, who are now dating and totally going overboard with the cutesy act. Ho-gu is surprised, considering how long Chung-jae has liked Ho-kyung, but Tae-hee says Gong-mi is just filling up the space that Ho-kyung left. Ho-gu applies this to his own situation, assuming that Do-hee only kissed him to fill the space left by Geum-dong's father.
The parents decide to meet each other formally, so Kang-chul's parents wait in a fancy restaurant for Ho-gu's parents. Ho-gu's dad enters in a state of mourning, and when he assumes the other father feels the same, Kang-chul's mom hilariously redirects his sympathetic hug for herself. Ho-gu's mom introduces herself to Kang-chul's dad, while the other two sob together.
Coach drives Do-hee home after practice, and she stops him excitedly when she sees a food stand selling the same red bean buns that Ho-gu brought to her in the hospital. Seeing an opportunity to break the awkward silence between them, she buys a ton of buns, and goes home to loudly flourish the bag of snacks at Ho-gu… and Tae-hee, and Chung-jae, and Gong-mi. HAHAHA whoops.
The gesture isn't entirely lost on Ho-gu, who smiles secretly as his friends scarf up the buns, knowing that Do-hee really got them for him. Everyone cringes as Chung-jae and Gong-mi feed each other and coo like lovebirds, and Ho-gu quietly asks Do-hee why she came home early. His eyes widen when she answers honestly, "I missed…" but she quickly covers, saying that she missed Geum-dong.
The awkward atmosphere is back when Ho-gu's friends leave, and Ho-gu tells Do-hee that he's going out for a while so she can spend time with Geum-dong. He won't say where he's going, and she pretends it doesn't bother her. He actually goes to get some soju, beer, and snacks, and heads to the gravesite of Do-hee's friend who died in an accident.
Ho-gu is here to have some hard words with Do-hee's friend, who he assumes is Geum-dong's father: Do-hee keeps flirting with him. He says it's only because she needs someone to lean on, and that he's having a really hard time because he wants to fall for it.
Ho-gu says he knows it's crazy to come here, but he thought Geum-dong's father should know about this. He apologizes, knowing that the friend must already be upset about Do-hee and Geum-dong and that he's making it worse. He promises that he'll do his best not to fall for Do-hee's seduction. Before he goes, he leaves a couple of adorable pictures of Geum-dong that he drew.
The parents settle to a meal, and Kang-chul's dad assures Ho-gu's dad that he doesn't judge and think their relationship is wonderful (remember, each set of parents thinks the other set are actually Do-hee's family, and with the Korean language's way of dropping pronouns, this makes this whole conversation hysterical).
Kang-chul's mom asks everyone to keep the relationship quiet, as her child is up for a raise, and she's baffled when the news that their child is a lawyer doesn't seem to please Ho-gu's parents. Ho-gu's dad sobs that the kids won't have much time to spend together — he wanted his child to meet someone with whom he could "swim a carefree life." Kang-chul's parents, still assuming his child is Do-hee, swear their child won't interfere with her swimming career. HA.
Ho-kyung finds Kang-chul in court, and the swimmer Kyung-woo is there also, to observe Kang-chul defending a school that fired a male teacher for being gay. Kang-chul is good, but he stammers a bit when he describes a witness seeing the defendant kissing another man. The defendant admits he's gay, but asks if Kang-chul hasn't ever found himself falling for someone before.
The man pretty much describes Kang-chul's exact response when he sees and thinks of Ho-gu, which makes Kang-chul's temper flare. Kang-chul reminds the defendant that homosexuality goes against the natural order and is even illegal in Korea, which the man again doesn't deny, but he says that he's never felt for a woman the way he felt for that one man.
He asks, if Kang-chul met the only person who ever made his heart race, wouldn't he have to love that person? Sadly, he says the man didn't love him back. There's a long moment of silence, so long that the judges are concerned, and we see that Kang-chul is frozen in place with tears coursing down his face.
Later at the office, Kang-chul is dressed down for losing the case, and all of his coworkers (plus Ho-kyung) listen outside his office door. They gossip that his raise probably won't happen, and he may even be fired. They even wonder if Kang-chul might be gay himself, since he cried at the trial, and he never dates and sometimes wears a pink tie. Ho-kyung takes offense, but Gong-mi holds her back from saying anything.
She takes Kang-chul out for a meal, but he's in a terrible mood. She teases him for getting so upset over losing one trial, taking offense when he calls her clueless and rude. Ho-kyung angrily says she was only trying to comfort him, but he yells that he never asked her to do that.
Ho-kyung turns it around on him, that she was worried after he told her he was gay, that something may have happened to him when he went home drunk. Calling herself an idiot, she leaves first this time (even paying for his meal as a "breakup gift"), and this time it's Kang-chul who chases Ho-kyung out of the restaurant.
He begs her not to go like this, saying she should have to take responsibility — he only realized his sexual identity because of her. Ho-kyung complains that that wasn't her intention, and Kang-chul becomes desperate as he begs her to fix him. Oh sweetie, you can't "fix" this.
Ho-kyung calls him out on his self-centered focus, saying that he's never once thought of how she feels in all this. She tells him that she's a woman with feelings too, wrenches her wrist out of his grasp, and leaves him standing there alone.
Do-hee meets CEO Park in a private dining room, where she's greeted warmly, and CEO Park immediately gossips about one of the company directors dating a man much younger than herself. Comfortable, Do-hee tells her she should date and not always work so hard, and the CEO's smile turns suddenly hard… "Do I look that low-class to you?"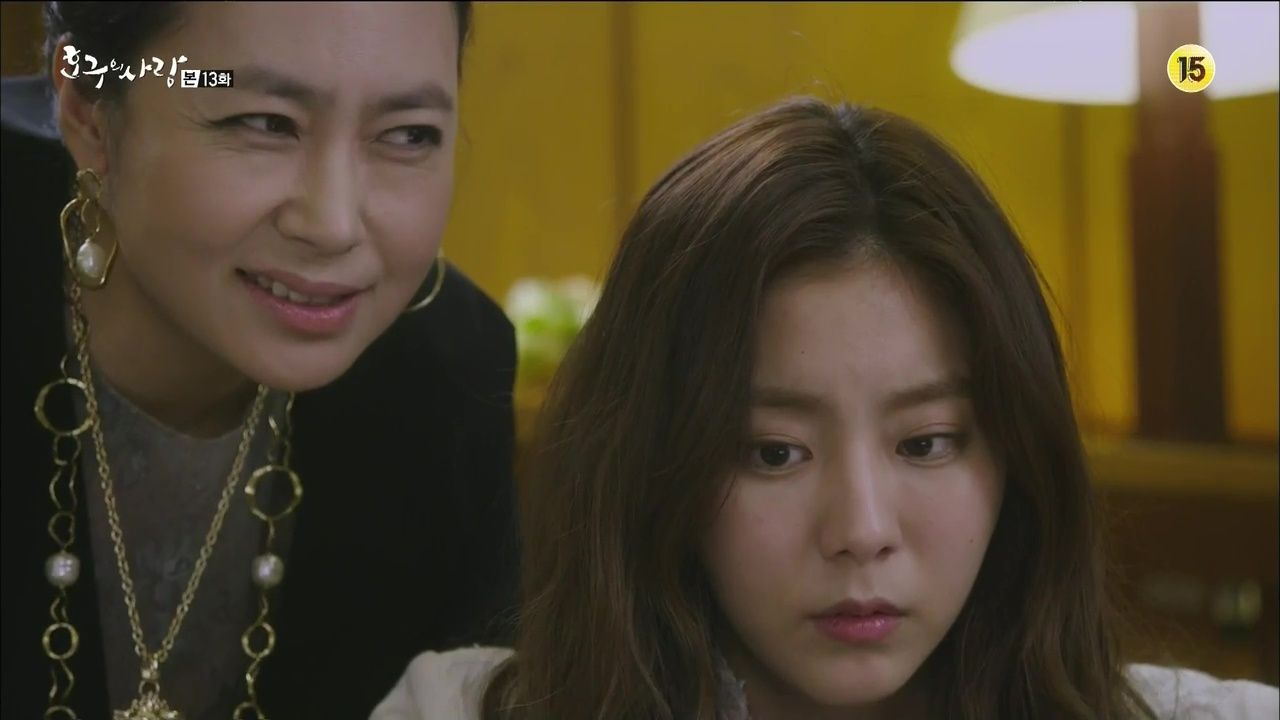 Do-hee is surprised at this extreme flip in CEO Park's demeanor, and flinches when the woman asks if she looks like some kind of trash that dates men for their power. Her voice rises until she ends on a scream, even throwing her utensil across the room in fury. Wow.
The motherly CEO is gone, and a scary woman full of anger is left in her place. She gets up to whisper ominously in Do-hee's ear that she's not like all those other girls — trashy girls who can't live without men. She says she thinks of Do-hee as a daughter, which is less heartwarming than before, and now is just frankly terrifying.
CEO Park sees the photo album that Do-hee brought with her, the one she gave Do-hee when she offered the photo shoot with Kyung-woo, but now Do-hee tries to hide the album. Instantly the CEO is all sweetness again, and sits to eat like nothing happened. Okay, that was freaky as hell.
Back at Kang-chul's place, Ho-gu puts Geum-dong to sleep and gets out his art supplies. He lovingly works on more drawings he's done of Geum-dong, taking great care with the pictures. Do-hee comes home in a daze, smiling when she sees Ho-gu, but he doesn't look equally happy to see her.
Do-hee sees the drawings and comments on them, but Ho-gu pulls them away defensively, saying they're just for fun. Do-hee takes them anyway, seeing that they're all pictures of Geum-dong and Ho-gu. Ho-gu admits they're a gift for Geum-dong when he finally gets adopted.
Do-hee asks what the story is about, and Ho-gu reluctantly tells her it's about a poor boy who finds a baby one day. The baby has wings, so the boy takes him into hiding, afraid they'll be found out. The boy and winged baby do everything together, but they don't live happily ever after. When the baby's real parents show up, his wings fall off.
Ho-gu says that when Geum-dong finds out later that he's adopted, he hopes this story will help him understand where he came from – that he was born as an angel. He wants Geum-dong to know that he was special and loved, and wasn't abandoned.
Smiling wistfully, Do-hee asks what Ho-gu has to think about to draw something like this. She says Geum-dong is lucky to have someone who loves him so very much, and looks at Ho-gu with those huge eyes as she says, "And that person is you." Without a word, Ho-gu packs his supplies and starts to leave, but he turns back to say one thing: "Do Do-hee, stop. Stop flirting with me."
Do-hee follows Ho-gu to the elevator, demanding to know what she did to make him say such a thing. She says she was just grateful he drew those pictures for Geum-dong, but Ho-gu whirls on her. He answers her question of what he has to think about to draw something like that: "I can draw things like that if I think of you all day." But it's a painful confession, and he tells Do-hee again to stop flirting with him because it's driving him mad.
Angry, Ho-gu complains that his first love slept at his place, and stayed with him all day, yet he couldn't do anything about it. He tells Do-hee that she's being cruel, and tells her to stop and just stay focused on finding Geum-dong new parents.
Ho-gu gets in the elevator, and Do-hee only has time to say, "Yeah, you're right. I shouldn't do that to you. But… " before the doors close. To the empty hall, Do-hee finishes her sentence, "…you haven't asked me even once, who it was that I liked. Who my first love was." She sinks to the floor and cries in earnest. Oof.
Ho-kyung thinks about her confrontation with Kang-chul, and we see that he had one more thing to say after she starts to walk away. He'd called out, "I'm scared." He says he's scared he'll be fired, or that his classmates will find out, or that rumors about him being gay will spread. He starts to cry and his voice wobbles, as he wonders what will happen if his parents find out. Will his whole life fall apart?
Ho-gu stands in the elevator, stunned. OMG, he heard Do-hee! He opens the door and sees her crying on the floor, and crouches down to her. He sees that she's holding the sketchbook with his story of her as a mermaid, and asks why she has that. Do-hee asks, "Why do you think I have it?!"
Ho-gu asks tentatively if her first love was really him, and Do-hee wails — how could she NOT like a guy who draws her something like this? Ho-gu just stares in disbelief as Do-hee cries even harder, and sobs that he flirted with her first. Even a single mother has a first love, and isn't she allowed to seduce the man she likes? Ho-gu just pulls Do-hee in for a hug, and tells her to stop because she's breaking his heart. Then he sobs right along with her.
Ho-kyung goes back to Kang-chul's office and offers him a ride home, but they're interrupted by swimmer Kyung-woo. Ho-kyung waits in the car while the guys talk, and Kyung-woo expresses interest in Ho-kyung and asks for her number. The ominous music tells me this is a Very Bad Idea.
Meanwhile Ho-gu and Do-hee sleep on either side of Geum-dong, hands clasped over the baby's tummy, looking like a peaceful and complete family.
COMMENTS
I have so many feelings right now!! I don't know where to start. Okay, the confession… how awesome was that?! Finally everyone knows that everyone likes everyone, and always has, and my heart is so happy. I don't even need to analyze it, because that whole elevator scene is so perfect I almost don't want to ruin it by deconstructing it. Though, I have to say my favorite part was when Do-hee told Ho-gu that of course she fell for him, because what sane woman wouldn't? I think Ho-gu needed to hear that, that he's a person who any girl would feel lucky to have love her. And I know, we still have three episodes left and it's probably not going to last, given that Do-hee still has some pretty serious secrets she needs to come clean about before they can freely be together. But at least now I have hope that this little family will be able to find each other in the end.
And as a side note, how beautiful and meaningful is Ho-gu's way of expressing his love through drawing stories? It's how he originally told Do-hee that he understood her and loved her, by getting to the root of her aloofness by saying she's just a mermaid who doesn't belong on land. No wonder Do-hee fell in love with that boy, who was able to understood her deepest self without even having to be told. And now he's doing the same for Geum-dong, by drawing him a story about his beginning, and how he was an angel and was loved by at least one person. What a gift for Geum-dong, who will probably feel conflicted when he discovers he was adopted, to know that there was a man who loved him with all his heart. It makes me feel all mushy inside. Do-hee was right — Geum-dong is lucky to have someone like Ho-gu love him so much.
But on the serious side, I'm getting very worried about Kang-chul. I'm pretty much accepting, at this late point in the story, that he really is gay. In fact I'll be pretty disappointed in the show if they try to whitewash it and explain it away as something else. There have been no clues otherwise, and Kang-chul's increasing desperation is a sign that he's realizing that this is who he is, and is now dealing with the emotional backlash that brings. I'm glad that he admitted his fear and asked for help, though I don't think he's going to be able to just do some therapy sessions with Ho-kyung and suddenly be not-gay. He's only going to find peace when he accepts himself for who he is, and accepts that he's not what society tells him he should be and that's okay.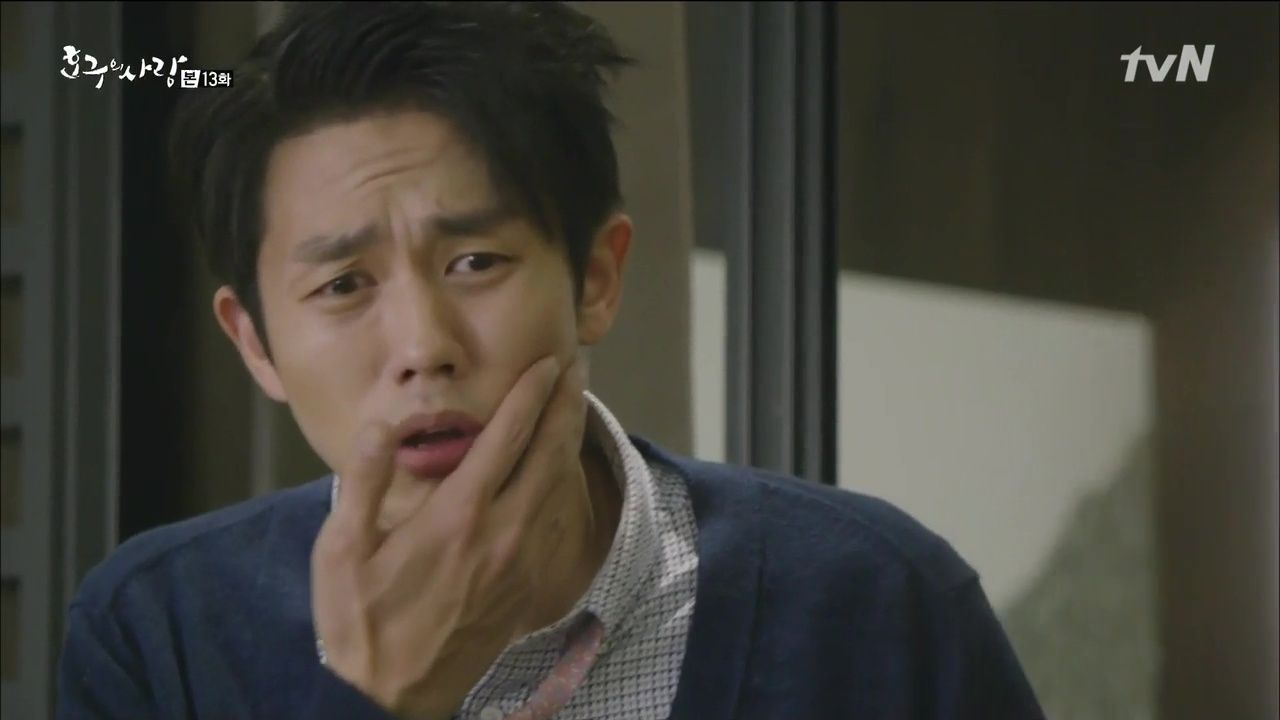 I'm also developing some serious concerns for Do-hee and Ho-kyung's safety. I'm pretty sure the show will reveal that the swimmer Kyung-woo was the monster who raped Do-hee, and that Do-hee's deceased friend (and his death) was somehow wrapped up in all this. And what in the WORLD is CEO Park's problem?? I can understand if she were upset that Do-hee lied to her about the baby, but Do-hee's actions are completely defensible in this situation. I find it extremely alarming that CEO Park became so unhinged when dating was brought up. Something isn't right there, at all. CEO Park seems kind and understanding, but it's becoming clear that she's more interested in controlling her athletes than in supporting their best interests. I wouldn't be surprised at all if she even pushes Do-hee into interacting with Kyung-woo, and tries to say the rape was just Do-hee blaming someone else for her mistake. And now the monster has his eye on Ho-kyung, and I'm very scared for both girls.
But aside from that, I love the overarching theme of the show — that it's okay to be who you are and be different, and still be deserving of love. In a society that values conformity and sameness, and urges people to fit in or be ostracized, I'm proud of Ho-gu's Love for highlighting that not everyone fits into that mold, and that that's okay. All of our characters are oddballs in their own way, and don't quite fit in anywhere. It's perfect that they've found each other, and I still hope for a non-conformist family unit of Ho-gu and Do-hee in love and raising Geum-dong, with Ho-kyung as the quirky auntie and Kang-chul there to take care of them all. I'm afraid that won't be able to happen without some serious heartache, especially on Kang-chul's part, but the beauty of this show is that you really don't know where things will go. They could still find adoptive parents for Geum-dong and go their separate ways, and that would be a natural and believable ending to their story. But even if that happens, and we don't get a perfect happy ending, I think I would be okay with that. For a show that is as quirky and unpredictable as it's characters, I would embrace a quirky and unpredictable ending. Whatever happens, all I want is for our four oddballs to walk away proud and confident in themselves, and who they really are.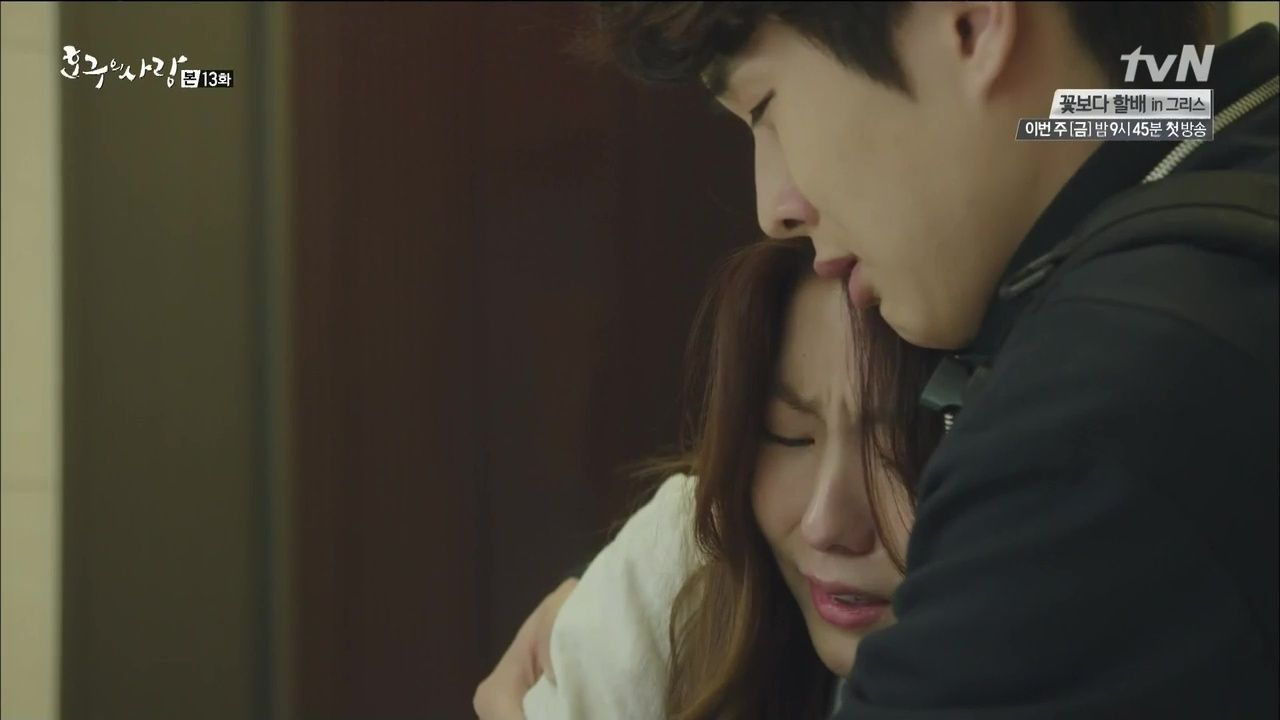 RELATED POSTS
Tags: Choi Woo-shik, featured, Ho-gu's Love, UEE