Spy: Episode 14
Oh, it's on now. Sun-woo gets separated from his family and has to fight for a reunion, even though he has opponents on both sides who seem dead set on holding at least one of his loved ones hostage at all times. Bromance is in the air at least, which is a welcome breath of fresh air and brings some much needed levity to otherwise dour events. Now if only someone could just destroy that hard drive so everyone could start moving on with their lives. I know it's futile, but you can't blame a girl for wanting less treasure hunt shenanigans and more Sun-woo.
SONG OF THE DAY
LED Apple – "Time Is Up" [ Download ]
Audio clip: Adobe Flash Player (version 9 or above) is required to play this audio clip. Download the latest version here. You also need to have JavaScript enabled in your browser.

EPISODE 14 RECAP
While NIS thugs take an ax to Yoon-jin's front door, she ushers Dad and Young-seo into the bathroom so she can attempt to buy enough time for them to escape.
But she doesn't live anywhere near the ground floor, and while Dad is concerned that she might not be able to escape from this height, what is he thinking will happen to him and his daughter?
There's no time for second-guessing though, as Yoon-jin tries to do what she can to keep them safe. Dad makes a last minute decision and hands her the hard drive, in the hopes that she'll be able to give it to Sun-woo. It's his family's only hope.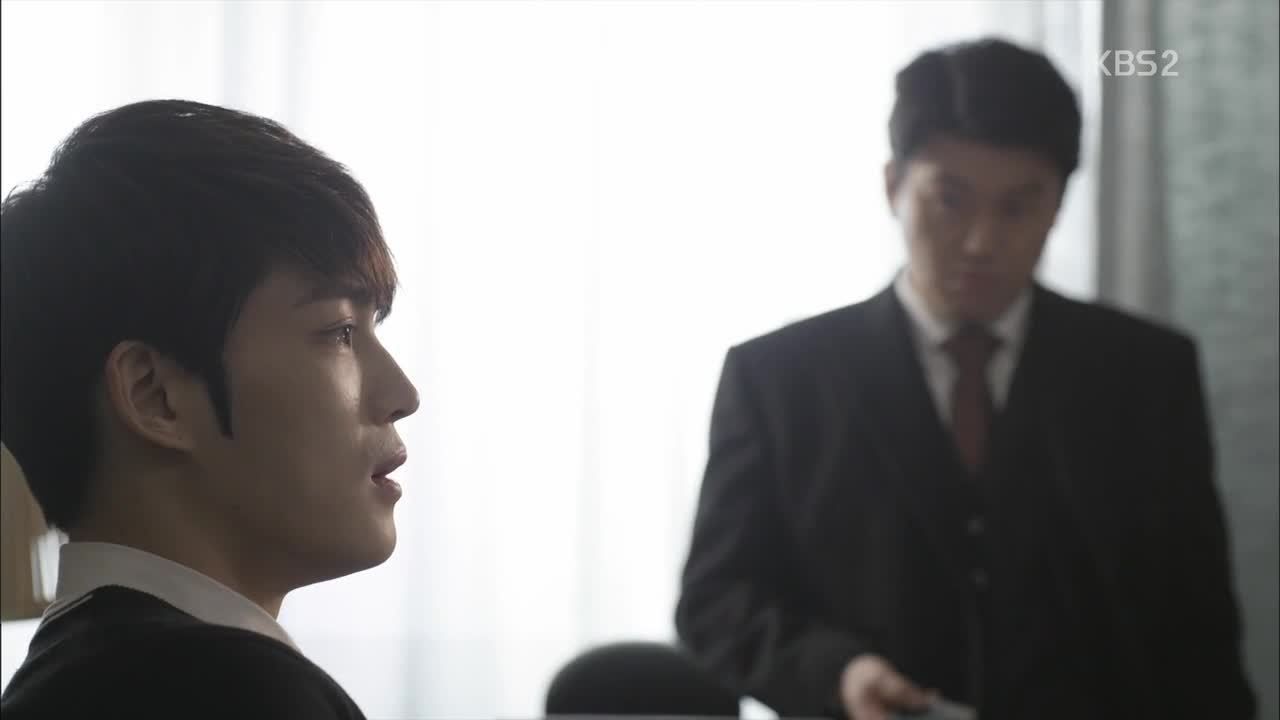 Of course, Sun-woo doesn't know this exchange has been made when he makes an uninvited visit to Chief Song's house to request his help in freeing Mom from Ki-chul's clutches.
Chief Song is combative at first, at least until Sun-woo tells him that he'll hand over the hard drive in order to sweeten the deal. Then he's much more amicable, though Sun-woo knows he's lying when he says he's keeping the Supervisor in a safe place—Hyun-tae already knows he's dead.
Sun-woo doesn't care what Chief Song plans to do with the money the hard drive will inevitably bring him, he only cares about his family's safety. In return for the hard drive, he wants a letter from the NIS explicitly stating that they were the ones who asked his parents to engage in spy activities so that they won't be punished for it.
Chief Song notes that Sun-woo isn't asking for any leniency regarding Yoon-jin, to which Sun-woo replies that he won't have to worry about her—she'll return to the North and be with her family. Chief Song sneers that Sun-woo's reaction means there's still love between them, which makes me think this man is starved for romance.
Regardless, he wants to play it so that Sun-woo hands over the drive before he meets any of his demands. I hope Sun-woo knows better than to trust that.
Ki-chul calls Sun-woo to say that his twenty-four hours are up, but Sun-woo manages to buy more time by claiming that there was another password on the hard drive that will take them more time to crack.
He manages to get Ki-chul to bite when he claims they saw a total amount of one trillion won on the drive, so he's more willing to be lenient. Ki-chul reminds him that Mom's life hangs in the balance if he doesn't deliver.
Meanwhile, Chief Song checks in on his lackeys, who've captured both Dad and Young-seo but not the hard drive.
Sun-woo distracts the NIS lackeys surveilling Yoon-jin's place by setting off car alarms in the adjacent parking lot, finding her door in shambles and her apartment empty…
…Save for one man, who aims his gun at the back of Sun-woo's head. Sun-woo pretends like he's surrendering before quickly disarming the man, taking care of him with a few good punches before pistol-whipping him into unconsciousness. I really like the action in these past few episodes.
When he sees the man is from the NIS, he calls Chief Song to get answers. Chief Song plays innocent and even admits that he let both Dad and Young-seo go home, but Sun-woo knows that things are getting more dangerous and asks him to get that pardon for his family ready.
Dad and Young-seo are home, but they're being closely surveilled by NIS agents who claim they're there for their protection. Sun-woo knows they're under watch as he approaches the building, only for Yoon-jin to pop up and apologize for being unable to protect them.
She hands over the hard drive Dad entrusted to her, which confuses Sun-woo—why did she give it to him when she could've given it to Ki-chul? She reminds him that they're on the same side for now… and besides, she doesn't trust Ki-chul either.
As she turns to leave, Sun-woo calls out: "Thank you." Yoon-jin doesn't let him see the tiny smile that crosses her face, but allows him to follow her.
While Chief Song has a tense call with his father-in-law regarding the campaign funds he's already promised him (which he needs the hard drive for), Sun-woo confesses to Yoon-jin that he knows Song would just take the hard drive and kill his family anyway.
Hyun-tae looks over Yoon-jin's files now that he's found out she's a spy, and laments Sun-woo's bad luck moments before he shows up for a secret meeting.
Together, they put the pieces together regarding the hard drive: The Supervisor escaped from the North with it, only to get killed by Chief Song in his effort to steal the slush funds the hard drive led to. But without the password, Chief Song had nothing.
Meanwhile, the North sent Ki-chul and his lackeys to retrieve the hard drive, and Ki-chul attempted to use Sun-woo's mother to get him over to their side. Sun-woo wonders if maybe even that car accident he was involved in in China was a premeditated effort on Ki-chul's part to return him to Korea.
So that means that Ki-chul's gang killed Comrade Oh's gang because they wanted to take the money for themselves, not necessarily for the North. Hyun-tae sighs that this means they have to fight people on both sides now, since Chief Song seems intent on blaming the Supervisor's death on him in order to keep his record clean.
That's put Hyun-tae firmly on Sun-woo's side, though he wonders if the two of them can manage to bring Chief Song down. "There aren't just two of us," Sun-woo adds, then turns his sunbae's attention toward Yoon-jin. Hyun-tae thinks he's crazy, but Sun-woo reminds him that this isn't just about North and South anymore.
With the three of them now, they plan to use Ki-chul to get Chief Song—Sun-woo will say he's taking the hard drive to Song, which will lure Ki-chul out of hiding. Yoon-jin will act as a double agent and inform Ki-chul of the meeting time and place.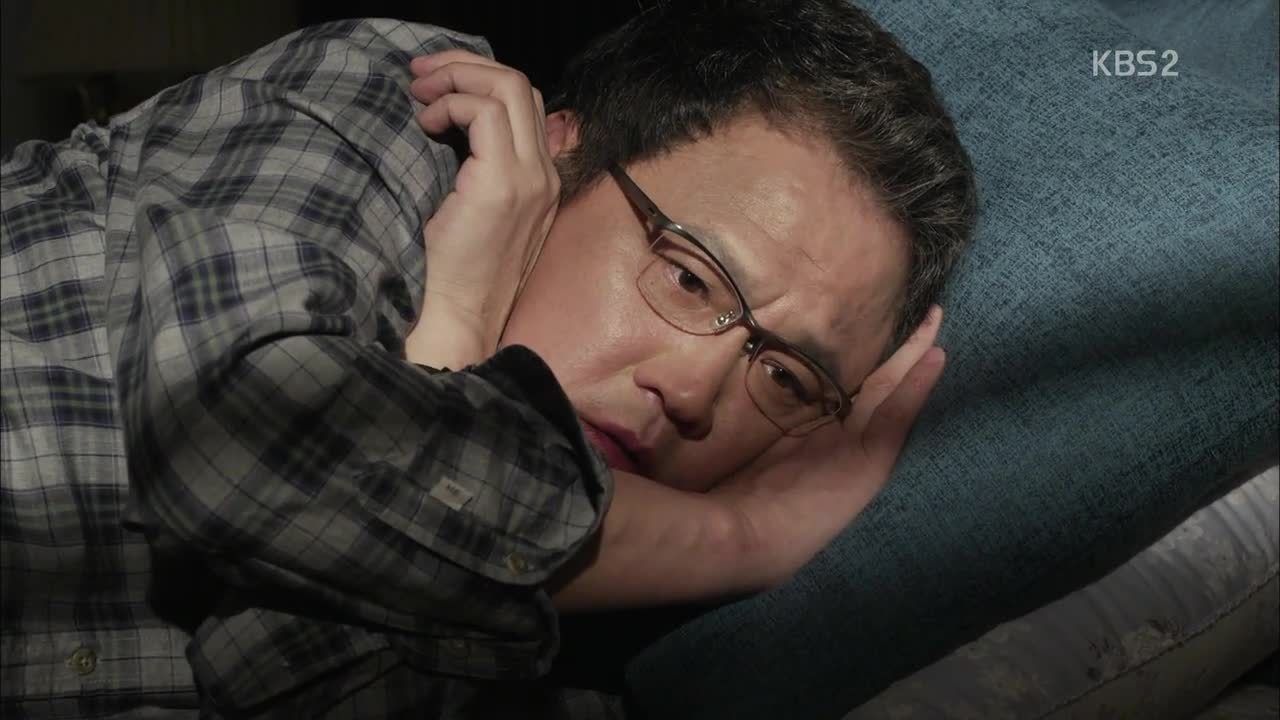 Poor Dad is so worried about his wife and son he's practically delusional, since he imagines her voice waking him up as well as seeing Sun-woo in the living room, when in reality it's just the NIS agents crashing in his house.
Hyun-tae wonders what Sun-woo will get out of all this, because he won't be able to escape punishment even if he manages to help Hyun-tae catch the bad guys.
Sun-woo just wants to protect his family, and if catching the bad guys will help him do it, then that's what needs to be done.
While Mom considers again what Ki-chul said about running away with him (because she's taking his word that it'll help her family?), she spots Yoon-jin on her way to meet with Ki-chul.
She tells Ki-chul what they planned—that Sun-woo made a deal to exchange the hard drive with Chief Song for his family's pardon—though it's dubious whether Ki-chul buys it. If it's true, then Sun-woo's abandoned his mother, which doesn't seem very Sun-woo-y of him.
After Sun-woo makes the arrangements with Chief Song, Hyun-tae administers a loyalty test to Eun-ah that consists of only one question: Sun-woo or Chief Song? Of course the girl ins't insane and picks Sun-woo, so on the team she goes.
Hyun-tae uses the listening device to overhear Chief Song's conversations so he's in the exact right place at the right time to be invited with him for the hard drive deal.
He employs Eun-ah to put a bug on him, and makes an awkward comment at the close contact that sure makes it seem like he's interested in her. (Which would be adooorable.) She doesn't yet know what role she's to play in the upcoming events, but Hyun-tae stresses that she needs to be ready to go to Director Jung the second she's called.
The NIS finally does some spying when one of Chief Song's lackeys shows him video evidence proving that Hyun-tae helped Sun-woo escape when he was almost cornered at the noraebang. Now Chief Song knows Hyun-tae isn't just loyal to him.
Yoon-jin is nervous that Ki-chul might've caught onto their plan, but Sun-woo guesses that even if he is, he'll still have to show up to the meeting if he wants the hard drive.
Since this is goodbye, Yoon-jin adds that she saw Mom while meeting Ki-chul, and that she's unharmed. She expresses her desire for Sun-woo to save his mother, but explains that now it's time for her to see her family too.
Sun-woo is worried about her future even if she's not, and hands her his gun, since she'll need it more than he will before she gets out of the country. Yoon-jin worries that this puts Sun-woo at risk, but he'd rather her keep it no matter what happens to him—her job will be done regardless.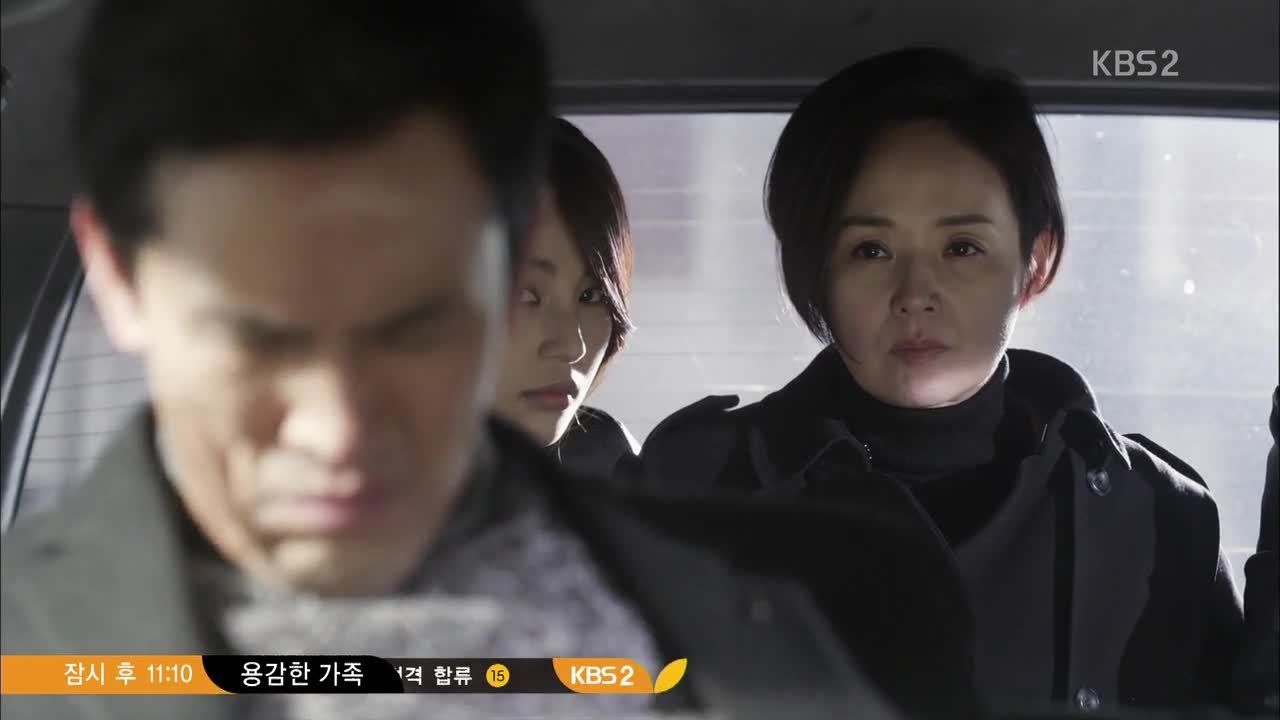 Mom knows something's up when Ki-chul unties her to take her someplace, especially having seen Yoon-jin come to meet him earlier. But she reminds him that if he keeps his promise not to harm her family, she'll keep hers (to run away with him).
Once in the car with Ki-chul and his lackeys, Mom seems to size up her opponents. Please tell me she's thinking of a daring escape. She's gotta do something, right?
Chief Song arrives at the meeting site with a letter of pardon for Sun-woo's family and a bunch of agents he claims will help Sun-woo find his mom. Hyun-tae is among Song's group, and after Song has confirmed the hard drive's authenticity, he hands over the envelope…
…Which has a whole lot of nothing inside. He didn't even bother to write a fake pardon? Chief Song has officially not kept his side of the bargain, and orders his men to arrest Sun-woo.
That's Yoon-jin's cue to call Eun-ah, who springs into action at NIS headquarters, determined to get Director Jung's attention about an issue related to Chief Song.
Meanwhile, Chief Song orders Hyun-tae to do the arresting, only for Hyun-tae to ask what the exact charges are. Song knows that it's just Hyun-tae stalling because he's on Sun-woo's side, and has his men expose the bug he's wearing.
Chief Song tsks at him, disappointed. Hyun-tae defends his actions as being righteous because Song killed the Supervisor, but Song could care less as he orders his men to arrest both him and Sun-woo now.
Eun-ah gives Director Jung the means to listen in on Hyun-tae's bug, even though Chief Song knows he's being recorded (and doesn't care) when he answers Sun-woo's question that it was Director Jung who ordered the Supervisor's death.
Sun-woo asks if even this meeting was ordered by the director, to which Chief Song answers that it was ordered by someone in a much higher position of power—someone who could make it so that Sun-woo and Hyun-tae never existed, if he chooses to kill them.
Suddenly, a shot rings out, and one of Chief Song's lackeys falls in a spray of blood. It's Ki-chul and his lackeys, which is exactly what Sun-woo was counting on.

COMMENTS
I'd be so happy if Hyun-tae and Sun-woo could get their own spinoff drama where they just went on bromantic adventures together. Along with Eun-ah, too. It hurts that there's such a cute team of characters within this show that doesn't get used nearly enough—instead we have to sit through Chief Song's self-created problems all revolving around this hard drive, which are about as interesting as you'd expect.
It's been fun to see Sun-woo stepping up to the plate in a very real way since last week, even though this whole hard drive treasure hunt has been a flimsy plot device indeed. Even forgetting the fact that its worth has gone up from one billion to one trillion won/dollars (Director Jung didn't specify the currency type), its relation to Sun-woo has been predicated only upon which family member of his Ki-chul is currently threatening. And while at first we thought Ki-chul's motivation was to get Sun-woo to switch sides, now we're just going… to forget that happened? It's all about that hard drive now? Okay.
Aside from that one time Mom looked shifty while in her captors' van, I'm really beginning to lose all faith in her. If she's tricking Ki-chul by luring him into thinking that she's really going to run away with him after all this, then she's doing such a good job even I can't tell if she's faking. The problem with Mom is that she hasn't established herself as that good of a spy or liar, so when we see her possibly believing Ki-chul for the third time after he's proven he is not ever to be trusted, there's no way of knowing whether she's pulling one on him or just being her usual slightly derpy self.
I'm a little disappointed in Sun-woo for giving Yoon-jin his gun right before he really could've used it (and he had to know that), but if Spy has taught us anything, it's that this goodbye won't be a goodbye for them at all. Sun-woo still has lingering feelings for her as evidenced by his inability to let go, but if there's a colder one of the two, I'd say it's Yoon-jin. She was ready to skip town on him before—if something's changed between now and then aside from circumstance, I'd be interested to see things from her perspective.
How they'll manage to tie all these disparate threads together isn't all that clear, but something tells me that Ki-chul has a higher chance of getting his hands on that hard drive with numbers on his side. That'll leave decisions up to Mom, and unless Chief Song is dealt with, Sun-woo's family won't be able to escape being charged with espionage. And no, Mom, running away with Ki-chul won't solve your problems. C'mon. You can do better than that.

RELATED POSTS
Tags: Bae Jong-ok, featured, Go Sung-hee, Jaejoong, Spy