Script reads for new KBS spring dramas Producer and School 2015
I'm really looking forward to KBS's spring lineup, which will bring us the teen coming-of-age drama Who Are You–School 2015 on Mondays and Tuesdays, and the industry insider drama Producer on Fridays and Saturdays. Both shows held their script reads to launch production, with about a month left before premieres roll around. The two dramas are as different as you can get — one is chock full of star power and laughs and the other is brimming with fresh faces and teen angst — but I'm equally excited for both.
Producer is the showbiz drama about variety producers that stars Cha Tae-hyun (Jeon Woo-chi) and Gong Hyo-jin (It's Okay, It's Love) as ten-year veteran producers. He's kind of second-rate while she's ambitious and prickly, and Kim Soo-hyun (You From Another Star) enters the fold as a rookie PD who works under them.
He leaves a stable future as a prosecutor to join the network because of his first love (a cameo by Jo Yoon-hee), and IU (You're the Best, Lee Soon-shin) rounds out the main cast as a top star with an icy façade. It's a show that has a lot of hype to live up to — the cast, the You From Another Star shadow that it has to step out of. But it's nothing that a heaping dose of comedy and romance won't fix.
Who Are You–School 2015 also has big shoes to fill, since it's the sixth installment of a successful franchise for KBS that launched dozens of careers in the nineties, then came back in 2013 with a soulful story about angsty teenagers and their very real problems. Kim So-hyun (Girl Who Sees Smells) headlines the series as a pair of twins whose fates get swapped; this season the mystery surrounding her characters will drive the plot.
Nam Joo-hyuk (Surplus Princess) and Yook Sung-jae (Plus Nine Boys) have been cast as the male leads, and since they're pretty even in acting experience — pretty much one drama each — I'm not sure if one has higher billing. Nam Joo-hyuk plays a star swimmer, while Yook Sung-jae is a bad boy who rules the school.
David Lee (Gu Family Book) plays the smartest kid in school who rivals Kim So-hyun for first place; Lee Cho-hee (Maids) is a model student who hides an ambitious side, and she's a bit of a pot-stirrer among her friends. Hello Venus's Yooyoung (Sly and Single Again) is a mean girl who parties and bullies her classmates, and Park Doo-shik (She's So Lovable) plays her boyfriend. He's also a punk, and together they'll be the school's gangster couple.
Now that we've got the cast of up-and-comers lined up, I just hope there's a gritty teen story to back it up. Adding mystery is all good and well, but let's not stray too far from what makes this franchise solid.
Who Are You–School 2015 premieres Monday April 27, and Producer is due to air on Fridays and Saturdays in early May.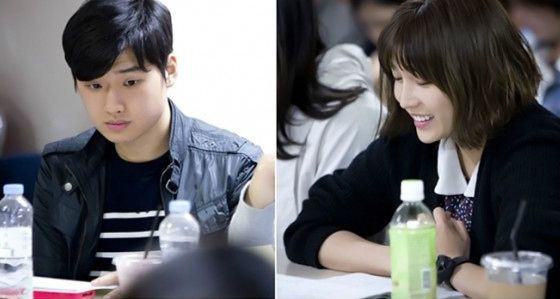 RELATED POSTS
Tags: Cha Tae-hyun, Gong Hyo-jin, IU, Kim So-hyun, Kim Soo-hyun, Nam Joo-hyuk, The Producers, Who Are You–School 2015, Yook Sung-jae