Superdaddy Yeol: Episode 9
Yeol proves again and again that he's not the same as he was before, while the people around him struggle to adjust to his new resolve. It's not an easy path by any means, and no matter what happens there will be some hearts broken along the way. But no one can deny that a family is starting to form, one capable of facing up to any number of challenges with fortitude and class (and maybe a few musical numbers for good measure). But as Mi-rae's illness worsens, the question inevitably arises: Without her, how can this family survive?

EPISODE 9 RECAP
Yeol jumps onto the stage to answer Sa-rang's call, belting an energetic rendition of g.o.d.'s "One Candle" and bringing a relieved smile to Mi-rae's face. The crowd goes wild, and Mi-rae even busts out some impressive rapping skills.
That's when Ki-tae decides to go for the Worst Person Ever Award and turns off the music, bringing the song to a halt. Everyone looks around, confused, until the mellow strains of a saxophone waft from the entrance.
It's Yeol's dad, playing a lovely melody on his saxophone. A flashback shows Sa-rang planning this "hidden card" in advance, once she learns that Yeol's dad used to play saxophone in a cabaret (though he doesn't tell her what a cabaret is, ha). Everyone starts singing the familiar tune (Lee Jeong-seon's "Lonely People"), and the audience can't get enough—when Bo-mi's mother complains about them changing the song, she gets shouted down.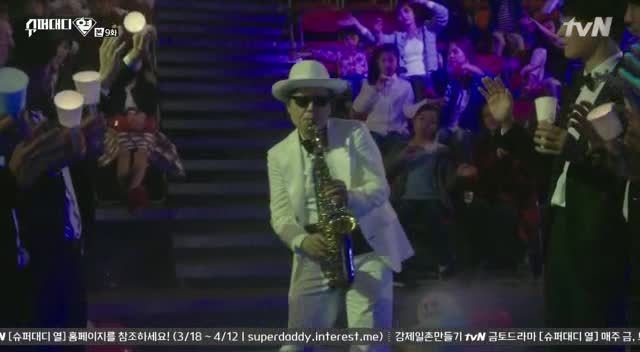 They reach the end of the song without any further interruptions, and bask in the applause. The family members join hands, and up in the stands Lola smiles proudly before taking her leave. Her work here is done (although we wish it weren't so, Han Groo!).
Sa-rang's classmates all cheer for her after her song—with the exception of Bo-mi. A flashback shows us Bo-mi's earlier resolve to apologize for her parents' behavior and thank Sa-rang for trying to protect her from the falling construction equipment.
She was going to invite Sa-rang to meet for an after-school snack, when she saw Min-woo urge Sa-rang to try out for the choir while taking hold of her hands. Bo-mi crumples her apology note, and in the present she sits in silence, without acknowledging Sa-rang.
Ji-hye walks out of the auditorium looking mopey, and runs into Dr. Shin preparing to leave. Although Dr. Shin, like Ji-hye, is disappointed, he also sees how happy Mi-rae and Sa-rang looked on stage. Meanwhile, Sa-rang's teacher prepares to announce the winner of the singing competition.
Backstage, Bo-mi tackles Sa-rang and starts pulling her hair. She shouts that she had been meaning to reconcile, until Sa-rang went behind her back to meet Min-woo. Sa-rang cries that she's got it all wrong, and Min-woo explains that he was the one who wanted Sa-rang to join the choir so that everyone could reconcile again.
The teacher announces the winner: It's Sa-rang! Of course that doesn't sit well with Bo-mi's parents, who yell that the decision is invalid. The entire auditorium turns into utter mayhem, with parents yelling back and forth and people struggling for the microphone.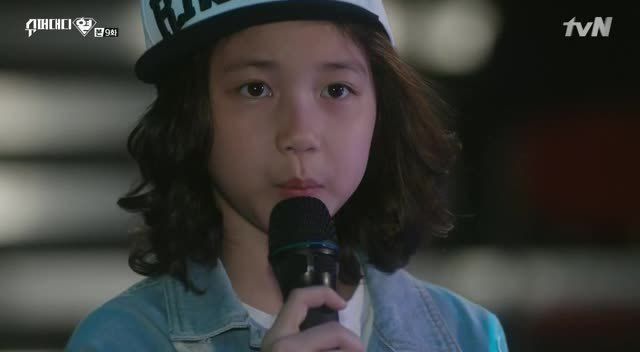 Sa-rang steps into this chaos and grabs the mic, yelling for everyone to be quiet. She says that it is true she received help from her family, so the winner of the contest is rightfully Bo-mi.
Bo-mi and the other students walk onto the stage, and Sa-rang speaks for her friend's ears alone. She says that while she did like Min-woo, it was Bo-mi who was her first friend and seat partner—it was Bo-mi she wanted back, not Min-woo.
The two girls hug it out, and the adults finally stop fighting. Overwhelmed by emotion, Sang-hae tries to give Yeol a hug, only to get scolded for fooling around during this important moment.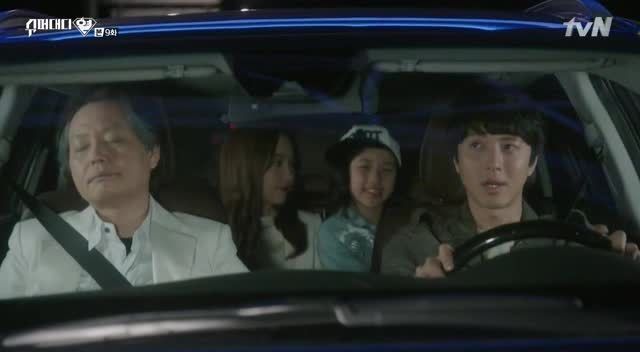 The whole family drives back to the apartment after the competition, and Yeol observes that it's too bad Sa-rang didn't achieve her goal of getting closer to Min-woo. But Sa-rang's real goal was to show Mi-rae that miracles are possible, and that goal she managed to achieve.
Yeol looks over his balcony, remembering how it felt to hear Sa-rang calling out to him: "Dad!" He muses that "Dad" really isn't such a bad word after all. Mi-rae joins him, sharing her appreciation for what he did that day.
Yeol tries to kiss her, and when Mi-rae turns away he asks if she still isn't completely sure of him. But then Mi-rae turns back towards him and kisses him gently. At that moment, a loud knocking sound rings out and someone stumbles into the living room.
Dr. Shin collapses on the living room floor, shouting drunkenly that he can't hold it in any more. He yells that Yeol doesn't deserve to love someone like Mi-rae, and comes close to outing her secret before she covers his mouth. Yeol's dad suggests they let him sleep it off, which is how Yeol ends up sharing a room with his father for the night.
Yeol is about to leave the bed and sleep in the living room, when his father asks him to stay. Even though Yeol doesn't shout out for his father the way Sa-rang did today, Yeol's dad is happy he was able to help his son.
Even if Yeol hates him now, there will be a time when even the memory of that hatred becomes precious. Yeol's dad asks him to stay in the bedroom, even if it's uncomfortable and stifling. "Do we have to hold hands?" Yeol snarks, but he does as his father asks.
Sa-rang and Mi-rae are sharing a room as well, and Sa-rang admits that she has given up on Min-woo. She says she won't get married, although Mi-rae notes that children who say that usually end up getting married earliest of all.
But Sa-rang won't leave Mi-rae, and trusts that Mi-rae won't leave her either. Sa-rang says she will always be able to find her mother, because of her warm scent that banishes fear. Mi-rae reflects sadly that everyone has to leave at least once, whenever that may be, but Sa-rang promises to hold on to her tightly so that she doesn't leave.
In the morning, Sa-rang wakes Yeol for breakfast. She says she hasn't fully acknowledged him as her father, in spite of the events of the day before, but Yeol is not in the least discouraged.
Dr. Shin leaves a note telling Mi-rae to reach out to him any time, and Mi-rae has to hide the note when Yeol comes in. He pulls her close while trying to see what she's hiding, then remembers what Mi-rae promised if he finished his rehabilitation as a father. But Mi-rae reminds him that there's one task left: helping Hyun-woo to recover.
Yeol finds Hyun-woo about to leave the rehab clinic, angry that Yeol was late for his first session. Mi-rae shows up a second later, apologizing profusely to Hyun-woo and leading both men into her office.
There Mi-rae hooks Hyun-woo up to a heart monitor and asks him some questions. She figures out that for Hyun-woo, physical pain doesn't matter as much as whether there are people around who care for him. She reminds him of what he said before, about Yeol becoming brighter after Mi-rae came into his life, and how that made Hyun-woo want to trust him.
Hyun-woo gets embarrassed by her words, and it's made worse when his rising pulse testifies to their truth. He places the heart monitor on Mi-rae and asks her if she really loves Yeol—and if there's anything she's hiding from him. Mi-rae doesn't answer immediately, and Hyun-woo storms out of the office.
Yeol isn't offended by what Mi-rae couldn't say, although she quickly assures him that she does feel excited, happy, and content. However, she scolds him for calling Hyun-woo third-rate when he should be treating him like a patient. They rush out after Hyun-woo.
Hyun-woo wastes no time in throwing a party, though it doesn't look like he's enjoying it much. Mi-rae pounds on the door until he opens it. She offers to take him out for food to apologize for Yeol's harsh words, but Hyun-woo closes the door in her face.
Mi-rae ups the ante by using a loudspeaker in the street, yelling to the whole neighborhood about how Athlete Hyun-woo is drinking and partying when he's supposed to be undergoing rehabilitation training. Hyun-woo only cranks the music and continues to party.
When the night is over and the guests are heading for the door, Mi-rae sends a baseball flying through the sliding glass door. It holds a message for Hyun-woo, who marches outside ready to unleash his anger. But he finds Yeol waiting for him instead.
Yeol says that Hyun-woo is just like him, especially in his fear of being lonely. He should do what Yeol did, and make a family—and Yeol will be part of that family. Hyun-woo starts to walk away, but turns back at the last minute. Yeol is gone, but he left behind a baseball with a message: "Ace Ryu Hyun-woo. Brother."
The next day the family goes on a picnic. Yeol and Sa-rang ride bikes, while Mi-rae talks with Yeol's dad. Dad is grateful that Mi-rae came back, because no one else could have overcome Yeol's stubbornness. Mi-rae is just as grateful, because it's thanks to Dad that Yeol and Sa-rang were able to become close.
Yeol gets a text from Hyun-woo asking to start rehabilitation again, and they meet at a restaurant with Sang-hae and Ji-hye. Hyun-woo is taking advantage of his one day of dietary freedom to eat as much meat as possible, and it looks like his relationship with Yeol has been fully repaired.
Ji-hye observes that you never really appreciate someone until they leave, and gets a little too close to Yeol as she declares her intention to keep pursuing him. Yeol tries to explain that he doesn't have those types of feelings for her, but Ji-hye gets up and leaves the restaurant.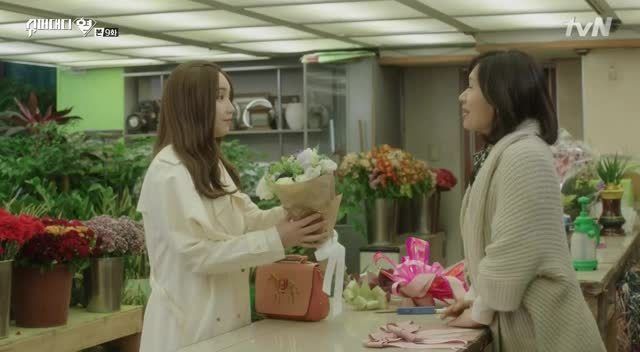 Mi-rae stops at a flower shop to buy a bouquet for Yeol. She asks for a ribbon with a congratulatory message, then decides to write one herself. She starts to say "You are my 100 percent," but stops for some reason and crumples up the ribbon before rushing out of the store.
Meanwhile, Yeol follows Ji-hye out of concern, since she was stumbling noticeably when she left the restaurant. She kisses him before he has a chance to dodge, and asks tearfully why she has to give up on him when he's in a fake marriage. "I still like you a lot, sunbae," she says.
But when she turns around, she sees Mi-rae standing only a few steps away. Yeol chases after Mi-rae and asks her not to misunderstand, but Mi-rae plays it cool as a cucumber and replies that she hasn't misunderstood at all. She knows they are in a fake marriage with an expiration date, but she asks Yeol to abide by their agreement until the time is up—and not to go drooling over other women (said with a significant and nasty look in Ji-hye's direction). Still maintaining her icy composure, Mi-rae drives away.
Mi-rae calls Dr. Shin to a bar to vent. She knows she shouldn't like Yeol since she only wanted to make him into Sa-rang's father, but it keeps happening without her intending it.
With only Dr. Shin there to hear, she can be honest in a way she can't with Yeol. Her feelings are all mixed up and she doesn't know her own mind, but there's one thing Mi-rae does know: She doesn't want to die.
Yeol tries cooking a delicious meal to appease Mi-rae, but after a single taste he can tell it won't have much effect. His backup plan is getting Sa-rang's help, so he bribes her with Oreos in exchange for her support in apologizing to Mi-rae. Sa-rang says he's as easy to read as a book of fairy tales for children… but she doesn't reject the Oreos.
Mi-rae comes back home, albeit drunk and on Dr. Shin's back. Yeol yells at her to get down, but Mi-rae yells right back that he shouldn't go around womanizing. Her icy reserve is completely gone, and Yeol gets the stank-eye from both Dr. Shin and Sa-rang as Mi-rae yells at him for wagging his tail around other women.
Dr. Shin sends a regretful look back towards the apartment as he walks away. In spite of Mi-rae's anger towards Yeol, it's clear that she has changed. Inside, he suspects, her heart is dancing in a way it never did for him. Yeol's dad watches Dr. Shin walk away, wearing an unreadable expression.
Mi-rae stays up late, looking at the photos of herself and Yeol that are saved on Yeol's thumb drive. She reflects that she should stop now, before she goes any further. She pulls up the option to delete all files, but we don't see if she follows through.
Hyun-woo works hard during practice, determined to return to the field. Coach Bang and Ki-tae walk over, and Yeol says that Hyun-woo will be able to take the mound for a pitching test before the end of the season. Ki-tae pushes Yeol to take responsibility if Hyun-woo isn't ready, and Yeol promises that if that's the case, he'll quit. But if Hyun-woo succeeds, then Coach Bang will promote Yeol to Section Coach.
In the rehab center, Yeol runs into Ji-hye in the hallway. He starts to walk past, but she stops him and apologizes for kissing him when she was drunk. But her feelings are sincere, she insists, and she's not faking like him or Mi-rae.
But Yeol says that he will be sincere from now on too—he can never return Ji-hye's feelings. It's not a question of what she lacks that Mi-rae has, but rather a simple matter of who's in Yeol's heart. The only woman he loves is Mi-rae. Yeol turns around and sees Mi-rae, who has overheard the conversation.
Yeol leads Sa-rang outside, where he tells her that he only followed her advice and explained things clearly to Ji-hye. He has prepared a present, and gestures grandly toward a big projection screen… Nothing happens.
Yeol frantically signals to Sang-hae, who didn't notice the first signal because of the cups on his ears (I guess you come up with some strange ideas when drinking soju alone). Sang-hae presses a key on his computer, which starts a slideshow on the big screen. It's all pictures of Mi-rae, Yeol and Sa-rang, smiling and carefree.
The past doesn't matter, Yeol says. The present moment is what's important, and where they go from here. Yeol mirrors Mi-rae's earlier words when he wishes that he could stop time that very instant. Mi-rae lays her head on his shoulder, and Yeol grabs her in a bear hug and swings her around joyfully.
Yeol's dad goes to the hospital in search of Dr. Shin. He plans to deliver some sharp words, so the doctor won't make trouble for his daughter-in-law. Back at the apartment, Mi-rae and Yeol have stopped fighting their feelings for each other. As they lie next to each other under the covers, Yeol leans over and kisses Mi-rae softly on her forehead. The lights go out.
Just outside Dr. Shin's office, Yeol's dad overhears a conversation about Mi-rae's cancer. She will probably pass away within three months, they say, and a passing mention of Sa-rang lets Dad know exactly who they're talking about. Dad struggles to process this bombshell, but his chest starts to hurt as he nears the escalator. He falls over halfway down, and tumbles the rest of the way to the lobby floor. Noooo!
Yeol asks Mi-rae what happens next, with regard to their marriage. He is 100 percent committed, but he wants to hear her decision. She turns to him and says that there's something she has to tell him first. "I… there's something… truthfully…" But we don't hear what she says next. At the hospital, doctors begin performing CPR on Dad to try and revive him.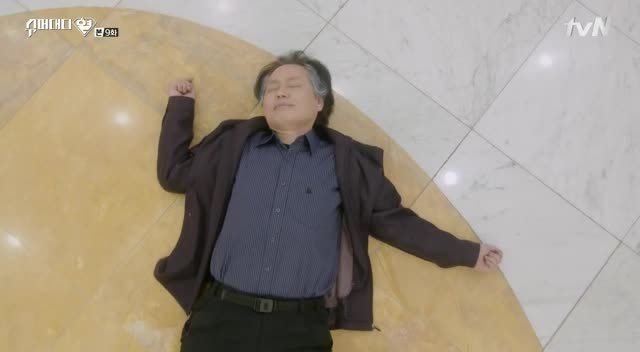 COMMENTS
Talk about a rough way to end an episode. I thought that maybe, for a brief second, Yeol and Mi-rae could enjoy each other's company without any misunderstandings, guilt, or disasters getting in the way. Obviously I was wrong.
Show, if you kill off Yeol's father I will send Han Groo after you. Not bubbly, painfully earnest Han Groo from Marriage, Not Dating. Not even badass, inspirational singer Han Groo who helped Sa-rang get her mojo back last episode. No, I'm talking full-on Killer Girl K Han Groo, who will end you. So yeah… don't do it. Or else.
In spite of my feelings at the very end of the episode (which run the gamut from anger to denial to "was it really necessary?!"), there was a lot to like this time around. First off, there are worse ways to start an episode than a fun musical number, a brawl, and Han Groo (no, I will never be finished praising Han Groo).
But more than the pyrotechnics, I appreciated the way Sa-rang resolved her feud with Bo-mi. Of course it was satisfying to see Mi-rae, Yeol and Yeol's dad (not to mention an entire baseball team) pull together to support Sa-rang, but in the end she didn't need them as much as she thought—in fact, it was up to her to put things back the way they were supposed to be.
Sa-rang spoke up and told the truth, winning back her friend and finally realizing the powerful truth that she doesn't need a man. As a character moment, that felt profoundly more satisfying to me than simply having Yeol appear like a genie from a lamp to fix her problems—though of course, it is nice to know that he will, in fact, come running when needed, and can fix a meal or two.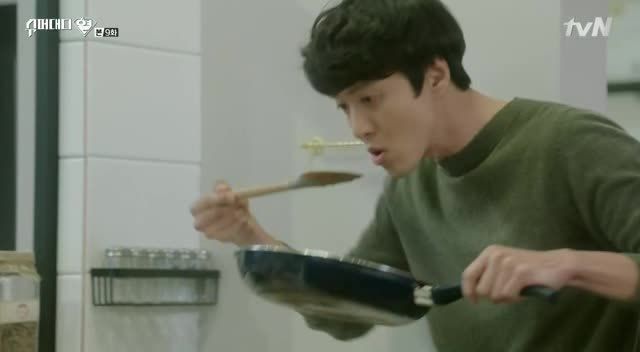 Mi-rae is finally starting to experience the inner conflict that we've seen shaping up since the beginning. As long as Yeol was just a man to become Sa-rang's father, there was no need to feel guilty about deceiving him. But as Mi-rae begins to reciprocate Yeol's love for her, her actions become more cruel, simply because the betrayal Yeol feels will be magnified so much more as a result of the trust she has to break.
I think what I like most about Mi-rae is that her journey involves learning that it's sometimes okay to be selfish—or maybe, to put it in a different way, that it's impossible to be selfless all the time.
Superdaddy began with what was arguably a selfless goal: Making sure Sa-rang will be cared for after Mi-rae passes away. But everyone's motives are growing increasingly tangled, and as Mi-rae admits to Dr. Shin at the bar, it's getting increasingly difficult to know her own heart—and all the time, her illness is progressing. Life—and love—keep calling out to her, no matter how hard she tries to ignore them in order to protect her daughter. This is the emotional core of the show for me, and it found its expression during this episode in Mi-rae's simple, powerful, and heart-breaking admission: "I want to live."
RELATED POSTS
Tags: featured, Lee Dong-gun, Lee Yuri, Seo Joon-young, Superdaddy Yeol