The Time I've Loved You: Episode 5
An old love comes sauntering back into Hana's life like he didn't completely screw her over, sending her emotions into a tailspin they really shouldn't be in if this guy is as bad as he seems to be. Even his present self is no prince charming, leaving us to wonder what it is that Hana liked about him in the first place—but if she has no self control when it comes to him, let's hope that Won can help her see reason. Even if that doesn't seem to be working out too well for him so far.
SONG OF THE DAY
Jung Seung-hwan – "너를 사랑한 시간 (The Time I've Loved You)" from the OST [ Download ]
Audio clip: Adobe Flash Player (version 9 or above) is required to play this audio clip. Download the latest version here. You also need to have JavaScript enabled in your browser.

EPISODE 5 RECAP
Looking at Seo-hoo in the present takes Won back to the past, where Hana had been absolutely crazy for him when they dated. She'd even skipped her own promotion party because Seo-hoo had made sudden plans to come back into town, and Won had watched them kiss from a safe (and sad) distance.
Once the reverie is over, Won pays Seo-hoo little mind except to keep Hana from seeing him. Seo-hoo doesn't try to make himself known.
Hana talks about her friend whose engagement just got broken off, only to find out that she and Won have different views about relationships that have ended—he's on the more cynical side, while she believes that this hiccup could make her friend and her fiancé stronger in the end.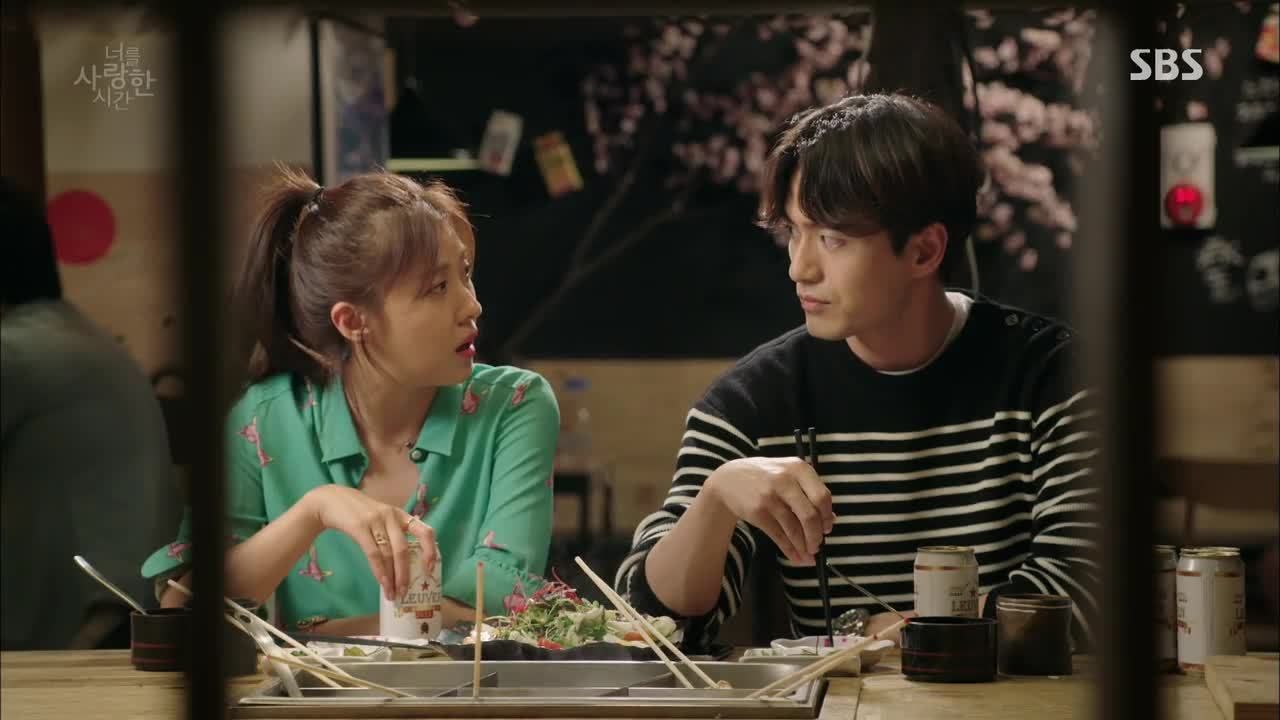 She has no idea that Won's worried about Seo-hoo's reappearance when he asks, hypothetically, if she could start over with a man she broke up with. Hana thinks about it before replying that it would depend on how deep their relationship was, and not necessarily how they broke up.
Won's worried that means she would resume a previously broken relationship, but Hana doesn't know he's talking about her and Seo-hoo. Instead he tries distracting her by asking her out for different fun dates, but Hana can't ignore his text messages and checks his phone instead.
Hana informs him that it's So-eun asking for a date, but Won doesn't even seem to be listening. Instead he pesters her to go on a fun date with him and forget all her worries.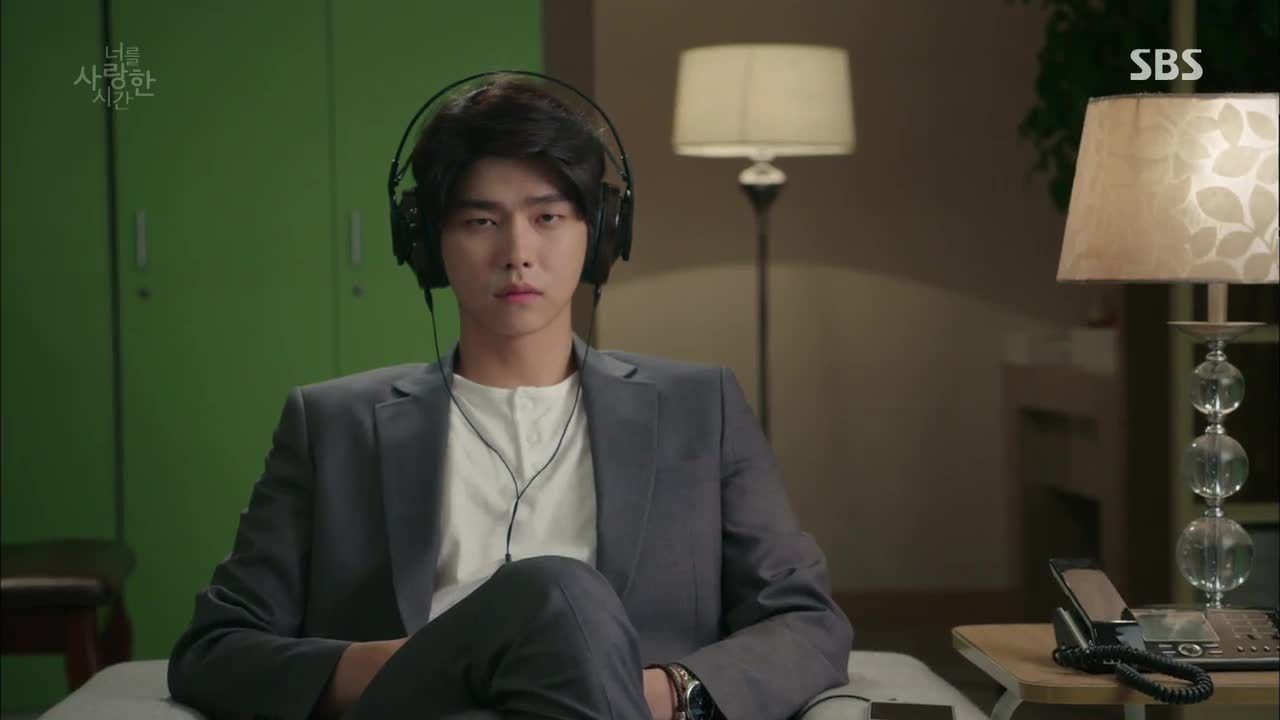 Seo-hoo doesn't allow for incompetence or excuses when it comes to his work, and is to the point with his employees when he's displeased with something. He listens to the concerto he'll be playing as his thoughts drift to Hana… and Hana with Won.
So-eun surprises Hana outside her house to invite herself to her and Won's bike ride, since Won didn't invite her himself. Both Hana and Won share a look like, "Well?"
We flash back to So-eun grilling Won on why he hadn't responded to her texts, and when he tells her it's because he already had something planned with Hana, So-eun invites herself along. Won tried to tell her then that he thinks of her just as a hoobae (so, non-romantically), but So-eun responded that she thinks of him as someone she wants to date seriously.
She then claimed that it didn't matter to her if he thought of her as someone he wanted to date or not—but she'd continue to do what she wanted with her heart. Won thought about that and asked if she should be more considerate of others' feelings since it's not just her heart involved.
And now that she's invited herself anyway, I guess he has his answer on how considerate she really is. So-eun even glares at Hana so she gets to sit shotgun instead of her. Whoa, someone needs to tell this girl to pump the brakes.
Because So-eun claims she doesn't know how to ride a bike, she rides a tandem bicycle with Won. He even asks her why she came when she doesn't know how to ride, and she just laughs.
When they sit down to the lunch So-eun's prepared, she hands him a serving of red ginseng, only for him to hand it over to Hana. Despite Hana's concerns that she became the third wheel on their date, it seems like that's fallen to So-eun instead.
So-eun makes a deliberate comment that the two of them seem more like siblings, but they almost seem to be playing up the cutesy angle in front of her on purpose. Again though, So-eun seems to be the one reminding them that they're friends… right?
After a shoe-selling interlude with Dae-bok, we return to Three's Company at a batting cage. So-eun sees that Hana doesn't want to play when Won urges her to, so she eggs her on deliberately just to make her more uncomfortable. I hope Won is noticing all this.
As expected, Hana absolutely sucks at batting. But it doesn't go the way So-eun wanted when Won enters the batting cage with her, positions himself behind her, and helps her learn how to swing. So-eun tries to get him to teach her the same way he taught Hana (for the close contact), but he just offers her advice instead. Burn.
Won has to cut the day short because he received a call from his mom, which he doesn't seem too happy about. So-eun keeps up her cheery facade and acts like she's had a great day, emphasizing that she will see Won at work tomorrow.
While driving, Won makes funny faces at Hana to make her smile. But when he does, Hana thinks of the day she figured out what that expression of his meant before she turned twenty.
It was also the same day that Won's mother left him with just a note saying: "Son, you understand your mom, don't you? I love you." Hana had found him then, and saw the same expression on his face. Instead of being sad, Won had talked about unrelated things while acting completely unaffected.
Mi-hyang knows Won's in a mood because his mother called, and has no sympathy for the woman who left her son because she found love elsewhere. Won reminds her that she's still his mother, but she claims that he hasn't found love because of his complicated relationship with his mom.
Won says she's not one to talk when she's obsessed with an idol, but Mi-hyang explains that loving an idol is safe and easy—they love to be loved, and she can't get hurt that way. (I'd disagree there, as a fellow idol lover.) But she makes sure to slip in a comment about how Won's just like his father, since his dad would always take his mom's side too.
While Hana enjoys a family dinner with her thoughts never straying too far from Won, Won's room is filled with colorful lights. A call from Hana reveals that she's the source, using a projector out of her window to spill into his room across the way. Aww.
Hana has to pay for a mistake her assistant made in ordering the wrong shoe size for a model, resulting in the model wearing a different pair of shoes for her CF. As Hana gets scolded and sees her assistant in tears, she thinks to herself, "There was a time when tears were my weapon. But now that I'm thirty-four and a team leader, tears equal incompetence, and words are just excuses."
Seo-hoo pays a visit to Won at work, despite the fact that only employees are supposed to be allowed where he is. The meeting is tense, and it soon becomes clear that neither of them like the other very much. Or at all.
"I just wanted to confirm one thing," Seo-hoo says dispassionately. "You and Hana are still just friends, right?" Won refuses to answer him on principle, because he doesn't answer to him.
But he does grab Seo-hoo by the shoulder to warn him against playing with Hana's emotions, to which Seo-hoo replies that if she wavers because of whatever he does, that's her decision.
"Listen carefully, Cha Seo-hoo," Won all but growls. "I'm not going to let a guy like you toy with Hana ever again." Seo-hoo looks at him with derision and asks if he even has the power to stop him, with both of them seeming to know that he doesn't.
Hana receives an anonymous gift of a big stuffed bunny at her office, but doesn't seem to question who it came from all that much. Won would rather her dispose of it, guessing that it came from Seo-hoo, but she likes it—it's the first time someone's ever given her a stuffed animal.
Won does his best to keep Hana out, not wanting her to go home to find Seo-hoo waiting. After keeping her out for as long as he can he finally returns her home with her stuffed animal, but makes sure to walk her to the gate. He keeps a sharp eye out for Seo-hoo but doesn't see him lingering nearby.
At home, her parents sigh about their single daughter, inevitably bringing up how torn up she was after she broke up with Seo-hoo. At least her father seems to have not-so-fond memories of Seo-hoo, since he asks his wife why she's bringing "that bastard" up again. Plus, he's more for Hana living how she wants rather than Hana living only to get married. (Go Dad!)
So-eun scores points with Mi-hyang by serving her her favorite alcohol, though it's a bit creepy that she found out what she likes by doing research. At the same, she has to ask Mi-hyang about what kind of girls Won likes, what hobbies he enjoys, etc.
Mi-hyang knows she won't like the answer, since the only girl he's ever talked about is Hana. The food he enjoys most is whatever Hana's mother cooks for him. His hobbies are eating chicken feet with Hana and making bets with her. She's right—So-eun doesn't like what she says.
But she adds that Won likes a girl who he can take care of and protect, and his original dream was to become a movie director. He had to give it up to face reality, though. So-eun repeats the part about him liking a girl who won't ever leave him in a way that makes me think she's totally misinterpreting what that means.
Seo-hoo visits Hana at work (does he have a key to the city?) to surprise her, and it doesn't seem to be a happy one on her end. He managed to get some time with her by telling her superiors he wants to wear their brand of clothes and shoes, and Hana has to be the one to pick them out for him.
He takes Hana out of the office by the hand, which sends her coworkers into a gossiping frenzy. Once they're alone Hana pulls her hand from his, but he seems to tune out her protests by commenting on how pretty she looks, and how she's lost weight. Pushy, isn't he?
Hana pushes his hand away when he reaches for her face, causing him to laugh that she hasn't changed. She tries hard to get him to actually listen to her but he still steamrolls over her, this time by saying, "I missed you. A lot."
He reveals that he's the one who sent her the bunny, and asks her to remember why he would've send that to her before leaving her just like that. This guy seems… unsafe.
Won still wonders why Seo-hoo would've given Hana a bunny as a present instead of jewelry or clothes, and asks his coworkers what they think. "That means he's not putting a price tag on his love," one notes. "He wants to start their love on a good note. Either he's a master player or he has zero sense."
After calling Won, Hana disappears into her own reveries. Looks like she was once engaged to be married to Seo-hoo, and Won was in attendance at her wedding party. When she wakes up from her dream world she finds Won standing over her.
"Seo-hoo came back," she sighs. "He's still just does what he wants to do. He's selfish, arrogant." Then she tells him about how Seo-hoo barged into her office without considering her feelings, said what he wanted to say, and left.
"You can't be with Cha Seo-hoo," Won says firmly. Hana just saying she knows isn't enough for him—he'd told her before that Seo-hoo was no good. She only admitted it after he threw her away three years ago, as evidenced by the flashback where her wedding guests are all gone, and only she and Won remained.
Hana retreats to her room after her parents display concern over whether she'll become an old spinster who only talks to her enormous bunny stuffed animal, and she makes a promise that she won't do as Seo-hoo said and think about why he gave her that gift.
Won thinks back to when he'd hung out with all his and Hana's old high school buddies, who were all talking about how hung up Hana was over Seo-hoo. It was then that he got a call from Hana saying she was suddenly free—Seo-hoo had an important meeting to go to, and that he'd encouraged her to go hang out with her friends.
She'd thought that was terribly thoughtful of him, but while she was on the phone with Won, Won saw Seo-hoo walk into the bar he was in with another girl on his arm… before joining more girls, and even giving one a gift. Yikes.
Hana pays special attention to what she wears the next day, opting for flashier heels over her more comfortable flats. She pays for it though, and slouches over in pain when she's alone. Such is a woman's life.
She looks around to see if she has any special visitors and finds none—instead there's a flower arrangement waiting on her desk with a note from Seo-hoo that reads: "I'll come pick you up for dinner tonight." Hana asks her assistant to throw the flowers away.
So-eun suffers from some mystery illness that she makes a show of, and when Won brings her vitamins to take, she asks, "Oppa, can't you just keep taking care of me? Then I'll take care of you." Oh, is she doing this because of what Mi-hyang said?
Won shuts her down with his answer that he was just a sunbae taking care of a hoobae, but that he does genuinely hope she feels better.
Hana skips out on the company dinner, seemingly waiting for Seo-hoo. When Won texts her to ask her out for a movie, she thinks about declining, and fishes Seo-hoo's invitation to dinner out of the trash. She actually wants to go?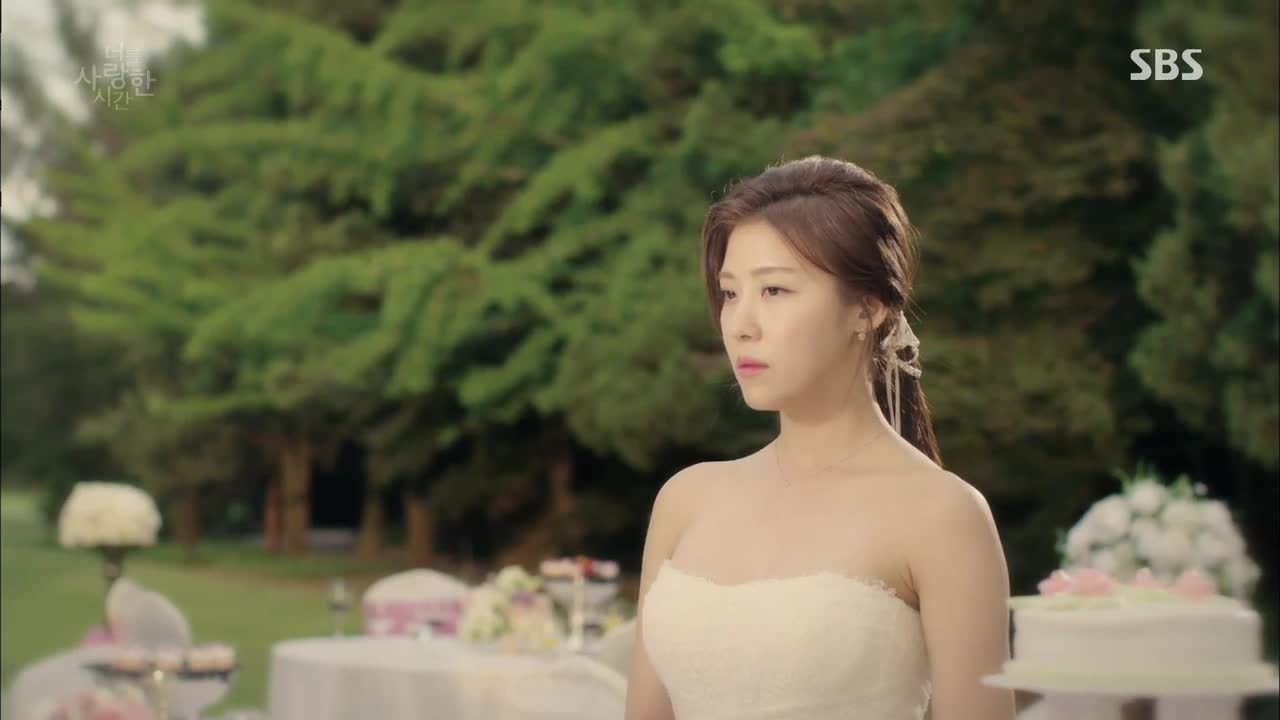 She doesn't know what time Seo-hoo wants to take her to dinner, so she ends up saying yes to Won. No sooner does she do that that Seo-hoo texts her saying he'll be late, but has something he really needs to tell her. She waffles in indecision.
Flash back to her wedding party, where she'd slowly lingered with her dwindling guests until no one but her was left. And Won, of course. In voiceover we hear her say, "I left the important things someplace important, and I'd completely forgotten where that was. I've buried the most splendid love and terrible wounds somewhere [where it cannot be found], and I've lived my life having forgotten them."
Hana ends up staying at the office to wait for Seo-hoo, leaving Won to watch the movie alone. Both of them end up getting fed up with being alone at the same time and leave, but when Won calls Hana, she deliberately lets the phone keep ringing. Whyyyyy.
He starts running then, and makes it to where Hana is. He asks her why she bailed when she said she was coming, then guesses that she was waiting for Seo-hoo. He thought she knew better after going through all the hurt she did.
She says that she knows Seo-hoo is a bad person, but she couldn't help but wonder what he wanted—needed—to tell her. "So you've been waiting like this again because of something that bastard said," Won says, completely frustrated.
Hana knows, but explains that she didn't get to hear anything when Seo-hoo just left her before. "I want to at least hear an apology, or even an explanation," she says. It's like she doesn't listen to Won when he asks what she plans to do after hearing all that.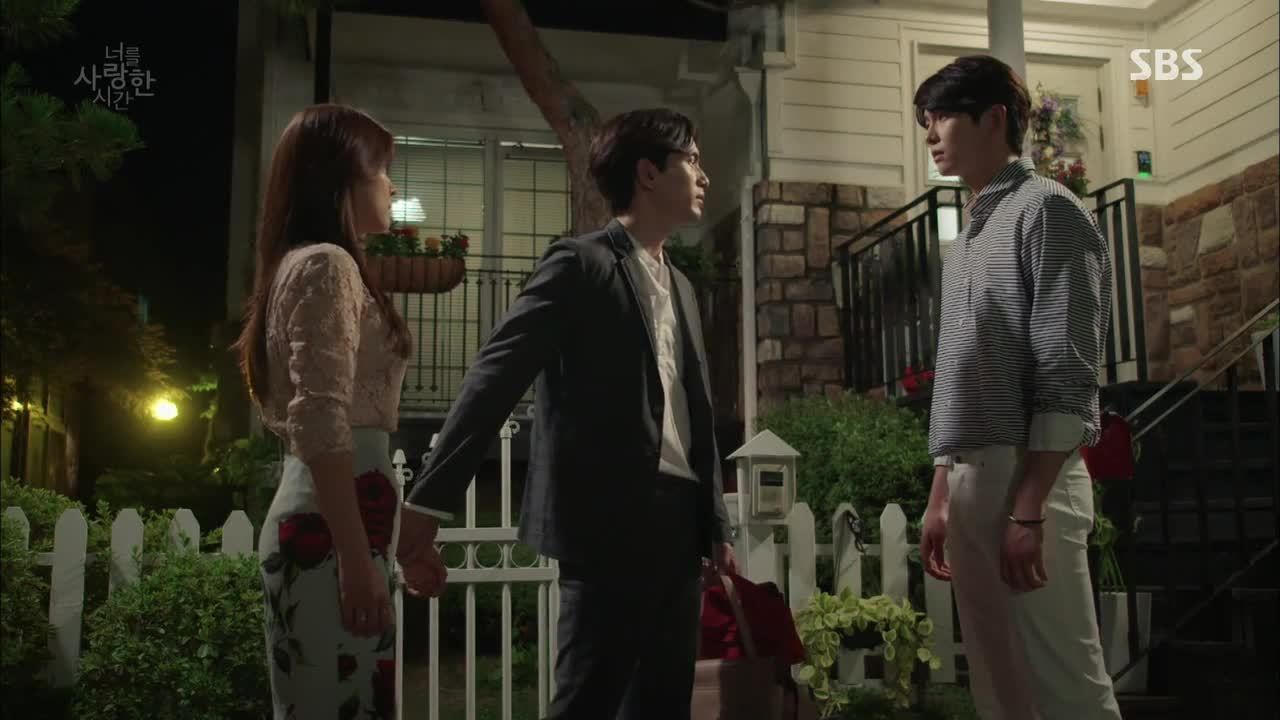 "I want to ask why he sent the rabbit doll," she goes on, and that's the last straw for Won. Convinced that there's something bad inside the doll, he takes her by the wrist to her house with plans to rip the darn thing up and show her.
But they run into Seo-hoo waiting outside her house. Though he apologizes for being late, Won pulls Hana behind him protectively and tells Seo-hoo to get lost, in no uncertain terms.

COMMENTS
There's been a lot of talk about protection in this show when it comes to Hana and Won, though there's a key difference in what that word means to each of them: Hana wants to be protected and is drawn to men who can give her that feeling, while Won—as Mi-hyang put it this episode—wants a girl he can protect.
Hana fell for Sung-jae because he gave her that feeling of protection, and during their last conversation, he admitted that he'd entertained the idea of becoming her protector. Won likes to be that shield for Hana, and now that So-eun's found that out, she seems keen on manipulating that preference of his for all it's worth.
So-eun had flashes of being that second lead before, but I was a little surprised at how that aspect of her personality came front and center all of a sudden. I used to feel sorry for her when Won was sending her mixed signals, but it was strange that he was waffling about in indecision before this hour came along and changed everything. Why did he lead So-eun on so long only to draw the line now? I wonder what changed? Well, besides the writer. Again. (I swear, either I'm the curse or I'm cursed when it comes to shows with production woes and sudden writer switches.)
Either way, now that he is trying to be clear about what he and So-eun are to each other, it makes So-eun's efforts less pitiable and more conventionally unpleasant. But Won's mind is a mystery to most, it seems—he does his job as Hana's protector but at a certain cost to her. He does his job so well that he doesn't feel the need to include her, and has kept her in the dark about a lot of things through their lives, mostly in relation to his feelings. What I'm curious to know is whether he saw Seo-hoo messing around with other women before the wedding and never told Hana about it. If he didn't, I'd seriously re-evaluate his best friend status.
At the same time, the fact that he was willing to step back and allow Hana to be happily married to someone else says something about him. Either he was content enough to stay as her best friend, or he's repressed his romantic feelings to the point where he couldn't bring himself to intercede before her Wedding That Wasn't. But now that he is stepping back into the protector role when it comes to Hana and her inability to stay away from a man who not only left her at the altar without a word, but who still displays the exact same oh-so-swoonworthy charms she initially fell for, I can't help but hope against hope that Hana will find the strength to become her own protector.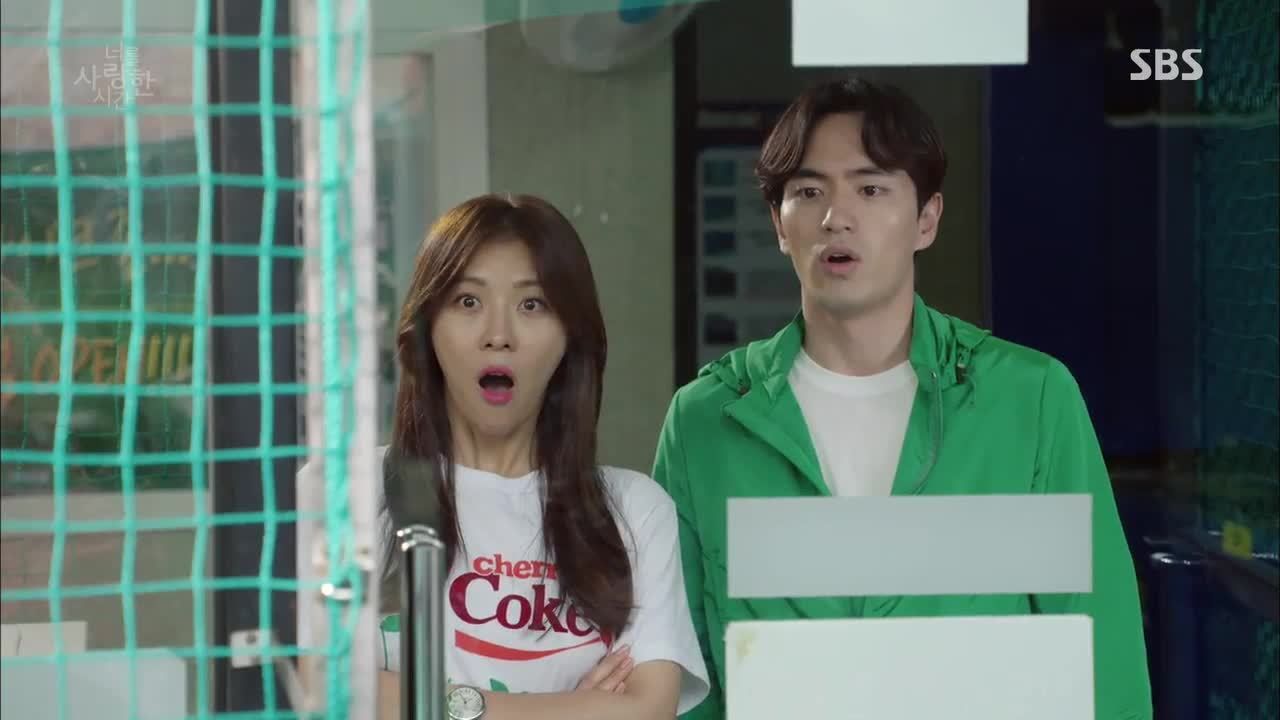 RELATED POSTS
Tags: featured, Ha Ji-won, Lee Jin-wook, The Time I've Loved You