The Time I've Loved You: Episode 8
If timing is everything, then the two men vying for our heroine's affections seem to be in desperate need of an intelligent alarm clock to tell them when it is or isn't a good time to say their piece. And if the person coming clean isn't going to be among any of our leads, then this tangled web of crossed wires, mixed signals, and incredibly belated quasi-explanations is just going to get worse for everyone involved—especially if Hana remains unaware that she's got a second (and arguably more worthy) suitor right under her nose.
SONG OF THE DAY
Mamamoo – "Piano Man" [ Download ]
Audio clip: Adobe Flash Player (version 9 or above) is required to play this audio clip. Download the latest version here. You also need to have JavaScript enabled in your browser.

EPISODE 8 RECAP
We rewind a bit to the company bar scene, where Seo-hoo doesn't seem to be trying too hard to mask the fact that he's doing this performance for Tandy because of Hana.
He has a reason to perform well this time, he says, making direct eye contact with her as he does so. He sings Hana's praises to her boss and coworkers, knowing exactly what to say to get Director Byun to order Hana to concentrate only on Seo-hoo's project from here on out.
Afterward, as Won piggybacks a drunk Hana home, he remembers doing the same for her once in their younger days. Only then could he work up the courage to say, "Hana, I like you." But she'd been too drunk to listen.
In the present, he tucks her into her own bed and brushes her hair away from her face, as he always seems to do whenever she's asleep. He remembers when he told her liked her, as well as how she'd told Seo-hoo she hated him right before he picked her up.
"Don't make me worry too much, Oh Hana," Won says fondly, as he smiles down at her passed out form.
Meanwhile, Seo-hoo makes it clear to his worried manager that he's not going anywhere until he does this charity performance, no matter how high the demand is elsewhere. "No matter what happens, I'm not going to give up this time," he says. Methinks he's not talking about the concert.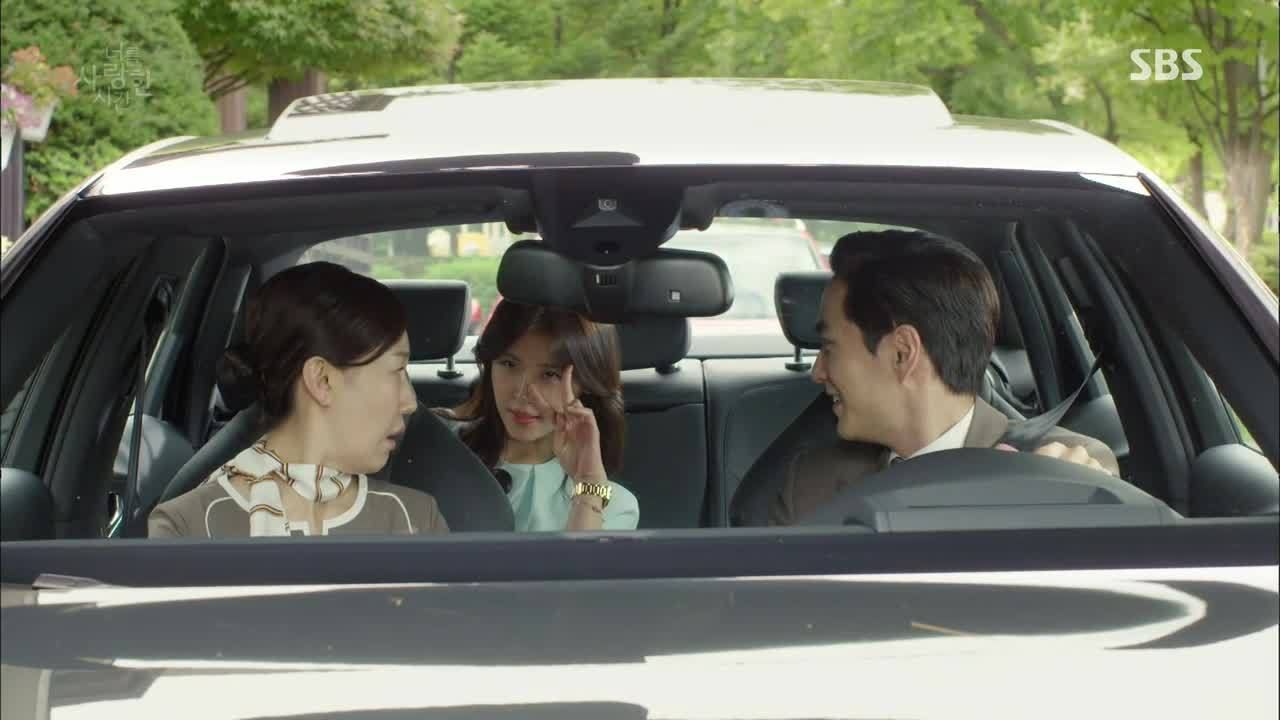 Hana wakes up to find her family standing around her bed, all of them ready to tsk at her for coming home so plastered last night. "There's no one who can take responsibility for you except for Won Hyung," Dae-bok sighs. Dad agrees with him.
Won offers to drive Hana to work the next morning, convinced that she's still a little bit under the influence. She doesn't seem to remember much of him carrying her home the night before, but finds out that her assistant had been the one to tell Won where he could find her.
Despite what Min-ji did to her, Hana still gives her advice on how to proceed with the Chinese market project that was taken away from her. She makes it clear, however, that she's not doing it for Min-ji, but because she wants to see the project she started turn out well.
Won gets a surprise when Mi-hyang congratulates him for being selected for overseas training—she's even jealous of him. But Won can't help but fixate on the fact that it's two years abroad, and even though it'd certainly mean a promotion, he needs time to think.
When passing by a truly excessive number of posters for Seo-hoo's upcoming concert, Hana grips her chest and steels herself for her meeting with the man himself.
No sooner does she walk into the room that Seo-hoo gives her a litany of orders: She's to be with him a set amount of hours each day until the performance, she has to make any adjustments in his schedule accordingly, and must be available for him to contact her 24/7.
Some of the wind gets knocked out of his sails when Hana simply agrees to everything, since he was hoping for her to put up more of a fight against what he knows is a ridiculous schedule.
Hana just sighs that she doesn't have the time or patience to humor him before adding, "It's painful enough just being with you." "This isn't fun," Seo-hoo says disappointingly. Of course it isn't fun when you're being a turd.
She spends the day doing chores for him as promised, and ends it by watching him practice playing until he's dripping with sweat. Only when his manager comes to sit by her does she reveal that she's been watching him practice for five hours straight.
Manager Yoon wonders why she'd watch for so long, and she replies that it's because she's looking forward to an amazing performance. It becomes clear that Seo-hoo is where he is because he's a perfectionist, so when he hits the wrong key and starts all over again, Hana continues to watch as if transfixed.
She receives a call from Won later asking her out to dinner, and she says yes despite being tired and very, very foot-sore. She agrees to meet him after she leaves work, but suddenly finds her legs picked up and placed in Seo-hoo's lap so he can massage them. "Who said you can rest?" he asks harshly.
Hana hangs up on Won and struggles to free her legs from Seo-hoo's grasp, but he asks her to just stay still for this one moment. When he realizes she's really not into it, he apologizes—he was just playing around.
She tells him to stop playing around, because she doesn't like it. He smiles as she walks away, while she mutters that he's so arrogant for being one year younger than her.
After The Three Stooges at work comment on how So-eun went from crying to smiling and laughing eerily quickly, So-eun finds Won thinking to himself about the overseas training offer. He just nods at her in acknowledgment, and she says to herself once he's gone, "He won't even give me a chance."
Dae-bok refuses Assistant Hong's offer to date as well as her tickets to see Seo-hoo's recital, the latter being for personal reasons. Meanwhile Seo-hoo stops Hana from leaving by grabbing her by the wrist, before expecting her to be okay with him accompanying her to work.
She isn't, even though Seo-hoo convinces her that she has to stick by his side because he's her work now. He smiles when she storms off, and I gotta admit, he's really starting to worry me.
So-eun questions Mi-hyang about Won's overseas offer, and at first, Mi-hyang thinks that So-eun's enthusiasm for Won to take it means that she's really gotten over him.
It's just the opposite—she just wants him to be far from Hana. At least Mi-hyang seems to be realizing that So-eun's not as nice as she'd like people to believe. Or she could just be thinking that So-eun's got a point, it's hard to tell.
Seo-hoo uses every excuse possible to keep Hana by his side, and this time, he has her helping him try on shoes. Of course none of them are the right pair because that'd mean she'd have to stop kneeling and putting them on for him, which is what Won sees when he approaches the storefront.
Won calls her to tell her to come out after she's done working, and though she doesn't see him, Seo-hoo does. His face immediately falls.
Both she and Won are in a sour mood when they finally go out to eat, and end up turning every little thing into a fight. While Won's away, Mi-hyang finds the ring-shaped box in his room… only it's not a ring, but a necklace.
Won keeps up his nagging until Hana can't take it anymore. She turns on him to ask what on earth is his problem, and doesn't take his weak defenses into account.
"You're always like this," Hana says angrily. "Whatever the problem is, whatever you're not happy about, whatever you really want to say… why can't you just say it directly? How am I supposed to know what you're thinking? Even though I've known you for seventeen years, I really don't know how you truly feel."
As she walks away in her painful heels, Won says to himself, "I don't know either."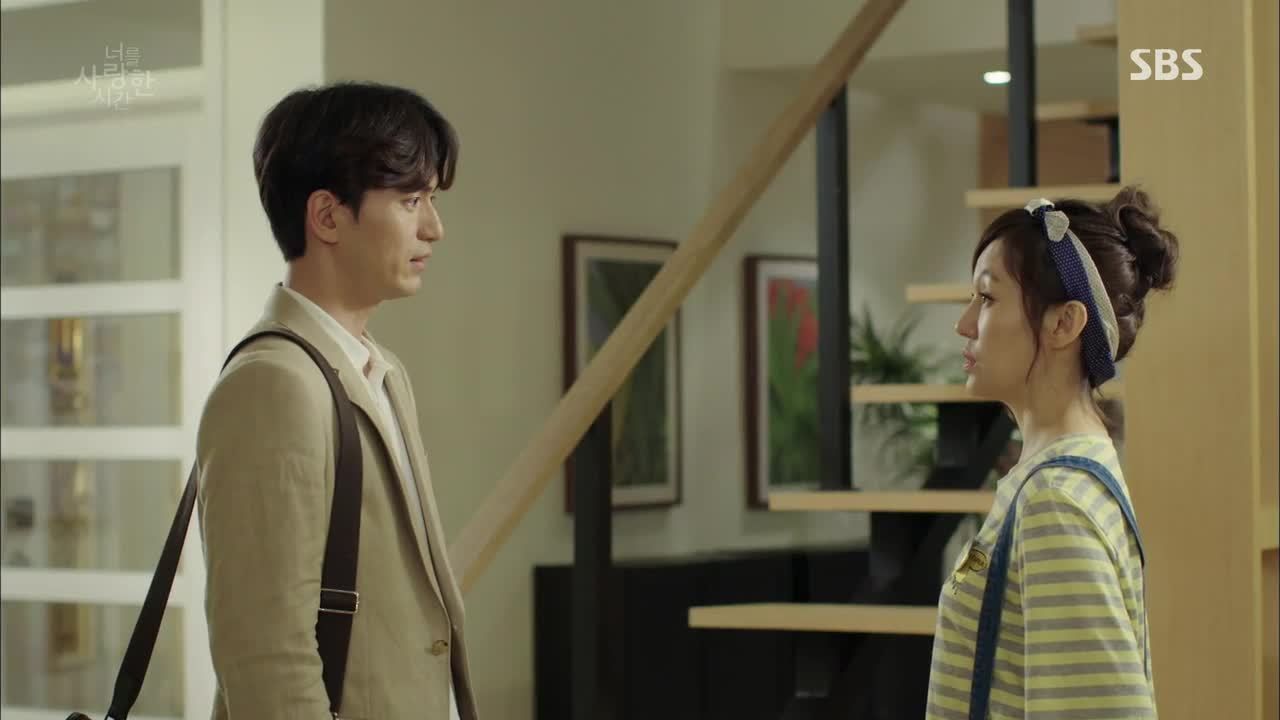 Mi-hyang confronts Won about the necklace she found when he gets home, wondering if Hana's the reason why he doesn't want to take the overseas training position. She thinks a little time apart from Hana would do them both some good, and besides, he needs to think of his priorities first.
Won calls Hana when he gets up into his room, and though she asks what's up with him for him to be acting the way he is, she says okay to his offer to take her shopping tomorrow. Won looks at the necklace box with a smile—is he planning on giving it to her?
The first thing he asks when they meet up is whether they're going to forget about yesterday's tiff. "Did something happen yesterday?" Hana asks innocently. Won grins and shoots her approving finger guns. He likes her style.
They're shopping for her parents' thirty-four year anniversary, and while Hana thinks that being together that long means that things are probably stale but comfortable between them, Won thinks differently. How could she think that her parents have grown tired of each other? "They're the happiest when they're together," he counters defensively.
It's a PPL-fest when Hana and Won give gifts to her parents, including a trip to Jeju Island that Won supplied for Dae-bok to present. They all know it was Won's doing anyway, but it's the thought that counts?
Won elbows Hana into admitting that he's an awesome friend after, since he'll drive her parents to the airport for their trip. "I think I like your mom and dad too much," he admits. "I feel this every meal, but I'm so happy that I can eat and laugh together with the whole family."
Hana knows what he means, since her parents find the dinner table lacking whenever Won's not there. That's when Won brings up that he got an opportunity to train overseas, which Hana is overjoyed about—it'd be a great thing for him. He has her full blessing to go.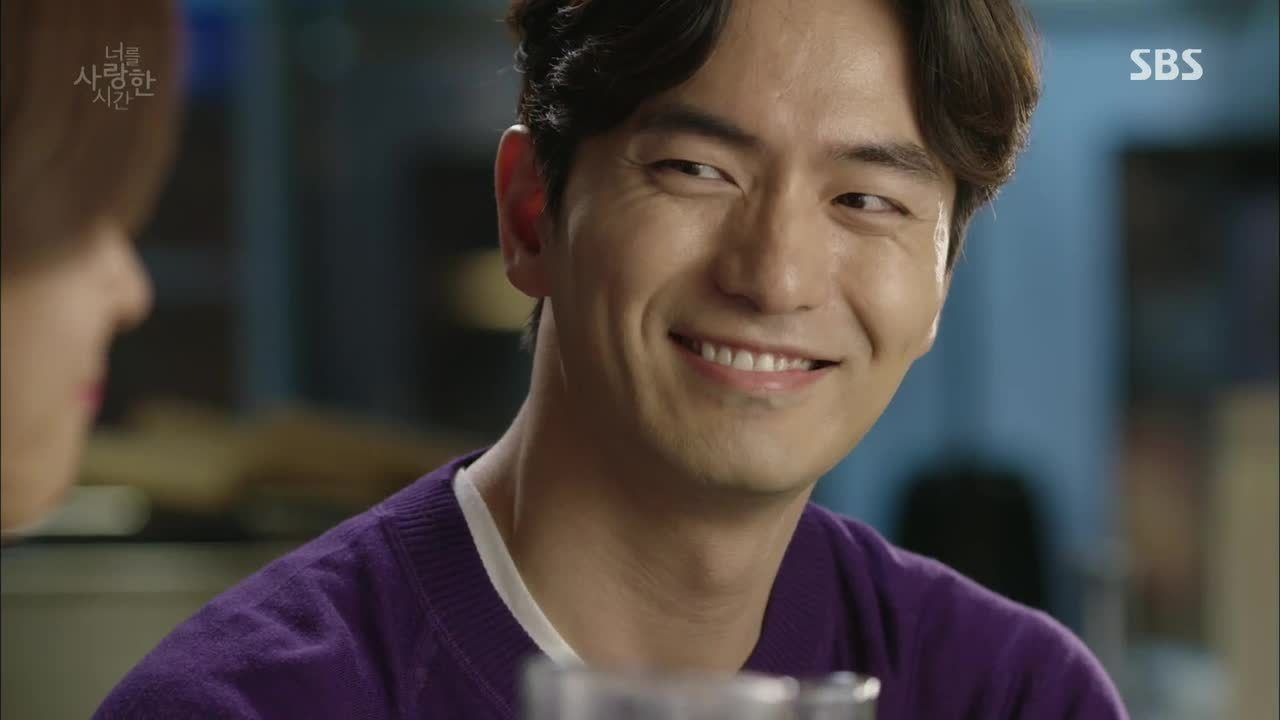 But when he asks her how she'll live without him for two years, she admits she'll probably be bored, and will miss having someone to call in the middle of the night. She'll miss him for sure, since the only other time they've been apart for more than a year was when he was in the army. And even then, she visited every chance she got.
"Don't worry about me and just go," she says, and means it. If it's going to be a good thing for him, she'll be okay being bored for a little while. Won shakes his head knowingly, and when she asks why he's nodding as if he knows something, his sly reply is that he knows everything.
While Won drops Hana's parents off at the airport and takes some photos with them (shoes and cameras and plane tickets, oh my!), Hana gets an earful from Na-young about working with Seo-hoo.
Though her other friend argues that he may have had a reason for being MIA for three years, Na-young echoes my own sentiments by being all, "Reason? What reason? Did he break his legs in an accident or something?" But Hana defends that he's her job for now, and she just has to deal with it.
Manager Yoon calls Hana to come to the theater, since there's a problem with Seo-hoo's upcoming recital. She finds Seo-hoo with his stern-faced teacher, who chastises him for trying to branch off while being heedless of his sponsors, since it'll reflect poorly on his own name.
Even though he threatens Seo-hoo's career, Seo-hoo sticks by his decision to play when and where he wants—hasn't he earned it after doing every performance his company and sponsors demanded of him so far?
Apparently not. By the time Hana's brought into the conversation (except not really), Seo-hoo's teacher says this is just like what happened three years ago. Seo-hoo all but begs for him to stop talking, but his teacher refuses as he scolds Seo-hoo for wanting to go to a measly engagement ceremony instead of his scheduled performance.
Hana confronts Seo-hoo about what his teacher said about him going to the engagement ceremony once they're alone. "It's as you heard. I went," he answers. "You looked pretty. It would have been better if I saw you before you cried." In utter disbelief, Hana asks again if that means he actually showed up to the ceremony. Seo-hoo: "Yes. Even though I was late."
"You were late?" Hana all but stutters. "How can you say that now? This is unbelievable. You should've said why you were late that day. You should have explained it clearly! 'I'm sorry, I was wrong.' You should have begged and begged! Whether it was the next day or the week after, you should have told me that you didn't leave me that day, that I wasn't abandoned!"
"I'm sorry, Hana," Seo-hoo finally says. Not enough. Hana asks if he came back to apologize, but he didn't—he came back to gain the right to get back together with her, to never lose her again. Hana just looks at him with tears in her eyes. "Looking back, it would have been better if you never even came that day."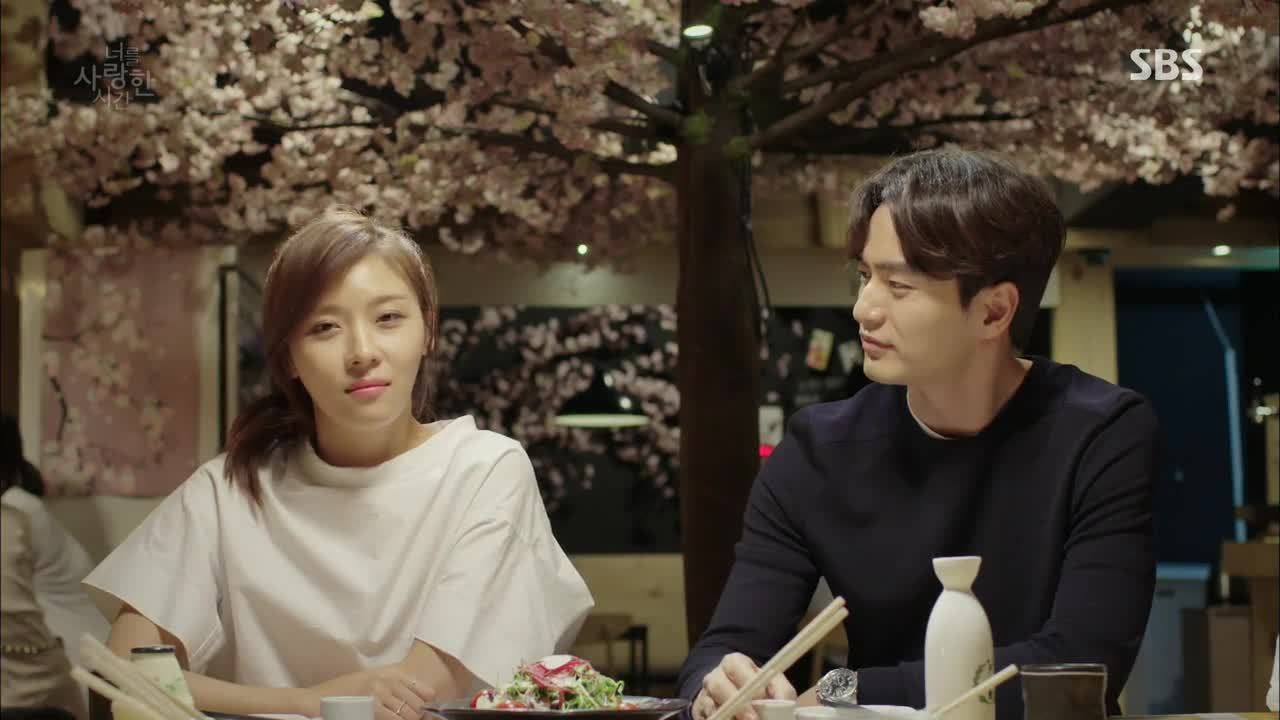 Won spots her on her way home and follows her in silence, but when she turns back to see him, she smiles as though everything's fine. Just seeing his face is enough to turn her terrible day around, she says.
She tells him what she just found out, about Seo-hoo coming to the engagement ceremony late because there was a problem with his performance. "There was a problem with his performance, so he didn't show up at the engagement party and didn't say a word for three years. Does that even make sense?" he asks her.
She knows it doesn't, but she's so shaken up by the fact that he showed up, however late. It makes her feel like the last three years she spent hating him have been wasted somehow. Won remains the voice of reason and asks why Seo-hoo didn't explain himself even though he came late, which Hana doesn't have an answer for.
Now it's as though everything she's built is falling down around her, she sighs. Won asks if he shouldn't go to his overseas training then, but Hana won't let him stay for her. It's enough to make her wonder though, if he'd stopped her from going to Paris for training, would she not have met Seo-hoo then?
"If you were there next to me, would I have known sooner how much of a bad guy he is?" If he'd scolded her when she first met Seo-hoo, would things have been different?
"If I told you not to go, would you have stayed?" Won asks in all seriousness. A tense moment passes between them, which Hana breaks when she jokingly says that he never would've done that anyway. Won's expression seems to suggest otherwise, but as always, he doesn't voice his true feelings.
He does tell Mi-hyang that he won't be doing the overseas training after all, even though he knows it's a good opportunity and that he's being foolish for not going. Mi-hyang couldn't disagree with him any more, but Won asks her to respect his decision.
News breaks that Seo-hoo's recital has been cancelled, which has Director Byun worried that their collaboration with him will suffer if his image goes down the drain. But Manager Yoon corrects him on that, claiming that Seo-hoo had nothing to do with the cancellation—it was his agency's decision.
Hana finds Seo-hoo alone in the concert hall and asks if the cancellation was his doing. "Do you think I'm that powerful?" he quips back ruefully. It was the decision of people bigger than him who think they have the power to ruin him.
But since she came to see him, he wonders, does it mean she was worried about him? Hana says she was only concerned on behalf of the company, which has him disappointed. Regardless, their collaboration will continue.
"I'm not going to make things hard on you because of my problems. Never again," he adds with conviction. "More than that, I don't ever want to lose you again. That's the reason I came back."
While Won tries to prepare the perfect way to give Hana the necklace at their rooftop spot, Seo-hoo leaves her with some of his sheet music and tells her to come back when she remembers. Remembers what, exactly? Only she'll be able to find that out.
Sigh. If we're watching the photo slideshow and present Won's prepared for Hana, that means Hana never will, doesn't it.
And so it happens that she sees the note she left Seo-hoo in his sheet music, which had been a drawing of a rabbit she claimed looked like him. He'd also given her a rabbit charm. Cue sunny memories of their happiest days as Hana remembers everything, and Seo-hoo did tell her to return to him if she did…
…So while Won waits for her on the rooftop, Hana runs back into the concert hall.

COMMENTS
Auuuuuuugh. It's fine if they're going to force Seo-hoo down our throats as a romantic contender, but what's a girl gotta do to get some straightforward answers up in here? Sure, it's a huge revelation that Seo-hoo showed up to the engagement ceremony at all, but why is Hana less concerned about the fact that he waited three years to tell her than she is about the fact that he showed up and never told her?
Not only did he let Hana think she'd been cruelly abandoned on that day of all days, he had three freaking years to explain himself. That's 1,095 days he could've used just one of to call her up and tell her that his being late was out of his hands. That's 26,297 hours he wasted for apparently no good reason before randomly coming back to tell her he never wants to lose her again, when the reason he lost her at all was because he wasn't willing to walk twenty yards to tell her he'd been held up by forces beyond his control.
I just don't understand. It doesn't help that Seo-hoo is all over the place as a character, running from hot to cold to just plain weird in any given scene without much warning or reason. I get that he's coming up with all these contrivances to keep Hana by his side, but what outdated operating system is he running on if he thinks that being insensitive and needlessly forceful will win her over when he could just try, I dunno, being nice instead? The kind of tricks he's pulling would work better if he was a maladjusted chaebol in another drama where he hadn't been engaged to the heroine and left her without explanation, but this is not that drama, and his actions should ideally follow accordingly. Or—and I'm just spitballing here—he could try using words.
To his credit, I guess he did come clean on a few things, though I doubt that he would've ever brought up the engagement ceremony if Hana hadn't conveniently crashed that conversation with his teacher. Hana tore into Won about not being able to read his mind, yet she's not holding Seo-hoo up to the same standards. And why did no one seem to question why Seo-hoo could come to Korea and set up a collaborative concert before someone in his Big Bad Agency noticed and forced him to cancel for… what, again? Unless he's working for SM and has spent the last three years locked in their basement, is he supposed to be a (literally) tortured artist, forced to perform only when his masters say so?
It'll really suck for Won if, after all this time, he ends up losing his chance to tell Hana his true feelings because Seo-hoo kept a post-it note. Except he's had seventeen years, and only recently decided that he did have real feelings for her. It does make me wonder when and how Won changed from "I'll never love you" to "Never mind I love you," but I guess that'd mean people in this show would need to start talking turkey. Gobble gobble, The Time I've Lied To You. Gobble gobble.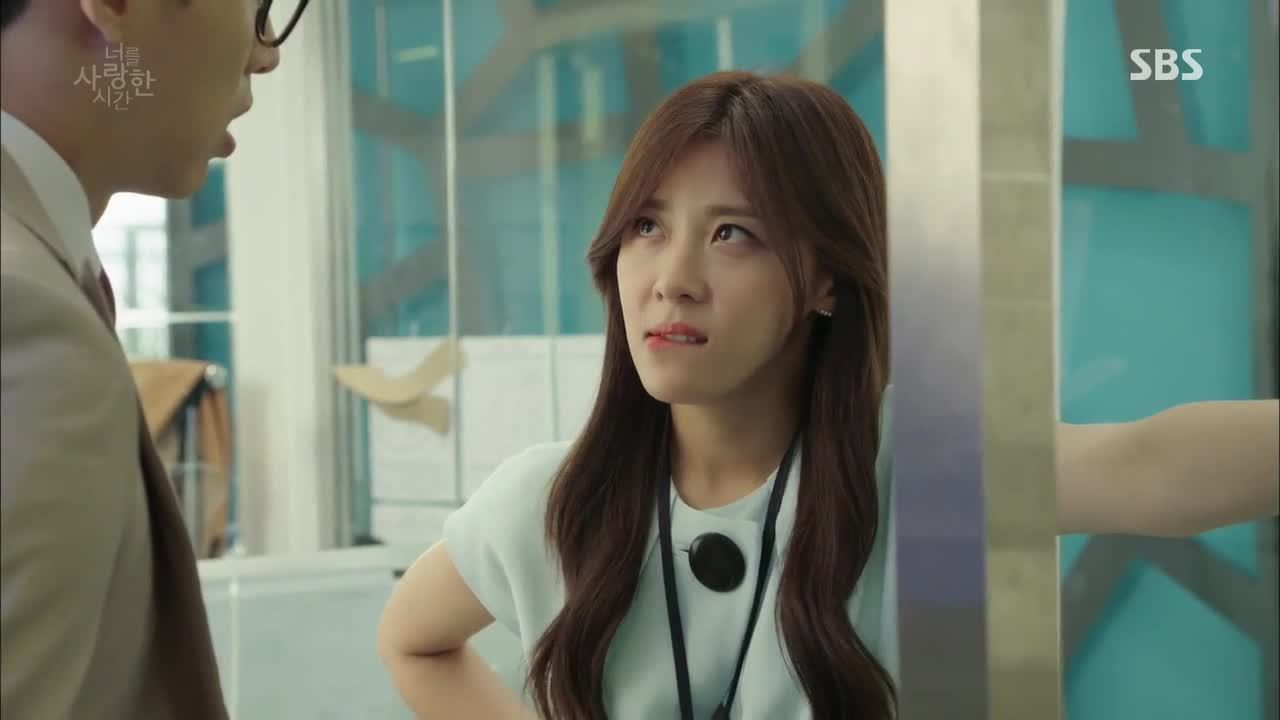 RELATED POSTS
Tags: featured, Ha Ji-won, Lee Jin-wook, The Time I've Loved You