Last: Episode 12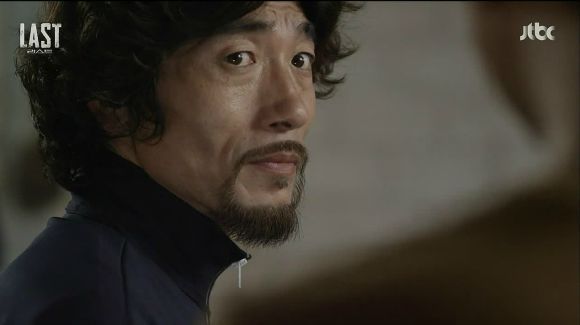 Tae-ho is just trying to fight to stay alive, but Jong-gu is trying to show the other homeless men that they are worth fighting for — lives that are worth more than being treated like less than dirt. It's a classic tale of the rich and powerful few versus the poor but many, and as the system starts to crumble, there will be hell to pay. But who, exactly, will pay?
EPISODE 12 RECAP
Tae-ho points the gun at Heung-sam, and it turns out he has some leverage of his own: Se-hoon's "adoptive father," whom Tae-ho intercepted before he could enter the cafe where Jung-min had invited him. Heung-sam laughs it off — how can he trust such a ridiculous story from a guy who's holding a gun to his head?
But Tae-ho asks if Heung-sam would have listened to him without a gun pointed at his head, and then he holds up a key card, saying that the adoptive father is now at one of the rooms in Heung-sam's hotel. Heung-sam assumes that Tae-ho will use him as a hostage to escape while Praying Mantis goes to confirm, but instead Tae-ho shoots at a window just behind Heung-sam, getting rid of the bullet.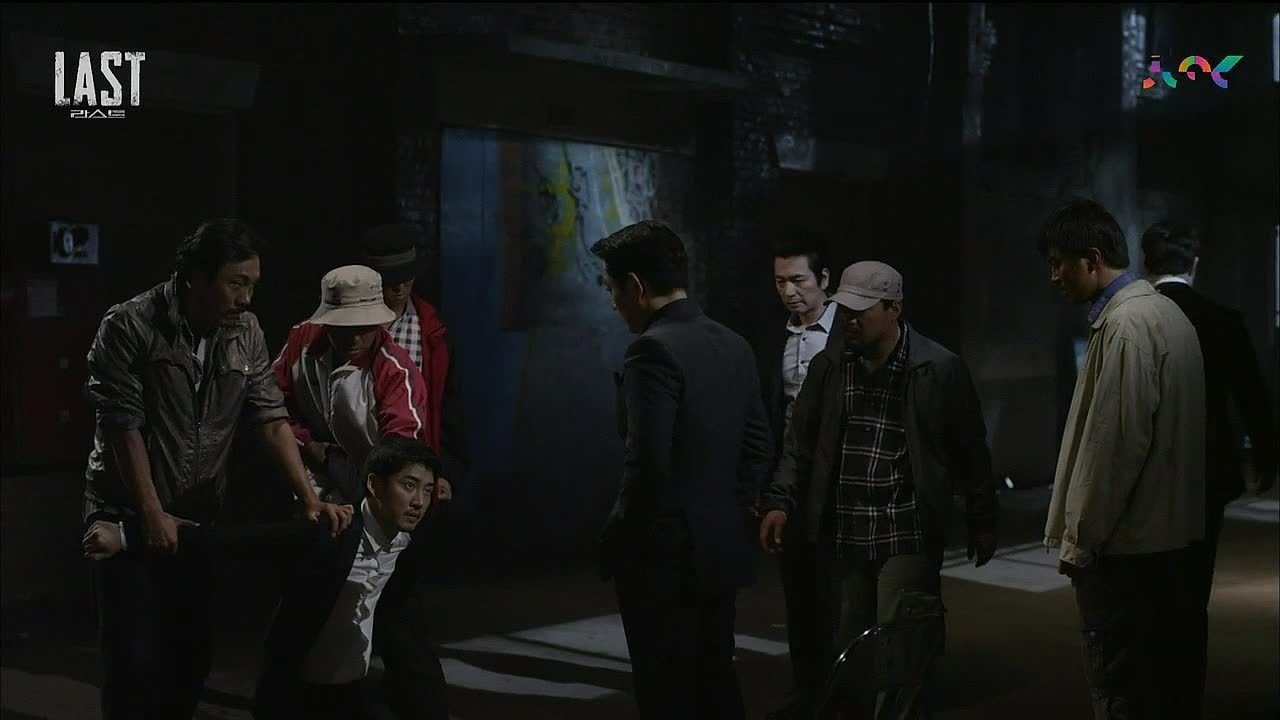 All of Heung-sam's men rush in at the sound of the shot, and as Heung-sam tosses the useless gun to the ground, they grab him and pin him down. Heung-sam orders Praying Mantis to take the key card and confirm, and, yep, there's the adoptive father, bound and gagged in the hotel room. The men are surprised at Heung-sam's order to release Tae-ho, dying to know who it is that Tae-ho has as leverage. Tae-ho saunters out, a free man — at least, for now.
At the penthouse, Heung-sam tells Se-hoon that Tae-ho knows everything: that they're brothers and Se-hoon's identity was changed. Or maybe not everything, since he doesn't seem to know the role that Chairman Yoon played, but Heung-sam knows that it's only a matter of time before Tae-ho's quick-wittedness figures that out, too.
Se-hoon says he doesn't think Jung-min knows about his past — inviting his "father" over was a kind-hearted surprise on her part, and she was worried when he didn't show up. But he's still not totally convinced about Tae-ho. He could still ruin their carefully laid plans, so maybe it's time to get rid of him completely.
But, as Heung-sam points out, if Tae-ho hadn't intervened and steered the adoptive father away, Se-hoon's cover would have been blown. Tae-ho's loyalty seems to be sincere. Se-hoon's still not sure about trusting Tae-ho, and parrots Heung-sam's words of not trusting just in someone's heart.
Heung-sam snaps at him, reminding him of who he now is, and that he shouldn't be acting like a thug when he's living as Se-hoon. Leave all that to big brother. Se-hoon's a bit sullen when he tells his brother that he'll focus on the next stages of the project, then, just as he was ordered — and his attitude doesn't go unnoticed by Heung-sam.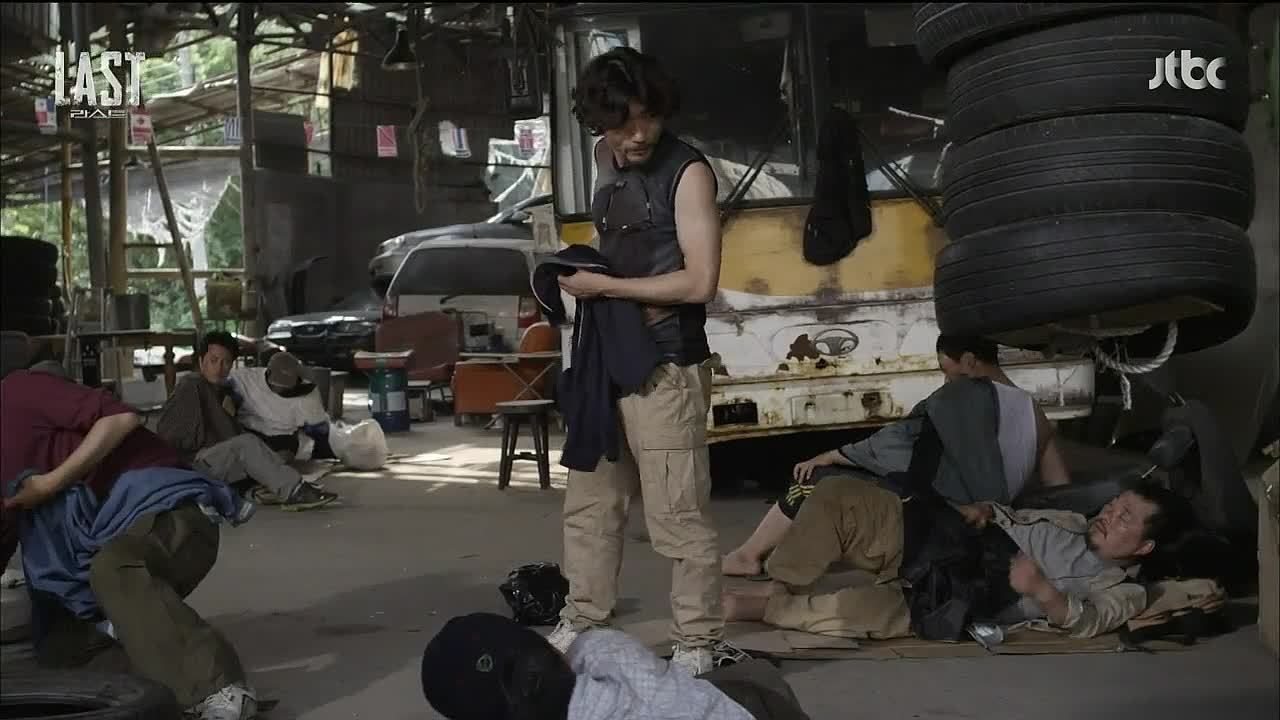 In the morning, Jong-gu hops off his bus to see his collection of homeless men sound asleep. He claps and shouts to wake them up, reminding them that they have work to do today. One of the men protests that he's too old and not in good enough shape to do hard labor, begging not to go.
Jong-gu easily agrees, reminding everyone that he isn't Sergeant Bae ordering them to work. Aw, he looks so disappointed to see nearly all them men choose to go back to sleep.
Hae-jin whines at Foreman Oh for dragging him and Young-chil (who can barely keep his eyes open) out so early in the morning to work. He grumbles that even without working he managed to live just fine, but Foreman Oh is rarin' to go, wondering if Jong-gu managed to get any of the other men to agree to come.
Aw, he did get a few of the men to join him, and they all pile into Foreman Oh's van to go to the construction site for the day. Their departure doesn't go unnoticed, and Crocodile practically beams with joy to see them leave — knowing, most likely, that he'll be able to get his percentage off of what they make.
The Chairman gets a check-up at the free clinic, feeling remorseful that he's unable to join the rest of the men with their back-breaking labor. Nara is amazed that even Hae-jin agreed to go, but the Chairman solemnly says there's nothing more delicious than the meal you've earned through honest labor. But at his age, he can't work even if he wants to.
To lighten the mood, Nara teases the Chairman for not trying to set her up with the son of one of his "connections," but the Chairman innocently says it's because she's dating someone else: Tae-ho. Ha! Flustered, she denies it, but even the Chairman doesn't believe her.
Heung-sam is going through his record books, noting that the club isn't taking in as much as it used to. Mi-joo points out that the economy isn't doing so well in general, and Heung-sam says that the small fish have to die out so the big fish can thrive. By big fish, does he mean the heir to Chairman Yoon's company, Han Joong Group?
As Mi-joo leaves, Heung-sam casually asks how Jong-gu is doing lately, since he's heard Jong-gu has changed. Instead of answering, Mi-joo calls him out on his habit of only ever asking her about Jong-gu, especially questions that he seems to know the answer to. She does tell him that no matter how or why Jong-gu has changed, he won't go up against Heung-sam.
Tae-ho is on his way to Heung-sam's penthouse when he's intercepted by Praying Mantis, who informs him that the adoptive father has returned to Canada this morning. They bought his silence over Tae-ho kidnapping him with a hefty sum, which also guarantees that he won't contact Se-hoon again.
Amazed, Tae-ho says he's envious of how much Praying Mantis seems to know about Heung-sam, not to mention how loyal he is. Praying Mantis simply says that since Tae-ho knows about Se-hoon, Heung-sam will have to make a decision, and he warns Tae-ho that this time he might have to use his knife instead of money to make it — or Tae-ho — go away.
Heung-sam simply wants to know what all was in the locker that Straw Cutter left him (Tae-ho says it was a note that only had information of about Se-hoon and the immigrant broker), how many people know about it (Jong-gu was the one who gave him the key, but he doesn't know what was in it), and how he knew about the adoptive father — this time Tae-ho smoothly lies that it was through tracking emails and social media accounts.
But Tae-ho has some questions of his own — why did Heung-sam change his brother's identity and kill to protect it? Heung-sam says he's listening to the reason — he stops the boys' choir record and points to it, explaining that this is why he fought so hard to survive and endure. His goal is Chairman Yoon and to reveal who he truly is — a murderer.
He's determined to avenge his father's death and take back the company that should have been his and his brother's by rights. But Tae-ho warns him it's too dangerous — Chairman Yoon is too powerful. Heung-sam reminds him that he went from drug delivery boy to Seoul Station Number One. He'll win by taking out the core of Han Joong Group. Tae-ho thinks it's impossible, but Heung-sam does his crazy laugh, asking if Tae-ho will follow him all the way to the end.
Tae-ho has good reason to be concerned, because it seems like Chairman Yoon finds Se-hoon suspicious, and has ordered one of his sons to quietly and carefully look through the documents Se-hoon's submitted.
As he sits in Grandma's restaurant and stares at his kimchi stew bubbling before him, Tae-ho considers Heung-sam's offer. He's shaken out of his reverie by Grandma, and he wonders where the other guys are, surprised to hear that they're working at a construction site. But Grandma's got another surprise for him when she insists that he needs to take responsibility for her granddaughter. If Tae-ho continues to make Nara cry every night, she'll break his legs. You go, Grandma!
It's the end of the day and Jong-gu and his men are getting ready to head back home. One of the men has gathered up a portion their wages to hand over to Jong-gu, as they are accustomed to doing. But instead Jong-gu yells at them, telling them he wasn't the one who did their work for them, and they they earned every single cent they were paid. If they want to give some of it away, then they can go work for Crocodile or Poison Snake.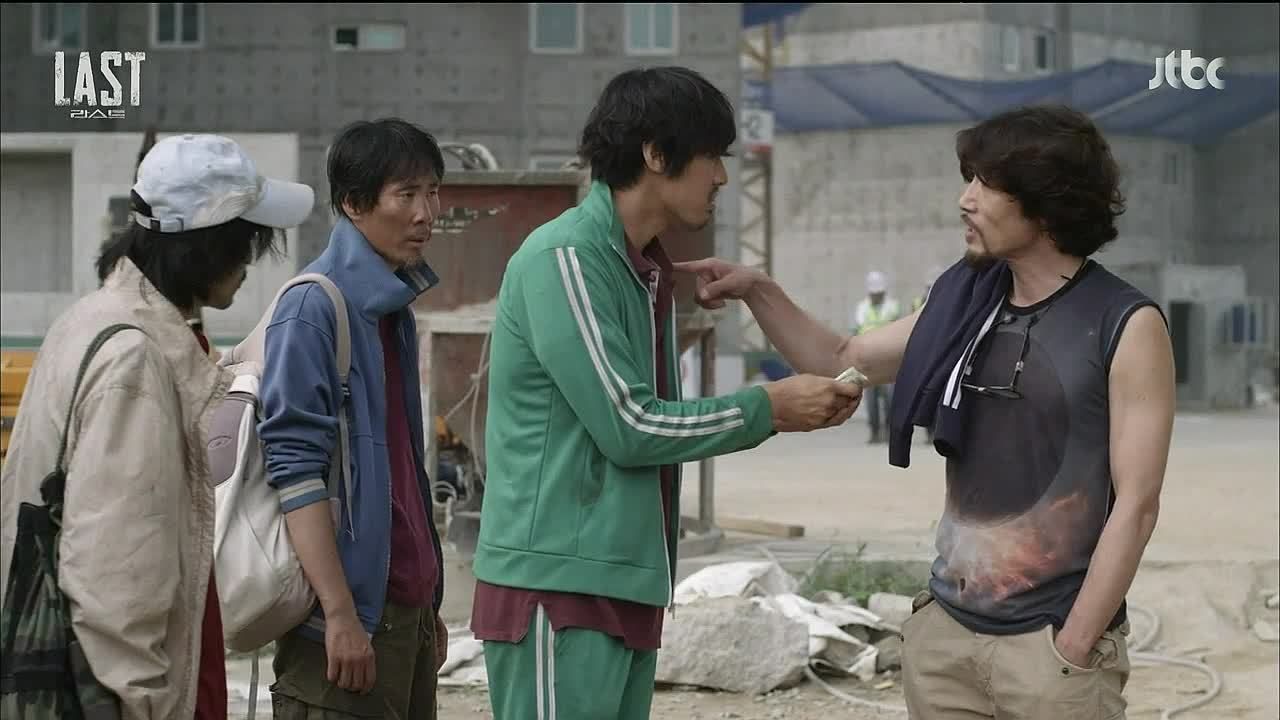 Tae-ho finds Jong-gu sleeping in the office. He was waiting for Tae-ho to return to ask what was in the locker Straw Cutter left behind, but Tae-ho dodges his question, saying there wasn't much there. Jong-gu is not so easily convinced, and Tae-ho finally admits that there was a paper detailing the Seoul Station organization and how they make money. He shrugs that it's nothing important since the police already know, they've just been bought off by Heung-sam. Besides, it's back to business as usual at Seoul Station.
Jong-gu doesn't seem to buy his explanation, but he lets it slide even as he warns Tae-ho that keeping up a life of complicated thinking (as in, carefully manipulating information to his benefit) might send him to ruin. Tae-ho assures him that he's going to do whatever it takes to fight to stay alive.
Jong-gu looks around the office, the same one that Heung-sam had burned down years ago, and tells Tae-ho that the determination he sees in Tae-ho is the same as Heung-sam's back then. Tae-ho points out that was when Heung-sam fought his way to becoming Number One, so it'a actually a compliment — but Jong-gu says that being at the top is worthless if the foundation falls apart.
The men are hanging outside a convenience store, enjoying snacks honestly purchased from the fruits of their labor, when Crocodile arrives to take his cut. Hae-jin stands up to him, telling him that Jong-gu said they were to keep every cent they earned, but Crocodile reminds him that Jong-gu is merely Number Two and not the one (or the One) who makes the rules.
A fight breaks about between Crocodile's men and Jong-gu's men, but this time the men have something worth fighting for, and it's Crocodile who ends up getting an extra smack from Heung-sam when he reports that he wasn't able to get a collection for today.
Even Poison Snake's collection is next-to-nothing, and Heung-sam wants to know why there aren't "ingredients" in the surgery room. He reminds them that they are Number Five and Number Four for a reason, so they should be able to handle Seoul Station's affairs without him ordering them around. Poison Snake says that Jong-gu is riling the men up, so Heung-sam asks if he's prepared to go up against him for a duel — and win?
The free clinic has been shut down due to lack of funds, and after a long fruitless day of chasing down possible donations, Nara returns home to find the guys tending their wounds. They said they would have gone to the clinic, but, well, it's closed.
She agrees to fix them up, but as she reaches for her first aid kit, she also sees an old bank book. Nara silently cries as she realizes that Grandma has been for years faithfully saving small amounts for Nara's future wedding.
Heung-sam and Tae-ho are in a deep discussion about how best to take down Han Joong Group, and Heung-sam agrees to get Tae-ho all the data that Se-hoon has acquired — but not yet. First they have to get all their "ammo" ready. Their plan is nearly complete, but what they lack right now are the resources now that the Seoul Station men refuse to hand over a portion of their earnings.
At Heung-sam's request, Jong-gu arrives, escorted by Praying Mantis. Heung-sam acts like it's a surprise, and invites him in, remarking on how amazing it is to have the three of them together again. Remember how awesome they were in that penthouse fight?
But Jong-gu isn't here for pleasure, and he gets right to the point. He knows that some of the guys got into a fight with Crocodile for refusing to hand over their money, and he promises Heung-sam to remind the guys the importance of rank, so Heung-sam should drop it.
Heung-sam assumes this means that Jong-gu has now decided to care about the Seoul Station hierarchy of collections, but instead he defends the men. He didn't take any of their money because they worked hard for it, and it's theirs.
That's not the answer Heung-sam was expecting, and he warns Jong-gu that he's worked hard to get the system to where it is today, and if Jong-gu is planning on ruining it, well, it's not going to be pretty. Tae-ho tries to intervene, pointing out they can adjust the collection ratio or find other ways to punish the men who don't pay.
Jong-gu says it's not about the money — it's about not crushing the hope of men who are trying to get back on their feet. Mi-joo arrives just then, stopping short when she sees who's in the room.
Heung-sam orders Jong-gu to kneel in front of him, because if he's going to build the men stand on their own two feet, then he should at least sacrifice his own knees. It's not the simple request Heung-sam makes it out to be, because it's a power play about pride. And Jong-gu refuses to accept it.
He leaves, and Tae-ho hurries after him, demanding to know if he's crazy for challenging Heung-sam to a fight. Jong-gu points out he never said that, but Tae-ho asks if he wasn't planning to use Straw Cutter's information to take down Heung-sam. He knows that Jong-gu must be disappointed with him for choosing to be Heung-sam's subordinate, but he doesn't want to see Jong-gu get kicked out for going against him.
Jong-gu quietly says that if he is forced to have a duel with Heung-sam, then he will fight for his life. That's not a suggestion, but a warning.
As Mi-joo pours drinks for Heung-sam, he asks if she still goes to the train station at the end of the month to wait for Jong-gu. She says that she stopped that some time ago, and she reminds him of her promise to stay with Heung-sam. She won't run away.
That night, Jong-gu dusts off his championship belt; Tae-ho wanders over to the free clinic, finding it closed; and Nara smiles as she watches her grandmother sleep.
The next morning, Jong-gu has managed to get a few more men to work on the construction project, much to Foreman Oh's delight. Hae-jin is worried about yesterday's fight with Crocodile, though, wondering if Jong-gu knows what Heung-sam will do to them about it. He asks if they should get Tae-ho to help smooth things over, but Jong-gu says he won't be much help.
Tae-ho is about to rush out of his office when Nara arrives (ha, and he scrambles to hide his underwear that's just hanging up on a hook). She's there to ask him a favor — she knows that the man he works for has a lot of money, and since she hasn't been able to find someone who wants to support a free clinic that serves homeless people, she wants to know if Tae-ho will try to help her cause.
He promises her that he will do what he can, and then asks if she ever went to see Jong-gu's daughter. She admits that even though she's nosy, she shouldn't barge into Jong-gu's personal life until he's ready. She sighs that she's always trying to help other people, but she's still unable to fulfill Grandma's dearest wish.
Tae-ho asks what that wish is, and Nara, flustered, says that's it's nothing (even though we know it's to see Nara get married), and shows herself out. As she's adorably trying to pull herself together, she sees Poison Snake and Crocodile's men pass by, clearly on a mission. Uh-oh. This can't be good.
It isn't, because they immediately start beating up the men who demanded to take their identities back, and Poison Snake pulls some men who could be used for organ harvesting — one of whom is the Chairman. Nooooooooo.
Se-hoon meets with Tae-ho to hand over the information he's acquired about the Han Joong Group. He's curious, though, why Tae-ho didn't ask Jung-min for the information, since he could easily revealed Se-hoon's true identity and taken the glory. Tae-ho points out that if Heung-sam's plan failed, then he fails, too.
He also knows that Se-hoon must have some sincerity about his intentions with Jung-min, or she wouldn't have given him the time of day. Plus, if Se-hoon takes over Han Joong Group, then Jung-min will also be running it. He'll stay out of their relationship provided Se-hoon doesn't betray Jung-min.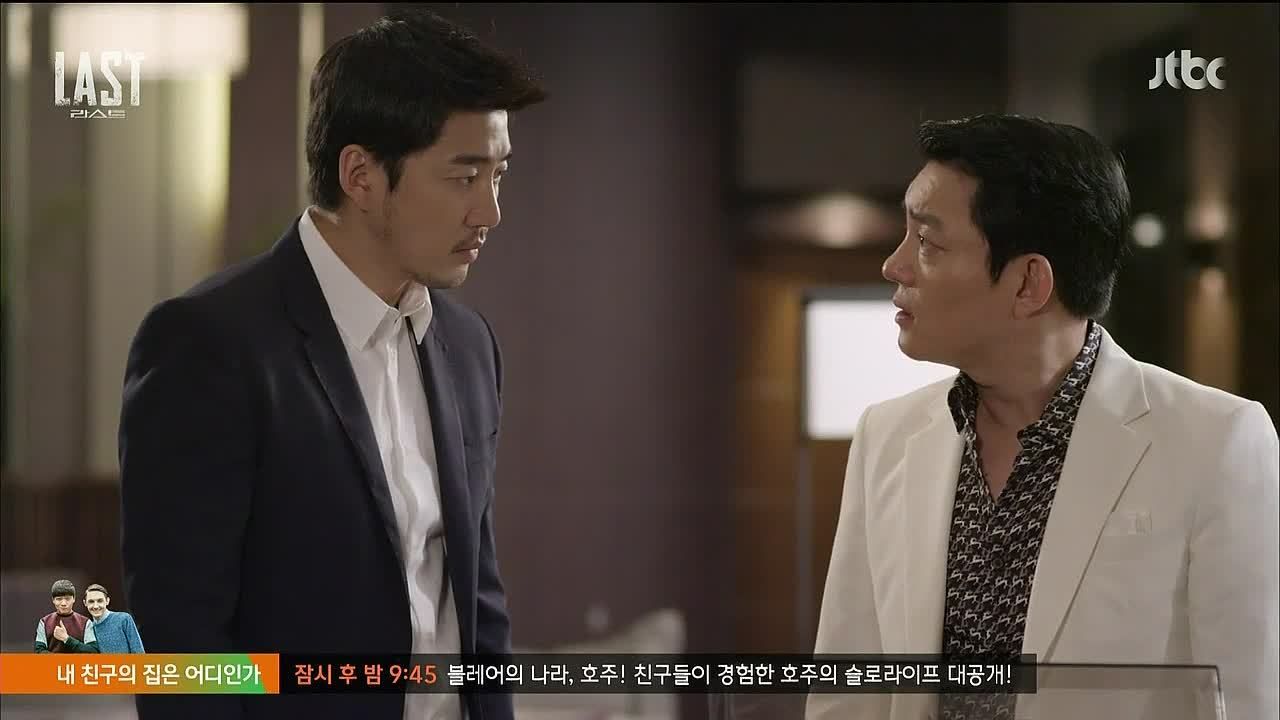 Tae-ho reports his findings to Heung-sam, and then, hesitating slightly, he asks if Heung-sam would help fund the free clinic. He pleads his case, pointing out how important the clinic is, adding that he would have died if he hadn't been able to go there.
However, Heung-sam sees charity as a waste of time, since it will only make the people they're helping continually look to them to help them out for the rest of their lives. Sharing, for Heung-sam, is not caring. But he promises to at least consider it, for Tae-ho's case. After Tae-ho leaves, the ever-lurking Praying Mantis quietly asks him about Tae-ho's request. Is… is that a flicker of emotion? Must be, since Heung-sam says he forgot that Praying Mantis was born in that clinic, making it his "hometown."
Nara remains ever optimistic as she takes inventory of what is in the clinic still, even though it's not much. Just then one of the homeless men rushes in, warning her that a bunch of the men were taken away to have their organs harvested.
She rushes to tell Tae-ho, and he tries to reassure her since she's frantic about being unable to find out where the men have been taken. He tells her that he'll find them — especially the Chairman — and make sure they're safe.
Poison Snake is already busy at work, testing everyone's blood prior to administering the anesthesia. He's annoyed that it's taking so long, and then points to the Chairman — he'll be first to be harvested.
Jong-gu and his men are returning from their long day at work, their spirits still raised, though, until one of the homeless men rushes up to let him know what happened. You know it's serious when Jong-gu changes into his fighting boots and bandages up his hands. He emerges from his bus to see all his men armed with pipes and wooden sticks, ready to fight for their comrades, too.
He tells them to leave, but when they insist on going with him, he warns them that it won't be easy — Poison Snake's men are skilled and will have no qualms about killing. They will be lucky to emerge merely crippled. He's about to tell them to stay out of it, but Hae-jin quietly speaks up.
Aren't they already crippled? Not just because society doesn't treat them like humans, but also because they're at the bottom of the Seoul Station hierarchy. If they stayed put, they would stepped on by everyone else, anyway. He can't do that anymore — in fact, he chooses not to live like that anymore.
Jong-gu realizes the sincerity in the men: "Let's go."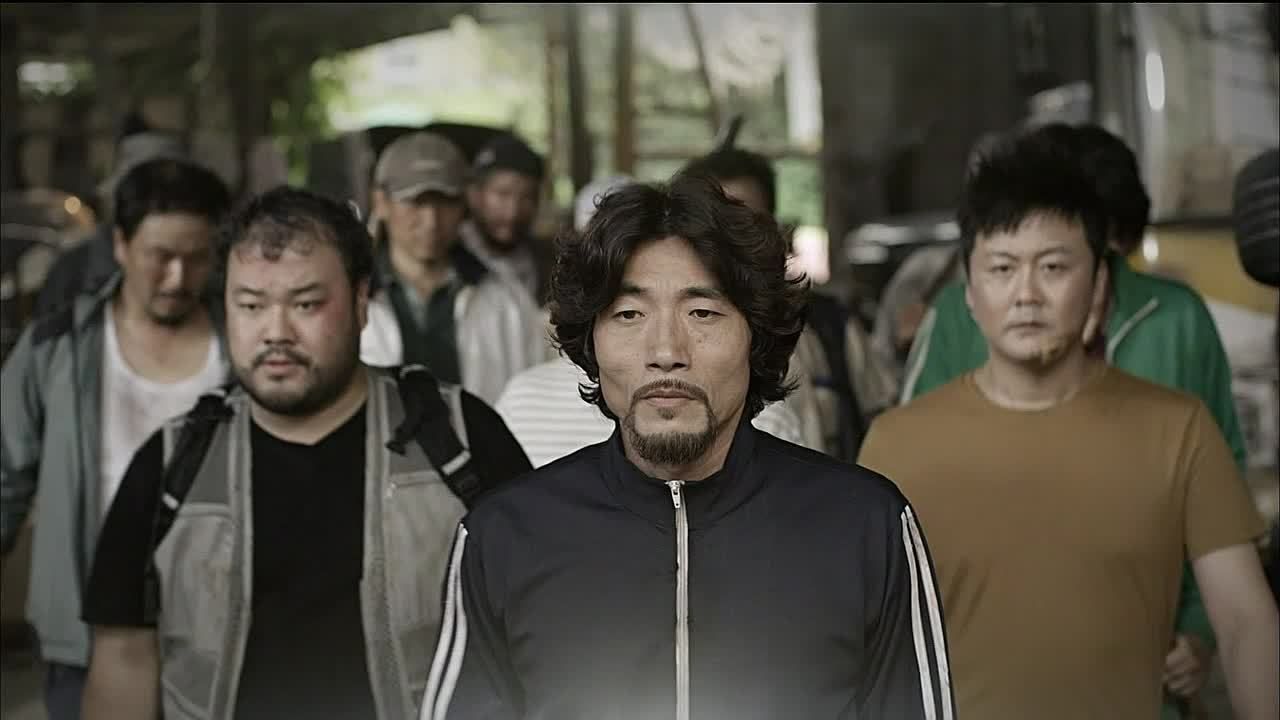 COMMENTS
What an incredibly powerful cliffhanger, and who would have expected Hae-jin to be the one with one of the most moving speeches of the show yet? I half expected to hear the strains of Les Miserables' "Do You Hear the People Sing" at the end there.
I love that the show is willing to tackle the social justice aspect of homelessness and not merely use it as a prop for another standard "chaebol revenge" drama, which is what Heung-sam clearly thinks he's in right now. He's got such a tunnel vision on seeking revenge on the man who killed his father that I think he's forgetting all the people's backs he's stepped on to get there — backs that refuse to continue to be broken to appease a greedy man's thirst for vengeance and power.
Not that I blame Heung-sam for wanting to destroy the man who destroyed his and his brother's lives. I totally understand where he's coming from, but there's an instability within him that makes me wonder. He's ruthless, yes, but also seems to be losing the foresight that made him Number One. He knows everything that goes on in Seoul Station, but will he be powerful enough? Or to be more accurate — will this system he's carefully crafted and maintained be powerful enough, to save itself when the foundation crumbles? Even the loyal Praying Mantis may have his limits, if Heung-sam decides to stick to his principles and not help the free clinic. After all, if that clinic didn't exist, Praying Mantis might not exist, either. You don't mess with the first place a boy called home, as Heung-sam should fully know, seeing how much money he spent to get his childhood home back.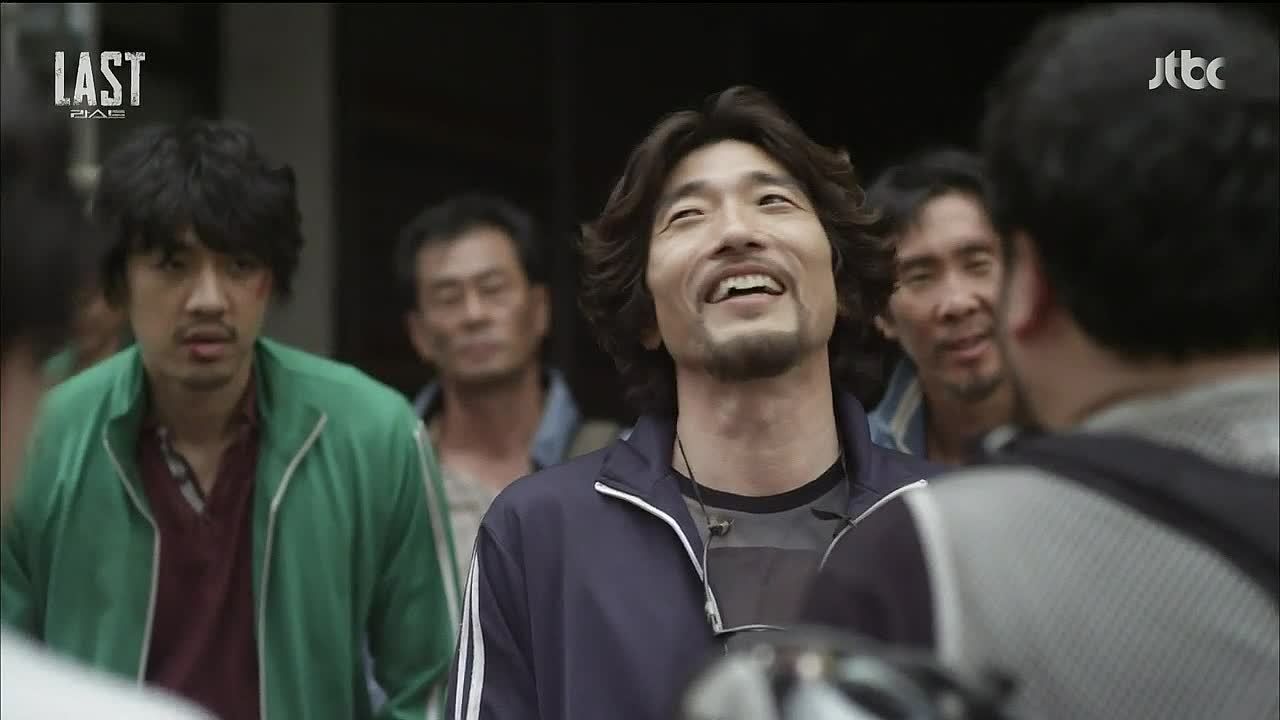 I don't expect the show to end with everyone living happily-ever-after (or even living, to be honest). I don't expect the show to insist it has the solution for homelessness. But I do appreciate that we've opened the question of a broken society that continues to support the rich and degrade those who have been stripped of their homes, family, hope, and volition.
These men may be homeless. They may not have much to live for each day except to merely survive the day. When your life is dedicated to sleeping on the floor of a subway station because no where else will accept you, hoping to scrape together enough for maybe some food (or preferably alcohol, because at least that will make the day more tolerable), well… it's not so difficult to see how that can be a vicious trap that it's impossible to get out of, especially if you believe your life is literally worthless.
But these are still men. They are still human beings. They are still worthwhile. And what they have, now, is hope. Probably for some it's the first time in a long time, but they are beginning to see their self-worth and the worth of the men around them. And that is most definitely worth fighting for.
Jong-gu may have resisted being a leader and taking up the responsibilities of his "Number Two" status for years and years and years, but when it comes down to his men, he will, as he promised, fight and do everything he can to stay alive. The forthcoming battle, I fear, will not necessarily be a pleasant or easy one, but it will be a very much needed one.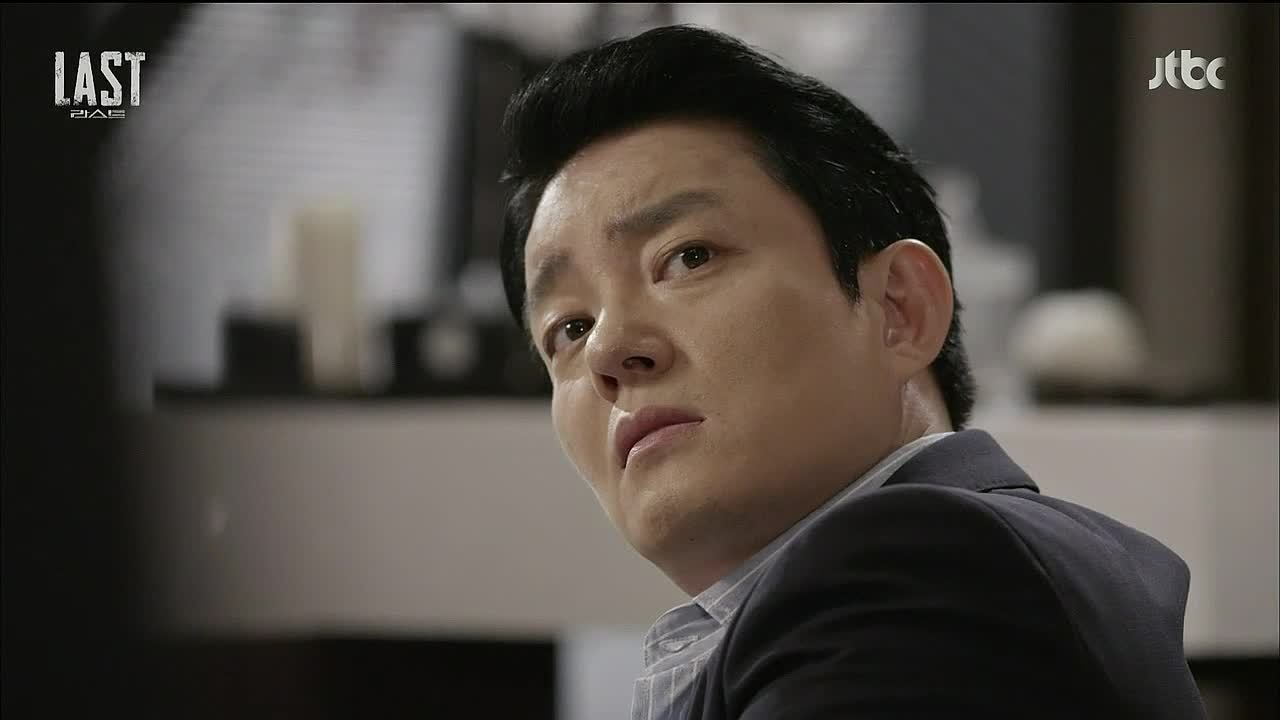 RELATED POSTS
Tags: featured, Last, Lee Beom-soo, Yoon Kye-sang