Last: Episode 15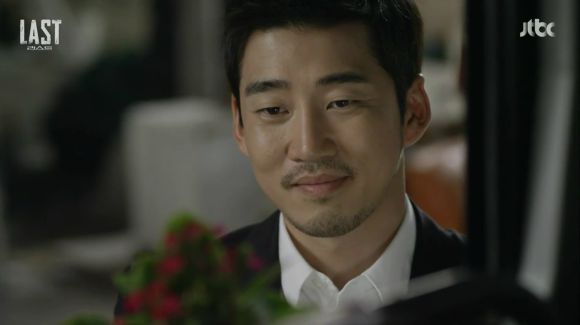 Seoul Station's tragic loss affects everyone differently, but it's Tae-ho who takes action, deciding to use this time while everyone is off-kilter to make his big move. His plan to get revenge on Heung-sam is impressively detailed, and he'll need the support of all of his friends, and even Mi-joo, if he hopes to trick the ultimate trickster.
EPISODE 15 RECAP
Deep in mourning for Jong-gu, Mi-joo refuses to work or even get out of bed, not even when Heung-sam goads her that she'll never get revenge on him this way. Heung-sam doesn't seem happy lately either, no longer interested in his political contacts. While in the car, Heung-sam sees Nara protesting the Mi Rae City Project and asks Praying Mantis if Tae-ho has started Phase Two of their plan, heading to Tae-ho's office.
Hae-jin is worried about the business they plan to acquire as a front, but Tae-ho tells him to go ahead and contact the CEO with their offer. Ship-jang asks why Tae-ho is doing all this in the first place — just to pad Heung-sam's wallet? He tells Tae-ho that if he cared at all about how Jong-gu died, he wouldn't be doing this. Hae-jin admits that he feels the same, and Tae-ho asks testily if they would feel better if he challenged Heung-sam to a duel right now.
Heung-sam barges in saying that he's here to check on the plan's progress, and the guys clear out. Their hearts are all pounding after being in the same room with someone who just killed a man, but Hae-jin at least gives Tae-ho the benefit of the doubt that he knows what he's doing.
Heung-sam invites Tae-ho to stay with him, but Tae-ho wants to remain in Jong-gu's bus, honoring Jong-gu's last request of him. Heung-sam figures Tae-ho is hung up over Jong-gu's death since he brought it up so quickly, and wonders out loud of Tae-ho wants to duel him over it. Tae-ho says that he does, a bit, but admits that it was a fair duel and Jong-gu's death was a fluke.
Before he goes Heung-sam mentions Nara, suggesting that Tae-ho take her out since she has so much free time on her hands. She's out protesting his plan to raze the area and build fancy high-rises, and she's even got the Chairman out "helping" her — if by "helping" you mean "napping." He's so cute, offering to put in a good word for her with the President.
When Tae-ho arrives she half-jokingly declares them enemies, since they're on opposite sides of this issue. He tells her that her protesting won't accomplish anything, even if her petition gets lots of signatures, though he doesn't really expect her to listen to him.
Nara knows this won't help but she feels bad for her comment to Jong-gu that he should fight for Seoul Station, so she feels like she should at least do something. The Chairman asks Tae-ho to sign the petition, which he does.
Mi-joo is still in bed clutching her teddy bear from Jong-gu when Tae-ho comes to talk. He tells her that it's time — they have to go after Heung-sam. He can only do it with her help, but Mi-joo has no desire for revenge, and besides, Tae-ho is too firmly under Heung-sam's thumb.
He says that Jong-gu once told him that boxing is all in the footwork, that how you move determines how your opponent's punches land (and damn, seeing Jong-gu alive and well is making me all teary-eyed ~sniffle~). Tae-ho tells Mi-joo that now, while Heung-sam thinks they're wavering, is when it's best to make their move. He plans to pretend he's still wavering, then end him with one shot. Mi-joo simply wishes Tae-ho luck, and he backs down.
In a meeting with Se-hoon and Jung-min, Jae-sung wants to put Heung-sam in charge of a different area, since he's a lowly loan shark and the Seoul Station location has the most potential. President Yoon overrides him, saying that Heung-sam has Congressman Kim's support so the company has to follow the current plan.
But they can ask, so Yoon sends Se-hoon to ask Heung-sam if he would give up the Seoul Station location willingly — for a "cash incentive," of course. Se-hoon doesn't think he'll go for it, but President Yoon makes it clear that he expects him to make it happen.
Heung-sam is currently meeting with Congressman Kim, and introduces Tae-ho to him for the first time. The congressman asks after Mi-joo, but Heung-sam explains that she's taking time off for personal matters. She surprises everyone by showing up looking amazing and actually smiling, but Heung-sam seems nervous at her unexpected arrival.
She drops the smile after Congressman Kim leaves, telling Heung-sam that she's not sure why she changed her mind and came back to work. She says she's reconsidering that revenge he mentioned, and Heung-sam says he'll look forward to it.
Nara brings her petition to stop the Mi Rae City Project directly to Heung-sam, who wonders why she brought this to him and not the district office. She says she knows that the Seoul Station area is under his control, and she's not asking him to stop it entirely — she just asks that he not kick everyone out who calls it home.
Heung-sam counters that it's those current residents and homeless people who have the most to gain from the redevelopment. For example, a new hospital could be built where the clinic is now, and the homeless could be treated even better. Nara doesn't fall for that, and asks if he's pretending not to know what effect the redevelopment will really have on the area.
Heung-sam basically tells Nara not to worry her pretty little head about his business and to focus on dating, throwing in a veiled threat regarding her grandmother's restaurant. She leaves, knowing he'll never agree to help, but she tells him she'll get more signatures and fight him.
Later Mi-joo meets with Tae-ho in Jong-gu's bus, ready to hear his plan to end Heung-sam. He tells her there are several steps, and they'll start with Mi Rae City. Tae-ho outlines his plan, which is to turn over proof that the Mi Rae City Project is being handled through bribery to the authorities. Han Joong Group will suffer with the scandal and become unstable — all they have to do is find evidence.
Mi-joo says that Heung-sam is way too smart to leave any evidence, telling Tae-ho to figure out a better plan or he'll end up in trouble himself. Tae-ho doesn't seem concerned and says that he'll just have to be more creative about obtaining evidence, and she leaves him to it.
Tae-ho has Young-chul look into former Director Choi, the recently-fired Han Joong Group employee, promising to explain why later. Next he meets with Heung-sam, who's had Crocodile make Tae-ho a fake ID, though Heung-sam warns him not to tell Crocodile or Poison Snake even one tiny bit of their plan.
Heung-sam seems nervous about this next phase of their plan, saying that there's no room for mistakes or it's all over. He also tells Tae-ho to control his girlfriend better, but Tae-ho denies any personal relationship with Nara.
Young-chul reports that Director Choi was fired suddenly, and all of his subordinates were transferred to strange places so they all quit. It was obviously planned to happen that way — interesting.
Tae-ho calls the rest of his team in and tells them that he's going to tell them something, then they can make their own decision whether to stay or leave. He announces that helping Heung-sam isn't his true purpose — he plans to destroy him. He tells them it will be dangerous and he won't blame them if they want to walk away.
He can't tell them all of his plans now, but it involves the Mi Rae City Project. Just when Heung-sam can see the finish line, Tae-ho plans to crush him. Hae-jin asks if this is revenge for Jong-gu's death, because he wants justice too, though it won't bring their friend back to life. Would revenge make Jong-gu happy?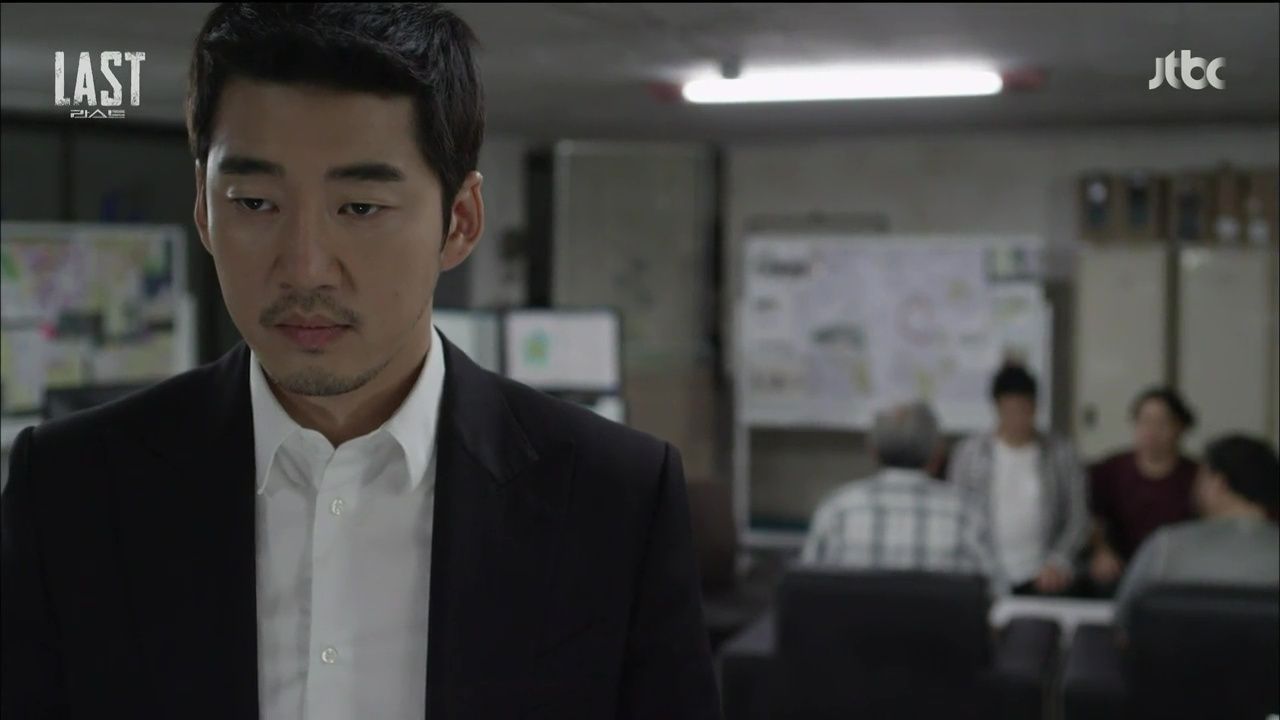 Young-chul also wants revenge since Jong-gu helped him get his papers back from Crocodile, and even Hae-jin was saved by Jong-gu once when he first came to Seoul Station. Ship-jang just doesn't want Seoul Station torn apart, but Tae-ho says that for him, those are only excuses.
He tells them that his stock manipulation failed, landed him in Seoul Station in the first place, because Heung-sam set him up to fail. That's his real motivation for revenge, and he admits to being obsessed, though he's not proud of it, nor is he proud of planning on using them all for his selfish purposes.
Assuming that he's just ruined his plans and cost himself his friends, Tae-ho gets up to leave. The Chairman, who's been silent until now, stops him and says that whether it's revenge or whatever, the reason doesn't matter. If their purpose is righteous, the world will favor them.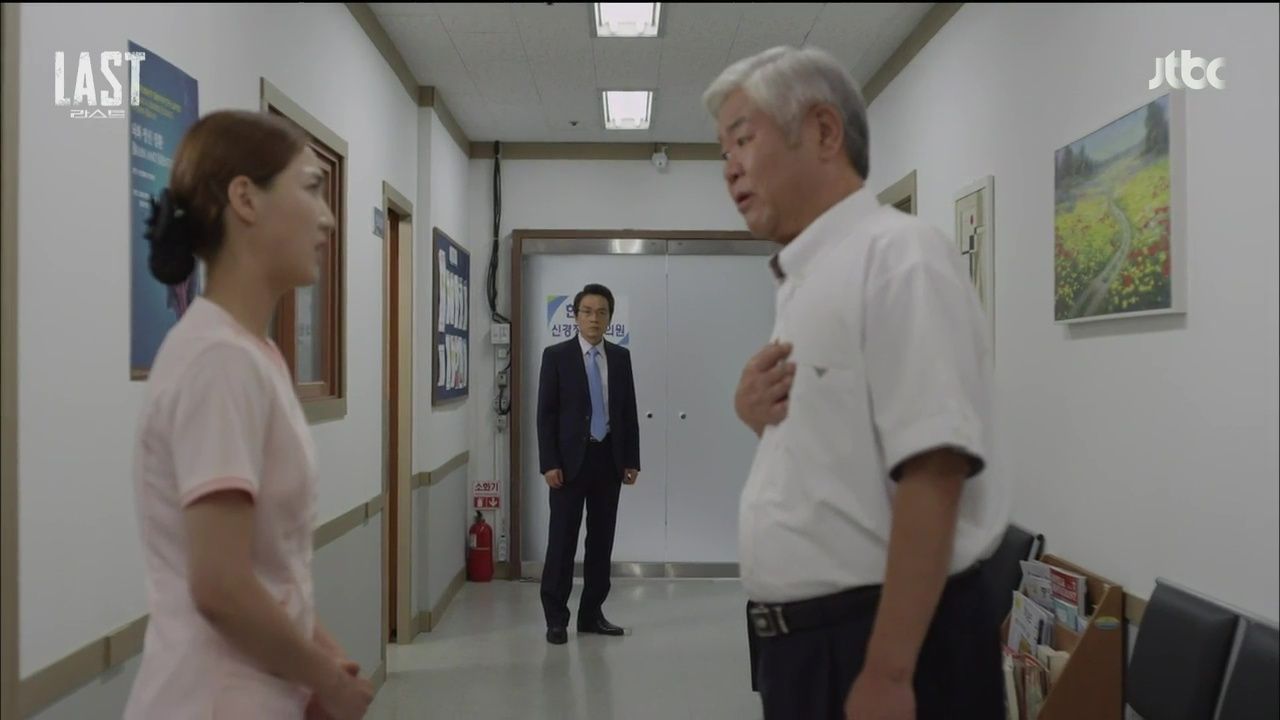 Tae-ho grins when the Chairman offers him one of his handwritten checks, then Young-chul pops up to offer to hack into Heung-sam's computer. Ship-jang tells Tae-ho to come sit and tell them what to do, and Hae-jin reminds Tae-ho that their original plan, way back when, was to defeat Seoul Station's Number One. Time to get to work!
Soon after, former-Director Choi leaves an appointment with his psychiatrist to find a man in the waiting room complaining that he was unfairly fired from his company and demanding to talk to the doctor. Ha, the Chairman is a good actor. The nurse tells him Director Choi's next appointment, and he makes himself an appointment for the same day.
Tae-ho congratulates him on getting the information and tells the Chairman that it's his job to discover whether Choi has a list of people that Han Joong Group bribed while he worked there. Surely some of the bribes they paid out involved the Mi Rae City Project.
Congressman Kim approaches Heung-sam for more money, asking for an amount that makes even Heung-sam go pale. In return he offers information — Han Joong Group is planning to remove Heung-sam from the project. They've been digging up information on him, so the Congressman offers to help protect him in return for his "investment."
Heung-sam orders Mi-joo to meet with Jae-sung and find out if this is true, allowing her to give him information in return as long as she keeps it to a minimum. She asks if she should also sleep with Jae-sung if he wants, and Heung-sam tells her that's up to her from now on.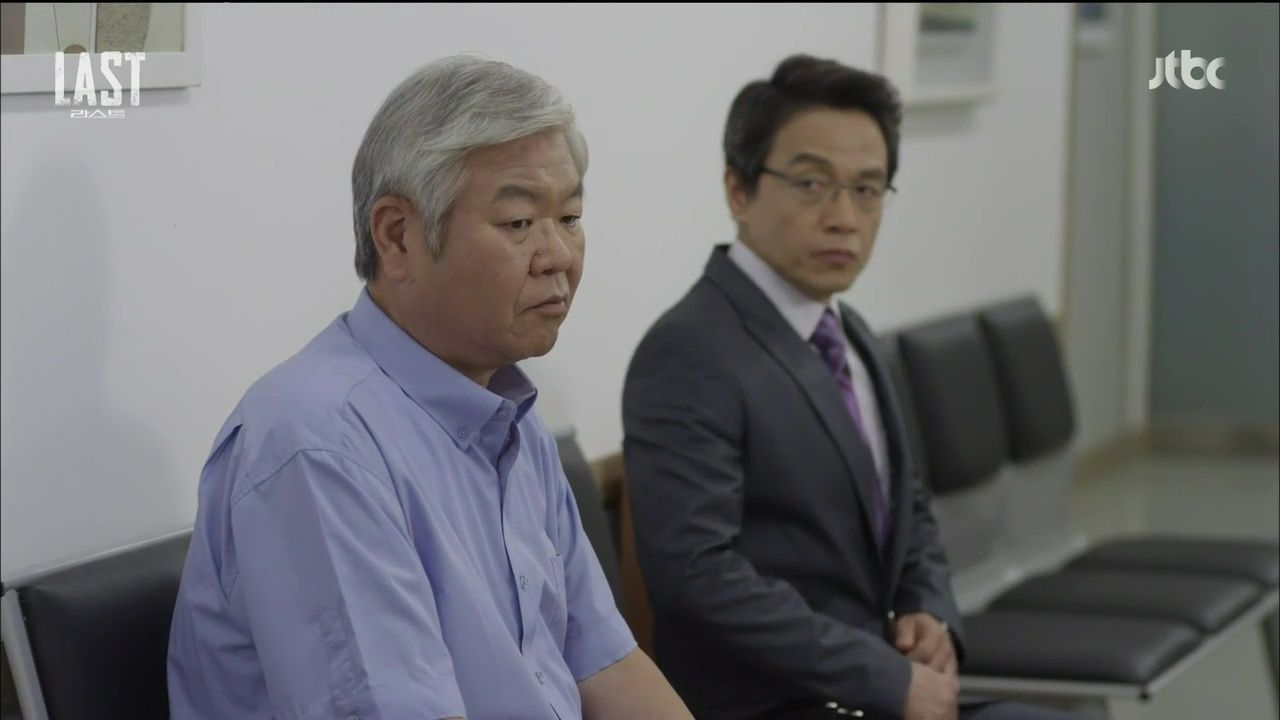 Tae-ho finds a small flowerpot hanging on the bus windowsill, a clear message from Nara. Later she brings another, smiling when she notices that he watered the first one.
The Chairman is conveniently present when Director Choi arrives for his next therapy session, and just happens to leave behind an envelope containing his "memoirs" that Director Choi looks at curiously. He actually takes advantage of the therapist and tells him of his siren trigger, and that he lives in a dream that he's a Seoul Station beggar.
He leaves his appointment and retrieves his envelope, but Director Choi stops him and tells him that writing a book like that can cause problems. The men go for coffee where the Chairman continues his ruse about being unjustly fired, claiming that writing a tell-all book will make him feel less wronged.
When Director Choi says he could be sued, the Chairman brags that he has proof and makes an assumption that Director Choi must not be confident in his own case because he has no proof. Choi says that of course he has proof, so shocking that the world would be amazed if it came to light.
The Chairman brings this back to Tae-ho, and they all speculate as to where Choi could be hiding this proof. It must be in his house and they can't exactly break in, but Tae-ho brings up the fable in which the sun and the wind compete to make a man take off his coat. The wind blows and blows but the man only draws his coat tighter around himself — it's the sun's warm rays that cause the man to remove it.
Tae-ho goes to Jung-min and pretends to be unsettled over something he's been looking into for Heung-sam. He asks her about Director Choi, and soon she's telling Se-hoon worriedly that Director Choi is planning to sabotage the Mi Rae City Project.
Se-hoon goes straight to his brother, who believes the story and turns instantly furious. Tae-ho just happens to be there for Heung-sam's rant and asks if Han Joong Group won't try to bribe Director Choi into silence. Heung-sam says they will, but predicts that it won't work.
Heung-sam tells Tae-ho a story about an oracle that predicted that whoever could untie a knot, would conquer the world. But the knot was tied too tightly, and nobody could ever untie it. He asks what Tae-ho would do with a knot tied by the will of a god.
Tae-ho replies that if he were to squat to untie a knot, he wouldn't be worthy of being a king in the first place. Heung-sam sneers that that's the right answer — the man who cut the knot with his sword was the one who ended up ruling the world.
Mi-joo meets with Jae-sung (what's with that hair?)as planned, but he already knows everything about Heung-sam that she's authorized to tell him. She regains his interest by admitting that she has permission to talk to him, and that she was told to pretend she was going to go over to Han Joong Group's side. She tells Jae-sung to give her new but unimportant information that will fool Heung-sam into thinking he's got the upper hand.
When she talks to Tae-ho that night, she tells him that Jae-sung apparently doesn't know anything about Director Choi's bribe list. He's surprised that she's unaware of Se-hoon's relationship to Heung-sam, so he fills her in, and she marvels that Heung-sam is so intent on revenge that he'd drag his only brother into it.
Praying Mantis stops Director Choi on his way out of the house and takes him to Heung-sam. Choi is furious so Heung-sam gets to the point — how much does he want for the bribe list? Director Choi claims to have no such list, but Heung-sam makes it crystal-clear that this is no request.
Choi assumes that it's Se-hoon who's trying to sabotage him again, telling Heung-sam that his business partner is a devil hiding behind a mask. As she and Tae-ho arranged, Mi-joo calls Heung-sam to tell him that Chairman Yoon discovered the existence of the bribe list and is determined to get it himself, and use it to bring down Heung-sam.
Heung-sam ends the call and smiles, telling Choi that there's been a mistake and his people were being overly paranoid. He apologizes and lets him go — but once he's out of the room, Heung-sam tells Tae-ho to follow Praying Mantis out. They'll be "repurposing" Director Choi.
It's all according to plan, and Tae-ho calls his friends while following Praying Mantis (with Director Choi in his trunk) to update them. Praying Mantis is stopped at a police checkpoint and starts to look cagey when they ask to check his trunk. Just as he's about to peel out, Tae-ho makes a sudden u-turn and pulls focus, and Praying Mantis gets away.
The cops catch Tae-ho and arrest him, and Praying Mantis stops to call Heung-sam and update him on the situation. He's suddenly t-boned by a group of masked men in a van — it's Hae-jin and the guys! The injured Praying Mantis manages to wound Hae-jin when he takes his keys, but the other guys rescue Director Choi from the trunk.
Tae-ho uses his fake ID at the police station and is let go before too long. He checks with his boys to find everything going as planned, then takes the expected call from Heung-sam and pretends surprise to hear of Praying Mantis' accident.
Back at the penthouse, Praying Mantis is taking a beating for letting Director Choi be taken, with Crocodile and Poison Snake in attendance. Heung-sam assumes that the police checkpoint was specifically looking for them, and that it was one of President Jung's men who ratted them out.
He orders Praying Mantis taken to the factory and held until he decides what to do with him, and for the first time Praying Mantis shows a true emotion — fear. He's shaking like a leaf but he gets up, bows respectfully, and leaves with Poison Snake.
Tae-ho suggests that it might not be President Jung's men behind this, that possibly it was Han Joong Group. Shaken and upset, Heung-sam falls for the bait and decides it must have been Chairman Yoon and his son who took Director Choi and that he'll be their next target, so he tells Tae-ho to speed up their plans.
Tae-ho finds Director Choi with his friends, and Choi immediately figures out their plan to "save" him and trick him out of the bribe list. Tae-ho screams at him for being greedy trash, along with the Yoon family, Heung-sam, and even President Jung. He tells Choi to give him the file and leave Korea, now, before he sends him back to Heung-sam for repurposing. Shaking with rage, Director Choi demands to know who Tae-ho is.
"Me? I'm just a homeless guy."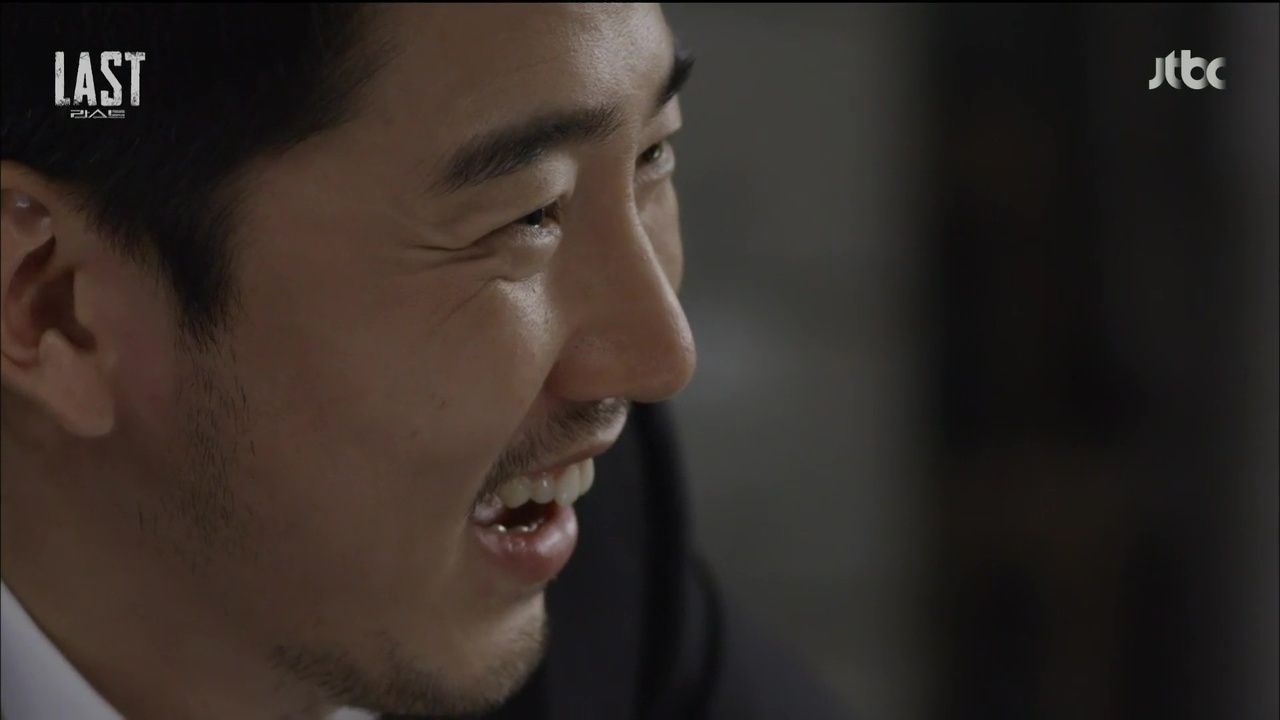 COMMENTS
How much fun is this? I'm loving how deftly Tae-ho is manipulating this whole situation, even down to the reclaiming of Director Choi when he knew Heung-sam would lose his temper and send him to the factory. I'm actually glad we didn't get bogged down in Jong-gu's death for too long, instead using it as a springboard to launch Tae-ho's revenge plans. He already had good enough reason to want revenge on Heung-sam for being responsible for his own situation, now that he knows it's due to Heung-sam's machinations that he was rendered homeless and penniless in the first place, and I love the poetic justice of Heung-sam's scheming being the reason that he's now being brought down by someone else's trap. But I think Tae-ho was spending too long planning and was about to lose his window of opportunity, so Jong-gu's death serves as a great push to get Tae-ho to stop planning and start doing.
I do want to briefly weigh in on Jong-gu's death, because goodness knows I cried so hard last week when he died, even though I think we all saw it coming. I'd been worried for the last half of the show that we were going to lose Jong-gu — he always seemed too good for this Seoul Station existence, and only held his Number Two position because Heung-sam idolized him and wanted him to be more involved. But Jong-gu, though rough on the outside, was always a sensitive soul. I always felt that his distancing himself from the goings-on in Seoul Station were not because he didn't care, but because he cared so much. He knew that caring would only get him involved in things he couldn't handle emotionally, and he was right. If he didn't really know what was being done to the men of Seoul Station, he wouldn't have to fight for them, so he chose not to know. But once he was forced to see the truth, he had to fight, and that fight cost him his life.
I appreciate that at least Jong-gu didn't die in vain, and that his death gave Tae-ho the shove he needed to finally do something about Heung-sam and his greed (and Mi-joo for that matter — I'm enjoying seeing her taking part in life for once, though I wish for her sake that it hadn't taken such a devastating loss to make it happen). I'm so impressed with Tae-ho's brilliance in the way that he's manipulating everyone at this point, that at first it made me wonder why he didn't use this talent of his sooner. I suppose he was, in a way, back when he was playing the stocks with other people's money. But was just too self-confident to realize that while he was playing people, they might be playing him right back. He didn't realize he was such a small fish in such a big pond, and that arrogance allowed Heung-sam to get the drop on him in their very first investment. Tae-ho was so overly-confident, thinking he was pulling all the strings, that he didn't realize he was being used by men who had been doing this a lot longer than himself.
It took this trip down into the depths of poverty to make him realize that if he wanted to be the one with all the power, he was going to have to outplay men who have been manipulating everyone around them for many many years. It's impressive to see him finally three steps ahead of Heung-sam and his ilk, anticipating their moves and figuring out how to make them do what he wants this time. And he's maneuvering everyone perfectly at this point, which shows that he's really been paying attention to everything as he's climbed his way back up the ranks, enough to know exactly what to do to get the results he desires.
I'm looking forward to seeing how Tae-ho finishes everyone off and I hope he comes out on top, though I do hope there are no more deaths (and I realize that for a show like this, that's entirely too optimistic a hope). Last has been a great ride, filled with pitch-perfect performances and fantastic, exciting writing — really just a top class drama. I'll miss our Seoul Station boys, Granny and Nara, and even the villains who made us love them as well as love to hate them. Here's to Tae-ho and Heung-sam and their bizarre but fascinating friendship, and may the best man win.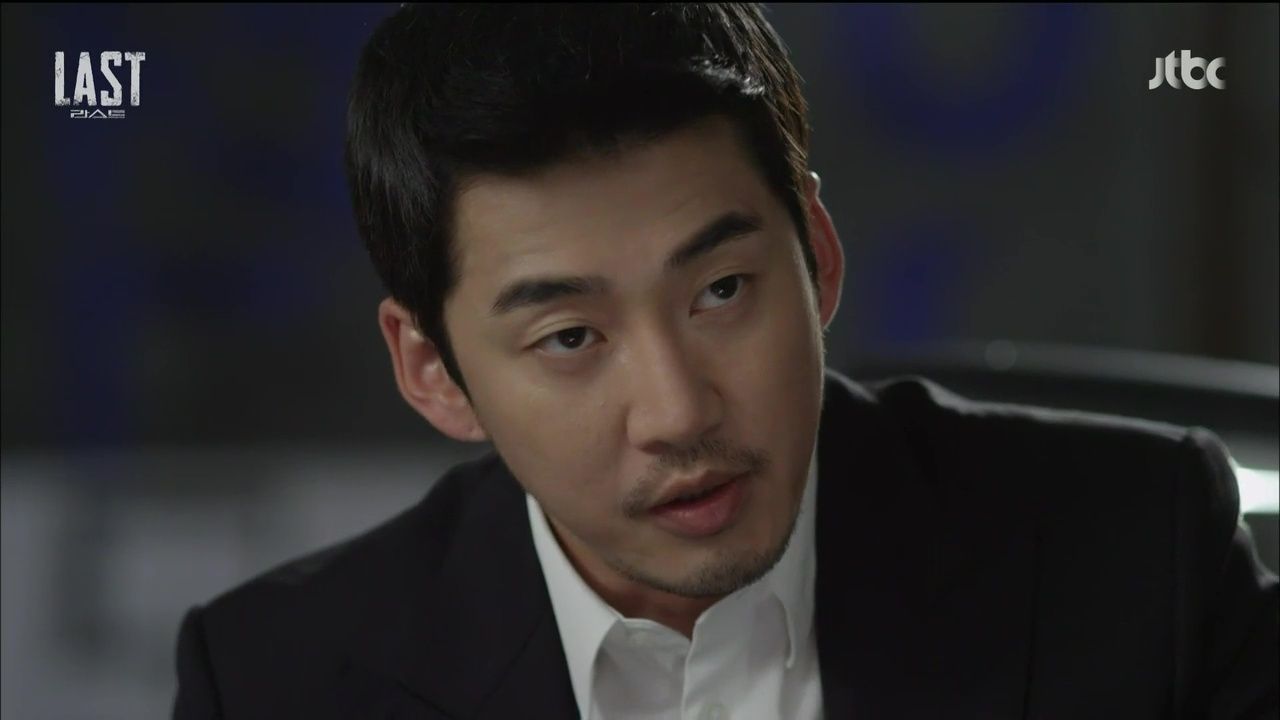 RELATED POSTS
Tags: featured, Last, Lee Beom-soo, Yoon Kye-sang