Six Flying Dragons: Episode 7
Spies and secret societies and revolutionaries, oh my! Poor Bang-won tries to gain admission into Jung Do-jeon's adventure club, but even with all his wits and wiles, he can only get so far before running into ghosts from his past. It doesn't help that everyone and their mother is looking for the same mysterious figurehead, and that some of them are willing to spill blood to do so. Change doesn't come cheap.
SONG OF THE DAY
Jung Joon-young- "Love N Hate" [ Download ]
Audio clip: Adobe Flash Player (version 9 or above) is required to play this audio clip. Download the latest version here. You also need to have JavaScript enabled in your browser.

EPISODE 7 RECAP
Try as he might to remind himself that now is not the time to be distracted by a woman since he needs to gain fame and success, Moo-hyul is unable to control himself the second Boon-yi calls him "Warrior-nim."
She wants him to accompany her to Hamju, and unknowingly gives him an added benefit to going with her: If he fights with Lee Seong-gye's men against the Japanese pirates, he'll catch the general's notice and his name and reputation will spread. Moo-hyul gets to kill two birds with one stone—he gets to be with the girl and do right by his Grandma.
Why? "Because you are the best warrior I've ever seen!" Boon-yi gushes. Of course, she only does that in Moo-hyul's mind (or does she?), but it seems to count just the same.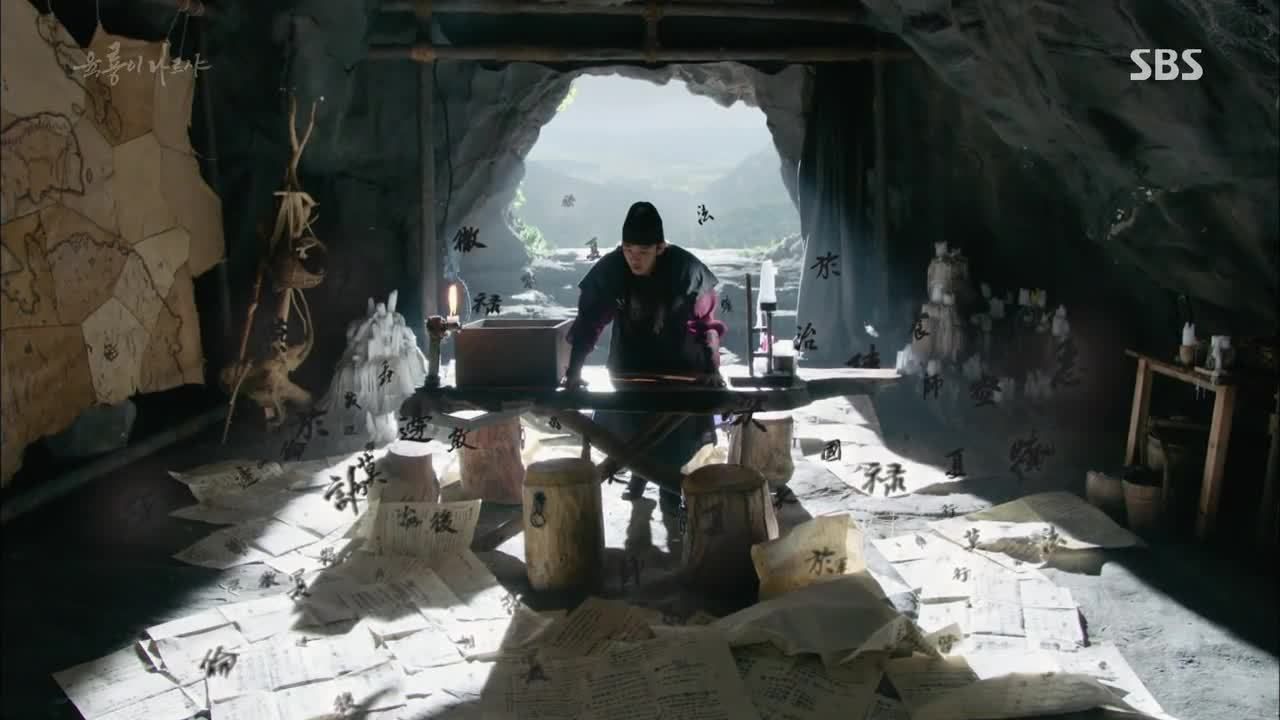 While Bang-ji tries to figure out how everyone who showed up at the temple might be related to Jung Do-jeon, Gab-boon is the one who brings up Minister Hong's involvement to him. Cut to the minister himself, who finds out from his spies that Moo-hyul and Boon-yi are headed north.
Bang-won may have deciphered the same code as Boon-yi, but he makes a pit stop at the New Joseon Cave instead of heading straight to Hamju first. He's hoping papers there will reveal Jung Do Jeon's purpose, and he rifles through boxes of them before he realizes that they, too, are code.
The characters start to lift off the pages in front of his eyes until they spell a single word: Jinchaegye, Jung Do-jeon's plan to establish a military base to stage his revolution.
Now that Bang-won's ready to head to Hamju, loyal bodyguard Young-kyu isn't—not till he gets some answers. He doesn't like that Bang-won doesn't want to tell anyone about what he's found, not even his eldest brother, and says he won't accompany him unless he spills the truth.
Bang-won tries to convince him that it's not treason for them to keep their mouths shut for now, since all he knows is that Hamju is being used as a revolutionary base. Bang-won claims he doesn't know who's behind it (though he knows that much), and when Young-kyu demands to know what this mystery person is planning or he's out, Bang-won takes in a breath…
Then says, "This rotten Goryeo… He wants to overthrow this rotten Goryeo and establish a new nation. And I will make sure to do that with him. Goryeo has disappointed me, frustrated me, and left me sapped of my strength."
According to Young-kyu, that gives them even more reason to tell his father about why they're going to Hamju, but Bang-won explains why that can't be so: If his father were to find out about Jung Do-jeon's plans, he'd kill him and end the revolution as they know it. Then the revolution as they know it would end. "I need your help," Bang-won pleads with him. "I beg of you."
At Lee Seong-gye's base in Hamju, second son Bang-gwa gives his father a letter that's been circulating amongst the soldiers, though no one knows who wrote it or when it came into camp. We're not privy to its contents but it's a safe bet that they're revolutionary in context, and likely placed by Jung Do-jeon's camp.
Bang-gwa wants to submit it to the Dodang (highest administrative officials), but Lee Seong-gye vetoes that idea quickly. The letter will arouse suspicion among the higher-ups, and it's likely that a spy could've written it just for that purpose. For now, they'll keep it among people they can trust.
Moo-hyul and Boon-yi wait amongst a crowd of peasants who've come to Hamju in the hopes that they'll be accepted to help Lee Seong-gye against the Japanese, not only for king and country but because they and their families will be provided steady work and food. Moo-hyul's nervous that they won't be accepted, but Boon-yi is still determined to try.
Bang-won and Young-kyu arrive in Hamju, but instead of going straight to his father's camp, Bang-won wants to first find out what's been going on in Hamju recently. To that end, he'll employ Young-kyu and stay in an inn for now.
Boon-yi tells the official in charge of acceptance the heartbreaking story about the secret land she and her villagers cultivated, only for it to get stolen away from them in unfair taxes right when they were about to harvest it.
She leaves nothing out, not even the part about setting fire to the storage building, and her story is heard by Lee Seong-gye. He's moved, and orders her and Moo-hyul assigned to a barrack.
Lee Seong-gye tries to maintain his composure when he returns to his tent, but his outrage at Boon-yi's now too-common story manifests itself when he throws his teapot. "I've spent my life fighting enemies at the border!" he roars. "But my soldiers, my comrades, all my people who have died thus far… What has spilling their blood accomplished? The people become more impoverished by the day."
To his brother in battle, LEE JI-RAN, he growls the names of Lee In-gyeom, Gil Tae-mi, and Minister Hong—all of whom are guilty of letting their greed grow way out of anyone's control. "This nation is not improving in the slightest," Lee Seong-gye continues. "We have fought for so long. We have endured! But this nation… has not improved. Not even in the slightest."
After Bang-won learns about the letter found circulating through his father's camp and the search for its author, he peeks in on one of the mandated handwriting tests the workers in the camp are put through, in order to hopefully find a match.
The test is being headed by official LEE SHIN-JEOK, who Bang-won immediately recognizes as his old hyung Scholar Kang. He pays him a visit, with Shin-jeok being unsurprised—he knew he'd run into Bang-won once he started working for Lee Seong-gye.
He tells Bang-won that he abandoned his former name in lieu of his new one, and that his goal now is to serve Lee Seong-gye in battle. But once Bang-won is alone with Young-kyu, he tells him that he saw Shin-jeok writing with his right hand, but when he was Scholar Kang, he wrote with his left. He definitely suspects him as the anonymous letter writer.
Later that night, Bang-won sneaks into Shin-jeok's tent to take a look at the letter himself. Young-kyu can't even focus with how nervous he is that they'll be caught, while Bang-won reads the letter aloud, which details a different way of governing and organizing the people than is currently being done.
It lists how to go about creating a new nation, which contains two steps: The first is to secure the border in case of any external invasion. The second is to gather people in Hamju, and prepare them for a revolution by training them and creating a self-sufficient governing nation that won't yet be a nation until it rebels against Goryeo.
Bang-won knows this letter made it to his father in the hopes to convince him to follow its plans, and Bang-won knows that's because his father would be harder to convince than any government officials. But he can help when it comes to his father, and fully plans to.
They hide when Shin-jeok returns for the letter, and Bang-won is convinced now that Shin-jeok is the letter's author (because he used his left hand to lift it). It's definitely his handwriting too, but he's just been concealing it by pretending to be ambidextrous.
Boon-yi is kidnapped, blindfolded, and brought to Shin-jeok later that night. He takes the figurine from around her neck, and asks her where it came from. There have been spies sneaking into camp as migrants, and this figurine is proof.
He has one of his minions hold a sword to Boon-yi's neck as he asks her, point-blank, to tell him the truth or die. She knows he discovered the figurine when all her belongings were searched, so she bravely asks why he waited to confront her about it, and in the middle of the night no less.
With confidence, she reveals that she doesn't believe she's under investigation, but that she's being tested. "I shall bet my life that you have the same necklace," she ventures, even reaching forward to see for herself.
She's not cowed even when a sword is pressed against her neck, and only tells Shin-jeok that she doesn't have time—her fellow villagers are waiting for her. She all but orders Shin-jeok to tell Jung Do-jeon that she's arrived and he's to keep his promise.
Unafraid, she reaches forward and finds that Shin-jeok is, in fact, wearing the same figurine around his neck. She recites the message she decoded from inside, which is finally what changes his mind toward her. "Welcome to Hamju," he says.
What they don't know is that they've got multiple spies watching their exchange, one group in the form of Bang-won and Young-kyu, and the other being Minister Hong's spies. They plan on capturing Shin-jeok so they can take him to Jukryong.
We find Jukryong at the gibang Cho-young runs, as he offers her three gold bars in exchange for any intel she might have on Baek Yoon's murderer. She gives him the runaround about how people say it was Minister Hong, since he stood to gain the most from Baek Yoon's untimely demise, but she knows that's not what Jukryong has come to hear.
His curiosity piques her own, and she offers him gold in exchange for what he knows. He tells her his suspicions that a secret organization is being run, but that the girl they planned to interrogate was stolen away by a warrior of great skill (he's talking about Bang-ji), who he believes is Baek Yoon's true murderer.
Cho-young seems unusually shocked to hear this, and even more so when Jukryong reveals that he hadn't even planned on uncovering a secret organization when he was asked to find someone. "Who?" she asks. Jukryong: "Jung Do-jeon."
But Jukryong only pretended to be under her spell, knowing that Cho-young would do something with the information he gave her. No sooner does he order his men to keep an eye out on her movements does she address an army of masked women, who she tasks with finding out everything there is to know about Baek Yoon's death and whatever's going on at Biguk Temple.
Meanwhile, Minister Hong and Gil Tae-mi pay a visit to the gibang, with the latter of them coveying his concern that General Choi will make good on his promise to break their alliance unless they lower the tax rate.
They meet with Minister WOO HAK-JOO there, who apologizes to Gil Tae-mi for accusing him of having something to do with Baek Yoon's death. But they're there for Minister Hong, who has a plan to shake things up concerning their relationship with Lee In-gyeom, and how they want him to start bending to their demands instead of the other way around.
What he's suggesting is almost treasonous, but Gil Tae-mi's concern doesn't stop him from raising his glass when Minister Woo promises that he'll get a very high position when all this is over.
Lee In-gyeom knows what Minister Hong is up to, and his plan to combat that involves Lee Seong-gye somehow. But for now, he goes outside to see the servants of his household holding their own little festival for Buddha, replete with a female astrologer who's all too happy to tell him his fortune.
At first it sounds bleak, until she reveals that the path he needs to take lies to the north—more specifically, the northeast region where Jung Do-jeon wants to gather his revolutionary forces. Then it's revealed that she's YEON-HEE (Jung Yoo-mi), and she soon has Lee In-gyeom hanging on her every word.
Now he's not only thinking of the northeastern region, but also of Lee Seong-gye. Which comes about through a complicated series of naming stars and combining their characters to come up with "Lee," but I really don't think this recap needs a longwinded lesson in astrology to explain how.
Now that Boon-yi's in charge of Lee Seong-gye's laundry, Shin-jeok finds her outside his tent and tells her the path she needs to follow in order to meet with the elusive Jung Do-jeon.
But Bang-won's overheard their conversation, and lets Shin-jeok know about it—though his insistence on calling him "Brother" the way he used to has Shin-jeok reminding him that they are no longer brothers. At least he gets Shin-jeok's undivided attention when he reveals that he knows the coded message Jung Do-jeon sent out, by reciting it there and then.
Boon-yi leaves camp to find Jung Do-jeon, but hears a voice calling her, "My lady, My lady." She looks up to find Moo-hyul in a tree, having escaped from basic training he considers to be far below his abilities. Unfortunately for him, Boon-yi doesn't have time to soothe his wounded pride, and keeps moving right along.
Bang-won demands to know who's leading the secret organization, but Shin-jeok has no intention of telling him… at least until Bang-won claims he's asking on behalf of his father, who'd like to meet with the elusive Him.
His ploy succeeds, as Shin-jeok tells him where to go with his father tonight to meet with him and the secret leader. Young-kyu is over the moon to think that Lee Seong-gye might be coming around to this whole revolution idea, only for Bang-won to flatly tell him that he lied. He hasn't even talked to his father.
"Father is like a mountain," Bang-won explains, "And this requires moving a mountain. I shall meet with him first, and I shall move that mountain with him. That is what I will do. I will make sure of it."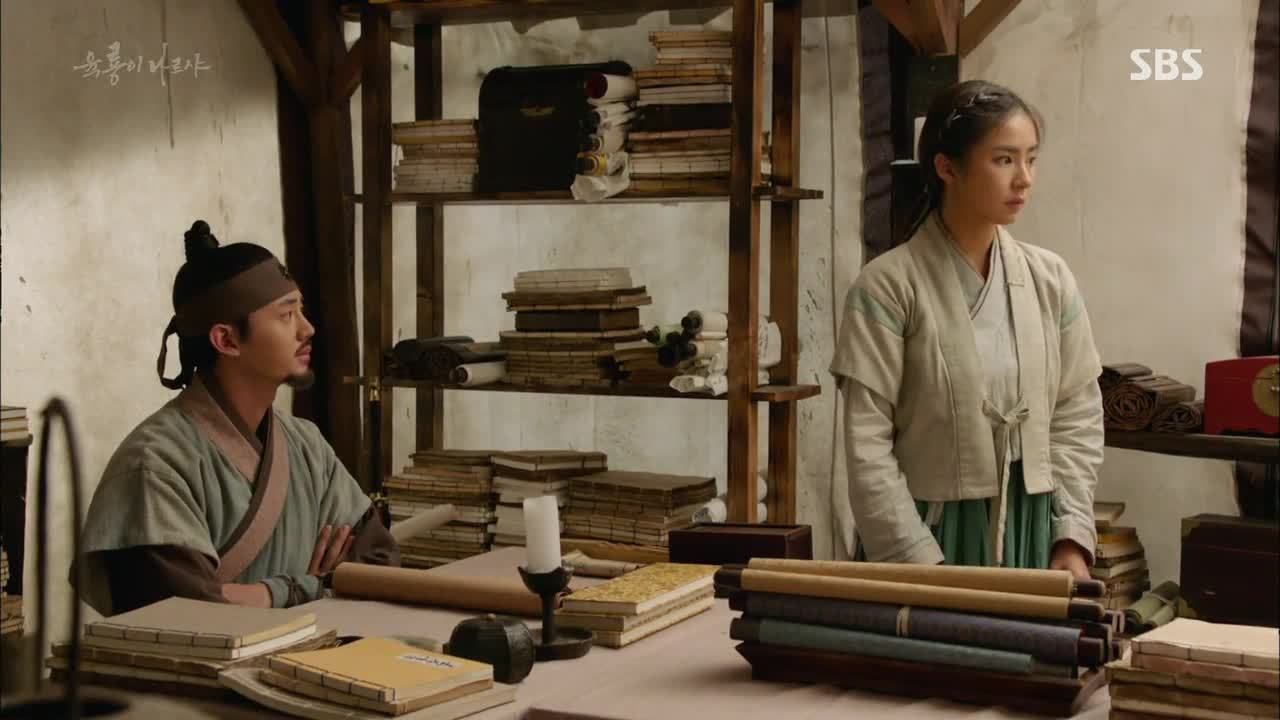 After a meeting with Jung Do-jeon we don't get to see, Boon-yi returns to Shin-jeok with a letter from the man himself, and the instructions that she's to be used as a messenger to go between them now. Because Jung Do-jeon now trusts her completely, Shin-jeok resolves to do the same, and allows her to read the letter he sent.
In it is Jung Do-jeon's desire to meet with Lee Seong-gye, though he's as yet unaware that Lee Seong-gye wants to meet with him (he still believes Bang-won's lie, remember). That's when Shin-jeok reveals that the meeting's already been arranged, only for Boon-yi to wonder, "What if it's a trap?"
Shin-jeok is positive that Lee Seong-gye wouldn't do such a thing, but Boon-yi continues, "In the world I have seen and grown up in, there is no divide between the ones who would [do such a thing], and those who would not."
So that night, she tags along with Shin-jeok for the meeting and plans to stay hidden. If she sees Lee Seong-gye, she'll alert him. If she sees anything suspicious, she'll blow the whistle he gave her.
Minister Hong's spies have also closed in on the location, unbeknownst to either Bang-won or Shin-jeok. Young-kyu is tasked with the same function as Boon-yi (to alert Bang-won in case of suspicion), while Bang-won approaches the meeting place in an old forgotten temple.
He goes inside and sees only Shin-jeok, and wonders why he's there alone. Shin-jeok also wonders why Bang-won's there alone, and they both realize they've tricked the other—neither planned to bring their masters. That's when Boon-yi sees Minister Hong's cronies rushing up to the temple and blows her whistle…
…But it's too late. The thugs get inside before Young-kyu can, and one of them slashes downward with his sword, cutting either Bang-won or Shin-jeok. By the time Young-kyu arrives, all that's left is blood on the floor.
Boon-yi wasn't even running toward the temple—instead she was running to Jung Do-jeon, who was actually nearby. Maybe Shin-jeok had intended to follow through on his word after all, but it matters little now.
Young-kyu returns to camp to tell Lee Seong-gye that his son has been kidnapped, which comes as news to the great general, who hadn't even known his son was in Hamju in the first place.
And from his treetop spot, Moo-hyul is once again in the right place at the right time to see shady activity going on. In this case, he sees the thugs who've kidnapped Bang-won and Shin-jeok, with both captives gagged and blindfolded.
Since Bang-won is wounded and holding them back, the head thug orders his partner to go ahead and kill him. Before he can, Moo-hyul throws his spear between them and jumps into the fray, even though he doesn't know who anyone is and what they're fighting over.
Young-kyu, elder brother Bang-gwa, and Lee Seong-gye's men comb the area around the temple looking for Bang-won, while Boon-yi sneaks back into camp to find a portly woman whom Jung Do-jeon has ordered to run away. (Huh?) But their escape attempt is foiled when they're surrounded by Lee Seong-gye and his men.
Now that the bad guys are tied up, Moo-hyul's all, "I saved you again! We must have a real connection!" with Bang-won. But the bromance isn't returned, which, aww. Bang-won's more concerned that Young-kyu has told his father everything, and that he likely believes Bang-won was kidnapped by the secret organization.
Shin-jeok can't return to camp to tell them there's been a misunderstanding, since Young-kyu has blown his cover. That leaves Bang-won to turn to Moo-hyul and ask if he can run while piggybacking him. I absolutely love that Moo-hyul's all pissy since Bang-won shut him down earlier.
Scarred warrior Ji-ran holds Boon-yi hostage in front of the other peasant workers, threatening to kill her should they not divulge what they know about Bang-won's kidnapping. Though Boon-yi claims they weren't the ones who kidnapped him, Ji-ran readies to kill her as an example.
She's saved when Bang-gwa and Young-kyu return after they've found Bang-won, and they absolve her organization of the crime now that they know the truth. Lee Seong-gye approaches Boon-yi to ask whether everything she told him was a lie, only for her to tearfully claim that her story was nothing but the truth.
She came to him, she says, because if he wouldn't take her and her kind in the way he has, they'd end up as corpses on the street collecting flies with no one to claim them. "Could it be the reason why he sent us to you is for you to save this world?"
"'He?' Who is he?" Lee Seong-gye asks. "He is…" Boon-yi begins, unable to finish. "He is…"
But then a voice booms, "Here I am!" It's Jung Do-jeon in the flesh, and the crowd parts for him as he reaches the inner circle. "I am he!"
Bang-won, who's been carried back to camp, recognizes him from the grand speech he gave to rouse the people when he was just a child. That man from Jangpyung Gate, Bang-won realizes, is the ruler of New Joseon.
"I am Jung Do-jeon," Joseon's architect proclaims.

COMMENTS
Man, what a little Kim Myung-min will do to a scene. Why do I feel like this show was purposefully withholding its single greatest asset in a bid to get us to really swallow that hook? Which isn't to say that the show is lacking in other assets, since the young cast assembled is proving to be aces thus far, it's just that you sometimes don't know what you've got till it's gone.
But now it's back, and that cliffhanger couldn't have been more cliffhanger-y if it tried. I actually really like how they held back on showing Jung Do-jeon in an effort to build up how everyone perceives him. And by not showing the man behind the curtain while everyone talked about him in hushed, reverent tones, the show was able to build him up as this almost mythical, godlike being of infinite wisdom. Not to mention one of infinite reach, since the not-so-secret organization he's built seems like it has no beginning or end.
Even though this show has a daunting amount of plates to spin, so far it's doing a decent job at stacking those plates into groups we can follow. Each of our main characters has his or her own separate motivations, and the way the show gets those to crisscross over each other may sometimes come off a little heavy-handed, but I'll take that as long as it all makes sense. Sure, it's a stretch to believe that Moo-hyul keeps accidentally finding himself in the right place at the right time to save Bang-won, but if that's what it takes to get our derpy warrior more screen time, then Moo-hyul can climb up as many serendipitous trees as he wants to. He's not the only one getting himself into crazy circumstances when the bulk of Boon-yi's adult dialogue has been spoken with a sword to her throat.
We certainly felt the heat from what was previously just an undercurrent of revolution left simmering on low these past few weeks, and there's an indelible feeling that the clock is ticking on the country known as Goryeo. And what Six Flying Dragons has managed to do seems to be a rare and very difficult feat, in conveying that sort of restlessness not only through the black and white instances of how the government is corrupt, but in the idealism of those who wish to see that changed. Despite making it almost impossible for anyone but Boon-yi to easily find him, Jung Do-jeon has managed to inspire a movement that will change everything.
What'll be interesting to see is how Bang-won tries to incorporate himself into that movement, and how he'll take to the kind of backseat role he'll have to play for a good while coming. The biggest obstacle both he and Jung Do-jeon will have to overcome is his father, but I like that even in the limited time Lee Seong-gye's had on screen, he's shown himself to be a man of principle, and it'll likely be that sense of justice which drives him to even consider the plan that Jung Do-jeon has in store for him. Basically, I just really, really want to know how this confrontation plays out. And since there's only one way to do that, I'll see you guys on the other side.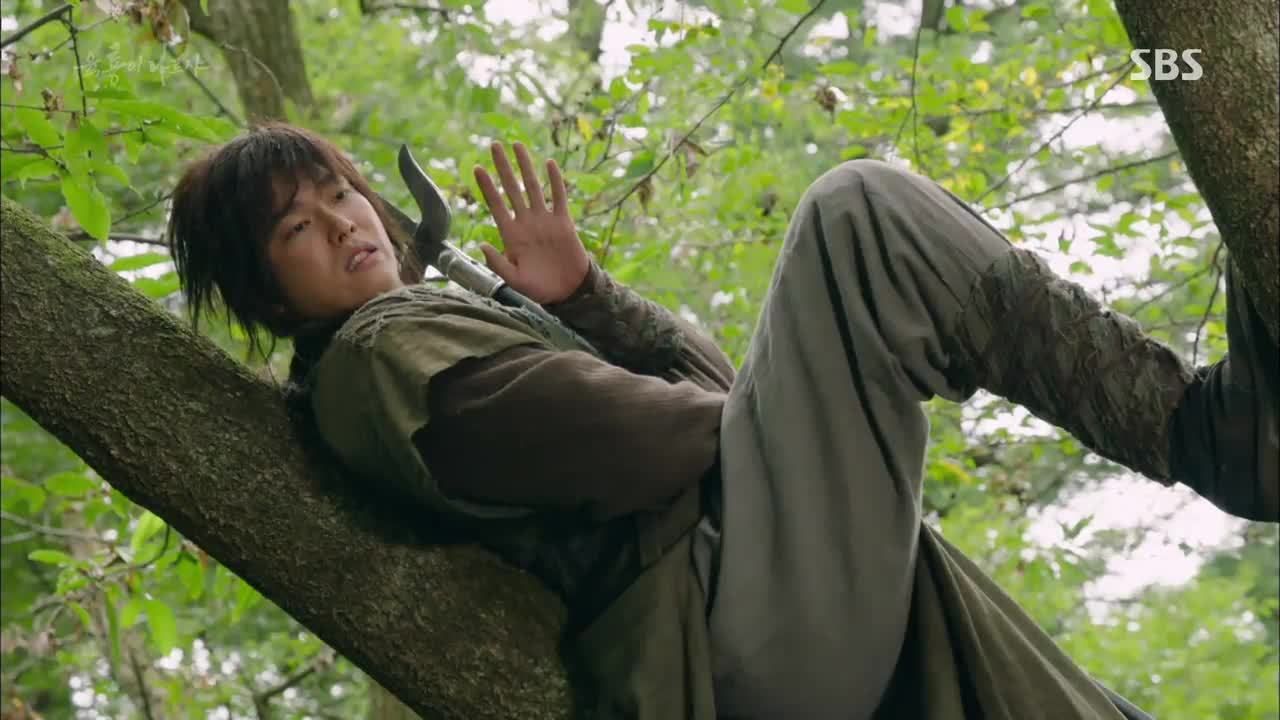 RELATED POSTS
Tags: Byun Yo-han, featured, Kim Myung-min, Shin Se-kyung, Six Flying Dragons, Yoo Ah-in