D-Day: Episode 18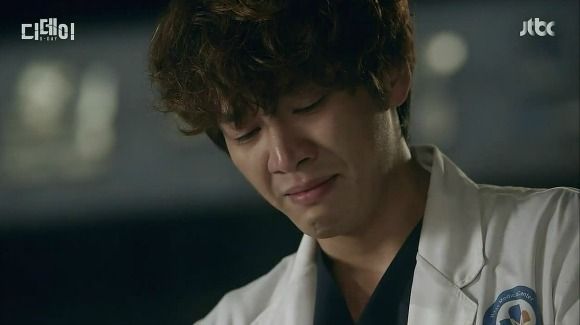 Do you hate sunshine, puppies, and happiness? Then this is the episode for you! Prepare your hankies, because there's a lot of snot and tears to deal with as our heroes struggle with the pain of potentially losing someone near and dear. At least there's only one more week left and then we (and everyone else at Mirae Hospital) will be put out of our misery. Figuratively speaking, I hope. But you never know with this show.
EPISODE 18 RECAP
Ddol-mi pleads with Hye-sung to perform surgery on her father since she doesn't trust Myung-hyun to handle such a tricky procedure. I can't blame her, knowing what a lazy coward he is, but Hye-sung tells her that he can't do it — he has his own surgery to attend to.
The firefighters beg Captain Choi to rethink his decision about going into the utility tunnel, since they know it's an incredibly dangerous mission. Aren't they there to save lives instead of mindlessly sacrificing their own?
But Captain Choi refuses to hear any more, pointing out that if they can get the electricity going again, they'll be able to save countless lives (and, of course, the monetary hub of the nation). He also refuses to let anyone else go in his stead. He's the captain — he'll only risk himself.
Perhaps it was wise for Ddol-mi to want someone other than Myung-hyun operating on her father, because he doesn't seem all that confident in the OR, asking the rest of the staff if his next step seems like a good idea. Then he tries to stitch up a rip in her father's spleen, but only ends up making it worse.
Meanwhile, Hye-sung's patient is no easier, but at least Hye-sung is a better surgeon and can smoothly overcome similar obstacles that have Myung-hyun panicking and Ddol-mi yelling at him when he nicks an artery. Blood shoots into Myung-hyun's eyes and he staggers back from the table to kneel on the ground, in a full-blown panic attack.
Ddol-mi yells at Ji-na to get Hye-sung since that's her only hope of saving her father's life, but Hye-sung's busy trying to save his own patient's life and is in no position to leave. When Ji-na returns, bearing the bad news, Ddol-mi frets that her father is going to die and they can't save him.
Taking matters into her own hands, Ji-na talks Dae-gil through clamping down the artery to stem the blood loss and buy them some time, and it's a success! Just then Chief Kang walks in, ready to take over the operation. Yay!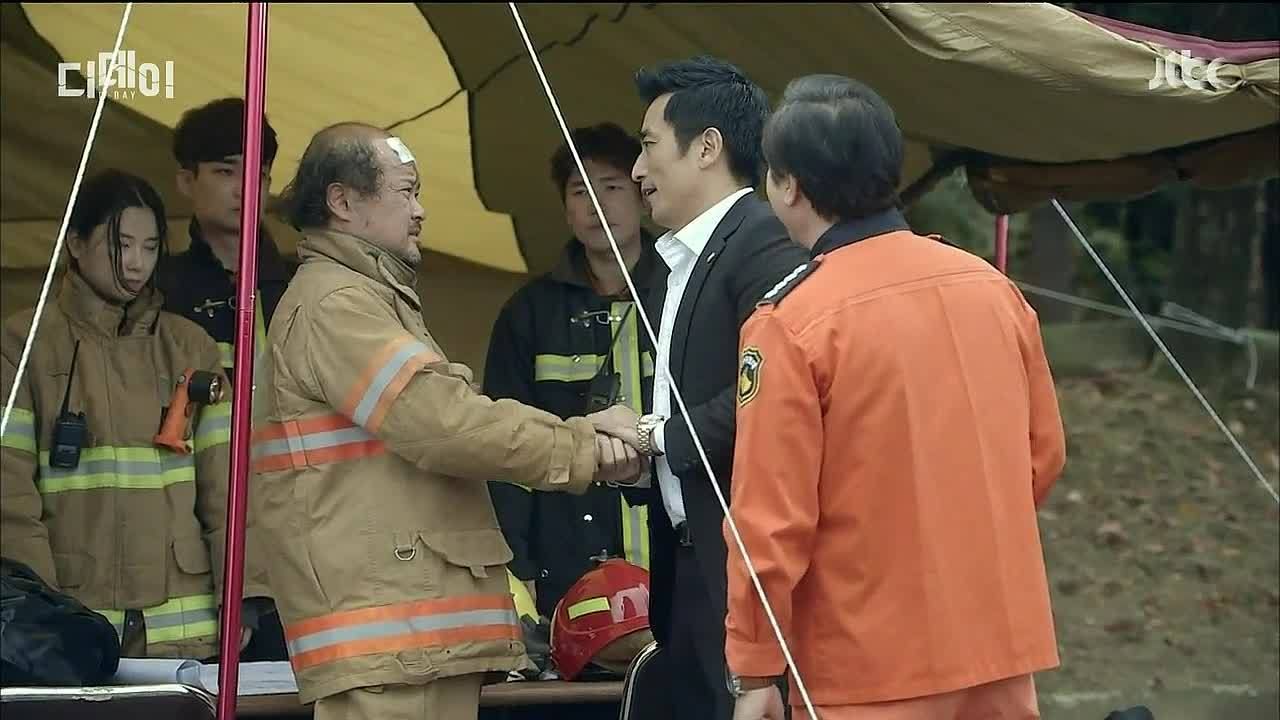 Captain Choi studies the blue prints of the utility tunnel, trying to figure out the path, when Ja-hyuk drives up. He's there with the Fire Chief to present Captain Choi with a generous gift of money as a way of saying "thank you" for the service he's going to perform the nation. Ha, I love the way Captain Choi politely kicks Ja-hyuk out so he and his team can focus on their work. Even though that work is a suicide mission.
Thanks to Chief Kang, Ddol-mi's father's surgery was a success. An emotional Ddol-mi tearfully thanks Dae-gil, too. If it weren't for him helping to clamp down the artery, they might not have been able to save her father's life.
Aw, she buries her face in the handkerchief he loans her, weeping as she says she won't forget that her father almost died because Hye-sung wouldn't perform the surgery.
Myung-hyun's got himself hooked up to an IV, recuperating from his mental breakdown in the OR. Sister glares at him as she gets him set up, telling him that he's proof that not just anyone can perform surgeries like Hye-sung. Chief Kang is ready to drag him out from the hospital bed but Ye-sul holds her back, reminding her that Myung-hyun tried his best and probably feels bad about what happened.
Overhearing their conversation, Myung-hyun turns his face away so no one can see him cry as he whispers that he wanted to do well, too. Yeah, you'll get no sympathy from me, bub.
As Hye-sung oversees his patient being wheeled into the ICU, he asks Ddol-mi about her father. She pointedly ignores him, though, despite his awkward attempts to engage her in conversation, and when he returns to his patient, she stomps out of the room. Watching her go, Hye-sung stumbles into a table and faints.
Ji-na and Chief Kang get him settled into a hospital bed, chiding him for working so hard despite having a high fever. But there aren't enough surgeons right now, so how could he stop working? He asks after Ddol-mi, and then realizes that his bed is next to Myung-hyun's.
Dragging the curtain between them open, he demands to know if Myung-hyun apologized to Ddol-mi for nearly making her see her father die in front of her eyes. Myung-hyun says he didn't — if he apologized for every mistake he made during a surgery, he wouldn't be able to perform any surgeries.
Besides, it's only a cruel rumor that he sat trembling on the floor in the corner. The truth is that Ddol-mi's father has unusual arteries and spleen that are just hard to work with. He'll open his patient up and show it to Hye-sung to prove it to him, really!
Ji-na finds Ddol-mi in the break room, trying to play the peace-maker as she tells her that Hye-sung is looking for her. Ddol-mi doesn't care, though, and doesn't want to hear whatever it is he has to tell her. Even though Ji-na understands how she feels, she tries to tell Ddol-mi that Hye-sung's actions were completely understandable. Maybe so, but Ddol-mi still can't accept it.
Decked out in his diving gear, Captain Choi readies himself to enter the utility pipe. The team salutes him and he salutes them back, and then slips into the underwater tunnel. It's dark and murky as he swims his way to the blocked valve.
Ddol-mi tells Chief Kang that as soon as her father's condition is stable enough, she'll be going back to Busan with him and transferring him to a hospital there. Chief Kang wonders if it's because she can't trust the other doctors here at Mirae Hospital. She apologizes, knowing how Ddol-mi has gone through, but she still thinks it would be best to keep her father here so they can care for him. Ddol-mi politely refuses.
A groggy Hye-sung wakes up from his sedated rest to see Ddol-mi and calls out to her, but she ignores him. He scrambles out of the hospital bed to chase after her, grabbing her arm and turning her around. Why is she acting like he's invisible?
It's because even though she knows Hye-sung can't give up on a patient, her father is a patient, too. If Hye-sung had performed the surgery originally, would her father have nearly died? Yes, her father is alive now, but Ddol-mi berates herself for being a daughter — and a doctor — who wasn't able to save him. Even though she knows Hye-sung really had no choice, she still can never forgive him for pushing her father away.
Director Park's sister is transferring her husband to a nursing center. Since it's too late for surgery, he'll be better off somewhere that might be able to slowly help him eventually recover. Director Park vows his revenge on Hye-sung, who he continues to blame, of course. But it looks like his brother-in-law is attempting to speak as the ambulance drives away, so maybe there's hope that Hye-sung will be saved from Director Park's evil clutches.
The firefighters wait as Captain Choi continues to weld through the broken pump. There's about ten minutes left of air in the oxygen tank, and everyone's restless with worry, wondering if they should prep a rescue team.
Meanwhile, the Fire Chief has gotten word from pump technician that if it's started up again, it will cause a current so strong that there's no way Captain Choi will be able to survive. Ja-hyuk is momentarily angry that they didn't have this information before, but then his greedy businessman side kicks in, and he points out there are only three people who know about this: the Fire Chief, the pump technician, and himself.
He makes the Fire Chief promise to keep this a secret, since it's too late to stop the mission now. Even though Captain Choi will die, at least he will die with the honor of saving the country, and no one will ever know about the truth of his death.
Except for Woo-sung, hidden behind a tent as he retrieves bottles of water, who's heard all. He sprints to one of the fire trucks to retrieve gear to go rescue Captain Choi, and as he does, a news reporter begs him to wear a camera on his helmet, since the news team is desperate for some interesting footage.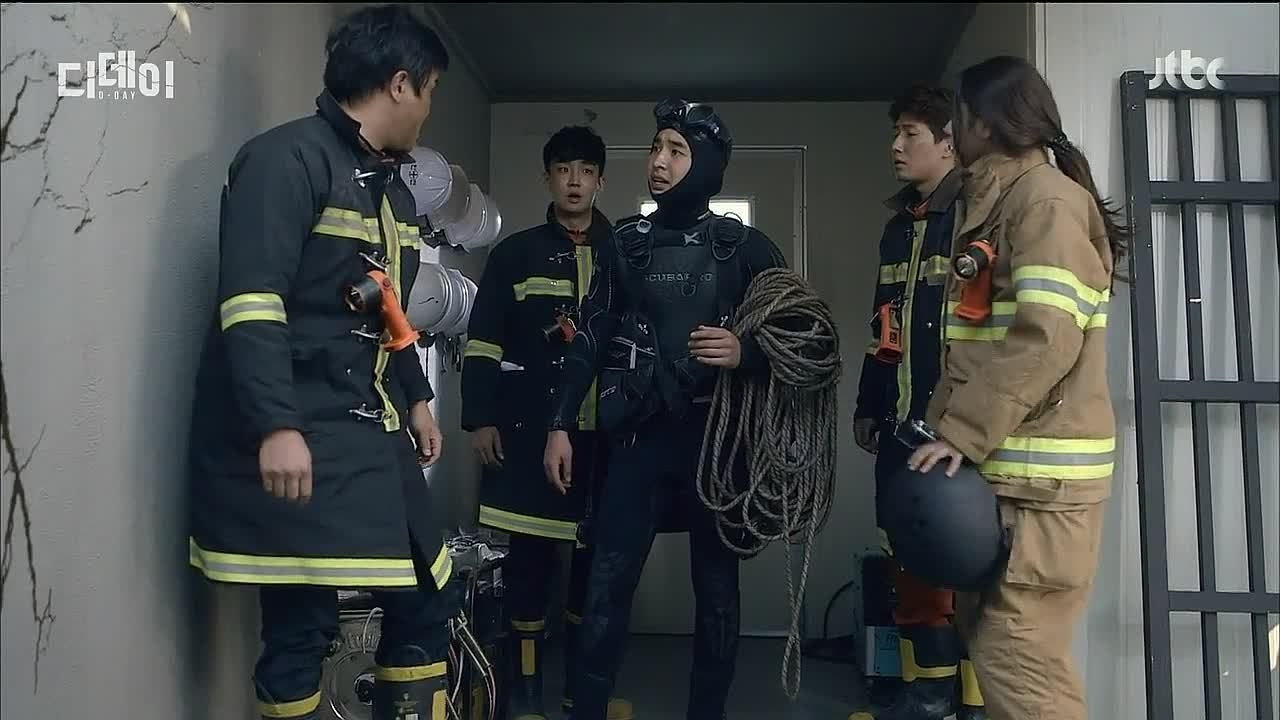 The rest of the firefighters are surprised to see Woo-sung burst in, ready to go dive after Captain Choi. But when he explains how dangerous the current will be once the valve opens, they agree to let Woo-sung, the best diver among them, go in. He ties a rope around his waist, letting them know he'll signal when they should start pulling him and Captain Choi out.
It's difficult making his way through the underwater tunnels, but he manages to find Captain Choi, who's oblivious to the certain fatal danger that will result in him opening the valve. He manages to get the captain's attention and they swim up to where there's an air pocket.
Woo-sung begs Captain Choi to stop what he's doing, explaining what will happen when the pipe opens. It's not just a matter of fighting against the current — even if they could swim against it, they don't have enough oxygen to last that long. He yells that they have to get out, now!
But Captain Choi's drunk enough the kool-aid to insist that they have to empty the utility tunnel of water before the pipes explode and the buildings above collapse — and then they can save lives and the nation's economy. Woo-sung surrenders, knowing of course Captain Choi would be like that. As he ties the rescue rope around his captain's waist, he grumbles that no one ever will appreciate their hard work, and once they get out, Captain Choi is buying everyone a fancy dinner.
Between the two of them, they're able to open the pump. Above ground, the firefighters — along with Ja-hyuk and the Fire Chief — wait anxiously for any signal along the tow rope. But as predicted, the strong current makes it impossible to swim upstream, and the two men fight to move forward.
Hye-sung tends to his mother, still outside in one of the triage tents. He teasingly tells her that Woo-sung said he should dye her hair to hide the grey, and as he cheerfully preps the dye, he accidentally bumps into her bed-side table.
The happy family picture of her, Hye-sung, Woo-sung, and their father falls to the ground, shattering the glass in the frame (probably due to the weight from the Anvil of Symbolism).
Back at the utility tunnel, there aren't any other oxygen tanks charged, so the other firefighters can't send in a rescue team. There's only two minutes of oxygen left in Captain Choi's and Woo-sung's tanks, and the other firefighters feel helpless as they wait for a signal.
As the two men struggle against the current, Woo-sung cuts off the rope holding him and Captain Choi together, and then tugs on it, signaling to the crew to pull them up. It's difficult, because not only are they pulling agains the current, but Captain Choi is struggling to cling on to Woo-sung.
He loses his grip as his crew continue to pull him along the tunnel, and can only helplessly watch as Woo-sung gives him one final salute good-bye. Nooooooooooo.
They drag Captain Choi up, and once they realize that Woo-sung is left behind, they scream helplessly after him. Now alone in the gloomy tunnel that is gradually collapsing around him, Woo-sung removes his helmet to face the camera the news reporter had fastened to it.
An unconscious Captain Choi is rushed to the tent, but he quickly regains his senses and staggers to his feet. Ja-hyuk is ready to celebrate Captain Choi's achievement, but the captain is focused only on his lost crew member.
He literally fights off his crew as they tell him it's impossible to go after Woo-sung, and it takes all of them to hold him back from returning to the tunnel in a hopeless rescue effort. They all weep at the realization that one of their men — a brother and comrade — has sacrificed his life.
Ja-hyuk formally apologizes to Captain Choi, reminding him that the nation will never forget the firefighter's sacrifice. In response, Captain Choi punches Ja-hyuk in the face, twice. Oh, I wanna try, too!
Captain Choi asks — even though he knows the answer — if Ja-hyuk knew that it would be a fatal mission. So what is he going to do about it? He grabs Ja-hyuk by the collar, demanding he save Woo-sung — he has the money and connections, so why can't he save them? Why is it always the cruel ones with power that send them off to die?
Ja-hyuk seems more concerned that his shirt is torn than actually being apologetic about knowingly sending someone on a suicidal mission. But that's no surprise to anyone.
Back at Mirae Hospital, Ddol-mi tries to take over from Hye-sung, who's checking on her father. He promises to look after him very carefully, so she doesn't need to return to Busan. He'll make sure her father returns to good health and he can continue his volunteer rescue work — but she just ignores him and walks away.
Just then, another doctor rushes up — it's about Woo-sung. Running to his motorbike, Hye-sung immediately gets ready to drive to the utility tunnel. Ji-na runs out after him, telling him to be rational and wait until he's in better condition and they can confirm the rumor. But all he knows is that his brother is supposedly dead, and he roars off on his bike, skidding through the streets as he makes his way to the utility tunnel.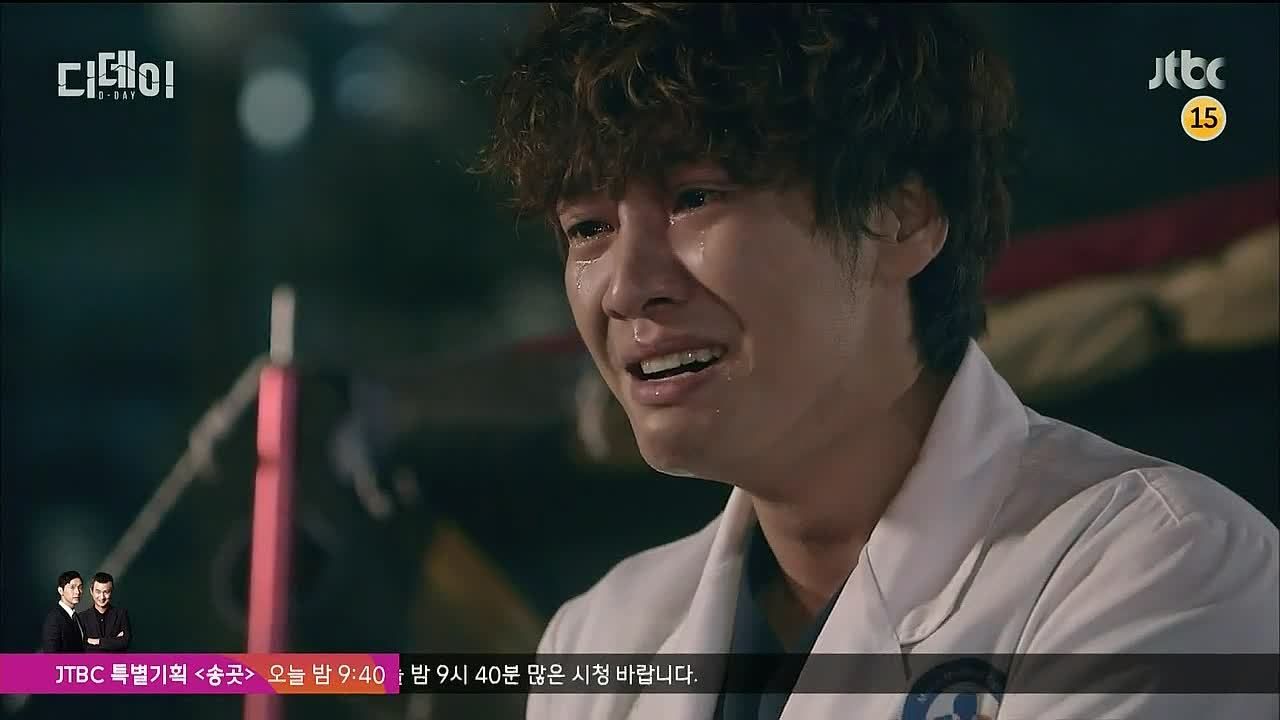 He begs to know if it's true and the fireman can only apologize, explaining how it happened. The water is nearly gone from the pipe and they'll be able to pull out Woo-sung soon.
Wiping tears from his face, Hye-sung stubbornly says that Woo-sung won't die. He can't die. He promised to not get hurt until after their mom got better. Hye-sung tries to go to the tunnel himself but the fireman stops him, and through gasping, broken-hearted sobs, he says that maybe his brother is still breathing and he, as a doctor, can still save him.
Ddol-mi sits alone in one of the hospital waiting rooms until Ji-na finds her and quietly asks if she's okay. But Ddol-mi is more worried about Hye-sung, and she cries as she says that she had yelled at him and blamed him for her father almost dying on the operating table. She resented him, but if his brother…. Unable to finish that thought, she lowers her face and weeps.
Chief Kang is trying to convince Director Park to hold the funeral at the hospital, but he's a heartless evil money-grubbing robot who can only think about the burden it will place on the hospital's resources. His answer is to instead just give Hye-sung some money so he can go elsewhere.
As Hye-sung waits, he remembers his and Woo-sung's promise to look after their mother. Just then, the firefighters slowly arrive with Woo-sung's body, and as Hye-sung gently pulls back the blanket to reveal his brother's face, he breaks down in gut-wrenching sobs.
The firefighters tearfully look on as Hye-sung cradles his brother's head and calls out his name, begging him to open his eyes.
Ja-hyuk is delighted to know that the electricity will now be returned, and he and his team cheer that they — and the country, of course — will not go bankrupt.
Ddol-mi checks on her father, who's conscious now, and he tells her that her father won't die that easily. He wonders about "that long-legged doctor," asking if he went somewhere. But Ddol-mi tells her father that she does't think she can see Hye-sung again.
The firefighters load Woo-sung into the ambulance and Hye-sung sits next to him as it drives off, trying to warm his brother's cold fingers. As they watch the ambulance drive away, the reporter asks Captain Choi if anyone told them that the current would be that strong once the pump was opened.
In response, Captain Choi hands over the camera that had been attached to Woo-sung's helmet, adding that he'll never be able to look at the Yeouido street lamps the same way ever again (after knowing what it cost to get the electricity working).
As the ambulance makes its way to the hospital, Hye-sung gently rubs his brother's hands and body, promising he'll keep him from getting too cold.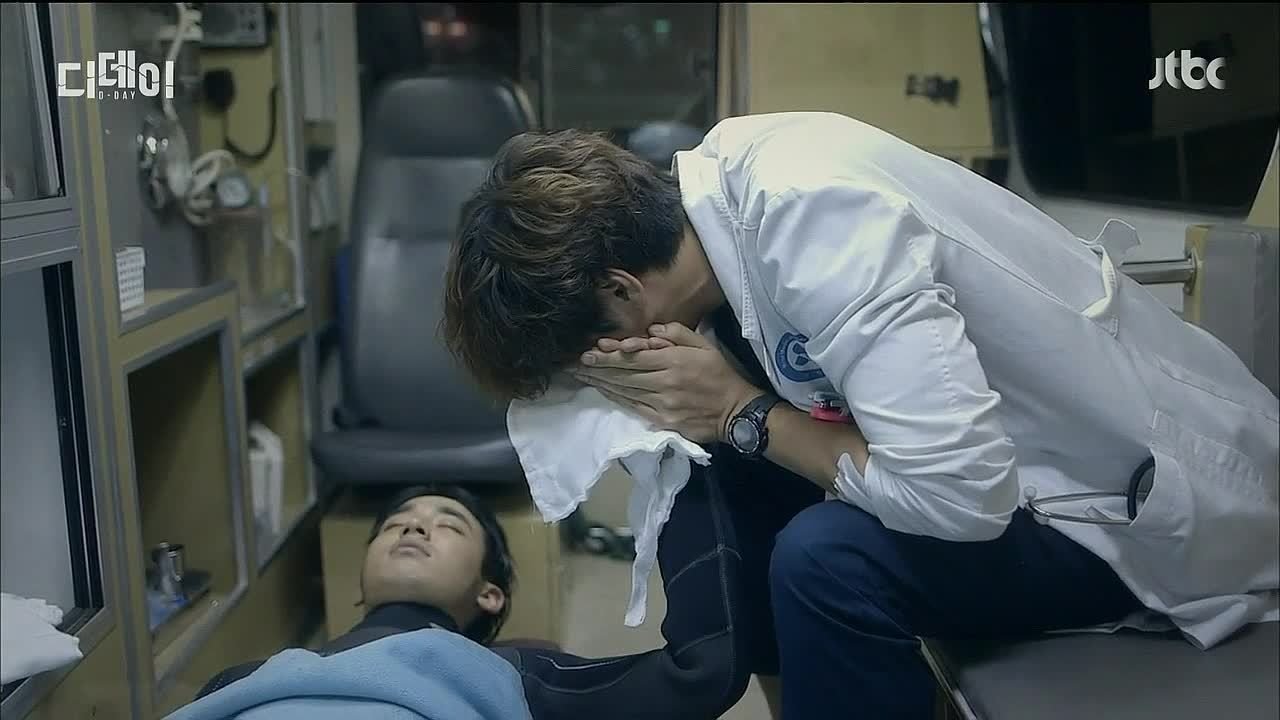 COMMENTS
I think I ought to be sad. I liked Woo-sung well enough. With what little screen time he got, I could get a sense he was just angry that he felt his big brother had been bought off by the hospital instead of demanding justice for the way their mother ended up. Plus it was sweet how the brothers were starting to reconcile once again (not to mention Woo-sung's cute crush on the nurse).
But it's a bitter taste in my mouth, that cuteness. And not in the way the writer hopes it will be. Instead of being bitter that a greedy politician destroyed a young man's hopeful life, I'm bitter because it feels a cheap ploy to garner emotion for a character who was unnecessarily killed off. Yes, unnecessarily. While I understand it would be impossible for everyone to live happily-ever-after in a disaster drama, this is a still a drama, and a not very realistic one, either, so why can't our heroes have a happy ending? I know that the video Woo-sung took will end up destroying Ja-hyuk (fingers crossed!), but did he have to die for it?
So instead of me weeping at Woo-sung's death, I have the urge to punch something. (Like a punching bag with a picture of Ja-hyuk's face on one side and Director Choi's on the other, perhaps? Because that sounds just about perfect.) It seems like this production team wanted to tell us how we ought to feel about all the characters instead of allowing us to come to those conclusions naturally through the use of well-fleshed out characters and a script that actually makes sense and respects the viewers.
Honestly, our heroes are too good for this production team — even if they created the characters, they still don't deserve them. There is so much more we could have explored with everyone, especially in the wake of a city-destroying earthquake, but no. Instead we get endless scenes of eeeeeeeeevil Director Park, and now Ja-hyuk and his greedy schemes. And surgeries. So many surgeries. No matter how you try to hide the makjang elements behind the slick CGI and unique backdrop of an earthquake, this is still just a hospital drama ruled by the egos of ridiculous men.
Yes, I'm angry, because these characters — and these actors — deserve so much better than what they were given. Despite moments of brilliance, most of this drama has been plodding along, held up primarily by the few stand-outs of the show (like my personal faves, Ddol-mi and Captain Choi — with a nod to Hye-sung and especially his ugly-crying this episode). But strip these characters away, and there's nothing innovative or even particularly compelling here.
Which makes me angry because I care just enough about the characters to want them to have a happy ending, but I've checked-out of the drama thanks to the mindless, repetitive script that does itself no favors when trying to pretend it has emotional depth. Or maybe I'm being overly cranky because my expectation for this show rose after last week but it's back to the usual nonsense of eeeeeeeeevil men ruining our heroes lives. Now where's that punching bag…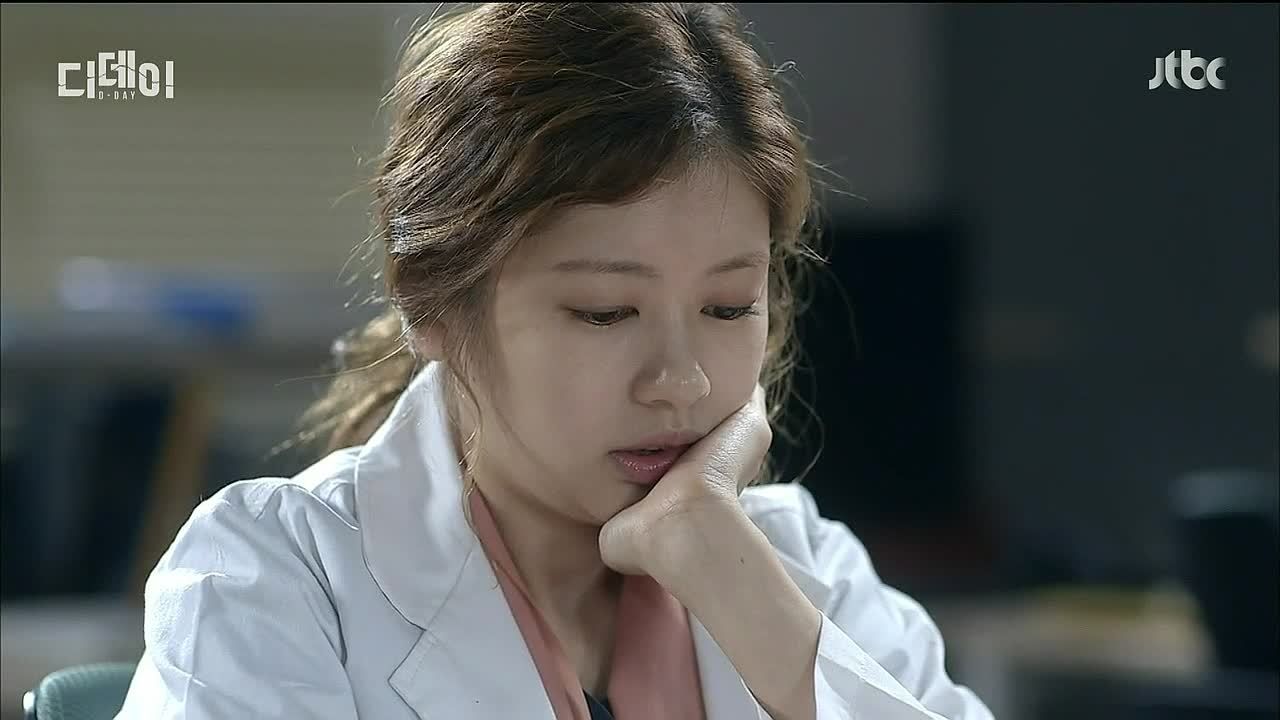 RELATED POSTS
Tags: D-Day, featured, Ha Suk-jin, Jung So-min, Kim Young-kwang