2015 KBS Drama Awards
Okay, one more red carpet to go and we're officially done with 2015! Last up for the Big 3 broadcasters are the KBS Drama Awards, which had a few big stars in attendance and gave out many (many, many) awards, despite not having any huge hits this year. They also chose to split the Daesang (Grand Prize) between veteran drama mom Go Du-shim (Please, Mom) and rookie PD Kim Soo-hyun (The Producers), which I always think has the effect of negating both awards. I mean, I honestly don't know who deserved it over the other, but would it kill you to just pick one? Also, KBS officially does not get to make fun of MBC for its yearly award shenanigans if they're going to be splitting Daesangs too.
KBS has always broken down their awards into as many categories as possible to give out a zillion trophies, but that's just the way it goes at these broadcaster awards. The overall list isn't all that surprising, because it's been the kind of year at KBS where you're like, Well what other show are we gonna give it to? So Ji-sub picked up a Top Excellence trophy for Oh My Venus, and Chae Shi-ra did as well, for Unkind Women. There were some fresh faces in the mix because the network was home to a handful of youth dramas this year, like Who Are You—School 2015 and Sassy Go Go, so you'll find no lack of pretty on this red carpet.
Overall the fashion is less exciting than over at the SBS Awards, which were held on the same night (I was telling javabeans all day how jealous I was that she had color on her red carpet). But everyone looks great, so I didn't have any major complaints. Starting and ending your day with Kim Soo-hyun can do that to you.

WINNERS LIST
Daesang (Grand Prize): Go Du-shim (Please, Mom),
Kim Soo-hyun (The Producers)
Top Excellence, Actor: So Ji-sub (Oh My Venus)
Top Excellence, Actress: Chae Shi-ra (Unkind Women)
Excellence Awards:
Serial Drama, Actor: Kim Tae-woo (Jingbirok)
Kim Gab-soo (Please, Mom)
Serial Drama, Actress: Eugene (Please, Mom)
Mid-length Drama, Actor: Jang Hyuk (Master of Trade—Inn 2015)
Mid-length Drama, Actress: Kim Min-jung (Master of Trade—Inn 2015)
Miniseries, Actor: Cha Tae-hyun (The Producers)
Miniseries, Actress: Shin Mina (Oh My Venus)
Daily Drama, Actor: Im Ho (Shine Like a Star),
Kwak Shi-yang (It'll Be Okay)
Daily Drama, Actress: Han Chae-ah (My One and Only Love),
Kang Byul (Protect the Family)
Supporting Actor: Kim Kyu-chul (Jingbirok, Master of Trade—Inn 2015),
Park Bo-gum (I Remember You)
Supporting Actress: Kim Seo-hyung (Assembly),
Uhm Hyun-kyung (Bluebird's House, It'll Be Okay)
Actor of the Year, awarded by PDs from all three broadcasters: Kim Hye-ja (Unkind Women)
Newcomer Award, Actor: Yeo Jin-gu (Orange Marmalade)
Newcomer Award, Actress: Kim So-hyun (Who Are You—School 2015),
Chae Soo-bin (Bluebird's House, Sassy Go Go)
Netizens' Award: Kim Soo-hyun (The Producers),
Kim So-hyun (Who Are You—School 2015)
Popularity Award: Park Bo-gum (I Remember You),
Nam Joo-hyuk (Who Are You—School 2015),
Seolhyun (Orange Marmalade),
Jo Boa (Please, Mom)
One-Act Special, Actor: Bong Tae-kyu (Trains Don't Stop at Noryangjin Station)
One-Act Special, Actress: Kim Young-ok (Snowy Road),
Lee Hana (Fake Family)
Youth Actor: Choi Kwon-soo (Those Brothers' Summer),
Kim Hyang-gi (Snowy Road)
Best Couple: Yook Sung-jae & Kim So-hyun (Who Are You—School 2015),
So Ji-sub & Shin Mina (Oh My Venus),
Jang Hyuk & Han Chae-ah (Master of Trade—Inn 2015),
Kim Soo-hyun & Gong Hyo-jin & Cha Tae-hyun (The Producers)
Writer Award: Kim In-young (Unkind Women)
Kim Soo-hyun really was the best thing about The Producers, even if the show itself petered out into safe and obvious territory. I can't argue that his performance wasn't great; maybe I just wish the pool of actors at KBS were bigger to begin with. My goodness, is he pretty though. I know it goes without saying that the huge megastar is a natural on the red carpet, but when you see how awkward other people are in half their shots, versus Kim Soo-hyun workin' it in every single photo… you just think, this guy is unreal.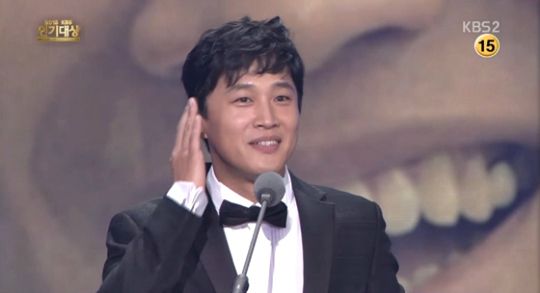 Cha Tae-hyun was his only costar from The Producers in attendance, and they were awarded an unusual best couple award, as a threesome with Gong Hyo-jin. She wasn't there, so the boys made do without her… I think they make the better couple, actually.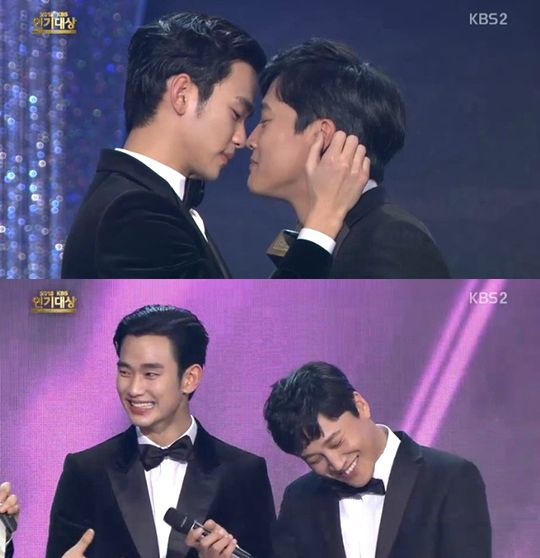 Oh My Venus costars So Ji-sub and Shin Mina weren't on the red carpet, probably because they had to run from their drama set to pick up trophies and run right back. I love their outfits, even though I think Shin Mina would've looked dressed down on the red carpet. I totally want her dress for holiday parties though, and So Ji-sub's matching kerchief and shoes just make my day. I want them to leave the awards and go swing dancing together.
Seo In-gook (I Remember You) is such a schmoozer — he works that crowd like nobody's business. He looks great strutting down the carpet in a navy patterned tux, flashing that patented sideways smirk of his like he's still a genius crime-solver who just happens to also look this good on a Thursday.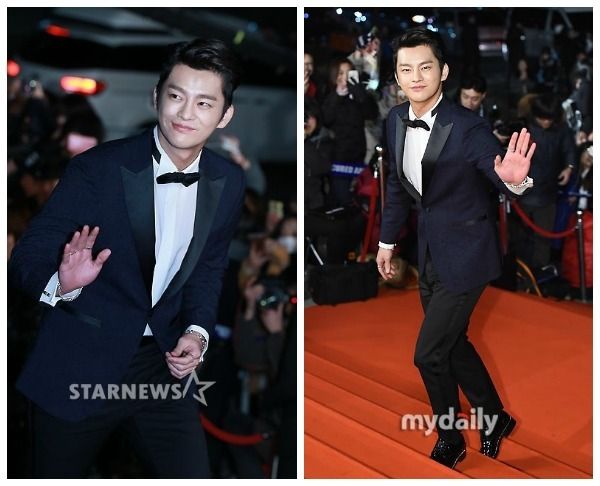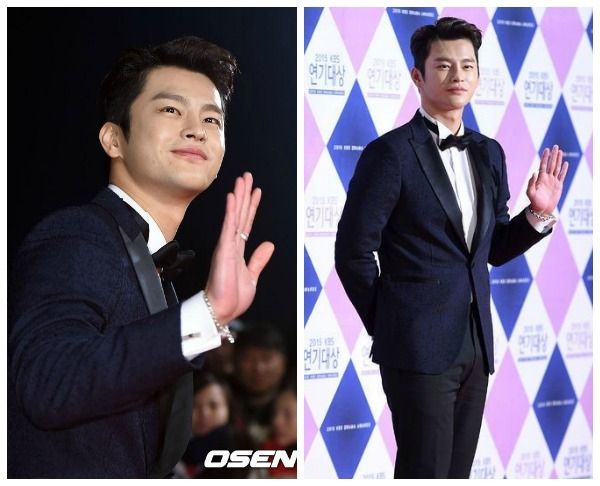 Aw, it's Little Bro Park Bo-gum (I Remember You, Answer Me 1988), who looks as happy as this year's young breakout star should be. This kid is going to be everywhere. He arrived with his co-MCs for the event, young starlet Kim So-hyun (Who Are You—School 2015), and announcer Jeon Hyun-moo (who looks like an ajusshi trying to hang onto his idol days). I don't love Kim So-hyun's dress, but I can tell she wanted a grown-up look, which is endearing in and of itself. She looks absolutely beautiful, of course, and now I won't be satisfied until she and Park Bo-gum get a teen romance drama in the coming year.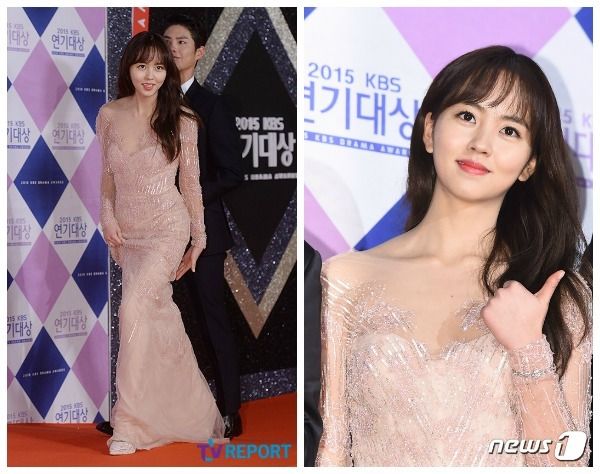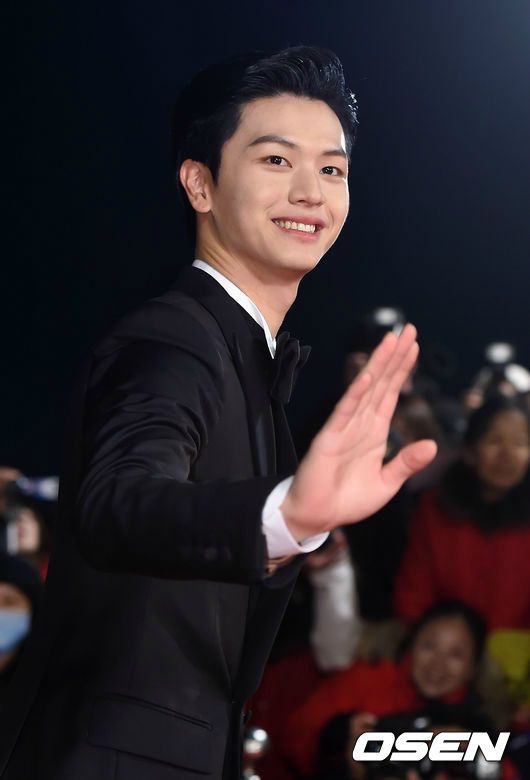 Yook Sung-jae! It's funny how this year I finally stopped thinking of him as Mini Seo In-gook, but then he shows up on the same red carpet looking just like him. He's another young actor who had a breakout year, and proved it by running triple duty at ALL of the awards ceremonies going on simultaneously that day. He picked up a Best Couple award with Who Are You—School 2015 costar Kim So-hyun (I prefer her in this dress — so perfect!).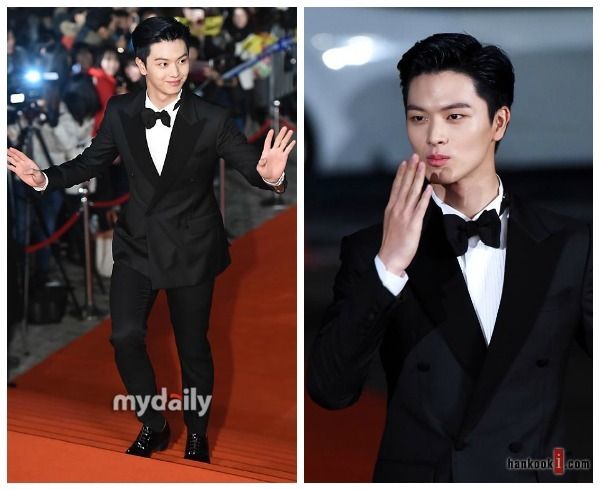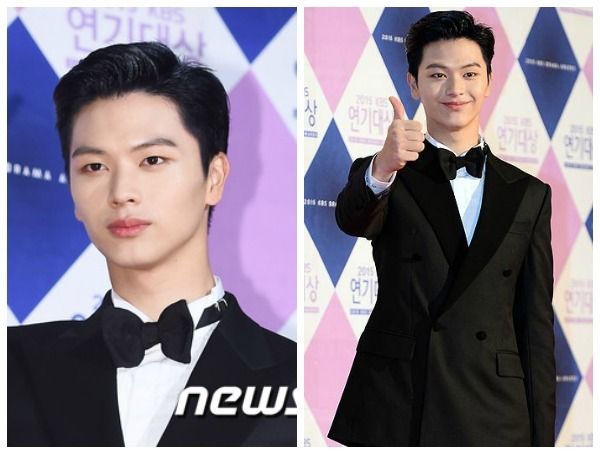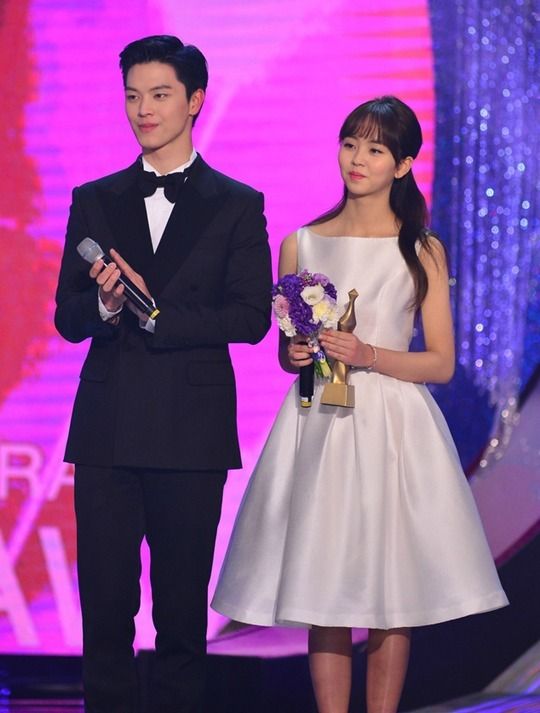 But it was Jo Soo-hyang who was the runaway star of Who Are You—School 2015, for her amazingly frightening portrayal of a teenage villainess. So good, so scary. She looks absolutely stunning in that white dress, which is cut to fit perfectly and makes her look sleek and modern. If you must wear white, this is the way to do it.

Their Who Are You—School 2015 costar Nam Joo-hyuk is another young star on the rise, and he picked up a Popularity award. He'll be in tvN's upcoming Cheese in the Trap, which eek — premieres next week. It's no surprise that he looks dapper in a navy tux, since he's a model, though I wish he were smiling more in his pictures.
Nam Joo-hyuk was actually better in Surplus Princess opposite Kim Seul-gi (Oh My Ghostess), or maybe it's that Kim Seul-gi is just great with everyone. Ugh, I love this girl. I love her dress and her simple ponytail too — she looks effortlessly sophisticated in that black gown. I do wish the lacy texture went all the way down to the bottom, but the overall silhouette is so flattering (she looks tall!) that it's a win.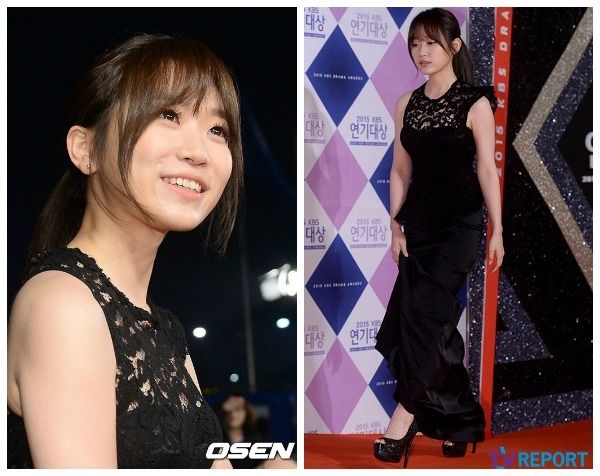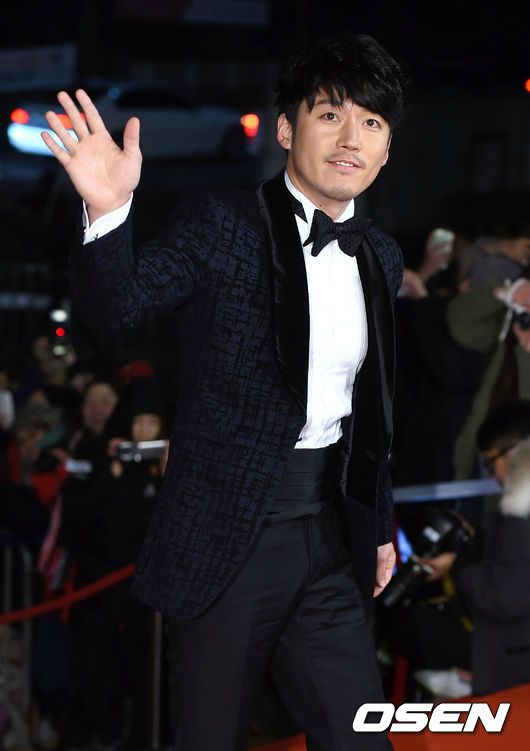 Jang Hyuk (Master of Trade—Inn 2015) is wearing my favorite tux of the night. It's got a fun pattern on it and he's wearing a cummerbund, which I find adorable for some reason. I wish he'd cut his hair though, or just not wear it shaggy — he looks SO good when he's got it all up in a fancy 'do! It's okay, your fancy tux is the best, and you're Jang Hyuk, so you get a pass.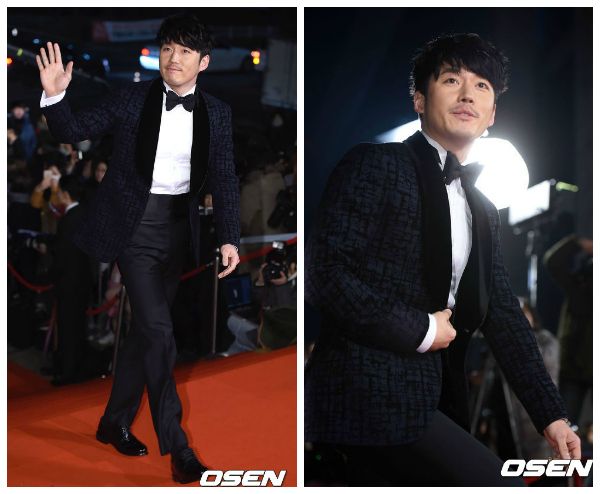 I like Han Chae-ah's unusual dress, which is like half-hanbok, half-evening dress, but brocade… It's not a showstopper, but I like that she's wearing something different. Also, I don't think anything looks unflattering on Han Chae-ah, so that probably has a lot to do with it. She picked up a trophy for her daily drama and a Best Couple award with Jang Hyuk for Master of Trade—Inn 2015, so I'd say it was a good year for her in dramaland.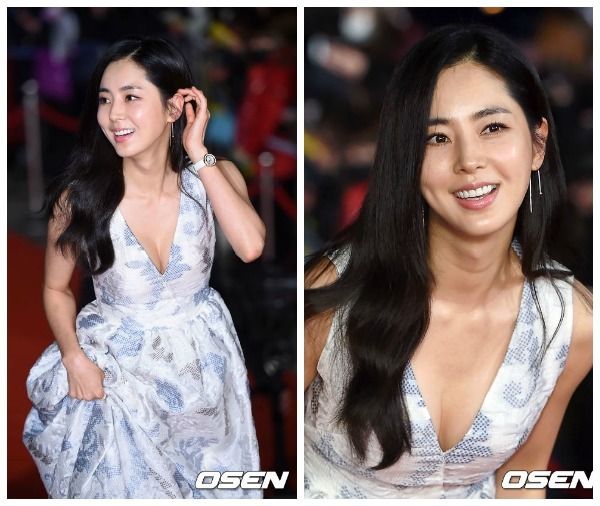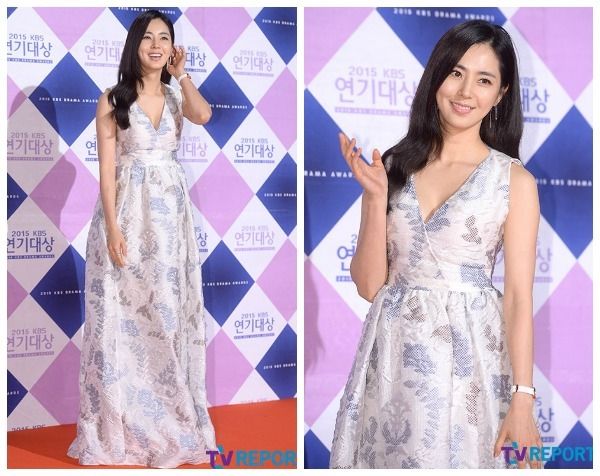 Kim Min-jung won the Actress award in her category for Master of Trade—Inn 2015, and wears a dress that she feels inclined to hold open all night long. It seems like a weird thing — if you thought the dress would cover up too much, why'd you pick something so covered up? I can't really figure it out, because clearly she wants to be in a dress that shows off her legs and her gorgeous shoes, and would look smashing in a fitted, va-va-voom gown. Oh well.

Yoo Oh-sung was in Master of Trade—Inn 2015 and Spy for KBS this year. He didn't feel the need to change out of jeans for the occasion, which is unfortunate.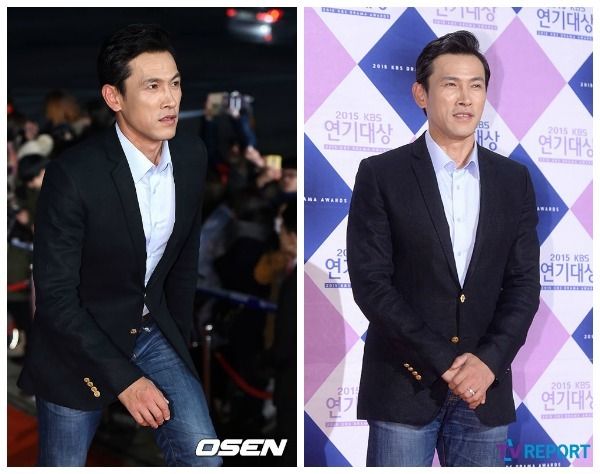 Yeo Jin-gu and Seolhyun both picked up awards for Orange Marmalade, and look lovely all dolled up. I wish there were more red carpet photos of Yeo Jin-gu, but there were a lot of people who bypassed the red carpet this year. Seolhyun wears white yet again, but I like this dress on her better than the lace one she wore at the Blue Dragons.
Eugene (Please, Mom) looks glowing, though her dress and overall look is a little too bridal for my taste. The beading does give off a nice shimmer, but I think it's mostly her megawatt smile that makes her look so great, not the dress itself.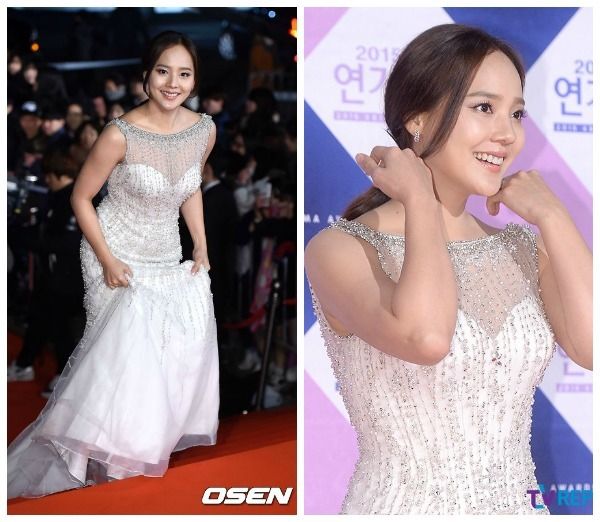 Her Please, Mom costar Lee Sang-woo always looks polished on the red carpet, though he gets extra points this year for trying a fancy patterned velvet tux. For Lee Sang-woo, that's daring. I think I wanna see Lee Sang-woo playing a villain in 2016. You can't play the perfect oppa next door forever! Or can you?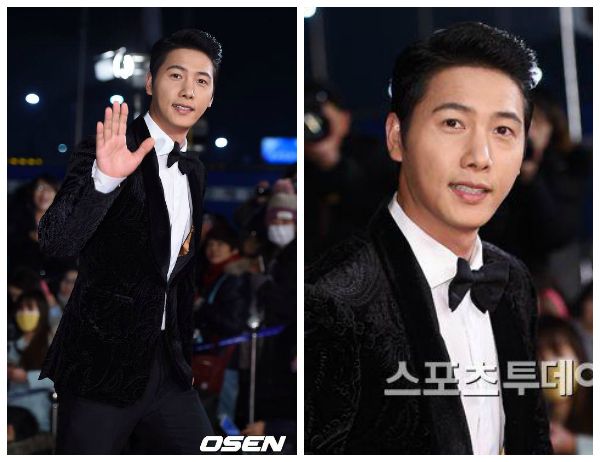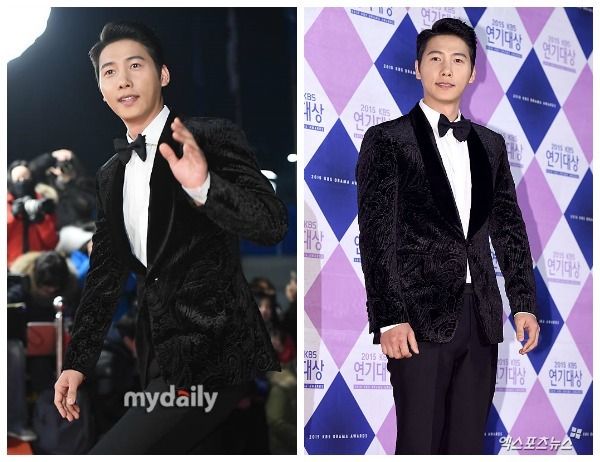 Here's Go Du-shim picking up her Dasang for Please, Mom, and veteran Kim Young-ok winning a trophy for her drama special Snowy Road.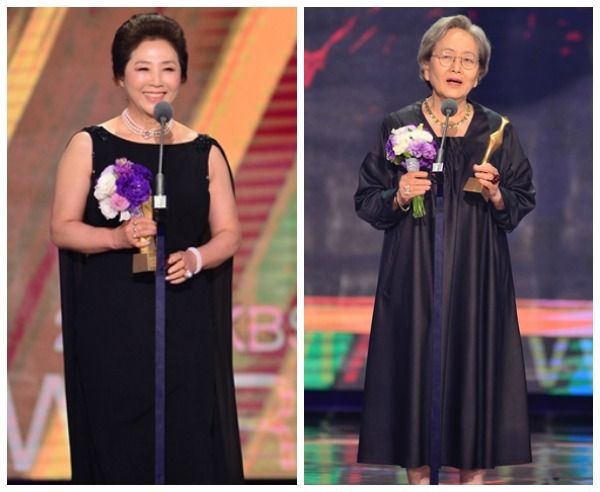 Also Kim Gab-soo, for Please, Mom…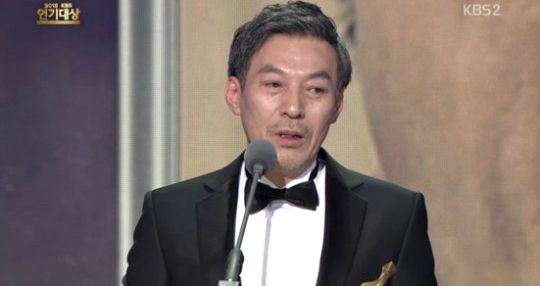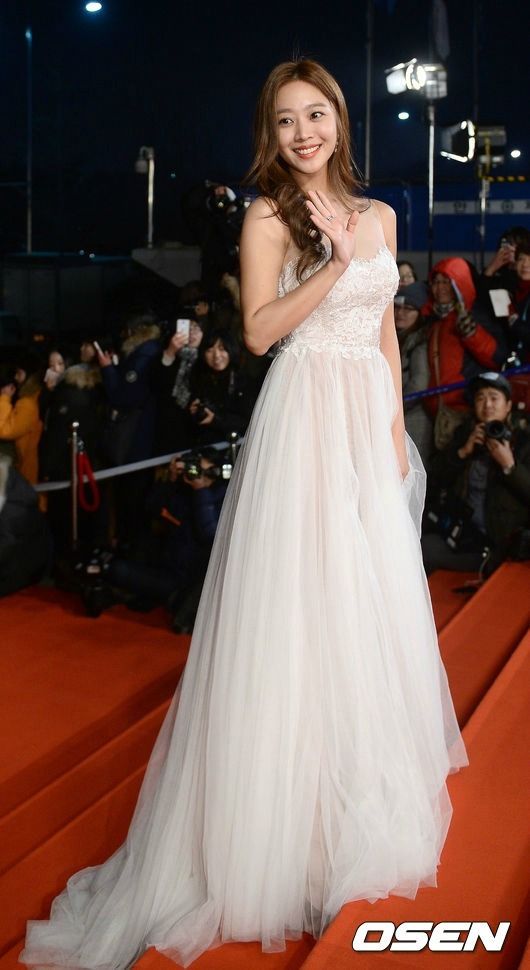 And Jo Boa (this Please, Mom cast is very large). I love the way her dress train falls when she's on the steps. Otherwise, it's a pretty bland dress. She's got a great smile and the silhouette is pretty though, even if she looks like a bride.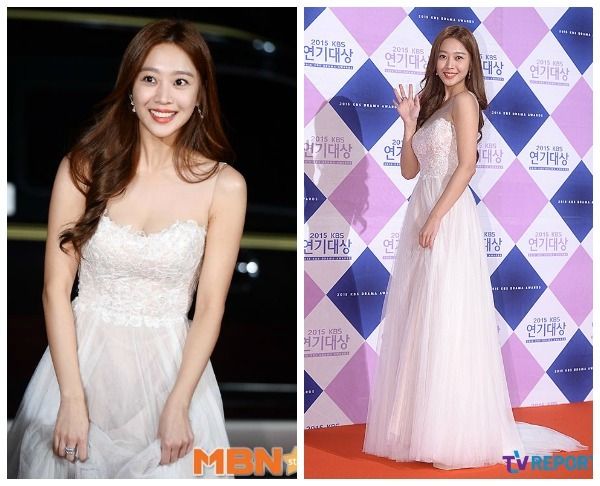 Choi Tae-joon, another Please, Mom costar.

And Sohn Yeo-eun, also for Please, Mom. I like the cap sleeves on her dress, but it's another white dress in a sea of white, so ultimately it's a forgettable look.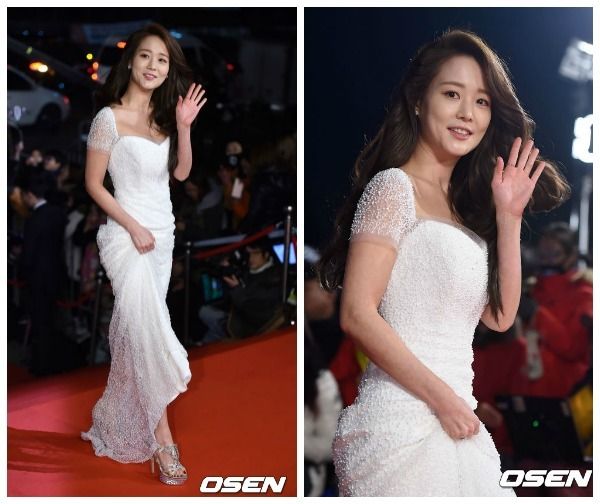 Kim Hye-ja picked up the PD award for Unkind Women, as the sassy matriarch of a family full of sassy women.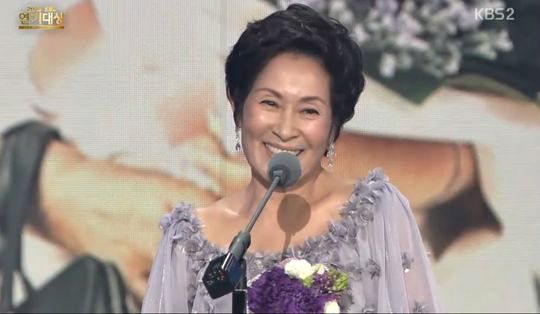 And her drama daughter Chae Shi-ra took home the Top Excellence award for her role in Unkind Women. I like her choice with this navy dress — it's a flattering cut with a train that flutters behind her, it's unusual enough to stand out amongst all the plain dresses of the night, and she wears it with perfect shoes.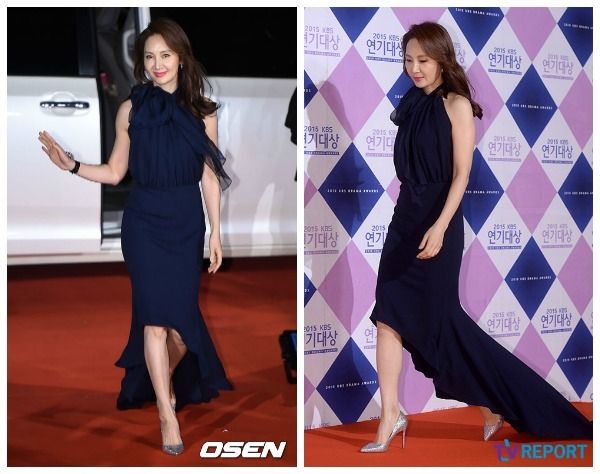 Seo Yi-sook (also Unkind Women) tries an edgy hanbok-meets-punk-rock look. Not my favorite, but she gets points for trying something new and interesting, when actresses half her age won't wear anything but wedding dresses.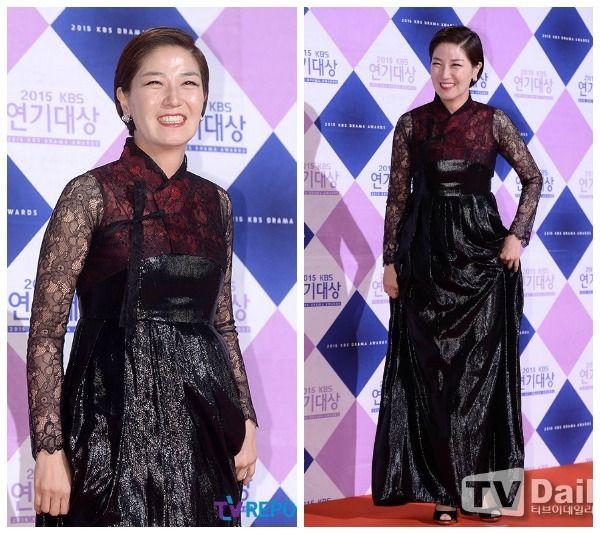 Lee Hana (Unkind Women, Fake Family) looks like she walked out of a '60s movie. I will never get Lee Hana's sense of style, but then again, I don't think she means for anyone to get her style. That would be too conformist.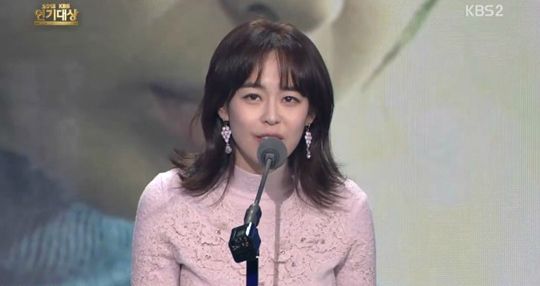 Kim Ji-suk (Unkind Women, Sassy Go Go) wears a patterned, black-piped tux. He cleans up nicely.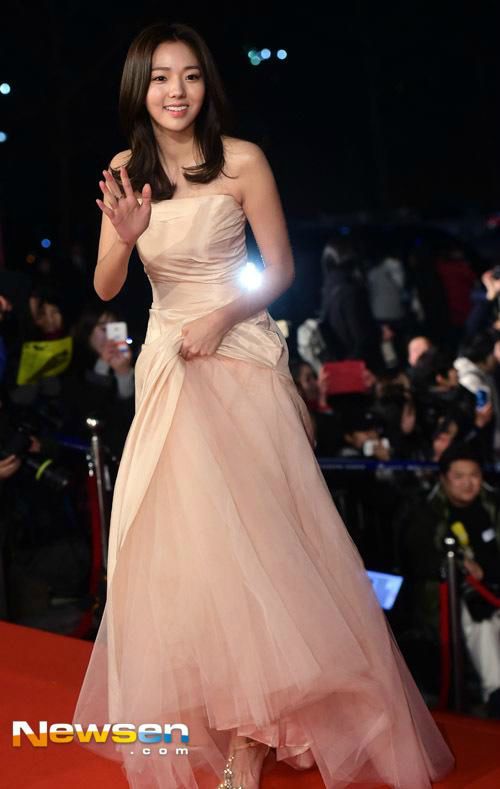 Chae Soo-bin was among the many breakouts this year for her turn in the youth cheerleading drama Sassy Go Go — she was great at the villainy in that love-to-hate-her way, but good enough that we could see past her character to her potential as an actress. She looks fantastic in her giant pile of pink tulle, like she's ready for her big moment in the spotlight. It's just pink enough and just frothy enough to keep from being boring, and she looks stunning.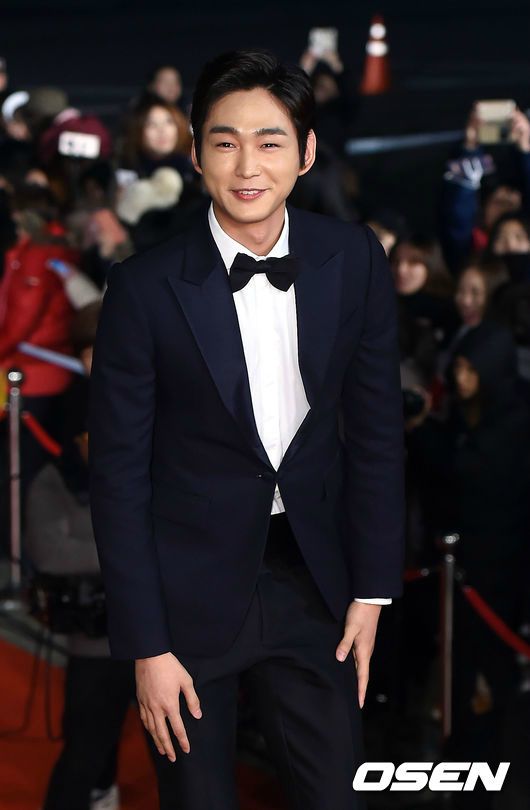 Aw, Lee Won-geun (Sassy Go Go), you look so grown up in a tux! He looks stiff and uncomfortable half the time, but it's super cute, like he hasn't quite grown into fame yet. I dig his blue jacket, and his coiffed hair. Nicely done.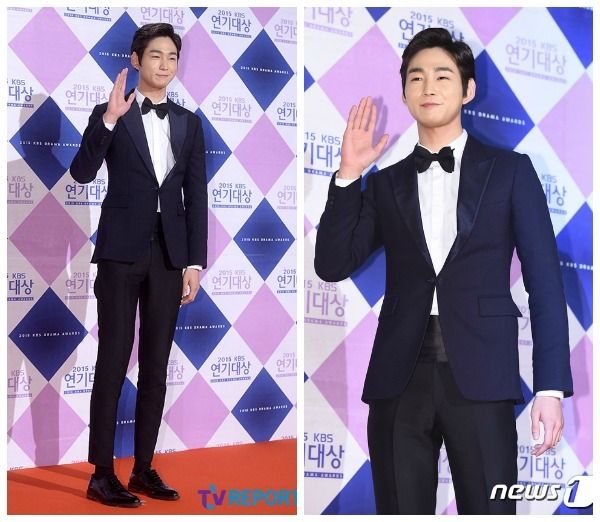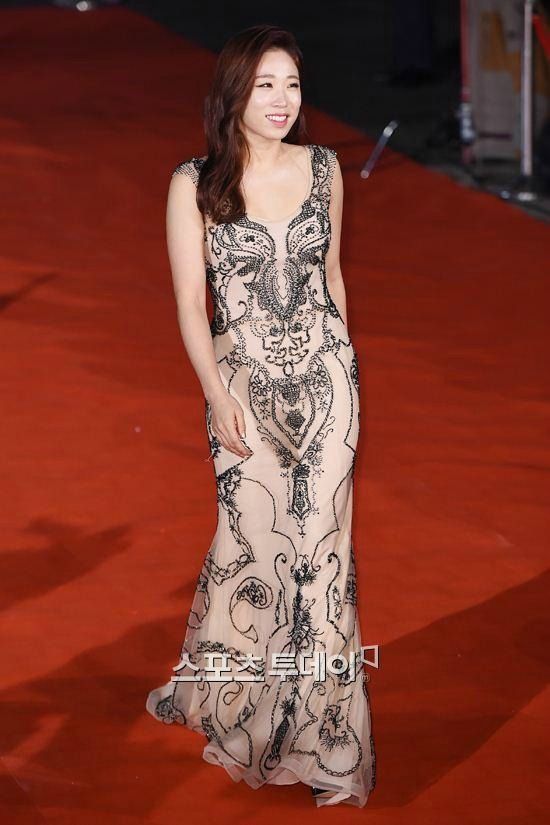 Sassy Go Go's cheerleading coach Lee Mi-do wears my favorite dress of the night. I want it for me. That dress is crazy flattering, beautifully detailed, and it looks comfortable to wear. Seriously, where can I get this dress, right now?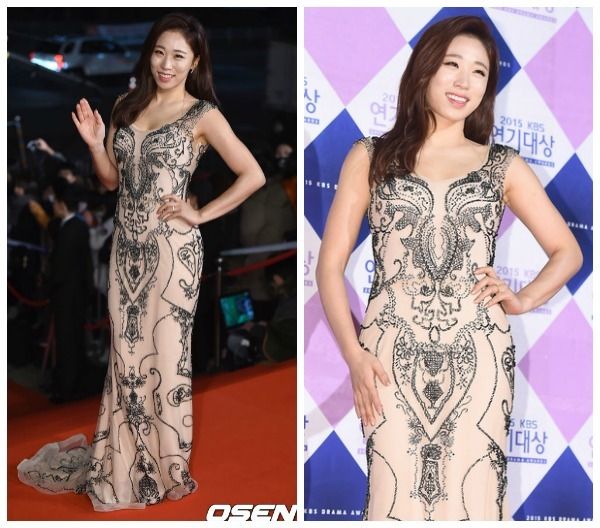 Blood costars Ahn Jae-hyun and Gu Hye-sun arrived together, and I don't love either of their looks, mainly because they both look a little unfinished with their hair. I never, ever get Gu Hye-sun's red carpet choices, but yunno, at least this ensemble is actually flattering on her. It's a pop of color and and the pants are a flattering cut, so that's something.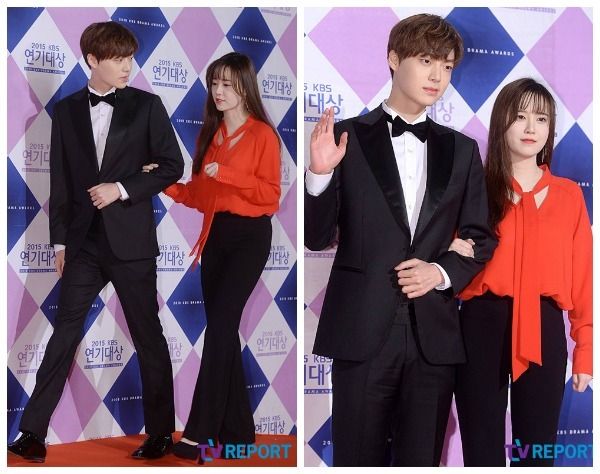 Moon Ji-in had bigger SBS projects this year (Village: Secret of Achiara, Yong-pal), but she also had a KBS drama special. She puts a cute, bubbly stamp on her performances and makes really minor characters memorable, which I really like. The dress isn't all that memorable, but she looks pretty.

Bong Tae-kyu took home an award for his drama special Trains Don't Stop at Noryangjin Station. Bong Tae-kyu will always be a nerdy hipster and look super awkward on the red carpet, but that's kind of his charm.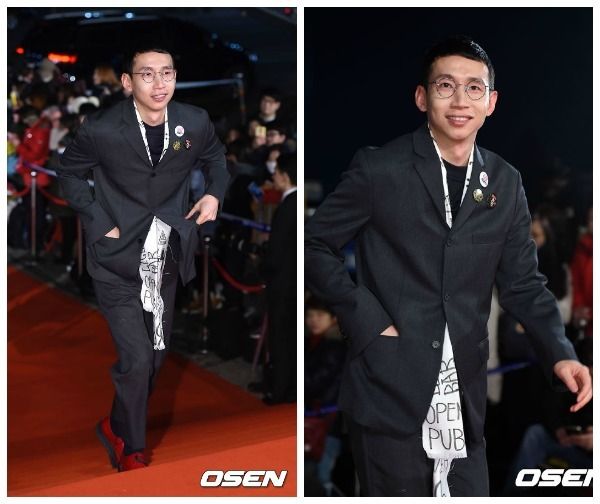 Kim Seo-hyung (Assembly) looks amazing in this dress. It's a lovely neckline and shape, and I absolutely love that she's not afraid to wear a dress that looks like it was tattooed on. Rock on.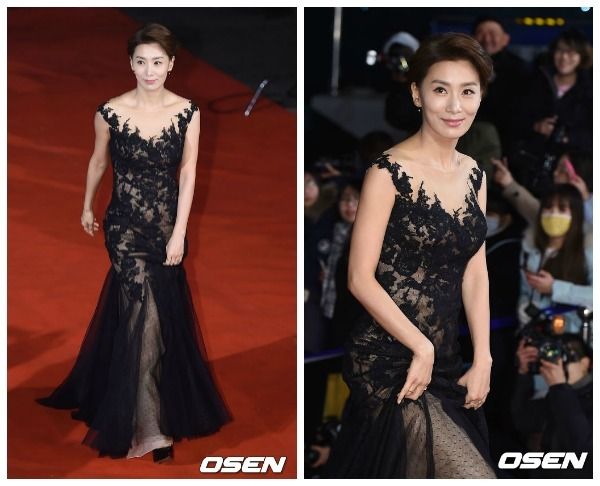 Kan Mi-yeon (MBC's Kill Me, Heal Me) wears a rather bland shape, but gets some points for the pretty shade of blue.

Kim Tae-woo popped in to pick up his trophy for Jingbirok.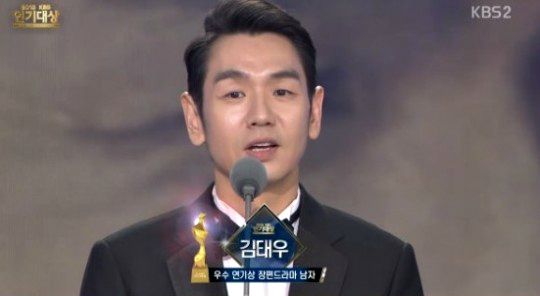 I really wish this dress weren't white, but I love love Kyung Su-jin (Bluebird's House), who's a great young actress with a gorgeous, natural smile. I feel like every single young starlet's dress this season has the same mesh overlay and sweetheart neckline, so I'm a little tired of seeing the same dress over and over. But she looks stunning in all the pictures, and at least it fits her like a glove.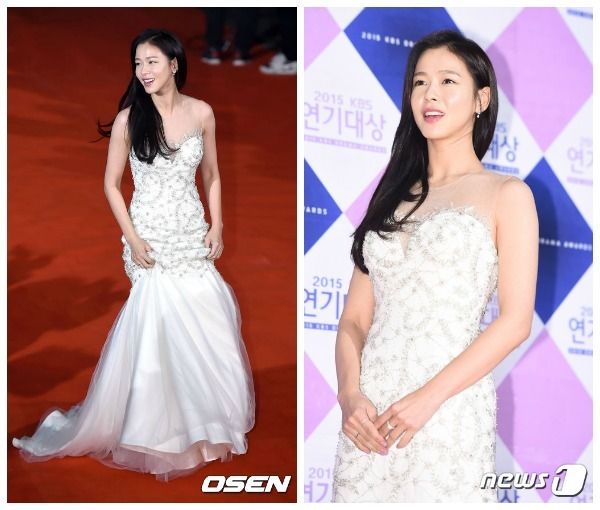 Jae Hee! I know he consistently does dramas, but why do I always feel like it's been forever since I've seen him? He's here for Protect the Family, in a classic three-piece suit.

Kang Byul, also here for Protect the Family. Okay, this look I really like. Head-to-toe white suit with platinum blonde hair — it's chic and fresh, and it makes me think she'd be a cool person to know.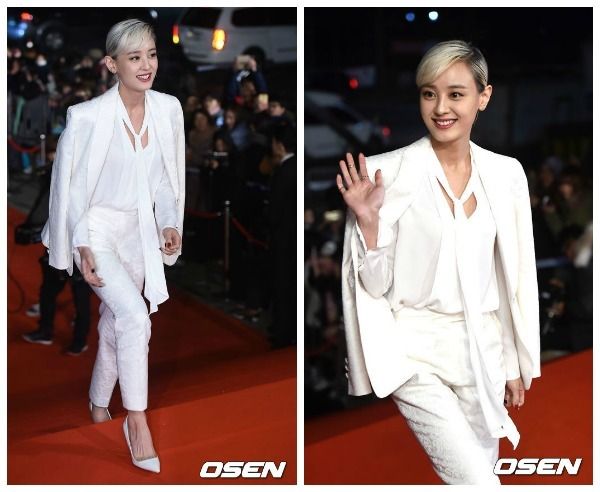 Im Se-mi is in the current daily drama Love You Starting Today. Pretty girl, boring dress.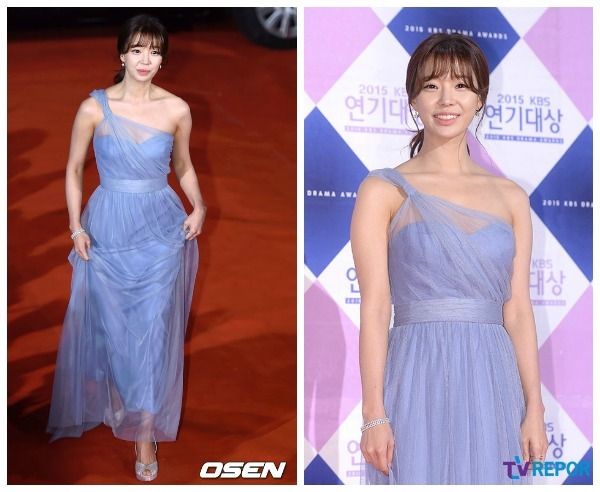 Yoon Seo, also for Love You Starting Today. Okay, I think I've seen this dress repurposed like four times on the red carpet. Who is this stylist who keeps getting more mileage out of one dress, and can we do something about it?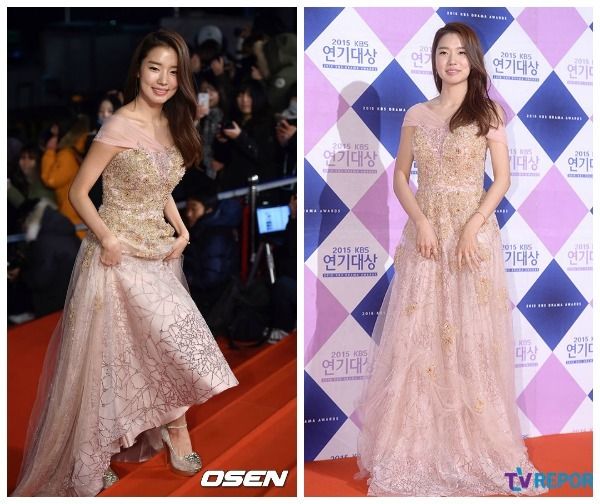 Jo Eun-sook (Love You Starting Today), I wish I could say I liked your red dress, because at least it's a bright pop of red. But it's almost frumpy in shape, and you've paired it with a furry coat and black stockings in peep-toe shoes. Just, no.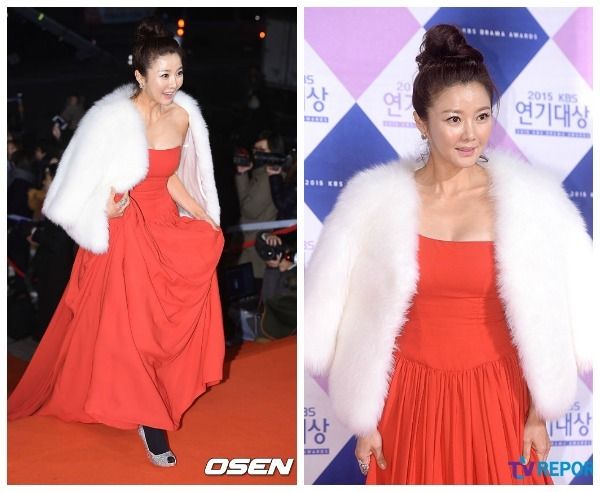 Jo Dal-hwan (Spy), you're always a good supporting actor, but I wish you'd get a haircut.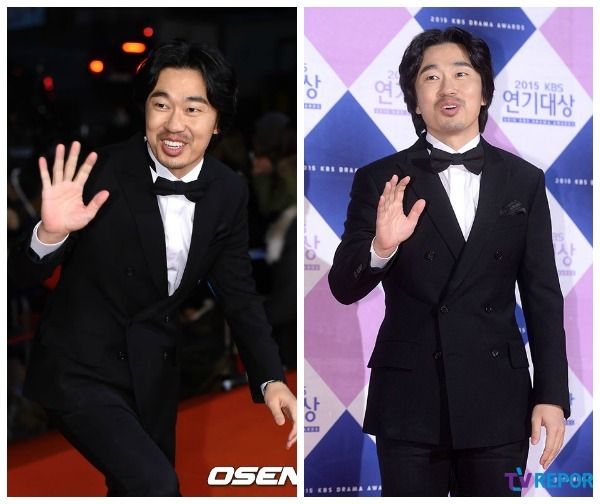 Song Ha-yoon (MBC's My Daughter Geum Sa-wol) is here for her KBS drama special, and recovered from a fall on the red carpet. I think I like her dress the least, even among the boring white dresses. It has these gathers and folds that make it look like a big sack, and the color totally washes her out.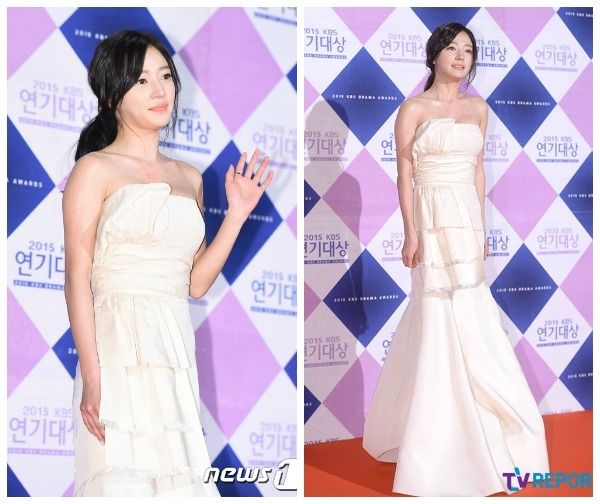 Kim Min-gyo (My One and Only Love) always looks like a happy chipmunk, no matter what he does.

Kim Min-soo, of KBS daily drama Our House of Honey.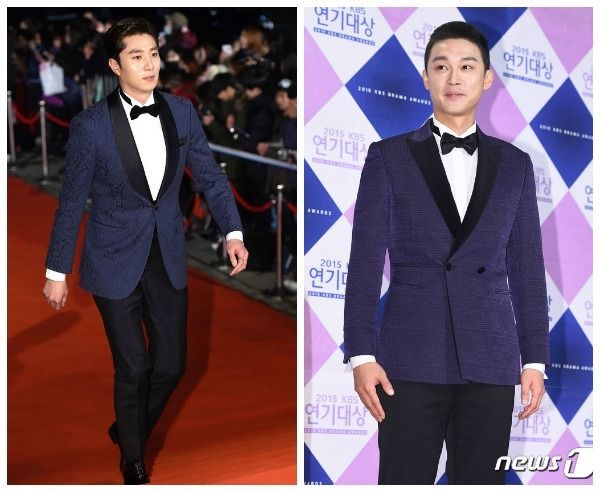 Kwak Dong-yeon is here for drama special Dad. Every year he looks a little more grown-up and a little more handsome. He's gonna break so many hearts someday.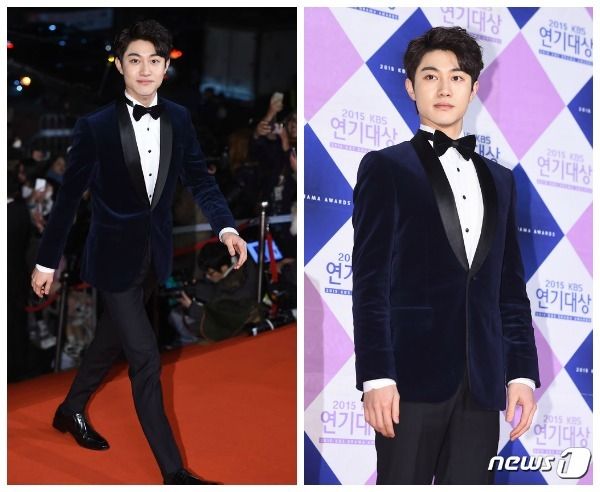 Aw, Kim Hyang-gi (Snowy Road). She's such a great little actress. I like the mini dress and the bob haircut — together it's a perfect set.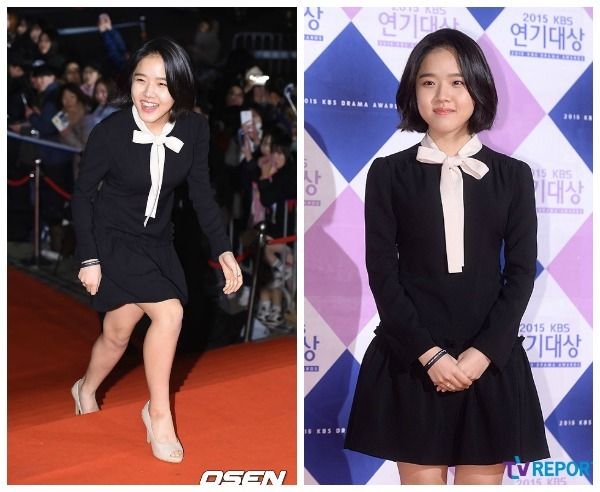 There were quite a few child actors at KBS this year. Choi Kwon-soo is here for the drama special Those Brothers' Summer.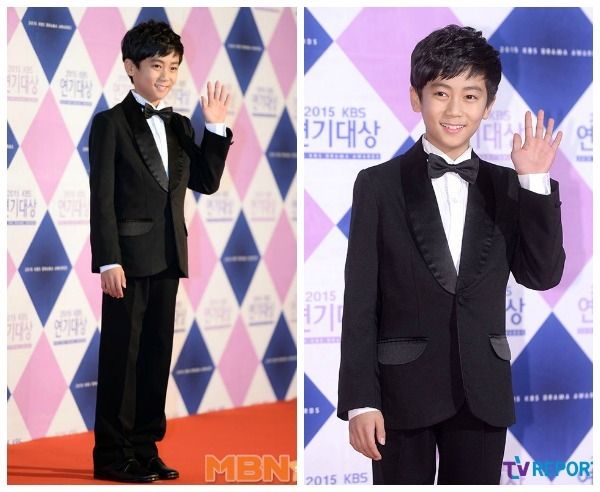 Hong Hwa-ri in an adorable little white dress, here for Blood.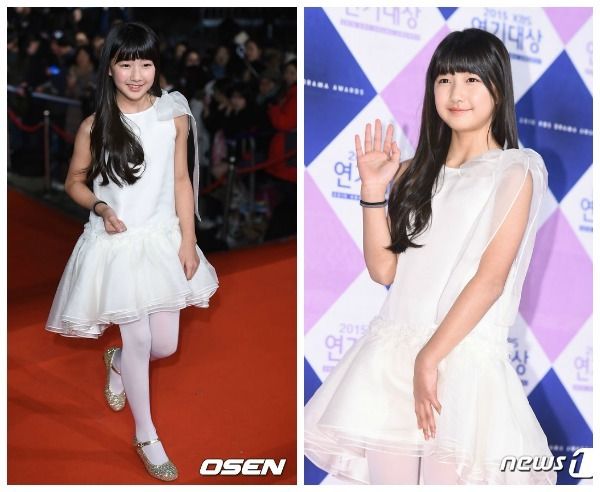 And tiny tots Gil Jung-woo (Please, Mom), Jo Hyun-do (Master of Trade—Inn 2015), and Jang Seo-hee (Shine Like a Star). That pinstriped suit! So cute.

I do like that Shin So-yool (Sweet Lie) ventures outside everyone else's comfort zone and tries interesting things, but this is a weird dress. Okay, I like the collar part, which creates a really cool structured neckline. But the bare midriff kinda ruins the overall effect, as does the mesh lace overlay. It's like, half a good dress. Does that count?

Kim Hye-eun (Unkind Women, D-Day), why? You're a gorgeous lady, so why are you wearing something so unflattering, and why is your makeup so washed out? I guess skin-tight was the only thing she was going for aesthetically, because there's just nothing good about this combination of white top, red skirt, and ugly beige shoe that makes a lick of sense.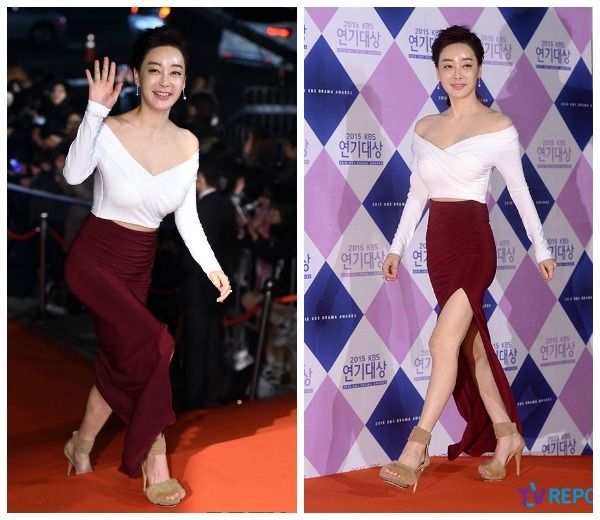 I generally don't like this trumpety silhouette on Choi Yoon-young (It'll Be Okay), but she does look good. It's a pretty blush color, and it looks best when she's holding it up and walking around. I would just pin it up so that it stayed like that.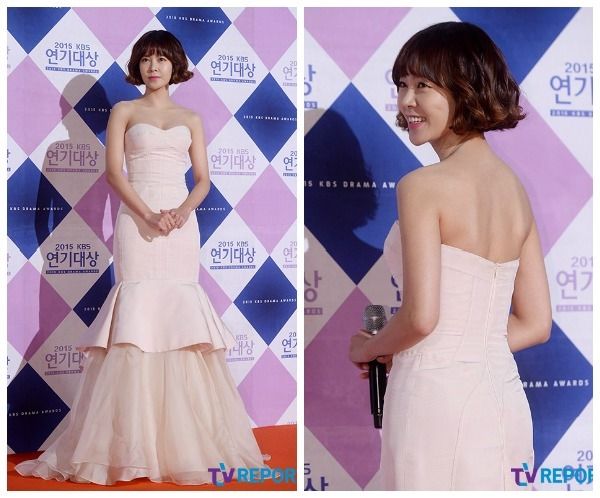 Uhm Hyun-kyung, also for It'll Be Okay. I suppose this dress would be a flattering shape, but it looks two sizes too big on her.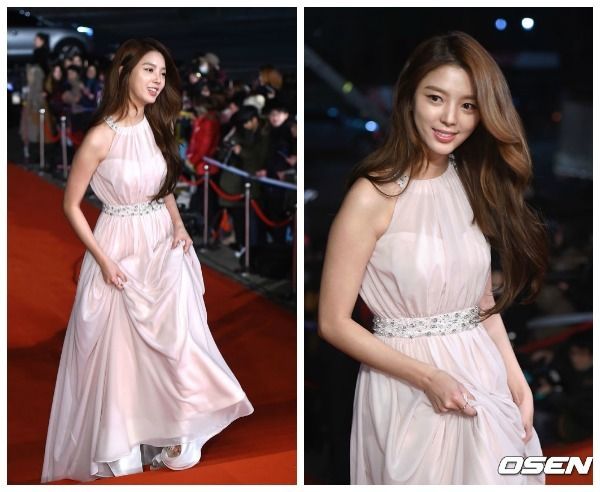 KBS really was the breakout actors' red carpet. Kwak Shi-yang is yet another newcomer to keep an eye on: He was in Persevere, Gu Hae-ra and Oh My Ghostess this year before headlining the KBS daily It'll Be Okay. It's not the best suit, but he has such cute boyish charm. May 2016 bring exciting new roles for all the breakout stars! Happy New Year!
Via KBS

RELATED POSTS
Tags: Ahn Jae-hyun, awards, Bong Tae-kyu, Cha Tae-hyun, Chae Shi-ra, Chae Soo-bin, Eugene, Go Du-shim, Gu Hye-sun, Han Chae-ah, Jae Hee, Jang Hyuk, Jo Boa, Jo Soo-hyang, Kang Byul, Kim Gab-soo, Kim Hyang-gi, Kim Hye-ja, Kim Ji-suk, Kim Min-jung, Kim Seo-hyung, Kim Seul-gi, Kim So-hyun, Kim Soo-hyun, Kim Tae-woo, Kwak Dong-yeon, Kwak Shi-yang, Kyung Su-jin, Lee Hana, Lee Sang-woo, Lee Won-geun, Nam Joo-hyuk, Park Bo-gum, Seo In-gook, Seolhyun, Shin Mina, Shin So-yool, So Ji-sub, Song Ha-yoon, Yeo Jin-gu, Yoo Oh-sung, Yook Sung-jae