Kang Haneul joins Youths Over Flowers in Iceland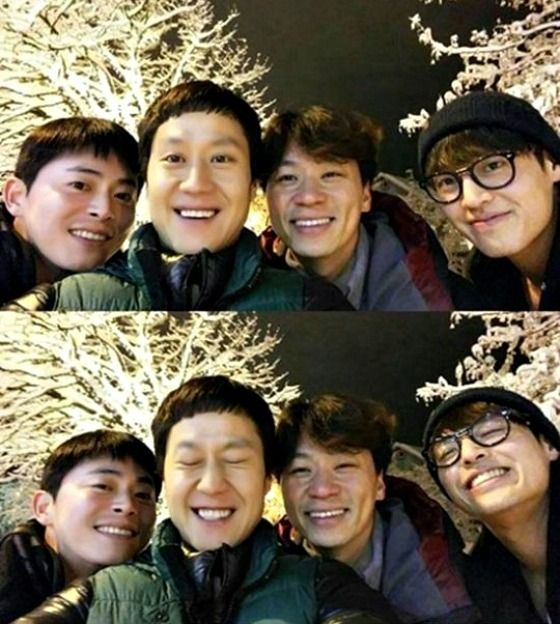 Well this is a sneaky surprise. The upcoming season of tvN travel variety show Youths Over Flowers was initially announced with three cast members, Jung Woo (Answer Me 1994), Jo Jung-seok (Oh My Ghostess), and Jung Sang-hoon (SNL Korea), who headed to Iceland for a frigid winter getaway. But now it's been revealed that Kang Haneul (Misaeng) is a late addition to the cast, and has become the de facto luggage boy for the group. Tee hee.
Na PD revealed that he had initially courted Kang Haneul for the trip hoping that all four boys could go, but Kang had already made a commitment to appear at the Blue Dragon Film Awards, which took place on November 26. Na PD had given up, but at the last minute, producers asked Kang Haneul on the day of the Blue Dragons if he'd be willing to go join the others in Iceland, and he got right on a plane as soon as the awards were over.
He literally flew all the way there in his red carpet tuxedo, holding nothing but a plastic bag with some basic toiletries. Na PD: "Plans were made immediately following the Blue Dragon Film Awards, so Kang Haneul traveled in that tuxedo and arrived in Iceland 25 hours later." The things Na PD can make people do, I swear.
Kang Haneul is a good deal younger than the hyungs, but he was in the movie C'est Si Bon with Jung Woo, and is a musical theater actor like Jo Jung-seok and Jung Sang-hoon. According to Na PD, the three hyungs are self-proclaimed dummies who are hapless at travel, but Kang Haneul is proving himself to be a bit more useful. Na PD: "In contrast to his image, Kang Haneul is positive and cheerful, and has claimed all of the hyungs' love. Among the travel-stupid dummy brothers, he showed some signs of intelligence." LOL, that is a compliment, right?
Youths Over Flowers will air in January following Three Meals a Day: Fishing Village.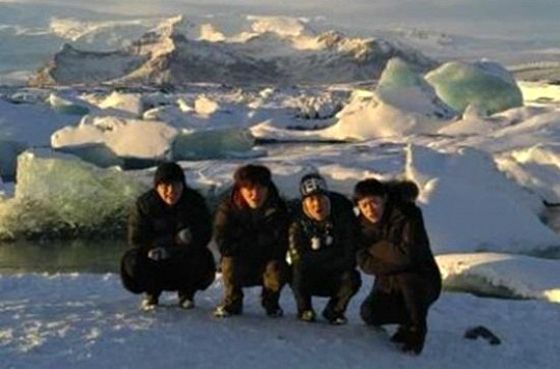 Via Star Today
RELATED POSTS
Tags: Jo Jung-seok, Jung Woo, Kang Haneul, Youths Over Flowers