Running Man: Episode 276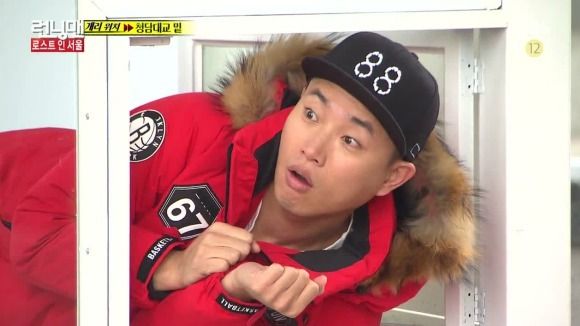 It's Operation: Saving Gary this week as our favorite rapper is trapped in a container and dropped off somewhere in Seoul. Our cast will need to track him down in order to rescue him before their time is up or he'll be carted off elsewhere. Little does he know that his fellow cast members have something else on their minds should they manage to find him. Or does he already know about the hidden treasure?
EPISODE 276. Broadcast on December 6, 2015.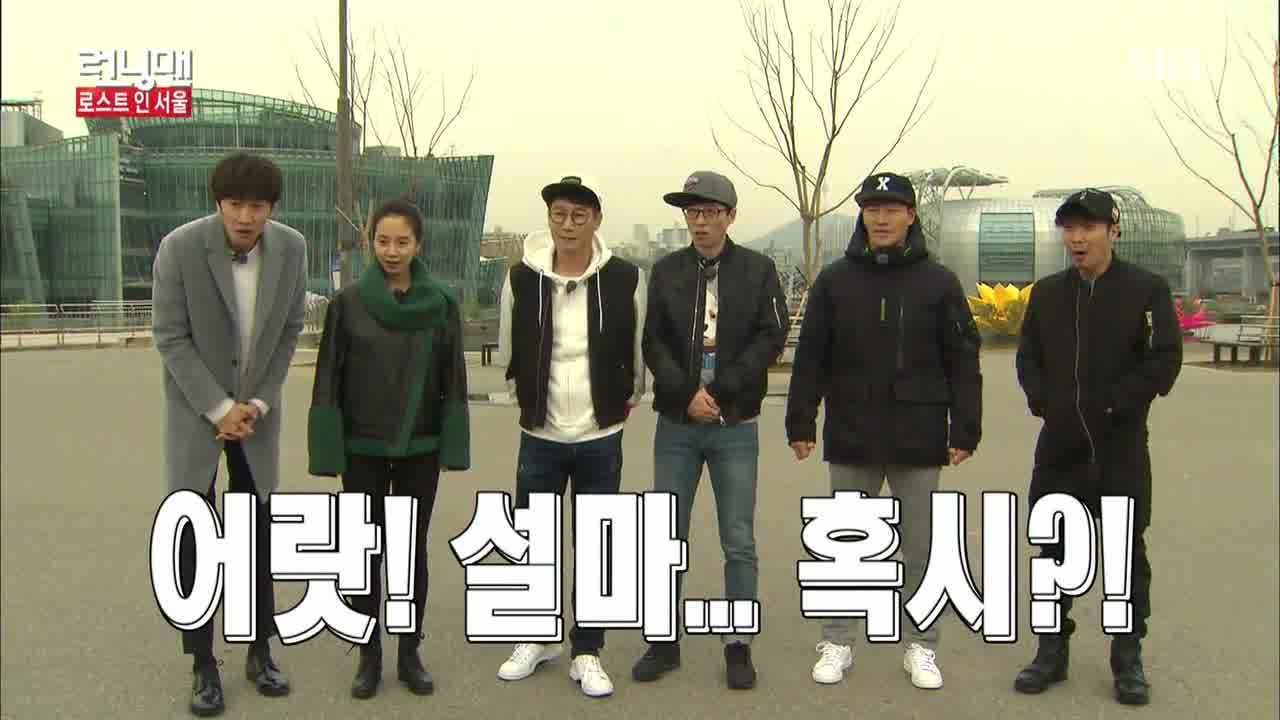 Everyone apart from Gary arrives for the opening on this chilly morning; they all chuckle when told that they must go and find Gary today—why did he go off to Europe? Are they going to wake him up at home again?
We need to jump back to an hour earlier to fully understand what's going on: Gary had arrived alone and guffawed at the sight of the portable room he'll be trapped in today. "That's a jail cell!" he exclaims.
The team breakdown divvies the rest up between Jae-suk, Ji-hyo, and Haha vs. Jong-kook, Suk-jin, and Kwang-soo, and the end goal is to rescue—er, find Gary. Naturally, there's something in it for them, which Gary is completely oblivious to: a box of diamonds tucked underneath the bed.
If Gary were to discover said diamonds, he'll be given a chance to escape with the loot. Speaking of whom, we see Gary getting rolled away before the others arrive and dropped off somewhere beneath a bridge but close to train tracks.
Today's mission will end as soon as someone gets their hands on the goods, so it's as much of a race to collect the gems as it is to save Gary. Jong-kook teases, "Gary's just the guy next to the gems." Lol.
Gary's allowed a 60-second phone call but none of the hyungs can figure out how to work the three-way calling system. He finally gets through and barks out that he's under a bridge, can see the Han River, and can hear the sound of trains.
He can't give any more clues because he doesn't see any major landmarks and because his phone gets confiscated. The teams have 60 minutes before Gary is relocated, and Haha is convinced that it must be near Dongjak Bridge.
During the drive, Haha says Gary should've taken a page or two from the movie Taken and given them as much information as possible. Back at the opening location, Kwang-soo is sent away by his hyungs to dramatize Gary's absence on his own.
As they head for Dongho Bridge (which is in the opposite direction), Jong-kook and the Easy Brothers agree that their goal is to collect the diamonds.
Meanwhile, Gary agrees to completing a mission to earn another phone call. Here, he must cleanly flick five matchbooks under upside-down water bottles. While he's busy doing that, Jae-suk gets slightly annoyed by the differing opinions in the car. Haha thinks that Dongjak is too close and therefore too obvious of a choice, but Ji-hyo says they can just swing by and take a look.
After long last, Gary successfully completes his mission, earning himself a phone call and lunch. He pulls back the blanket… but sees nothing. He's also allowed to see behind one of the squares, and now Gary knows exactly where he is: Dduksum Amusement Park, which is right by his place.
Taking a look on the map shows us that Jong-kook's the closest team to him (but still pretty far away). So while Jae-suk's car takes a U-turn, Jong-kook's is already on their way. Suk-jin is convinced that he knows the way, but then tells Jong-kook to cross a bridge, and their GPS basically says, "Re-navigating…" LOL.
Conversely Ji-hyo gives calm and precise directions, which has Jae-suk joke that she must've been to Dduksum on a date. When Haha calls Jong-kook's car, it seems that one wrong turn is leading them out of Seoul.
Gary is ecstatic upon seeing Jae-suk, Haha, and Ji-hyo, pleading with them to get him out of this box. They've got fourteen minutes until Gary is taken away again. The game is this: ten chances to grab the "snot" (a tissue) from the nostril opening. The more times they succeed, the more chances they get to choose the right key.
Seeing the cloth disappear in an instant repeatedly only frustrates them, but they end up with three chances to choose… out of 30 keys. Oy. The first two attempts are flops, and when Haha says he's thinking of Gary, he's actually thinking of those diamonds.
Unfortunately, the third key is incorrect too and time is up too. The trio quickly tells him to relay as much information as possible next time before the blinds go down. As Gary is taken away, Jae-suk points out that Gary's approaching his forties soon.
Jong-kook's car happens to arrive just as Gary's box is leaving. Aha, so they can just follow the truck. But no, they rush over to the box to say hello, and Kwang-soo calls out to Gary in a dramatic fashion.
Once he's gone, Jong-kook and the Easy Brothers join the other trio, where Jae-suk says Jong-kook's brains are outnumbered 2:1. Jong-kook admits that he felt the influence just a little while ago.
Gary, however, is in the middle of a nap when his box is revealed to the public. There's a whole crowd waiting outside, and Gary makes sure to take a good look at his surroundings before calling up the teams.
He tells them that he's near Ewha Womans University and that they played a game here once while Kwang-soo shouts that he's going to catch the awful people who kidnapped his hyung. With that intel, Jae-suk knows exactly where Gary is.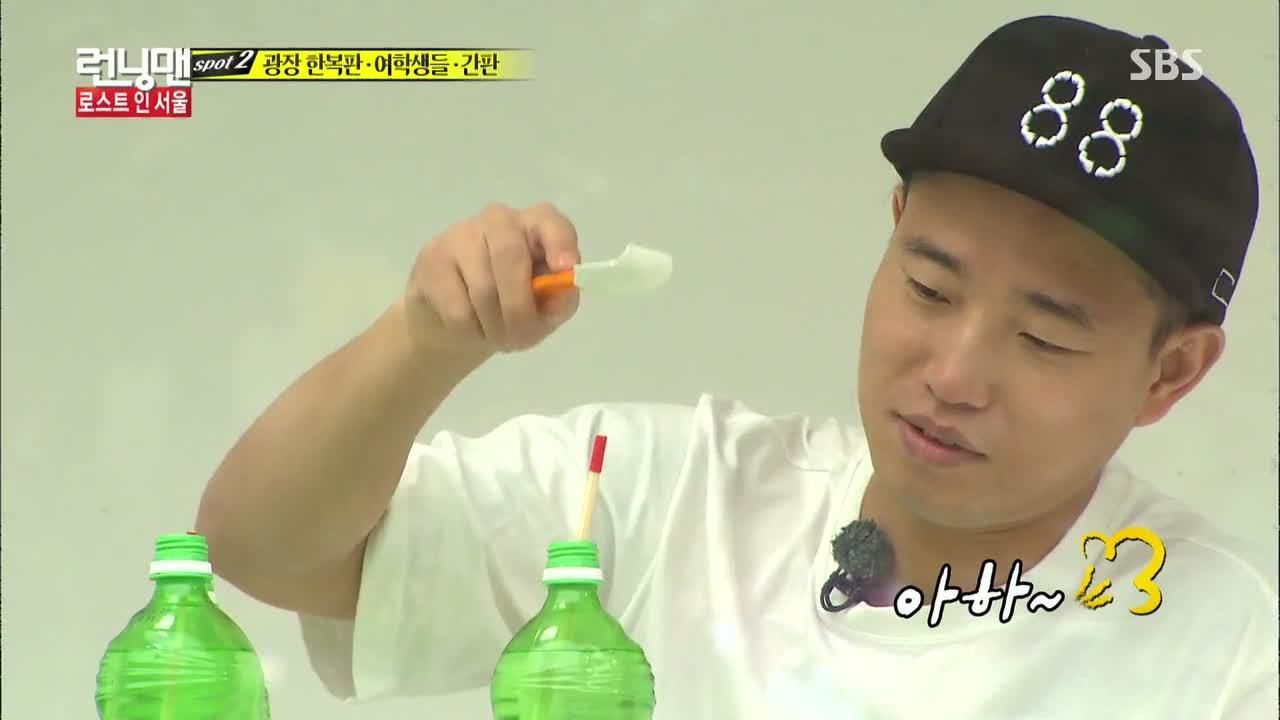 The teams are given 70 minutes this time while Gary is given another task to complete. While he's busy trying to keep sticks submerged in water, Jae-suk's team wonders how they'll get to the diamonds. Jong-kook's team takes yet another wrong turn.
Annoyed by how smacking one stick causes another to float up, Gary resorts to using his fingers. Using that method starts a 30-second timer ("You said I could use whatever method I wanted!"), and he ultimately fails that attempt.
He gets it on his second try though, and another number is removed for him. It turns out he'd immediately wondered if the numbers corresponded to his passcode, so now he asks if he can try out a combination. He tries a few, but then the alarm goes off.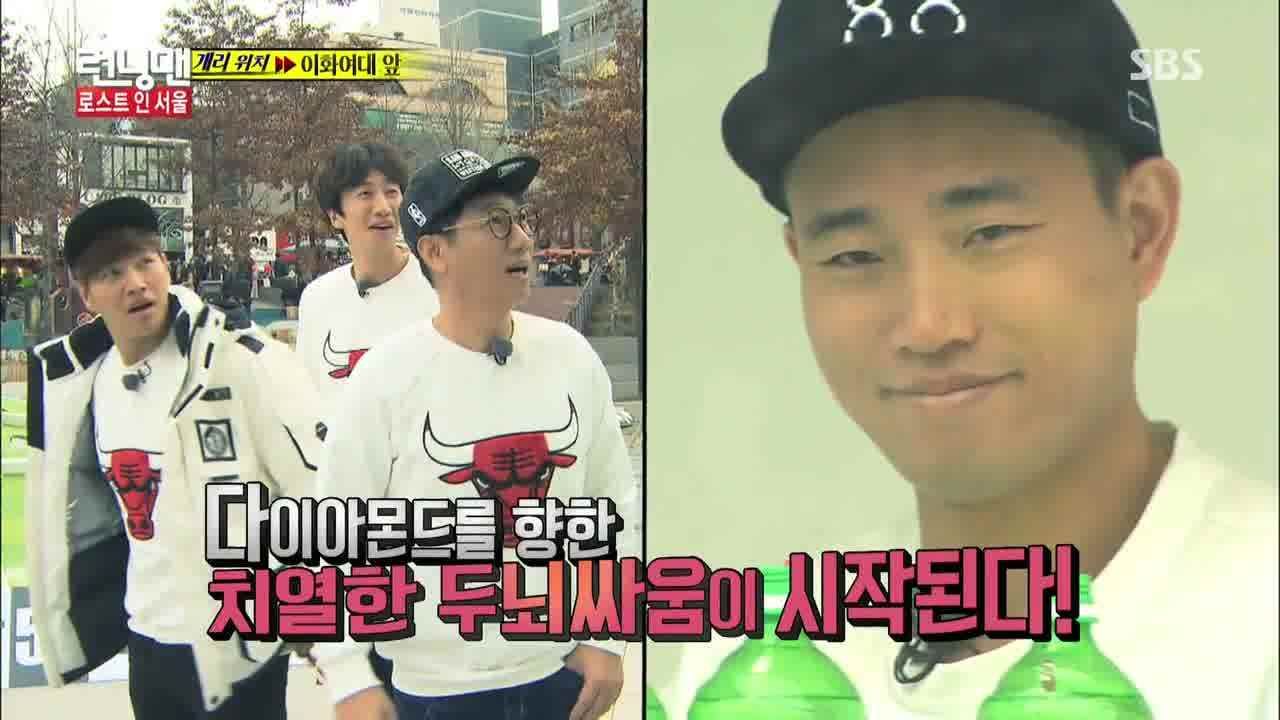 Jong-kook's team is the first to arrive, and they grow nervous when Gary explains that he's been busy trying to figure out his own escape. That makes them wonder if Gary knows about the hidden diamonds, and can see that the sheet look a bit disheveled. Could it be?
Because this show always likes to tell us more rules afterward, we're told that the team must return to their respective cars with the diamonds in tow to win. So could Gary be pretending to have the teams save him so that he can steal one of their cars instead? It certainly wouldn't be the first time Gary pulled the wool over our eyes…
Gary explains to Jong-kook's team about what they have to do, and he catches Suk-jin off-guard when he asks if there's something in it for them. The teams will play a six-person pinball game where they'll balance the ball down the board to gain points. Every 30 points will give them a chance to choose a key.
Gary cheers the teams on from his tiny box (which I realize he could totally escape from if he wanted to), and it makes a hilariously sad sight. Jae-suk's team recruits a pair of newlyweds who started their relationship right around Running Man's beginning.
Jae-suk's team loses their first opportunity, and when they fail their second, Jae-suk tells the couple not to fight about this game later. After getting a dud and losing the ball again, Jong-kook's team continues to heckle Jae-suk.
On their fifth attempt, the ball bounces to the 50-point slot thanks to Haha. Jong-kook's team starts off their ten opportunities with a solid 100 points in their first two tries. They keep racking up the points to get a total of 160 points. Wow.
Jae-suk's team only has one shot… but that's no good. Jong-kook's team choose six keys, and Gary shouts that the staff's faces look uneasy. Both of Kwang-soo's keys don't work and neither do Suk-jin's keys.
So it's up to Jong-kook who took the very first and last keys. The first key doesn't work, and the last… doesn't either. The PD tells them to try Key No. 29, which does indeed work, and ha—Haha tells Gary to just crawl out.
And then Gary says, "There are rules! You want me to crawl out of here! I've got my pride!" The next time the blinds go up, Gary finds himself at a remote location by the river.
Meanwhile, the teams suspect Gary's activities inside the box—he can't be completing missions for no reason, and the numbers must equate to the passcode. They're pretty sure that Gary knows about the diamonds given his occasional knowing smirks.
It's at that moment Gary calls in to give as many clues as he possibly can. Ji-hyo's got a hunch, and the mention of pinwheels and a construction of a new bridge helps Suk-jin. In the car, Ji-hyo and Haha suss out their given clues, and they've got less than an hour to find Gary again.
Jong-kook scolds Suk-jin for his confusing and incorrect directions, which has both him and Kwang-soo ask if he's a spy. Jae-suk's team believes that Gary might be on Sunyoo Island, and Haha sees the windmills Gary was talking about.
They soon get a call from Jong-kook's team, who hasn't the slightest clue as to where they should be headed. Haha tells them to come to Sunyoo Island and Ji-hyo asks the park staff member if he's seen a large container come in recently.
Sadly, that answer is no, so they're headed somewhere else… without telling Jong-kook's team. After Gary completes his mission and gains another number (2), both teams are sent texts with the GPS location of Gary's container: at Nanji Hangang Park.
Ji-hyo knows her way in and out of every park, which has the guys joke again about how she's an expert about remote date locations. Jae-suk's team arrives at the park with just over eleven minutes to spare.
Once they meet Gary, Ji-hyo yells at him for using the term "pinwheels" instead of "windmills." The point is that every minute counts, and they must successfully make a basket in all three zones to succeed and try a key.
Jae-suk's team fails their first two attempts because of Haha (Gary: "Aren't you part of a club!"), and Haha misses his third basket, too. They finish up their final attempt by the time Jong-kook's team arrives.
Not that Suk-jin is any better, flubbing up the first four out of five baskets within a minute. But the trio does manage to succeed once to choose one key.
The teams get nervous when they learn that Gary's knows three (out of possibly four) numbers to his passcode. He claims not to know the order and adds that the lock "breaks" after five attempts.
His voice starts to stutter, but he has Kwang-soo look him in the eye: "I'm not lying!" he swears.
All of the keys are duds, and it's night time when the blinds go up yet again. But Gary pieces the clues together and guesses that he's outside the SBS building in Mokdong. As soon as he tells them… the call drops. Aww.
Seeing that the bedspread's been made neat again makes me wonder if Gary did figure it out. Furthermore, he wonders why he has to go through yet another task, as he starts, "In any case the members…"
He's feeling pretty confident inside the box, heckling the staff as to how good he is at knocking out the empty yogurt bottles with blow darts. "Did you think I wouldn't be able to do it?!"
He lets out a maniacal laugh when he does succeed and gets his final number. He calls to tell Jong-kook's team that the numbers are 1-0-2-7, but he doesn't know what will be waiting for him if he tries to escape.
The call cuts out, and Gary whispers to the VJ (who's also locked in that container, poor guy) to find out the exact date when Running Man began. He remembers that it was in July and inputs 0-7-1-2.
It doesn't work of course because the first episode aired on July 11, 2010. He decides to input in a random order and when he chooses 7-0-1-2, the door clicks open. Gary laughs triumphantly and takes in the fresh air.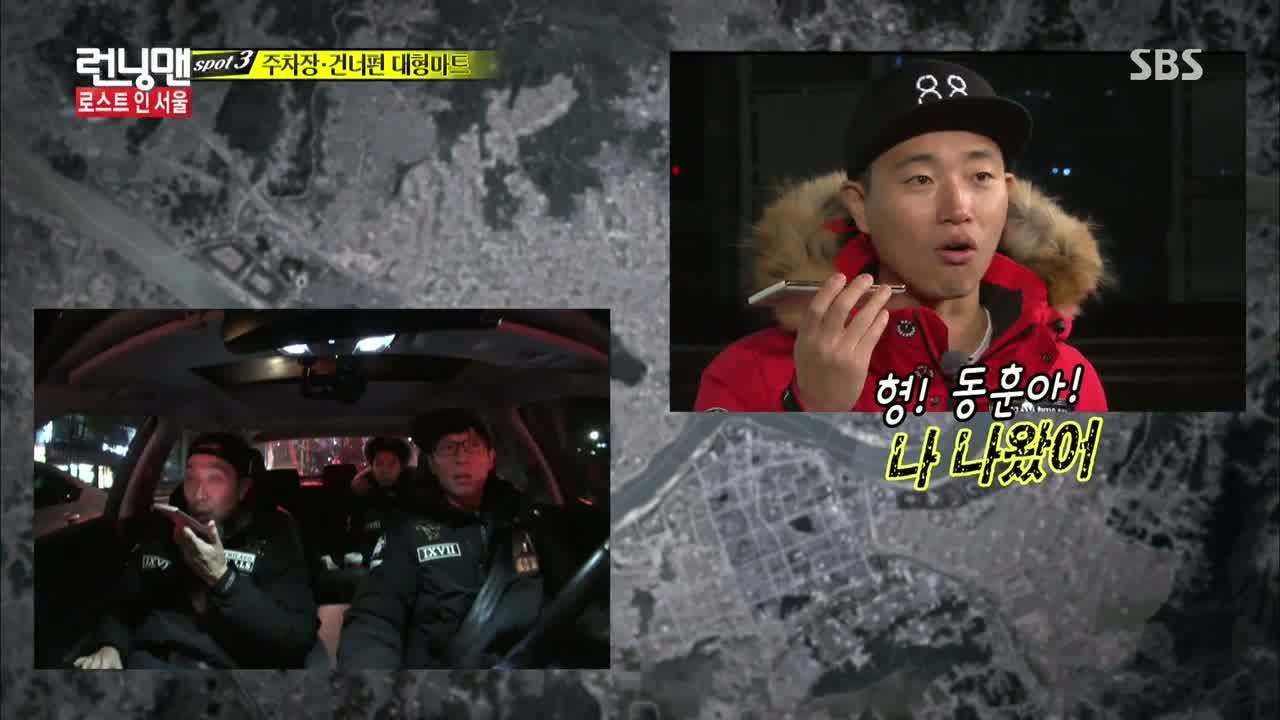 He asks the PD if the number was random, but the latter says it's so cringeworthy that even he can't bring himself to say it. And then Gary laughs, "Seven members… forever (0-1-2)?"
He calls Jae-suk's team to announce that he's escaped the treacherous box, and the others cringe upon hearing what the passcode means. Once they hang up, Jae-suk wonders if Gary took the diamonds with him, but Ji-hyo thinks that Gary really might not have any idea.
Why else would Gary give up all that information so easily and let them know that he's escaped the container?
Jae-suk's team pulls up to the building with a plan: Ji-hyo will make sure to stall Gary. It looks like Gary is slowly walking towards the car when the others run up to him. Following the plan, Ji-hyo holds onto Gary while Haha hops into the container.
But that's when Suk-jin rounds the corner to climb inside. Haha flips the bed over… and the box is still taped to the frame. Shocked, Gary asks, "What is that?" Hahaha, so he really didn't know?
Reviewing today's footage reveals that he never suspected anything would be hiding beneath the bed, even when a few items fell beneath it. His one-track mind was laser-focused on one thing only: his escape.
He looks dumbfounded as both teams try to grab the case of diamonds. In their six-way struggle, Gary cries, "I thought the seven of us were going to be together forever!" Aww.
The case rips open and all the diamonds spill out onto the ground. He can't believe that his six other cast members could be so greedy when he was trapped in a container all day, and tsks as they scavenge for gems.
Although there are no clear victors today, Jae-suk mentions that they learned something important today: that Ji-hyo knows all of the riverside locations for secret dates. That sense of camaraderie is out the window now.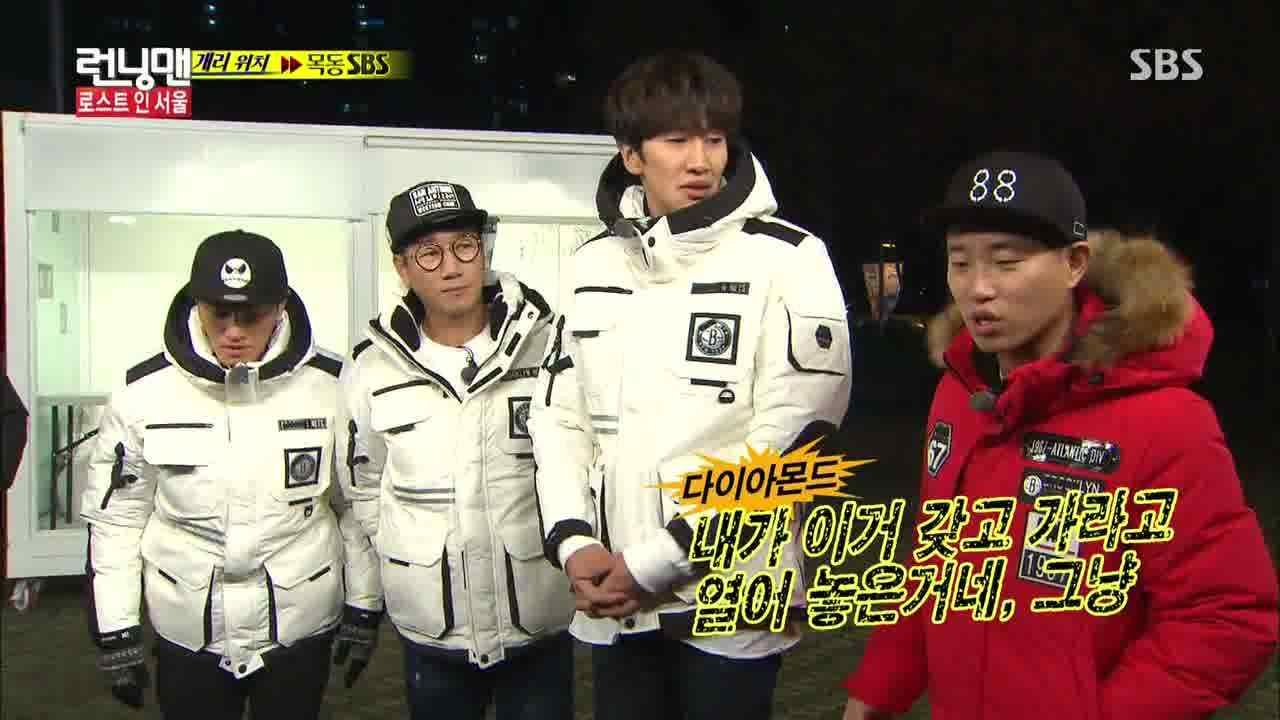 RELATED POSTS
Tags: featured, Haha, Ji Suk-jin, Kang Gary, Kim Jong-kook, Lee Kwang-soo, Running Man, Song Ji-hyo, Yoo Jae-suk