Signal: Episode 2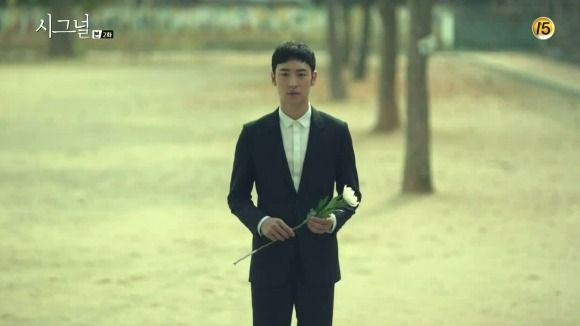 I love it, I love it, I love it. Signal continues to impress as our core team is assembled to tackle the toughest of unsolved crimes. It's a thankless job, but somebody's got to do it. Even when the rest of the police force doesn't believe that they'll be able to uncover a thing, these relentless detectives from opposite ends of the radio waves will be sure to keep digging, come hell or high water.
In this hour, our understanding of time is challenged, as both Hae-young and Jae-han learn that even the briefest of transmissions can prove to be useful. Because you know what they say: it ain't over 'til it's over.
SONG OF THE DAY
Mino and Taehyun (WINNER) – "사랑가시 (Pricked)" [ Download ]
Audio clip: Adobe Flash Player (version 9 or above) is required to play this audio clip. Download the latest version here. You also need to have JavaScript enabled in your browser.
EPISODE 2 RECAP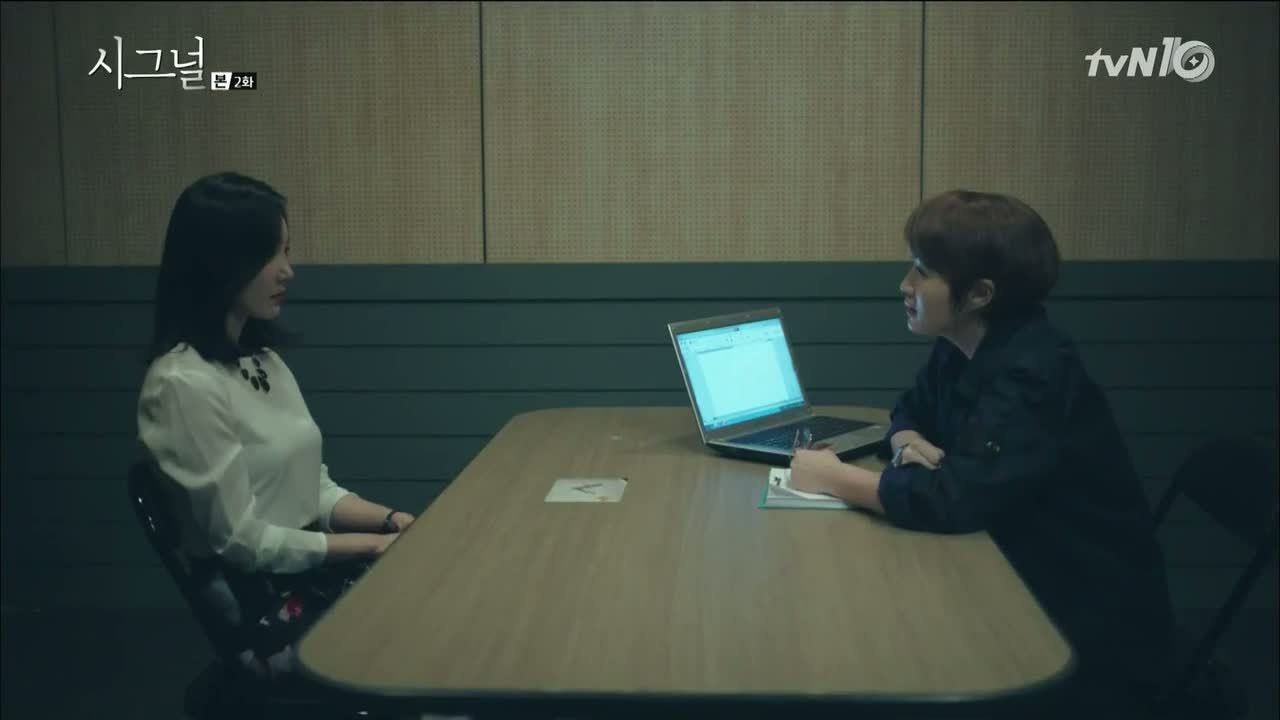 D-10 minutes until the statute of limitations runs out. Both the frustrated cops and Nurse Yoon know that she only needs to hold out for a little longer, but Hae-young believes they've still got a chance.
Sitting across from Nurse Yoon, Soo-hyun calls attention to how difficult it would be for a woman like her to enjoy a lavish lifestyle on a nurse's salary. Which suggests that she's mooching off of another boyfriend… like she did with Seo fifteen years ago.
When asked why she lied about switching lockers, Nurse Yoon claims she wanted to test the police's investigation skills, since it would be a damn shame if they lost the little girl's murderer due to an oversight.
A smug smile threatens to escape from Nurse Yoon's lips, but when Soo-hyun thanks her for handing over her DNA without protest by confirming that the locker is hers, she tenses. Nurse Yoon is trying to think of what detail she might've missed, Hae-young explains—this is their window of opportunity, which means they must get her to crack within three to five minutes.
D-8 minutes. Soo-hyun softly reveals that they were able to obtain DNA from Seo's glasses which were found in the grate along with his body. Using another glasses as reference, she explains that while the nose bridge comes in contact with the body most frequently, it's the crack in the hinge that preserves any other DNA.
That's exactly the area the analysts are testing—what does Nurse Yoon think they found there?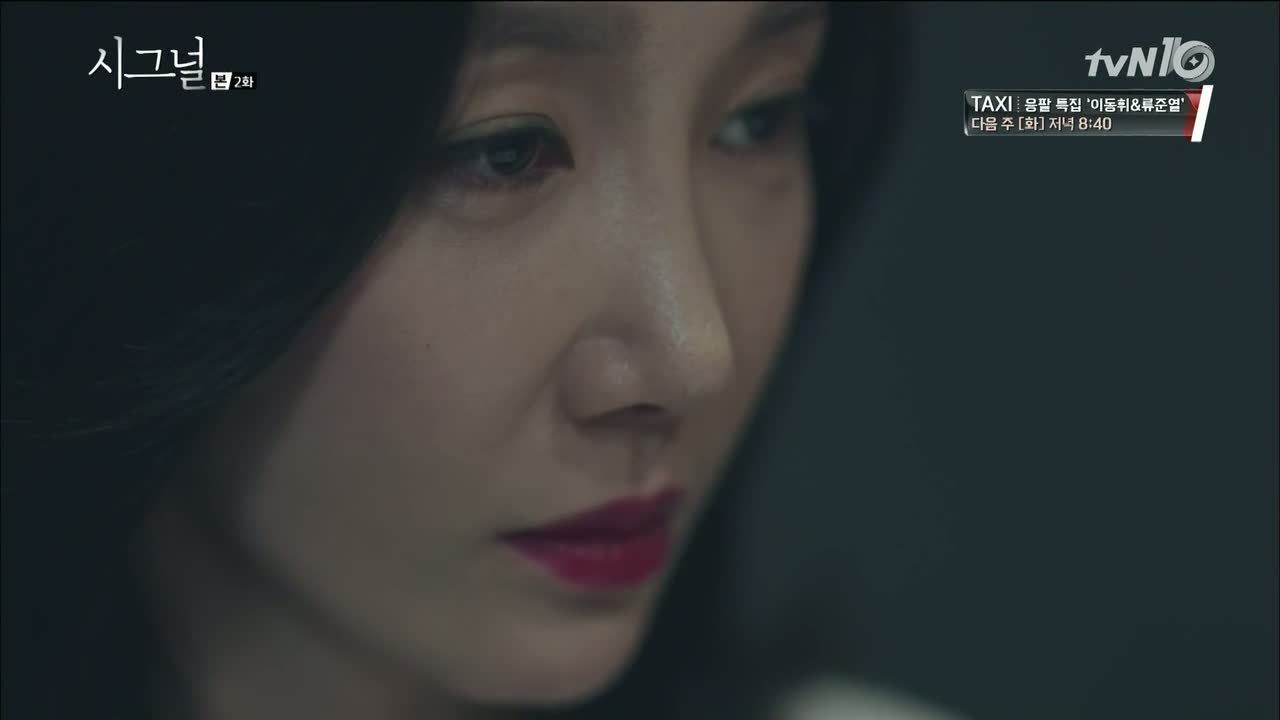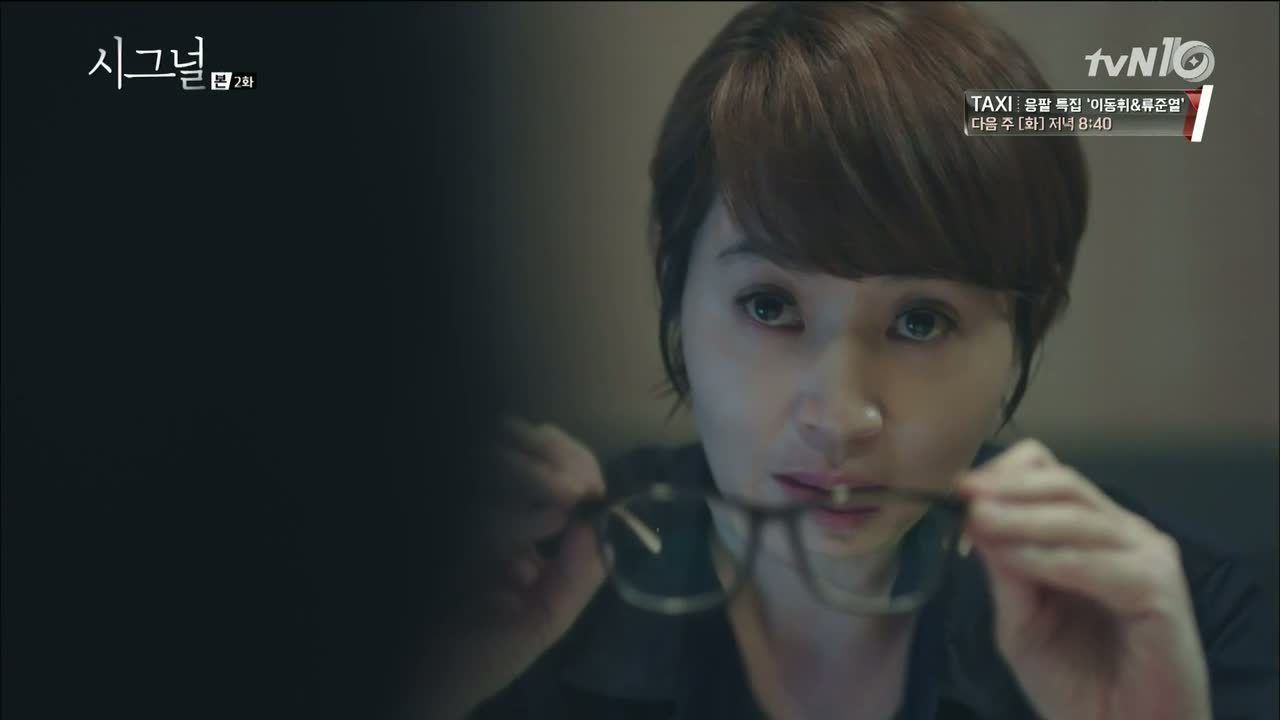 "Your blood," Soo-hyun hisses. Nurse Yoon's eyes shake nervously, doubtful that they could find any evidence that lasted that long. But Soo-hyun says she didn't believe it at first either, but in so long as a tiny drop of blood exists, they can test it ten, twenty, or a hundred years later.
D-4 minutes. Soo-hyun is on a roll now, saying that Nurse Yoon must've thought she had the cops fooled this time, but she was dead wrong. She roars that Nurse Yoon killed Seo to cover up her crimes—it's all over now.
D-3 minutes. As Nurse Yoon's lips quiver, Hae-young urges her to confess from the other side of the one-way mirror. But then a derisive smile spreads across Nurse Yoon's face: "You haven't found it yet… you never said you found irrefutable evidence. Do you think I'll confess if you do this?" Damn it.
Hae-young runs to the lab where the analysts are still waiting for the DNA results. Back in the interrogation room, Nurse Yoon claims to be innocent. He bursts in with a minute remaining, holding lab results that allegedly pinpoint Nurse Yoon as the culprit.
It's a bluff of course, since the actual results aren't in yet, but they've got less than a minute to make Nurse Yoon crack. Hae-young's eyes boring into her, he demands to know why Nurse Yoon took to kill an innocent girl all those years ago.
D-12 seconds. 11, 10, 9, 8… and then Nurse Yoon finally ekes, "I… didn't kill her."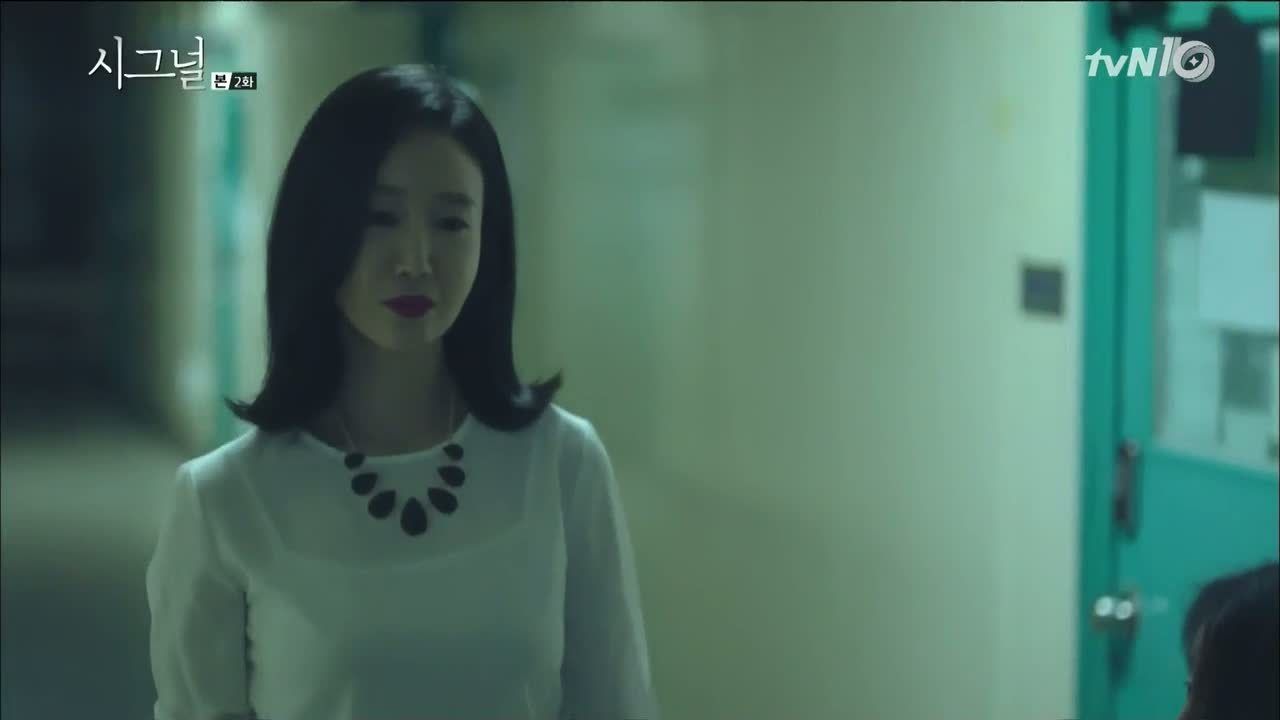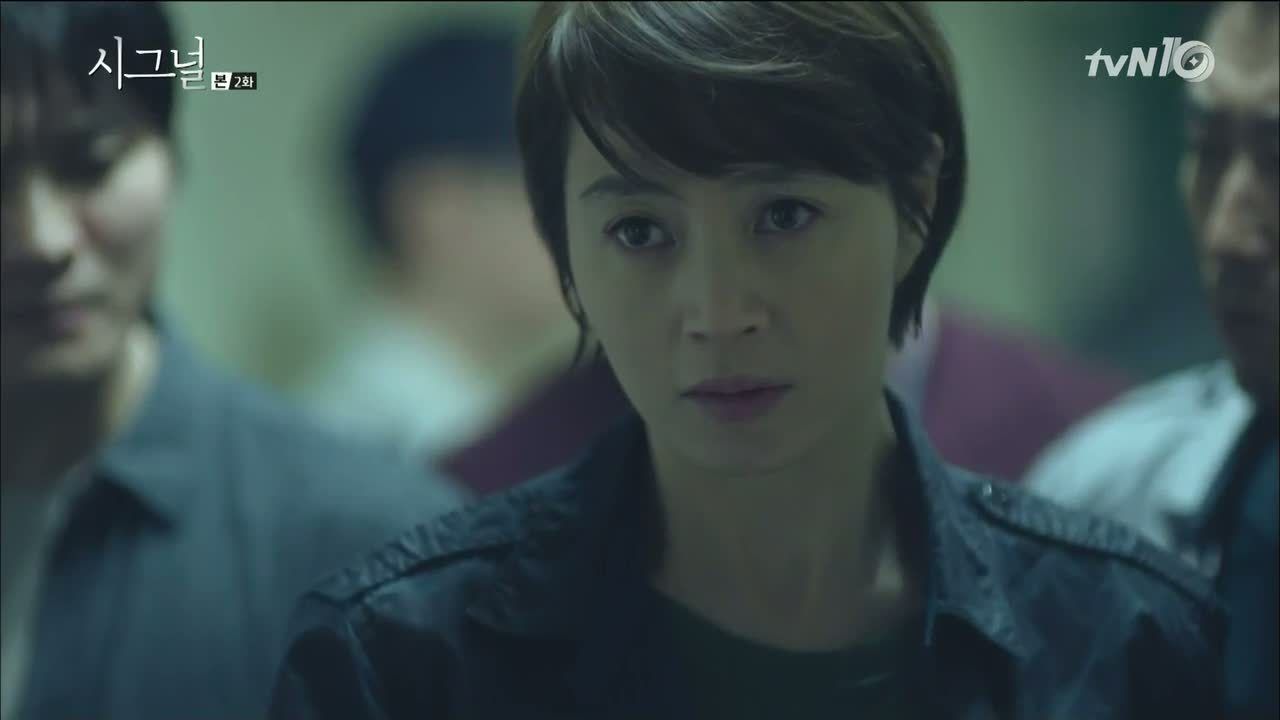 5… 4… 3… 2… 1… Zero. A tear trails down Hae-young's cheek and Soo-hyun lets out a frustrated sigh. Knowing that she can no longer be prosecuted for Yoon-jung's death, Nurse Yoon sweetly asks if she can go home now.
That crucial call from forensics comes in too late, as Nurse Yoon walks, her red heels clicking down the hallway. It's at that moment Soo-hyun is shown a parking ticket found on Seo's remains from Seonil Psychiatric printed on 12:05 AM on July 30, 2000.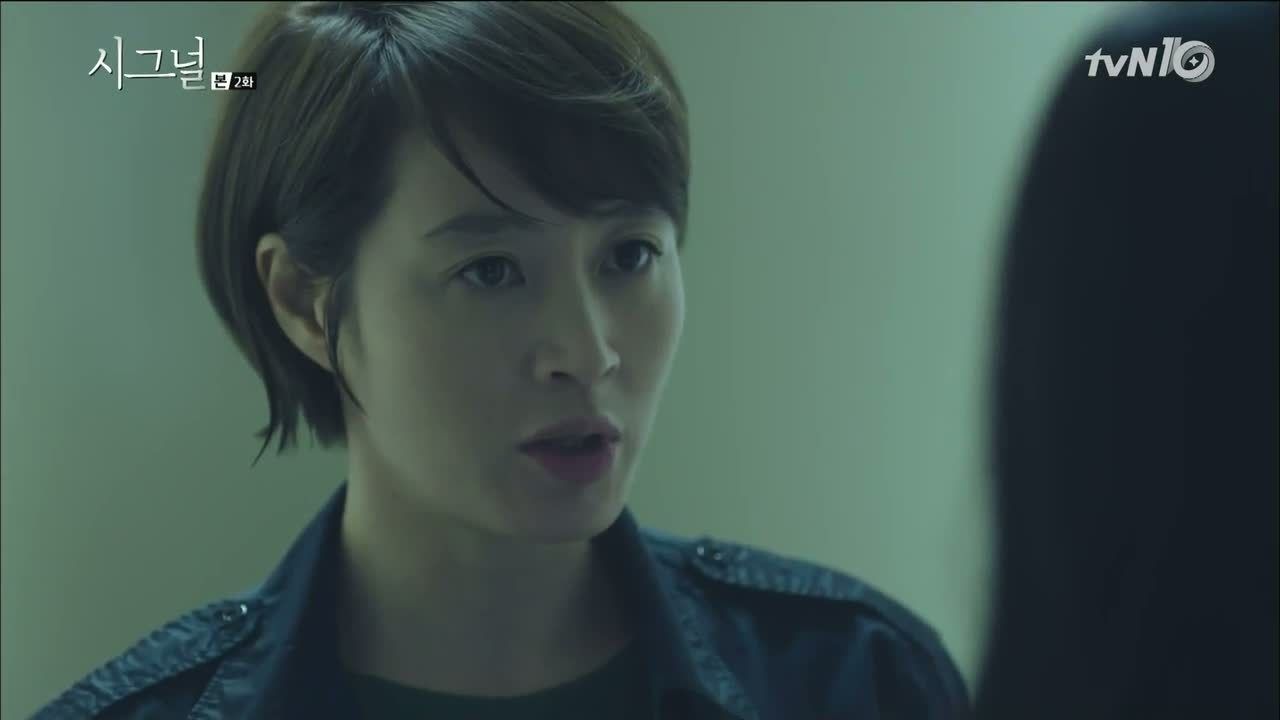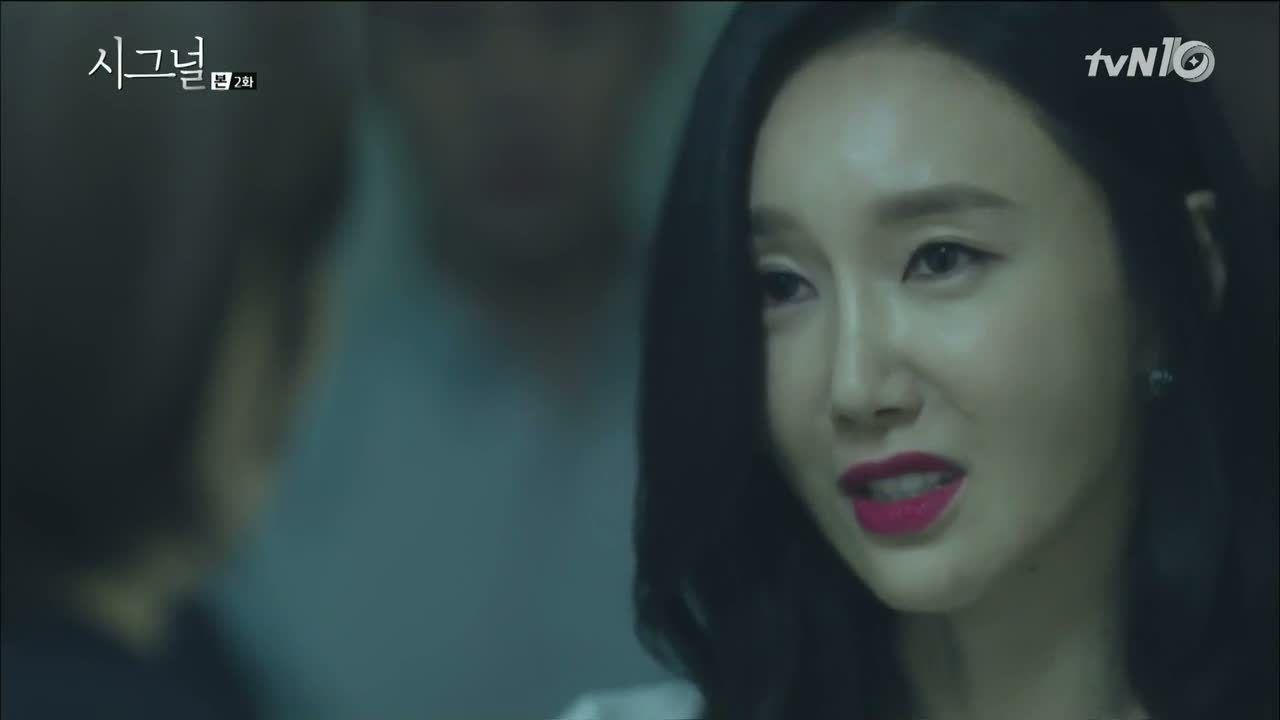 With that, Soo-hyun marches up to Nurse Yoon because while it's too late to prosecute her for Yoon-jung's murder, Seo technically died the following day. Meaning that the statute of limitations for his case hasn't run out yet, and they can arrest her for his murder.
Everyone goes silent when Yoon-jung's mother asks what happens to her daughter's case now. Soo-hyun has the difficult task to explain that it's in Nurse Yoon's favor there because the statute of limitations in her case is based upon an estimated time of death.
All Soo-hyun can do is bow her head in apology, and Nurse Yoon is dragged away before Yoon-jung's mother can launch herself at her. Yoon-jung's mother sobs at the tragic realization that she'll never find true closure for her little girl's death.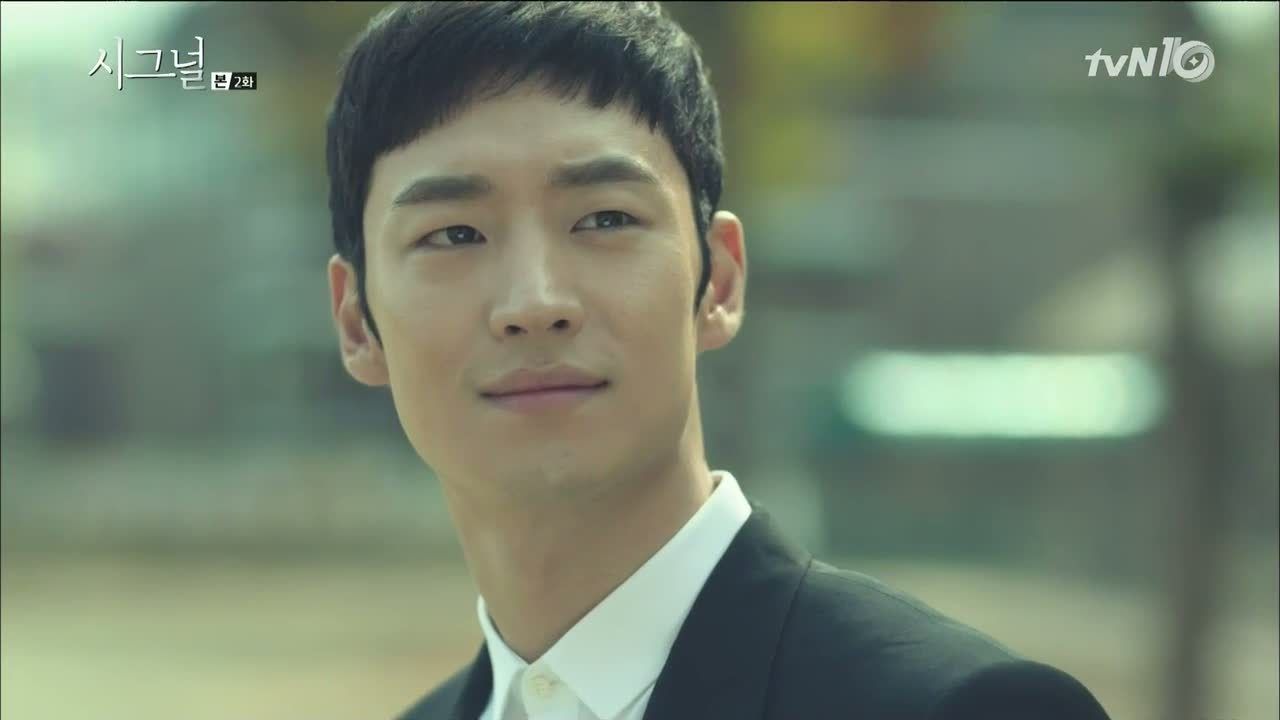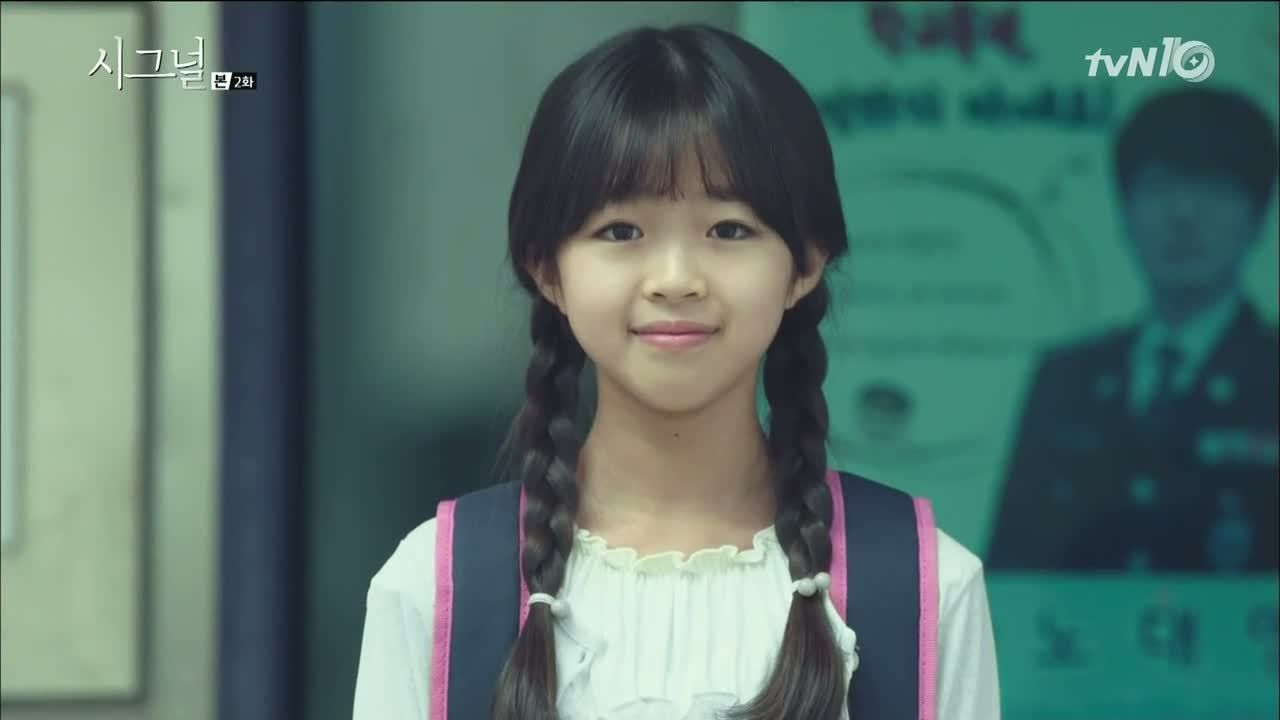 Hae-young returns to his elementary school to pay his respects to Yoon-jung. He turns back towards the stoop, imagining Yoon-jung smiling at him. And this time, he returns the smile.
The unresolved conclusion of Yoon-jung's kidnapping-murder spurs a heated debate on TV about how cold cases prior to August 1, 2000 are handled. (Real-life fact: On July 24, 2015, the National Assembly passed the Taewan Law that abolished the statute of limitations on homicide—which was extended to 25 years in 2007—to bring justice to criminals for whom time previously absolved them of their crimes. However, this only applies to cases from August 1, 2000 onwards.)
Meanwhile, Hae-young climbs a mountain where a tree dedicated to his convicted hyung, Park Sun-woo, who died at the age of 17 (or 18, according to Korean age), stands.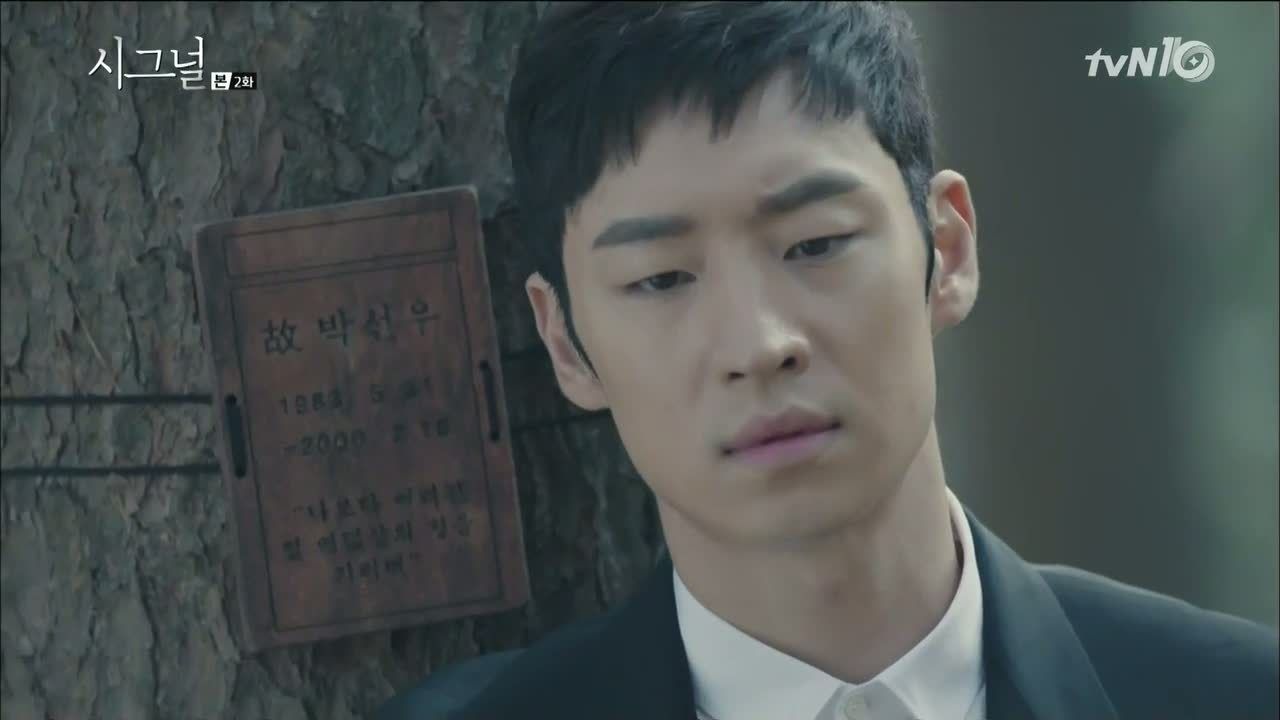 While Director Kim is faced with protesters about cold cases, Soo-hyun gives chase on another criminal. She eventually apprehends him and catches a news report stating that a bill suspending the statute of limitations on heinous crimes has recently passed. According to this report, the law gives hope to cases like Yoon-jung's be re-opened. Also, were we meant to catch the pair of shaking hands at the bus station?
Anyhow, Director Kim scoffs that the new law won't change much—it's not like they'll magically be able to catch the hidden perps overnight. "Isn't that right," he asks Section Chief Ahn.
Director Kim puts him in charge of the newly-established cold case squad based in Seoul, which includes both Soo-hyun and her partner, Detective KIM GYE-CHUL (Kim Won-hae), along with forensic specialist JUNG HEON-KI (Lee Yoo-joon). Ha, time to get new business cards made.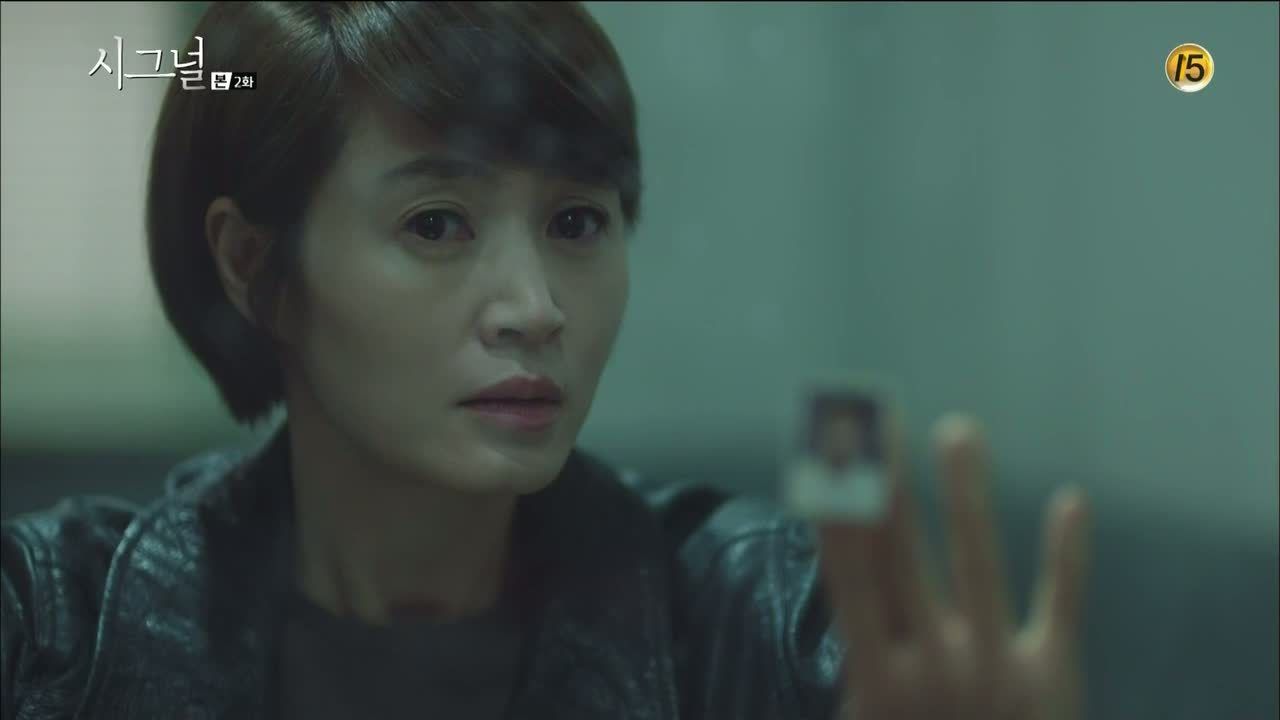 The cold case squad is only a temporary situation until the fervor surrounding cold cases calms down, Director Kim emphasizes. So it's Section Chief's job to play along "like you did fifteen years ago with Lee Jae-han." Okay seriously, what happened to him?
Soo-hyun pays a visit to Nurse Yoon in jail and shows her a picture of Jae-han—did he come see her that fateful night? Scoffing, Nurse Yoon points out that she would've been convicted a long time ago if a detective came to see her back then.
Back at the precinct, Soo-hyun packs her things and picks up the Batman picture with the quote "One pair of handcuffs carries 2.5 liters of tears." Beneath the back cover, there lies an old photo of her and Jae-han looking like badass detectives (and I'm sure it's no mistake that her watch reads 11:22 PM).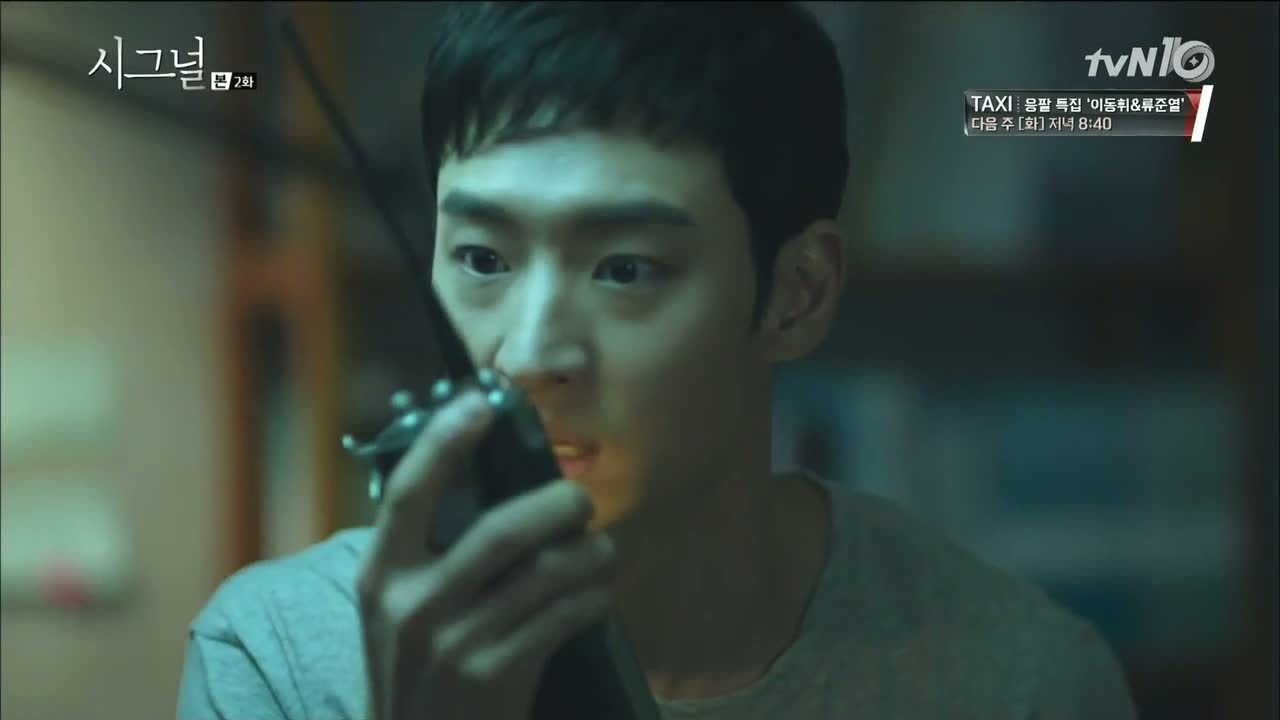 Turns out Soo-hyun and Jae-han were pulled in for a photo shoot for a police magazine back in the day. Their awkward poses adorably turn more intense as they get swept in and have more fun with it.
At home, Hae-young informs the reporter that he'll no longer be providing celebrity dirt. Just as the clock turns 11:23 PM, the walkie-talkie comes alive and Hae-young eagerly reaches out to Jae-han. Did he see the news about the good news regarding Yoon-jung's case?
Back in August 3, 2000, Jae-han is a bloody mess and is bombarded with questions like what precinct he's from and how he knew who Hae-young was (in their initial exchange, Jae-han addressed him as "Lieutenant Park" and spoke to him like it wasn't their first conversation).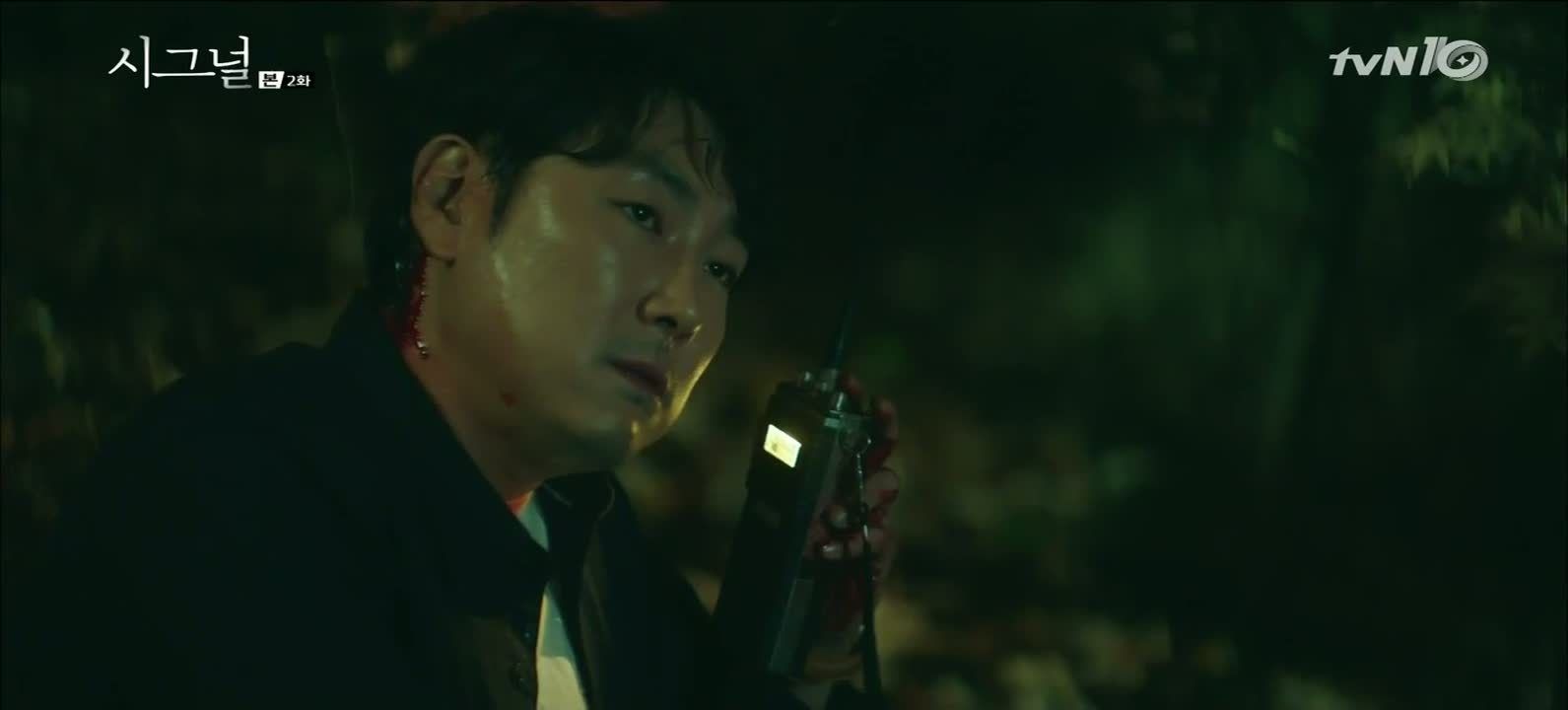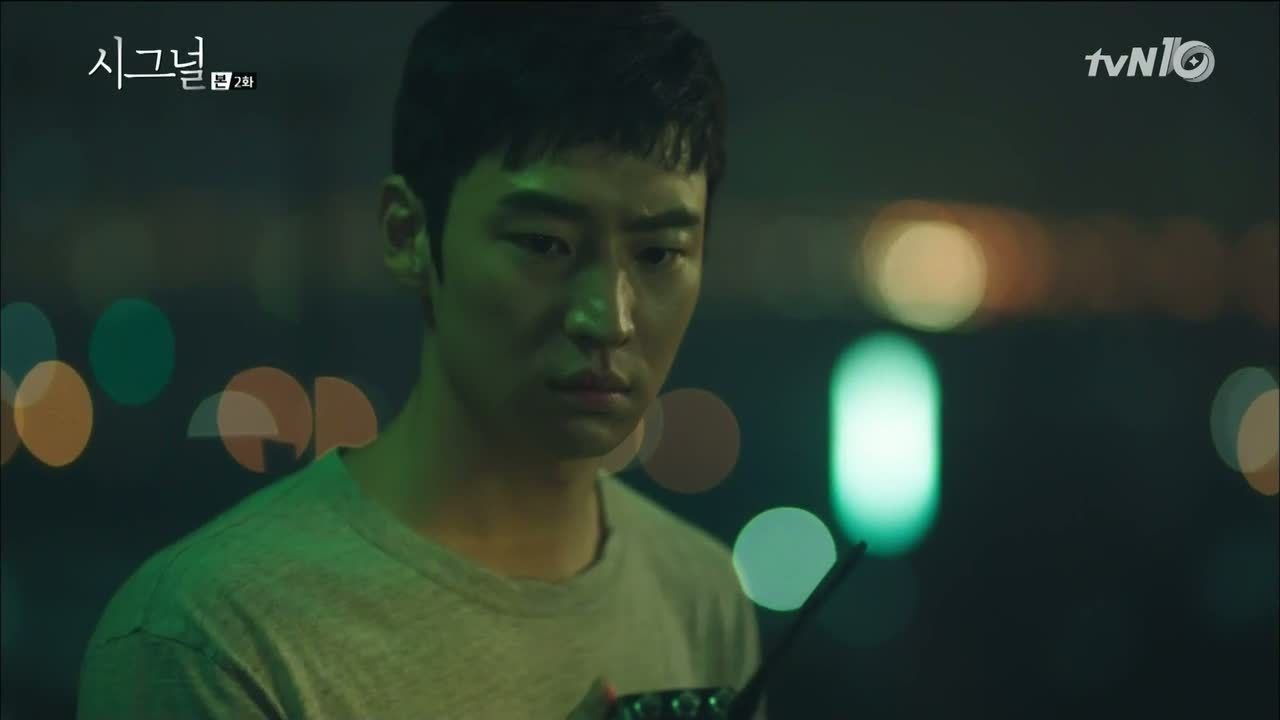 He tells Hae-young that this may be his last transmission, but this isn't the end. They'll start again, and when they do, it'll be Hae-young's job to persuade him… the 1989 Jae-han. Oh shit.
"The past can be changed. Don't ever give up." Jae-han transmits haltingly. Hae-young has no idea what he's talking about, but that's when he hears the sound of a gunshot through the radio and soon the connection fritzes out.
Detective Kim and Heon-ki are met with a frosty welcome in their new precinct, and also meet rookie officer HWANG EUI-KYUNG (whose name can also mean "conscripted officer"). Their new desks look like they doubled as a landfill and evidently smells like one too.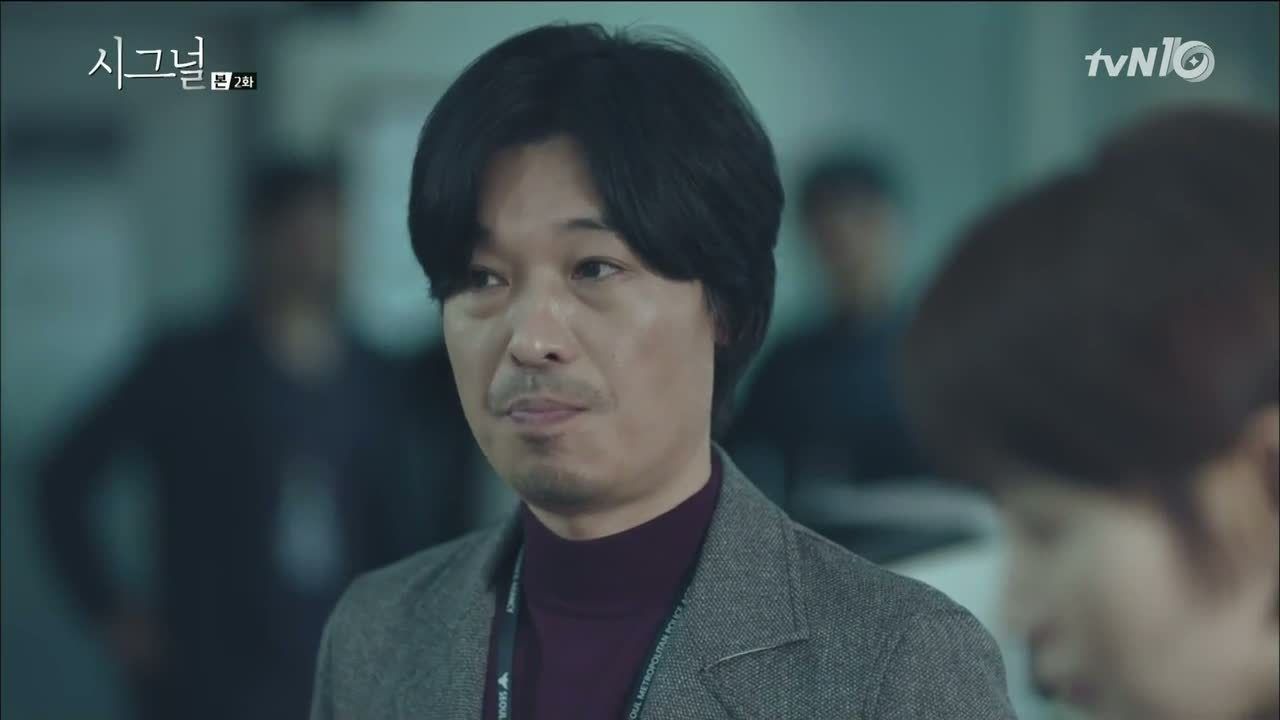 Seeing the empty seat in their sort-of-not-really round table, and Detective Kim remarks that it possibly couldn't be filled by that hotshot profiler they met. Section Chief Ahn drops by with the paperwork for the infamous South Gyeonggi serial murders (based off of the real-life Hwaseong serial murders) — a nationally-known case that they'll now be working on.
The first victim was found on December 3, 1987, which was later followed by at least nine more murders. All the victims were found bound and gagged, showed signs of strangulation and the knots used were unique. A plethora of rumors had surrounded the case, and though thousands of police were on the case, the culprit has never been caught.
Soo-hyun argues that conducting an investigation on a 26-year-old case is virtually impossible, but that's when a voice chimes in: "It's worth a shot."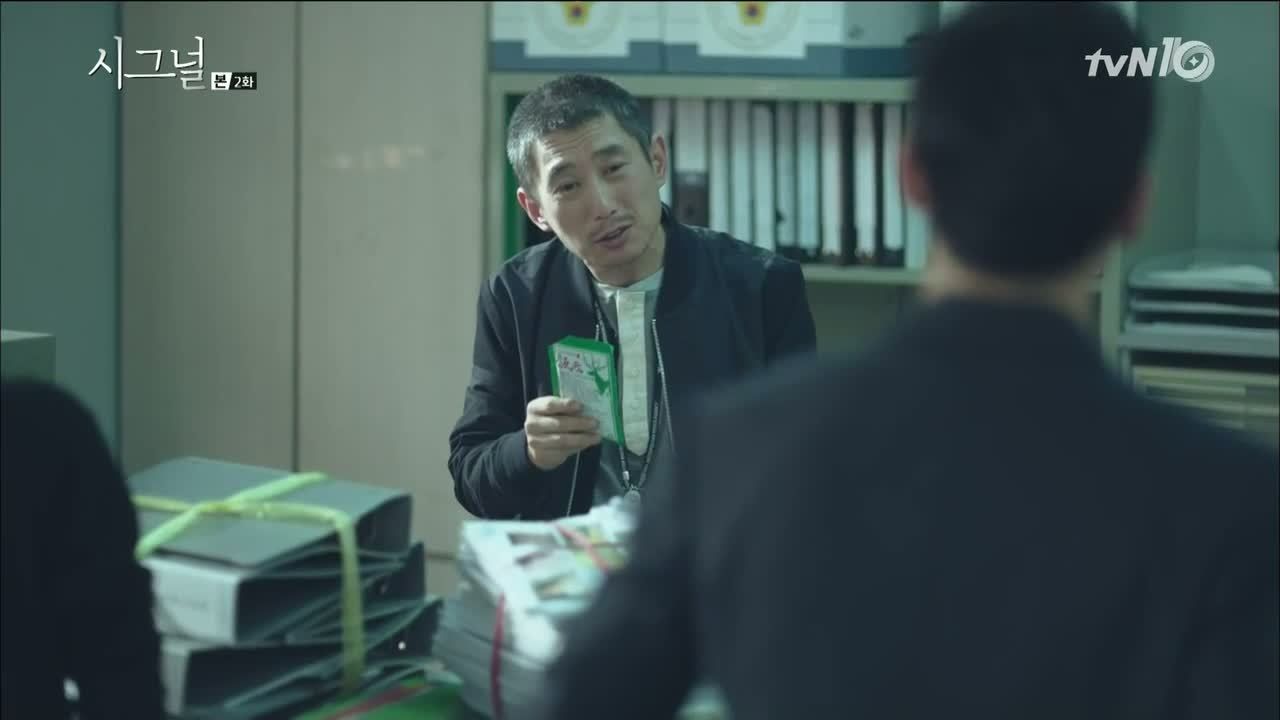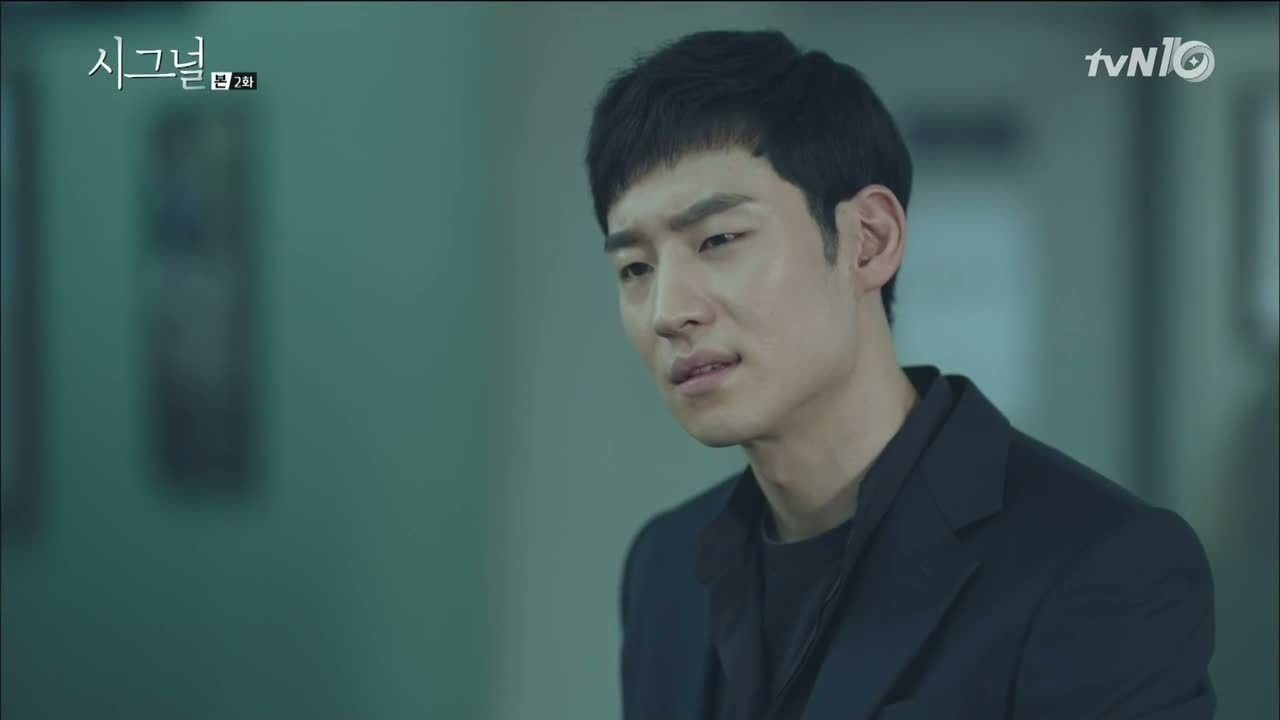 Enter Hae-young, who is now formally introduced to the rest of the team. Soo-hyun immediately disputes this appointment since a profiler's job on cold cases is too important to give to an inexperienced rookie like Hae-young. Section Chief Ahn won't have any of it—if they don't like it, they can turn in their badge and walk.
Hae-young takes offense when Detective Kim uses banmal, so he flashes his badge at him. Ha, you outrank him, don't you? It does the trick, and Hae-young says the fact that there's barely a clue to go on is the whole point—the entire nation knows that the South Gyeonggi murders were handled haphazardly.
That's a bold statement, and the entire precinct turns their attention to Hae-young as he continues that the same applies for all of these cold cases because the police didn't do a proper job.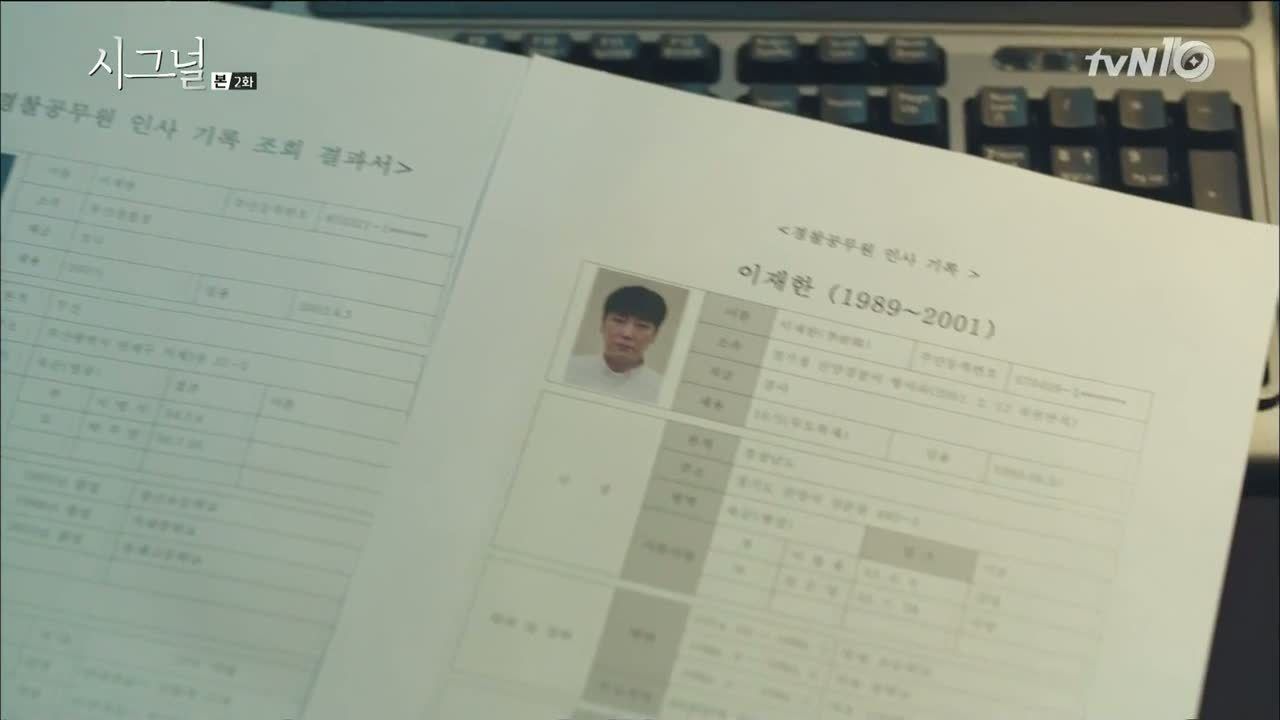 In a scolding tone, Soo-hyun tells him that he shouldn't be so quick to judge—some people put their necks on the line for those cases. But Hae-young pushes more buttons, especially Detective Kim's when he says he's part of the new generation of cops. Commence punches thrown and hair-pulling. LOL.
Later that night, Hae-young follows up with all the known Lee Jae-hans in the police force. He's dwindled the number down to three, including the Lee Jae-han we know in August 2000 (the discharge date listed here is February 12, 2001).
Soo-hyun is still on good terms with Jae-han's father who runs a small repair shop. He fixes her watch but tells her that she needn't come see him anymore. He knows that Soo-hyun was madly in love with his son, but it's been fifteen years now; it's time to move on.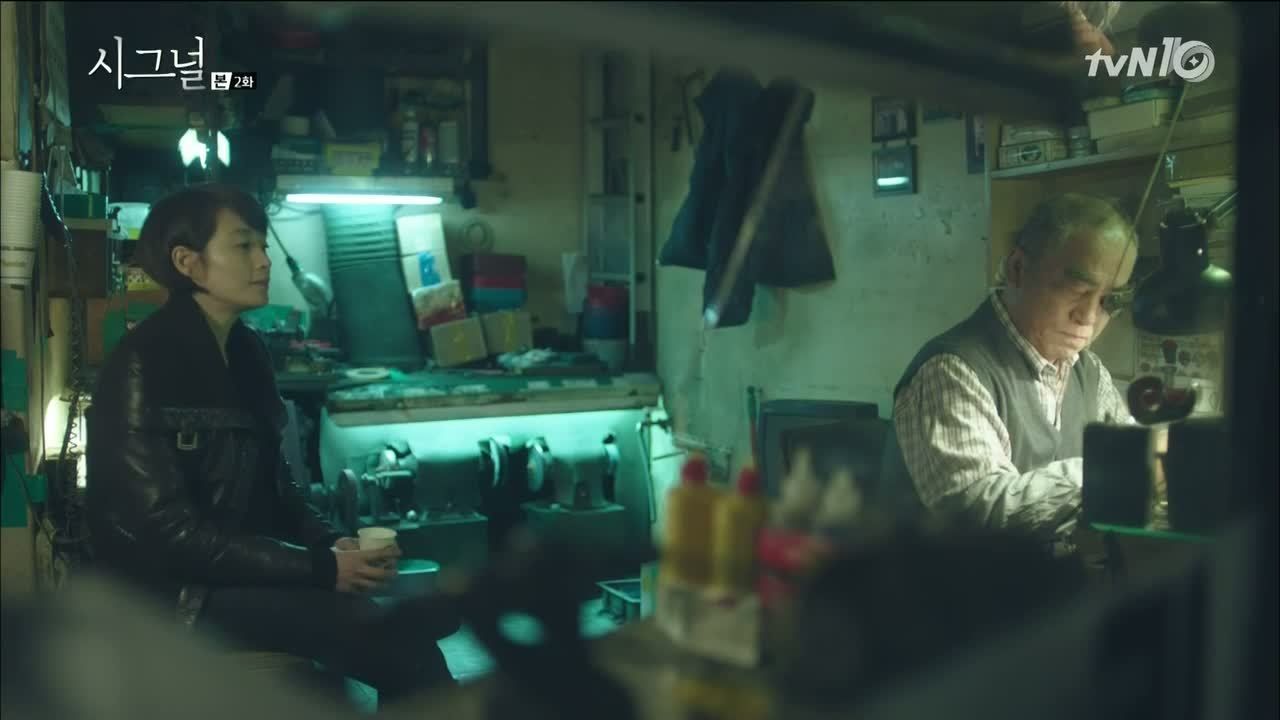 Soo-hyun gazes at the photos of Jae-han still hanging on the wall: a baby, a judo champion, with friends and colleagues. She remembers that Jae-han's first case was the South Gyeonggi murders, and his father still recalls how dogged his son was back then.
Curiously, Jae-han once said that even if he couldn't find the murderer himself, someone else definitely would.
11:23 PM. Hae-young hears the familiar static coming from the mysterious walkie-talkie. He speaks into it, identifying himself to the 1989 Jae-han, a bumbling newbie in this timeline. Hae-young doesn't know that at first, adding that he was awfully worried since their last transmission.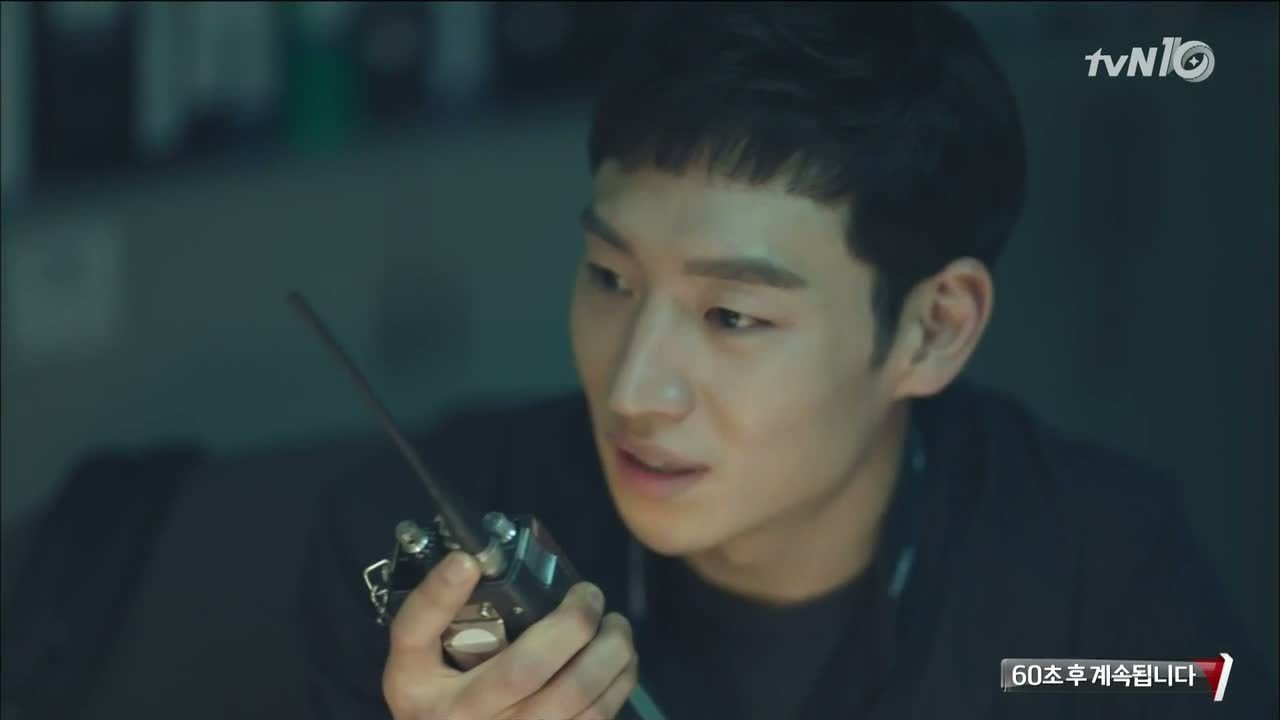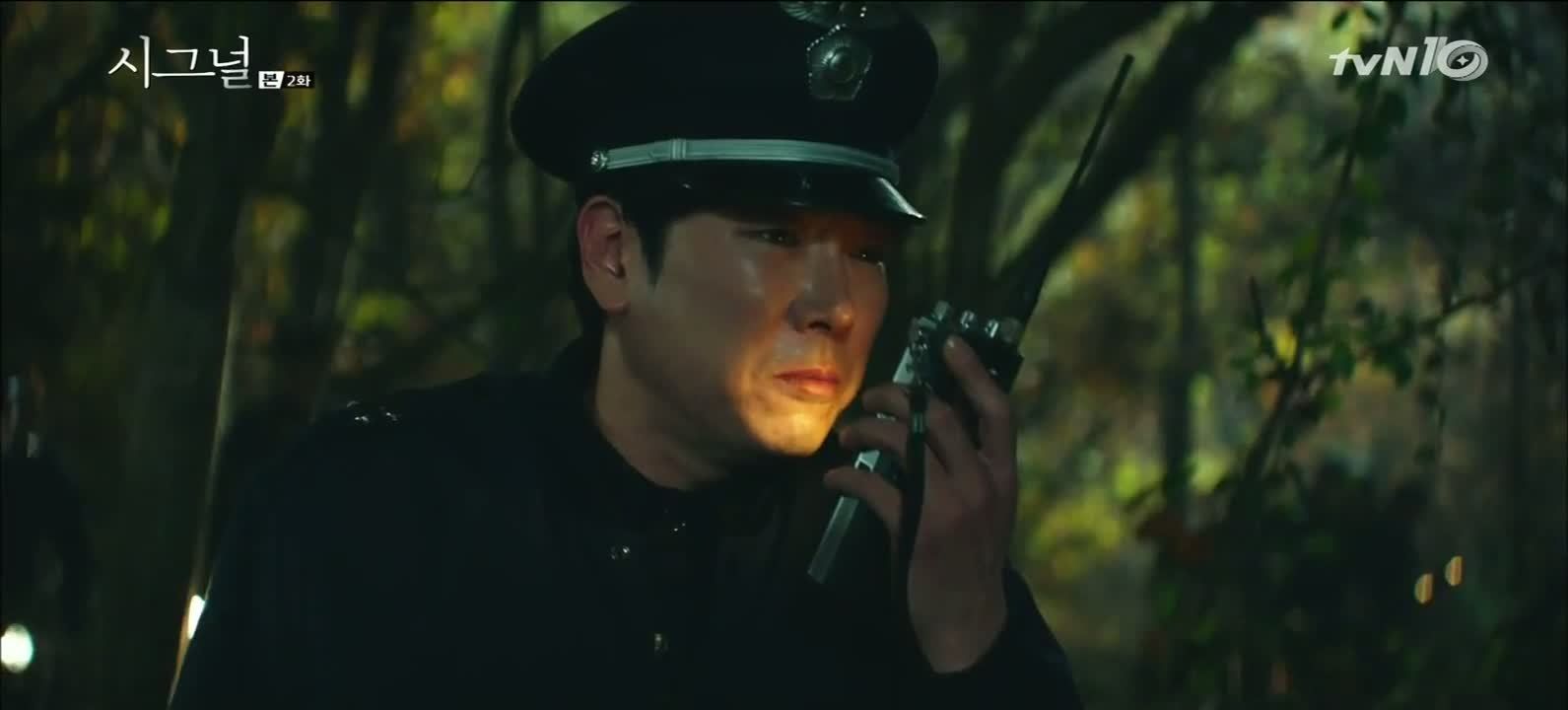 1989 Jae-han has no idea where this is coming from or to whom he's speaking with; he transmits that they're currently scouring a mountain to look for a missing Lee Gye-sook. Recognizing that name as Victim No. 7, Hae-young says she was found in a field of reeds alongside a highway. Furthermore Victim No. 8 was found alongside train tracks.
Every cop in the country knows that, he says. Someone in 1989 calls that they've found the body, then the connection times out. Hae-young checks his watch. Ooh, is there a time limit for each transmission?
1989 Jae-han staggers when Lee Gye-sook's body is found among the reeds just like the voice claimed. He stares back at his radio, looking horrified. "Who the hell are you?" The date: November 4, 1989.
The following morning, Soo-hyun reminds her team that a cold case squad's work means to question and confront the possible errors made in an already closed case. They better be prepared to grow some thick skins and quick, since re-opening cases also invites criticism and scorn.
They need to track down every officer involved in this infamous serial murders and pick their brains to even get a shot at gaining any information. Everyone is given a task except Hae-young, who figures that he'll do his own thing.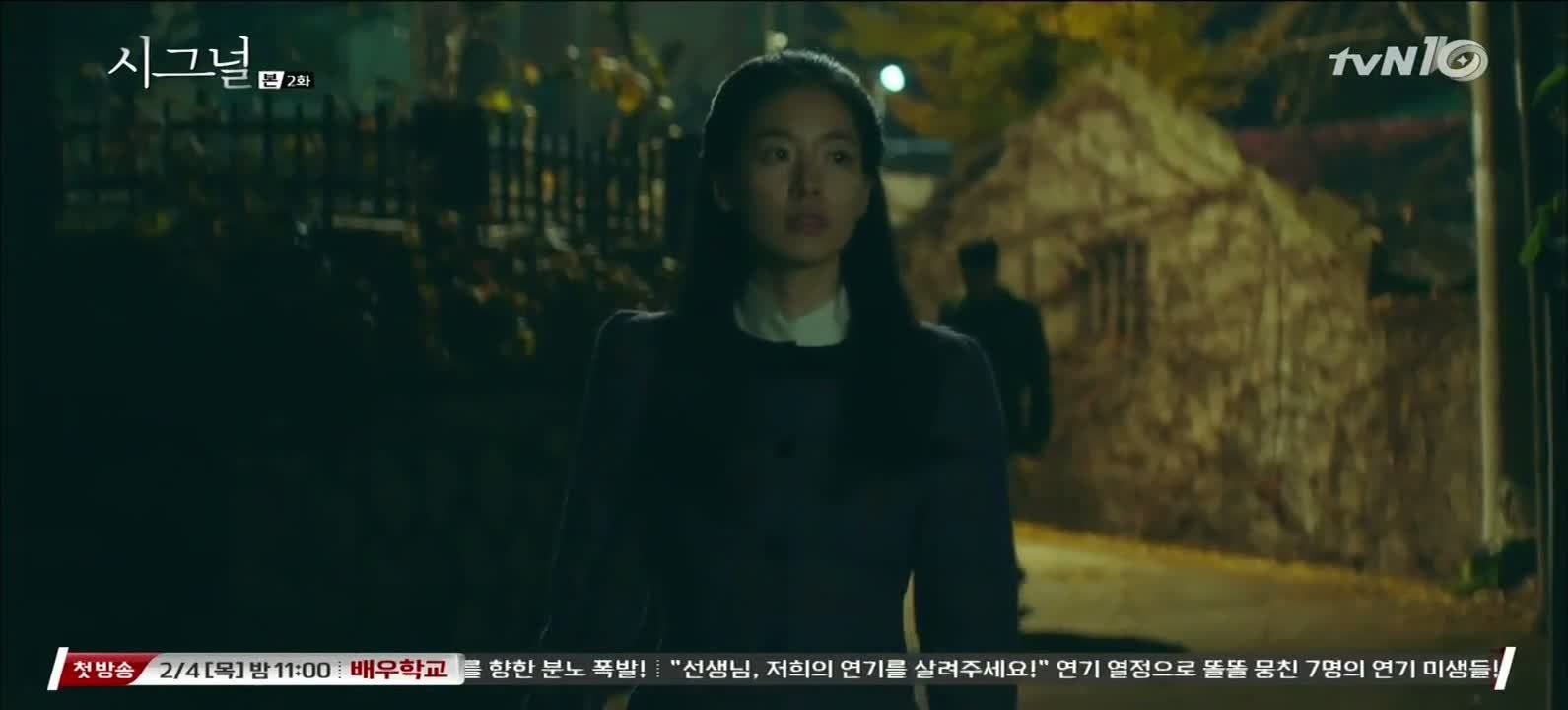 She throws him a bone, though — crime scene photos of Victims No. 7 and 8 — but he needs to return them later. As he pores over the photos, we're transported back in time to November 5, 1989.
A shadow follows the woman, and he nearly approaches when she fumbles with her keys. However, he draws back once he sees that she's not alone. Both the woman and her mother are aware that she's being followed, though the latter thinks it's a cowardly admirer.
Interestingly, her mother smiles, adding that he must want to protect the girl he likes because he's a cop. Aha, that shadow is none other than a young Jae-han, who conjures up a flimsy excuse when he runs into her mother before running off. LOL.
Turns out Jae-han is here to follow up on the intel given to him by that mysterious voice about Victim No. 8. He heads over to the precinct to inquire about an officer named Park Hae-young and the news about the yet-to-be Victim No. 8, which only gets him reprimanded.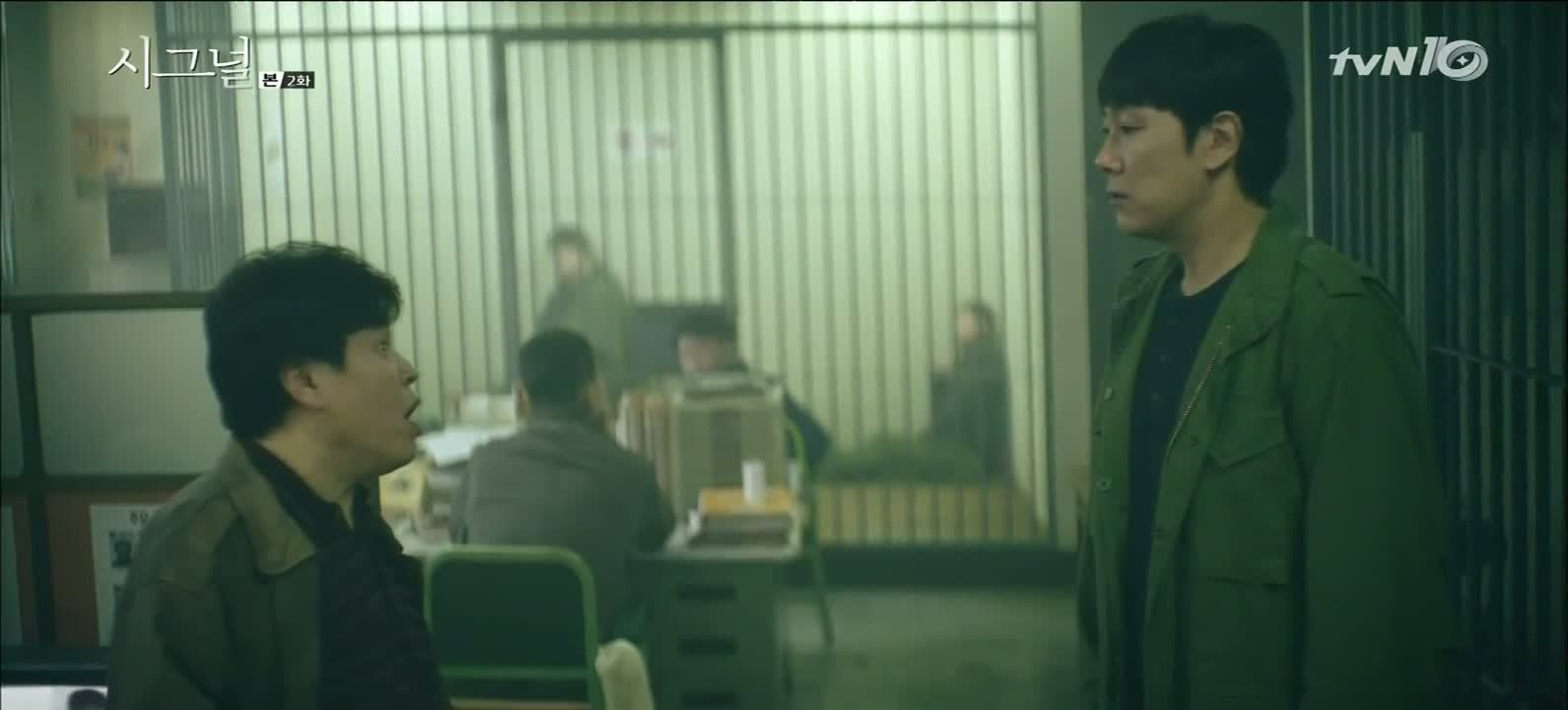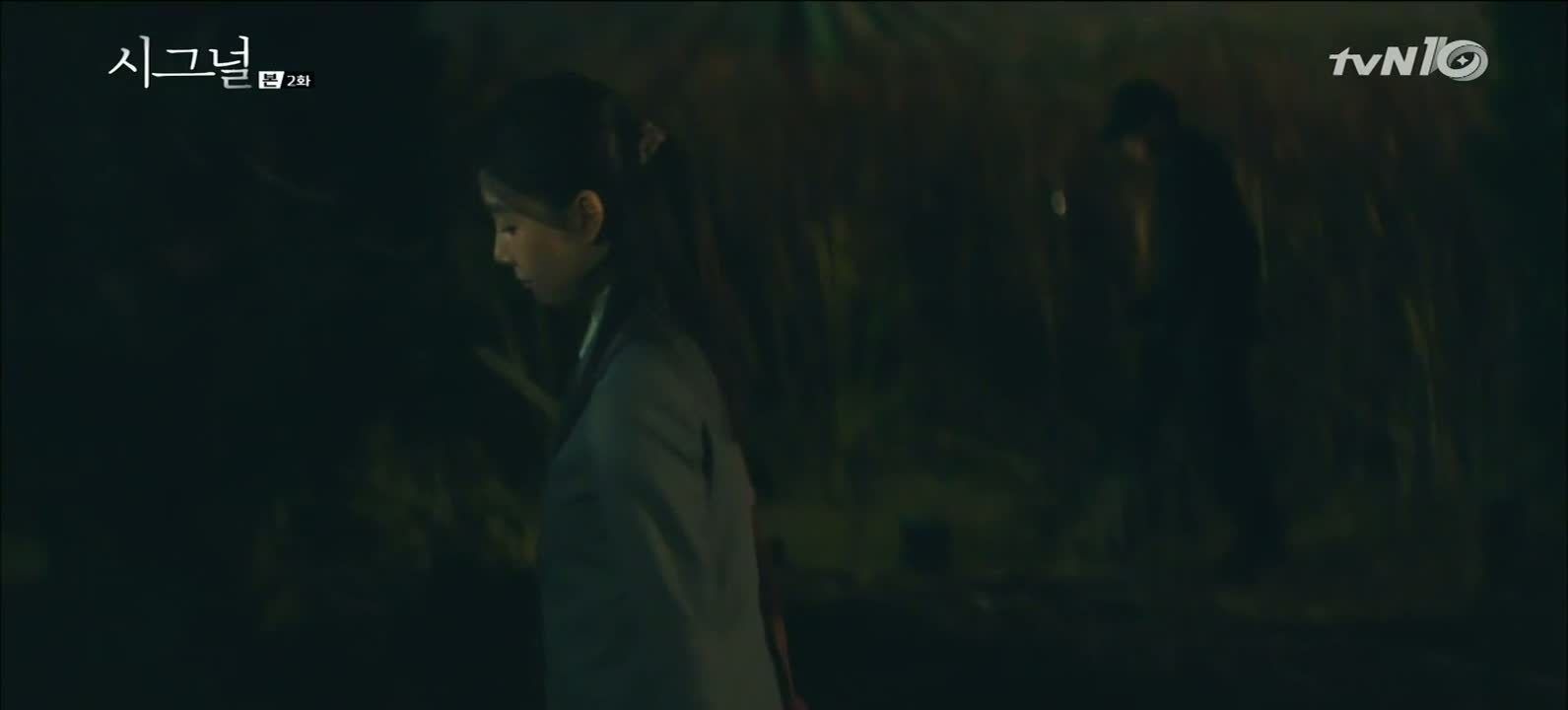 From the officer's perspective, everything Jae-han says sounds like crazy talk. Why would anyone speak of any more murders and a name he's never heard before? After driving Jae-han out, the cop turns his attention back to the exhausted elderly couple trying to identify the shadow they saw one night.
Curiously, the TV rests on one face, and then we cut to the woman, whom Jae-han was previously following. Currently, she's being trailed by someone else.
In 2015, Hae-young does a double take when the photo of Victim No. 8, Lee Mi-sun, fades then reappears again. At the same time, Jae-han walks along the tracks and freezes when he discovers Lee Mi-sun's body half-hidden in the brush.
He draws near, and then her eyes fly open. Holy crap, she's still alive.
Startled, Jae-han jumps back. As the photos seemingly transform before Hae-young's eyes, so does the list of victims behind him… which now names Lee Mi-sun as a victim of attempted murder. Whaaaaaa?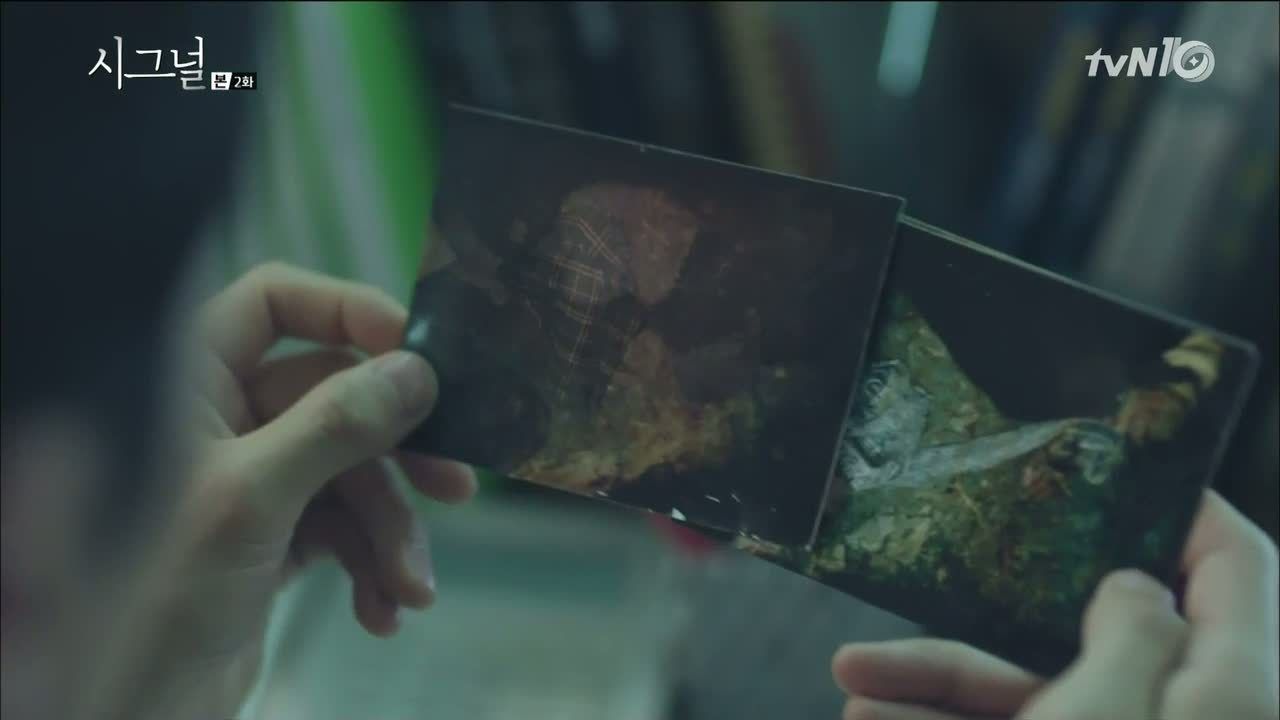 Confused, Hae-young turns to the whiteboard he wrote out himself mere hours earlier. He staggers at the change made in his own handwriting.
But that isn't the only thing that's been altered: Soo-hyun's notebook, which flew out of her hands, has been updated as well… in her own handwriting. Question is: Does she recognize the change?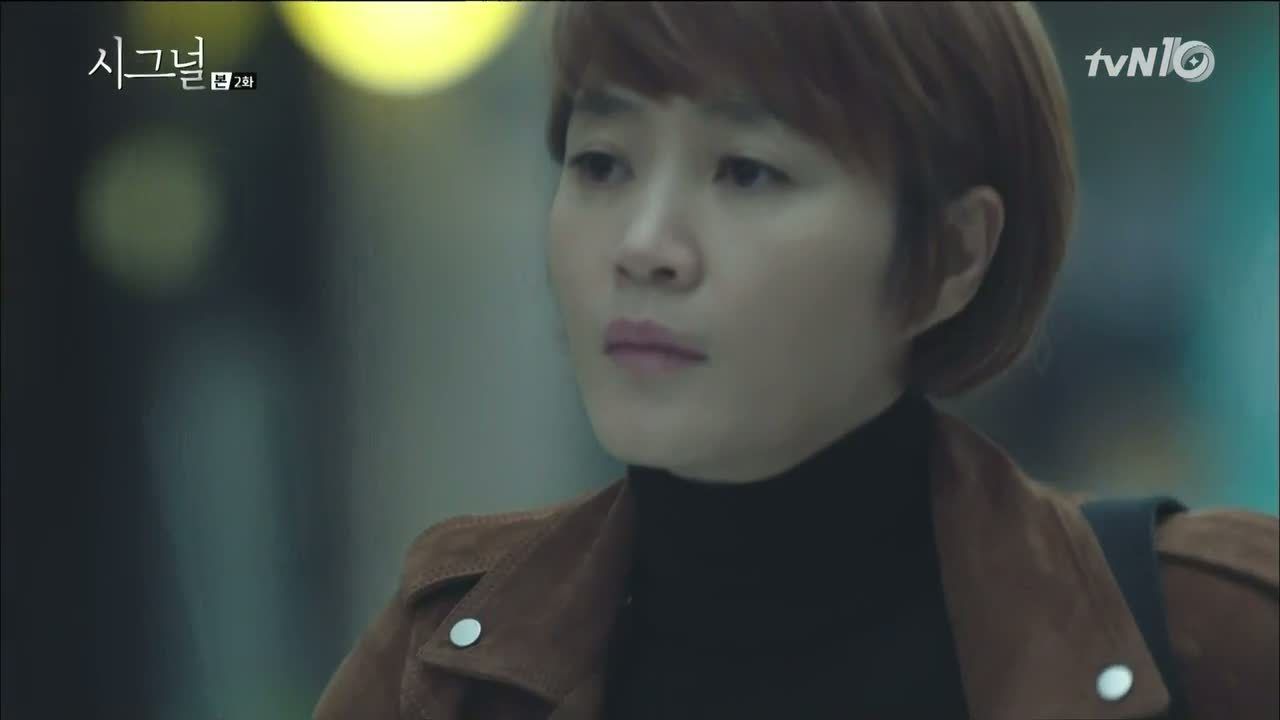 COMMENTS
AHHHHHH!!! Did Lee Mi-sun escape with Jae-han? And did Soo-hyun pick up on the change or not? I have so many questions, and now I have to wait a week?! *pulls at hair* *takes deep breath*
Now that that's out of my system, I can say that was an awesome cliffhanger. Even the ratings reflect that sentiment of wanting more (this episode pulled in 6.926%, woot!) which is the best place a show can be in. A tasteful placement of music adds to the tone of the drama, and every musical swell fills me up with anticipation. Let's just face it: practically everything about this show excites me, and I haven't been this psyched about a show this early in a long while.
I love that we're starting back at square one with Hae-young and Jae-han's exchanges because some of you keen readers pointed out that Jae-han headed over to Seonil Psychiatric based upon the intel given to him by Hae-young with whom he must have conversed with before. Hellooo temporal paradox!
And while that Jae-han didn't know why he wasn't supposed to be there, the Hae-young who hasn't even relayed that information yet in this timeline did. Even at this early stage, we're at the edge of a complicated tale of events, because while Hae-young's timeline is linear, the Jae-han that from August 2000 is aware that he's in a time loop. Oh yeah, it's gonna get real complicated.
Which means so much depends on the writing so that the viewers don't get lost or confused in subsequent episodes. I can safely say that I'm impressed by what we've gotten so far, and yet we've only set the stage—there's so much more to uncover from here on out. When it comes to the legislation presented in the dramaverse, I have to remind myself that although the events may be influenced by real-life cases, the execution can look different here. Doing so allows the writing to take some creative freedom with the drama's narrative without being tied down to the minute details described in the non-fictional cases. Furthermore, I can only imagine how sticking to actual facts from the Hwaseong serial murders would only end up in more sorrow for the family members involved, much like Yoon-jung's mother here.
So in terms of the dramaverse, I'm excited that we're already seeing the initial ripples of the butterfly effect in the very first week. It gives me hope that Jae-han's optimistic perspective that the past can be changed can be achieved. As with any other story, not every case is going to be a win, but at least we know who we're rooting for. Now go and kick some serious ass to Father Time, Signal. Over and out.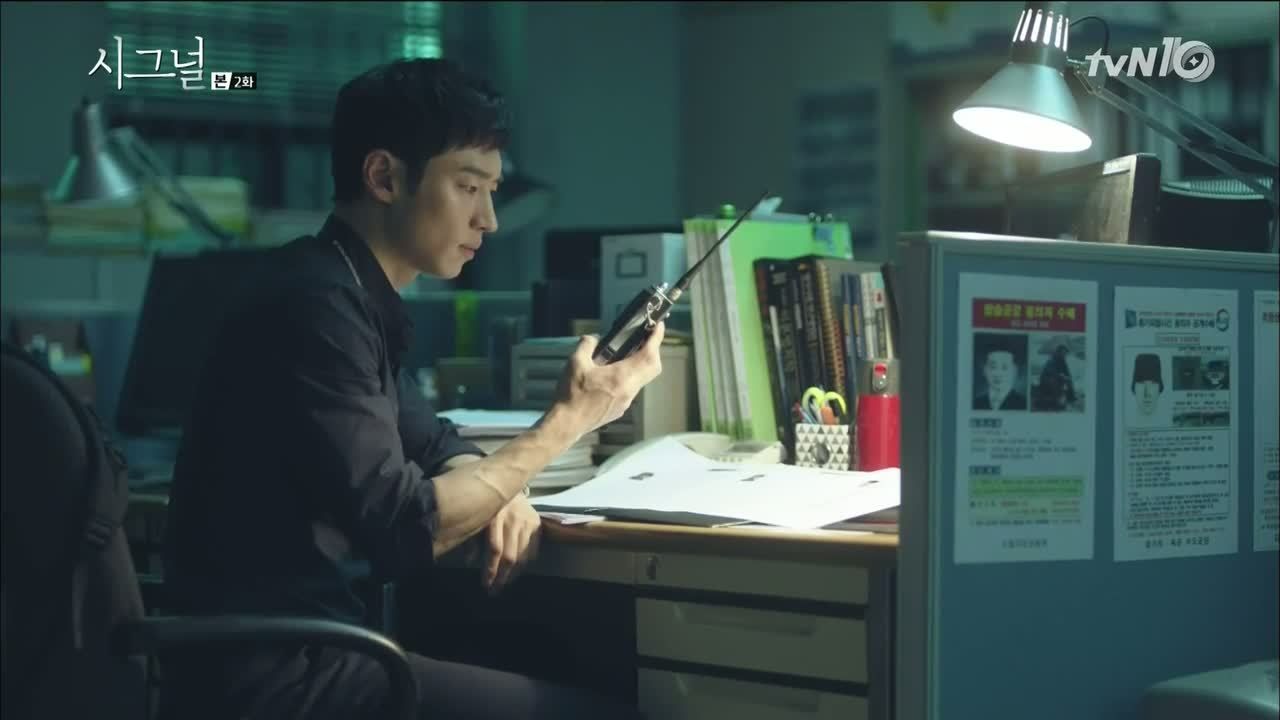 RELATED POSTS
Tags: featured, Jo Jin-woong, Kim Hye-soo, Lee Je-hoon, Signal