Six Flying Dragons: Episode 27
While daylight thankfully features more heavily in this episode, I can't very well help it if Bang-ji looks his most captivating at night, what with the light dusting of snow and almost palpable anticipation for the battle in store written all over his features. But there is an episode that's not just him in a dark forest, and it's a good one—there's no doubt that we've dropped back a bit to set up for the next phase, but that doesn't mean there can't be some loaded surprises along the way. Just how we like 'em.
SONG OF THE DAY
ChoA (of AOA) – "불꽃 (Flame)" [ Download ]
Audio clip: Adobe Flash Player (version 9 or above) is required to play this audio clip. Download the latest version here. You also need to have JavaScript enabled in your browser.

EPISODE 27 RECAP
Bang-won tries to buffer Jung Mong-joo's shock at seeing the map of New Joseon by asking him about the letter that brought him here. He hands it over numbly, his eyes still fixed on the revolutionary mural.
The letter he received bears Nameless' Red Seal, and had instructed him to go to the cave in order to learn an important truth about Jung Do-jeon. Knowing that there's no way out, Jung Do-jeon dismisses the other dragons so he can speak to his old friend and respected colleague alone.
Since there's no reason to be anything but plain now, Jung Do-jeon tells Poeun that they've been using this cave to establish a system for the creation of a new nation. Poeun knows he shouldn't be so surprised when Ha Ryun had warned him this was happening, though he hadn't wanted to believe it before.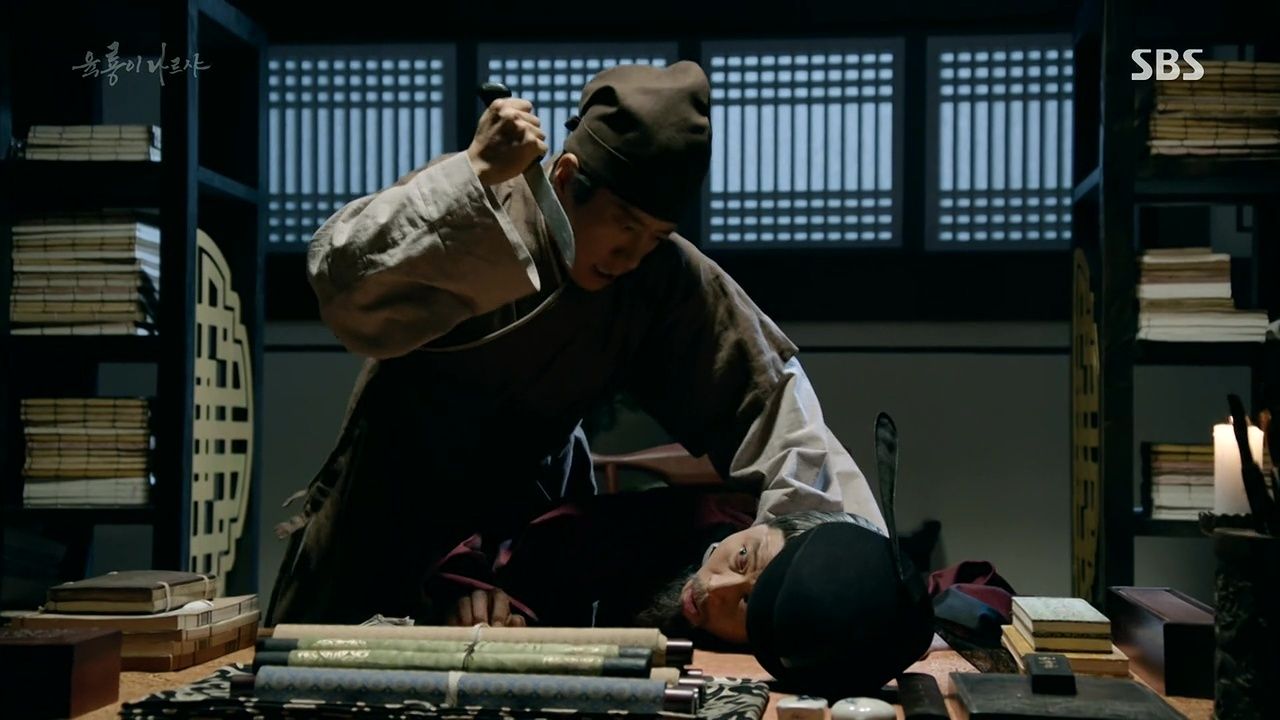 Still, Jung Do-jeon claims that all this was to keep a promise he made to him, and flashes back to when he'd pulled a dagger on Kim Yong, the man responsible for the false royal command that ended with the deaths of the four heroic generals. Not to mention, the deaths of the children in the cave.
To his surprise then, Kim Yong had claimed that he forged nothing—it was the king himself who ordered such a heinous act. He'd run away when his people were in danger, yet the four generals had saved the capital and gained the people's admiration that he'd lost. Fearing their power, he'd given the order so they could be killed.
This had understandably come as a great shock to Jung Do-jeon, and the betrayal by his own king disheartened him enough for him to burn books of Confucius and Mencius' teachings. Jung Mong-joo saw him and tried to save the sacred texts, but Jung Do-jeon's malaise then turned into rage.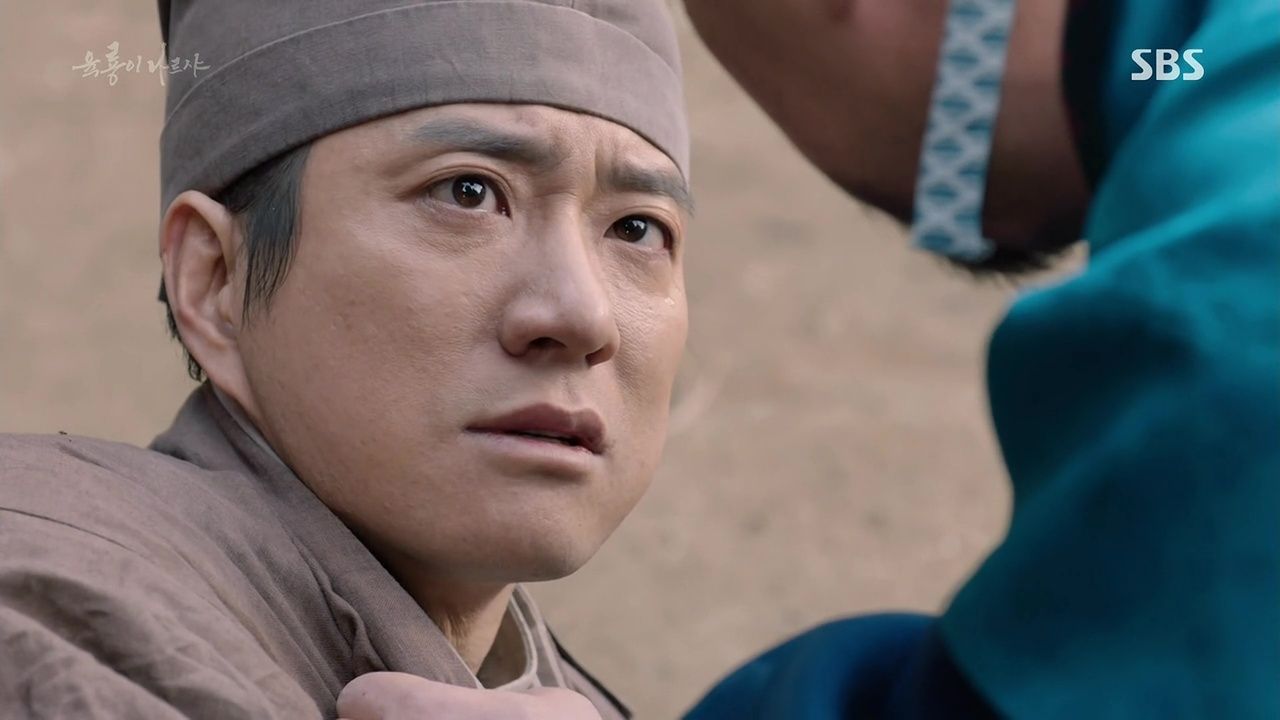 If the king could commit murder just to keep his power, Jung Do-jeon argued, then both Confucius and Mencius were wrong—politics and justice are not one and the same. But Poeun had been there to shake his friend by the shoulders to bring home the fault didn't lie in the teachings, but in the people who don't follow them.
Unlike Buddhism, Poeun had said, Neo-Confucianism had no focus on what would happen in the next life, but in the one they already had. That with diligence and devotion, anything is possible. Jung Do-jeon had taken those words to heart, and with a tear running down his cheek, had asked if it was really possible that through devotion and diligence, he could make a world like Confucius and Mencius believed in.
Jung Mong-joo, just as emotional, had reassured him that he could. And not just him, but they together could create that world. In the present, Jung Do-jeon admits that he trusted in Poeun's promise so much that he devoted all his time to thinking of how he could make such a world come to fruition.
And now, by dragging out reams and reams of papers covered in ink, he asks his old friend to just hear him out.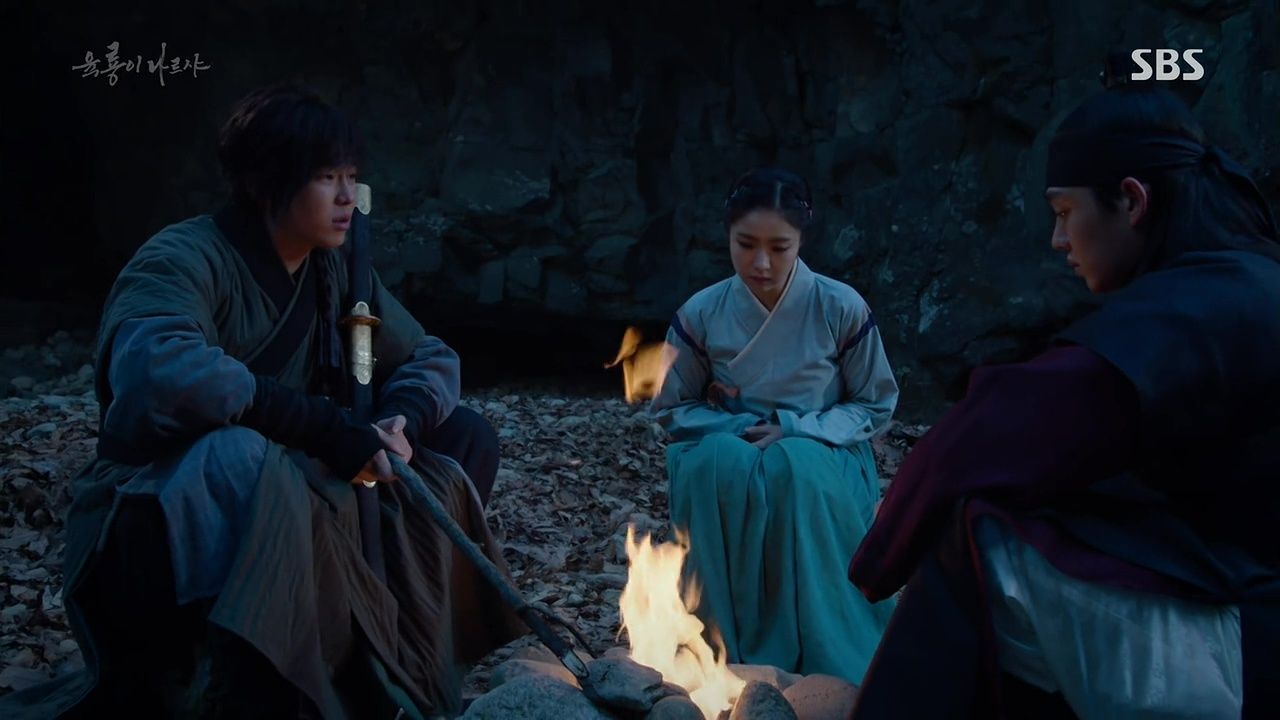 While Boon-yi, Bang-won, and Moo-hyul debate outside over how Jung Mong-joo will react to hearing everything, Boon-yi's prediction that he'd be excited upon hearing about all the reforms turns out to be true. The idea that government positions would be decided by standard civil service exams and not by nepotism alone is enough to bring a smile to Poeun's face.
The trio's prediction that they'd stay up all night talking also proves to be true, since they see the sun begin to rise while still being relegated to a fire outside the cave. Bang-won uses this opportunity to ask Boon-yi why she acted so tired and strange when Nameless was mentioned the day before, only for Boon-yi to dodge and reroute the question.
Instead, she wonders why Nameless would've sent Jung Mong-joo when they're only out to interfere with their plans—meaning that they couldn't have been planning on Poeun to be agreeable.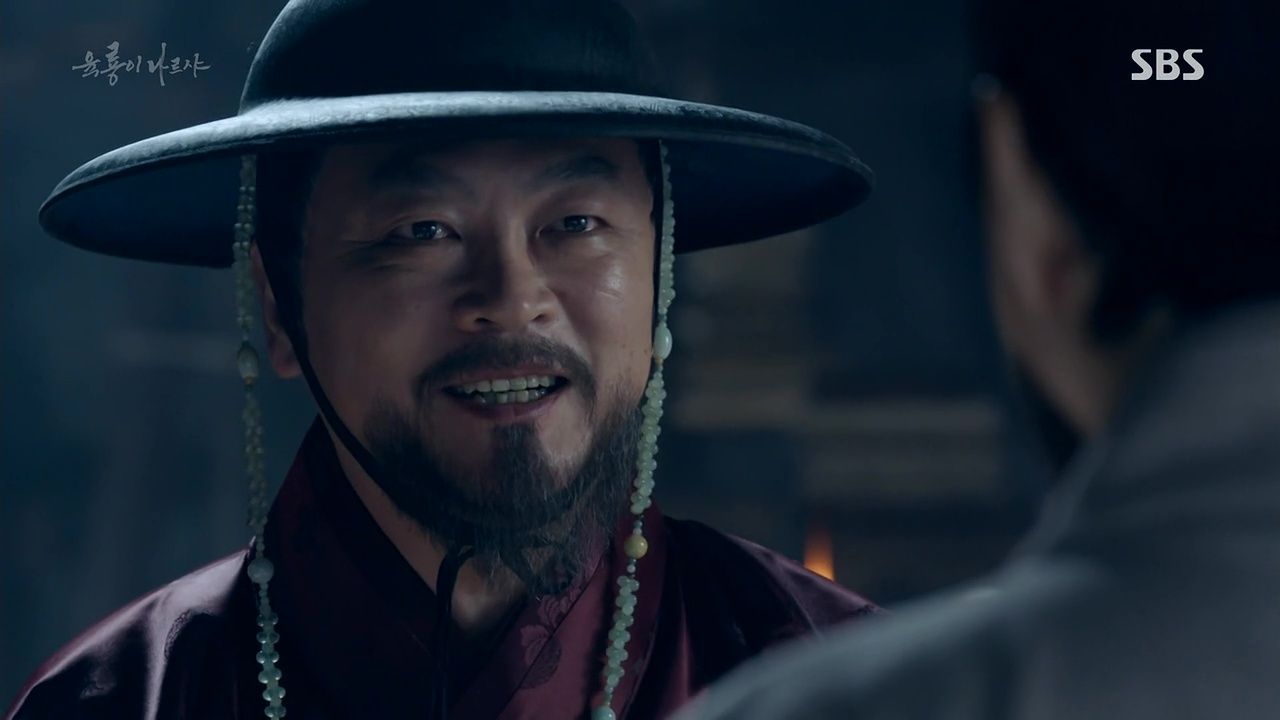 And he is to a certain point, since he loves all the reforms Jung Do-jeon has put forward. But whereas Jung Do-jeon wants to use those reforms to create a new nation, Poeun doesn't see why they can't be enacted within the framework of Goryeo. This prompts a heated debate about which of the two plans is more Confucian in nature, with both men vowing stubbornly that they'll convince the other to see their side of things.
When Bang-won finds out that Jung Mong-joo heard everything only to disagree, he instantly wants to order Moo-hyul to keep an eye on him, explaining that he can't be trusted now that he knows their secrets. Jung Do-jeon does trust him though, and thinks he's gone off only to try and convince Lee Seong-gye.
But Bang-won raises an important question, if not one Jung Do-jeon doesn't want to hear: "What if he's not? What if he's going to the investigation bureau to report Father and have him arrested? What if that's the reason Nameless sent him here?" He can't understand how Jung Do-jeon, who suspects everyone, could trust Poeun so blindly that he wouldn't even have him followed.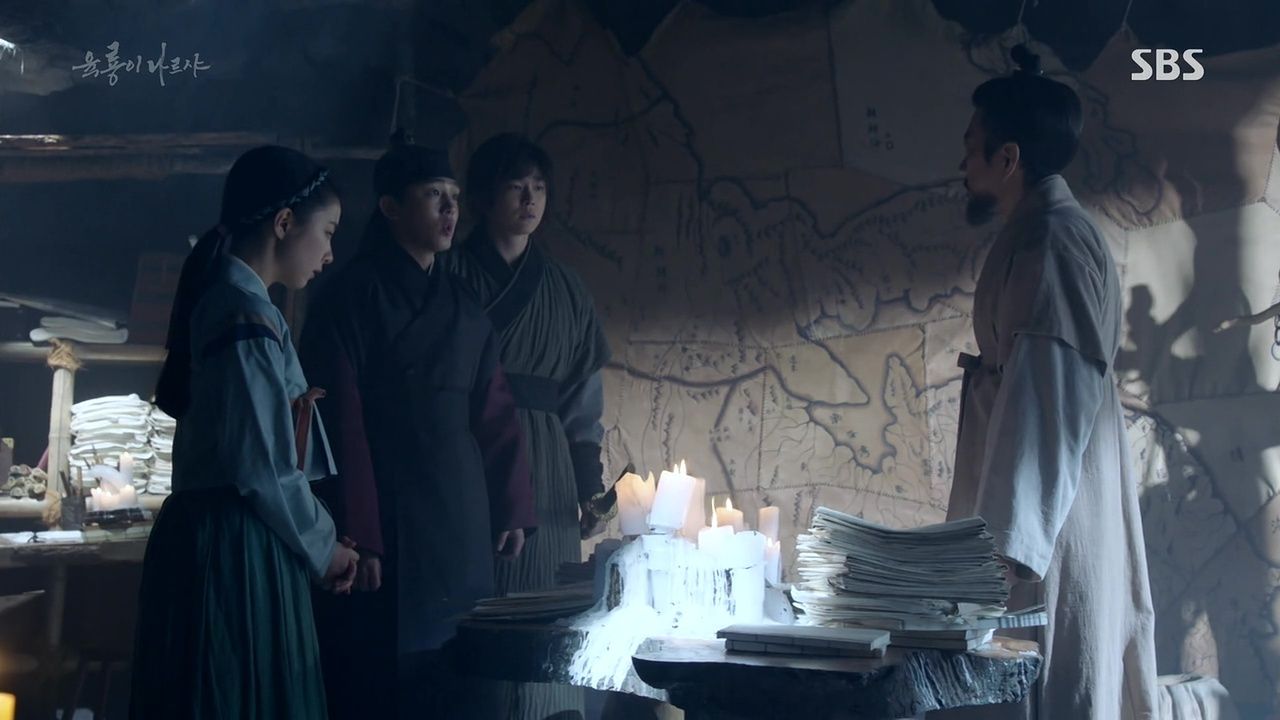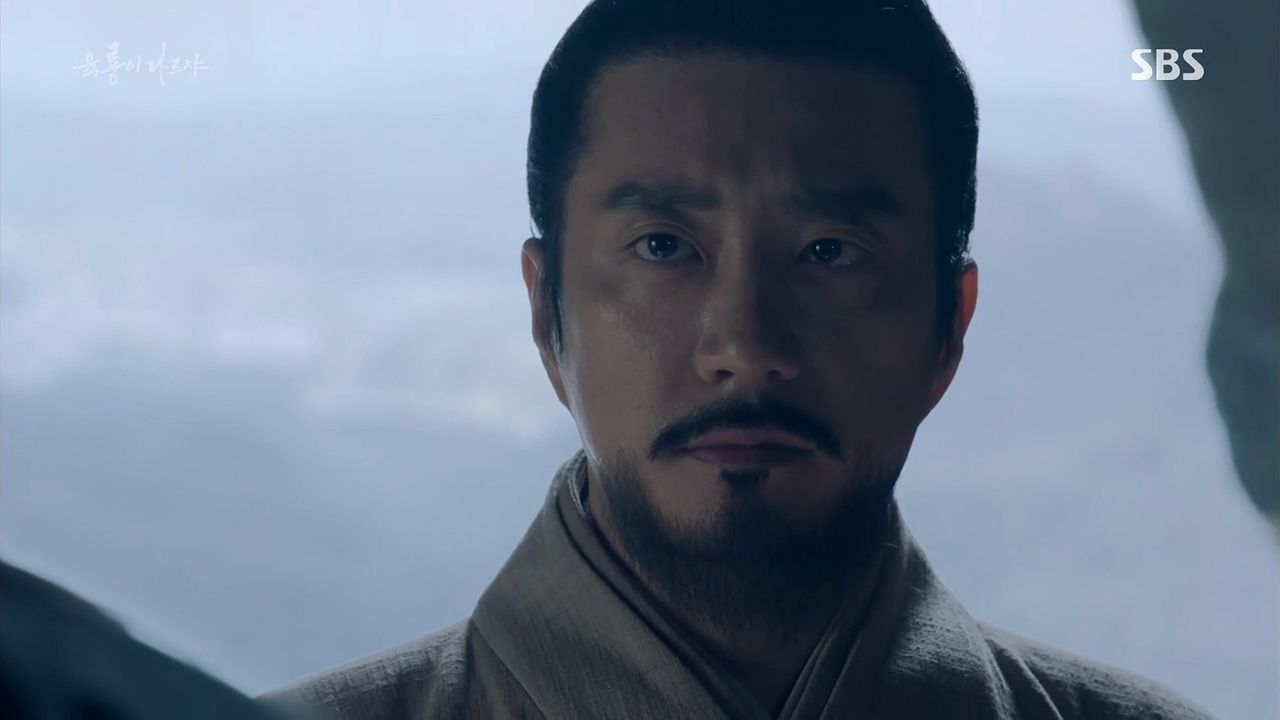 So, Jung Do-jeon offers to make him a bet. If he wins, Bang-won can do nothing to Poeun. "Yes," Bang-won agrees. "But if I win, then I will act on my own." Foreboding words, to be sure.
Jung Do-jeon thinks back to how Jung Mong-joo had accused him of contradicting himself, since he wants to make a Confucian nation by using treason, which is the complete opposite of what Confucius teaches. That's the very reason he wants Poeun on his side so badly, so that he can keep his less-than-Confucian tendencies in check.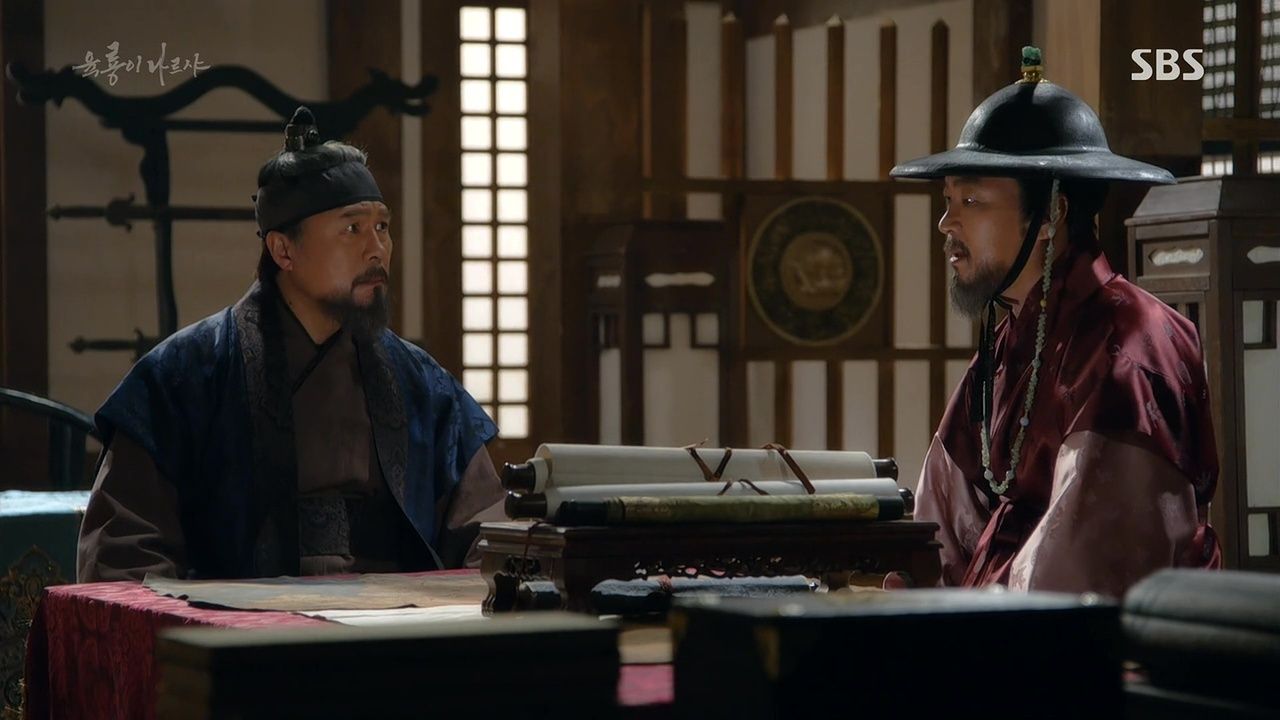 As Jung Do-jeon predicted, Jung Mong-joo pays a visit to Lee Seong-gye in order to plead for him to stop Jung Do-jeon from making himself a traitor. And thus, he can stop himself from becoming a usurper, by instead using the good ideas Jung Do-jeon has to bolster Goryeo for years to come.
Knowing that Jung Do-jeon desperately needs Poeun on his side for the new nation, Lee Seong-gye asks him to join their cause instead. Naturally, neither man gives in, leaving Bang-won thinking dark thoughts about Poeun. Ruh roh.
Bad news comes their way when the government official hired to take the land surveys (in direct opposition to Jo Joon's research) winds up dead, murdered by a skilled knife wound to the throat. Strangely enough, this information comes from Master Hong, who picked up some doctoring skills from Nooneasksville.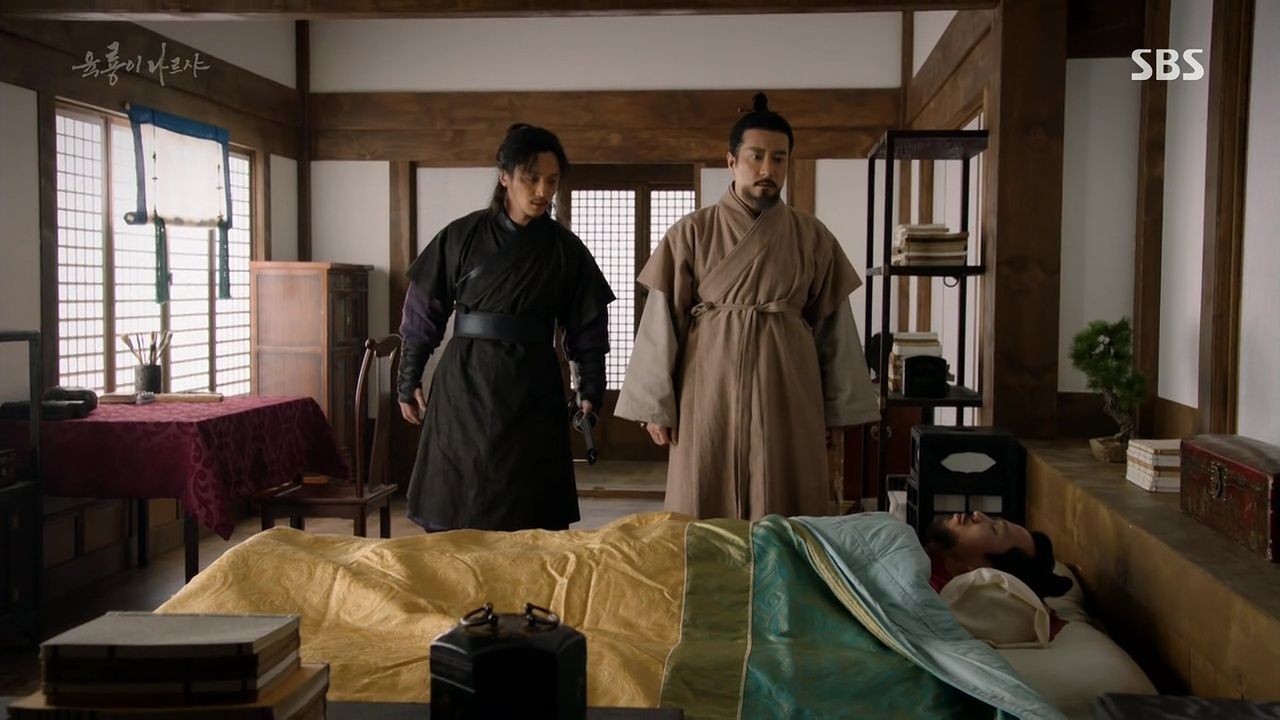 What's worse, two more officials tasked with the land surveys have also been assassinated in the same manner, leaving all three dead. Jung Do-jeon finds the last one still in his bed, and shakes as he wonders if this is all because of the land survey. Bang-ji's biggest concern is whether this was Nameless, or the angry nobility.
Jung Do-jeon believes it's Nameless, and says as much to Lee Seong-gye. Whoever killed those three officials also had to be behind his assassination attempt, leaving Jung to vow that he'll find out who they are.
And whether Jung Do-jeon knows it or not, Bang-won does have Moo-hyul keeping tabs on Jung Mong-joo. The news of the three murders spreads to them and everyone else, scaring any would-be officials away from signing up for the job.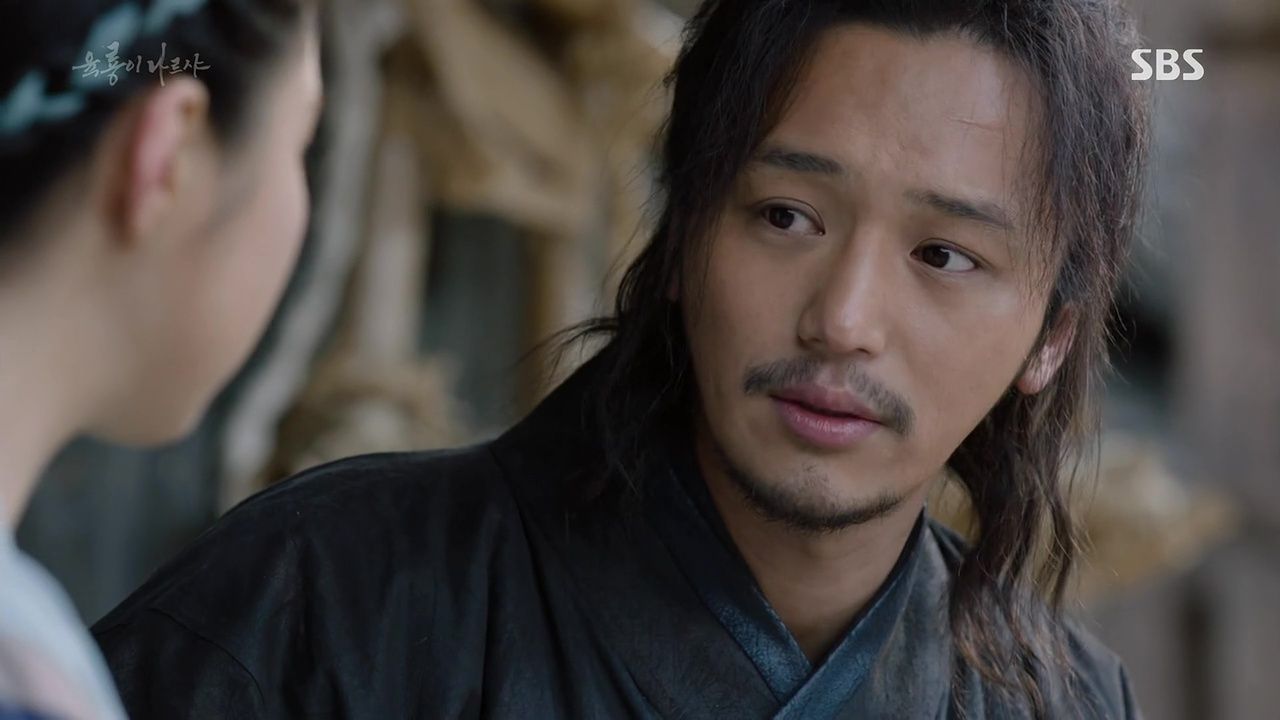 Unable to help thinking about their mother and the Nameless seal, Bang-ji approaches Boon-yi to tell her that by tracking down Nameless, he should be able to find their mother. It'll mean disregarding Gil Sun-mi's warning against doing just that, but he's ready to find the truth.
On the other hand, Boon-yi isn't as much—she's afraid that if she gets her hopes up that their mother's alive, she'll only be let down. And if it's true that she is alive, then why did she never go looking for them? "I'm sure she had a reason," Bang-ji offers, though it's not much comfort.
Since holding off on the land survey would be just what the murderers wanted (but going ahead would also endanger more lives), Jung Do-jeon sends Lee Seong-gye to speak with the tiny King Chang. He sends all his attendants out of the room in the process, including the queen, who is not happy about it.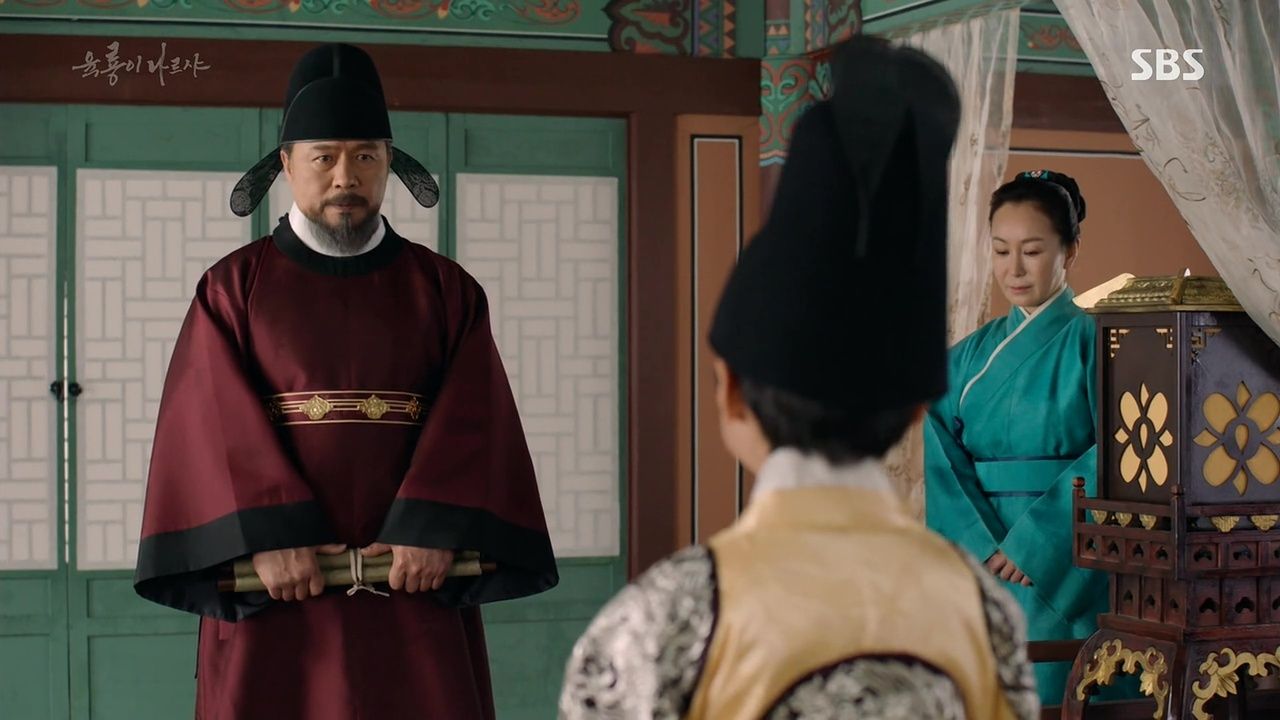 Lee Seong-gye asks the miniature monarch to review and sign a document, which he then hands over to Jung Do-jeon. Likewise, Yeon-hee gives Cho-young false information about Lee Seong-gye assembling men in secret to perform the land survey, counting on her selling that information to the nobles working against them.
The information reaches its intended targets, leaving Lee Saek's side bewildered as to what Lee Seong-gye could actually be planning. They pay Jukryong in gold to find out for them, but Gil Sun-mi is the one who volunteers to go out and do the actual sleuthing.
After Jung Do-jeon reminds Bang-ji that their scheme is about finding Nameless and not his mother, the swordsman sets out from the capital in the same disguise as other loyal members of Lee Seong-gye's army. They all read the instructions Jung Do-jeon has given them once they're far enough away, and destroy the evidence like true spies.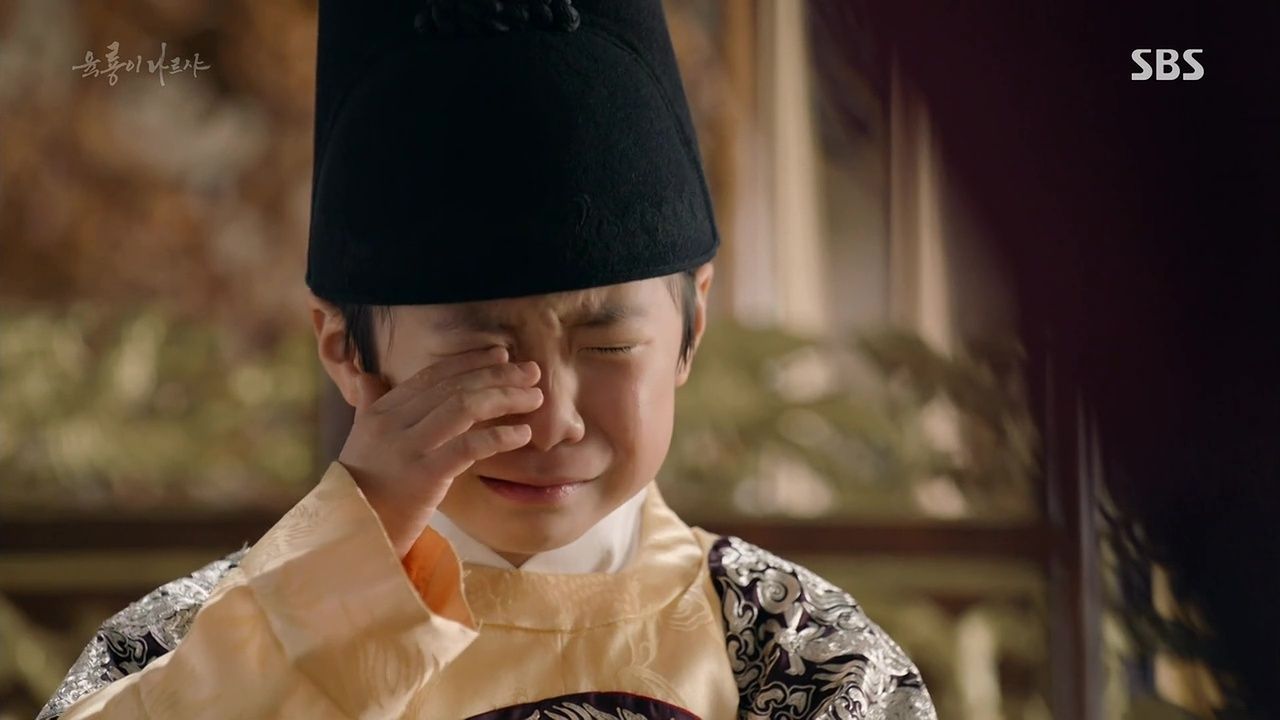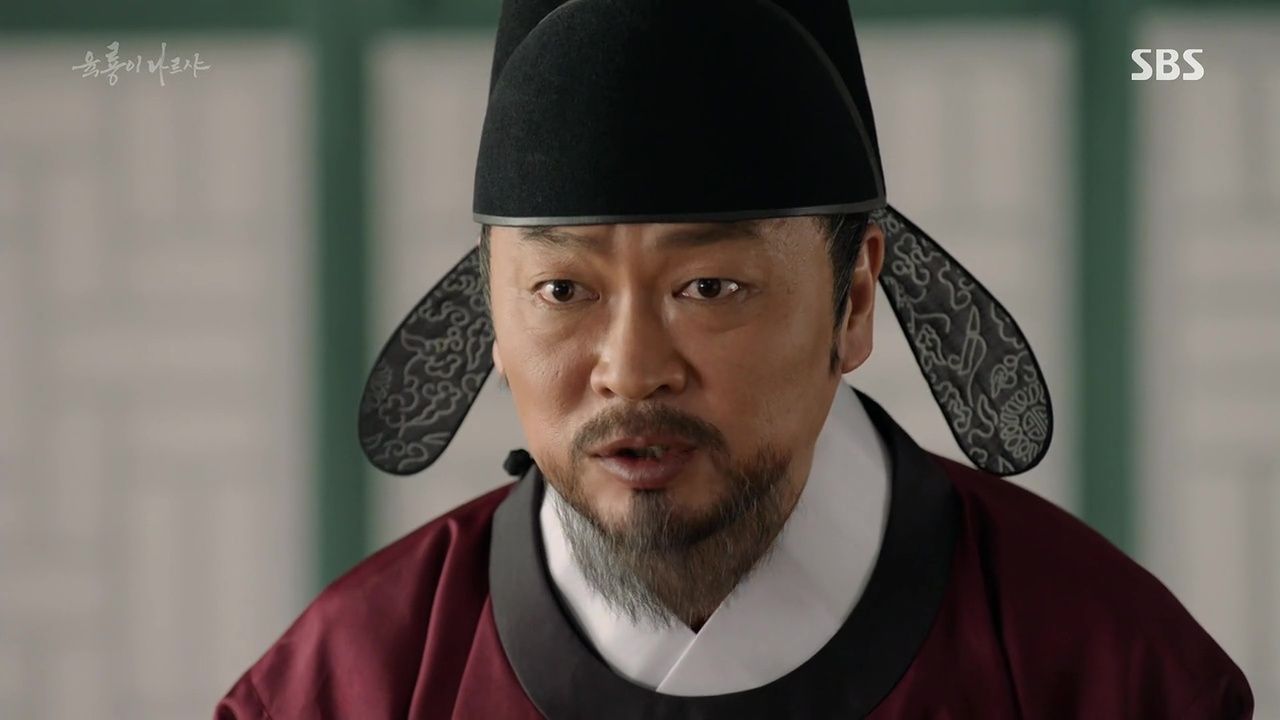 Bang-won instructs Boon-yi to use her contacts to track down BAEK GEUN-SOO, who they last encountered with the Nameless seal when they were children. Now that he knows he is a Nameless agent and not Lee In-gyeom's like he'd previously thought, he wagers that finding him might lead them to the root of their problems.
While Young-kyu is tasked with following Jung Mong-joo, we find him paying a visit to the pint-sized ruler, crying because he misses his father. Queen Jung blames it on Lee Seong-gye asking him to sign documents he doesn't understand, leaving Poeun at an impasse. What can he do for Goryeo when the king is so young?
Bang-won levels Jung Mong-joo with a nasty look as he exits the palace, asking him if he told the king what he knew. Then, more emphatically, he asks why Poeun is so against the idea of a new nation when he's on board for all the reforms.
He challenges whether Jung Mong-joo is so scandalized because he thinks they're committing treason against the people or the country, arguing that Mencius was all for putting the people first. He earns Poeun's ire with this challenge, causing him to speak as his former teacher from Sungkyunkwan: Is Bang-won bringing the people up because they're what's truly in his heart, or is he only looking to bolster his family's name and honor?
To his surprise, Bang-won turns the same introspection back at him, asking if his motivation is really his loyalty to the country or if it's to secure his name and honor. Poeun fires back that at least he wouldn't bring harm to history by caring about such things, but Bang-won disagrees.
History, to him, is something for future generations to consider. "You asked me if I held the people close to my heart. Yes, I searched my heart carefully. Thus, there is no moment where I think of the future people of this nation in the name of history. I only hold the people who presently walk this ground, breathe, and grit their teeth to make a living deep in my heart."
Then, "Thank you for the lesson, Teacher." Bang-won drops the mic and walks off. (Well, as much as one can in Goryeo.)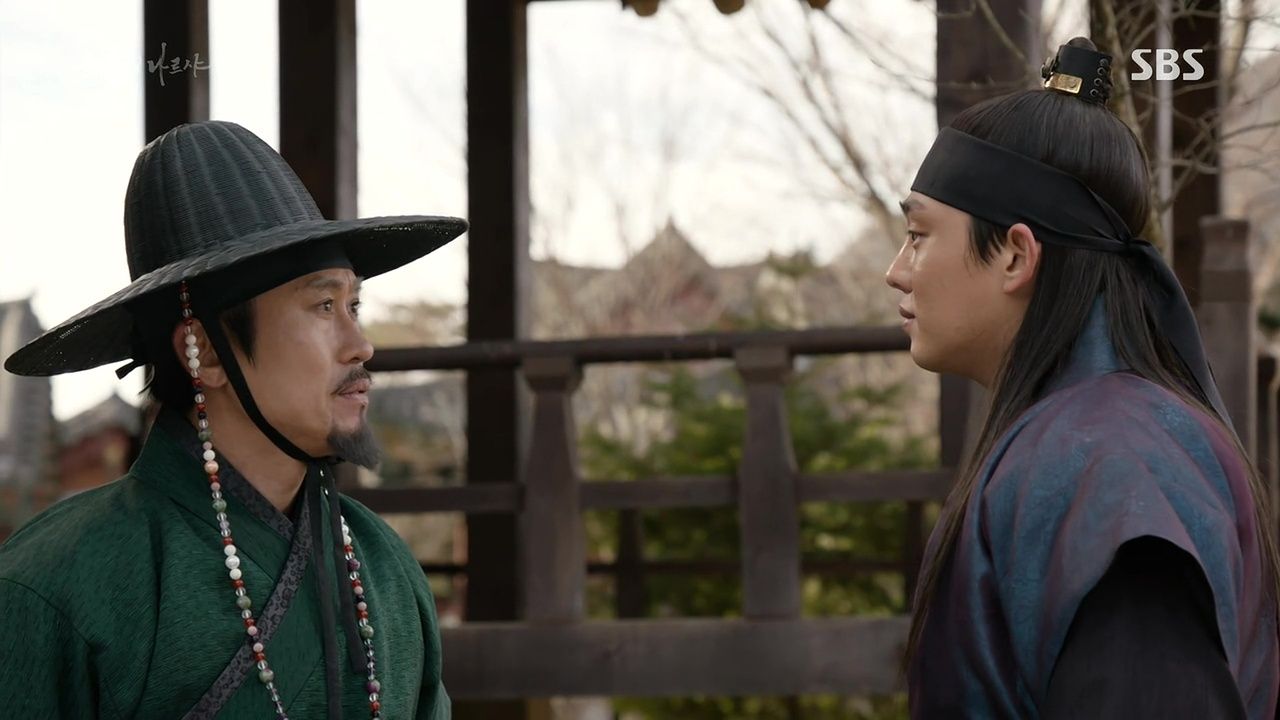 Thanks to his wife's advice, Bang-won pays a visit to his father-in-law, who's currently entertaining Ha Ryun. When Daddy Min asks what he came for, Ha Ryun correctly guesses/mocks that Bang-won came to ask him to participate in dodang affairs to help him.
Judging by the look Bang-won sends him, that's exactly what he came for. Effectively embarrassed, Bang-won confronts Ha Ryun outside and dares him to make another guess: "How long will this country last?"
Jung Mong-joo ponders the same question, but unlike Team Joseon, he's looking for a way to save the nation as it is. He begins to consider that Lee Seong-gye's initial choice for the throne, Wang Yo (later King Gongyang, the last king of Goryeo), might be a better fit than the baby King Chang.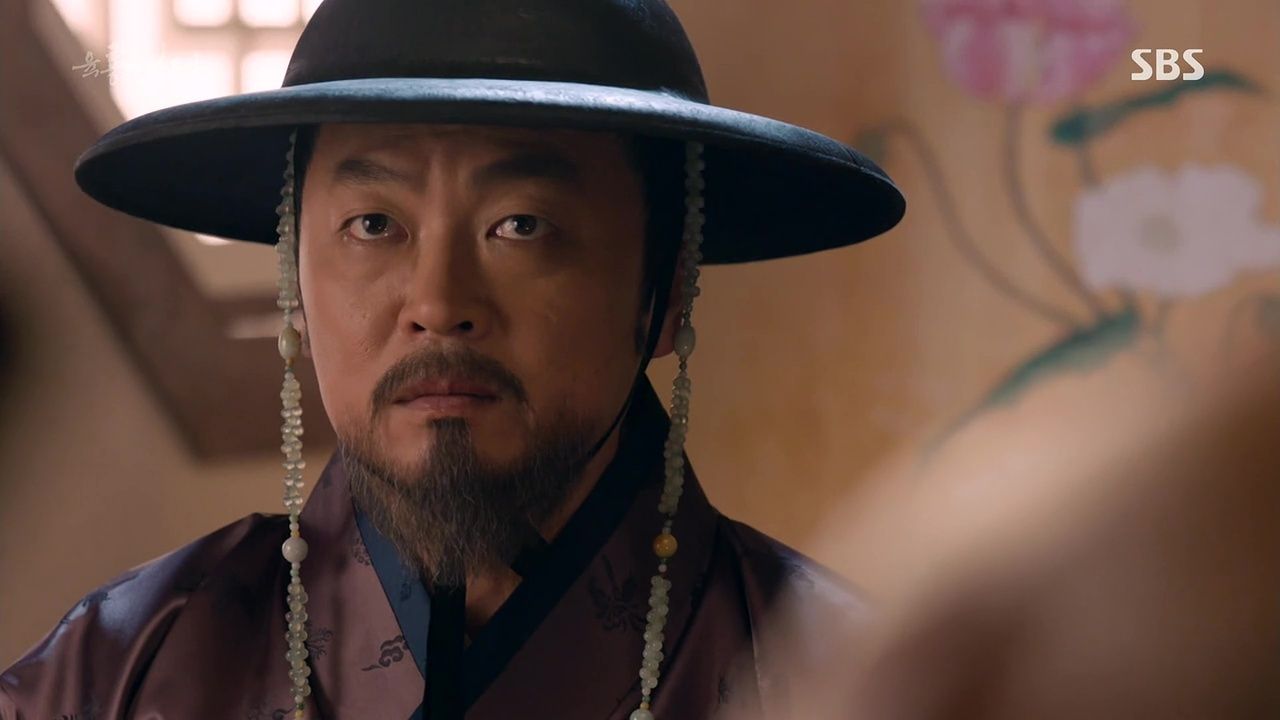 He visits the prince himself, though he has to wait through an overlong gisaeng's dance in order to even speak with him. But the gisaeng YOON-RANG (Han Ye-ri, whose voice you may recognize from Imaginary Cat) seems to hold a special place in the prince's heart.
Meanwhile, Bang-ji stands watch as the three other Jung Do-jeon supporters (Officer Nam and Master Hong included) lay out a map and compass in the middle of the forest. Jung Do-jeon meets them at this secret spot, which turns out to be not so secret since Gil Sun-mi and a contingent of men are watching nearby. Where did Bang-ji's spidey senses go?
They can't overhear what's being talked about, and soon, Jung Do-jeon's group disperses in different directions. Gil Sun-mi's men try to piece together what Jung Do-jeon was planning based off the direction he was pointing, and when they rule out that he wasn't looking for a new capital, Gil Sun-mi realizes something.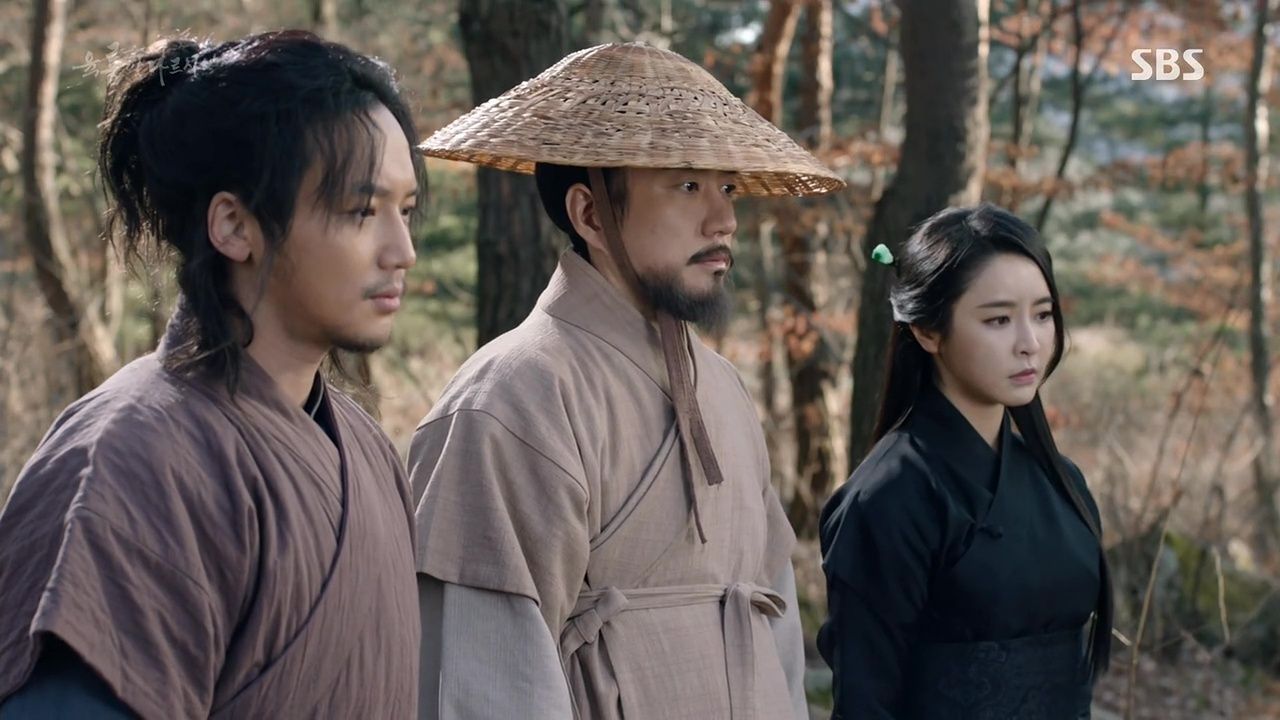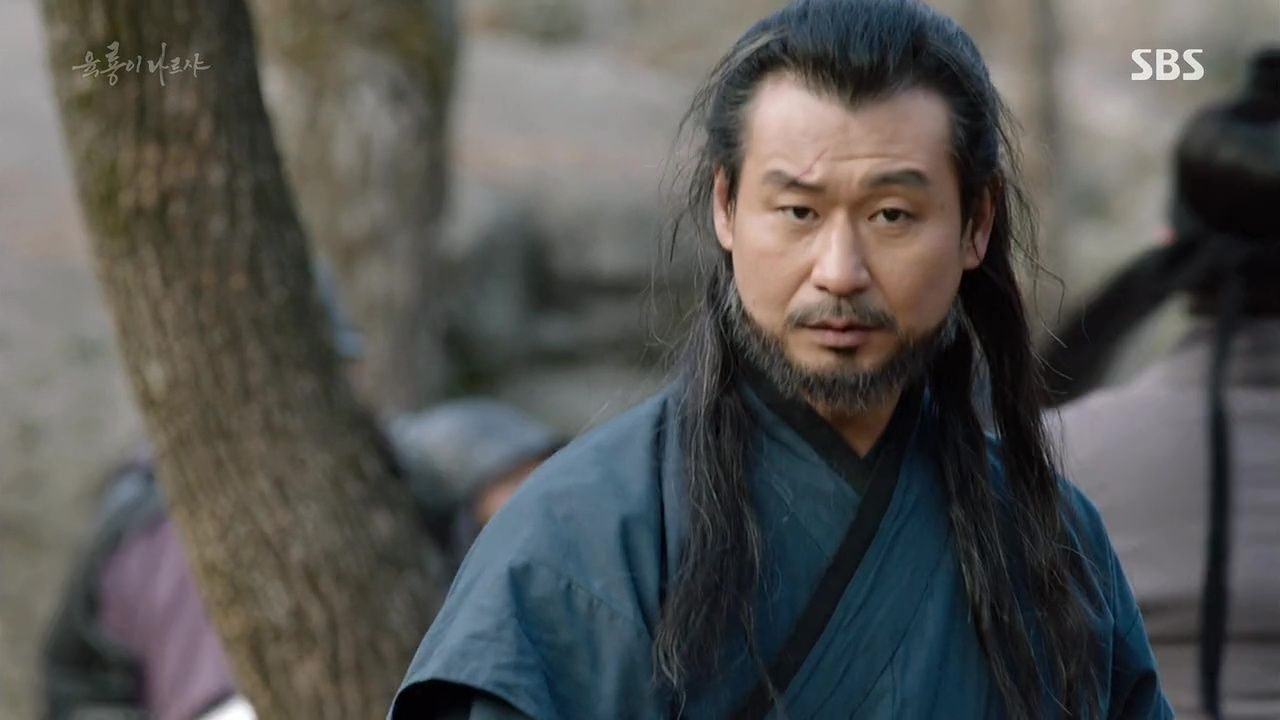 Ordering his men to draw their swords, Gil Sun-mi declares that this location is perfect for an ambush. He laughs at the too-late realization, since Jung Do-jeon's men swarm from the higher ground to surround Gil Sun-mi's small band.
Gil Sun-mi reminds his men to kill themselves if they're captured before the fight begins, though Jung Do-jeon's intent isn't to capture Gil Sun-mi. He intends to let him escape, and to have Bang-ji and Yeon-hee follow him to gain some clues about who it is he works for.
The two spies do as they're told by following Gil Sun-mi into the depths of the snowy forest. Yeon-hee leaves a trail of white clay to mark their path, though Gil Sun-mi soon becomes aware of Bang-ji's proximity as the snow around them seems to freeze in midair.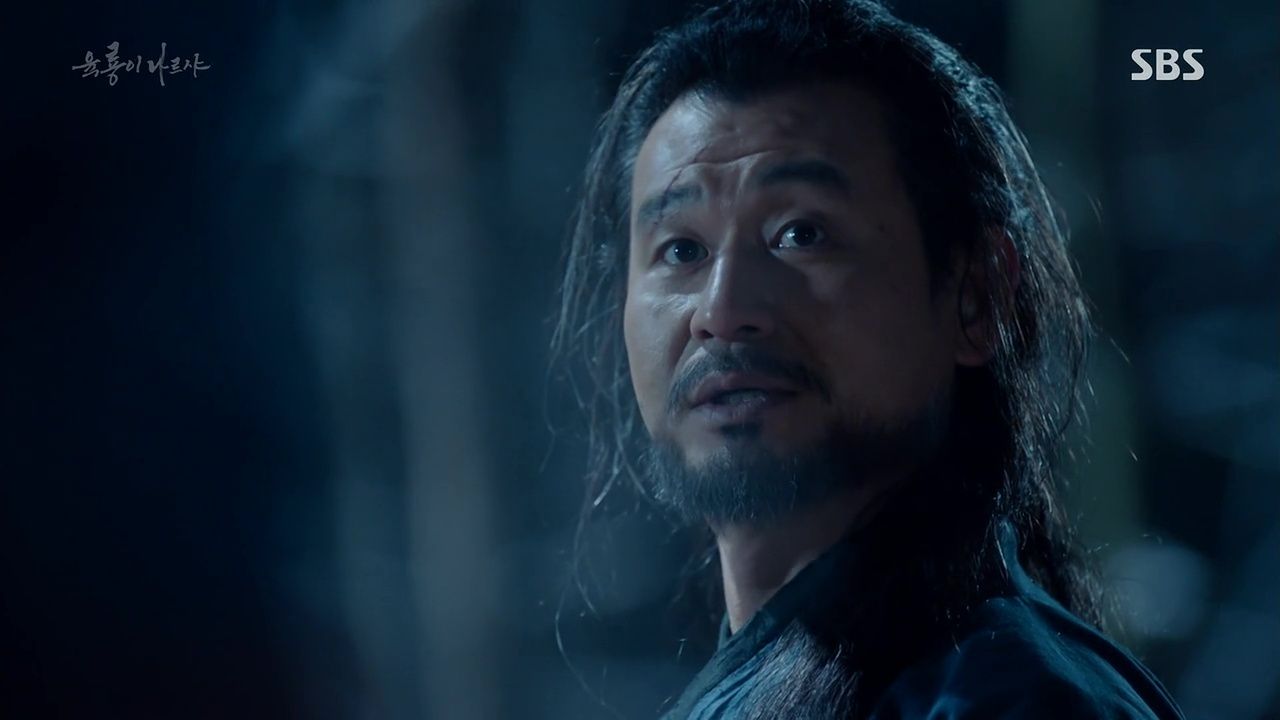 Every small sound can be heard, even the crunch of snow under Gil Sun-mi's boot. He makes a run for it, and Bang-ji hones his senses to feel, more than see, where he is. That sense saves him from a sneak attack when Gil Sun-mi comes flying out of a nearby shadow, leaving the two men face to face at last.
"Are you a warrior or an assassin?" Bang-ji snaps. "I am whatever is required," Gil Sun-mi retorts. He runs, but Bang-ji gives chase and confronts him. Their battle is brief, and soon Gil Sun-mi disappears into the shadows once more.
Luckily, Yeon-hee tracks him to the temple where He, or the mastermind behind Nameless, supposedly waits.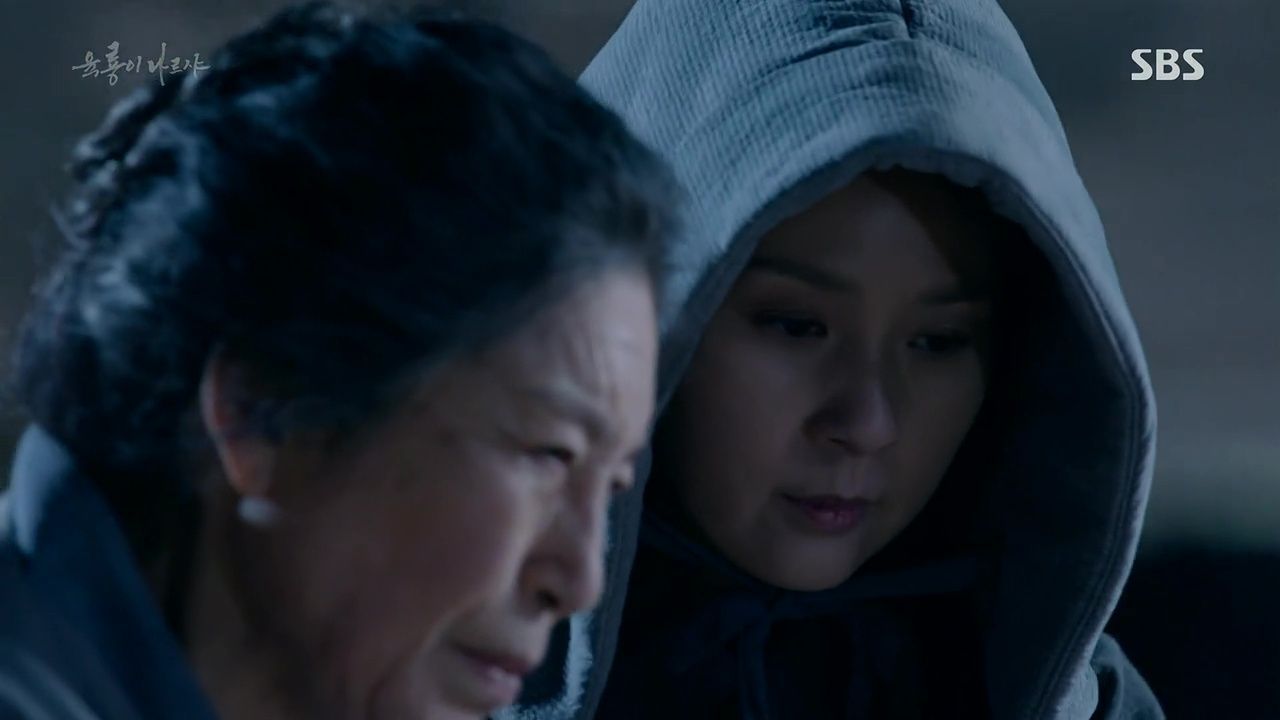 While Jung Do-jeon and his men follow the trail Yeon-hee's left behind to the temple, she follows Gil Sun-mi to the temple interior. She prepares to lead Jung Do-jeon to the building, but they turn at the sight of a cloaked woman leading an old grandmother (the creepy one we all know) away.
Instantly, Jung Do-jeon and Bang-ji recognize the cloaked woman… as both Yeon-hyang and mother.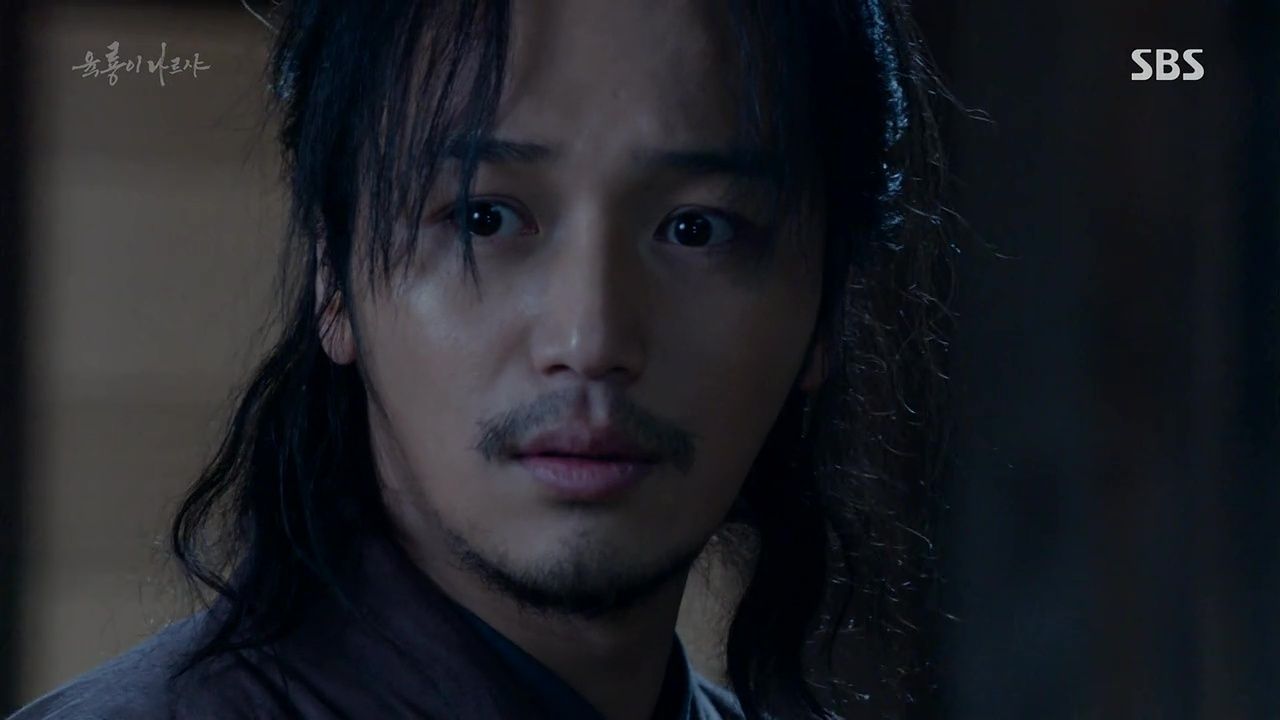 COMMENTS
Well, we kind of knew that one was coming, since Yeon-hyang certainly wasn't going to be dead after all the talk and buildup. But what was pleasantly surprising was the ambush Jung Do-jeon staged, since the show went to great lengths to keep their ultra secret plan from us. And to great effect, although that almost goes without saying at this point.
I realized as I was watching Master Hong flip through leaves like playing cards that I wasn't even concerned as to what Jung Do-jeon's party was really doing in that forest, since all my focus had shifted to what idiots I thought they were for not realizing that Gil Sun-mi was right there. It feels like forever since Jung Do-jeon has been proactive rather than reactive, so I was half expecting him to be surprised yet again by Nameless' seemingly endless reach.
What ended up being cherry on top of the well-played sundae had to be Gil Sun-mi's dawning realization as to what he'd walked into, and how the idea that he'd put himself right where Jung Do-jeon wanted him was so outlandish it was actually hilarious to him. He knew he'd been had, and since I doubt that's a common occurrence for someone as skilled as Gil Sun-mi, he had to at least give credit where credit was due. I still don't quite understand who he is though, or whether he's truly friend or foe. Would the Gil Sun-mi we're seeing today have saved Bang-ji all those years ago? Was even that part of some bigger plan?
The confrontation between Bang-won and Jung Mong-joo was an ominous one, and as is usual with intellectual conversations between this show's greatest minds, it was also quite revealing. We already kind of knew where Bang-won stood in terms of his goals and what he'd be willing to sacrifice to achieve them, but it was something else entirely to hear him denounce the idea of acting now in order to secure his name later. That his name in history isn't of the faintest concern to him (or if it is, it's a well hidden one) says a lot about his priorities, even if that kind of thinking is a cause for concern in its own right.
Then again, Bang-won's way of thinking has never not been a source of worry. In that way he doesn't seem too unlike Jung Do-jeon in rebelliousness, though it remains to be seen how their relationship will weather whatever Bang-won's got planned for Jung Mong-joo. Because something tells me that if there's another lesson to be shared between the two of them, it'll be Bang-won doing the teaching—and knowing him, it won't be pretty. Or very quick.

RELATED POSTS
Tags: Byun Yo-han, featured, Kim Myung-min, Shin Se-kyung, Six Flying Dragons, Yoo Ah-in