Youths Over Flowers in Iceland: Episode 5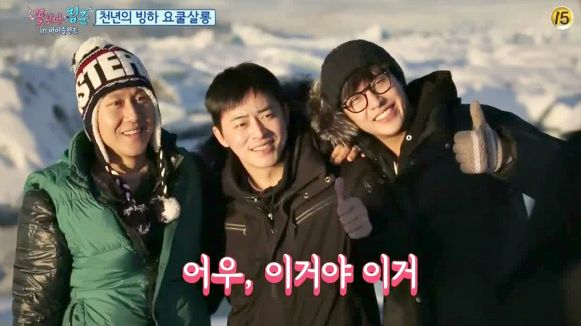 girlfriday: The guys goof off in the car on their way to Jokulsarlon, and Jung Woo suddenly makes Jung-seok do a radio show as both host and guest. It's a one-man show?
javabeans: It's funny because Jung-seok starts out as the DJ of the show, and makes this long introduction of somebody as an awesome singer, actor, and dancer, and the other guys jump in and say he must be talking about Jung-seok. Suddenly Haneul takes over as DJ and is introducing Jung-seok, and Sang-hoon plays a caller who hates Jung-seok and "hangs up" on him the second Jung-seok says hello.
girlfriday: Sang-hoon does this whole bit as Jung-seok's anti-fan, but of course later they each interview separately about how close they are. It's cute because we only ever see them being jokey with each other in person.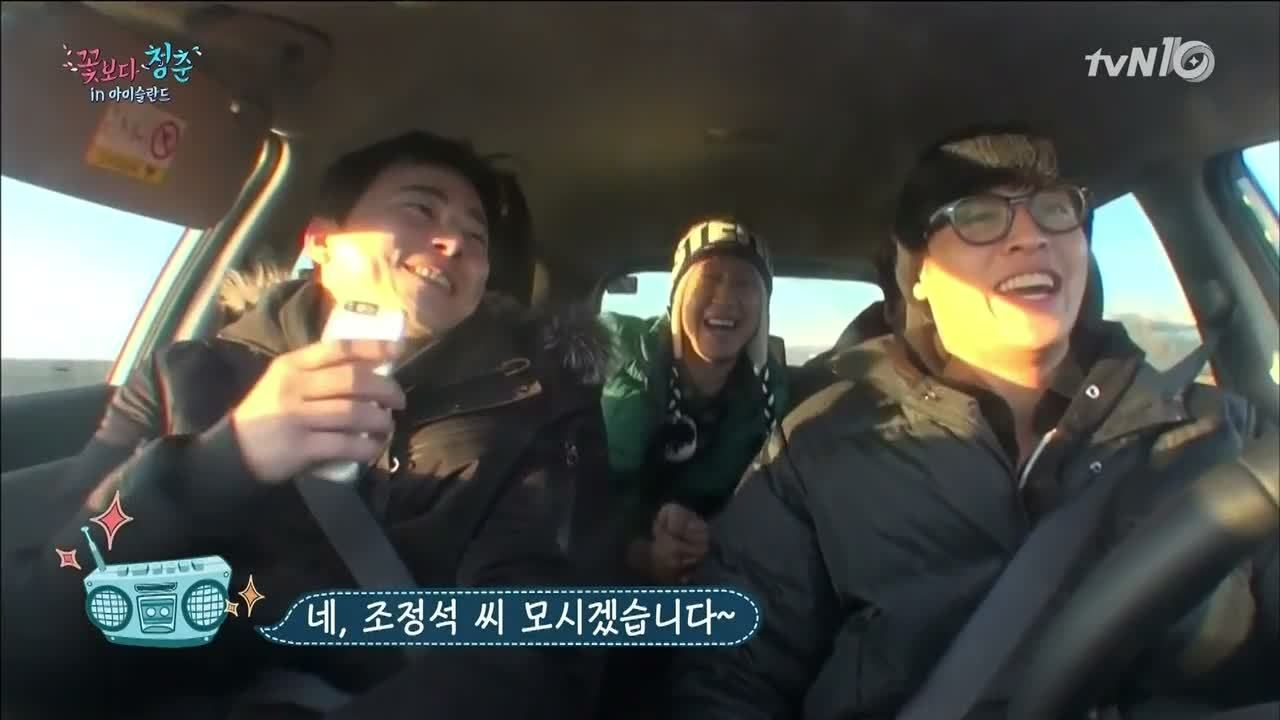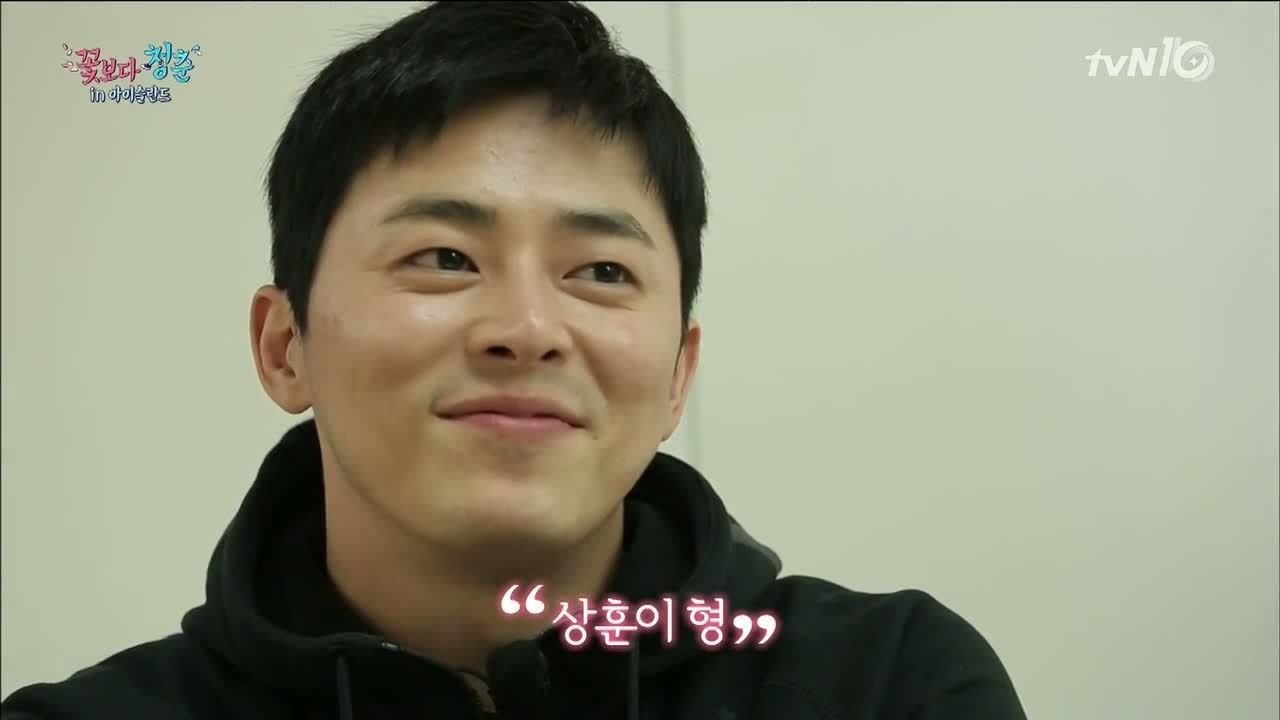 javabeans: They each think back to when they first met as musical actors and how they've built up a lot of trust with each other. Jung-seok says he's gotten tearful watching Sang-hoon making people laugh on TV recently, and gets a little choked up in the interview.
girlfriday: They arrive at Jokulsarlon, which looks like an otherworldly winter wonderland set, with giant blue mounds of ice just floating in the ocean. It's surreal.
javabeans: Na PD: "Do you know where you are?" Jung Woo: "The Ice Age!" They drive over the bumpy snow field and arrive at the shore, where the ice meets the sea, and marvel that it looks like a field of jewels. They try to break off a piece of ice to eat using the headrest borrowed from the car, and it's kind of like watching monkeys try to solve a problem.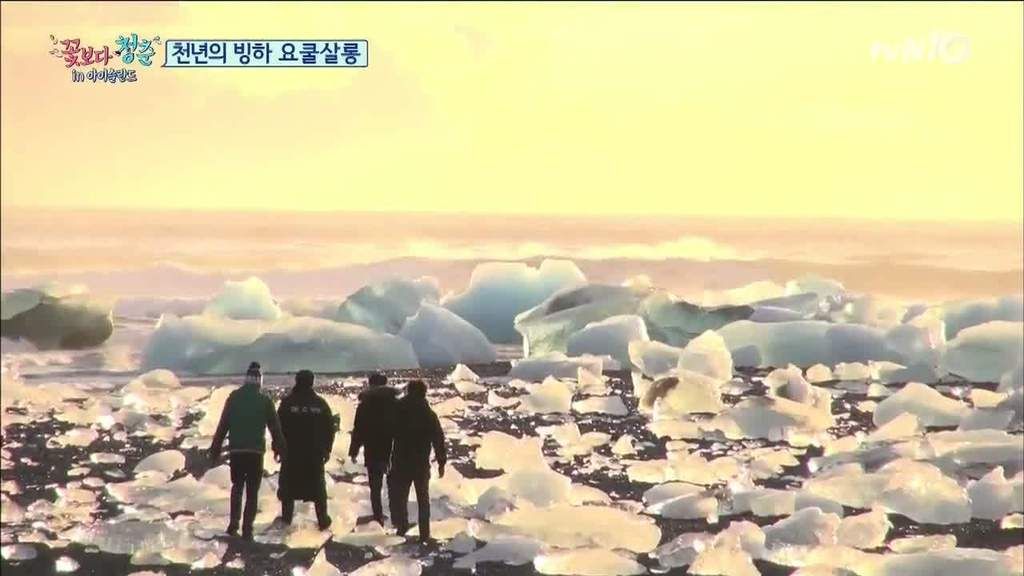 girlfriday: Why do they keep eating ice everywhere they go? Do they expect it to taste not like water?
javabeans: The question and answer is always the same: "What does it taste like?" "It tastes like ice!" but in an amazed voice like that's special.
girlfriday: Next they get into a giant off-road vehicle to go see the ice caves, which from the preview shots look like something out of Planet Earth. I can't wait to see their reactions. Jung-seok stands around making awkward chit-chat with their tour guide and looks SO relieved when the other guys arrive.
javabeans: As they get in the van to begin the guided tour, the guys zone out at the English-language explanations of the glaciers, so Na PD livens things up by putting a sandwich on the line in a quiz, which Sang-hoon wins (and shares).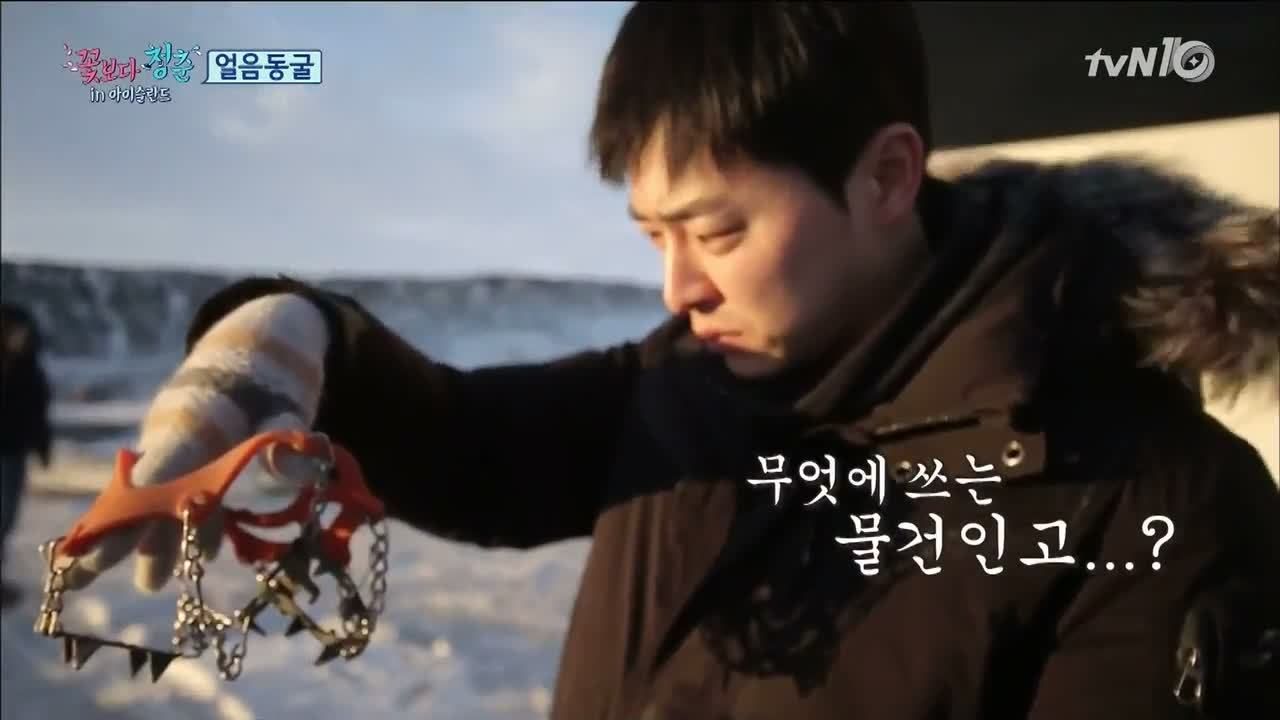 girlfriday: Isn't it funny how everyone turns into an eager 5-year-old the minute Na PD gives a quiz?
javabeans: I'd argue they haven't been much else than eager 5-year-olds. Na PD just knows his audience. They arrive at the caves and pause to gear up with helmets and spiky things to put on their shoes for traction, which Jung-seok kind of examines blankly for a while before finding out their purpose.
girlfriday: They become immediately necessary too, because they have to walk on ice to get there. That's cool and a little bit scary. The farther up they go, the more the wind blows against them, until they're fighting just to stand upright.
javabeans: They make it inside the ice caves and are full of wonder. It looks like that Superman movie — you know the one, all you old people in the audience.
girlfriday: They ooh and aah over the caves, and of course Sang-hoon tries to taste the ice.
javabeans: They lose feeling in their toes after a while and decide to pop into the snack shop for coffee, where you see Jung-seok clearly wanting to buy things like soup or trinkets, but reasoning why he doesn't need to buy them now. The show captions: "Please just buy something!"
girlfriday: I love that Na PD's takeaway from this is that they were clearly too generous with the allowance money. He says the crew came here and did a simulation to decide how much money to give them, but that they must've made a mistake in their calculations.
javabeans: I'm sure he didn't, he just didn't anticipate that these guys would be the kind who are okay eating hot dogs for a week straight just to ensure they had money at the end for souvenirs. Sang-hoon tucks a bread roll into his pocket for later and it falls onto the ground, and there's panicked yelling as Haneul picks it up, brushing it carefully as they figure it's edible since it just landed on snow.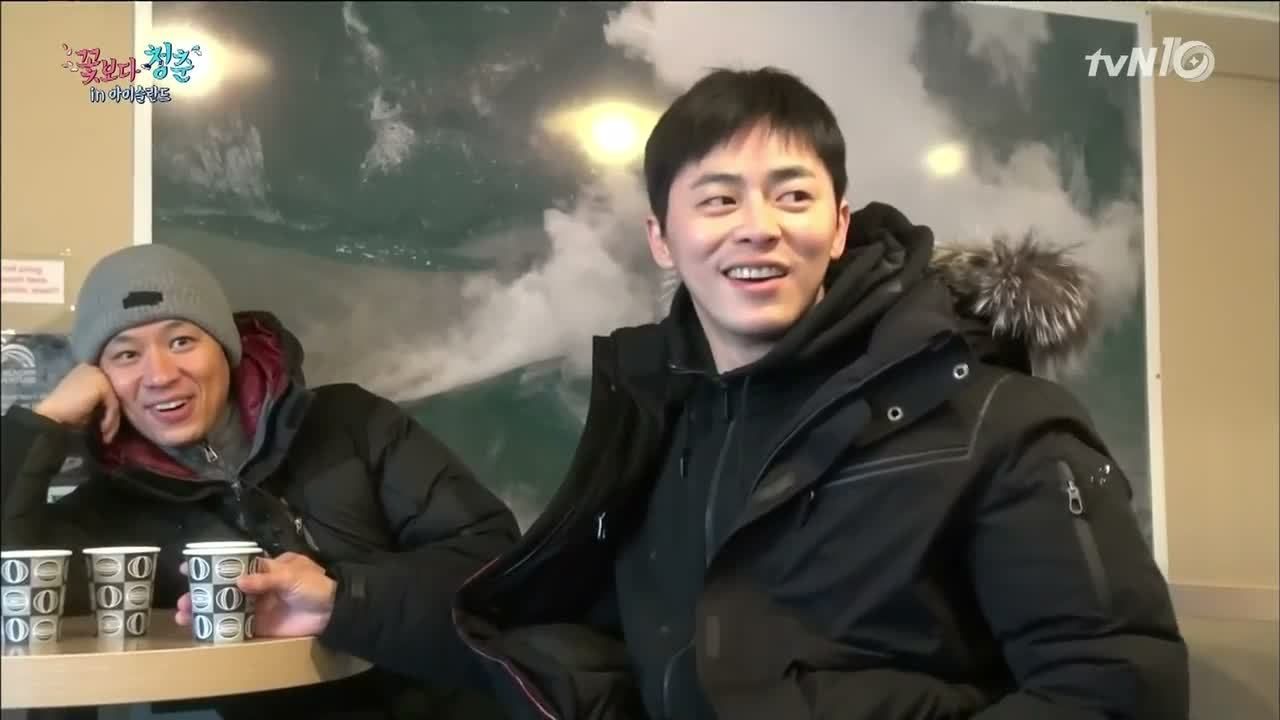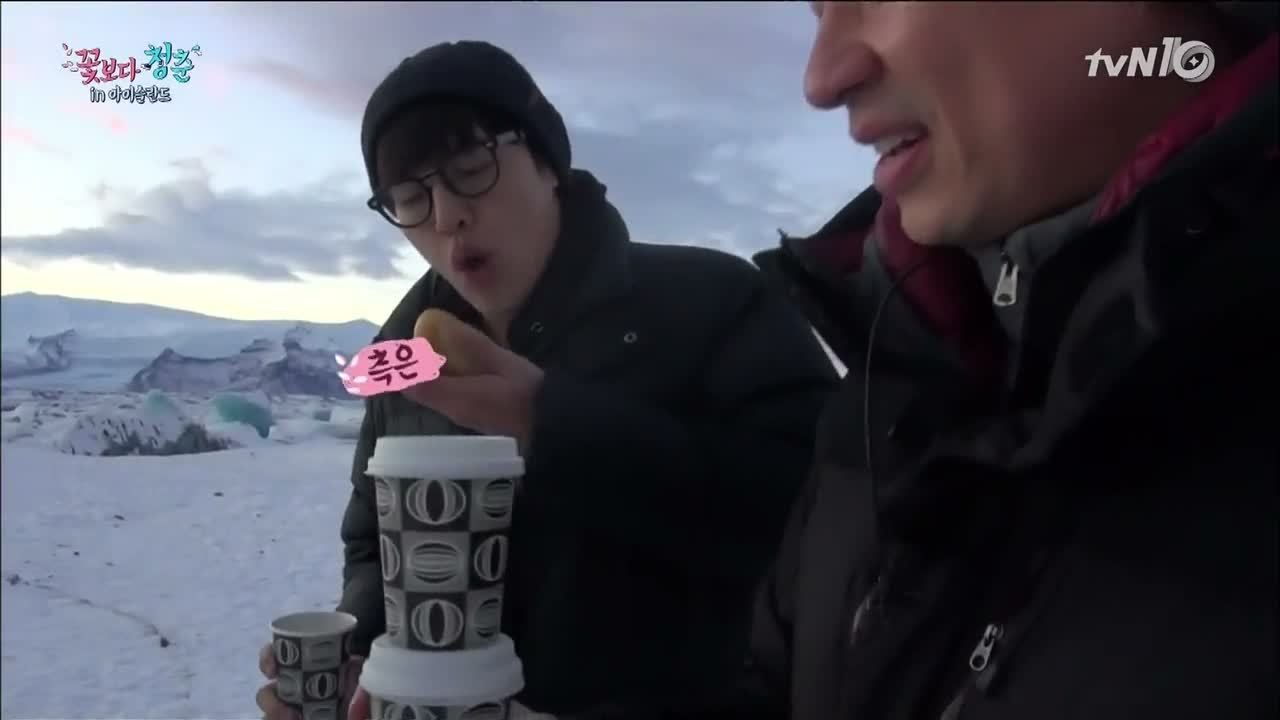 girlfriday: This is like the opposite of traveling with celebrities.
javabeans: It's because these celebrities don't know they're celebrities, it's like they're drama majors pretending to be celebrities.
girlfriday: Which is why they're adorable. Omg, when they arrive back in town, they go back to the exact same restaurant as yesterday. Why. Go to a new place! Spend some money! They point out that they're wearing the same clothes too, since they really only have the one outfit each. The split screen of the two different days is hilarious.
javabeans: They even sit in the same seat and in the same order. LOL, they try to tell their waitress she looks like Anne Hathaway, but I think she thinks they're saying she is, and the conversation gets awkward as they try to brush it aside. As they wait, they start cracking jokes and singing a cappella, which is humorous but also secondhand embarrassing. You can't take these boys anywhere!
girlfriday: Not if you don't want to be embarrassed. They eat dinner and the singing and dancing continues on their way out. Haneul even starts to get fancy with the harmony as they're singing in the car, and nobody notices that they've made a wrong turn and have gotten lost.
javabeans: You know it's bad when the sign is basically a picture of a city with a red X through it. "No civilization" basically.
girlfriday: More countries should use signage like that. Keeps the city folk where we belong.
javabeans: Jung-seok wonders if they came this far, and Sang-hoon figures it was pretty far, and if they really were heading in the wrong direction, the production car would honk at them. Just then, the production car honks at them. You know it must be bad when they intervene, and over the walkie-talkie they inform the boys that they're on their way to Reykjavik. They must not have fancied the three hour car ride, even if it would have gotten some entertaining variety footage.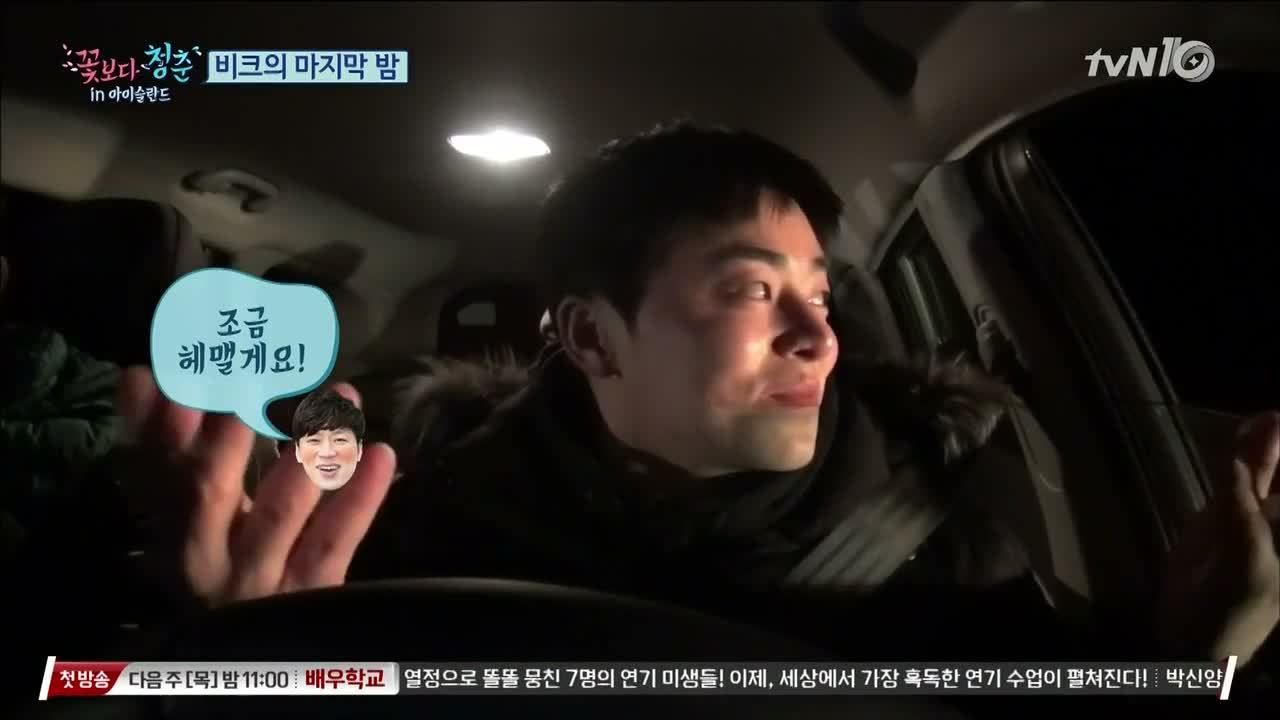 girlfriday: Lol, Jung-seok turns the car around and shrugs his shoulders at the staff, trying to play it off as cool as possible. Sang-hoon says casually, "We're going to circle for a while" like they meant to do this, as they turn around and head back in the right direction.
javabeans: They stop to stock up on food, then head to their lodgings for the night, which is another spacious apartment. Man, this trip has had the best lodgings by far.
girlfriday: I know. I'd eat hot dogs for a week if I could stay in places like this for a whole trip. This one is like a whole house.
javabeans: They calculate how much money they have over their last two days, and laugh at how much it is — they budgeted roughly 20 euros per meal, but skipped breakfast and lunch (making do with cheap things) and that number has just piled up.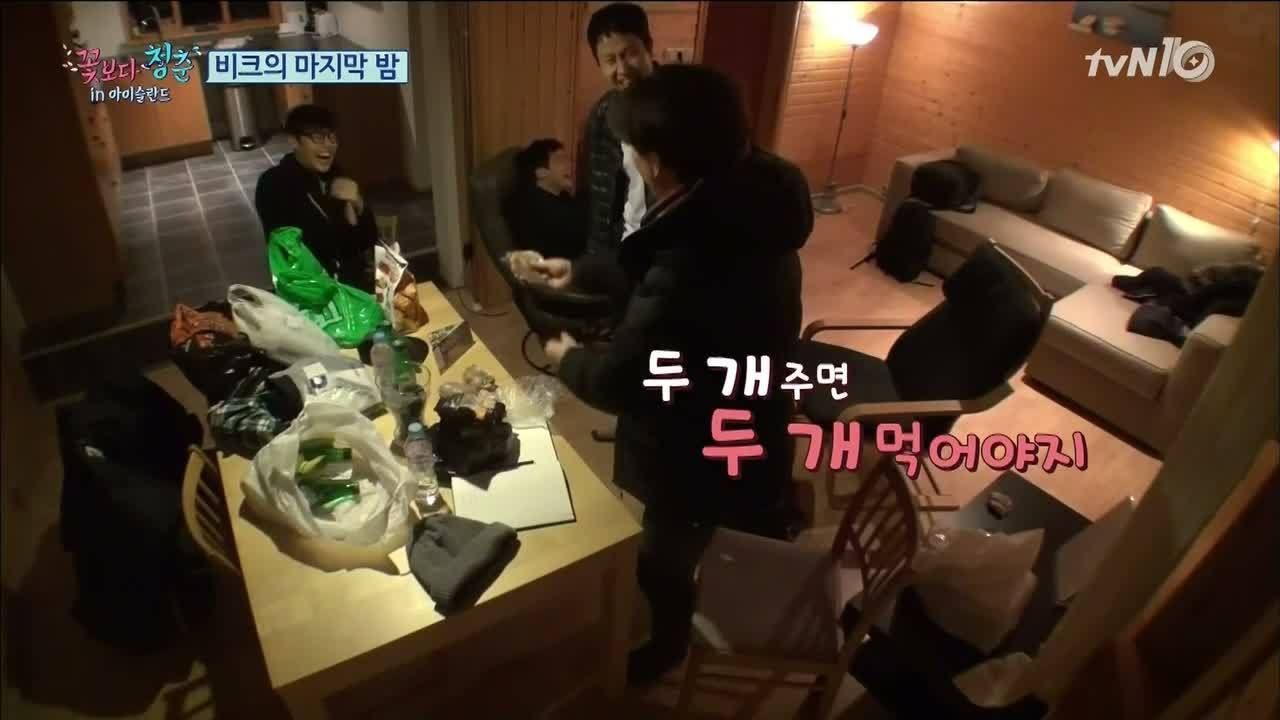 girlfriday: They crack up when Sang-hoon demonstrates by taking out all the half-eaten sandwiches they saved and brought back with them, and the bread roll he'd pocketed today.
javabeans: He's half-yelling, half-laughing, "If they gave me two rolls, I should've eaten two rolls! What was I doing, saving one just in case I might want it later? I'm going to eat this allllll! I'm going to eat everything here!"
girlfriday: He jokingly berates himself for not knowing how to spend money and the guys crack up, but it's true — they're all so used to being frugal that it's harder for them to figure out how to use all their money, even when they're trying to spend.
javabeans: If they didn't finish something, they just wrapped it up and took it along, and now apparently they have foods from three days ago.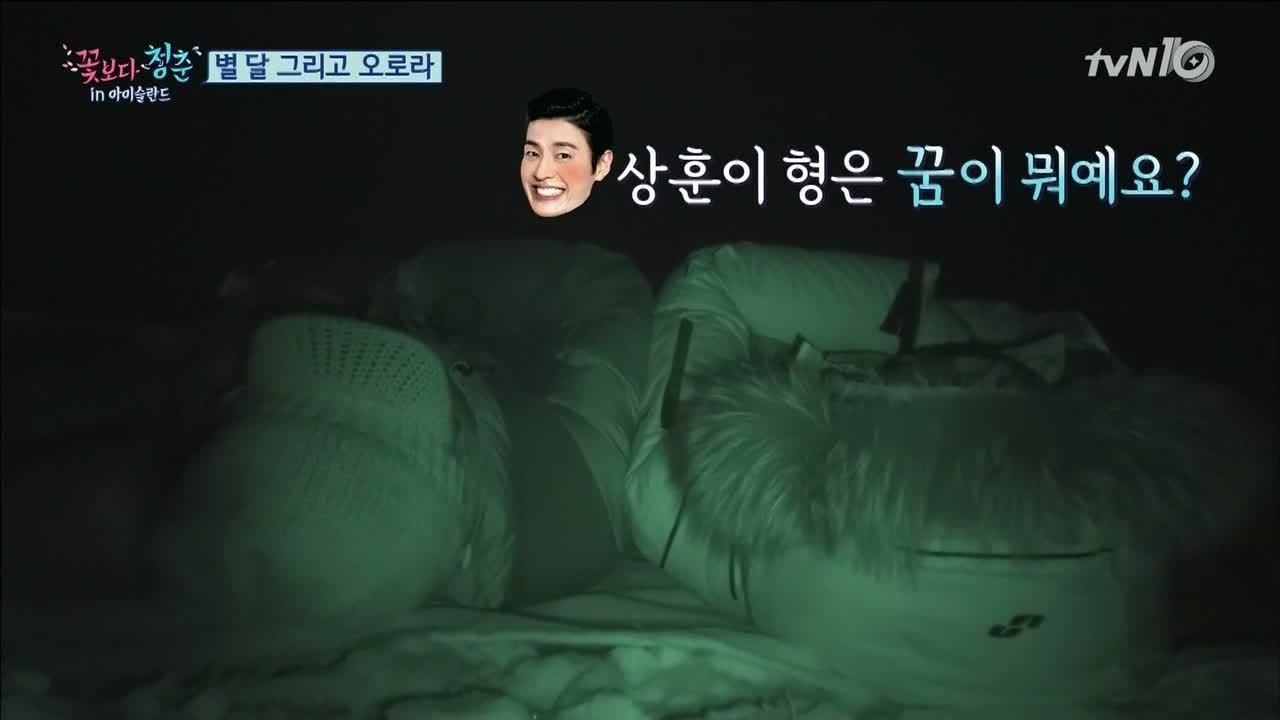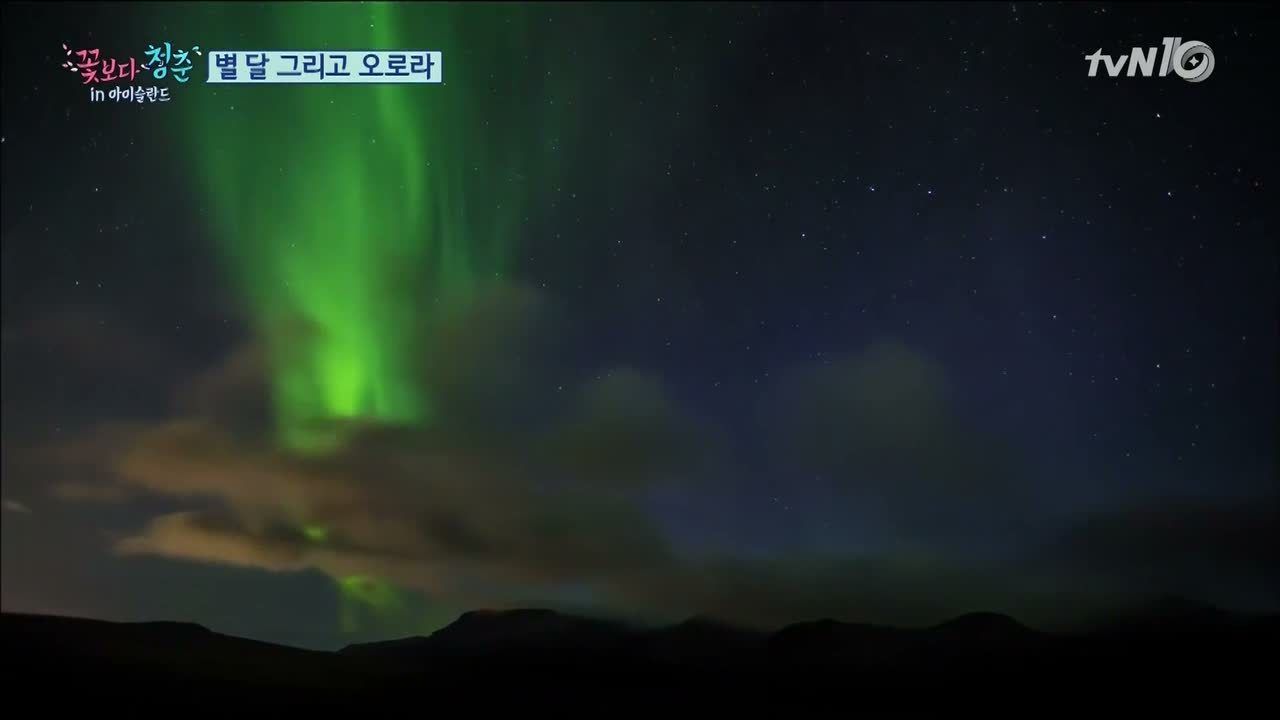 girlfriday: Sang-hoon: "This is trash! And we're still carrying it around!" They fall out of their chairs laughing.
javabeans: They take peeks outside just in case Aurora comes back tonight, and start to see the greenish glow off in the distance. Immediately they pack into the car, since there's no question that they'll go see it again.
girlfriday: At first it's just a slight glow in the distance behind some mountains, but the lights start to get brighter. They enjoy just looking up at the sky and looking at the stars, and then suddenly they all shout at the same time, "Shooting star!"
javabeans: They marvel at how bright the moon is, that it's even casting shadows. Haneul decides they should look at the sky while lying down, and they get out blankets and spread them on the snow. They lie down looking up, and start asking each other, "What's your dream?" Ha. Sang-hoon: "To be an actor who's really good at acting." Jung-seok: "Then you've achieved your dream." Sang-hoon: "No. Isn't this a lifelong dream for us?"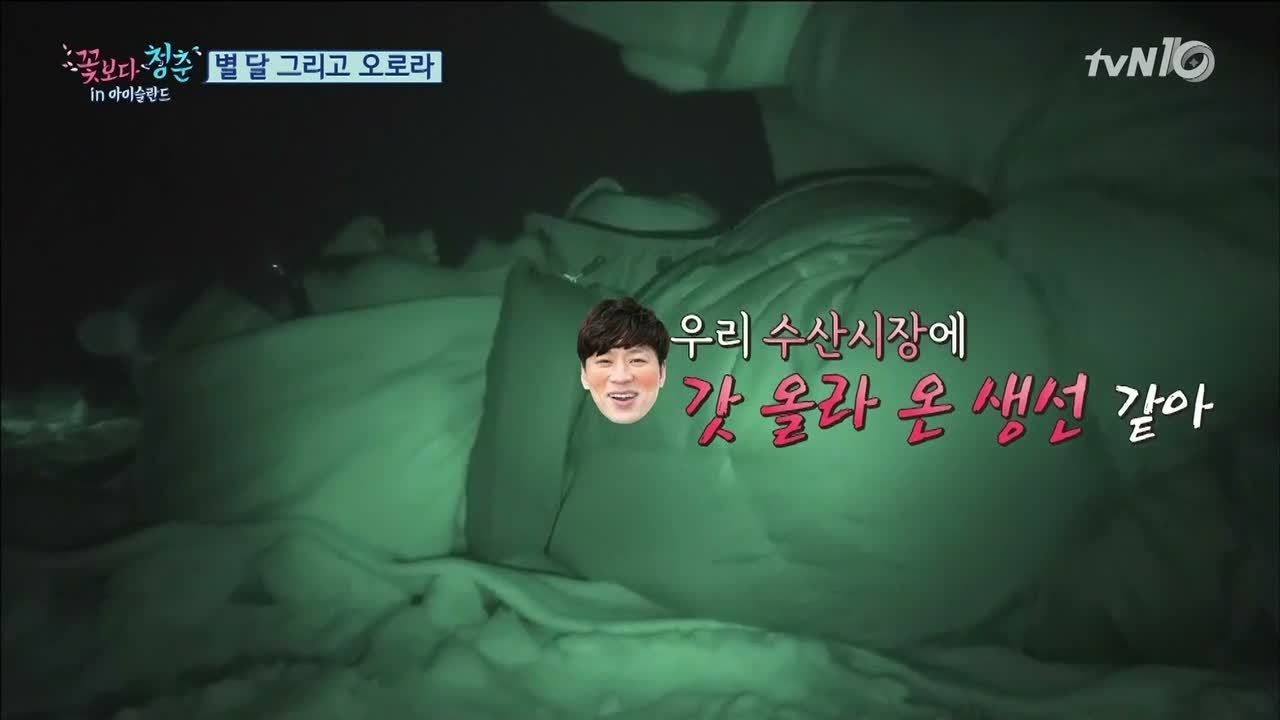 girlfriday: Aw. Jung Woo asks Jung-seok what his dream is, and he says it's just to live happily, which he thinks is the hardest thing to do. They each interview about their 20s and their youths, and Jung Woo says it was constant anxiety. Haneul says he was too young to know anything, "And I was too young to do anything, but there were so many things I had to do." Jung-seok says it was a time when no matter how many times he failed, he just kept running ahead.
javabeans: It's heart-warming and sweet. And then we come back to the present, when they've been lying down for a while and Jung-seok says his feet are freezing and Jung Woo admits, "I'm in a bit of pain right now." They go around listing the body parts they can't feel anymore.
girlfriday: I love the way Sang-hoon asks it: "What [body parts] have you lost?"
javabeans: They get back in the car and are as happy to have seen such stars as they are to have seen Aurora, and how there are locations in Korea where the stars are really pretty. Haneul names a place and Sang-hoon says slyly, "Who'd you go with?" Haneul: "A friend." Jung-seok: "Which friend?" And then Haneul gets all flustered and exclaims, "Why are you doing this hyung? I'd rather you play hidden camera!" Haha, they must be talking about some secret girlfriend he can't be publicly admitting to having.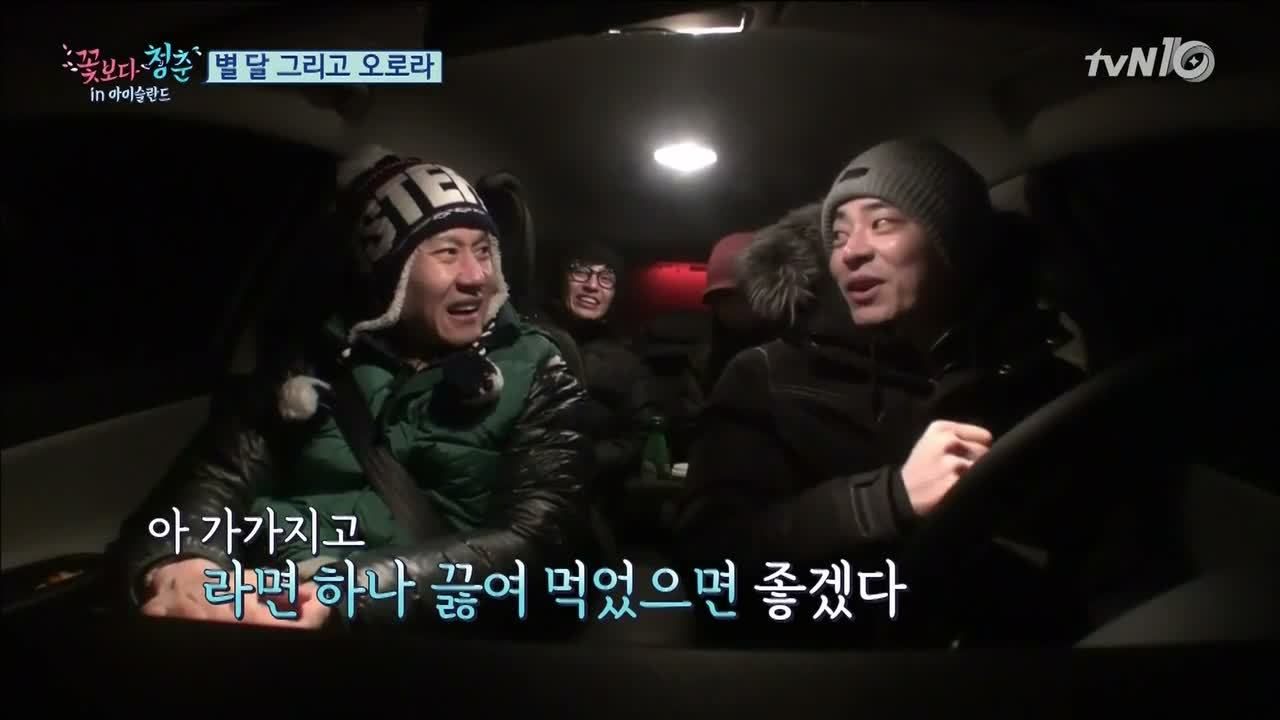 girlfriday: Shhh, let's not prod when we don't want to hear the answers! Jung Woo decides that ramyun would be the perfect thing right now, and they egg Sang-hoon on to beg the staff for some, "Because you're the hyung!" So he walkie-talkies to ask, but all they get is silence in return.
javabeans: It's cute how he gets pissy and exclaims how he's going to go back to Korea and eat eight packs of ramyun all by himself. Back at their place, Sang-hoon calls his wife to say hello, and in the background Haneul gets all tied up in squeeing about how envious he is.
girlfriday: That's so cute. They show us how much Sang-hoon's been talking about his family on the whole trip, about missing his wife and especially his kids every time they ran across a random child. He tells the guys that he's never been as happy as when he had children and became a dad.
javabeans: And then… there's a knock at the door and a producer announces that they have "something important to say." Dun dun dun! It's about the weather, and a huge storm is heading for the whole southern part of Iceland, which includes Vik and Reykjavik. It was apparently a record storm, logging the most snow since 1937.
girlfriday: Yikes. That news footage looks scary.
javabeans: The storm may even impede their return flight, so the producer says they'll watch the forecast closely and may wrap filming early. In the meantime, he's brought a welcome gift: ramyun, haha.
girlfriday: They immediately light up and Jung Woo gets to the kitchen.
javabeans: Afterward, Haneul is on dishwashing duty and pauses to select some background music. Ha, is it meaningful that he picks out Misaeng music, while he's toiling away alone?
girlfriday: Lol, must be a subliminal message to the hyungs. It cracks me up that he even bothers to pick the perfect music to wash dishes to, which takes as long as the actual washing.
javabeans: Meanwhile, at the kitchen table, Sang-hoon and Jung-seok are acting out (of course) a scenario where… I don't really know, exactly, except they're talking like gangsters and Sang-hoon is egging Jung-seok on to poke Haneul in the butt for being "a traitor to the organization."
girlfriday: Is this all because Haneul is butt-dancing while washing the dishes? Sang-hoon: "Do it so that he can never sit on a toilet again."
javabeans: They head to bed hoping the weather isn't too bad tomorrow, and I'm relieved to see some socks laid out on the radiator, because that means some socks finally got washed.
girlfriday: 'S about time.
javabeans: Sang-hoon's the first up and wakes the others because the crew is having an emergency meeting about their plans in the face of the storm, and they decide to delay their departure because of strong winds.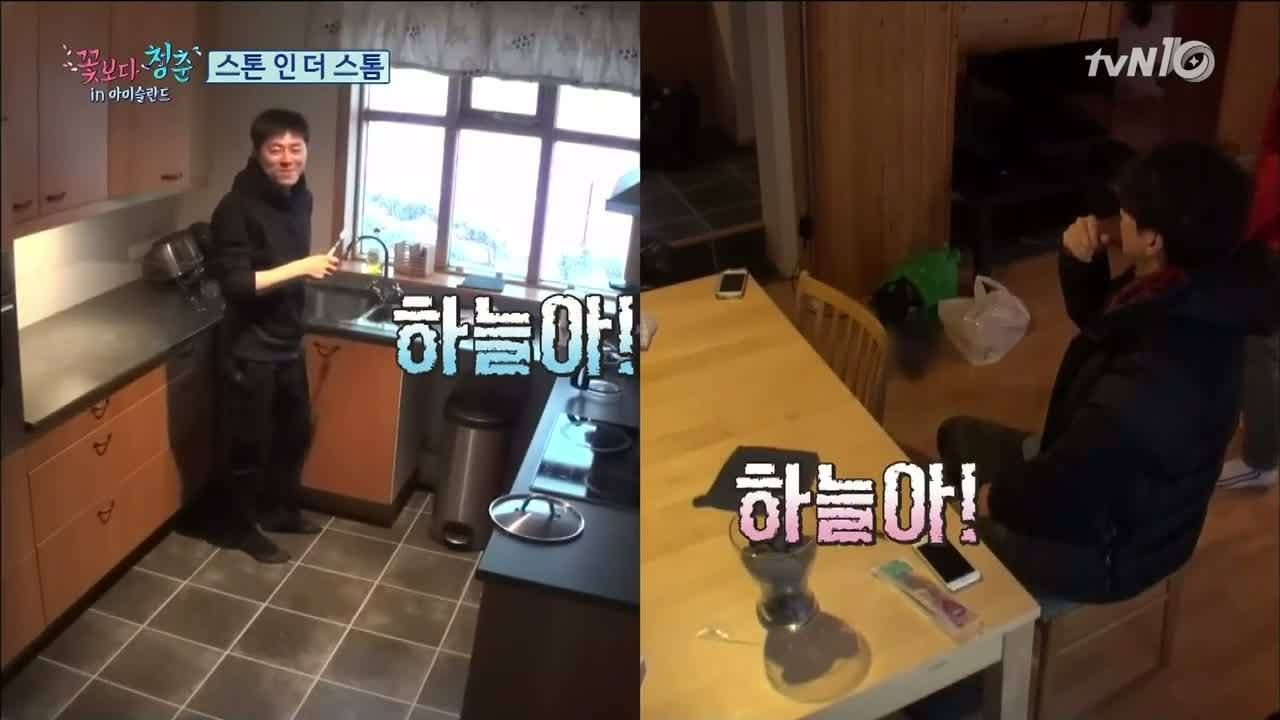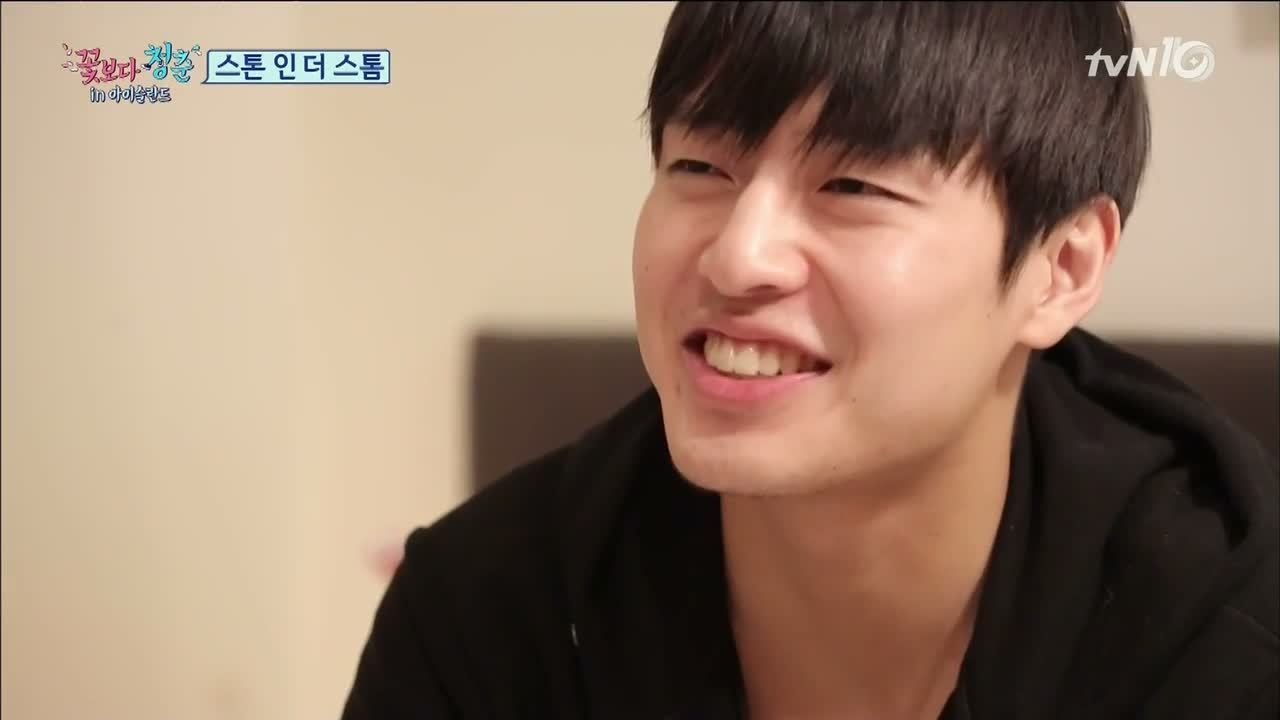 girlfriday: There's only one road out of this town, so a few crew members head out on a test run with a tour guide to see if driving conditions are safe. Um, it looks like they're driving into a sheet of snow. Can they even see the road?
javabeans: Back in the room, a PD asks Haneul what his role was during the trip, since Jung-seok was the driver and Sang-hoon the cook. He thinks, and answers that he was the reaction guy, always giving a big reaction to the others' jokes. Ha, then we get a montage of the hyungs calling out "Haneul-ah!" repeatedly to ask for little things, and his reaction to them.
girlfriday: Hahaha, they find it hilarious even in the moment, and just keep finding useless things for him to fetch, just to bug him. Jung-seok: "Haneul-ah, where's the toothpaste? Oh, it's in my mouth!"
javabeans: "Haneul-ah! Where's my hand?" Hehe. They pack up and head out for lunch — at least it's a new place this time, though the show does inform us that Vik only has three restaurants.
girlfriday: Sang-hoon starts out like a big spender, insisting that they can order two whole pizzas, but very quickly starts asking what they can eat for free, like maybe soup and bread? He nixes the idea as soon as they find out they have to purchase the soup, until Jung Woo laughs and points out that he was all about the spending a minute ago.
javabeans: Afterward, Na PD lays out the plan, which is for the producers' van to go first, and the cast to follow slowly, since they want to avoid braking as much as possible to reduce risk of skidding.
girlfriday: Na PD: "So pick your best driver." They put Jung-seok behind the wheel, and Na PD's reaction doesn't instill a whole lot of confidence: "Jo Jung-seok-sshi?"
javabeans: Next week: Into the storm they go.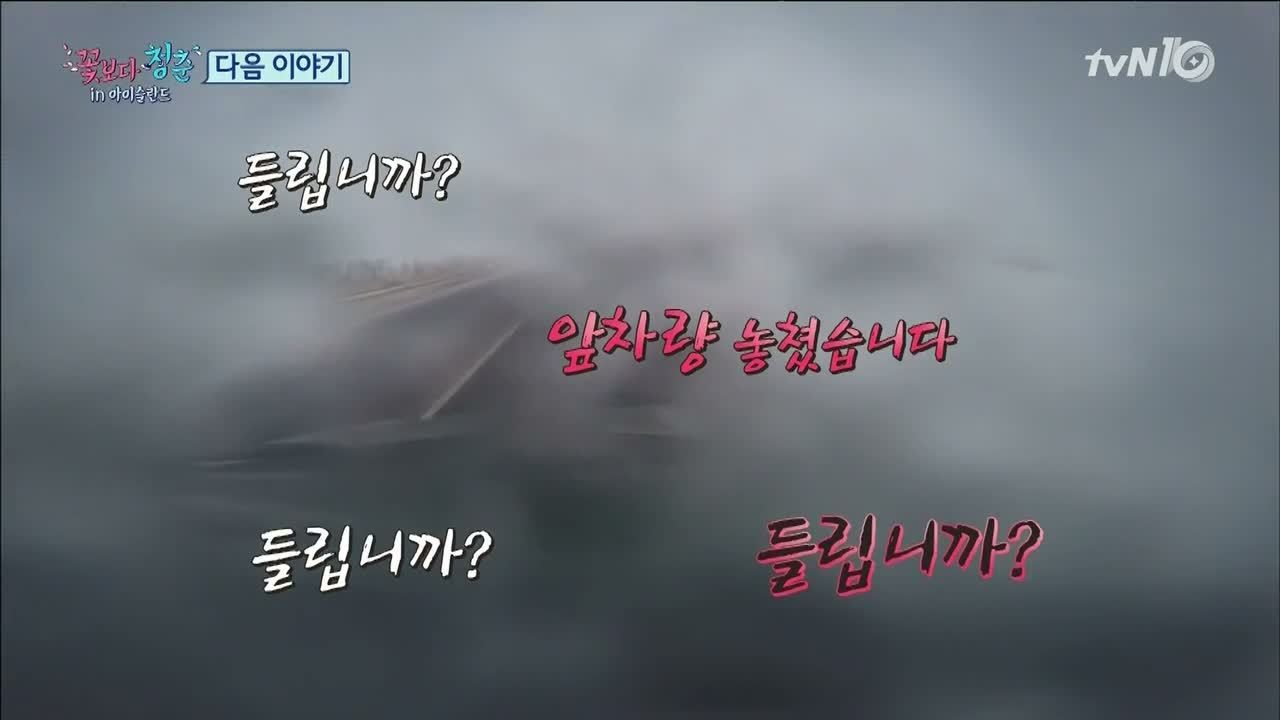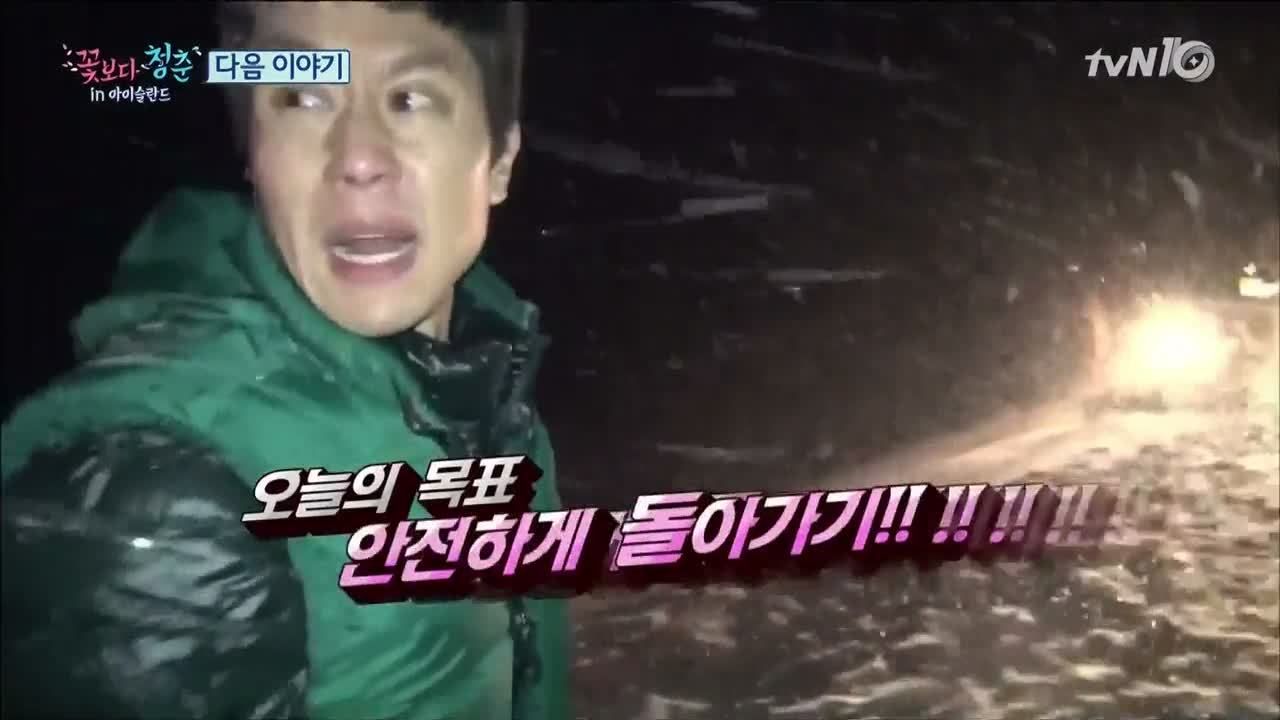 RELATED POSTS
Tags: featured, Jo Jung-seok, Jung Sang-hoon, Jung Woo, Kang Haneul, Youths Over Flowers