Youths Over Flowers in Africa: Episode 4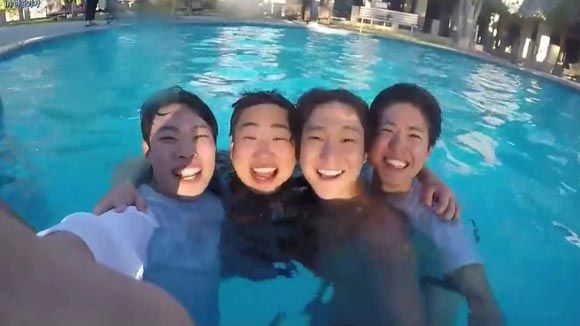 girlfriday: As the boys pack up to move onto their next town, Jae-hong starts a funeral for his pants, the ones that ripped down the middle and now look like two separate pant legs. And then we catch up to the moment when Bo-gum gets behind the wheel nervously…. and backs up into the wall behind him. *crash*
javabeans: The reaction shots are pretty comical, aren't they? Like what you'd get if you told actors to act surprised.
girlfriday: Yeah they're textbook shock faces. I like the range too — Kyung-pyo looks distraught, Jae-hong is trying hard to act like it's fine but looks worried, and Joon-yeol goes from shock to giggles, thinking it hilarious.
javabeans: How can he have hit that wall so thoroughly? It wasn't even a near miss!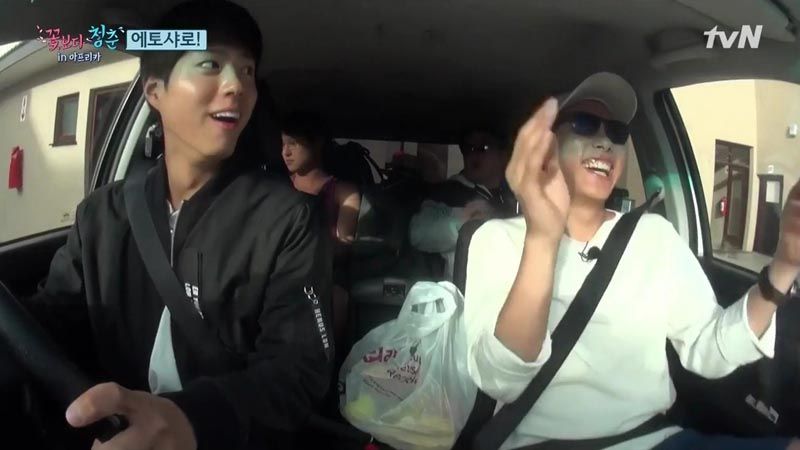 girlfriday: I know, and I don't even think he needed to reverse that far to begin with.
javabeans: Bo-gum looks pretty morose as he says ruefully, "I don't think I'm meant to drive."
girlfriday: I think you're right about that.
javabeans: All the while, the cheery song he turned on to start their drive is still going, and Jae-hong notes that it's still playing as though its very presence is annoying now.
girlfriday: All they can do is just carry on, since it's not massive damage or anything (and hope that the insurance they got will cover it). Bo-gum refuses to get behind the wheel, and the hyungs pat him on the back and assure him that it's fine as long as no one got hurt.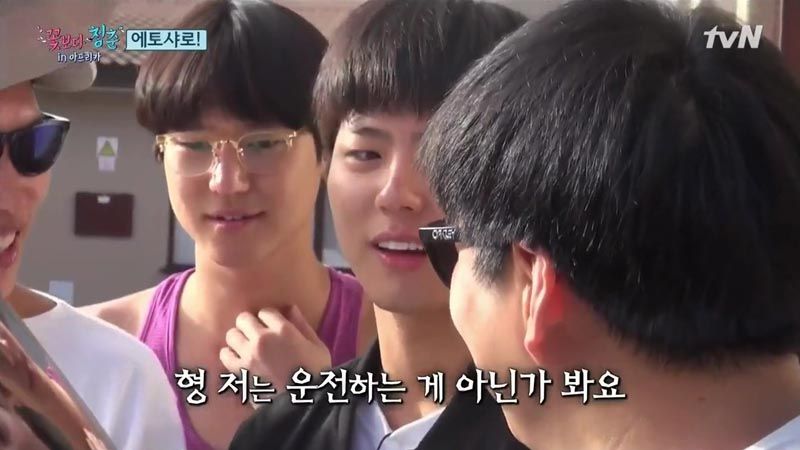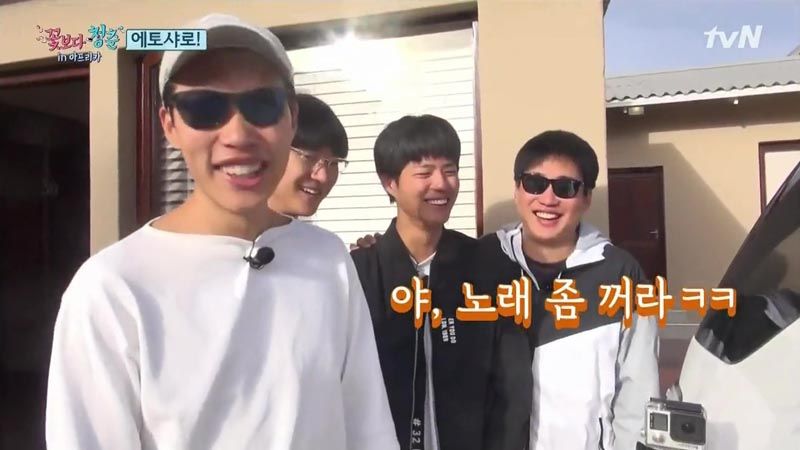 javabeans: I really think Bo-gum might cry.
girlfriday: He sorta always looks like he's on the verge of tears. So Joon-yeol gets behind the wheel and they head back out, and they get stopped at another checkpoint on the road where they ask for his license and passport. When the cop sees that they're from Korea, he names the one Korean he knows — soccer player Park Ji-sung — and they all shout his name happily.
javabeans: Joon-yeol marvels at how soccer brings the world together and they drive off in great spirits. Everyone except Bo-gum, who sighs heavily enough that Jae-hong asks if he has anything against Park Ji-sung. But Bo-gum was just thinking of how he got pulled over for running that stop sign, still traumatized by it.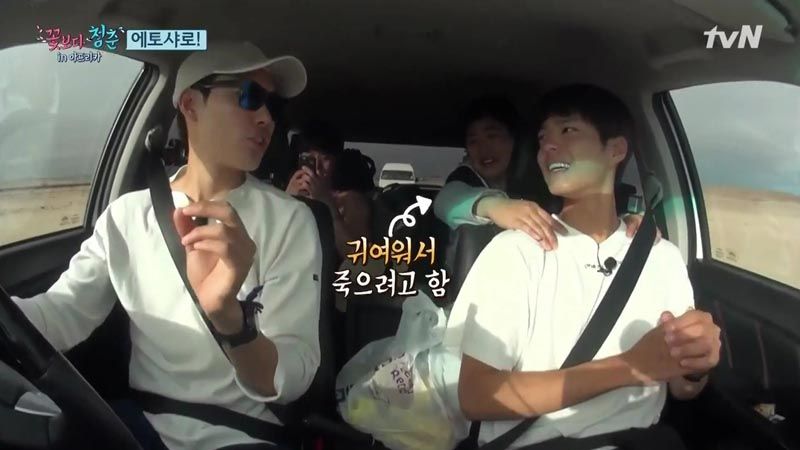 girlfriday: Poor buddy. He's obsessing over the accident even when they stop at a gas station, and he hovers around the cracked taillight trying to somehow fix it. Jae-hong notices and does everything he can to lift Bo-gum's spirits, and it seems to work to get everyone singing and dancing.
javabeans: It gets him a little lighter-spirited, at least on the surface. Then they pull over at a rest stop for quick lunch of sandwiches before heading back out.
girlfriday: As they get back in the car, Bo-gum says that he feels a little gassy because they keep eating bread, and Kyung-pyo practically shouts, "Fart! Just fart! If you hold it in, it'll come out poop! Just fart, I've been farting this whole time!"
javabeans: He seems very gleeful about that. Finally they arrive at Etosha National Park, which is basically a place to go on safari and see wild animals.
girlfriday: This is crazy, they just drive around amongst the animals in their own car? I guess that's what a safari is.
javabeans: They look around intently for their first sighting, and perk up in excitement to see a giraffe in the distance… before recalling that giraffes don't lie down, and realizing this is a corpse.
girlfriday: Aiee, that's not a very fun first thing to see. It freaks them out a bit, especially Bo-gum, but things quickly take a better turn when they spot some zebras in the distance and get up close. They pull up to the campsite and pay a fee to set up their tents there for the night, and Kyung-pyo the tent master sets up their tents.
javabeans: At least this place has a kitchen, because I'm not sure they would have figured out fire on their own again. The problem today is that they have a bunch of raw meat and no refrigerator, and Jae-hong goes out in search of a solution. Um, I'm pretty sure the solution was to buy an icebox and load it with ice beforehand.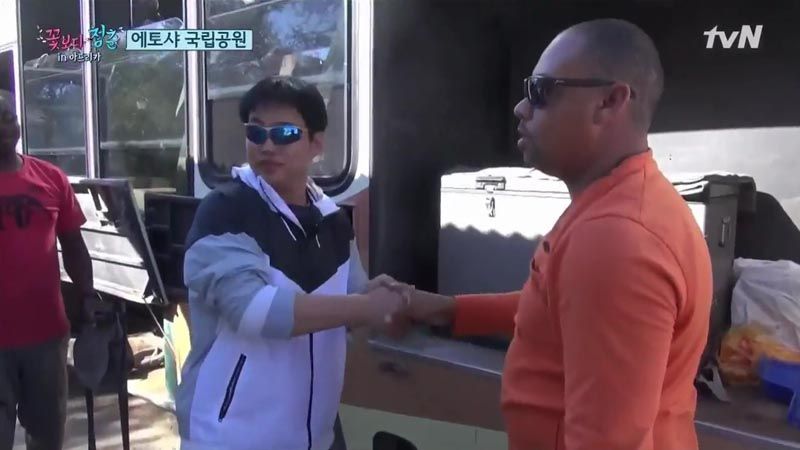 girlfriday: I know right? Why do these guys just keep showing up to campsites with no equipment? It's a testament to the kindness of strangers that they've survived this long.
javabeans: I know! What would they have done if they hadn't happened to run into a stranger who happened to have a camping truck who happened to take pity on them and offer to store their meat?
girlfriday: Eat their meat now, I guess. In the bathrooms, Bo-gum is busy washing his socks, and doing a terrible job, might I add.
javabeans: One sock at a time! Haha. It's just so funny as a visual, Bo-gum just kind of moving a sock around under the tap.
girlfriday: He seems rather proud of himself when the sock looks exactly the same as it did before the washing.
javabeans: Kyung-pyo can't just watch, so he takes over and vigorously washes the sock, and Bo-gum regards that clean sock with this… amazement, like wow, you can clean things!
girlfriday: LOL, he is so tiny and useless.
javabeans: I feel like this trip will be a really big growing point in his life, dividing it between the time when he knew no things and the time when he knew a few things.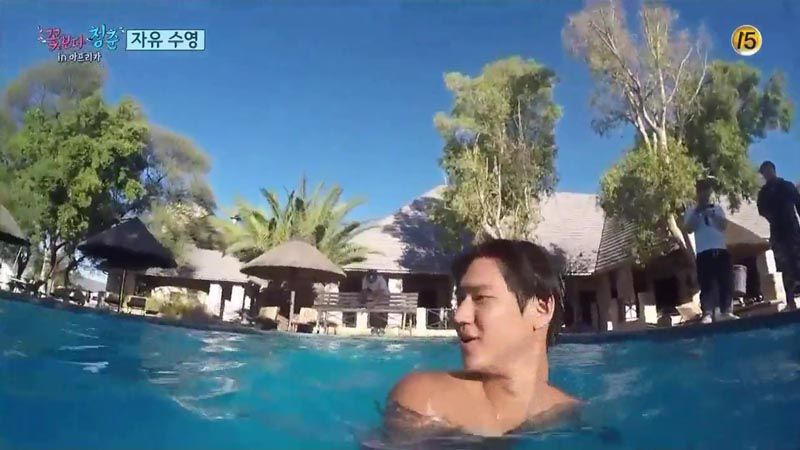 girlfriday: The sun becomes oppressively hot and they go looking for somewhere to hang out indoors, until they discover that the campsite has swimming pools. Score!
javabeans: They literally strip down to their underwear and go diving in. At one point Kyung-pyo gets out to dive, and Bo-gum comments that the view is too racy and he covers up his bits laughing.
girlfriday: And then he does another dive, and this time he comes up out of the water holding his underwear in his hands. Aaaaaack! Did they fall off? You know it's bad when even Na PD goes running away.
javabeans: But of course, Kyung-pyo just suggests that they all take off their underpants underwater and hold up them up in the air.
girlfriday: And I have no idea why, but they listen to him and all do a big group jump and then hold up their underwear. The water below is pixelated, for decency and all that.
javabeans: And then Joon-yeol throws his underwear at Bo-gum playfully… and Bo-gum runs away with it HAHAHA.
girlfriday: Pwahahaha. Bo-gum quickly climbs out of the pool with Joon-yeol's underwear, and they start to play keep-away with it. Kekeke.
javabeans: Joon-yeol starts pleading, "I'm sorry, I'll do good, I'm sorry." Muahaha. They keep Joon-yeol dangling (hehe) for a while tossing it around, and finally he gets it back and hopefully learns a valuable life lesson about not putting that much power into the hands of others.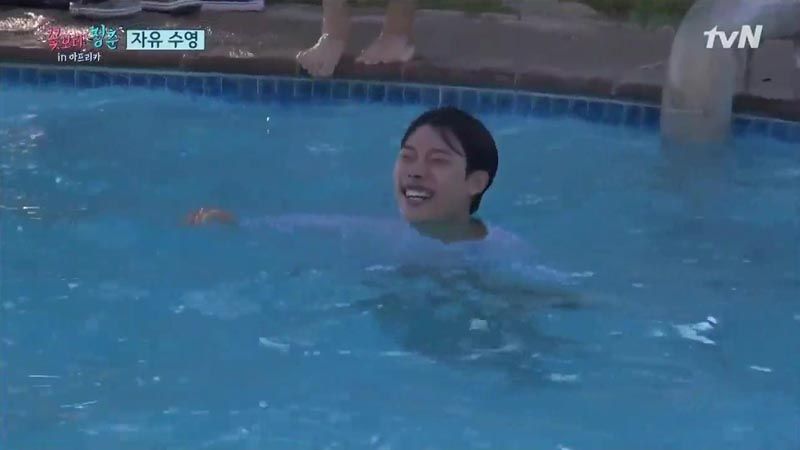 girlfriday: Or listening to Kyung-pyo's nutty ideas in the first place. They head back to camp and change into dry clothes, and then walk to the watering hole to watch the sunset. It's a nice quiet moment, watching the animals come by for a drink, and then once the sun goes down, a giraffe comes by to drink, and then an elephant appears. Joon-yeol is the only one who sticks around long enough to see the elephant, and he's sad about the others missing it.
javabeans: "They left? They left?!" Turns out they'd headed out to start dinner while there was still light out, and gotten their meat from their helpful neighbor. Jae-hong seems especially grateful for all the help they've been receiving, wondering if he could be that friendly to complete strangers.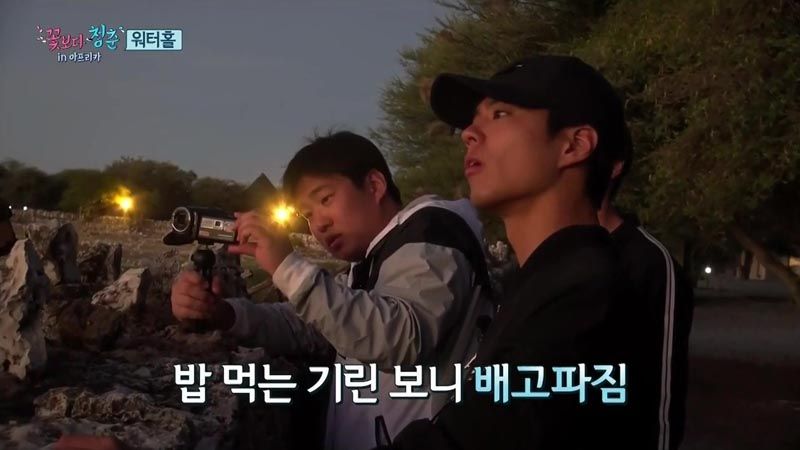 girlfriday: Joon-yeol joins them all excited about the elephant sighting, and Jae-hong is interested enough to back and see it with him. Thankfully the elephant is in no hurry. And then a rhino comes too!
javabeans: It really does look like something out of a cartoon. Joon-yeol seems like this bright-eyed child about all the animals, unbelievably excited to see them all up close, and all hushed and reverential.
girlfriday: His excitement is infectious. It makes everything seem special and new. I think he'd stay at that watering hole all night if it were up to him.
javabeans: They return to the campsite where Kyung-pyo struggles to split a log to add to the fire. Jae-hong jokes that he should kick it in half and he actually tries it, which ends with him limping. Lol. They manage to split the log with rocks like Neanderthals, all hunched over and grunting.
girlfriday: It really does take all four of them (and some rocks) to split one log. Once they have the fire, Jae-hong begins cooking a new recipe he just invented, an African soup that he'll turn into a pasta dish.
javabeans: I'm so glad Jae-hong knows how to cook. Otherwise I feel like they'd be eating out of tin cans or something.
girlfriday: Yeah no kidding. Jae-hong seems to flying by the seat of his pants though, because he tastes the soup and makes a funny face. My guess is that he bought the package with no idea what it was supposed to taste like.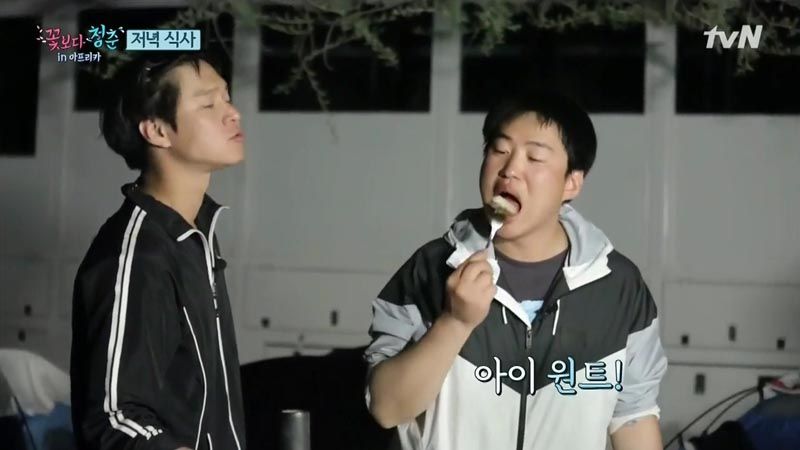 javabeans: It seems like he's going by the ramyun soup packet school of thought, where seasoning just automatically makes things better, instead of sometimes worse.
girlfriday: It's that little bottle of mysterious MSG-like seasoning that he bought (that he's been putting on everything) that saves the soup. Suddenly everyone tastes it and wonders what happened.
javabeans: The magic of MSG is what happened. Bo-gum is in charge of slicing sausages and preparing potatoes, and at one point is so pleased with himself that the show inserts the sound effect of a gurgling baby, which is exactly what he seems like.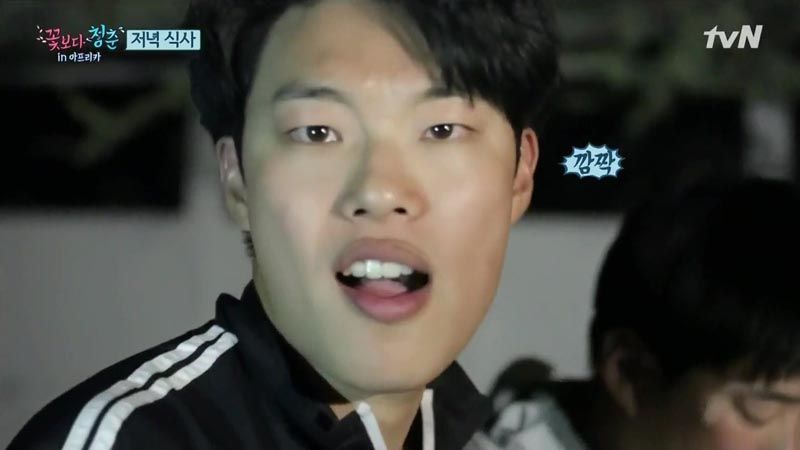 girlfriday: It's so perfect. They start eating the food as it cooks, and they eat so deliciously that it's making me hungry. Also, are they still growing? Because they eat enough food to feed an army.
javabeans: Then they start drinking wine, and it's funny because it's the time-lapse version where you see them getting gigglier and looser the more they drink, especially Bo-gum.
girlfriday: Kyung-pyo and Joon-yeol start talking about acting, and Bo-gum is surprised to hear that the two hyungs were in the same group of acting hopefuls who sort of formed their own informal study group and encouraged each other when they were struggling to get parts.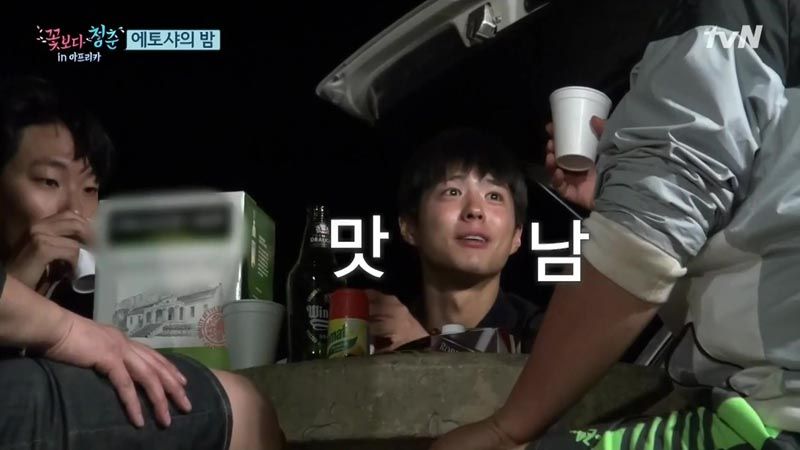 javabeans: We even get to see bits from Kyung-pyo's series of auditions, when the Answer Me producers commented that he looked like an ajusshi with extra weight and he then proceeded to slim way down over the course of a couple months. We also see Joon-yeol's, when he'd been a no-name without even an agency.
girlfriday: Aw, you can see it on their faces, how much they wanted it. When Joon-yeol gets cast, he cries.
javabeans: Jae-hong says he was such a big fan of 1994 that he'd thought at the time that if there was ever another series, he had to at least try out.
girlfriday: I don't think it went well until his second audition, when he read lines and elicited laughter from everyone. It's one of those strange moments where the lines themselves aren't at all funny, but it's the way he says them that makes the character funny and come to life.
javabeans: This was the night Bo-gum had recorded the interview we'd seen in an earlier episode, about not having a formal family photo and how sad he felt about it. Then we get his auditions, where he explains how he tries to live life gratefully, and also that his mother died when he was in grade school. Well, that certainly makes his audition even more poignant, because it's the Answer Me 1994 monologue when Chilbongie called his mother to wish her a happy remarriage and new life.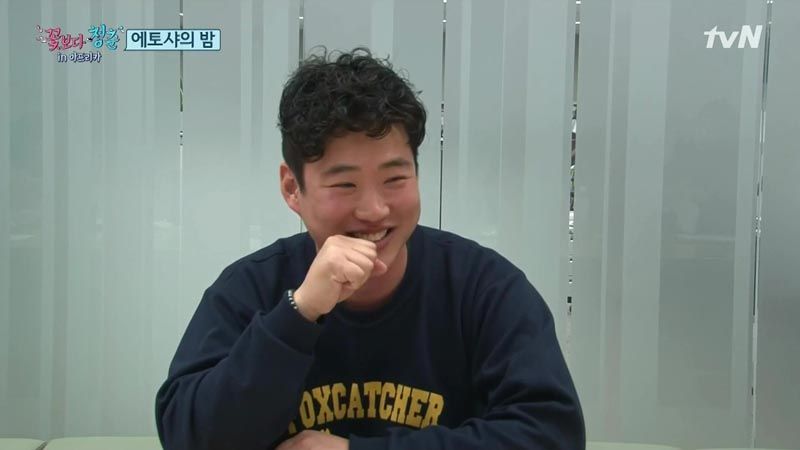 girlfriday: Oh man, even his audition reading is making me cry. They try to lighten the mood and ask if he swears or drinks or smokes, but of course Bo-gum does none of those things. He says he doesn't really handle his liquor well… Cut to: drinking games and much, much wine with the hyungs.
javabeans: I'd argue that this doesn't prove that he handles liquor well… It's funny how at random points they'll burst into laughter over one strange comment or silly remark, just out of nowhere.
girlfriday: They proceed to get drunker and gigglier, and then it's finally time for lights out.
javabeans: In the morning, Jae-hong returns to the watering hole to see all the animals before joining the others in packing up and preparing breakfast.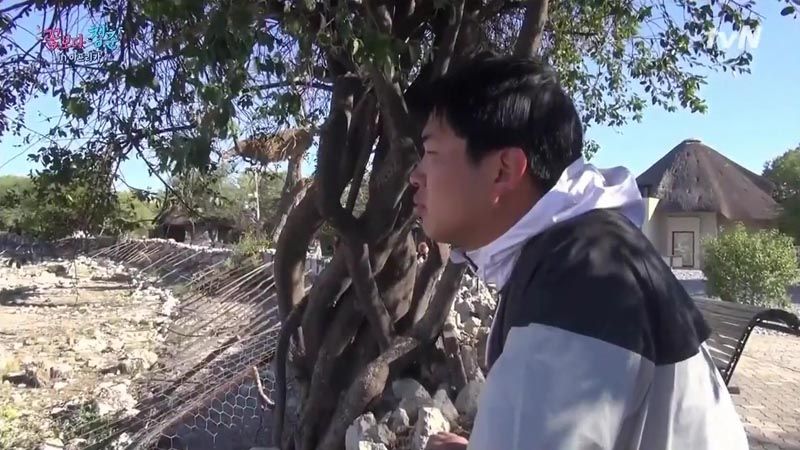 girlfriday: They notice that one of the staffers bought a new shirt from the campsite, and they eye it enviously, asking her if it isn't too big for her, hint hint. She offers to give it to the first person who spots a lion today, so it becomes a game. They get ready to head out and Bo-gum gets behind the wheel, and Na PD heads over and says this feels a lot like "that Challenge show." He means Infinity Challenge, where cast members do improbable challenges, heh.
javabeans: Don't you feel like it's Joon-yeol's personal mission to get Bo-gum past his driving trauma? He was the one who suggested last night that Bo-gum get behind the wheel again, which Bo-gum seemed decidedly unexcited about.
girlfriday: Yeah Joon-yeol has just made it a personal goal to get him over that fear.
javabeans: The view from the car-mounted camera is hilarious, because right away he's going down the wrong road, backing up, turning, backing up again…
girlfriday: Along with the commentary: "You have to go forward, Bo-gum-ah. Back! Where are you going? I know, I know. Wait, wait!"
javabeans: I don't know if it's a smart idea to give Bo-gum the job of driving while they've also got a secondary mission going on to find a lion. He can barely handle the one thing alone! They see lots of animals as they drive, until finally Joon-yeol catches a glimpse of a lion in the tall grass, and everyone holds their breaths as it seems to stalk a herd of zebra. It gets super-tense and it feels like we're about to get a close-up view of a hunt… but the lion ends up going away, to everyone's disappointment. It might not count in their game since they didn't get a clear look and can't be sure it was a lion, though.
girlfriday: They pass by a lot of antlered animals, and then they decide to follow another safari truck, which leads them to a pack of giraffes. All that's left now is a lion… but it'll have to wait until next week.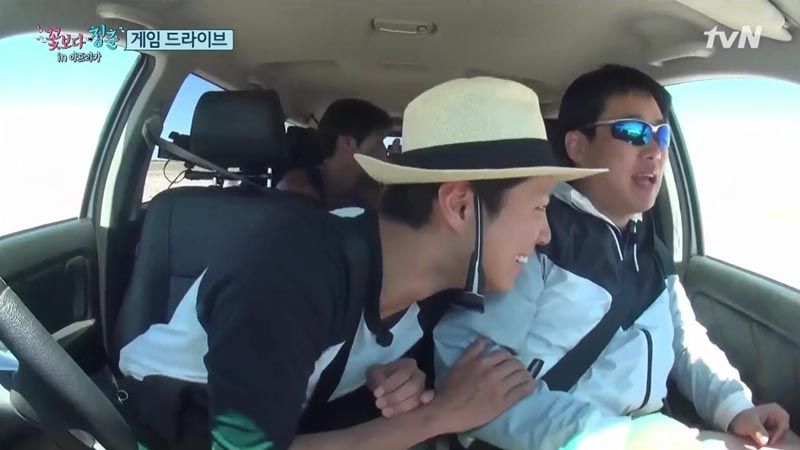 RELATED POSTS
Tags: Ahn Jae-hong, featured, Go Kyung-pyo, Park Bo-gum, Ryu Joon-yeol, Youths Over Flowers