Goodbye Mr. Black: Episode 12
There are some really touching moments in this episode, but then there are also some big head-scratchers too, and it kind of mirrors the way I keep changing my mind about our hero, and whether I should empathize or just stay mad at him. I guess it's not Goodbye Mr. Black if you're not feeling wildly disparate emotions at every turn, half the time excited for the characters and half the time frustrated at the director or writer for doing something weird. On the upside, ratings keep going up (9.4%), and there's no need to be conflicted about that.

EPISODE 12 RECAP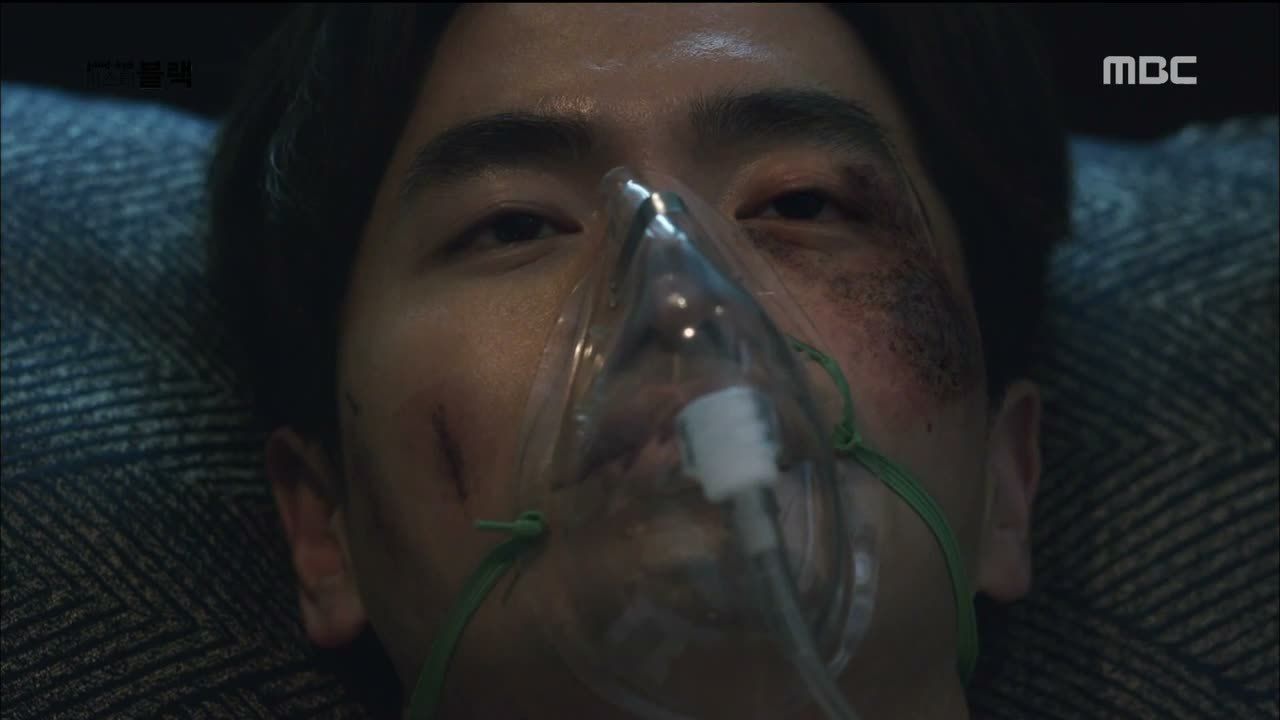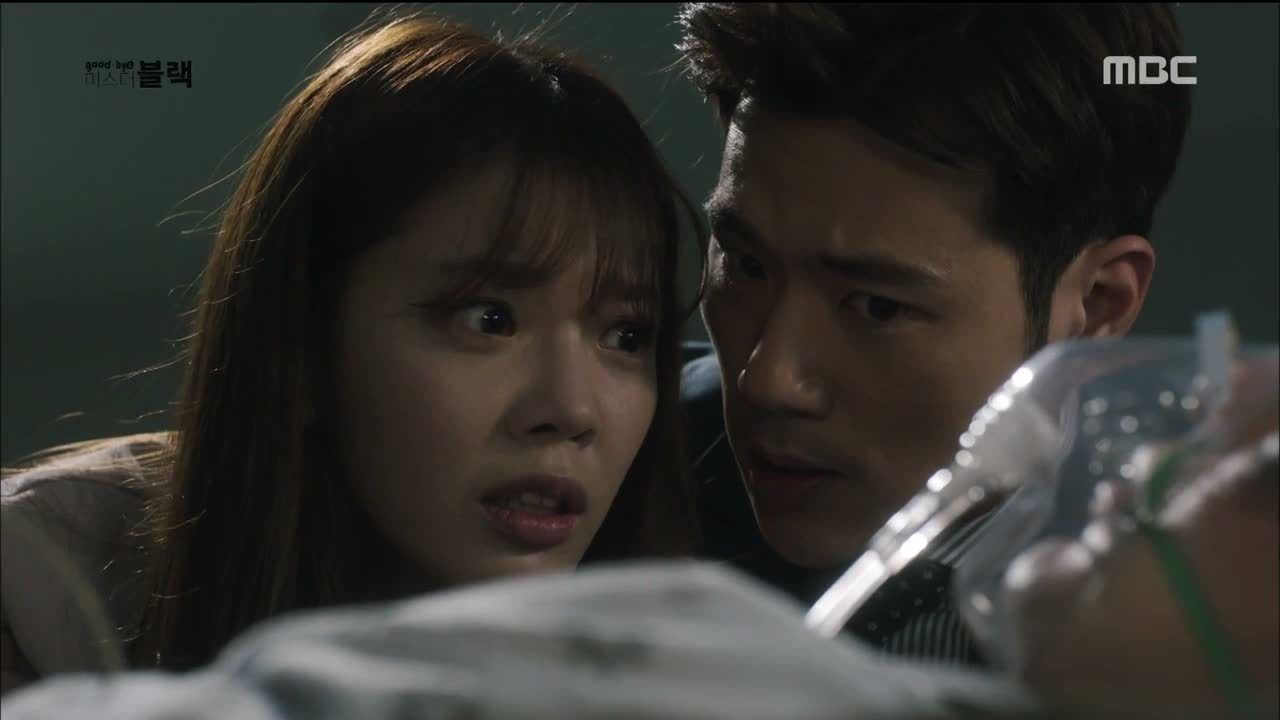 Sun-jae wastes no time when an opportunity for murder comes around. He appears in Black's hospital room and clamps a shaky hand down on the oxygen mask, when suddenly little sister Ji-soo comes upon him and recognizes Sun-jae. Trembling, she asks what he did with Swan: "Did you do to her what you did to me?"
Black's eyes dart open, though he makes sure not to be seen awake. Sun-jae is taken aback by the direct question, but he makes sure they're alone and then leans in menacingly to say, "In Thailand that was your mistake. Don't make the same mistake twice. I don't want to hurt you again." He caresses her hair as he says it, which sends a proper chill down my spine.
She tries to writhe away, but Sun-jae has a firm grip, and he threatens to make things harder for her brother if she goes on like this. And then, he does the creepiest thing of all—he hugs and comforts her, like he didn't just threaten her life a second ago.
Black struggles not to intervene, but he's clearly pretending to be unconscious for a reason. So he quietly yanks the heart monitor feeds off his chest, making the machines sound the alarm like he's flatlined—it does the trick, and Sun-jae goes running off before the army of doctors arrives.
It's then that Ji-ryun first hears about the shrapnel embedded in Black's head, and the bleak chances he has of survival. Sung-min and the other doctors prepare for surgery, but just before they administer anesthesia, Black sits upright on the operating table, scaring everyone in the room. Phew, you do have a plan.
Teacher Baek comes by and warns Sun-jae to keep Swan alive if he intends to use her as bait. I have a feeling you wouldn't have cared about her safety before discovering that she might be Eun-young, whoever that is. Sun-jae points out that Teacher Baek is the one who handed Swan over in the first place, so he'll do what he wants with his bait.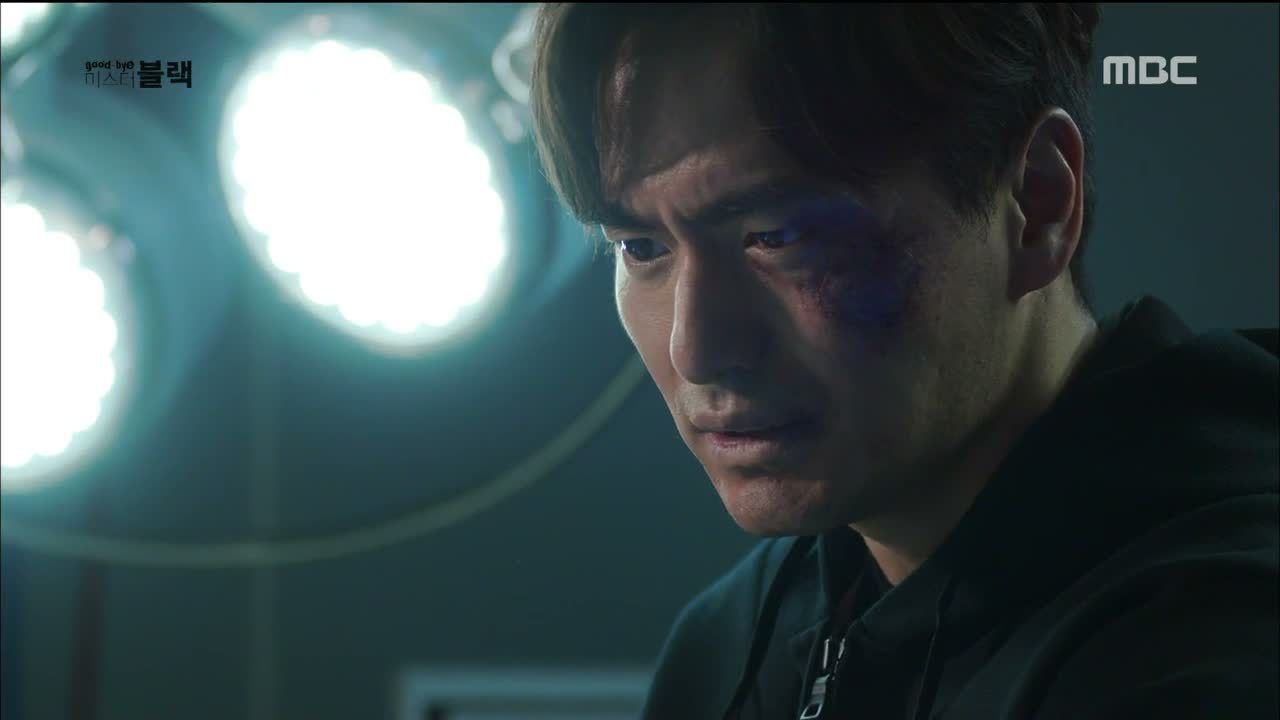 The doctors protest, but Black gets up and gets dressed anyway. He isn't about to let Swan get hurt because of him, and asks for medicine to keep him afloat for a few hours. Sung-min knows better than to argue any further, and gives him a shot that will buy him three hours.
I don't know how he just waltzes out of the hospital, given that he's technically still a convict, but he gets out and hops on a motorcycle that's waiting there. Teammate Gye-dong has been tracking one of the henchmen until now, and tells Black the location of the warehouse where they're keeping Swan.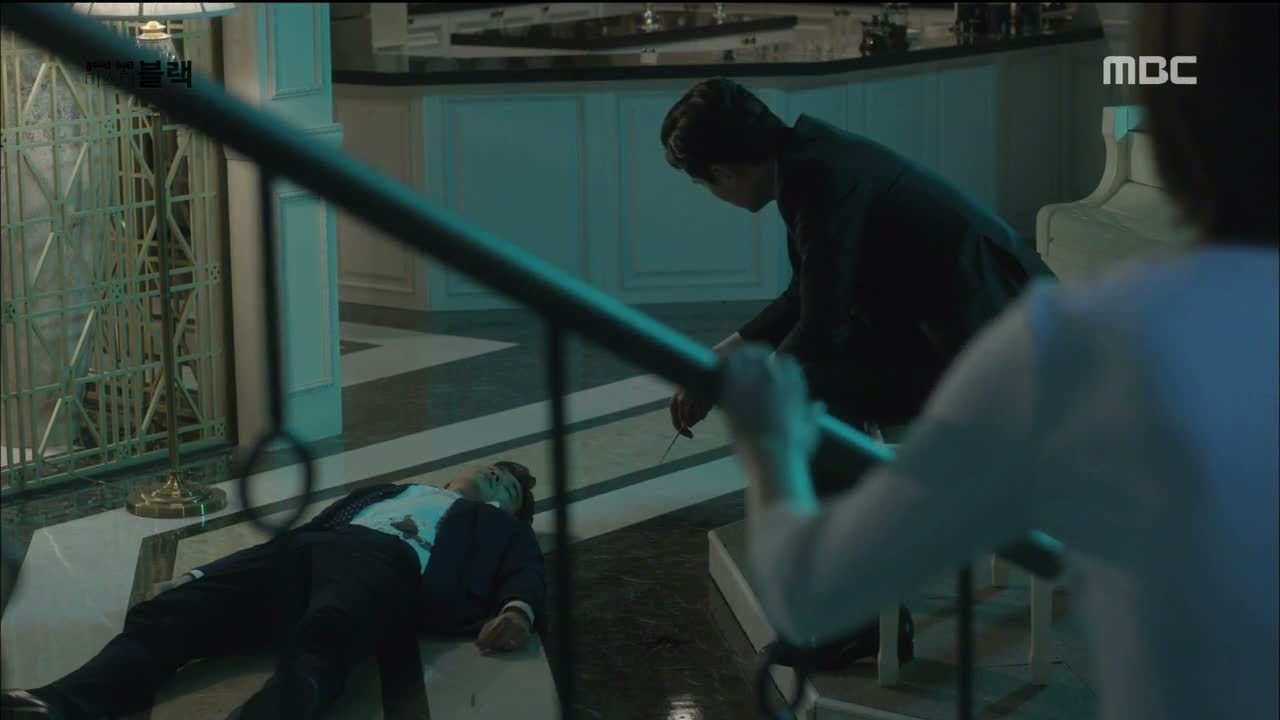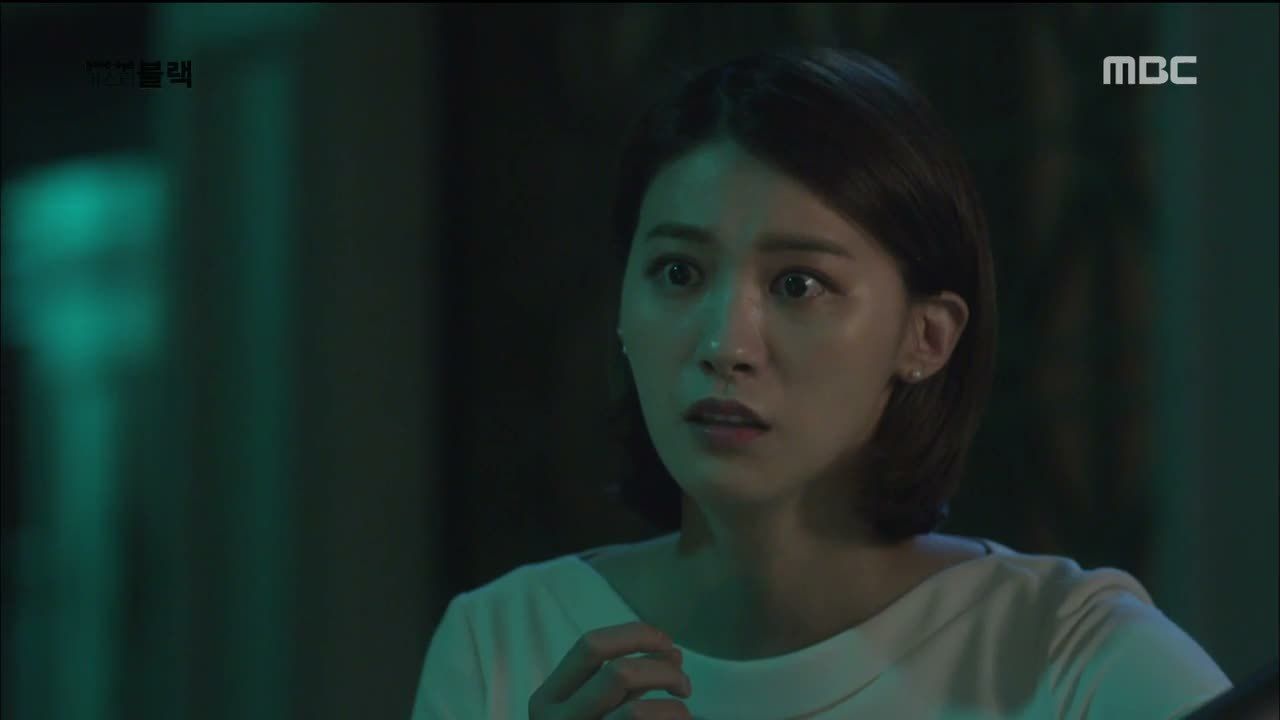 Mari comes downstairs at night and gasps to see Black holding a bloody knife over Sun-jae's dead body. Black just turns to look at her coldly, and Mari calls out Sun-jae's name… and wakes up from her dream. Wow, Sun-jae's done a number on her if that's the way she's dreaming the scenario.
Mari calls Sun-jae and panics when he doesn't answer, but he calls her back and lies that he was in a meeting at work. He's happy about the fact that she's worried about him, and assures her that everything is fine.
Swan dreams of her childhood again, and this time we see more than the tsunami or her lying in her mother's lap. This time Mom calls her Eun-young, and Teacher Baek's voice sing-songs her name as he brings her a stuffed elephant toy. Not good. Not good.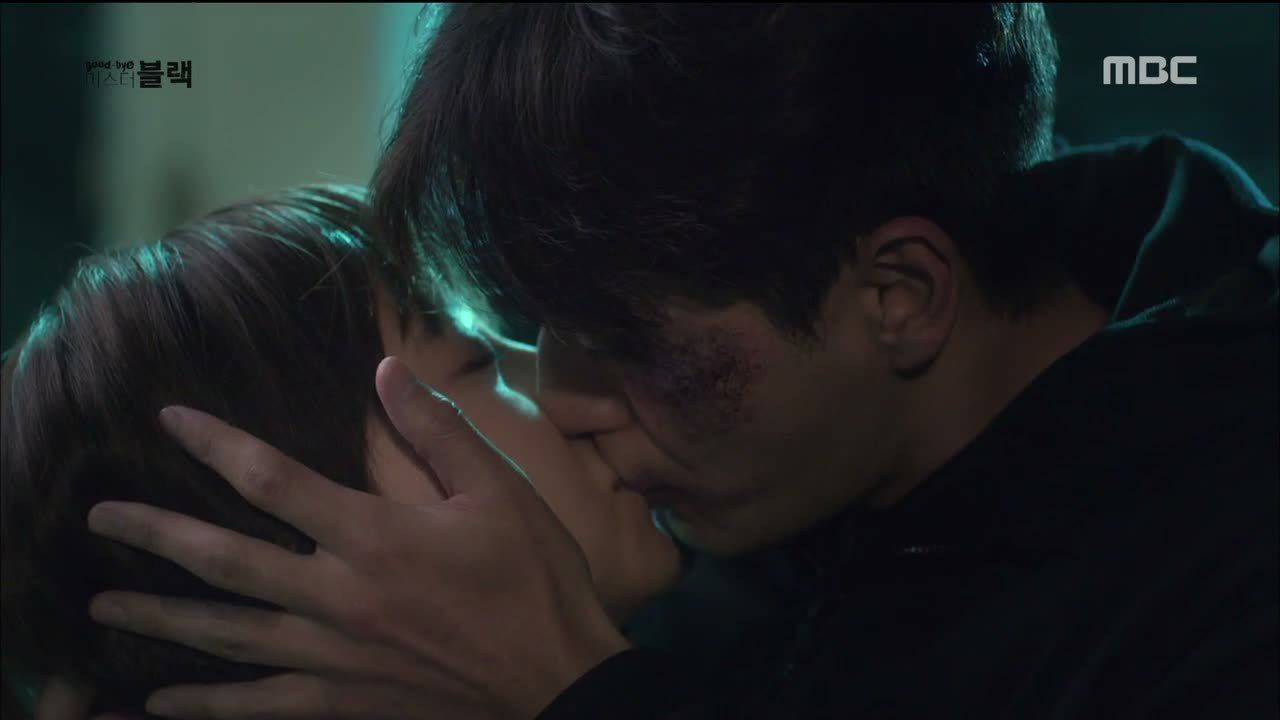 Gye-dong notices the henchmen closing in on Swan, so he jumps into the fight on his own, though thankfully Black arrives soon after on his motorcycle. He knocks a few guys down but is overtaken pretty quickly (seriously, this is your plan?), until Gye-dong turns the tables by taking out a gun.
Suddenly all the baddies back away with their hands up. That's… it? Most anticlimactic rescue ever. Black rushes over to Swan and cradles her in his arms, and tries to pour some water into her mouth to revive her.
She just coughs it up, so then he takes a swig of water himself and kiss-feeds it to her. Lol, I fail to see how this is more efficient than bottle-feeding her, but okay. He holds her tenderly, though sadly she isn't awake to see the way he looks at her. He finds the compass she made and puts it back around her neck and hugs her close.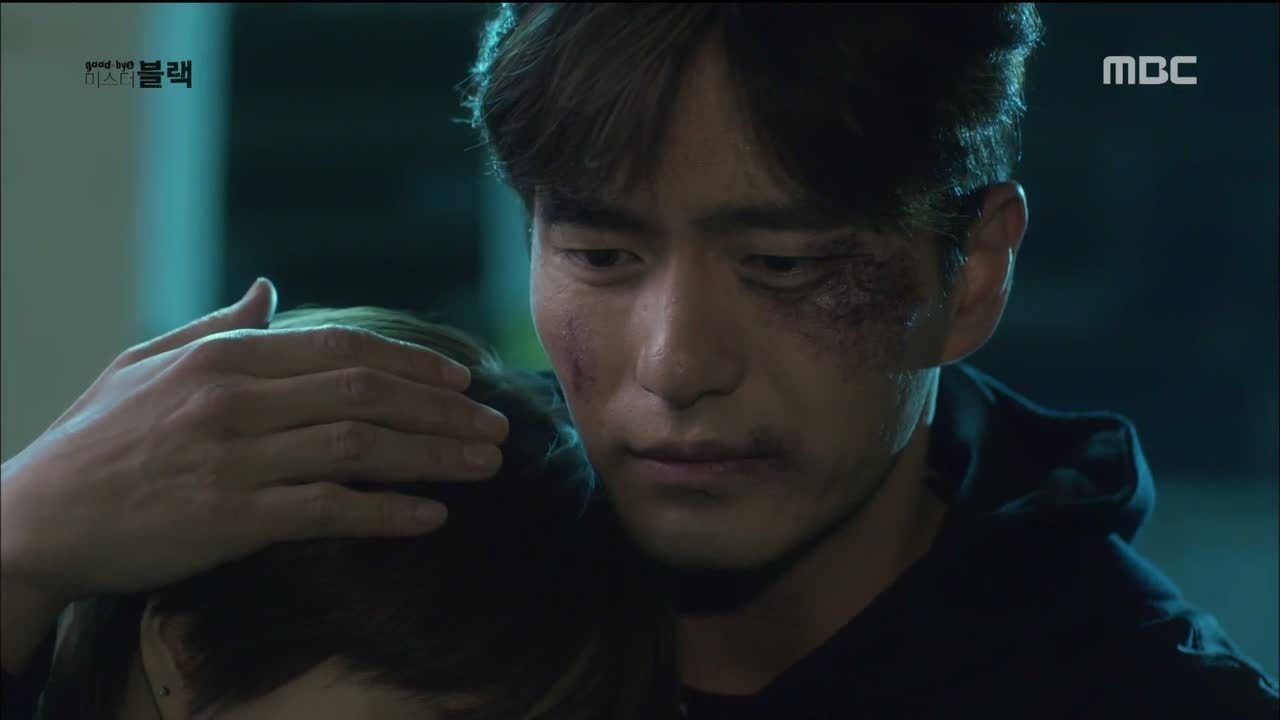 Sun-jae arrives a step behind the ambulance that's here for Swan, and is shocked when he catches a glimpse of a man on a motorcycle, thinking it could be Black. Gye-dong rides in the ambulance along with Swan, and as the paramedics try to revive her by asking her name, he's stunned to hear her murmur, "Baek Eun-young." Gack, are you really Teacher Baek's daughter? Say it ain't so!
Sun-jae frantically calls the prosecutor to tattle on Black's jailbreak, and the prosecutor storms into the hospital with detectives in tow, demanding to be let into the operating room. Ji-ryun stalls him by insisting that he doesn't have a warrant, though it might not be for long…
Outside, Sung-min paces until Black arrives on his motorcycle, but he literally collapses into Sung-min's arms as soon as he gets off the bike. At the same time, Ji-ryun and Dark Blue Panda rush to the ambulance as Swan is wheeled out, and Panda is livid that Sun-jae did this to her.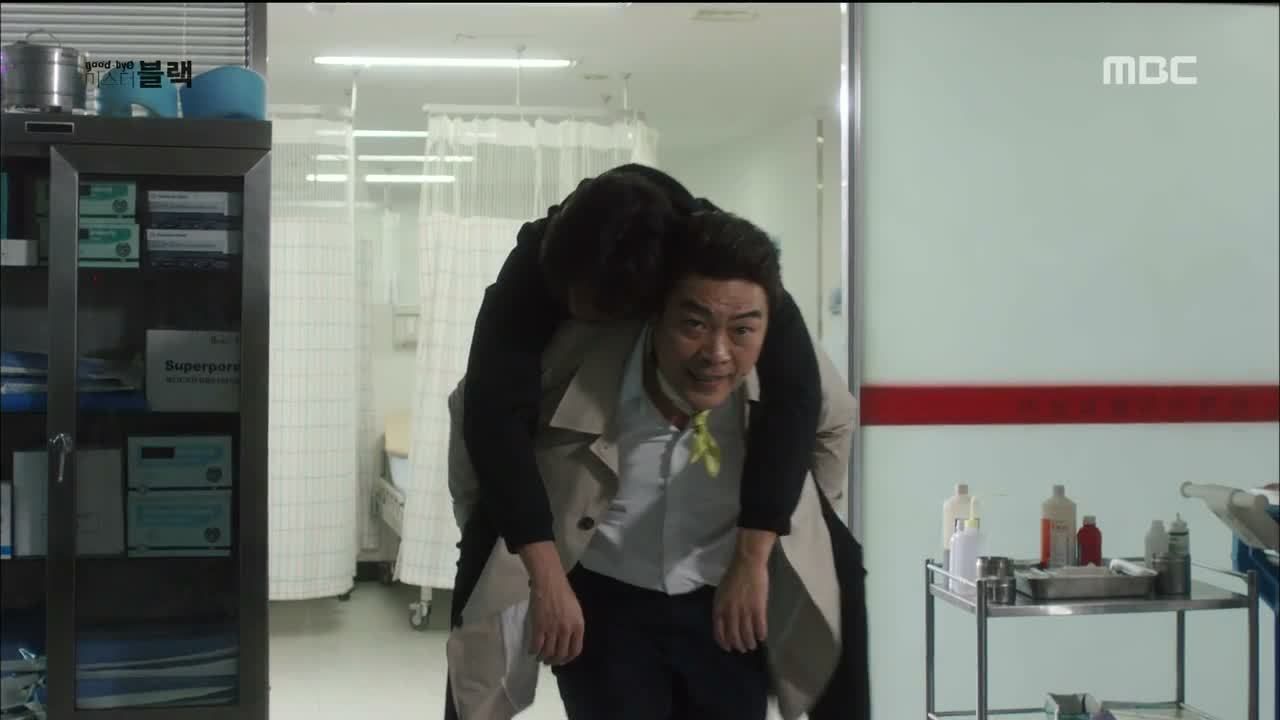 Sung-min piggybacks Black into the hospital, somehow getting him in unseen, and Black regains enough strength to put his own heart monitor feeds back on in the operating room. He and Sung-min exchange little smiles.
Sung-min then wheels Black out through the front door for the prosecutor to see, and now Black's alibi is airtight. Nicely done.
Teacher Baek hears about Black planning his jailbreak from the start, all in an effort to save Swan. Swan is recovering in the hospital, where her name is recorded as Baek Eun-young, and Panda is furious that Sun-jae might get away with all this. But Ji-ryun says he should write an article, and that he'll set the stage.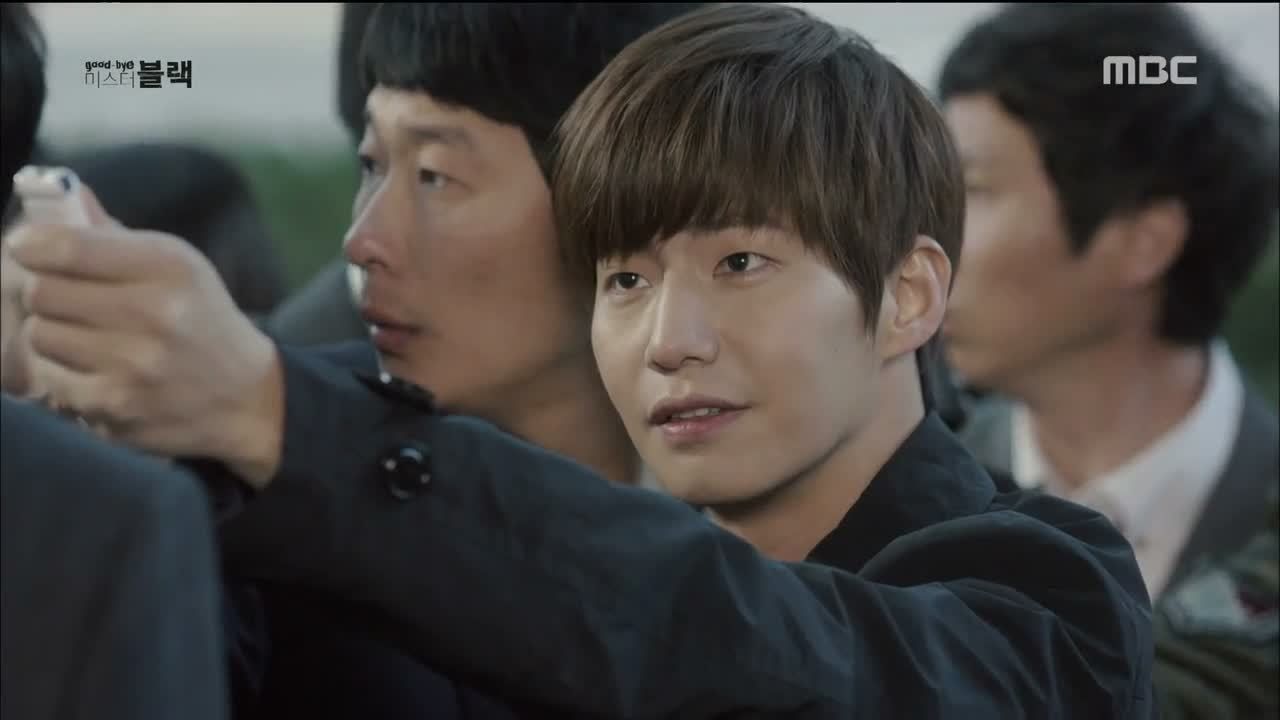 True to his word, Ji-ryun has a whole gaggle of reporters gathered to hear his statement, and the Panda News team is there to feed him incendiary questions about Black's false confession and prison attack. Ji-ryun says they're going to appeal the murder charge, and find the person responsible for the attack.
Even the prosecutor's hands are tied once the story goes public, and Sun-jae fumes over the appeal. The prosecutor points out that he's the one who kidnapped Swan and made it impossible to keep this quiet. Yeah buddy, I know you're evil, but you're the one who broke your promises!
Meanwhile, VP Seo has been digging around into Teacher Baek's past, and is surprised to learn that he had a wife and daughter while living in Thailand. They both died in a tsunami and there's no surviving record of either of them.
At the same time, Panda insists that Swan's name card be changed at the hospital, because no matter what she said in the ambulance, her name isn't Baek Eun-young.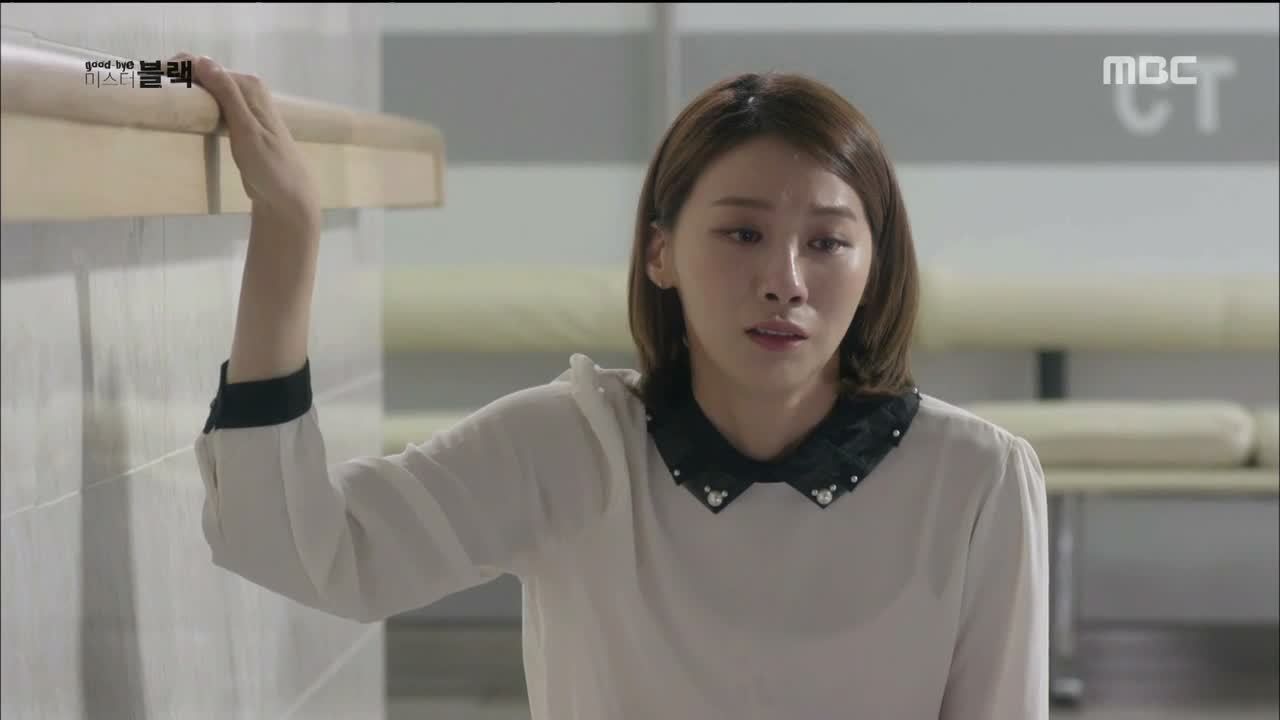 Mari and her nosy housekeeper come by to sneak a visit with Black, and Mari approaches the bed in tears. She faints before he can even wake up and see her, and the doctor tells her she needs to rest and take some tests. Mari asks about the baby, and the doctor looks over her chart, looking confused. Uh-oh…
The doc tells her that she's sure Mari isn't pregnant, and asks if maybe the shots she's been getting have been hormone shots, which would mimic the signs of early-stage pregnancy. Mari is crushed and collapses in tears, and then her anger boils over when she thinks of all the times Sun-jae used the baby to manipulate her.
Black wakes up, much to Gye-dong's relief, and he seems fine though he purposely ignores any discussion of Swan. Ji-soo is at home with Ji-ryun, who asks if Sun-jae forced her to give him power of attorney over her shares of Sunwoo Group. She says no, she signed them over willingly because she trusted him, and liked him.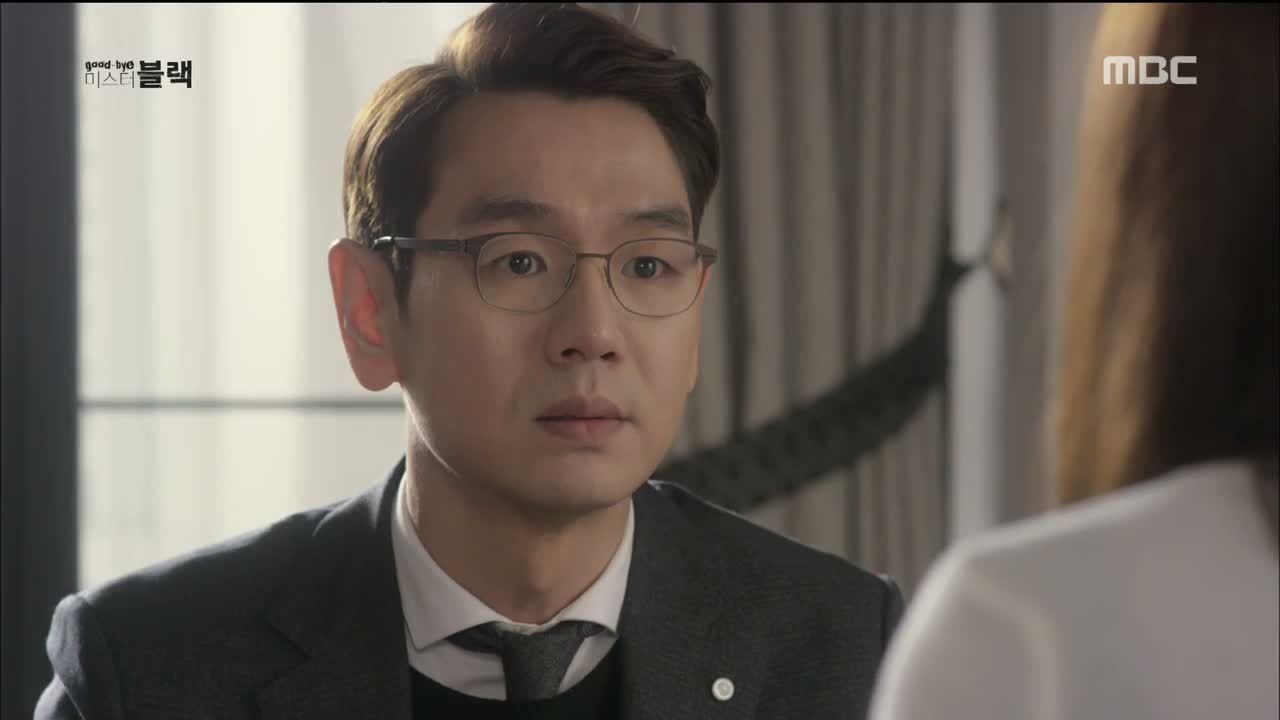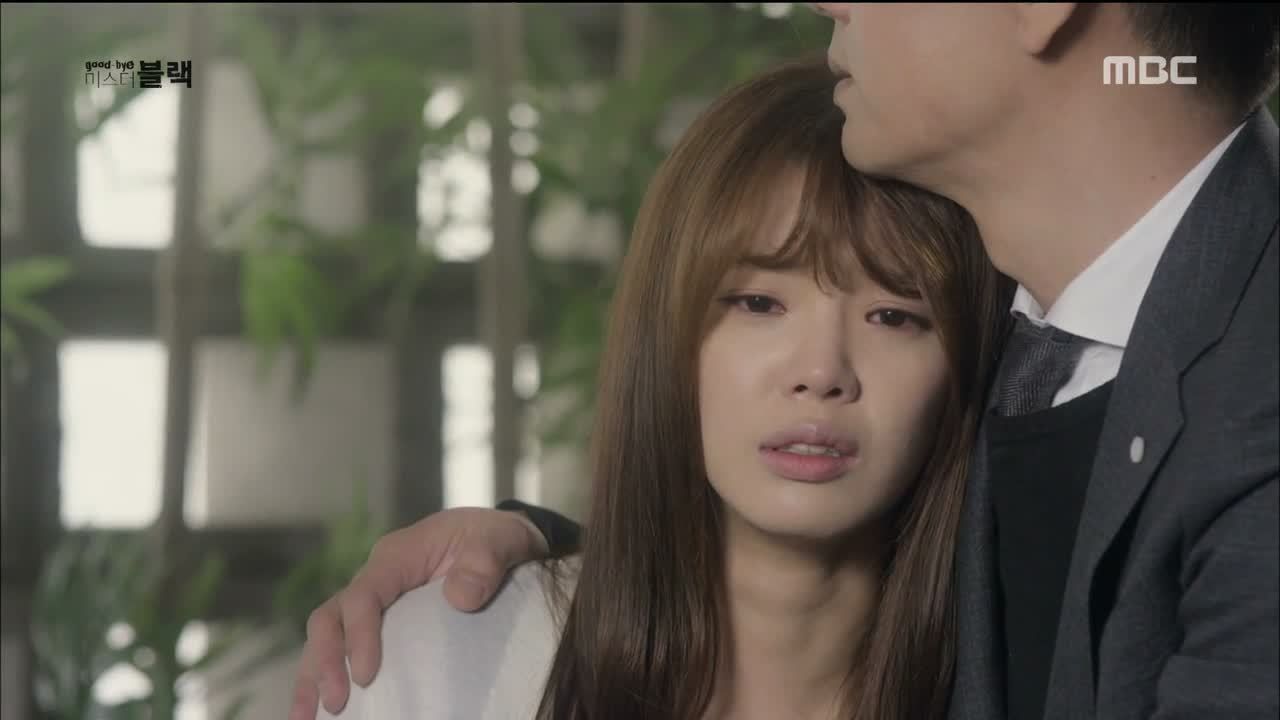 Ji-ryun tries to make her feel better by asking what her best memories are, but Ji-soo says all her memories, good or bad, include Sun-jae. Man, that's gotta suck. Ji-ryun moves to sit next to her and puts an arm around her comfortingly, and she leans on his shoulder to cry.
Sun-jae comes home to find Mari in good spirits, though he's a little taken aback when she says she couldn't eat a single thing today because of morning sickness. She's obviously talking about the pregnancy to get a reaction out of him, but he keeps the act up and makes her dinner, while Mari glares daggers into his back every time he says another baby-related lie.
Sun-jae gets word that Black woke up, and he tells his staff to begin preparations to bankrupt Sunwoo Construction. He plans to make it so that there's nothing left for Black to come back to, even if he manages to get out of prison.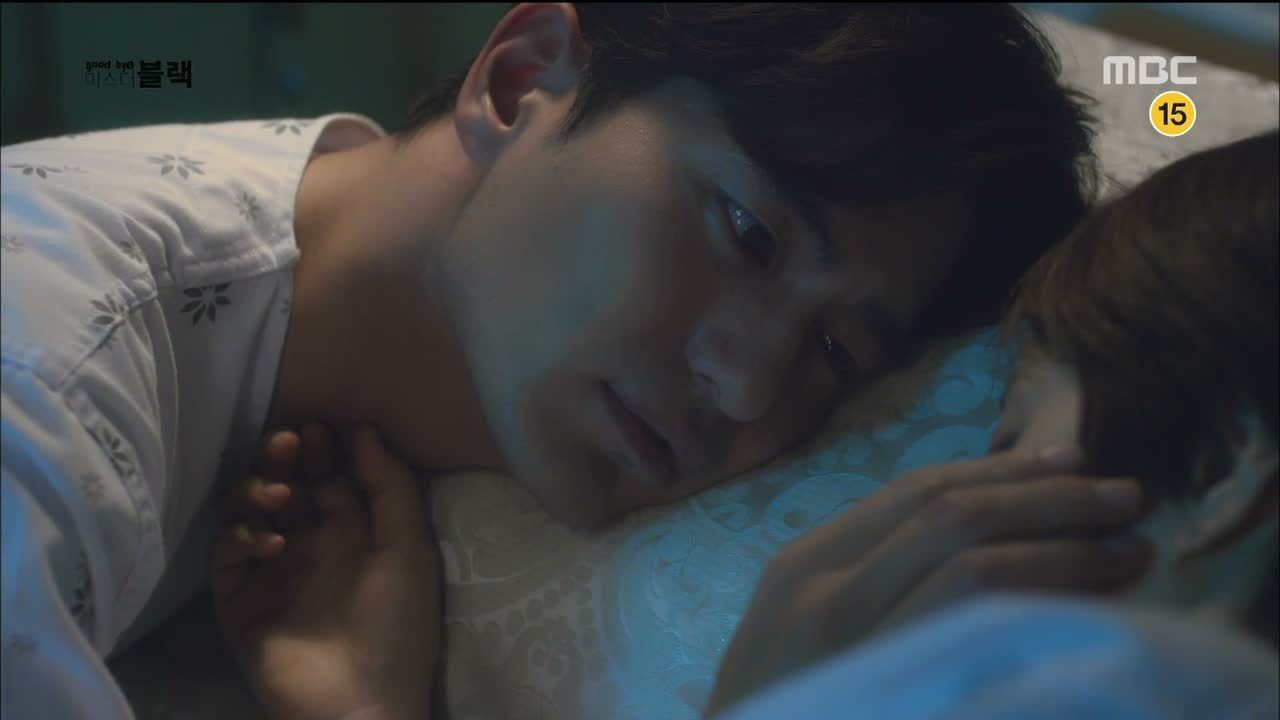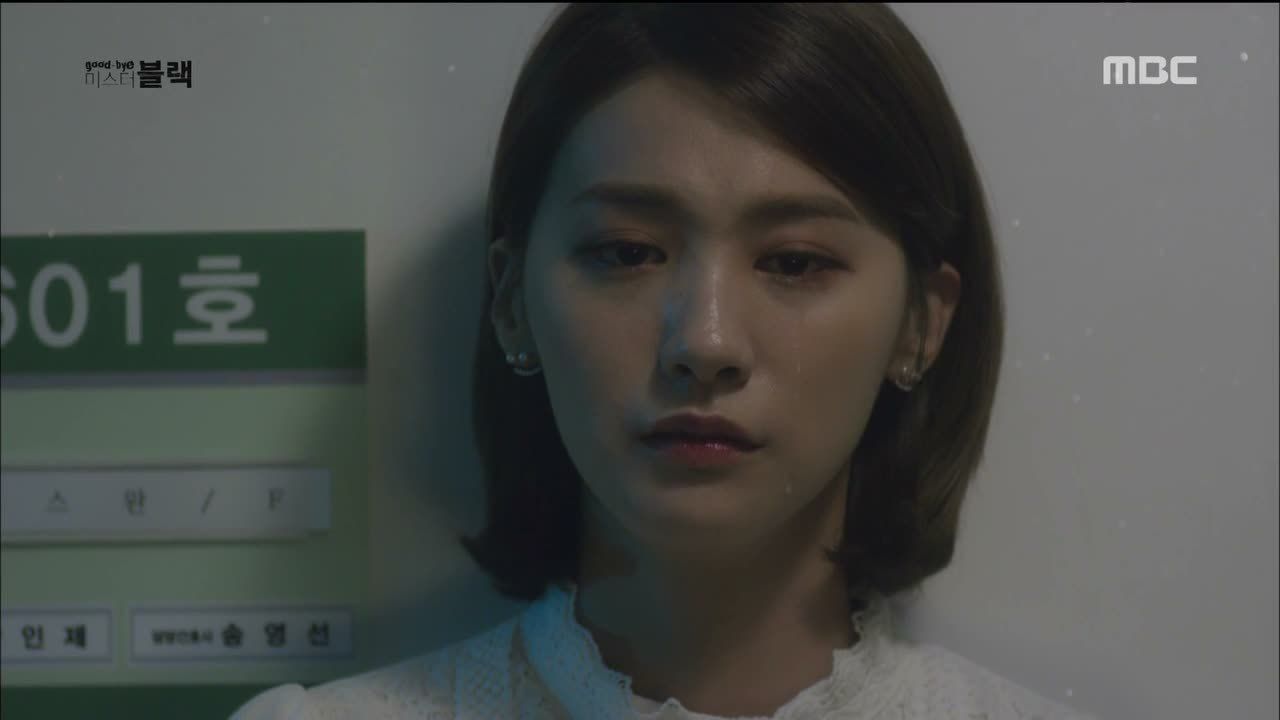 Mari comes by to see Black again, but his hospital bed is empty. That's because he's in Swan's room, watching her sleep. He runs his fingers over the bruises on her wrist from the kidnapping, and leans his head down on the pillow so that he's lying next to her.
As he caresses her face, he recites the poem she'd quoted in her letter, about missing her for a long time and just being thankful that she's okay. As he closes his eyes and falls asleep beside her, he thinks, "Kim Swan, thank you. Be well."
Aw, why does that sound like another goodbye? Outside, Mari sees them together and cries, as she realizes that Black wasn't lying to her about moving on and forgetting her.
In the morning, Swan is awake and unaware of Black's visit or the fact that he rescued her, and when Mom suggests she quit the newspaper and come home, Swan agrees in a defeated voice. Panda flails over her quitting, but for now he focuses on getting her home.
They run into Black and Sung-min in the hallway, but this time it's Swan who coldly ignores Black and walks right past him. Saaaaad. But that's what you get for pushing her away!
Ji-ryun comes by to give Black the good news that he's allowed to stay at home under house arrest (really?), though obviously he can't go anywhere other than the courthouse. Ji-ryun wants him to consider his health and get surgery, but Black argues that something could go wrong. After what happened to Swan, he's more determined than ever not to leave the bad guys around where they can get to the people he loves.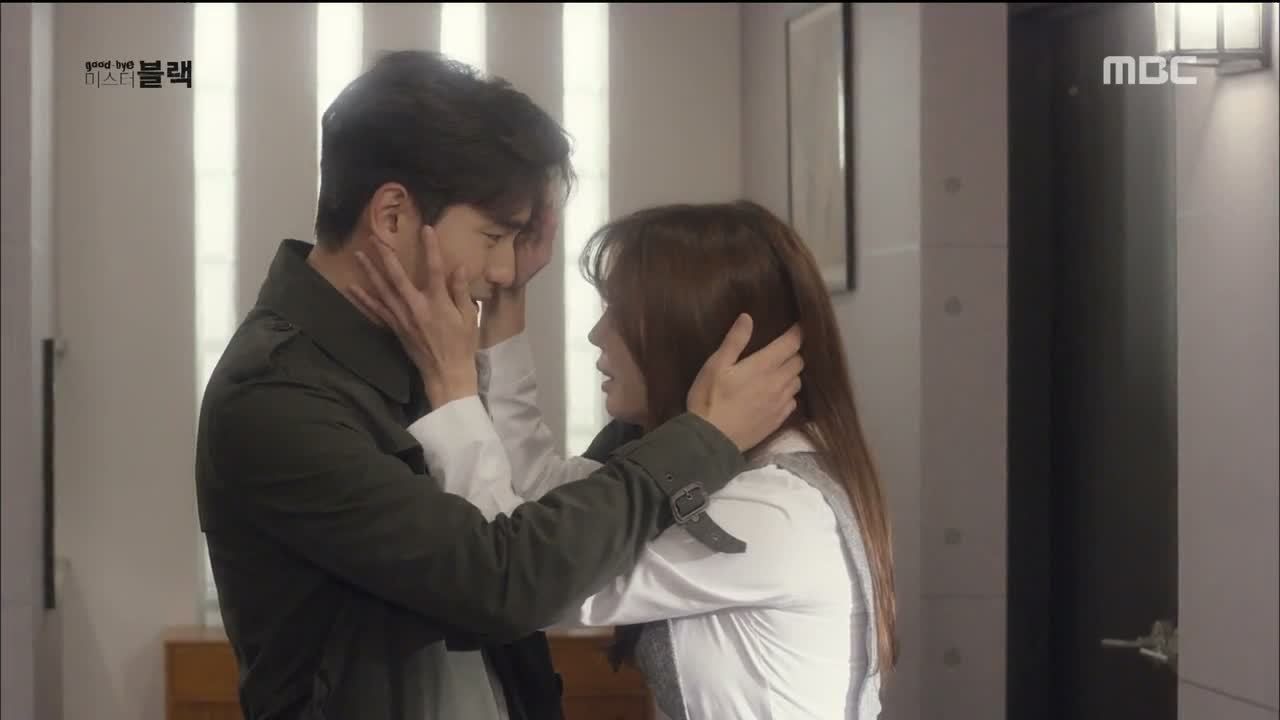 Black comes home where his team and Ji-soo are waiting with cake, and he hugs his little sister warmly. Black says he has something to say to Sung-min, and then we cut to Sung-min whining, "Are you… breaking up with me?!" Hee.
Black remains stone-faced and says things will become even more dangerous now for the people beside him, while Sung-min sputters that they've become attached and he can't just break up with him like this: "People need time to say goodbye! I'm not emotionally prepared for this. And… where will I meet another man like you?" Pwahahaha.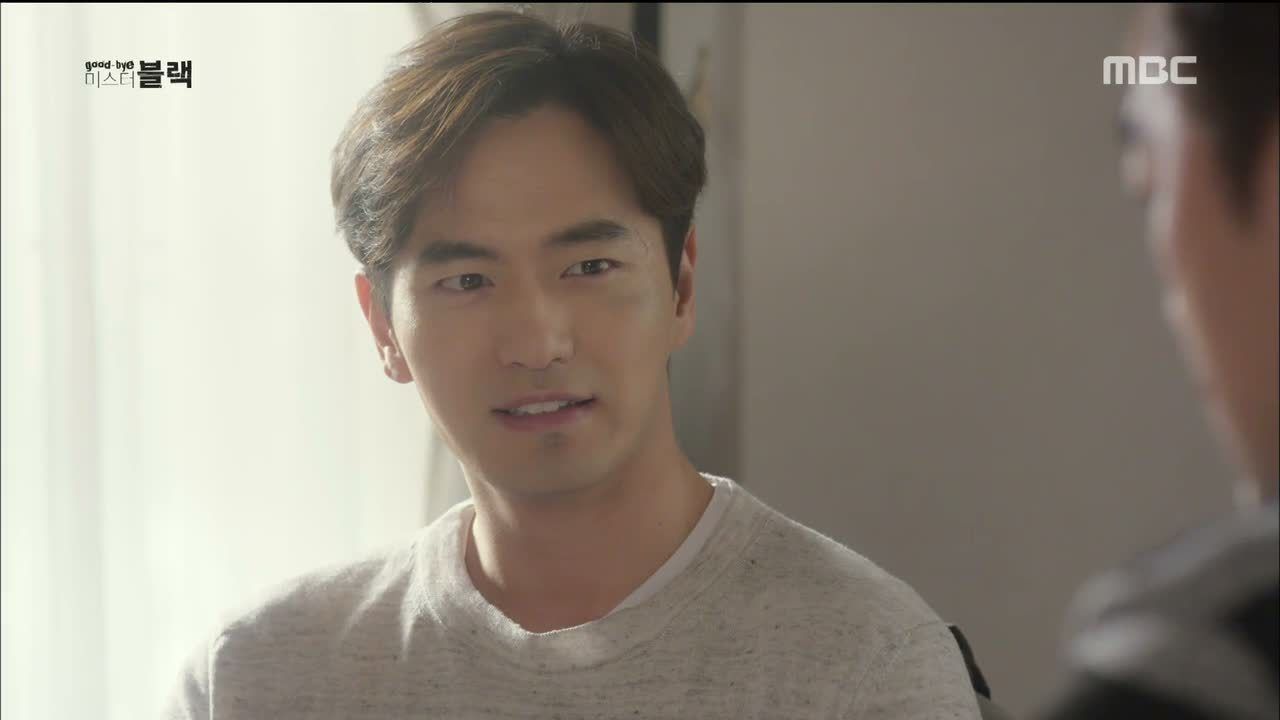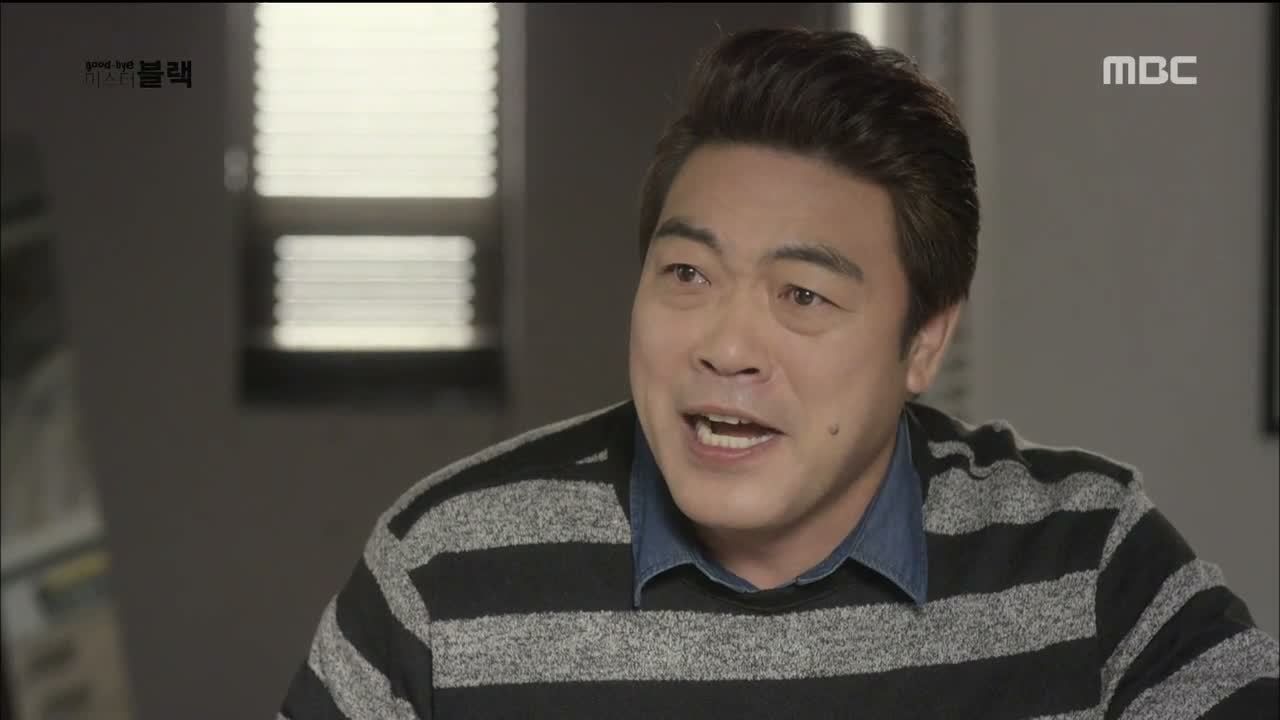 Sung-min refuses Black's offer to take half of what they've earned thus far, pointing out that he could just stick around and have it all when Black dies. Sung-min is convinced it should be till-death-do-us-part for them, but Black cuts him off and asks what if harm comes to May? (I guess she really is his daughter? I was honestly unsure.) He doesn't have an answer for that, and Black says he's grateful for everything.
Swan quits her job at Panda News, and Woo-jin can't convince her otherwise. She says that the dream is over, so she wants to rest now. Woo-jin: "Can't I make you dream that dream? Can't it be me?" Aw, Panda. She doesn't answer, but the awkward way she avoids eye contact is answer enough.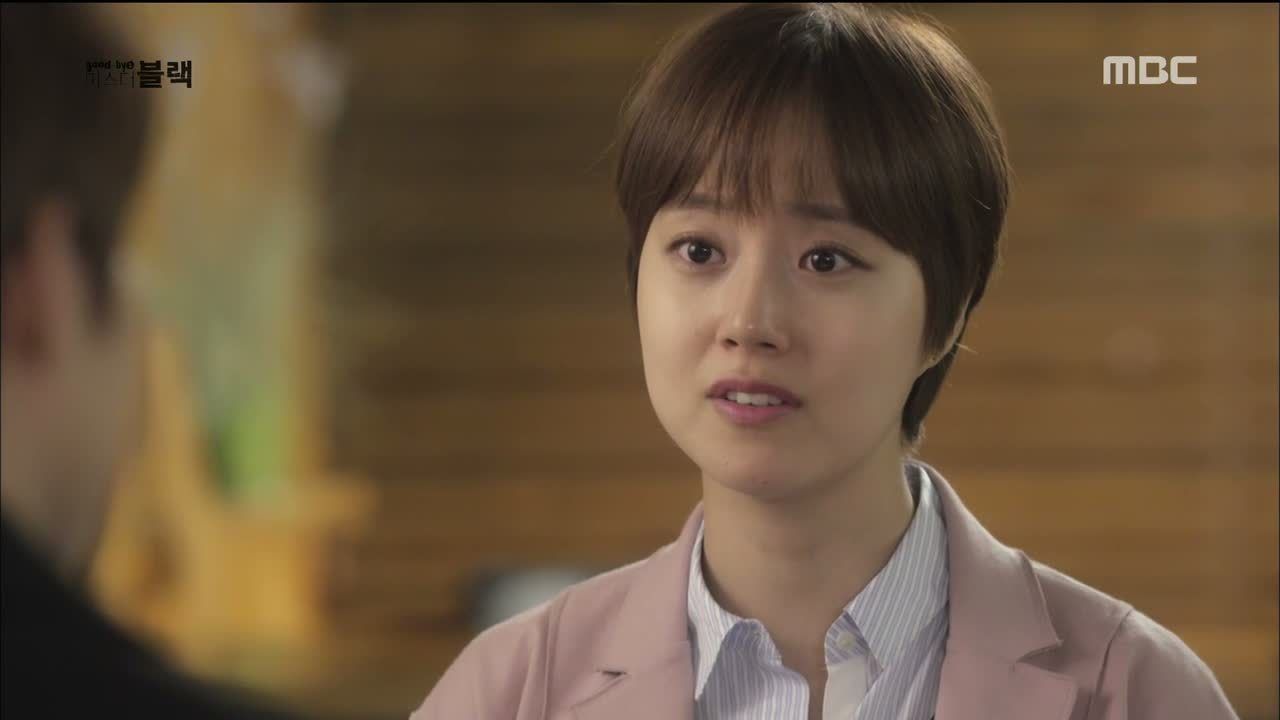 Panda threatens not to write that article about Black, but Swan knows he's bluffing. She says that he's the best reporter she knows, and she trusts him to write the truth. It's cute that it lifts his mood, even after being rejected.
Swan heads over to visit Ji-soo when she calls, and is surprised when Black opens the door. She remains detached as she asks for Ji-soo, and Black tries not to betray any emotion as he shows her in.
Swan helps Ji-soo take a bath, and Ji-soo says she just wanted to make sure that Swan was okay after the kidnapping, and not so traumatized that she couldn't eat or sleep. That just makes Swan realize what a hard time Ji-soo had being held captive for years, when she was so scared over a few hours.
They commiserate over what went through their minds, from thoughts of escape to utter defeat, to wondering why no one was rescuing them, to missing even their enemies. Swan: "You wait for people who can't come, and miss the people you can't see." Black overhears them and his heart sinks.
Ji-soo insists that Swan stay for dinner, but she can tell there's something off about Black and Swan. She takes out her brother's gold compass and asks which of them she's supposed to return it to, and Swan says it belongs to Black. Swan is about to get up and leave when the doorbell rings and Mari shows up acting bizarrely friendly.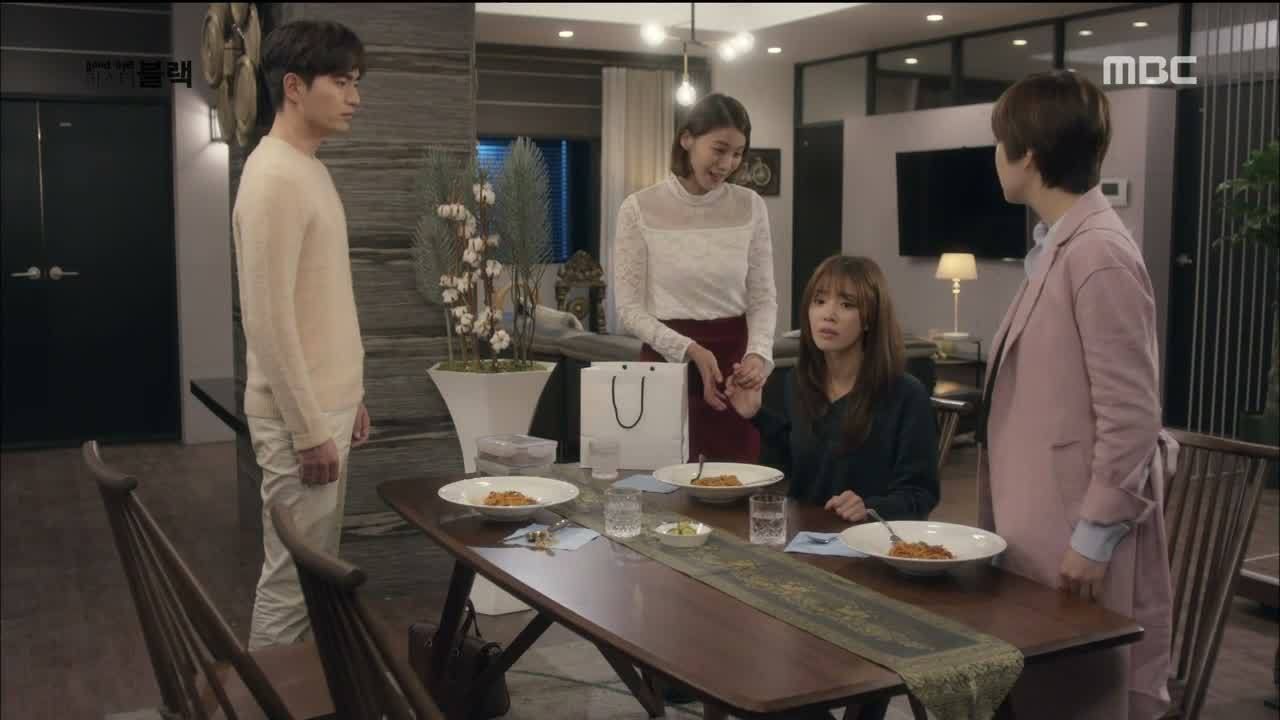 It's awkward as hell, and even Black has no idea what Mari is doing here with side dishes like she's his girlfriend and has amnesia about the part where she married his best friend. But he plays the part like they're on great terms, because he's a noble idiot who thinks that digging that knife deeper will somehow make Swan better off. Bah.
Ji-soo feels the ring on Mari's finger and asks if she got married, but Mari says of course not—how could she leave Black and get married? Huh? Did we enter the twilight zone or something? Mari takes her ring off and puts it on the table, and Black stares at Mari, while Swan can't take her eyes off that ring. I have no idea what's going on right now. Did people get drunk without me?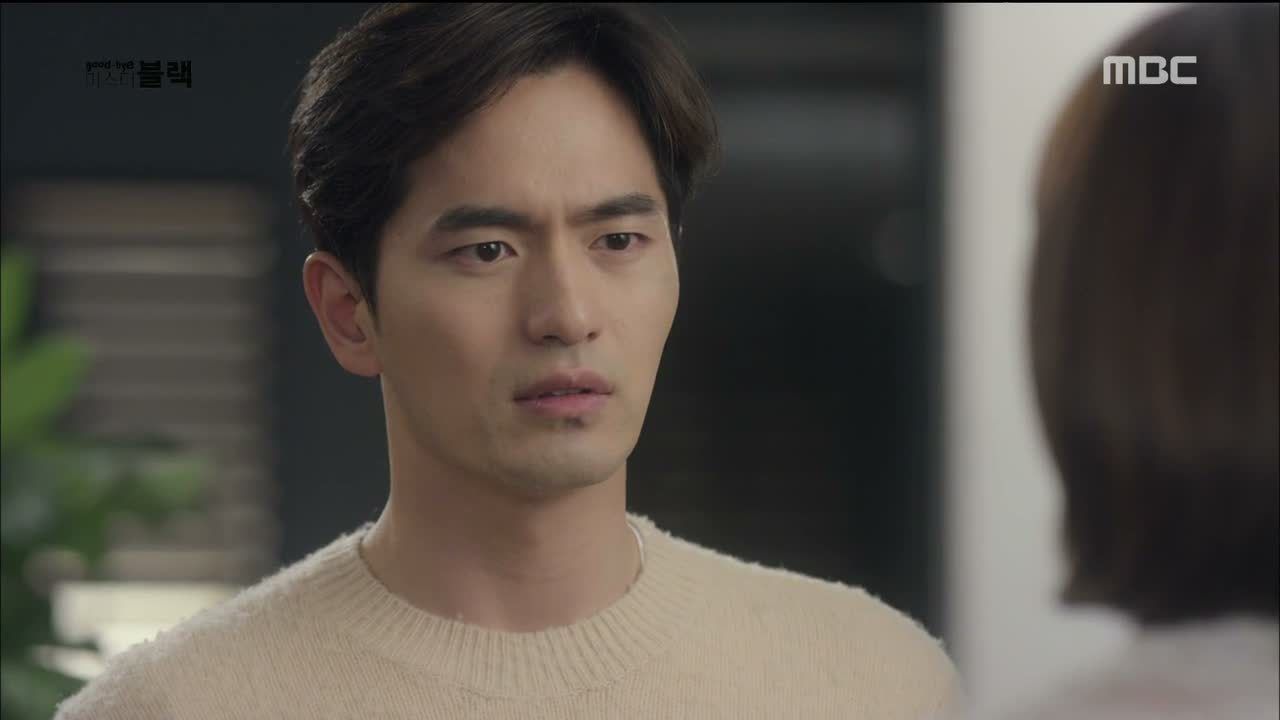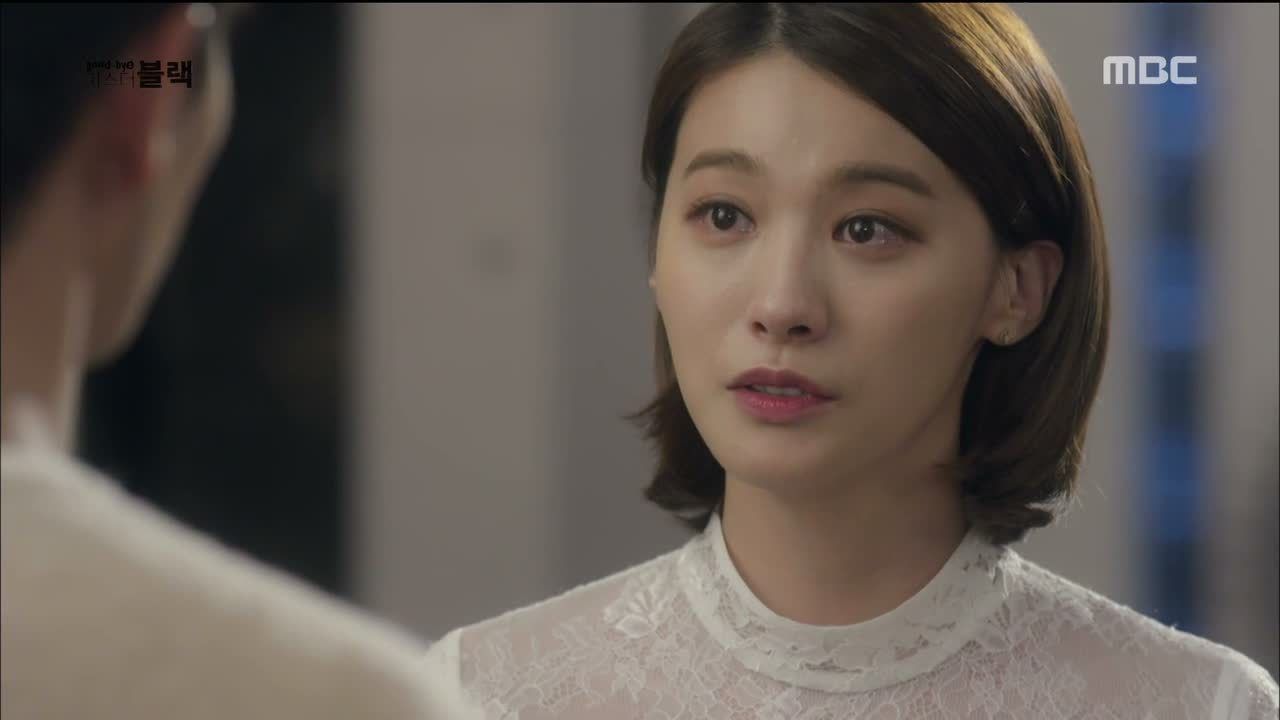 Black leads Ji-soo to her room and promises to tell her about everything that's happened over the last five years, but asks for some time to sort things out first. Mari is the only one left when he comes back out, and she shocks him by saying that they should go back to the way things were five years ago.
Mari says she's not asking him to love her, because she knows he can't force that, so she'll do it for the both of them: "I'm a good liar now." What the? So now that you finally know what a bastard your husband is, you want your boyfriend back? Just like that?! Wow, I wasn't planning on hating you, but you're making it hard.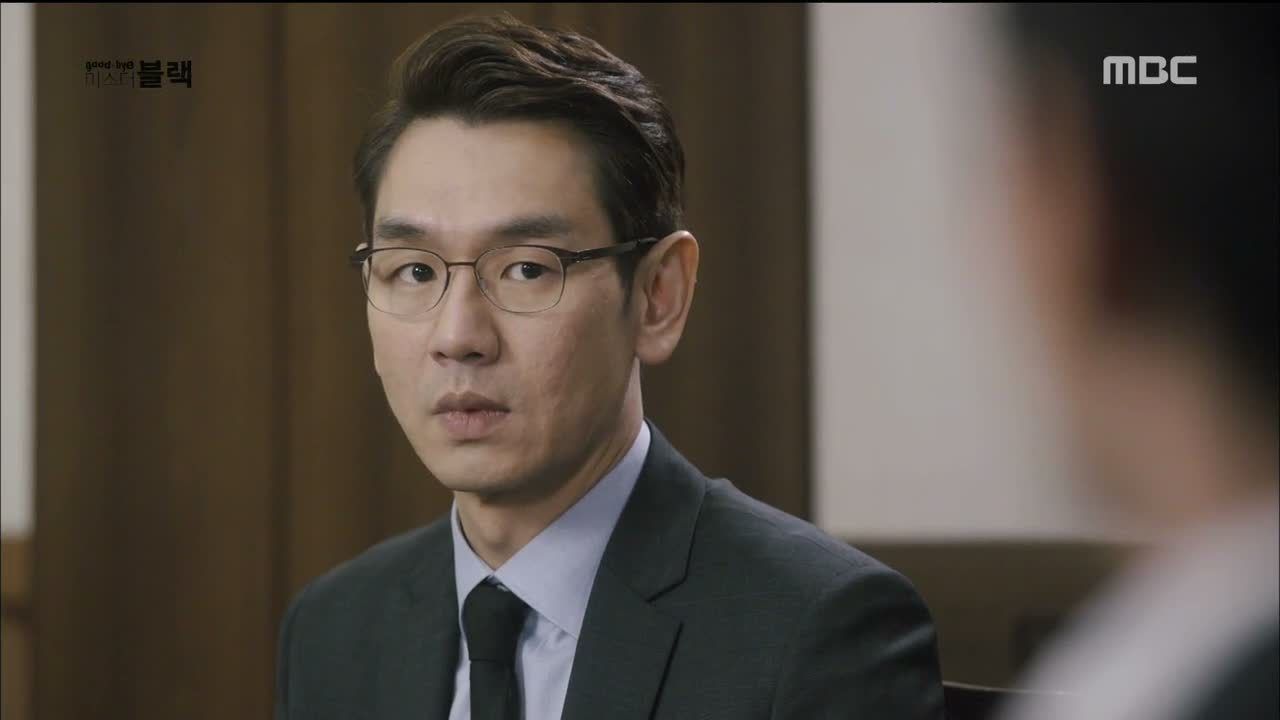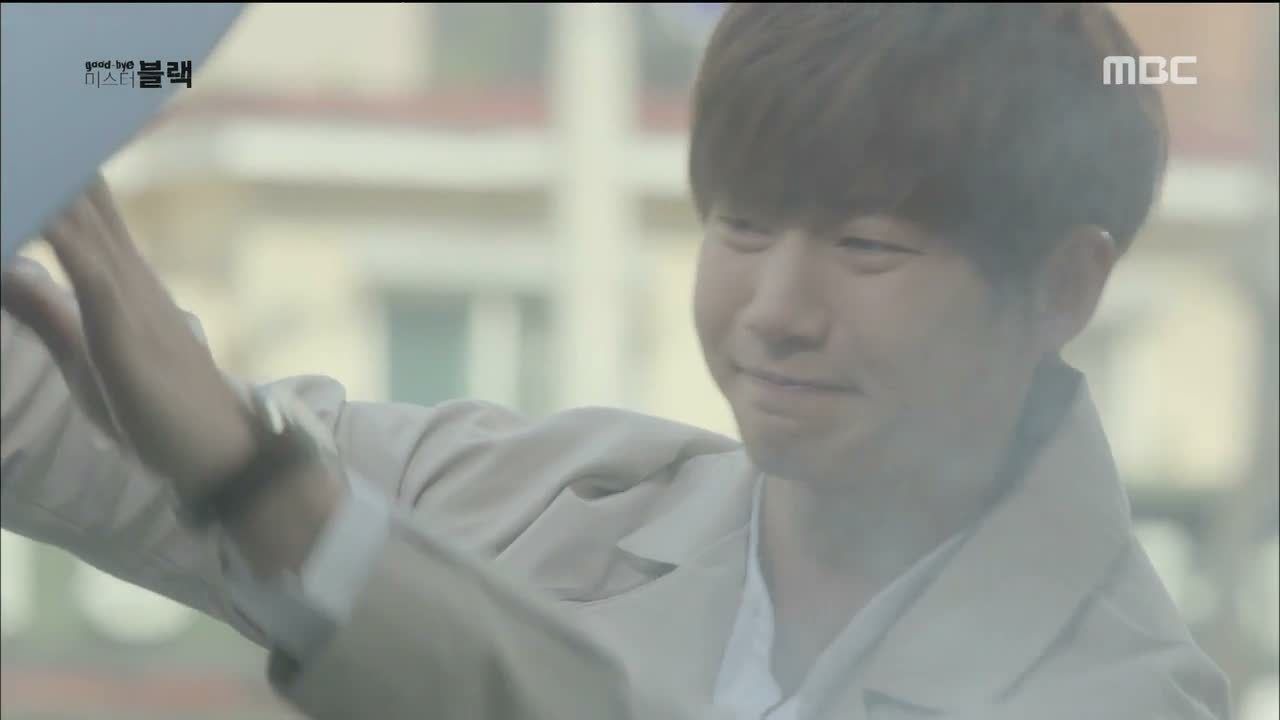 Black's trial resumes, and the prosecutor grills him on the confession that he's overturning now, and accuses Black of trying to seduce Mari, which he says was motive for stabbing Sun-jae. The defense is clearly stalling today, and we see why when Woo-jin is across town getting a copy of the footage where Black supposedly shot the henchman in Thailand.
Woo-jin sends a text to Ji-ryun that the footage is different from the copies they've seen and rushes back with it, only to have engine trouble on the way. He remembers Swan telling him that she trusts him because he's the best reporter she knows, and grouses as he takes off running.
Ji-ryun uses up all his stalling time in court and things look grim, but of course Woo-jin bursts into the courtroom at the very last second. Ji-ryun is able to show that two versions of the crime scene footage exist, and in this one Black is pointing his gun at the man's shoulder, not his head, plus there's no recoil from the supposed shot.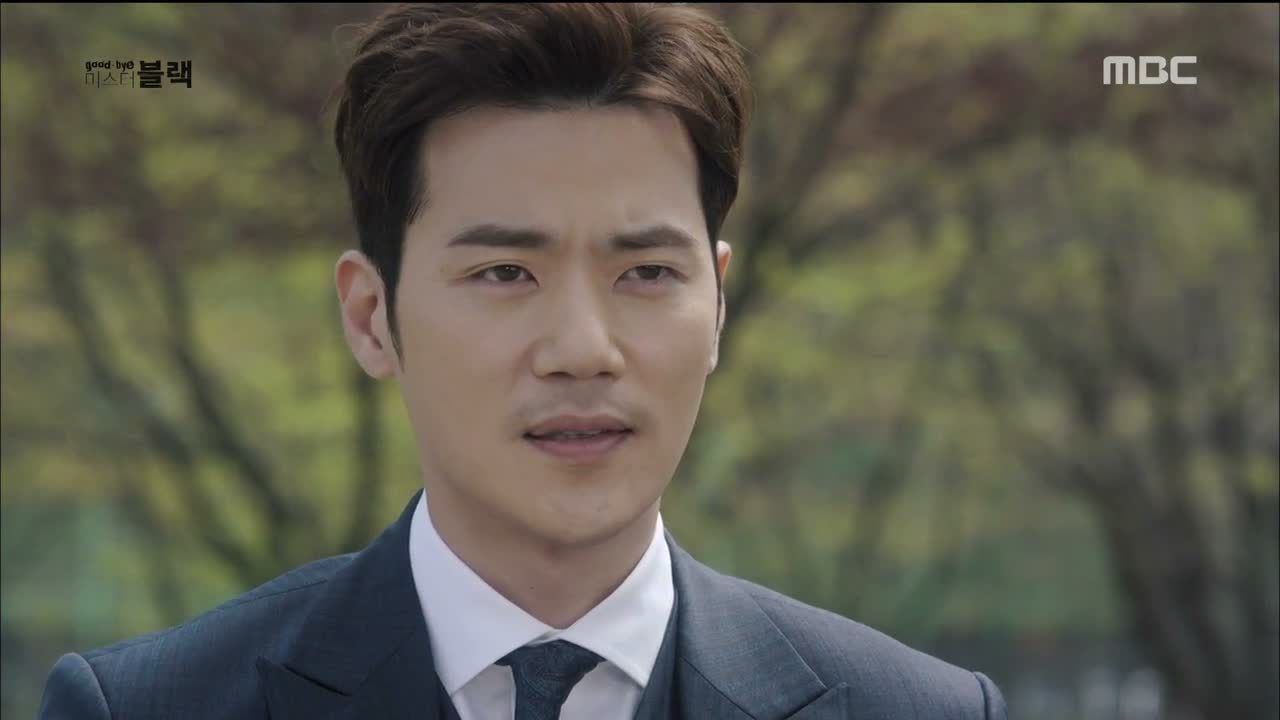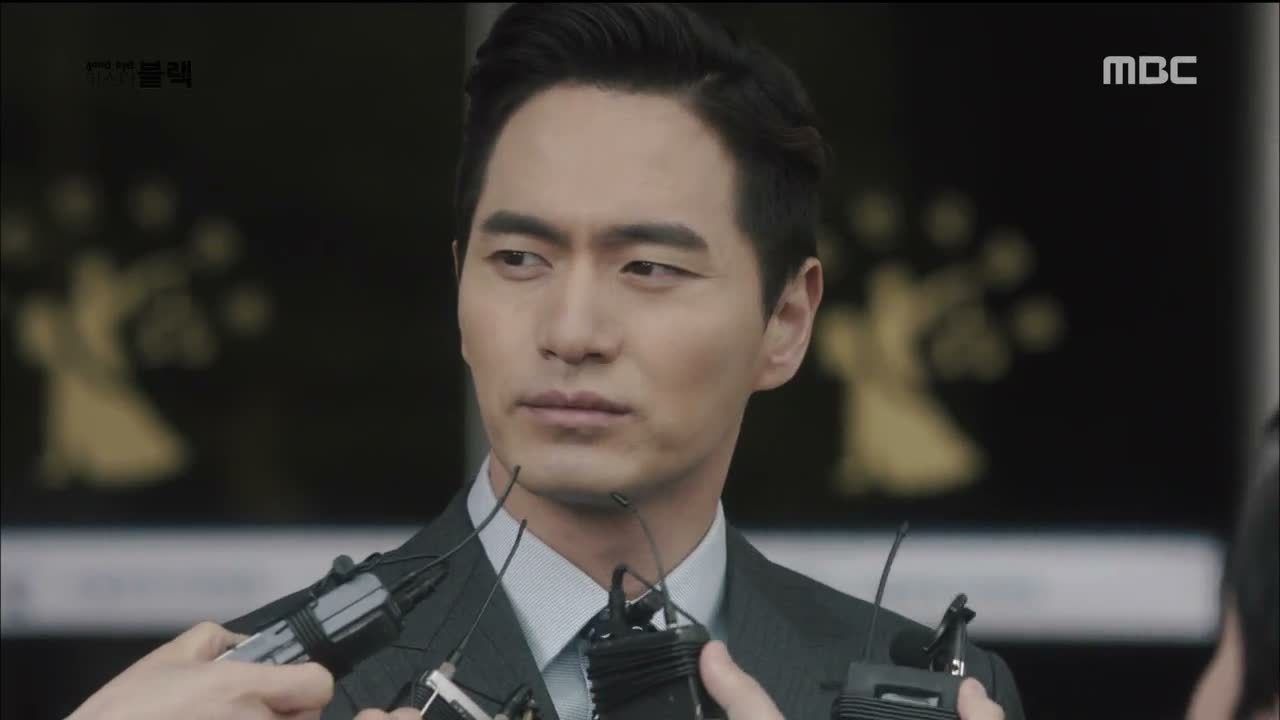 It's enough to prove that at least one of the videos was tampered with, which negates both versions being admitted as evidence. Smart. The prosecution sweats, and Ji-ryun makes a convincing closing argument that there's more than enough doubt that they can't convict.
In his final testimony, Black stands up and says, "I have not killed anyone. If I have sinned, my sin is trusting someone, and trusting them again." In the end the judge declares him innocent, and Black walks out with Ji-ryun to a crowd of reporters as Sun-jae watches from a distance, trying to force a confident smile.
When Teacher Baek hears the news, he decides that it's time to switch business partners now that the owner of Sunwoo Group has returned.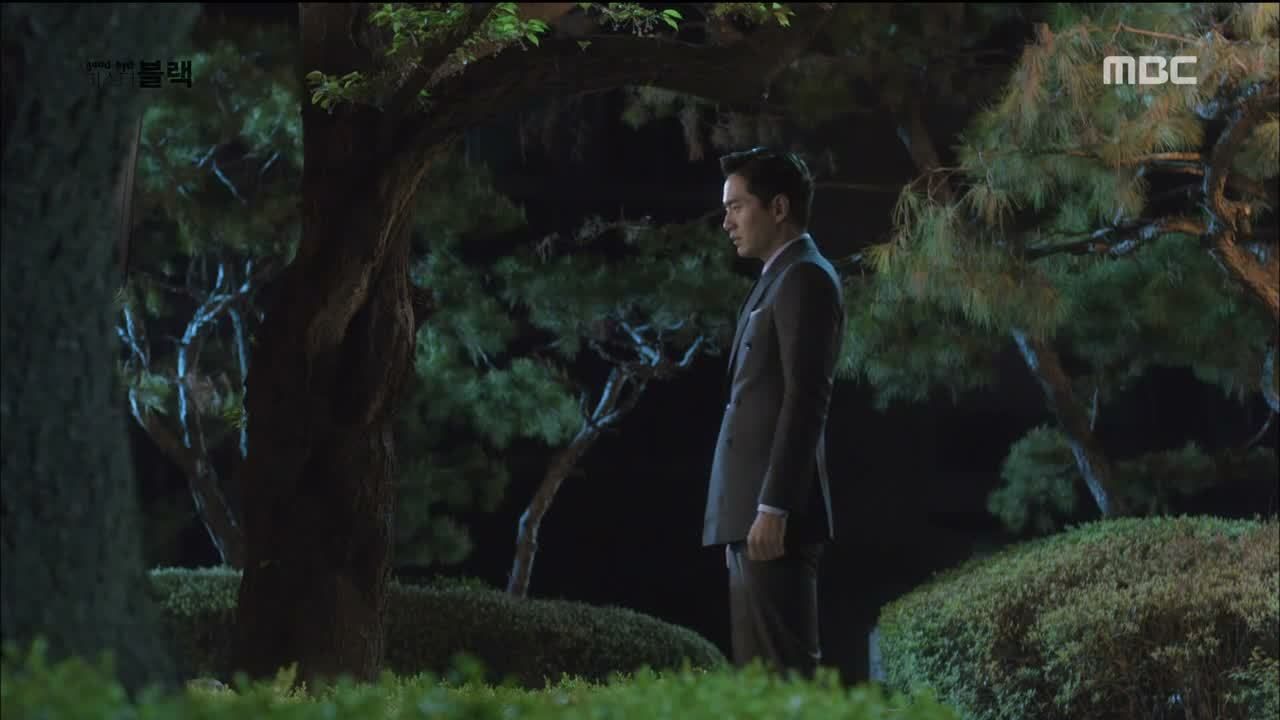 Word of Black's acquittal hits the news, and both Swan and Mari head out, probably with the same goal in mind. Sun-jae's dad guesses where she's going and quickly calls Sun-jae to warn him.
Black actually goes back to the police station, because he wants to revisit their backyard where he and Swan shared their last kiss. He imagines her running up to him like last time, only she disappears before his eyes.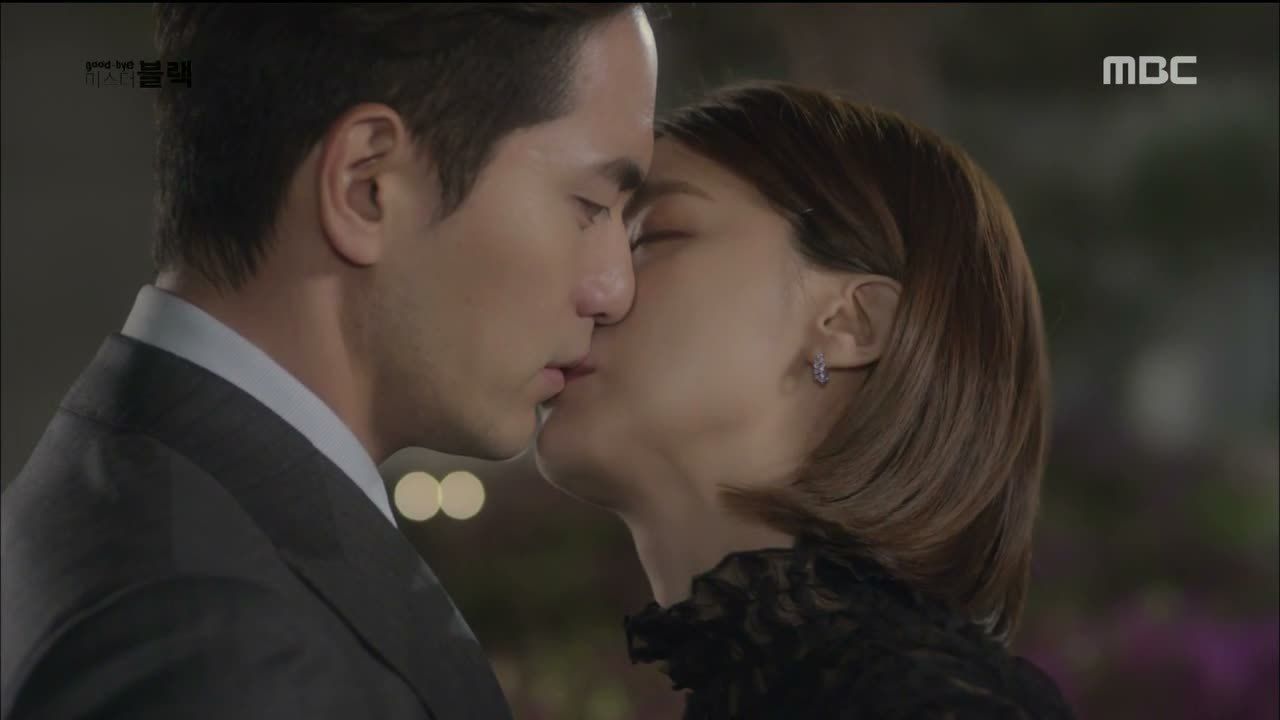 When he returns home, he finds Mari waiting outside his building. She asks if he's given any thought to her proposal, mentioning that Swan told her he said Mari's name even in his sleep. But Black is just fixated on the fact that she met Swan, and asks what Mari said to her.
Then of course Swan arrives in the distance and sees them together. Agh. Mari says that they were first loves once, and asks Black to let her use him. Her eyes go cold as she says that she's not going to let Sun-jae get away with this, and then we see Sun-jae arrive behind Swan.
Mari must see it too, because she suddenly yanks Black closer. He asks what she's doing, and Mari says, "Stay still, Sun-jae is watching." She kisses him, and Swan turns away heartbroken, only to come face to face with Sun-jae in the same position.

COMMENTS
Well that's awkward. You have to hand it to Kim Kang-woo for making me feel sorry for Sun-jae, even when I know he's a rat bastard who totally deserves this. It's just that right now, Mari is the bigger of two evils because she's messing with Swan ♥ Black, and that's pissing me off. I used to like her too, back when she was loyal to her choice in marrying Sun-jae, and even when she chose to be a little blind to his questionable behavior. It's certainly not her fault that she didn't know how deep and dirty Sun-jae's dark side was, because I'm sure she convinced herself that if nothing else, his love for her was pure. (Ironically, this is true, except he just manifests the love in criminal ways.)
So of course she's heartbroken to find out he'd do something as despicable as fake a pregnancy to keep her, and she should get revenge. It just drives me crazy that she's so willing to bring Black and Swan down with her for that revenge, as if their happiness means nothing compared to her pain. You can't just waltz back in and act like you're Black's girlfriend! That's crazy, and I'm irritated that Black isn't pushing her away. I guess it wouldn't bother me so much if Black weren't being a noble idiot with everyone right now, because it only helps to make the whole crazy scenario believable in Swan's eyes. And then, it's bad enough to break Swan's heart, but you had to go and break up with Sung-min too? How will he live without you? If Black actually agrees to let Mari use him for revenge next week, I'm gonna throw something.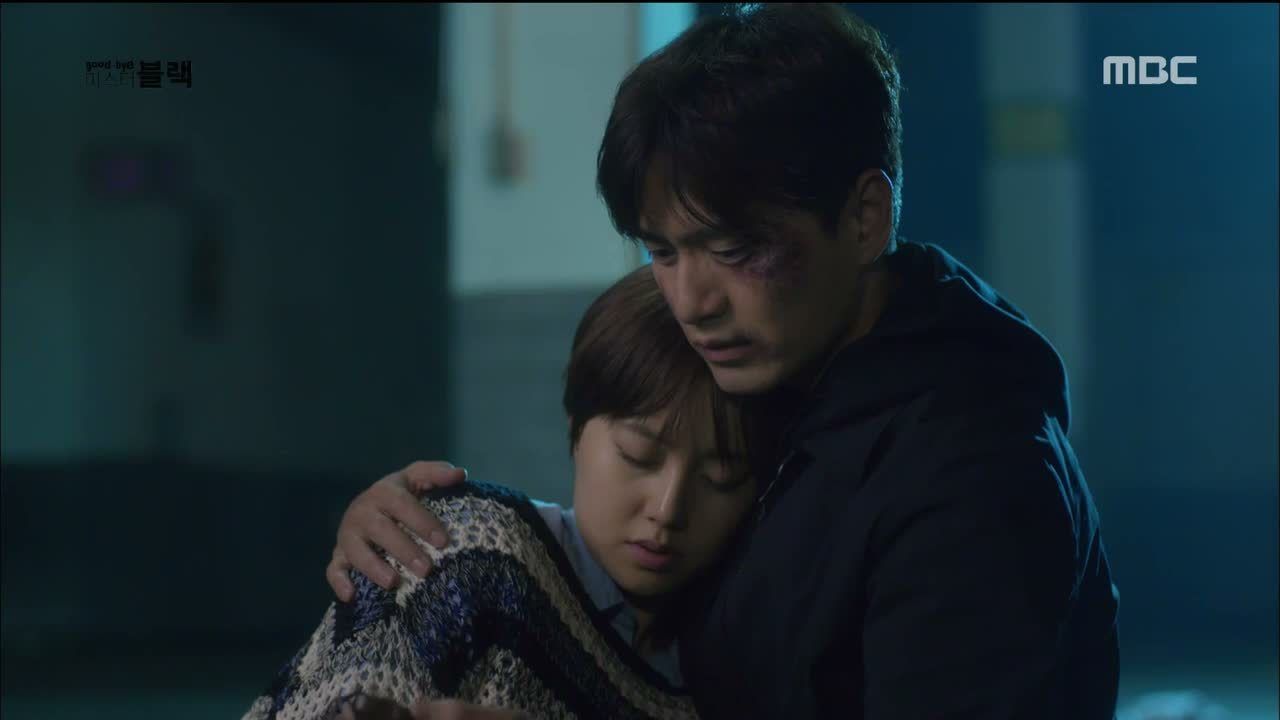 The show is actually better these days, but seriously, that was the most rinky-dink murder case ever. It's laughable to think of how long Black spent on the run to avoid getting caught when he could've been acquitted with such minimal effort, based on evidence that already existed five years ago. There are zero new discoveries, no new evidence, no new witnesses; it just had to be argued in court. That's it. The only suspense is created by a mad dash to the courthouse by Panda, to deliver what we already know to be true. It's a nice triumph for our hero, that's for sure, but narratively it's so anticlimactic, told in the least exciting way possible. I guess I should just get used to that by now, but I still want this show to be better. I want to be excited that Black busted out of prison just to go rescue Swan, and I want to ignore the fact that a monkey with a toy gun could've done it, because the whole kidnapping operation was just that slipshod.
Maybe there will actually be some good to come out of Swan's birth secret, if she becomes more entangled in the revenge scheme due to something other than her connection to Black. I know it makes sense for him to try and distance himself if he's putting her in danger, but if she really is Teacher Baek's daughter (and there were enough anvils in this episode to drive that home), then Black is going to face a different dilemma altogether, and maybe he'll stop pushing her away like a dummy. I would at least like to have her get her job back and return to her spunky reporter self, because a mopey Swan makes for a mopey Panda, and then we've got a restless zoo.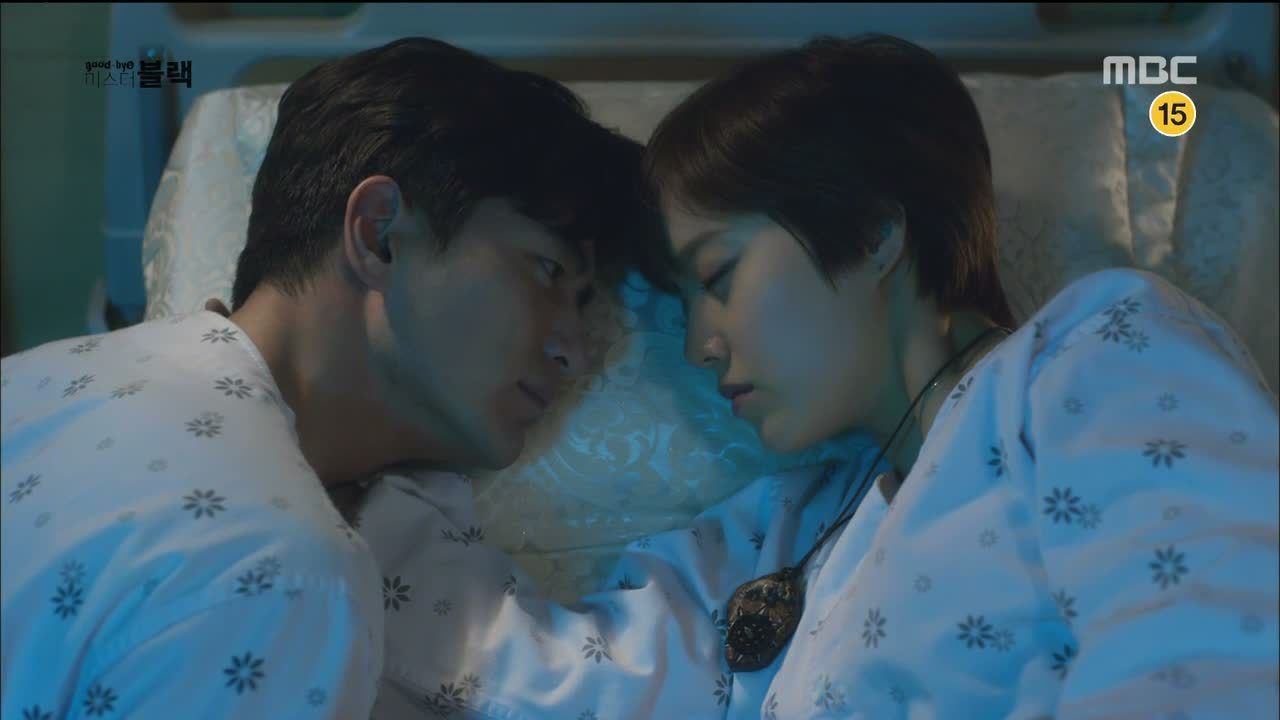 RELATED POSTS
Tags: Episode 12, featured, Goodbye Mr. Black, Kim Kang-woo, Lee Jin-wook, Moon Chae-won, Yoo In-young