Marriage Contract: Episode 15
Just as Ji-hoon convinces Hye-soo to give a real relationship a shot, they receive some bad news that knocks the wind out of their sails. They'll need each other more than ever now, but how can you be someone else's pillar when you feel like you're falling apart yourself? It's going to take herculean efforts on both of their parts to come to terms with what's happening, and be there for each other when they need it most.
EPISODE 15 RECAP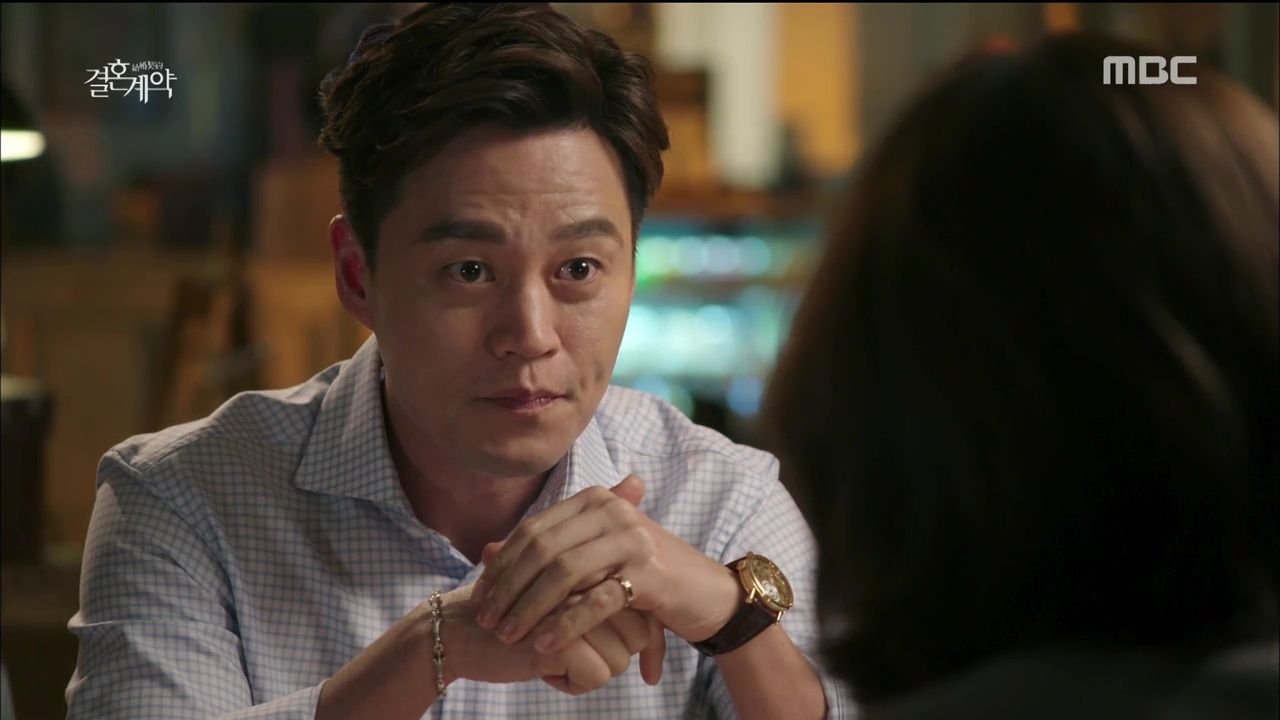 Ji-hoon meets Hye-soo and Eun-sung at the park, lilies in hand and ready to dispense hugs and kisses. He takes them to dinner where Hye-soo asks him if something happened today, noticing his lighter demeanor. He tells her that he's resolved the issue with his father and his objections to their relationship, but keeps the details deliberately vague.
He reminds Hye-soo that they're still married because they never finished the divorce paperwork, and he's still her husband and Eun-sung's father. He asks Eun-sung to call him "daddy," instead of Ajusshi, and tries one more time to get Hye-soo to call him "oppa" — his obsession with this is the cutest thing ever, I swear.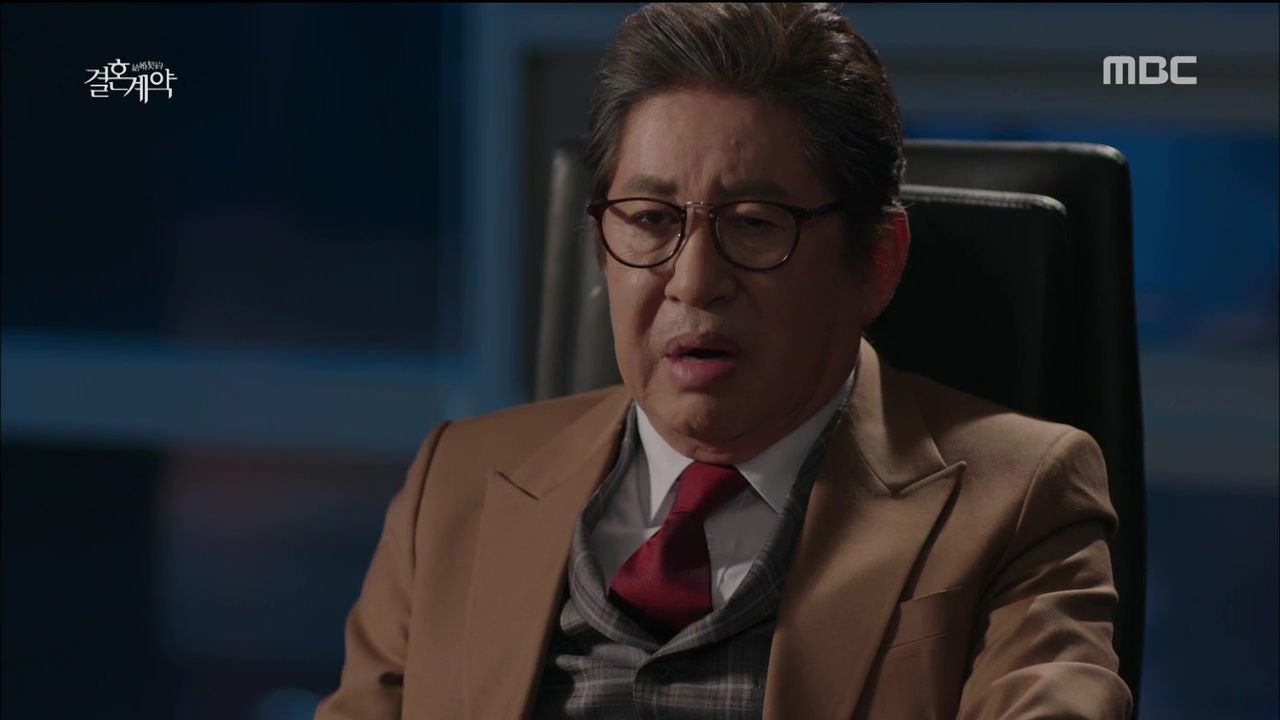 He's on a roll, and also declares that they'll start living together now. He succeeds in getting Eun-sung to call him Daddy, and they're so sweet that even Hye-soo has to smile at the two of them.
Chairman Han attempts to squash the rumors surrounding Ji-hoon among his employees, because forbidding people to gossip always works. Jung-hoon is actively working to push even more rumors, even calling reporters to leak information about Ji-hoon and his supposed organ-buying.
Ji-hoon arrives at Promise just as everyone is going home for the night, and pulls chef Soo-chang aside to talk. He announces that this is his last month at the restaurant and thanks Soo-chang for his help getting the place up and running.
Ji-hoon and Ho-joon have coffee up in his suite and Ho-joon tells him that he's overreacting, but Ji-hoon thinks he should pay for the "crime" he committed, even though Hye-soo didn't end up having the surgery. He tells Ho-joon that he's already found a job, and that he intends to stay married to Hye-soo.
That night Hye-soo's medication has her spending a lot of time on the bathroom floor again, so she checks in with her doctor the next day. She's told that they need to suspend her treatment for a time, because her immunity has dropped to an alarming level.
Hye-soo asks what will happen if she doesn't receive treatment — will she live to see Eun-sung enter elementary school next year? Her doctor admits that her tumor is growing faster than they expected, but she urges Hye-soo not to lose hope.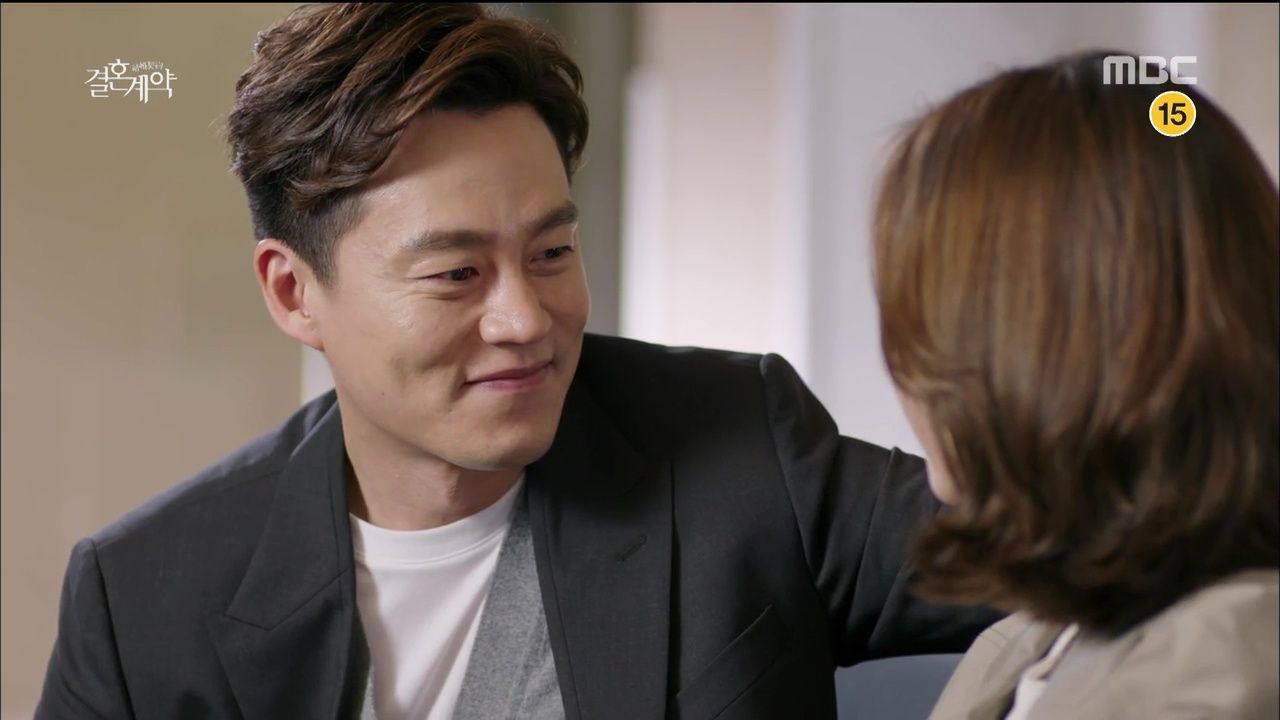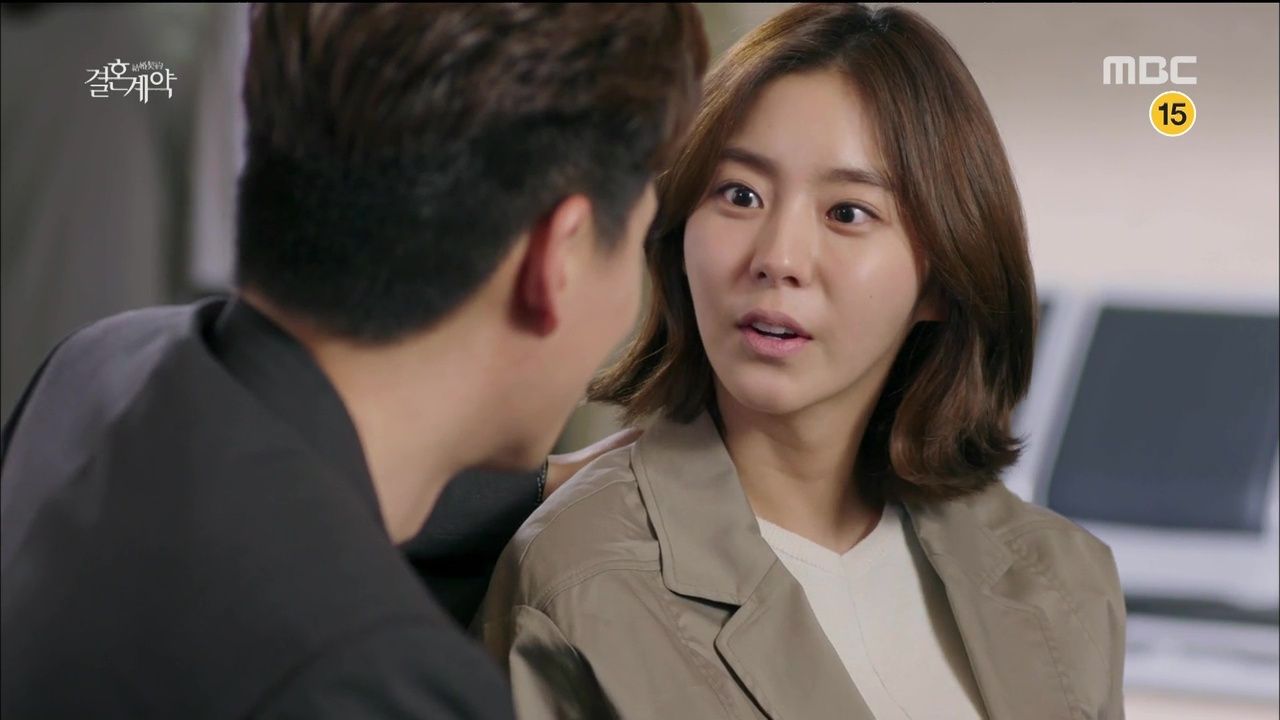 Ji-hoon also learns that Hye-soo's treatment is suspended, and her doctor is a little more blunt with him — Hye-soo is getting worse, and fast. He asks why they aren't pursuing more aggressive treatment then, instead of less, but the doctor says that there's no real treatment for what she has, right now.
Ji-hoon grows frantic at the thought of losing Hye-soo, and yells at her doctor to save her, to promise him that she'll recover. All he can do is beg for a miracle, but the doctor can't promise one.
He finds Hye-soo in the waiting area and takes a moment to compose himself before approaching her. He acts as though nothing is wrong and offers to buy her anything she wants to eat, and Hye-soo asks for something traditional with lots of side dishes.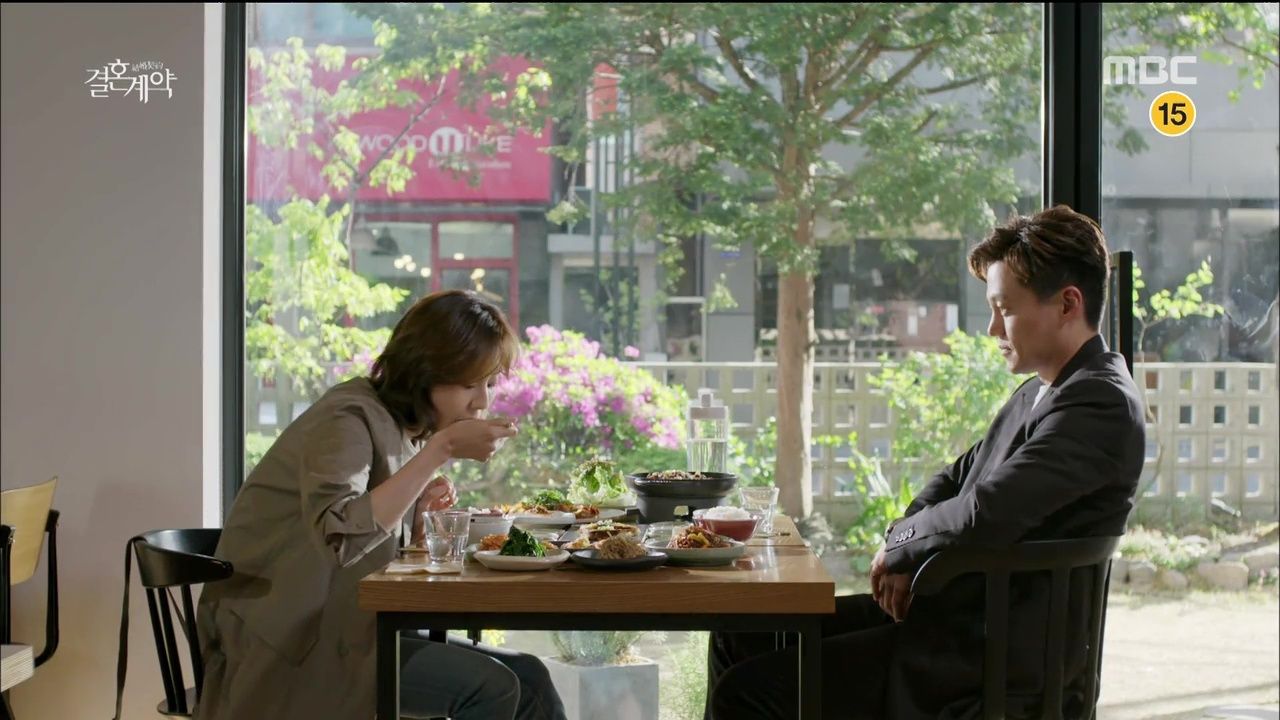 Ji-hoon barely touches his food despite there being a mountain of it, preferring to just watch Hye-soo. Ji-hoon suggests they go to a different hospital and find Hye-soo a better doctor, but Hye-soo disagrees, claiming that her doctor says she's improving. It's a bald-faced lie and Ji-hoon knows it, but he doesn't argue.
He lightens the mood by saying that he's found them a house, and chatters on about the house and a wedding ceremony and how they're doing it all out of order, only now asking her to marry him like he'd ask her to go out for coffee. Hye-soo just watches him with this sweet smile, and laughs at his terrible proposal.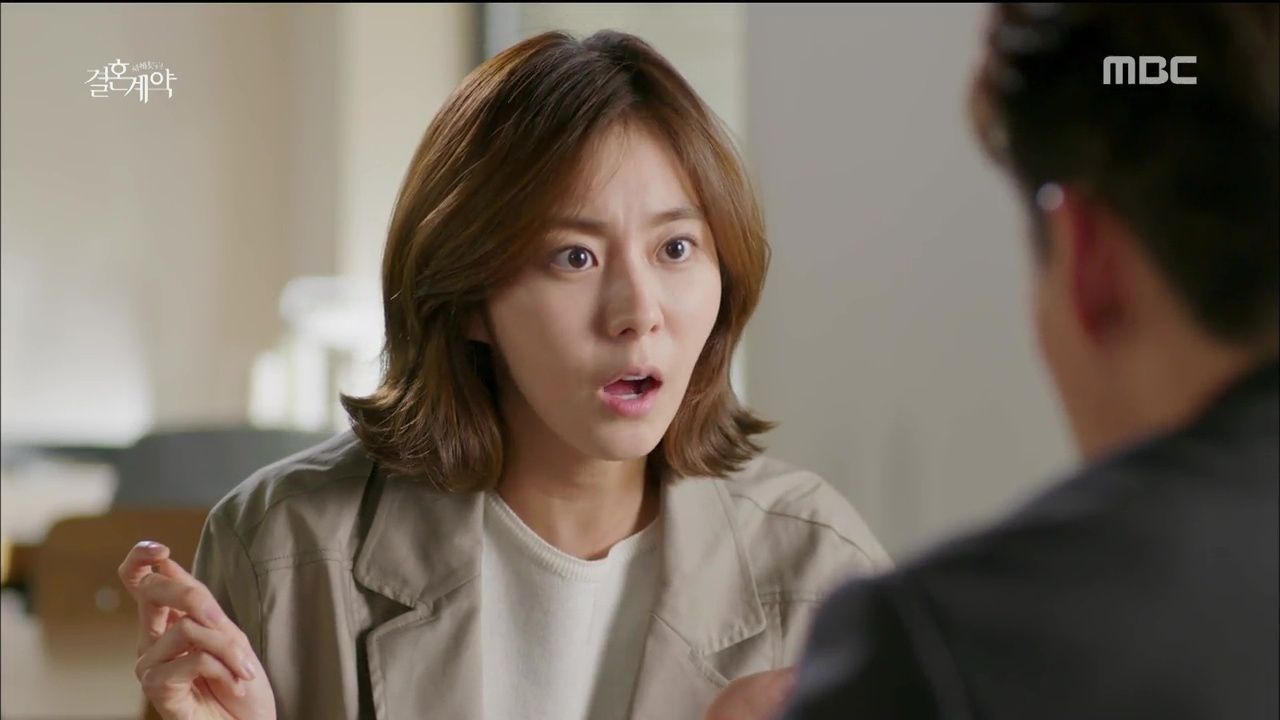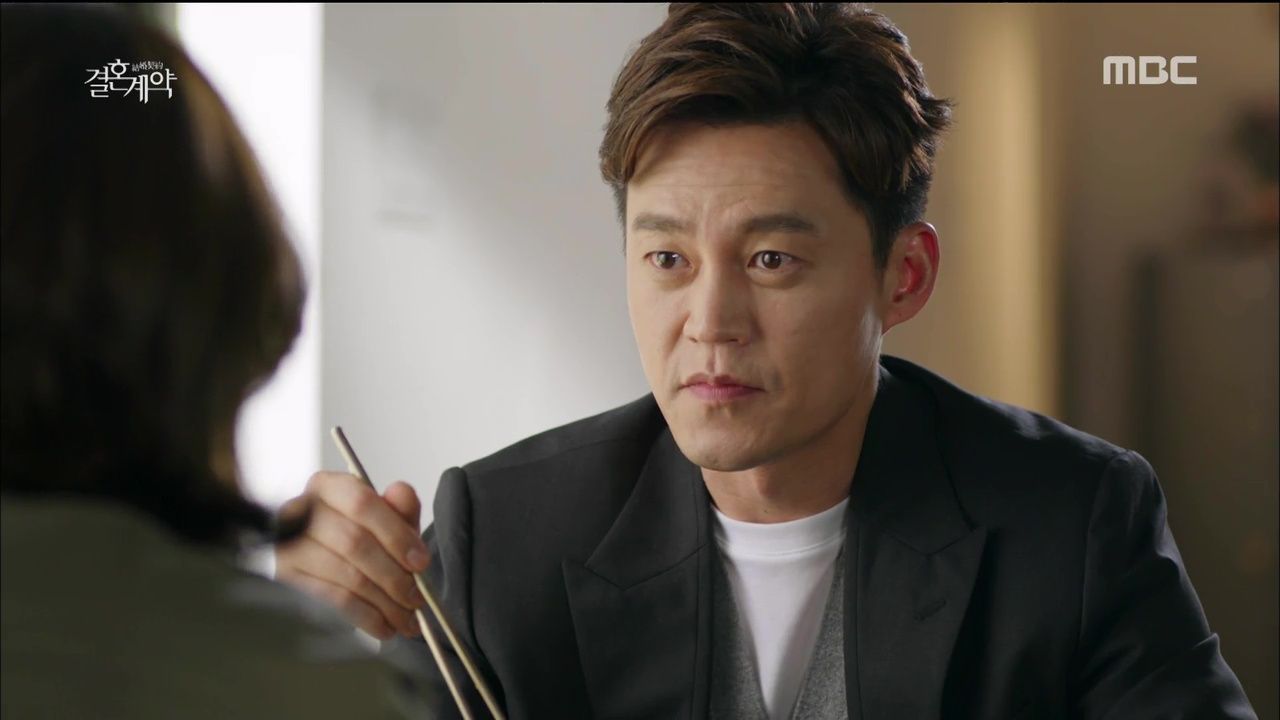 She complains that that's not how you do it — there should be balloons and banners and everything. He should confess his love and sing a song even, and I can't blame her for wanting to see that, hee. She backs off and says that it really just needs to be special, and asks for time to think about it, which makes Ji-hoon go all Forget it, then!
Hye-soo tries to hide her sudden tears, and Ji-hoon just wipes them for her, but doesn't comment.
Chairman Han goes to see Mi-ran as she's recovering, but she tells him to buzz off (why has nobody set security on this guy??). He says he's here about Ji-hoon, worried that the police could be after him soon, and he tells Mi-ran to fix the problem she created.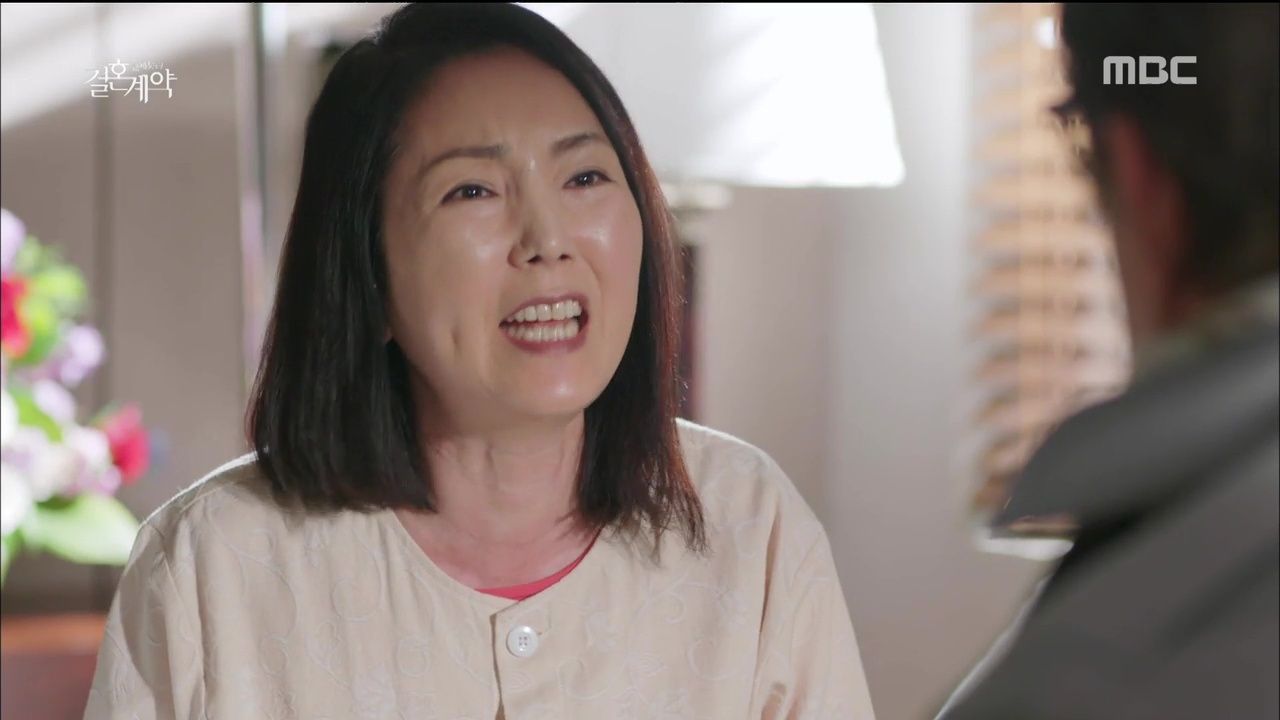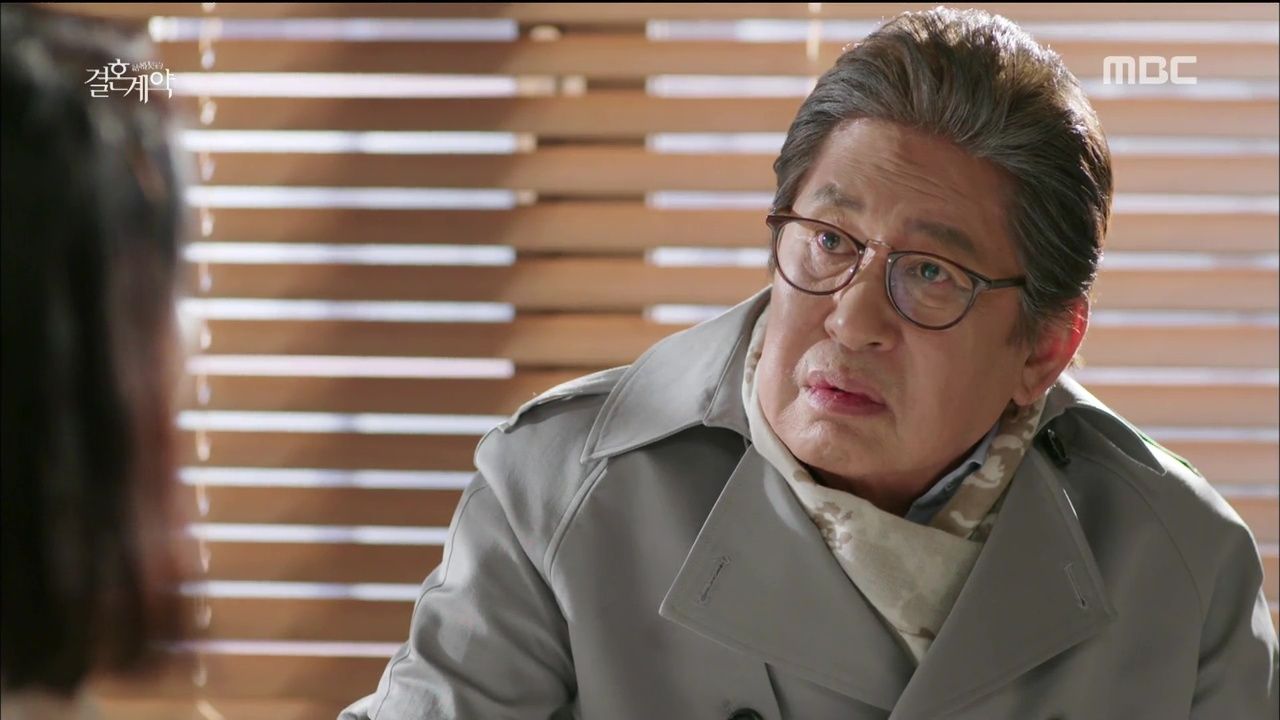 Oh his lawyer's advice, if anyone asks her, she's to say that Ji-hoon and Hye-soo have been in a relationship for a long time. He also says for Mi-ran to tell ji-hoon to cancel the divorce proceedings — once the rumors subside, then they can divorce and nobody will find it suspicious.
Mi-ran only now learns that Ji-hoon has left his father's company, and she pretends not to be interested in his relationship, whatever it is. She tells Chairman Han again to leave, refusing to help him in any way. The chairman argues that she should care about her son.
Mi-ran blows up at him, spitting that she knows he's only doing all this for his own benefit and not because he cares about Ji-hoon. Just to hurt her, Chairman Han tells Mi-ran that Hye-soo is dying.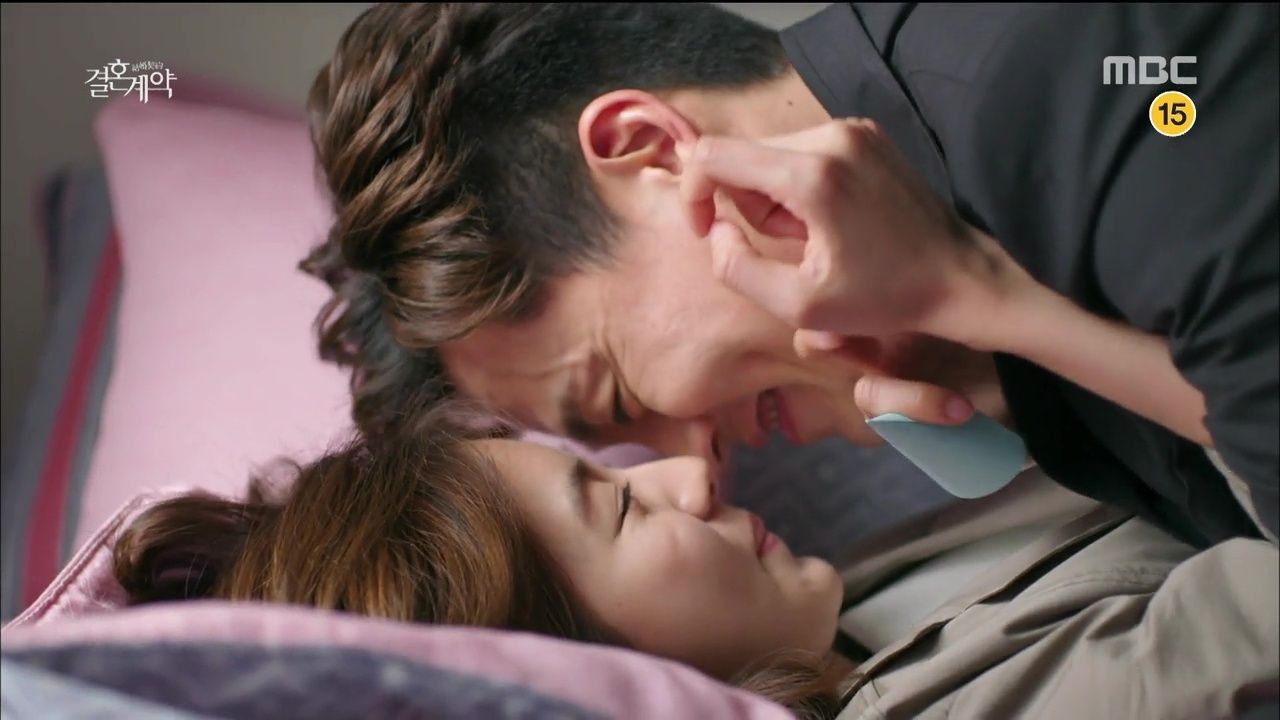 Hye-soo and Ji-hoon pick up Eun-sung from school, and Ji-hoon is having waaay too much fun calling himself "your dad" to the kid every chance he gets, hee. He takes them to the house he's found, which is cozy and warm and adorable, and he tells Hye-soo that he wants them to live together as a family as soon as possible.
He gets a little handsy as she shows Hye-soo the master bedroom, and she pretends to be annoyed that he did all this on his own. Ji-hoon just pushes her down on the bed and climbs over her, nuzzling her until Eun-sung runs in to join them. Awww, he even promises Eun-sung she can bring all her kittens to live here.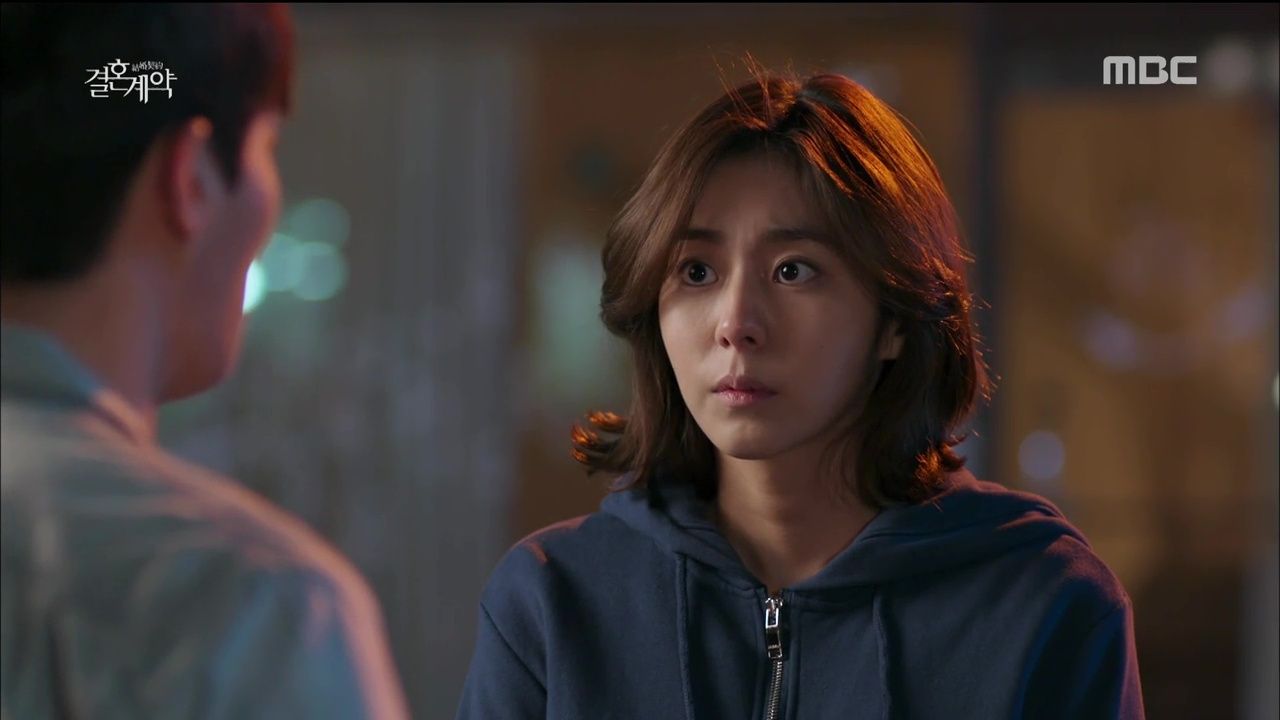 Soo-chang is one smart cookie, and he knows something is up with Ji-hoon quitting the restaurant. He goes to Ho-joon for answers, assuming the organ-selling rumor is true, and once again his booming voice carries and everyone hears him, heh. Ho-joon hotly denies it, but he does let slip that Ji-hoon is in love with Hye-soo.
Seung-joo goes to see Hye-soo after overhearing everything, and he knows Ji-hoon is quitting because of the organ-selling scandal. It's news to Hye-soo, but Seung-joo doesn't notice her surprise, and he grins that he thinks Ji-hoon really, truly loves her. He sincerely wishes her and Ji-hoon happiness.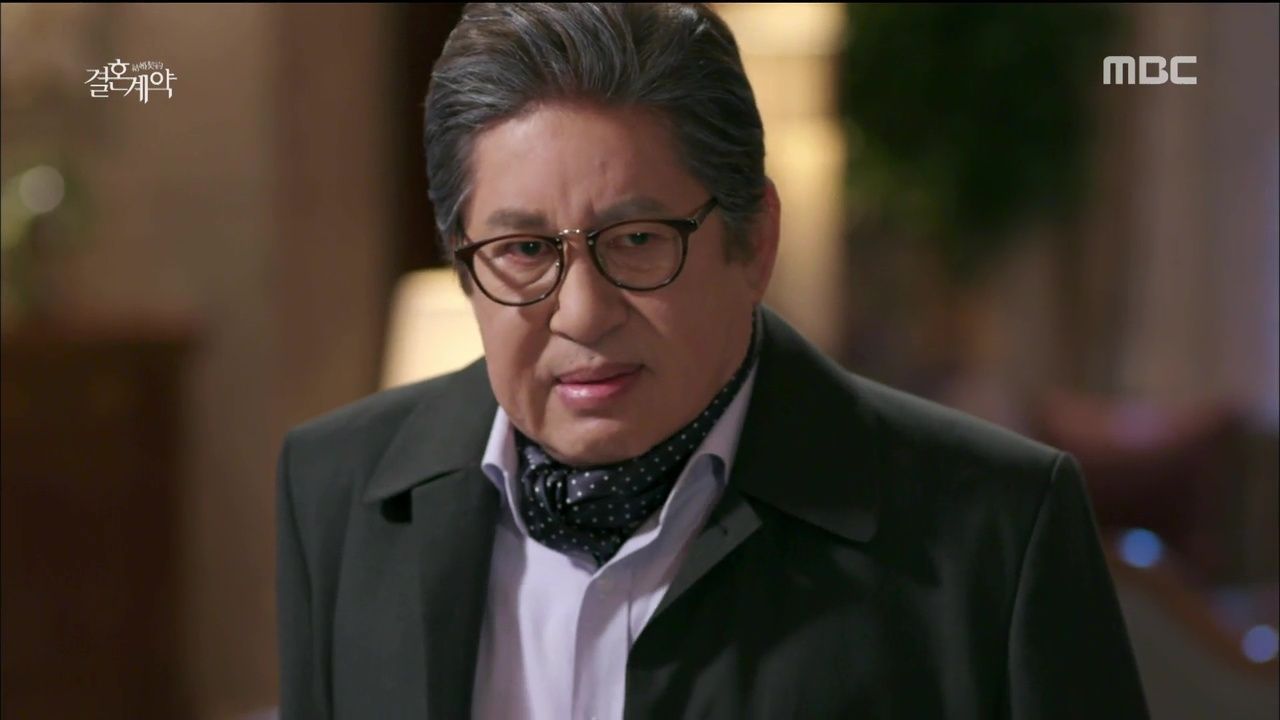 Chairman Han's lackey reports that the rumors seem mostly under control — except for one reporter who keeps trying to reach them, who seems to be close to Jung-hoon. Chairman Han goes straight to Jung-hoon and knocks his crutch out from under him (yes really), prepared to beat the crap out of him for perpetuating the rumors when he's been told to stay out of it.
He's had enough of Jung-hoon's shenanigans, and tells him that he's to leave for the company's U.S. branch the next day. He warns his son to live invisibly and cause no more trouble, or he'll disown him completely. Jung-hoon just whines pitifully that it's unfair — dude, this is why you'll never be the favorite.
Madam Yoon has had enough, and tells her husband that she'll be going with Jung-hoon. She's not interested in why he's being such an ass, and she's only still here because she thought he would soften in his old age. But now she regrets marrying him, and blames him for the way Jung-hoon is now. So she's going, and she won't return until after Chairman Han dies.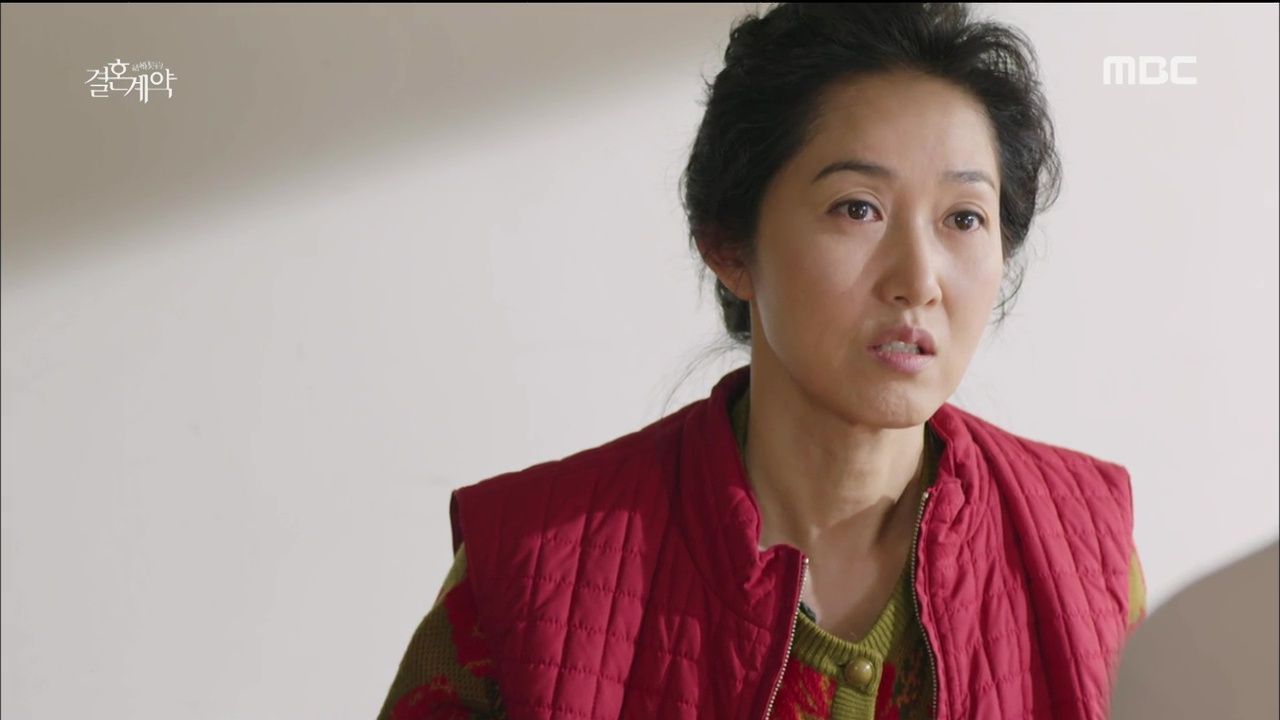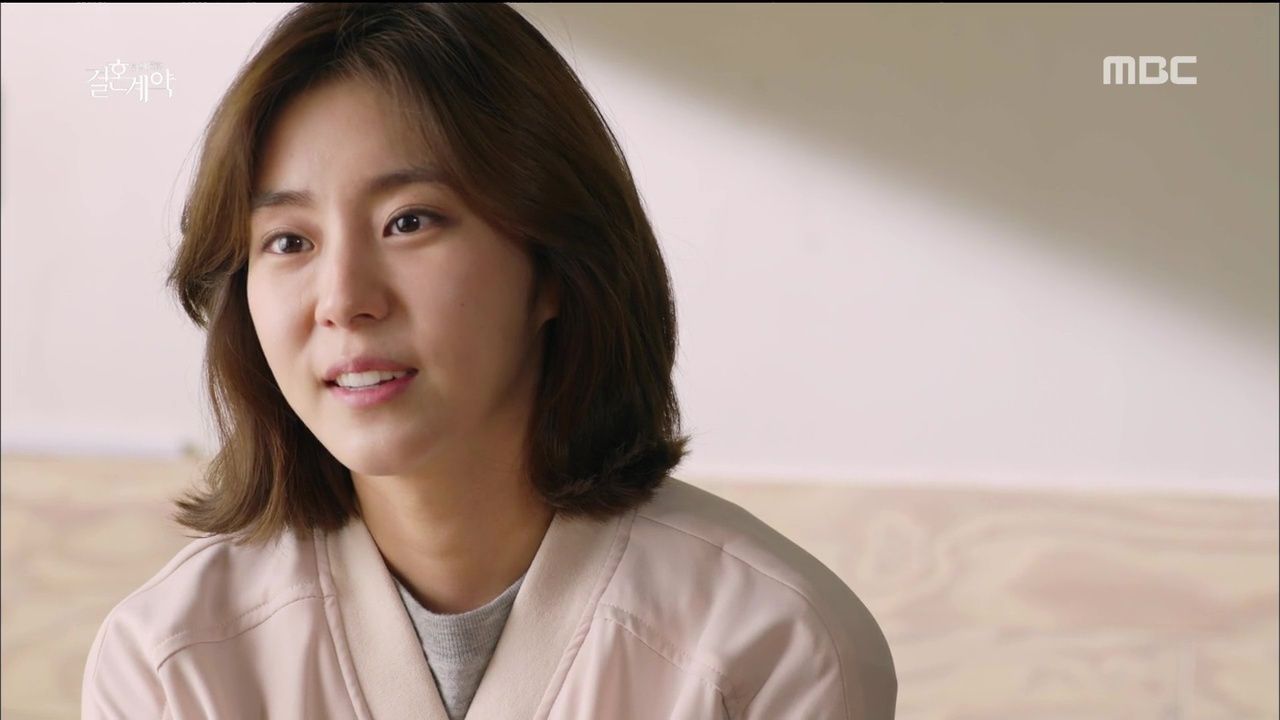 In the morning, Hye-soo finds Young-hee at her street cart and treats her to lunch. She tells Young-hee that she's sick, so sick that she's dying, and she asks Young-hee to take care of Eun-sung if and when she does die. She says everything with this heartbroken smile that just kills me.
Meanwhile Ji-hoon sees his mother and tells her all about Hye-soo's illness, but that he wants to marry her and love her anyway. He asks his mother for encouragement, needing to hear someone tell him that he's doing the right thing, but he starts to break down when Mi-ran asks how long Hye-soo has to live.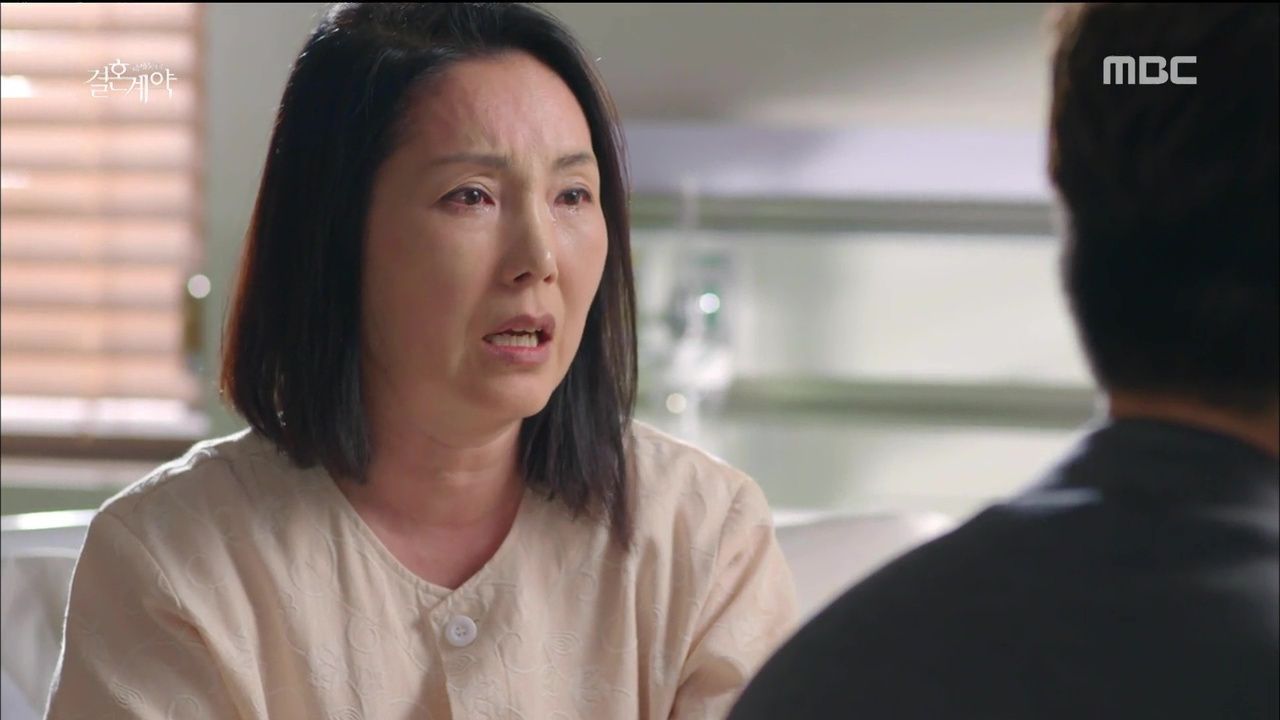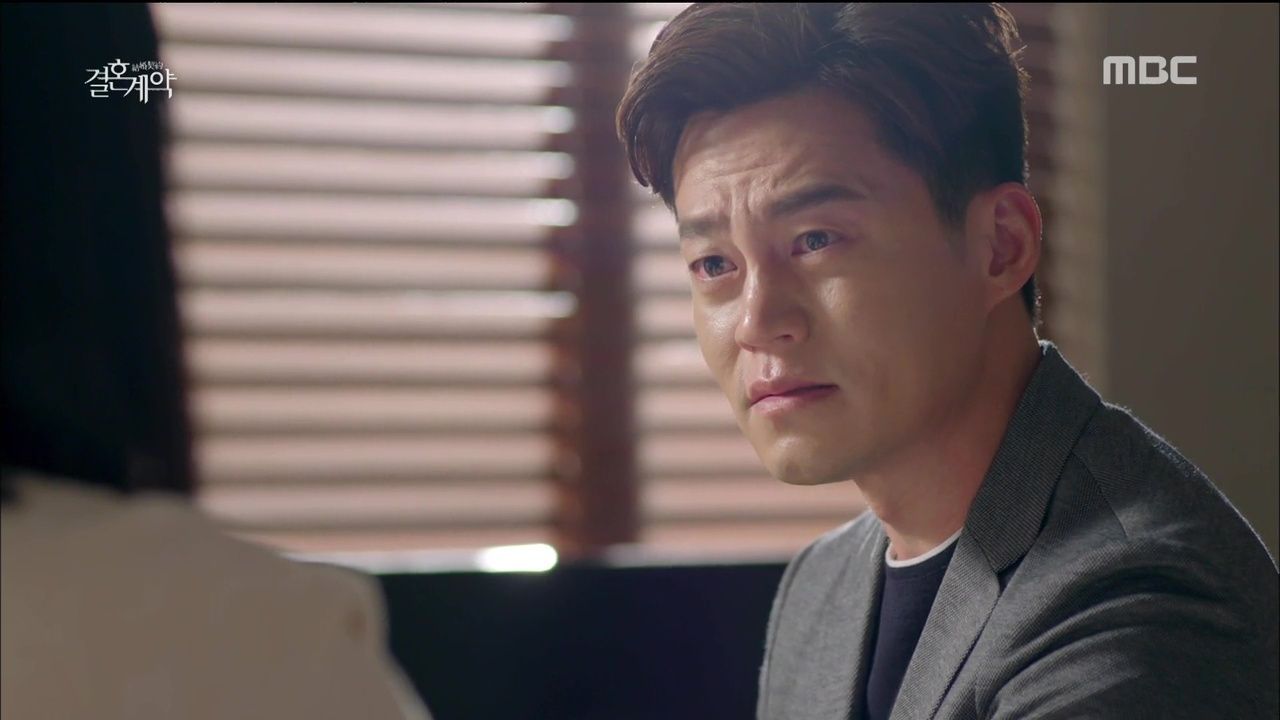 He cries that Mi-ran survived her terminal illness, and that Hye-soo can, too. He swears that she'll live a long time and he'll even die first, but his voice cracks and betrays how truly terrified he is. Seeing her son's grief just at the thought of losing the woman he loves, Mi-ran says she's sorry, and she knows Hye-soo is a good person, but she can't encourage him.
Ji-hoon just assures her that he's not sacrificing anything, that he's doing this because he wants to, and they both break down in tears.
Hye-soo invites Ji-hoon to Joo-yeon's place, to have dinner with her and her friend. She does her best to ignore a spasm of pain, and Ji-hoon is too happy to be invited to notice her voice grow strained.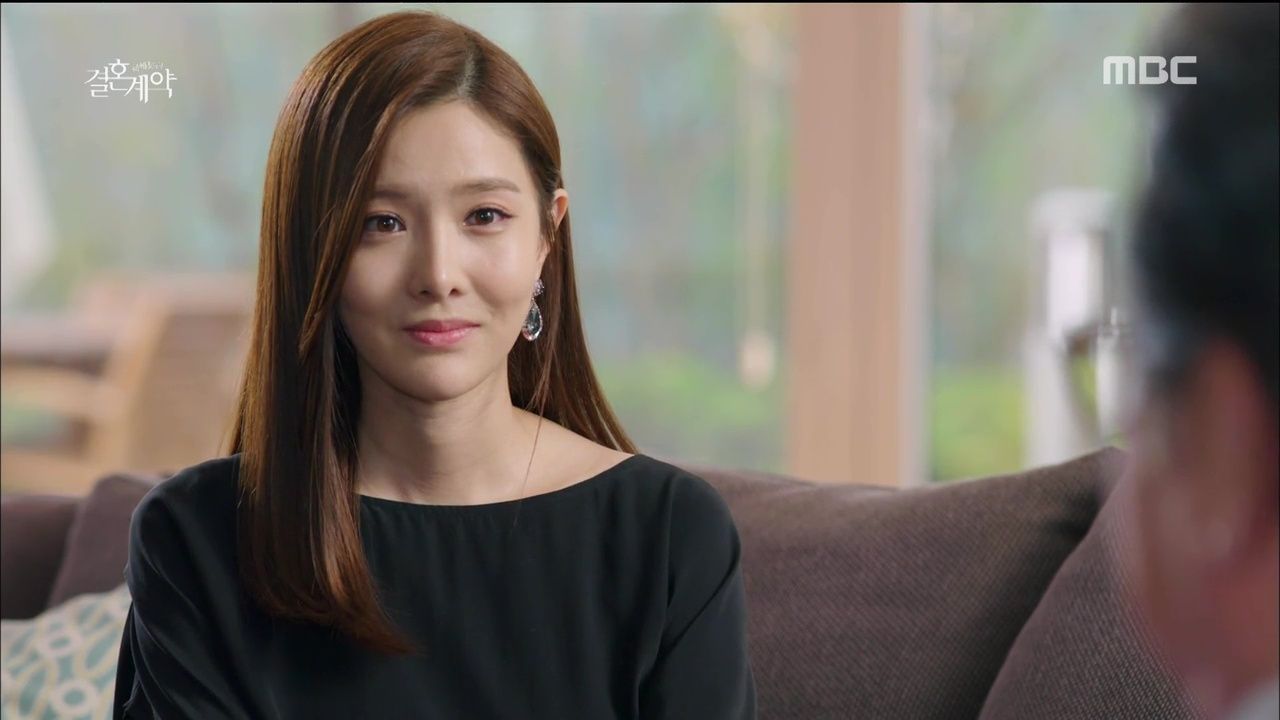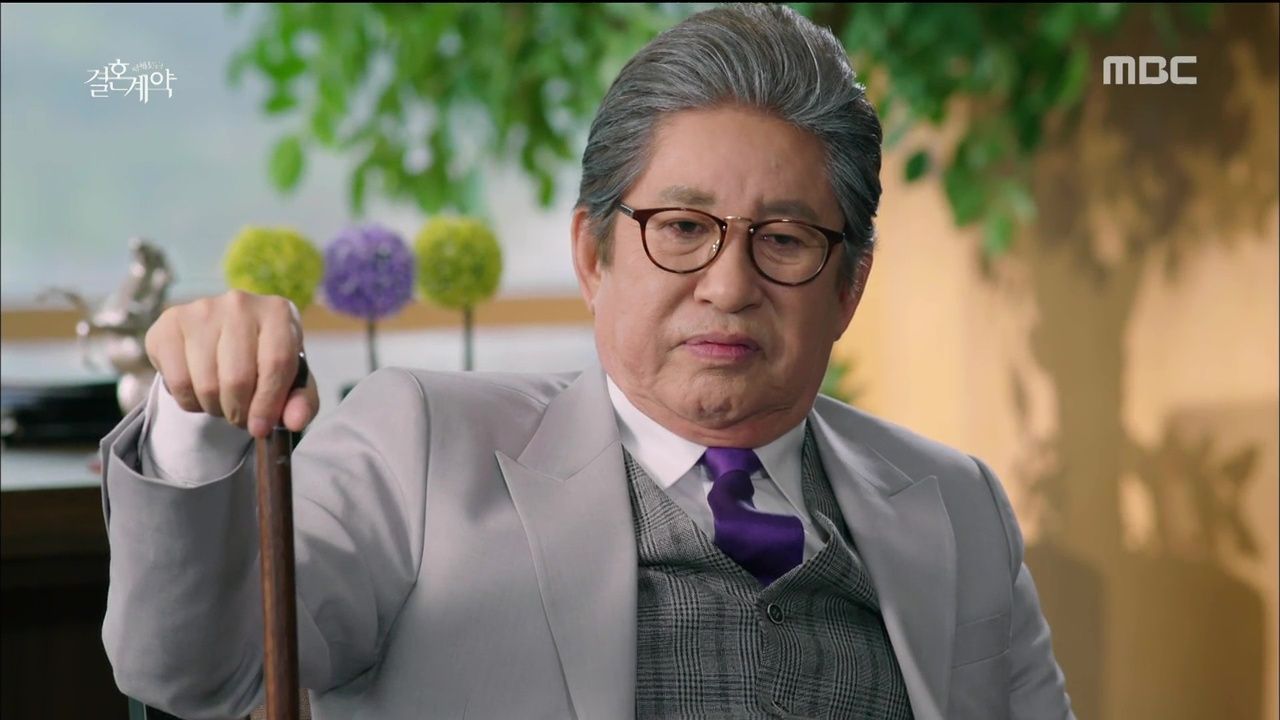 He's still at the hospital and visits Uncle next, and Uncle says that he's heard Chairman Han is still on the rampage. He figures being carefree is better than rich, and leaves Ji-hoon.
Chairman Han gets the news that Jung-hoon and Madam Yoon have left the country, and he doesn't even react. He really, genuinely doesn't care, does he? Na-yoon comes to speak to him, and the chairman plays it like he asked Ji-hoon to stay away from work until the rumors die down. He still has every intention of making sure Ji-hoon marries Na-yoon.
But Na-yoon is here to ask him to stop trying to make this marriage happen — she knows it's fruitless, and wants to move on. And at least if she bows out gracefully, she can keep her memories of loving Ji-hoon in good conscience.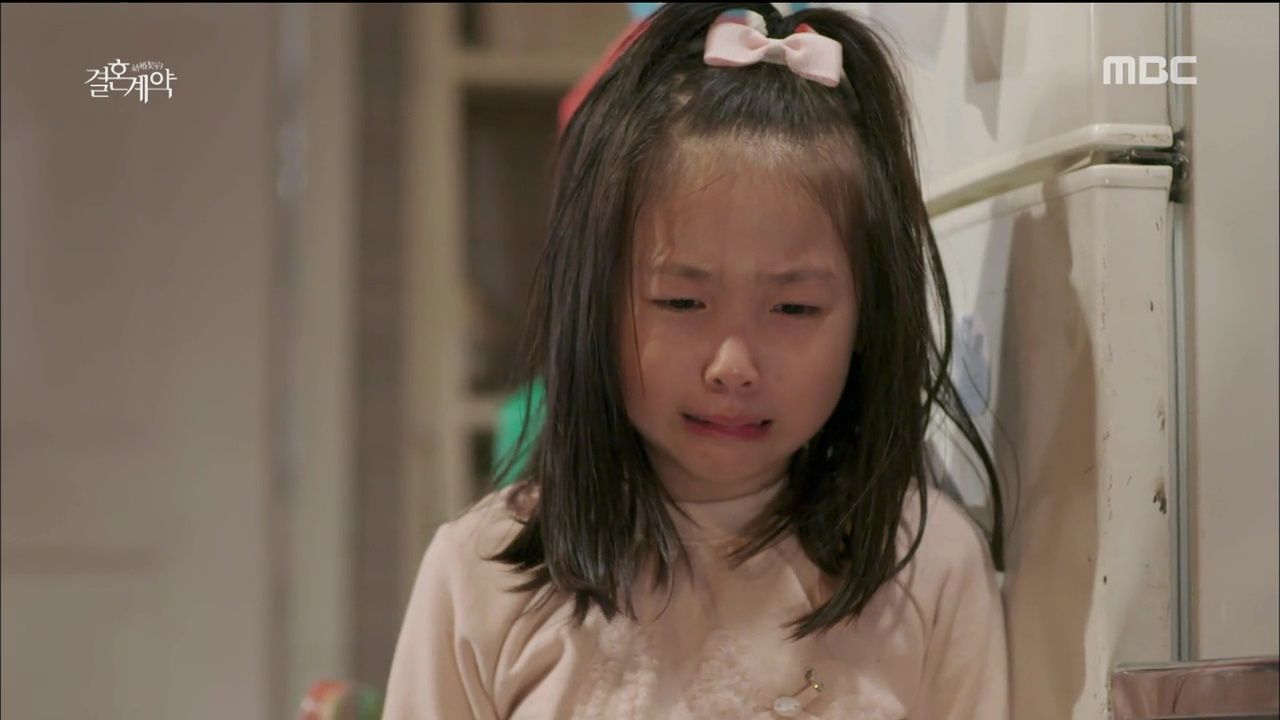 Hye-soo cooks dinner and sings with Eun-sung, still fighting a nagging headache. She shows a happy face to her daughter, but the pain seems to be getting worse, and eventually her legs go out from under her. She screams at Eun-sung not to come closer, scaring the girl into crying, and Joo-yeon arrives home in time to take Eun-sung out of the room.
Joo-yeon does her best to minimize Hye-soo's illness to Hye-soo, and when Ji-hoon shows up for dinner, she sends him upstairs to Hye-soo. He finds her still on the floor, staring into space, and it takes him a minute to control his emotions.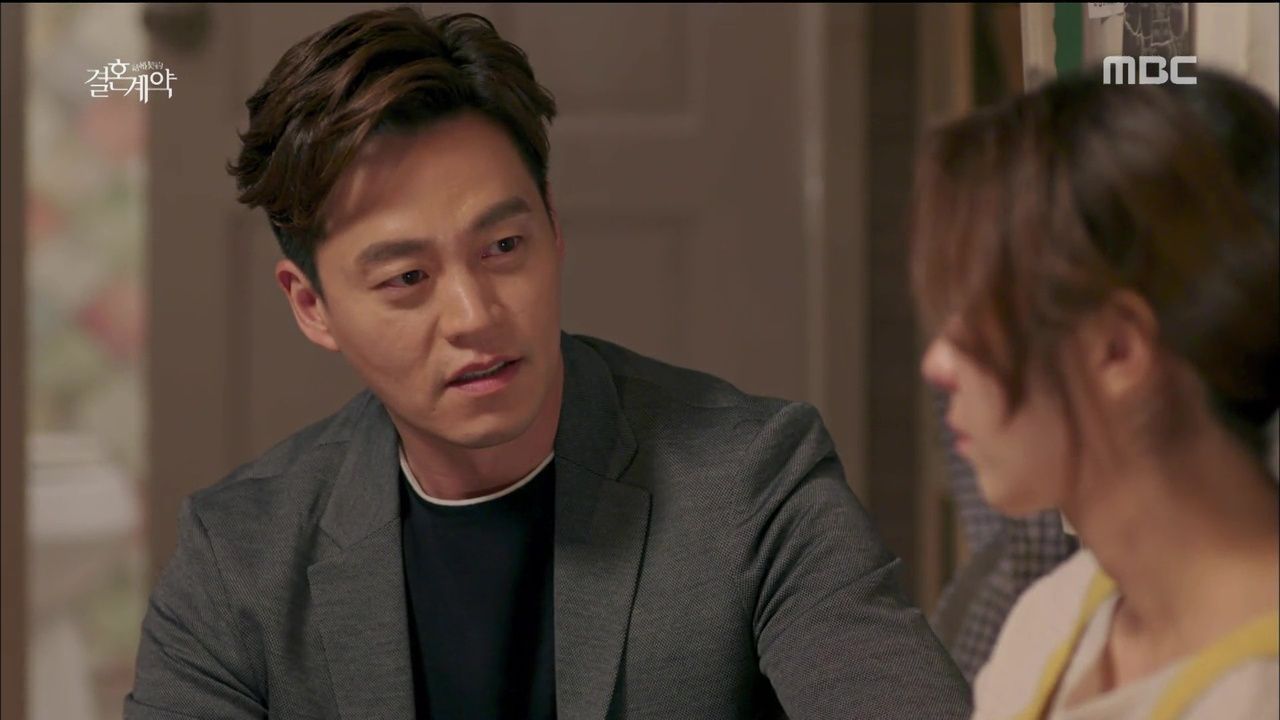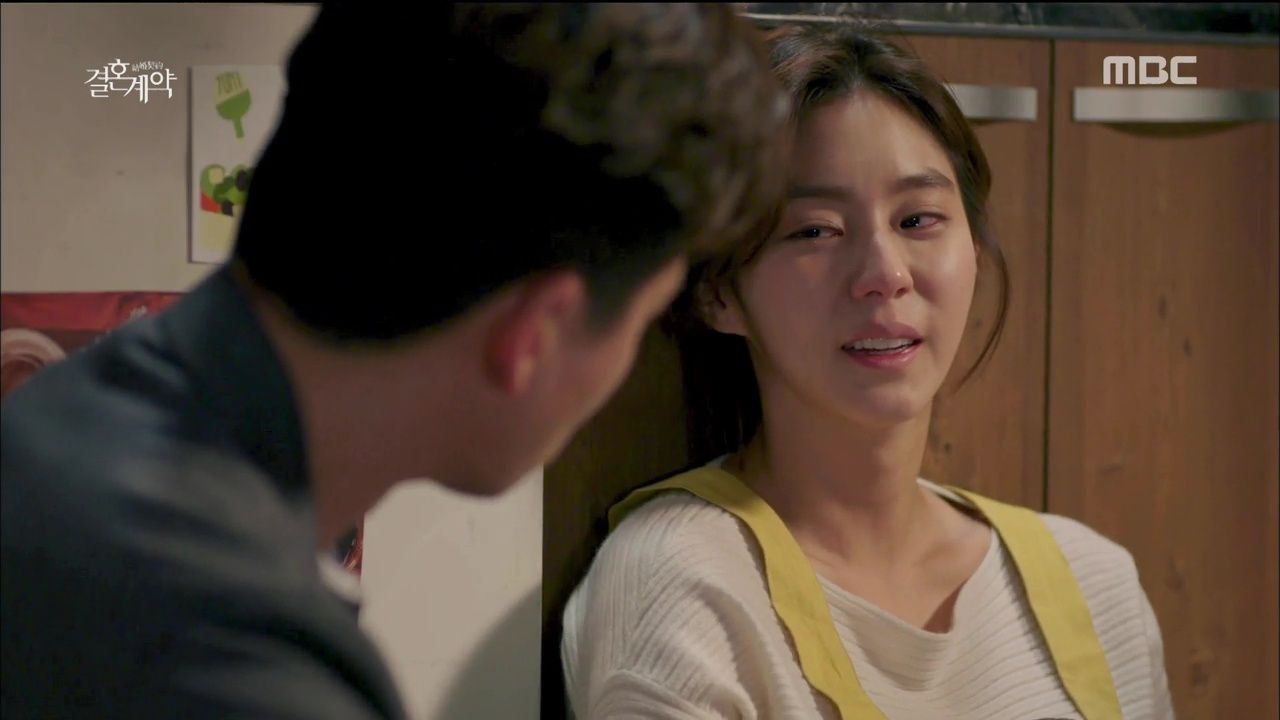 He sees that she's burned her hand and gently takes care of the injury, teasing her for missing him so much that she needed to create some excitement. He offers to clean up and make dinner, and Hye-soo sighs that she wanted to cook for him. She cries, and Ji-hoon just hugs her, trying not to lose against his own tears.
Joo-yeon takes Eun-sung to Promise to see her kittens, and Ho-joon is adorably thrilled to see her. This time she doesn't skip off, and accepts his invitation to dinner, hilariously assuming he'll spring for steak.
It allows Hye-soo and Ji-hoon to have dinner together, and Joo-yeon texts Hye-soo to have a hot night, which Ji-hoon sees, hee. Hye-soo wants Ji-hoon to promise, if she plays wife to him for now, that he'll go back to his family when she passes away. But she also asks him to continue being Eun-sung's dad after she dies — and that's it, I'm bawling.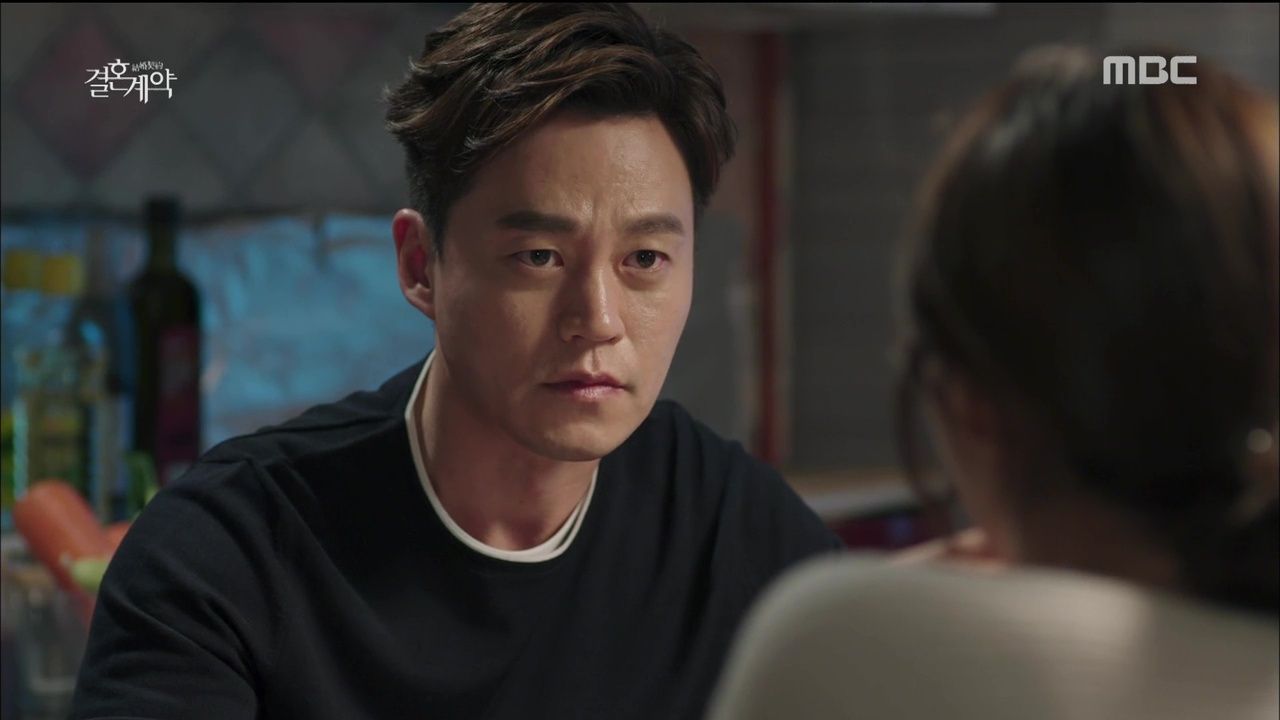 Ji-hoon stubbornly refuses to acknowledge that she's going anywhere, and demands that Hye-soo take back everything she just said. She does, but just asking such scary questions has worn her out, and she goes to bed. She asks Ji-hoon to leave, and he tries to leave her with a snappish Fine, be that way about it.
But he can't go like that, and sits back down to eat, snapping that he doesn't want to waste her good food at least. He compliments her cooking, while they each try to hide their tears from the other. Ji-hoon finally leaves while Hye-soo sleeps, but when she wakes later, she finds that he's left a cartoon heart on her phone. Awww.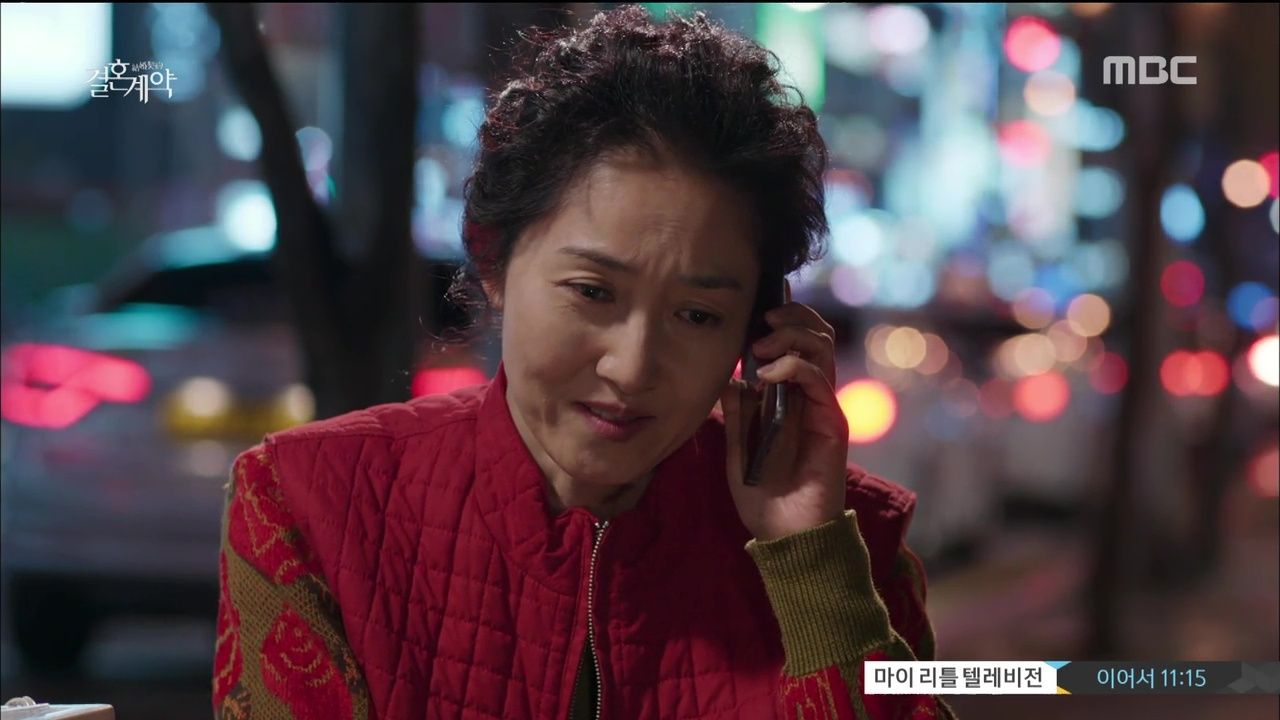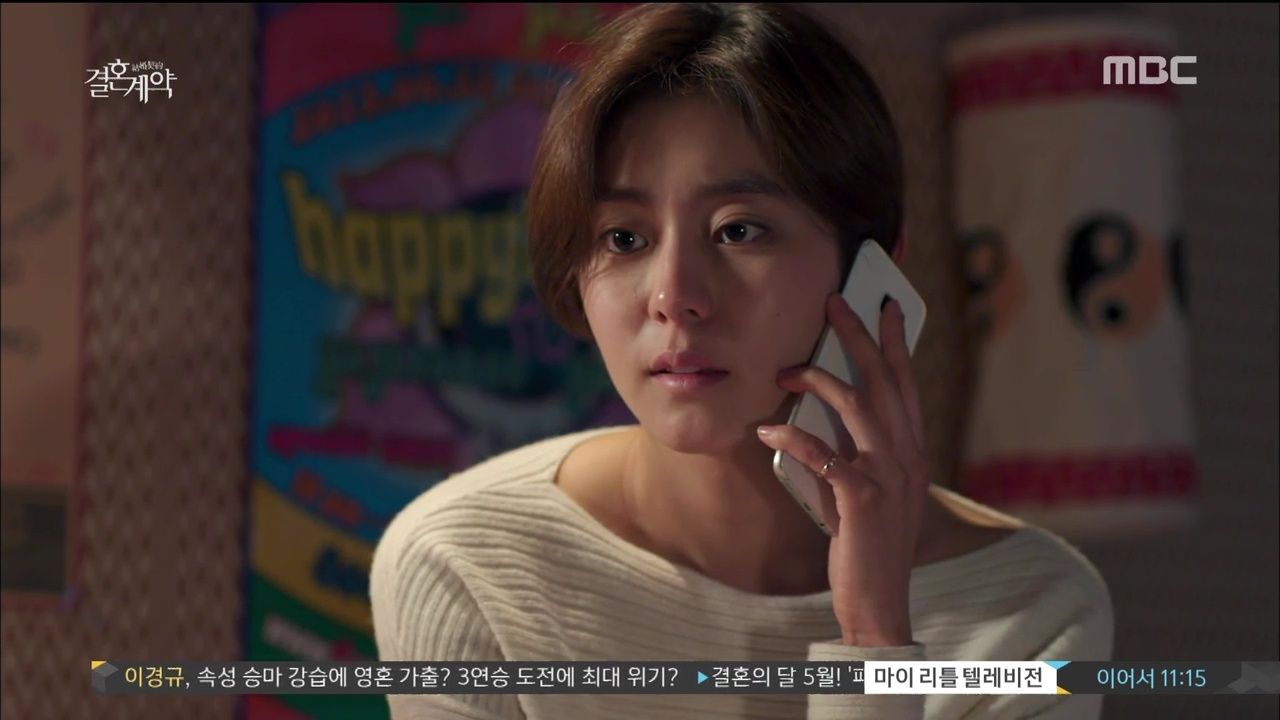 Young-hee calls Hye-soo to tell her that she rejects the idea that she's dying — she can't send off her son, then her daughter-in-law, like this. She angrily tells Hye-soo to live, for Eun-sung if nothing else. Obediently, Hye-soo promises to survive.
Ho-joon is giddy after his date with Joo-yeon (who's suddenly "my Joo-yeon," ha), but Ji-hoon is dead serious when he asks for his friend's help proposing to Hye-soo. They put their heads together to plan something, and Ji-hoon texts Hye-soo to come to their house that afternoon to see a new couch he's bought.
She sets out happily when it's time, running into Joo-yeon on the way. She denies that she has a date, but Joo-yeon tells her to drop it now — she deserves to be loved, and it's okay to admit she's with someone.
Ji-hoon and Ho-joon have decorated the house with flowers, banners and balloons, just like Hye-soo wanted, awww. Even Eun-sung is in on it, and is all bouncy-excited, though Ji-hoon looks nervous as a cat. Hye-soo texts that she's on her way, and he dimples excitedly.
He's too nervous to practice his proposal song, and decides that this is all stupid and he's scrapping the whole thing. He's the cutest thing ever.
As she crosses the street, Hye-soo suddenly stops mid-stride, right at the edge of the curb. She stands still, seeming to see and hear nothing, and drops her phone at her feet. She's nearly hit by a car, but she doesn't react to anything around her.
Ji-hoon lights the candles on the cake, but a balloon hits them and snuffs them all out. His smile falters just for a moment, and out in the street, Hye-soo stares at nothing, completely unresponsive.
COMMENTS
Okay, I'm terrified. This is terrifying. I'm so scared that Hye-soo isn't going to make it out of this drama alive, but at this point, I can't see any miracle happening for her. She's getting worse, so much worse that her doctors have even halted her treatments. I'm trying to come to terms with the fact that she's probably going to die, but it's not easy. I haven't been this attached to a drama character in a very long time — I think it's a combination of Hye-soo's gentle spirit, her core of steel, and her love for her daughter that just make me want to will her to beat this. But I'm so afraid she won't, and it's going to hurt.
For that reason, I'm angry with Ji-hoon, let's just get that out of the way. When Hye-soo asked him to be Eun-sung's father after she dies, you just know, from what we know about Hye-soo and the fact that she doesn't rely on others easily, that that was probably the hardest thing she's ever done. Not only to admit that she won't be around to raise her daughter, but to have to ask someone else to do it — that's got to be frightening on so many levels. The only acceptable answer in that moment was Of course, it's my honor and privilege, I'll be the best father a little girl could ever want. So for Ji-hoon to get angry and refuse to acknowledge that Hye-soo needs an answer for her own peace of mind, even if he intends to make sure she fights for her life tooth and nail, made me furious with him. I get that he's in a lot of shock and disbelief too, but it's not about what he needs right now. He broke Hye-soo's heart, and he's going to have to work hard to earn it back. If Hye-soo is going to leave them, I want her to go knowing that there's someone who will love and care for Eun-sung as much as she does.
The show's only true weakness has been its villains, who were either too over-the-top to be believable, or so ineffective that I wondered why they were even in the story at all. I'm surprised by this, because otherwise the show's characters are its biggest draw, even the smallest of them fully-fleshed out, interesting, and useful to the story. Na-yoon in particular was one character that could have been entirely left out of the drama and nothing in the show would have suffered, which I feel is a tragic underutilization of Kim Yoo-ri, who has a wonderful talent for bringing out subtleties in her characters that make you like them even as you cringe at their meddling. But Na-yoon was worse than an afterthought, barely having any screen time in the episodes she was in, and doing pretty much nothing when she was around. I never felt any actual threat from her, which is a shame, because she could have been used to show us more of Ji-hoon's past and why he's so emotionally closed off.
Jung-hoon was practically laughable in his bumbling attempts to create havoc, but it was Chairman Han who was really the Big Bad. He was pretty effective in some moments at making me worry for Ji-hoon and Hye-soo's future together, yet I still wish he'd been used by the writer in a different way. Imagine if, instead of just throwing his weight around and yelling a lot, he'd been a bit more shrewd — if he'd caught on to Hye-soo's reluctance to become romantically entangled with Ji-hoon early-on, and gotten into her head and worked to manipulate her rather than just try to intimidate her into leaving Ji-hoon, how much more insidious could he have been? Seeing him befriend her, then gaslight her into doing what he wanted would have been terrifying, instead of everyone just rolling their eyes every time he got loud and pushy. It's too bad that loud and pushy is as far as we got with dear old Dad, because I know I would have been a lot more worried if he'd been crafty and treacherous instead.
But for the most part, I've loved the characters in Marriage Contract to a ridiculous degree, and so much more than I ever expected to. Especially Ji-hoon, who turned out to be the biggest, mushiest ball of squishy dimpled love I've ever seen, which I completely didn't expect. I honestly never saw his potential to be so caring and tender, especially the way he loves Eun-sung every iota as much as he loves her mother, which just goes to show what a gift Hye-soo has for bringing out the best in people just by believing they have good in them. And I think I've adored Hye-soo most of all — I've already waxed poetic about what a wonderful character she is, and I adore how she's never really changed. She's like this gentle sun, warming and altering those around her for the better, but never changing herself. She's such a constant — she's not perfect, but she's already the best version of herself she can be, so she never needed to change.
However the show ends, I have faith that it will be wonderful, because this has been a truly excellent drama from start to finish. I genuinely didn't expect much out of it, and we really haven't seen anything groundbreaking when it comes to the plot or the execution. Where Marriage Contract rose to greatness was in the characters and how they were played — they were just incredibly special people, played by incredibly special actors. I don't need to repeat what's already been said in multiple recaps, but however it ends, I think it goes without saying that these are characters that we'll all remember with tears and love for a very long time.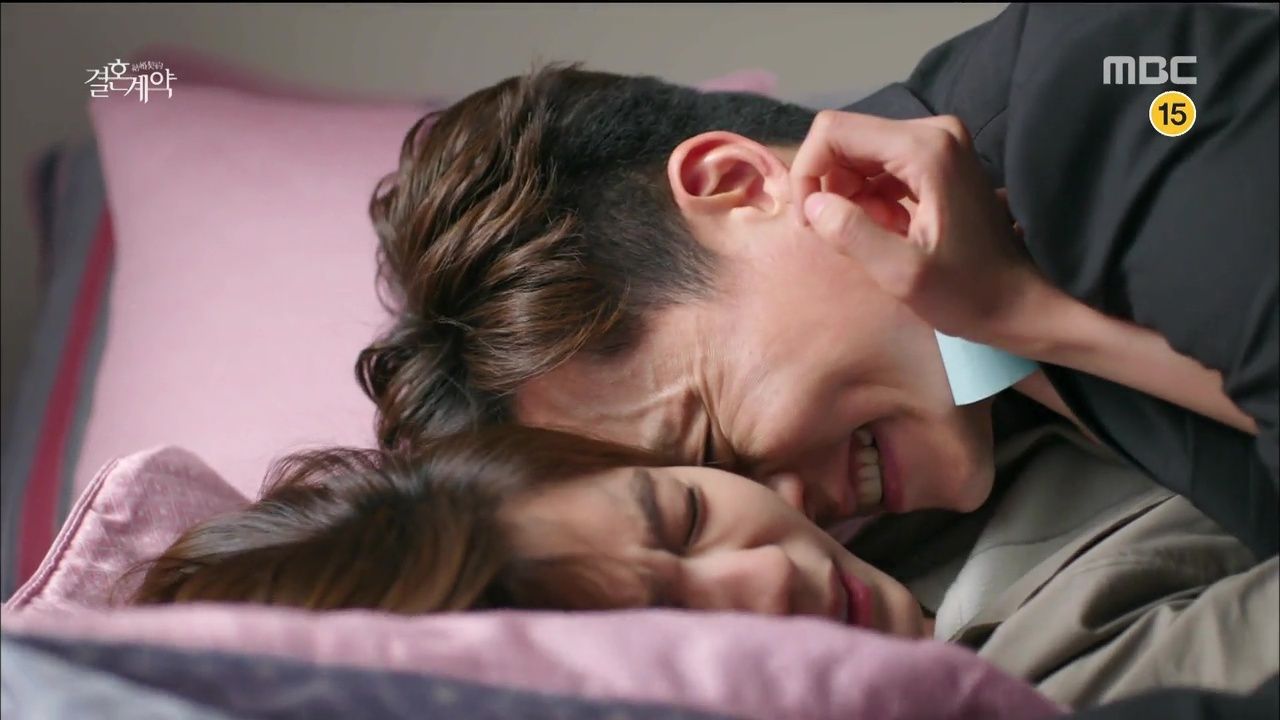 RELATED POSTS
Tags: Episode 15, featured, Lee Seo-jin, Marriage Contract, UEE